There are tons of reasons why you would need to connect multiple components and pieces of hardware to your computer. Not the least of which are gaming, surveillance systems, business applications, and engineering projects. Those are just a few examples. Most computers don't have all of the ports you'll need to connect all the parts you'd like. That's where a Thunderbolt 3 dock comes in. This is a docking station that allows you to, essentially, add ports to your computer by connecting an external connection box to it with just one cable.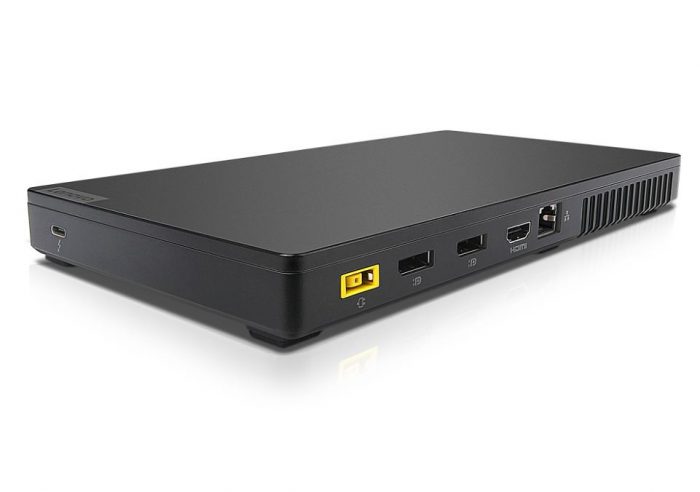 What should you look for in the best Thunderbolt 3 dock? For starters, you'll look for a good data transfer rate, at least 40Gbps. The other three important factors are the ports, the cables, and the peripherals. You may only want a few kinds of ports or you'll look for the whole gamut of connections. Also, consider the cables you'll need. Look into what comes with the docking station and pay attention to the length of them. In terms of peripherals, you want to look for something that will accommodate all the peripheral items you intend to use with your computer.
Thunderbolt 3 docks can come in handy for both desktop and laptop computers. You want to choose one that fits your needs the best, though. So, let's talk more about how you do that.
Do I Need A Thunderbolt 3 Dock?
You may not be sure if you need a Thunderbolt 3 docking station. If you're working from home on a laptop that sits on a desk, a Thunderbolt 3 docking station will give you convenience and more flexibility with regards to port options. 
Some laptops, such as the MacBook Pro and the MacBook Air, have only a few USB-C ports to use with them. Thunderbolt 3 docks make it where you don't have to figure out how you're going to connect the peripherals you'd like to use with your computer. 
You'll have to make sure your laptop is Thunderbolt 3 port enabled, but chances are, if you have a fairly recent laptop model that has the USB-C ports, they are compatible with a Thunderbolt 3 docking station.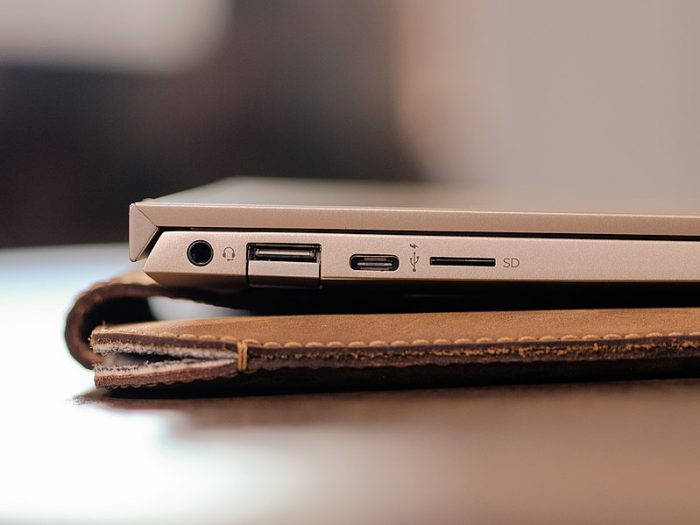 What Are The Important Features Of The Best Thunderbolt 3 Docks?
You don't want the data transfer speed to be too slow going through the docking station. When you're using Thunderbolt 3 docks, you're adding a bunch of options for inputs and outputs. That means you want the data to be able to travel from the peripheral you're connecting to your computer, through the docking station, and into the Thunderbolt 3 port on your laptop without slowing down too much. Generally, you'll find the new generation of Thunderbolt 3 docks to have a data transfer rate of 40Gbps.
You shouldn't go with anything lower than that because it will cause hiccups that ultimately lead to frustration for you dealing with lagging. You'll be able to get up to 10Gbps for USB speeds and have the ability to connect two 4K monitors, rather than just one. 
Obviously, the ports included on the docking station you choose are important. You can get one that is very basic and only carries some HDMI ports so you can connect two 4K displays. Alternatively, you can choose a Thunderbolt 3 port docking station that has the HDMI ports, an SD card slot, several USB ports, multiple Thunderbolt connections, an ethernet port, and more in some cases. Multiple Thunderbolt connection ports allow you to piggyback another docking station for even more connection options.
The cables you'll need are often overlooked by those looking for the best Thunderbolt 3 docking station. The Thunderbolt 3 port box you choose should come with a Thunderbolt cable, at a minimum. Some Thunderbolts will only have one DisplayPort and one HDMI port. If you're planning to connect two 4K monitors to your docking station, you'll have to either have one that has two of each connection or you'll have to get a braided DisplayPort cable to tether the two displays together before connecting them to the docking station.
Length is also very important when it comes to considering cables. You should pay special attention to how long the Thunderbolt cable is that will connect the laptop to the Thunderbolt 3 port box. Also, the cable that will tether the two displays, if you're going with that option, has to be long enough for your preferred positioning of the monitors. It's best if you have your placement configuration decided on before obtaining any cables so you know how long they need to be. 
Try to think of all the possible peripherals you'll want to connect to your laptop. The best Thunderbolt will accommodate your displays, mice you intend to use, any keyboards, graphics cards, SD cards, speakers, you name it.
Best Thunderbolt 3 Dock Options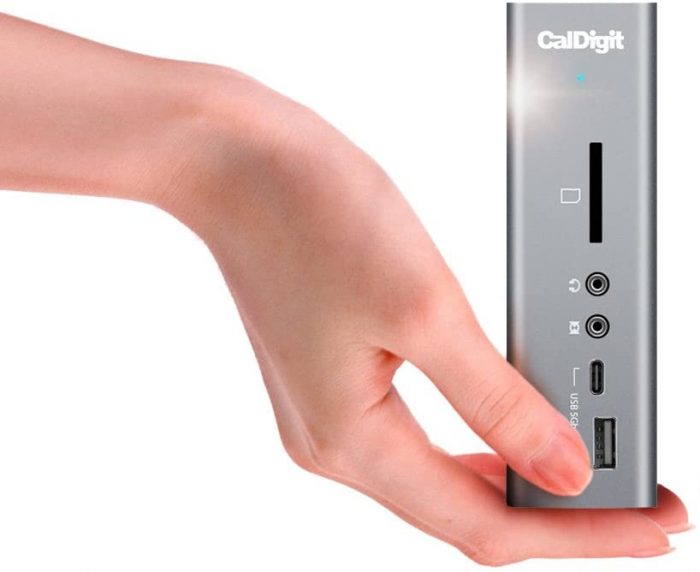 This is one of the best Thunderbolt dock options for those who want a lot of connectivity choices. There are seven USB 3.1 ports, along with a USB-C Gen 2 port. You'll also have a DisplayPort and an SD card slot. There's a connection for ethernet, too. On top of all of that, the dock is Thunderbolt 4 compatible. You'll have a total of 15 connection ports. It comes with 87W for laptop charging, has a very small physical footprint, and comes with a power adapter, a power cord, and a Thunderbolt 3 cable.
Pros:
15 connection ports
Very fast SD card reader
Has a digital audio connection
Compatible with Thunderbolt 4
Horizontal or vertical orientation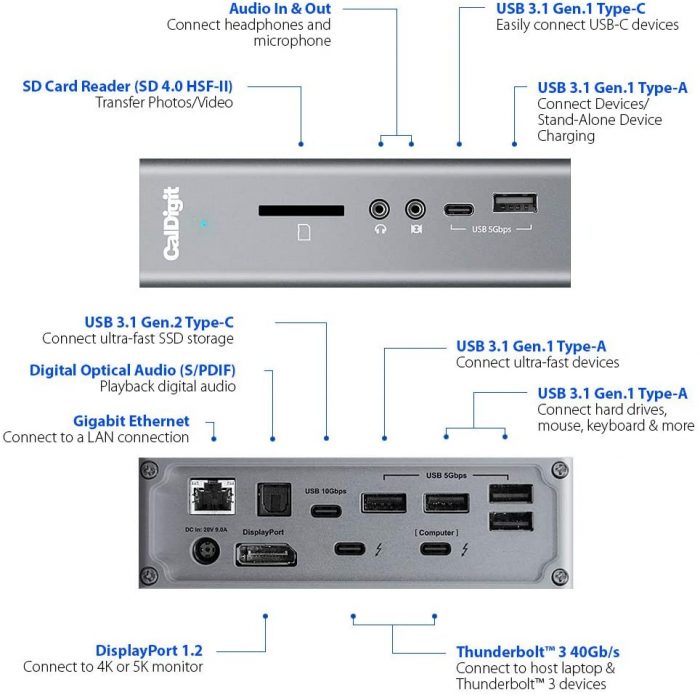 Cons:
Only one DisplayPort
No HDMI ports
Pricey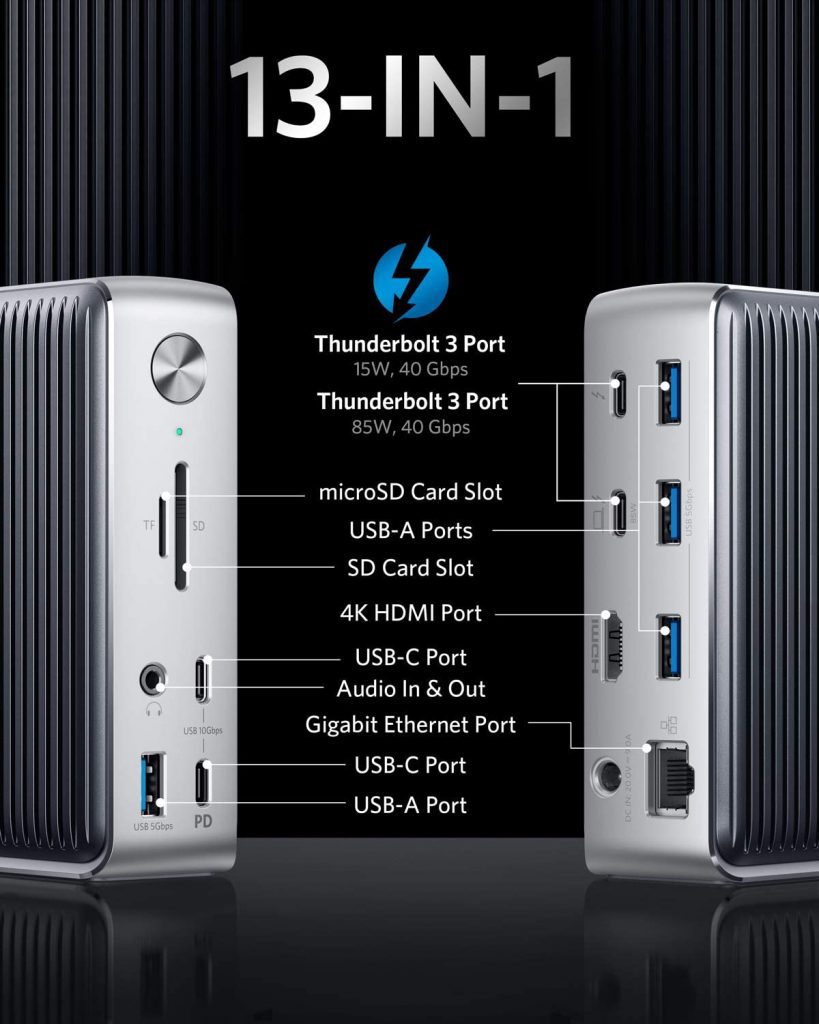 The Anker Docking Station gives you 13 options for connectivity. It includes two Thunderbolt ports, 4 USB-A ports, an HDMI port, SD and microSD card slots, and an ethernet port. It charges laptops at 85W and has options for charging all of your devices at fast speeds. The docking station comes with the Thunderbolt cable, a power adapter, a welcome guide, and an 18-month warranty. 
Pros:
Has HDMI port to support non-USB-C display monitors
Plenty of connections, including a headphones jack
Fast charging for laptop and all devices
Fast data transfer
Can support up to three displays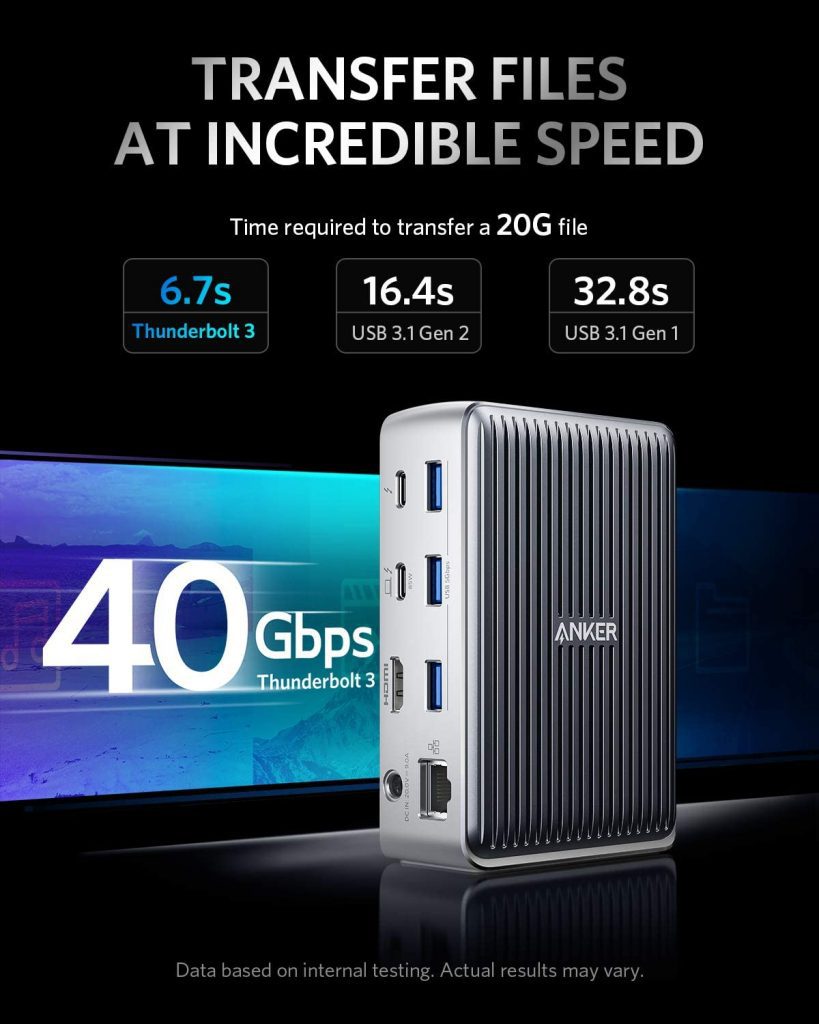 Cons:
No DisplayPort
Exterior gets very hot
Slow ethernet port speed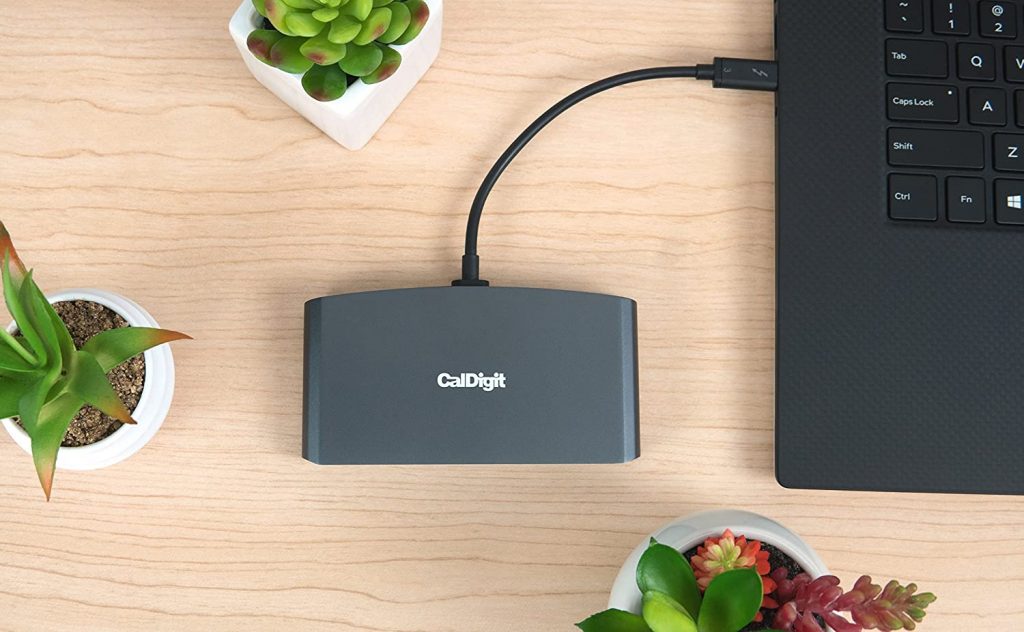 The mini dock provides fewer connection ports and thus comes at a lower price. It also doesn't work for charging devices. It comes with two HDMI ports for setting up dual 4K displays, a USB 3.0 and a USB 2.0 port, and a gigabit ethernet port. It's also compatible with Thunderbolt 4. The mini dock doesn't need much space at all and gives just enough connectivity to allow for a small amount of expansion.
Pros:
Budget-friendly
Fast data transfer speed
Super small physical footprint
Two HDMI ports
Ethernet port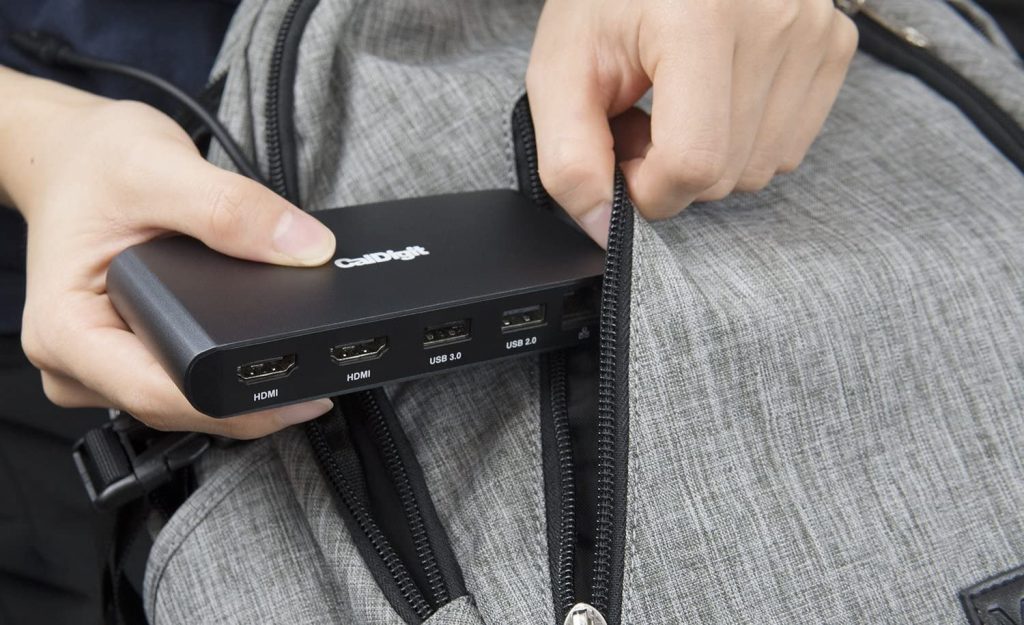 Cons:
Limited connection options
No charging capability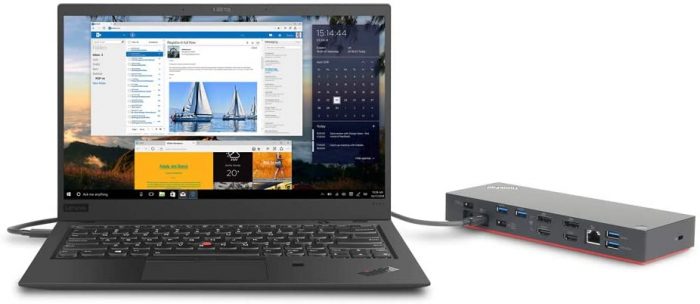 This is one of the best Thunderbolt dock options for those who really want to use dual 4K displays. It has two actual HDMI ports, as well as two actual DisplayPort connections. There is also the USB-C connection, a USB 3.1 connection with always-on charging, and four USB 3.1 ports without the always-on charging. You'll have an ethernet connection, audio connection, and a security lock slot, however you have to purchase the lock separately. This is the best Thunderbolt for Lenovo ThinkPad users.
Pros:
Dual ports for connecting two monitors directly to dock
Security lock option
Always-on charging port included
Well packaged
Plenty of expansion options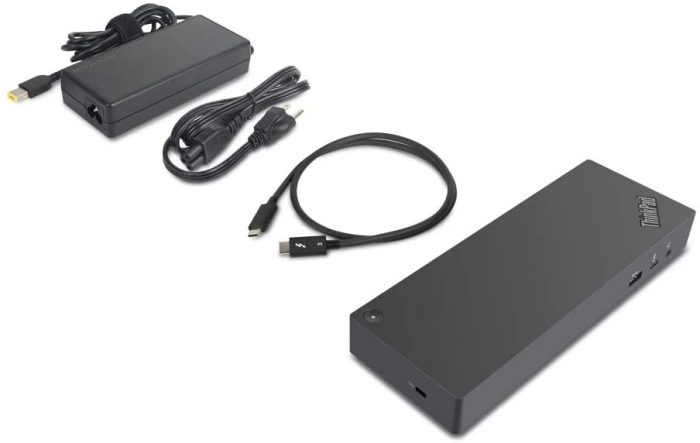 Cons:
Limited compatibility
If laptop in sleep mode, all peripherals go to sleep mode
Some issues with having to reboot
Conclusion
The best Thunderbolt 3 docks will give you the connections you need to expand your home office setup to the point you want to. You can go with one that is basic just so you can have a dual-screen setup, or with one that allows you to use 15 ports, or more. You'll want to make sure the data transfer rate is at 40Gbps for everything to flow smoothly. You'll also have to get all the cables necessary to make your expansions. Once you do, though, you'll have so much more than just a simple laptop. Your capabilities will be endless and, hopefully, with even more room for future expansions when they're needed.
FAQs:
Is a Thunderbolt dock worth it?
These are definitely worth it for people who will benefit from a dual-monitor setup or for those who need to connect a lot of external devices to their laptops.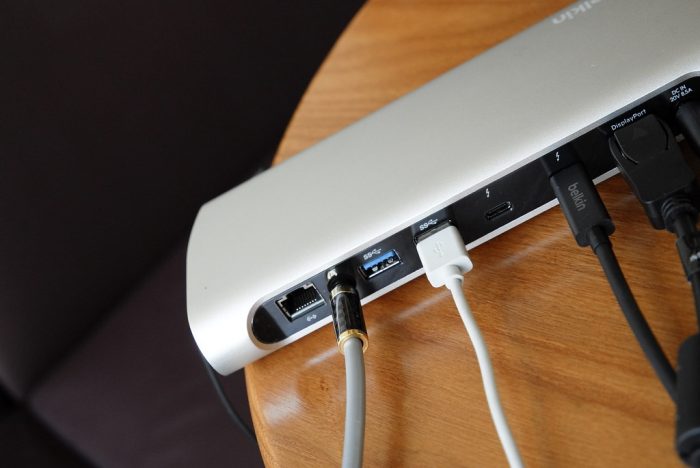 Why are Thunderbolt docks so expensive?
These little boxes contain a lot of advanced technology. They're allowing you to turn your laptop into a virtual supercomputer.
Is Thunderbolt 3 the same as USB-C?
Essentially, yes, they are. The ports are the same size and shape. The difference comes in the speed. The Thunderbolt 3 can do what the USB-C does at a faster speed.
Which is faster, USB-C or Thunderbolt?
The Thunderbolt is about twice as fast as the USB-C.
Can I add Thunderbolt 3 to my PC?
You can't add it to just any PC. The motherboard has to allow for an add-in card for the Thunderbolt 3.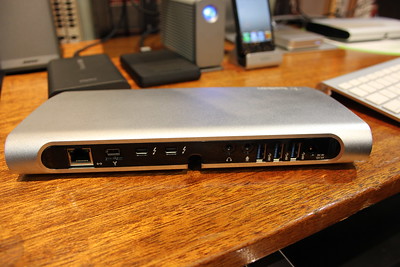 What can I plug into a Thunderbolt 3 port?
You can plug in 4K monitors, HDMI cables, USB cords, audio wires, headphones, SD cards, and ethernet cables. 
Does a Thunderbolt dock charge a laptop?
Yes, it does, usually. There may be some that don't support power delivery through USB, though.
Is a Mini DisplayPort the same as a Thunderbolt?
These two things are not the same. They look to be the same, but you'll notice a different symbol indicating what each port is. The Mini DisplayPort is so that you can connect the appropriate type of monitor with a Mini DisplayPort cable.
Are docking stations worth it?
Docking stations give you the option to expand your laptop's capability. You can take your home office to a whole new level of usefulness with the right docking stations.
Disclaimer: FamilyHype.com (Family Hype & FamilyHype) is a participant in the Amazon Services LLC Associates Program, an affiliate advertising program designed to provide a means for sites to earn advertising fees by advertising and linking to Amazon.com.
DISCLAIMER
(IMPORTANT)
: This information (including all text, images, audio, or other formats on FamilyHype.com) is not intended to be a substitute for informed professional advice, diagnosis, endorsement or treatment. You should not take any action or avoid taking action without consulting a qualified professional. Always seek the advice of your physician or other qualified health provider with any questions about medical conditions. Do not disregard professional medical advice or delay seeking advice or treatment because of something you have read here a FamilyHype.com.