A portable projector is the best tool to give you a convenient way to present in business meetings when you travel for work.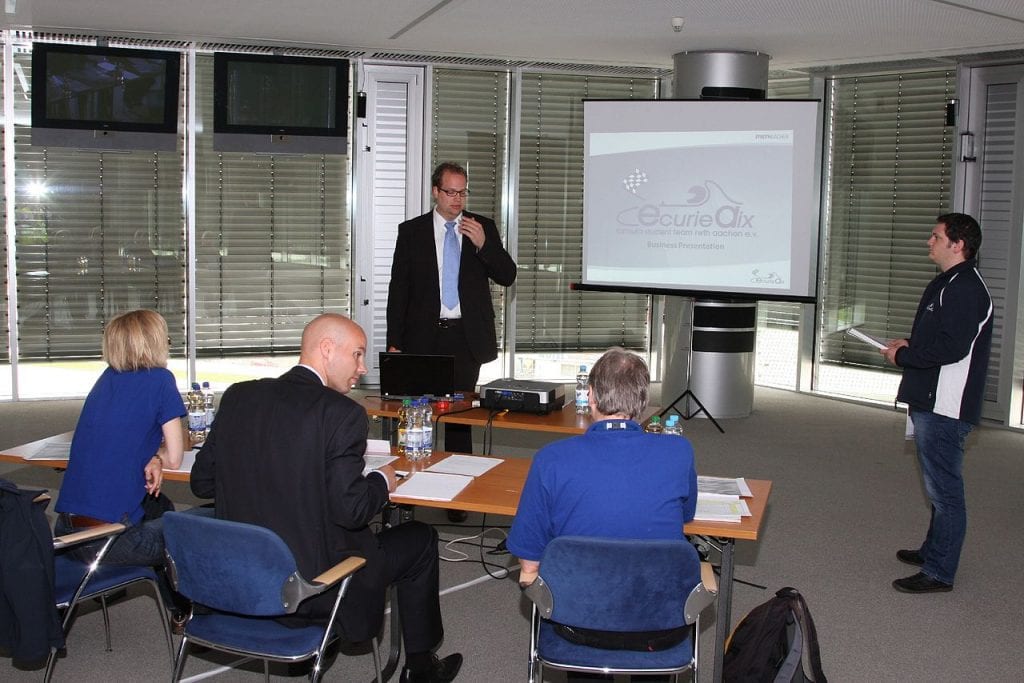 Most of the time, in the past, that's what projectors were used for—people who traveled for work a lot and didn't want to get somewhere only to find out the equipment they needed wasn't available. Now though, you can also use a projector for watching movies on a large screen or wall in your home or outside for a fun family movie time at night. All these make a portable projector an essential tool either for family or business use.
Introduction To Portable Projectors
So, you want to find the best portable projector for how you intend to use iy. One of the best portable projectors that are versatile enough for any use is the Optoma ML750e. The factors you need to consider are the size of the unit, maximum screen size and resolution, color ration and brightness, its level of portability, and its connection ports. The price is important to look at, too.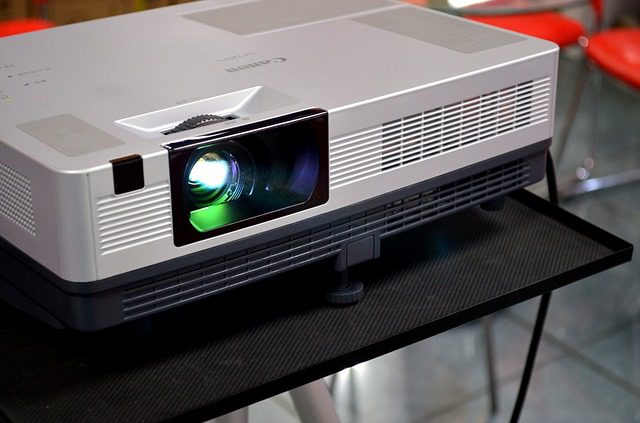 Projector Size
The size of the unit is going to be a big deal when it comes to its actual portability. If you're traveling somewhere for work, you need to be able to easily pack the projector in to your luggage and still have room for your other items.
One thing you can look for is a portable projector. They are becoming more and more popular with adults who travel for work, but also with teens and parents of children at home. These are portable because some of them can literally fit in a pocket.
You can set up a presentation or other type of display anywhere there is a flat open space to do so, though a great picture will show up on a screen. You can set the projector up, connect the source of the media you'll be using, and let the show begin.
Projector Resolution
This is especially important for those who will use their portable projectors for watching movies or videos. Looking at the maximum screen size tells you how large you can make the picture before you'll start getting distortion in the image and colors.
The resolution of the portable projector tells you how clear and crisp the image should be when it's projected onto a screen. Any use that requires video watching will need to be higher quality with a larger maximum screen size and resolution.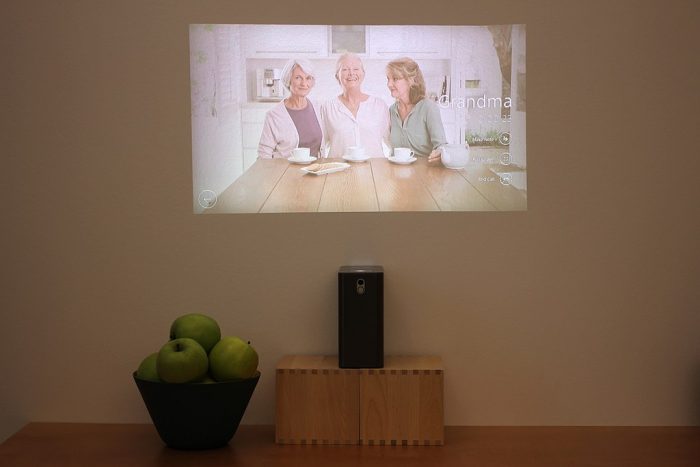 Projector Color-Ration
Movies will also look better with a higher color ratio. You want colors to pop more for a higher quality viewing experience. The color ratio is what determines that.
Brightness
Couple that with brightness for a great picture you can get. Brightness is also important for meetings and conference presentations. Sometimes, you may be presented in a room with light coming in from outside. The brightness of the projectors will determine whether people can see what's on the screen, or not.
Portability
Don't just assume that because projectors are labeled portable they just are. There are certainly different levels of portability. Mini projectors are some of the top ones simply because of their size. They can be tucked into just about anywhere.
If you're wanting larger projectors, look at how much they weigh, what their measurements are, and if it has a handle or handy carrying case included. These things are what make the projectors portable, or not.
Ports
Make sure you check the connection ports. You'll likely want to find one with an HDMI connection. There are other connection ports to consider, depending on what you'll need, like USB or VGA. There may even be times when an RCA connection option could be necessary.
Price
This almost goes without saying, but we'll say it anyway. Know how much you can comfortably spend on portable projectors before you start shopping for one. There are options in different price ranges so there's no need for you to overspend on a unit.
Best Portable Projectors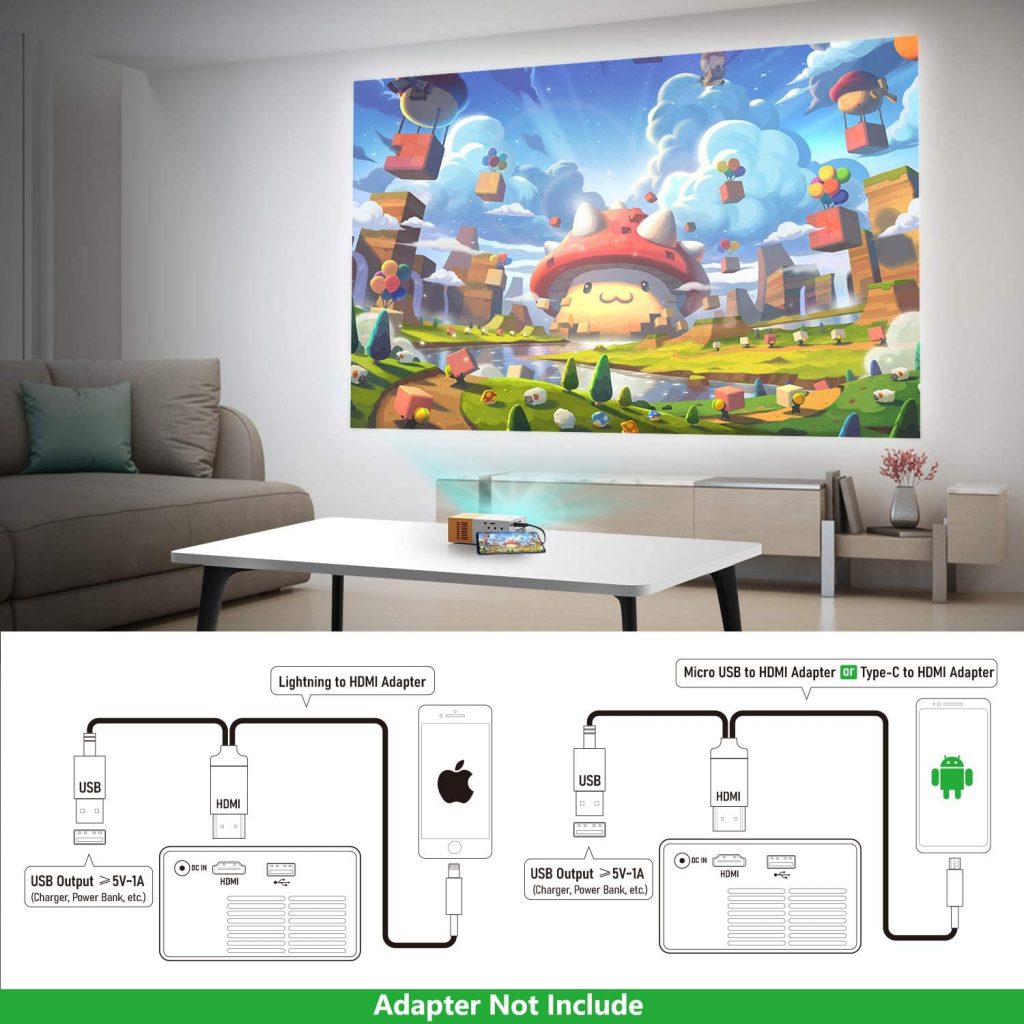 This is one of the budget-friendly portable projectors that are great for having outdoor movie nights or setting up a home little theater in the basement. This includes the connection ports for HDMI and USB, as well as the audio/video inputs. It also comes with remote control. You can connect any of your devices to the projector and it will allow you to project movies, shows, documents, charts, and anything else up onto the screen. It comes with an AC adapter so you can use it for as long as you'd like. It's small enough to toss into any bag and can be toted anywhere. You can power it with a battery power pack, as well.
Pros
The maximum screen size of 150"
Very small and extremely compact
Bright with vibrant colors
Can be powered by a phone charger or car charger
Lightweight, yet durable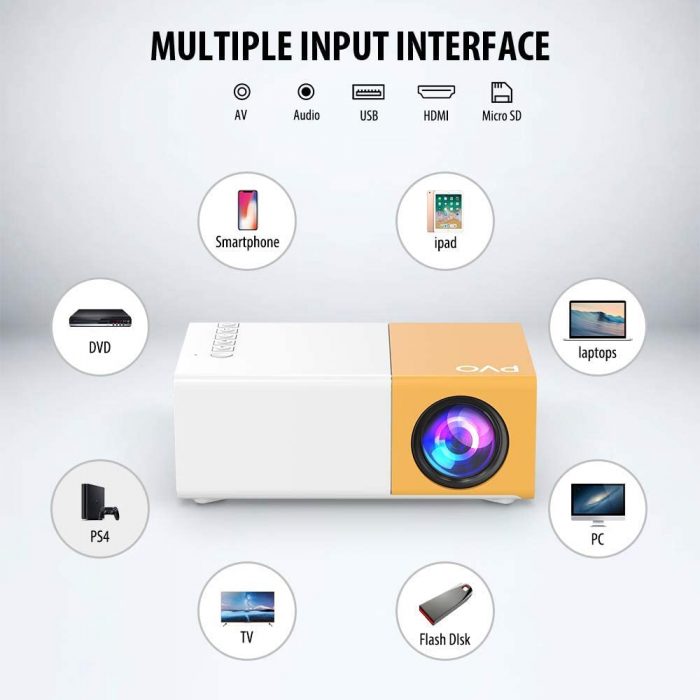 Cons
Not bright enough for a room with much ambient light
Unit gets warm
Needs more adjustable settings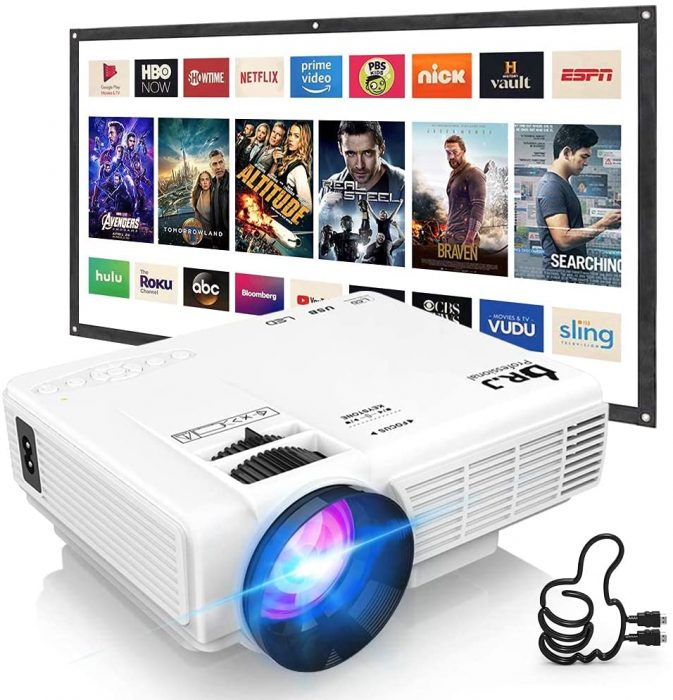 The DRJ portable projector does the job for the right price. It has a large maximum screen size of up to 170" and can be used with many various devices Play Station, Wii, and Xbox. This will allow you to enjoy a movie night outside on a clear night in your backyard or even in your living room.
Pros
Has 7500-lumen image brightness
Large screen size
Remote is user friendly
Offers 3-year warranty
Budget-friendly price
Cons:
Needs an adapter for gadget connection
Does not come with a speaker
Sound quality isn't that good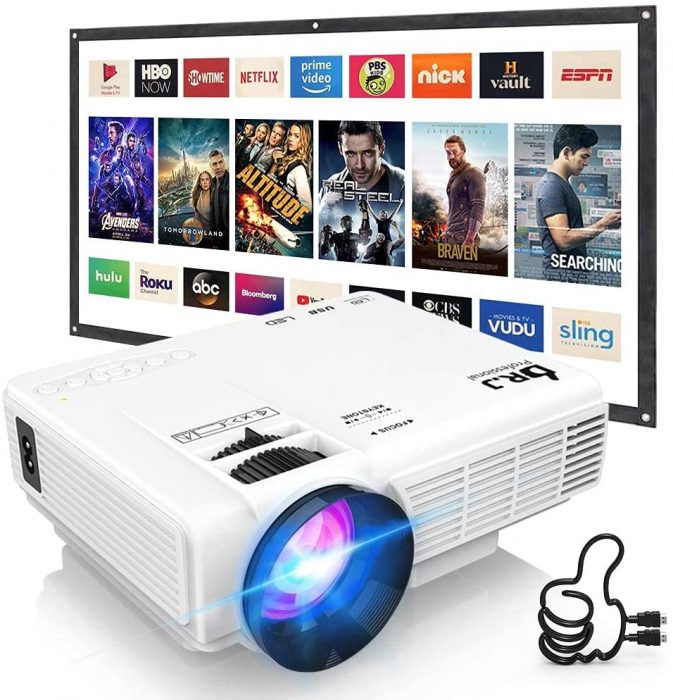 Treat yourself to a cinema in the comfort of your home with the Viewpro portable projector. It is powered with powered by MStar Advanced Color Engine that made it perfect for home entertainment. The whole family can enjoy watching with this portable projector's full HD 1080p and 170-inch display. This mini projector is also compatible with Fire TV Stick, PS4, HDMI, VGA, TF, AV, and USB.
Pros:
Easy to transport anywhere
With upgraded 2021 LED lighting
Easy to setup
Sleek design
Good picture quality
Affordable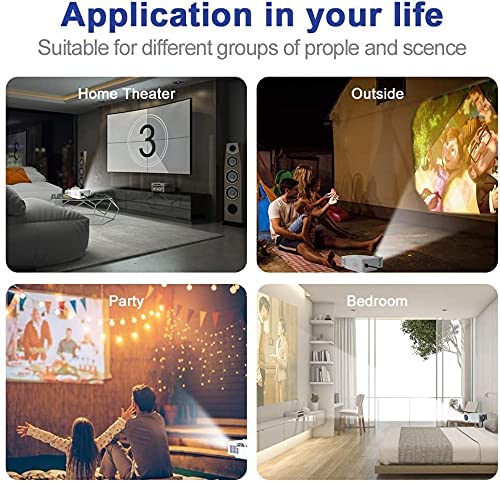 Cons:
Does not have a built-in battery
Mini Projector,HOMPOW Portable Projector 1080P Supported 2022 Upgraded Movie Projector and 176" Display, Compatible with TV Stick/HDMI/VGA/USB/TV Box/Laptop/DVD/PS4 for Home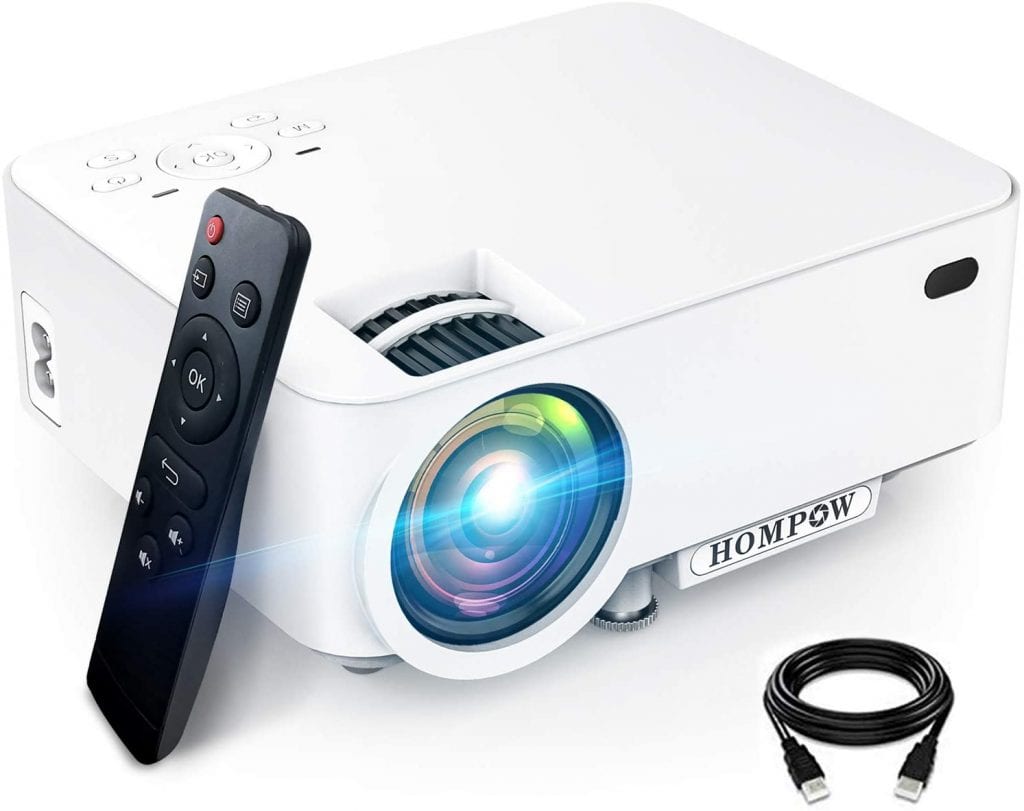 The Hompow portable projector comes with remote control and supports a TV stick, HDMI, VGA, USB, TV box, laptop, DVD player, and a PS4. It has a maximum screen size of up to 176" and can be used inside or outside. It can be connected with smartphones through the use of lightning to HDMI adapter. This portable projector runs quietly and has an integrated cooling system. There is also a keystone correction adjuster that will let you adjust within plus or minus 15°. Then you can also adjust the focus ring to get a more clear picture. The setup of this projector is nice and easy so just about anyone can get it up and running.
Pros
Large maximum screen size
Keystone correction integrated into the unit
Plenty of connection options
Good picture quality
Easy to set up and operate
Affordable price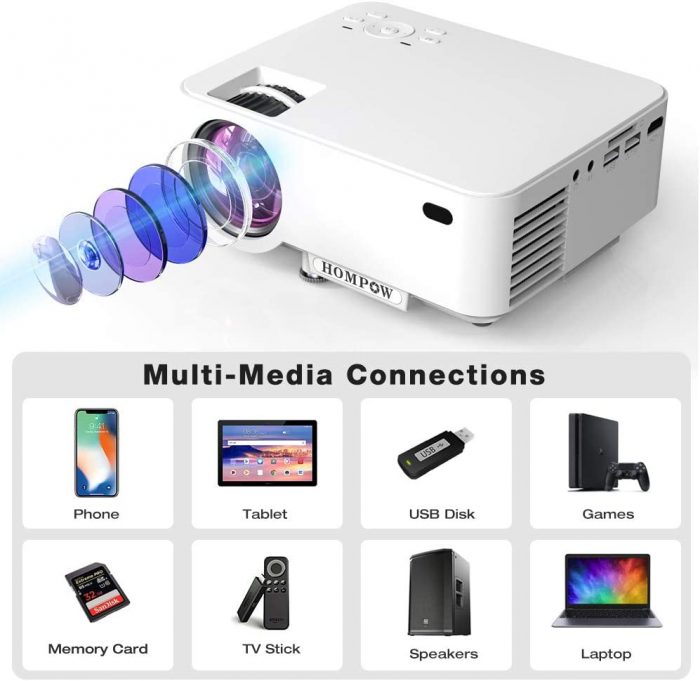 Cons
Speaker isn't loud enough for some users
Basic functioning
Not recommended for business users
Final Thoughts
Our hope with this article was to make you feel more confident about finding the right portable projectors for your use. Small units have changed the projection entertainment and business meeting equipment industry in a good way. You can take these mini and pocket projectors anywhere without any issue. They can be packed into the corner of a purse or backpack with plenty of room to spare. Now that you know what features to look into, like maximum screen size, color ration, brightness, and more, you can start shopping for your unit with total confidence. So, get to scheduling your backyard movie nights with the right portable projector for your home.
Best Portable Projector
Frequently Asked Questions
Can Portable Projectors Link Through Wireless Connections?
They have a wide range of wireless capabilities. Several portable projectors are equipped with wireless functions while some have optional WiFi adapters.
Can Portable Projectors Run Without Batteries?
Some units have built-in batteries that last for up to three hours. There are also external laptops that power the bigger portable projectors for up to two hours.
Best Compact Projector
One of the best portable projectors is the Mars II Pro, with its light weight and overall high-quality image and design. It is much larger and more costly compared to other portable units, but it's definitely worth it.
Disclaimer: FamilyHype.com (Family Hype & FamilyHype) is a participant in the Amazon Services LLC Associates Program, an affiliate advertising program designed to provide a means for sites to earn advertising fees by advertising and linking to Amazon.com.
Last Updated on May 12, 2022 by Marie Miguel
DISCLAIMER
(IMPORTANT)
: This information (including all text, images, audio, or other formats on FamilyHype.com) is not intended to be a substitute for informed professional advice, diagnosis, endorsement or treatment. You should not take any action or avoid taking action without consulting a qualified professional. Always seek the advice of your physician or other qualified health provider with any questions about medical conditions. Do not disregard professional medical advice or delay seeking advice or treatment because of something you have read here a FamilyHype.com.