Most of us walk around with the best phone all the time. Our phones can be our camera and can capture the best moments happening at any time. However, you may want to have the best camera that will allow you to take great pictures of moments or beautiful scenery. That's where the best DSLR camera comes in.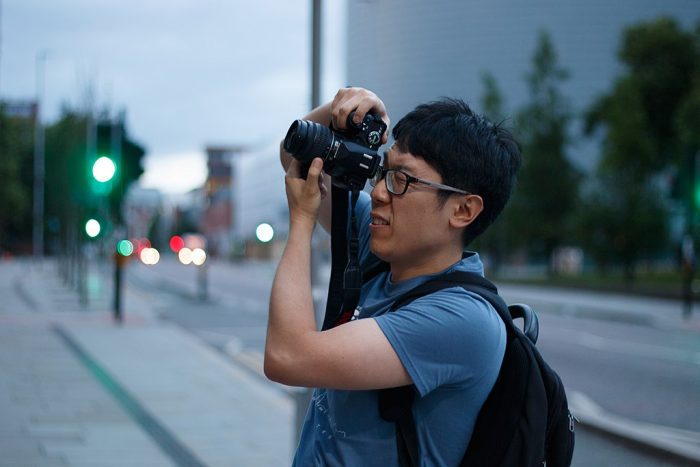 Source: commons.m.wikimedia.org
But, how do you choose the top rated DSLR? Read on to know more.
We're going to look at some good examples for DSLRs a little further down. But, let's first talk about how to choose the camera that's right for you. It's easier to make a choice when you know what you should be looking for.
Decide on the price that you don't want to go over. Determine how you will be using your camera because that will help you know what features to look for. Get an idea of how large of the device you will want. Finally, you'll choose the resolution and sensor size you want.
DSLR Cameras – Best Features
DSLR cameras work with a reflex mirror or prism, which reflects the light coming in from the subject direction to the viewfinder. The photographer can then take a picture of what is seen in the viewfinder. DSLR stands for digital single-lens reflex.
When the picture is taken, the mirror moves out of the way allowing the light to come in and reach the imaging sensor.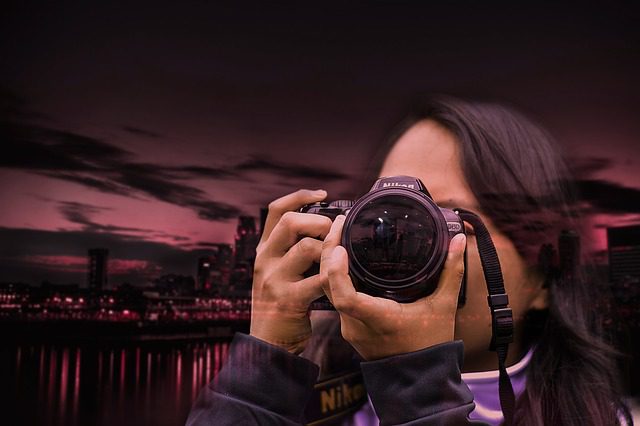 We'll start there with our features.
Mirror
DSLRs create images through the reflection of light coming off of the mirror/prism inside. The light comes in through the lens, hits the mirror, bounces off, and reaches the optical viewfinder. That lets the photographer see exactly what the picture is going to look like.
High-quality Images
DSLRs have large image sensors that let a lot of light in and allow for quicker ISO and fast shutter speeds. The image quality results are clearer picture that isn't grainy.
Lenses
One of the things DSLRs are well known for is their ability to be used with so many different lenses. They are very adaptable cameras, so you can switch out compatible lenses, filters, and flashes to see what kind of photos you can come up with.
Optical Viewfinder
You'll be able to see your photograph before you take it right on the optical viewfinder. It makes it easier to know if you've gotten the shot or not.
Manual Shooting
DSLRs can be very good for beginners because they have preset picture-taking modes that optimize the settings for that type of scenery. However, you can also shoot in manual controls so you can set everything yourself.
ISO Range
It refers to the sensitivity of the camera's digital sensor. These have a broad range of ISO to choose from. It makes them very versatile cameras that can shoot various settings and conditions.
Uses For DSLRs
Ultimately, DSLR cameras are the top choices for shooting all sorts of things. You just need to decide how you're going to be using yours. Will you be taking it on family trips so you can capture the memories of great vacations? Do you intend to start your own photography business? Will you be shooting videos, such as sports players? Maybe your camera will be used mostly in low-light settings. The way you use the DSLR camera will help determine what extras and all the features you need so you can get the most out of it. Any salesperson in a camera shop will ask you about your intended use because it helps them to serve you better.
DSLR cameras are so adaptable and versatile, you really could use them for pretty much anything. One of the biggest things people don't like about these cameras is size.
They do come in a range of sizes, a few compromises: they're larger, heavier, and bulkier than your typical point and shoot mirrorless model.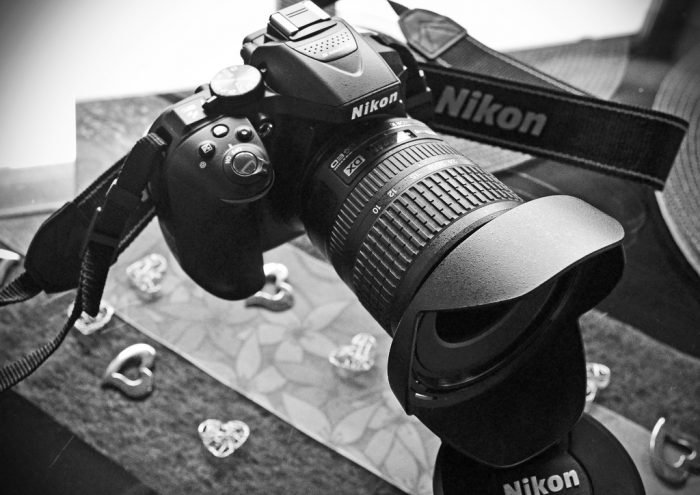 Which DigiCam Brand Is Good?
There are some heavy hitters in the cameras market space. At the top of the list is Canon. The company has been around for nearly a century. They're known for their consistent leading DSLR camera selection. Also, their lenses are considered some of the best.
Canon's older brother, Nikon, is the runner-up for top brand. Nikon also offers very high-quality DSLRs, as well as great choices for mirrorless types.
There are some photographers who prefer Nikon over Canon, but not the majority.
Best DSLR Cameras
Canon EOS DSLR Rebel T7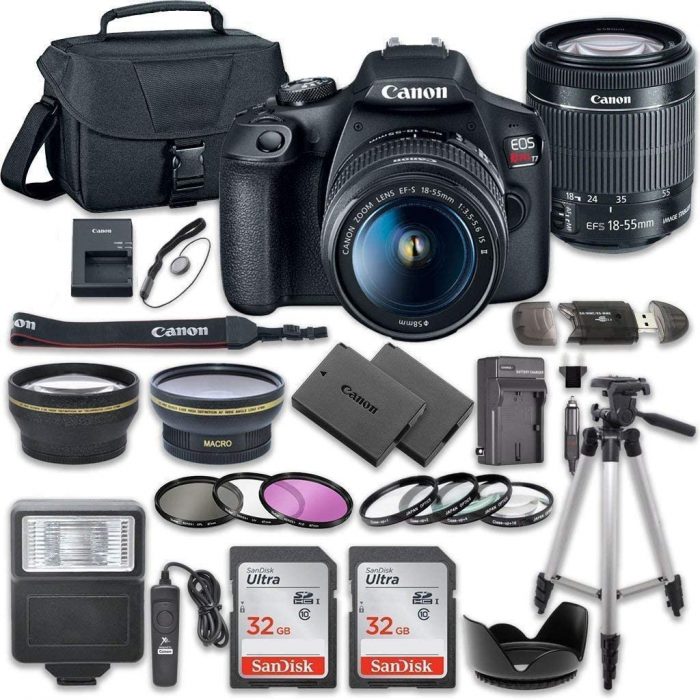 This DSLR camera today's best deals that give you everything you need to get started with all of your photography goals. You'll have the memory cards to store your photos on, three different filters, a digital slave flash, and both a wide angle and telephoto lens, too. There are two batteries and a charger, as well as a tripod included. This bundle also comes with a carrying case for the cam and accessories.
There is a large viewfinder screen for looking at your images. It includes image stabilization technology, too.
Canon EOS Rebel T7 Pros:
Everything included to get started
Backup battery included
WiFi-enabled so you can send images straight to smartphone
Plenty of storage included with SD cards
Has 3.0″ 920k-Dot LCD monitor control layout with full high definition 1080/30p shot video recording capabilities.
excellent image quality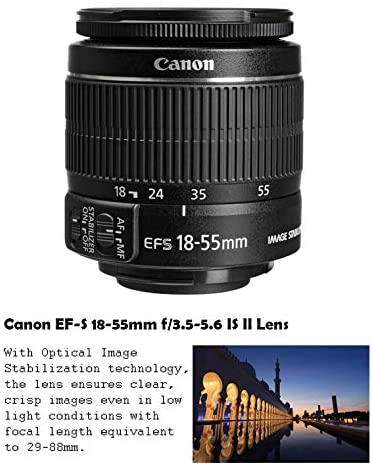 Canon EOS Rebel T7 Cons:
Updates to camera made some older accessories incompatible
Tripod not very sturdy
Some would consider entry level
Canon EOS DSLR Rebel T7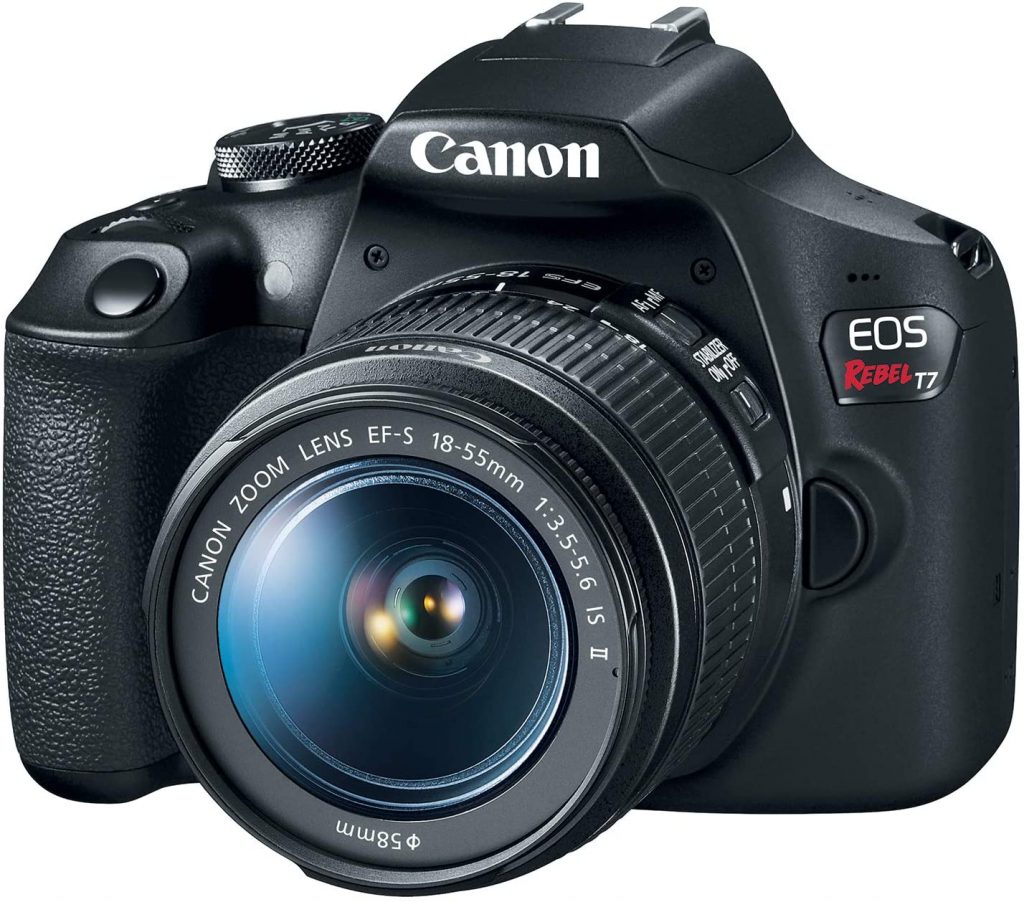 If you're not up for a bundle, here you can get just what you're looking for, the camera. This DSLR camera is the same from the bundle above, but it only comes with a battery, charger, strap, and the 18-55mm lens. As such, it's about $150 cheaper. It has a 24.1 Megapixel CMOS sensor, which means less shutter lag time. It also has built-in WiFi capability so you can send pictures straight to your chosen device.
You'll be able to capture images that are highly detailed with crisp lines and clarity. You can also record videos with full hd video capture.
Canon EOS Rebel T7 Pros:
Camera only
High-quality camera for affordable price
High Megapixel 24.1
Wide ISO dynamic range
Lightweight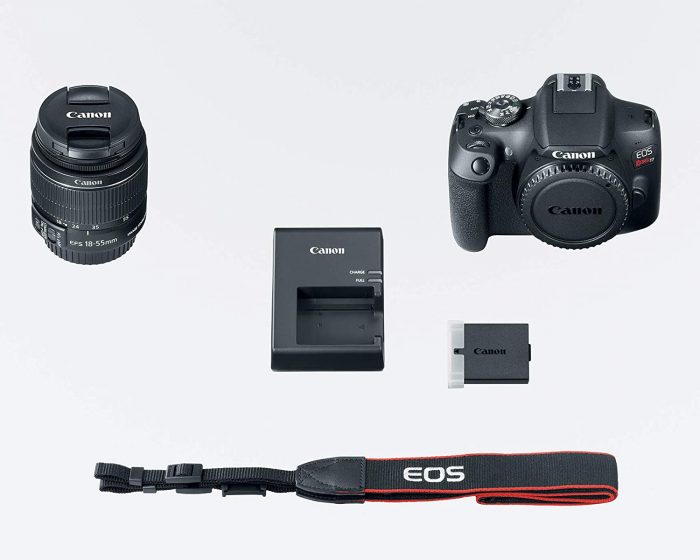 Canon EOS Rebel T7 Cons:
Not rated well for experienced and enthusiast photographers
No microphone jack
Hotshoe only works for Canon products
Canon EOS 4000D
This Canon is a little less expensive camera than the T7. It still creates incredibly beautiful images with an 18 Megapixel APS-C sensor. This is a bundle that includes a few different lenses, as well as an SD card. You can choose between preset modes, intuitive scene mode, or shoot in manual mode. The Canon companion app has a lot of good information to help those who are getting to know their cameras.
You'll also be able to send images straight to your phone with built-in WiFi connectivity.
Canon EOS 4000D Pros:
Photos are easily shareable
Two additional lenses and a filter
Carrying case and cleaning kit included
Spider tripod and flash included
Intelligent photo mode helps take stunning pictures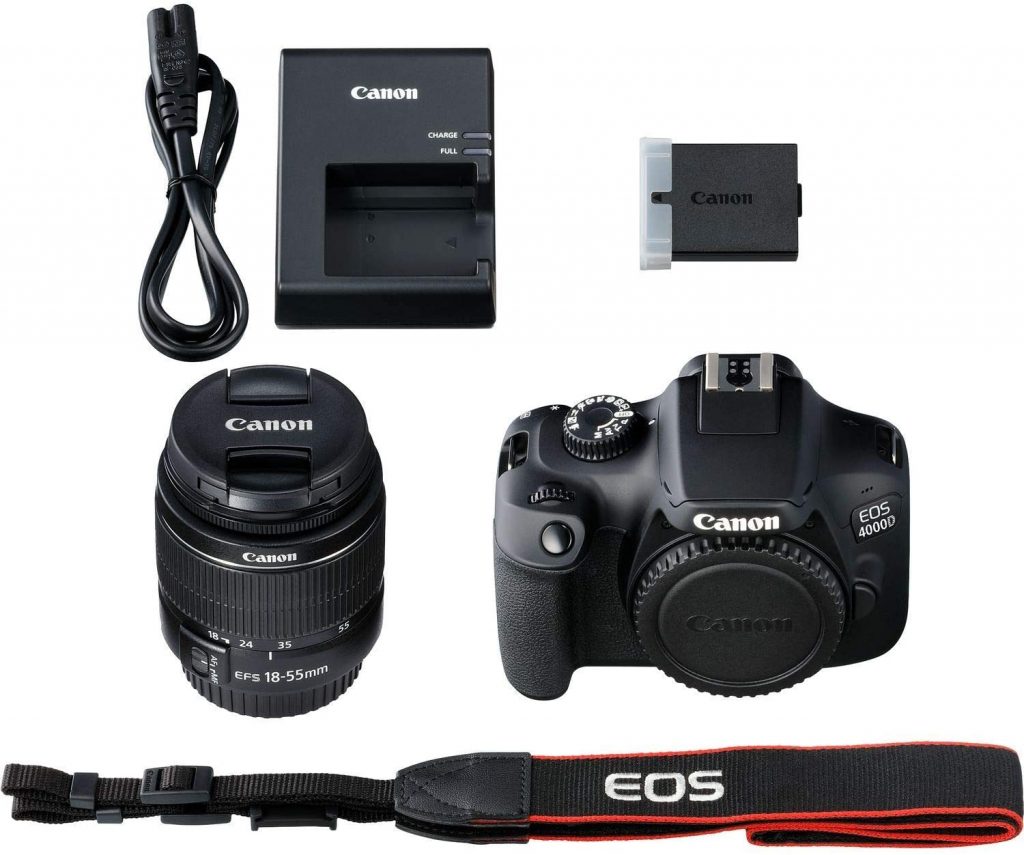 Canon EOS 4000D Cons:
Autofocus can be a little slow
Entry level type
Accessories not Canon brand
DSLR Camera
Conclusion
We all take pictures. Why not take them with a better camera? A good DSLR will help you capture all of the moments you don't want to forget. Once you've decided how much you can comfortably spend for your camera, consider how you will use it. Then, you can narrow down the features you want, and what level of qualities, like resolution and sensor size, to look for. Those are the things you need to do when you are choosing the right DSLR camera.
Frequently Asked Questions
Which DSLR Camera is the best?
The best dslrs is the Canon EOS 5D Mark IV camera. This is actually their flagship camera. It's full frame dslr and sets a good standard for other full frame cameras.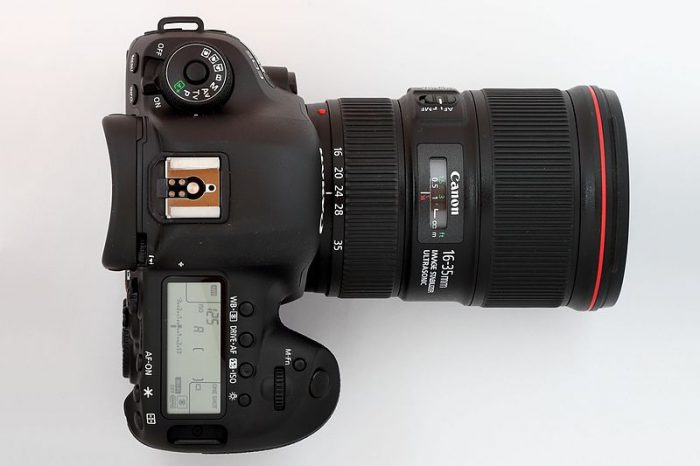 Which One Is Better, Canon Or Nikon?
Canon is rated higher overall. Nikon has been around for about 20 years longer. They both produce high quality equipment. You really couldn't go wrong with either. We will say Nikon has three very good mirrorless types in their lineup for those who prefer that type.
Is DSLR Worth Buying?
Yes, DSLRs can still be worth buying depending on individual needs, preferences, and the specific requirements of the photographer. Although mirrorless cameras have gained popularity in recent years, DSLRs offer several advantages that make them a viable choice for many photographers.
One advantage is the availability of pixel shift technology in certain DSLR models. Pixel shift technology allows the camera to capture multiple images with minute sensor movements, which are then combined to create a final image with increased resolution, finer details, and improved color accuracy. This feature can be particularly beneficial for landscape, product, or studio photography, where capturing intricate details is important.
Additionally, DSLRs provide an opportunity to enhance photography skills through their optical viewfinder system. The optical viewfinder offers a direct, real-time view of the scene, which can aid in composition and understanding the interplay of light and subject. This feature allows photographers to refine their skills and learn to visualize and anticipate the final image before pressing the shutter button.
While mirrorless cameras have made significant advancements and offer their own advantages, such as compact size, electronic viewfinders, and advanced autofocus systems, DSLRs still hold their ground. They have a wide range of lens options, reliable autofocus performance, robust build quality, and established systems with extensive accessory support. Additionally, some photographers may prefer the handling and ergonomics of DSLRs.
Ultimately, the decision to buy a DSLR depends on factors such as shooting preferences, specific requirements, available budget, and willingness to invest in lenses and accessories. It's advisable to consider the current offerings of both DSLRs and mirrorless rivals, evaluate their features, and potentially try them out in person to make an informed decision based on individual needs and preferences.
Should I Buy The Top DSLR 2020?
They are very easy to use and can be used in more kinds of conditions than a mirrorless type. DSLRs are also good for all sorts of skill levels.
Which Is Better, EOS Or DSLR?
These aren't different modern cameras. You can get an EOS DSLR, though. EOS stands for Electro-Optical System. It's the auto-focus system in a Canon camera.
What Are The Cameras Do Most leading digital publishers Use?
Some professional photographers use the Nikon D5 or D6 Camera. They also use the Canon EOS 5D Mark III.
Which Canon Is The Highly Recommended?
When it comes to highly recommended Canon cameras, several models stand out, especially in the realm of full frame megapixels.
One such highly recommended Canon camera is the Canon EOS R5. It features a full-frame sensor with a remarkable 45 megapixels, offering excellent image quality and high-resolution capabilities. The EOS R5 also incorporates advanced features like in-body image stabilization, 8K video recording, and a sophisticated autofocus system.
Another highly regarded Canon camera is the Canon EOS 5D Mark IV. This full-frame DSLR boasts a 30.4-megapixel sensor, delivering impressive image detail and dynamic range. The EOS 5D Mark IV excels in various genres of photography, including landscape, portrait, and wedding photography, thanks to its reliable performance, versatile autofocus, and robust build quality.
Canon's flagship full-frame mirrorless camera, the Canon EOS R6, is another popular choice. It features a 20.1-megapixel full-frame sensor, which provides excellent low-light performance and high-speed image processing. The EOS R6 also offers advanced autofocus capabilities, 4K video recording, and in-body image stabilization, making it a versatile and well-rounded option.
Ultimately, the choice of the "highly recommended" Canon camera depends on your specific needs, budget, shooting style, and preferences. It's advisable to consider factors beyond just the sensor size and megapixels, such as features, handling, lens compatibility, and overall system ecosystem, to determine the best camera for your requirements.
What traditional dslr Should I Buy?
The best overall is the Canon EOS Rebel T7. The best mirrorless camera is the Fujifilm X-T4s.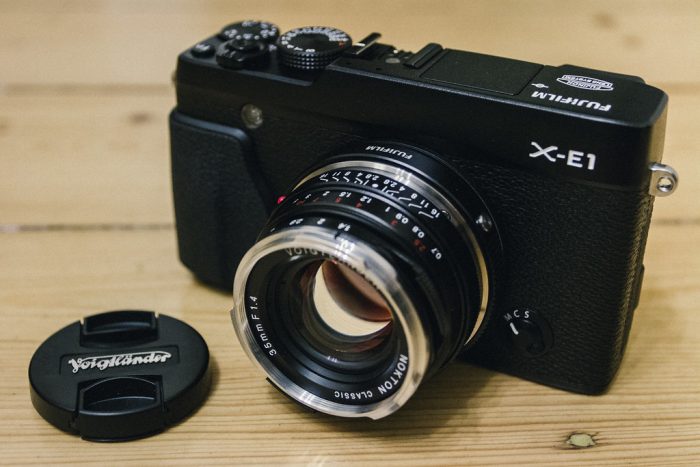 Is A DSLR Device Really A Greater Option Than iPhone/camera phone?
DSLR is better at capturing subjects in motion, low light settings, and shots at a distance with the use of zoom.
What are the top three other future brands of DSLR camera?
Can you do continuous shooting?
Yes. Most modern cameras are capable of continuous shooting. Continuous shooting, also known as burst mode or continuous capture, allows the camera to capture a rapid series of images in quick succession. This feature is particularly useful for capturing fast-moving subjects or creating action sequences. By holding down the shutter button, the camera will continuously take photos until the buffer is filled or the button is released. The specific capabilities of continuous shooting may vary between camera models, but it is a common feature found in many modern digital cameras.
Is the standard aps c sensor full frame?
No, the standard APS-C sensor is not full frame. APS-C (Advanced Photo System type-C) sensors are smaller than full-frame sensors. Full-frame sensors, on the other hand, have the same dimensions as a traditional 35mm film frame, hence the term "full frame."
The term "full frame" refers to the sensor size and has no direct connection to the number of megapixels. Both APS-C and full-frame sensors can vary in megapixel count, which relates to the resolution of the image. Generally, higher megapixel counts allow for greater detail and flexibility when cropping or printing large-sized images.
In summary, standard APS-C sensors are smaller than full-frame sensors, and the concept of full frame does not inherently relate to the number of megapixels.
Last Updated on January 12, 2023 by Shulammite Jan Languido
DISCLAIMER
(IMPORTANT)
: This information (including all text, images, audio, or other formats on FamilyHype.com) is not intended to be a substitute for informed professional advice, diagnosis, endorsement or treatment. You should not take any action or avoid taking action without consulting a qualified professional. Always seek the advice of your physician or other qualified health provider with any questions about medical conditions. Do not disregard professional medical advice or delay seeking advice or treatment because of something you have read here a FamilyHype.com.