An anniversary date is not only a day of relationship milestones, it's a hallmark of love and commitment. A thoughtful gift to your partner is one of the best ways to celebrate your special day and celebrate your relationship. Whether it's your first celebration as a couple or it's your golden year, there are many gift ideas that can surely melt her heart. If you are looking for the right gift for her, then you have come to the right place. Here are some of the best gift ideas to melt the heart of your leading lady.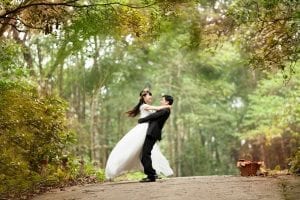 Of course, most couples (especially the ladies) will say celebrating together is the greatest gift on their special day. Guys, remember that this is not true. Your lady sure wants something to remember the celebration but is shy to say what it is.
Tired of the classic style and generic presents? We'll give you the guidelines about the most proper (and sweetest!) way of picking the top present to give to your partner! Don't worry; we'll recommend specific presents as an example and added guide, so keep on reading to know the top gift ideas.
Give Something That Will Make Her Feel Extra Special
While shopping and thinking of what should be the top present to give to your partner, keep in mind that it should be something that would positively impact her. Surprise her by giving her that thing that she wants, but she is shy to say and express that she wants it.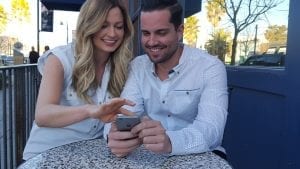 Ladies would sometimes tell that they don't need anything. But come on, you know that is not a hundred percent true. Deep inside, they want this one thing to add to their collection. Whatever it is, only you can find it out. Maybe take notice of her magazines, her recent online store visits, or the way she subtly expresses her likes on a particular tv commercial product.
Also, here's a friendly reminder: When you think of the present ideas, don't think much of the price tag. Do not calculate and compare what she's given you before to what you are about to give her. Think of the effort and the detail in the present. Remember that anniversaries are also celebrated to strengthen your relationship even more.
Always Remember To Include Yourself As Well
The best gift for your partner is one that makes her feel truly special and expresses your deep love for her. Instead of focusing solely on the occasion, embrace the idea that it's a celebration of your love together. It's a moment to honor the connection you share, emphasizing the significance of your bond rather than just individual celebrations. Choose a gift that beautifully conveys the love and affection you have for her, creating a meaningful and memorable experience on your special day.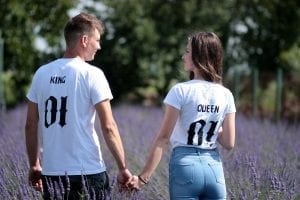 Get her something that will also remind her of you. Think of a thoughtful present with a personal touch. It can be personalized, such as writing a song and publishing it for the whole world to listen to your declaration of love. Now that's a one-of-a-kind perfect gift. For married couples, you can also make a twist to your wedding song and insert some personalized messages into the lyrics.
For your next special day, how about you get her a fountain pen with both of your names engraved on it? If your woman has a green thumb, you can get her personalized gardening tools and items (like an apron with her name embroidered on it).
You can also frame her favorite photo on social media. This is something she'll truly appreciate, especially if those are photos of important dates or memorable things about your relationship.
Another good idea is weekend trips or an Airbnb gift card. This is a win-win and no-fail gift option for the two of you.
Surely you already got a great idea. Unleash your creative mind and let go of the stereotypical presents.
The Right Anniversary Gift To Give To Your Partner Should Have Your "Magic Touch" 
Your present should communicate your unending feelings for her. Remember that this is about your relationship. Moreover, it should match how you treasure the connection, communication, rich emotions, and memories that you two had together.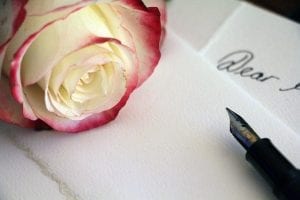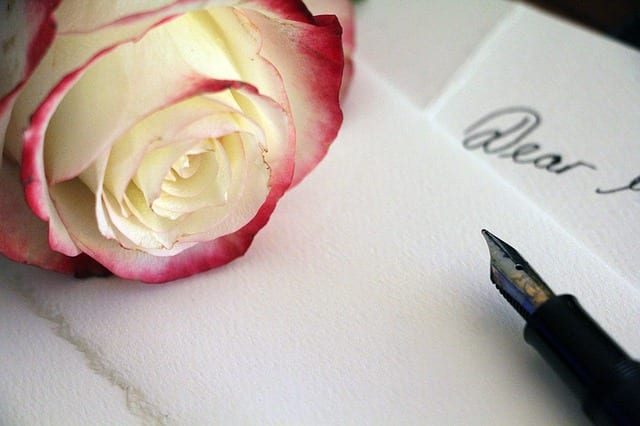 Add a personal and handwritten message to your present. Don't make the note or letter too generic or too long because your partner might become bored or find it funny. Instead, express how you cherish her and want your relationship to grow continuously.
Your special day is not just about her or you. The top anniversary gift for your partner should symbolize your memories together through thick and thin. You can also be creative by giving the present while strolling down your favorite park full of memories together. Whatever it is, keep in mind that she would appreciate all the efforts you've made.
Special Day Present Ideas
As said earlier, there are plenty of options out there that can help you express your affection and appreciation for her. Here are some ideas you might want to consider:
Personalized jewellery
You cannot go wrong with pieces of jewelry; they are classic and timeless gifts. You can of course, make it special by personalizing them. There are lots of options for this, you can engrave pendants, rings, or bracelets with a special date of your relationship or a short message. This wills surely add a personal touch and serve as a constant reminder of your love.
MyForever Rose
Another unique gift idea is a forever rose. The red rose is the universal symbol of love. A forever rose is a preserved rose enclosed inside a beautiful glass dome. This ornamental piece will serve as a reminder of your everlasting love.
Frequently Asked Questions
There are many present ideas to make your day special. You can never go wrong with thoughtful traditional anniversary gifts that come straight from the heart, such as a personalized message in a love letter. Write a love letter to your wife. Get a balloon for each year of your marriage then put a piece of paper in each one. With that, write something nice about your spouse. Dress up and dance all night in your living room or bedroom. If both of you are wine lovers, have your favorite wine in your simple celebration. It is a simple but sweet and memorable anniversary present.
What Are The Traditional Wedding Commemorations Presents By Year?
The traditional anniversary presents from the first to seventh year are paper, cotton, leather, fruits and flowers, wood, candy/iron, and wool/copper, respectively.
What Are The Traditional And Modern Special Day Presents?
The traditional list of wedding anniversary presents highlights materials that were commonly available in years gone by. These include items such as wool, tin copper, and paper. If you are on your 12th wedding anniversary and want to give your wife a traditional present, a silk tee set can be a great present idea. You can also add a spa gift certificate to the silk tee set. Silk and fine linen are traditional gifts for 12th wedding anniversary. If you are looking for new presents, get appliances, a jewelry collection, or her favorite bag. 
How Do I Melt My Wife's Heart?
To impress the lady in your life and melt her heart, do unexpected sweet gestures. For instance, you can show affection in public, rub her back, or give her a massage. If you are both wine lovers, spend a night together with your favorite bottle of wine. She'll love those sweet actions. You can also give her a unique gift or a special gift with personal style. If money is not an issue for you, giving her a luxury present is a great idea, like a rose gold jewelry set. Any girl will love a luxury present. The bottom line is, you know your wife well. Just think of her favorites and you will have great present ideas that she'll love.
How Can I Spoil My Wife Without Money?
You can definitely impress and spoil the lady of your life without money involved. Picking up the portion of her chore is a perfect present she'll appreciate much. This is the most practical gift but it will make your wife happy. Another wonderful idea is to tell your wife how much you appreciate her. This is another sweet and perfect present to consider. If you aren't good with words, try a love letter instead. If a girl loves to receive a love letter, then consider your love letter a unique present to her. You can also spend quality time with her and create special moments. Show her some love and affection. Not all perfect presents require money. Sometimes, special moments spent with your wife will make the present recipient happy.
How Do I Make My Wife Feel Respected?
Respect is very important in marriage. Here are the possible ways to show your wife that you respect her:
Listen to her.
Don't do anything that will hurt her feelings.
Avoid raising your voice when you talk to her.
Demonstrate trust in your relationship.
Include her in the decision-making.
Provide for your family.
Let her feel secure with you.
Support her with her plans
Accept your differences
Respect is a practical present you can give to your wife. It is not just a great present. It is one of the top presents you can give to her since respect comes along with love.
Why Is A Special Day Present Important?
How Do I Show My Girlfriend I Care?
What Is The Greatest Present In A Relationship?
What Is A Good Special Day Surprise?
How Can I Make My Special Day Interesting?
Other Resources
https://www.thespruce.com/best-anniversary-gifts-for-her-4159764
https://www.chattersource.com/article/anniversary-gifts-for-her
https://www.womansday.com/relationships/g3263/anniversary-gifts-her/
Last Updated on May 13, 2023 by Edwin Sinsona
DISCLAIMER
(IMPORTANT)
: This information (including all text, images, audio, or other formats on FamilyHype.com) is not intended to be a substitute for informed professional advice, diagnosis, endorsement or treatment. You should not take any action or avoid taking action without consulting a qualified professional. Always seek the advice of your physician or other qualified health provider with any questions about medical conditions. Do not disregard professional medical advice or delay seeking advice or treatment because of something you have read here a FamilyHype.com.