It is never easy to choose the difference between 3-wheel and 4-wheel stroller for our little ones – especially if we're buying them for their comfort. There are a gazillion things to consider and sometimes, this adds up to our stress as their caretaker.
When choosing, it is imperative that as caretakers of our children, we see to it that they are safe, they are comfortable, and our choices fit our budget as well. So how do we do that? We research, we read, and we look up everything we can on the internet. Everything we need to know is the tip of our fingers, it is just a matter of deciding which one will make your child happy and safe. With the presence of online shops, our choices are now more vast and this means that some parents or caretakers find it extra hard to find the perfect one for their child.
This is why we are here to help you decide on one of the most essential things you need for your baby: strollers!
Strollers, be they have jumbo wheels, two wheels, or oversized wheels, have come a long way from the days of old when active parents had to struggle for 15 minutes to try and fold the original style or the "traditional stroller" up or work so hard to turn because the wheel mechanisms, wet weather gear, and stiff handling made it so difficult. Parents need to have a comfortable jogging travel system with their kids. Now, you can pretty much fold and unfold them with one hand especially if it is a lightweight stroller, be it three or four wheels, just turn them while pushing with only one hand. Moreover, you can even use their four wheels, air-filled tires, or foam-filled wheels on all kinds of different terrains even on bumpy terrains! You can use them easily on rough or uneven ground!
If searching for an all-terrain stroller, it can never be an easy choice. Times have changed and each one has features that can be better than the next. How many wheels do you think are best for your child? Which do you prefer, 3-wheel and 4-wheel strollers? Are you big on the features or the ease of use? The 3-wheelers have become very popular amongst parents. Some even have cup holders, a storage basket, and a child tray on them. Pretty neat, right?
So, what is it about them that parents like? Foam-filled tires or air-filled tires? 3-wheel and 4 better wheel stroller? And what is their major difference? There may be a hundred questions in your head right now because you're choosing the perfect one for your precious little child – this can be about safety concerns, comfort, durability, and all other additional features, be they necessary or unnecessary. So let us help you narrow down your decision to the perfect stroller for bumpy terrain, tight space, and a comfortable ride.
To give you an idea of what most people buy online today for their baby gear, be it three-wheel strollers or four-wheel ones, we made a list of the best-sellers from Amazon, and we included their significant features and highlights so you can get a better idea what to choose. You will also learn more about the benefits of a three-wheeler vs a four-wheeler and FAQs if you continue reading.
Strollers You Can Choose From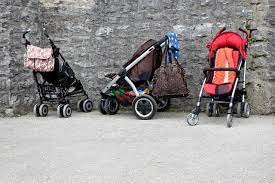 Baby Jogger City Mini 2 Stroller
The Jogger City mini 2 is very lightweight and has excellent portability. It is very compact and it comes with an innovative design that is both fashionable and functional. It even has adjustable handlebars and enough basket space to leave your shopping bags. This makes it the perfect one if you love wandering all around the city or even doing errands with your child.
These 3-wheelers have essential features such as adjustable calf support and seat recline to keep it elevated or lie flat whichever makes your baby comfortable during travel. The ride is customizable with 4 modes – use it as a pram, a single or double with an infant car seat, or even a glider board (this is sold separately).
The fabric is soft and textured which makes it more comfortable.
Ergobaby Metro+ Compact Baby Stroller
If you love adventure, the Metro + Compact lightweight baby 4-wheelers are your perfect companion. Why? Because they are light to carry, easy to fold, and have a compact design. This infant carrier has good stability as its tires regularly adjust to the terrain. It means that you no longer have to worry over the swiveling front wheel.
You can bring 4-wheelers anywhere and easily put them in your car's trunk, and even bring them on subways or even if you take buses to commute. This feature makes it one of the mom's favorites. These strollers fit most airline overhead bins which makes it an ideal option if you are travelling by plane.
It ensures comfort for your little one with its extra, plush soft padding
It has a leatherette handlebar which is adjustable to fit your comfort too
Ergobaby, Travel System Ready
The Ergobaby stroller is travel system-ready. This four-wheeler is made of durable and high-quality materials which makes it worth its price – a bang for the buck indeed. It has a cup holder, bicycle tires, and newborn-ready padded inserts. Simply put, this is perfect for active parents running late for work or just love doing jogging or outdoor activities.
There's more, it comes with 4 wheels, mesh sidewalls, a tri-zone padded seat, and a giant sun canopy for your baby's extra comfort.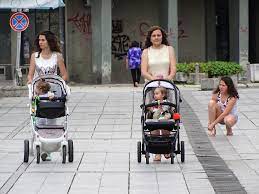 Kolcraft Cloud Plus Lightweight Easy Fold
This four-wheeler is highly recommended for infants up to 50 lbs and 40 inches tall. It comes at a reasonable price and top-notch features, too, such as the five-point harnesses and easy one-hand fold perfect for attraction at any place.
It provides extended sun protection and a canopy. This ensures that your baby has maximum UV protection. Moreover, there is a cute peek-a-boo window so you can easily see your little one while they lie there.
These 4 wheeled strollers are perfect for families on the go. It only weighs 11.8 lbs and is very convenient for day trips and traveling.
3 Wheel Or 4 Wheel Stroller:
Which One Is Better?
The first thing you need to do is to evaluate your lifestyle and your day-to-day activities. After that, see how a 3 or 4-wheel stroller will fit into it. It will be easier for you to assess once you do this. Each of these designs has its strengths and weaknesses, so your choice depends on how and where you'll be using it, and of course, your budget too. It is not a one-size-fits-all decision and it varies from family to family.
Three wheeled strollers, on the other hand, have gained popularity for providing a smooth ride in various terrains. Their design allows for greater agility, especially in tight spaces, making them a preferred choice for navigating crowded areas. Unlike their four-wheel counterparts, these strollers offer a unique and original stroller style, providing a distinctive look while maintaining functionality. Consider the benefits of most three-wheel strollers when deciding which option suits your needs best.
4 wheelers have been the norm for a long time. For one, having 4 wheels on the ground gives more stability to the stroller. The weight of the stroller, child, and anything else you're toting in it gets distributed among 4 wheels. The center of gravity for a 4-wheeler should keep it from tipping over easily. The downside of these is that 4 wheels make it hard to turn very tightly. Because of this, they are harder to maneuver in crowded spaces.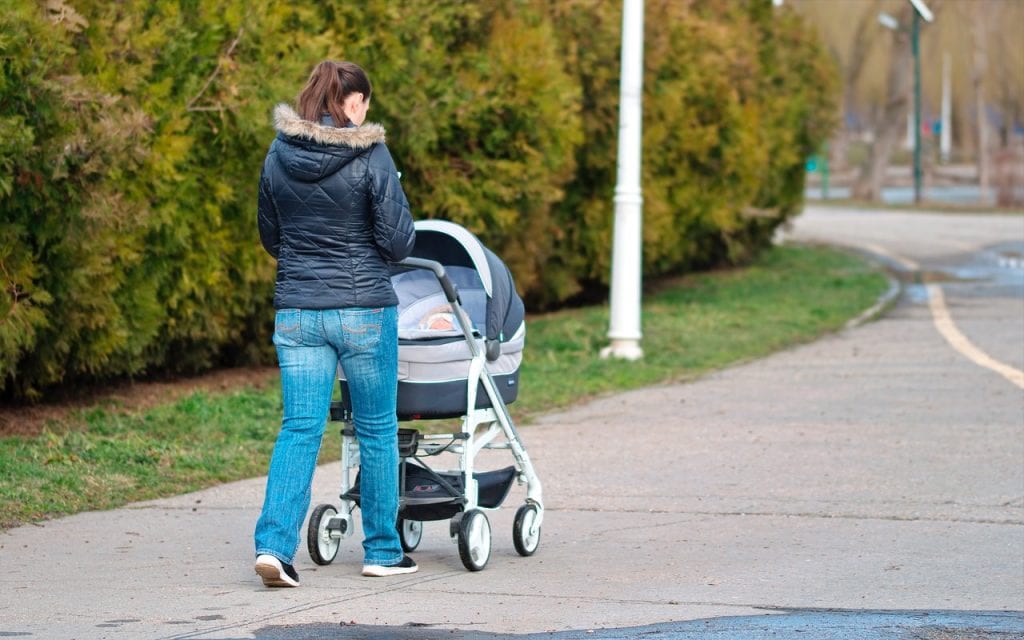 The 3-wheeler turns much tighter and easier than those with 4 wheels. The front wheel acts as a pivot for which the rest of the stroller can spin around. The wheel in the front is the leader and steers the body while the wheels in the back bear the weight. One thing to look out for with 3-wheelers is they have a higher center of gravity. That makes 3-wheelers easier to tip over. You can look for a 3-wheel stroller that has larger wheels in the back than the one in the front so the center of gravity sits lower. Many jogging strollers are made with three wheels. This can be one of your deciding factors when choosing between the two.
Are All 3 Wheel Strollers Jogging Strollers?
Not all 3-wheelers are jogging strollers. Most jogging strollers do typically have 3 wheels but some regular ones only have 3 wheels, too. There are some design differences between the two 3 wheel strollers that make them each better at their respective uses.
What Is The Difference Between A Jogger And A Regular One?
The frame of a jogger has a different design than that of a regular 3-wheel stroller. Jogging strollers are wider and made of heavier, more durable materials. The frame is made to be solid enough for the jostling that may occur during a run, and there is a suspension system that's better for a faster pace. If you are more on the athletic side or want to add a little bit to your physical activities, a jogger stroller can be the one for you and your child.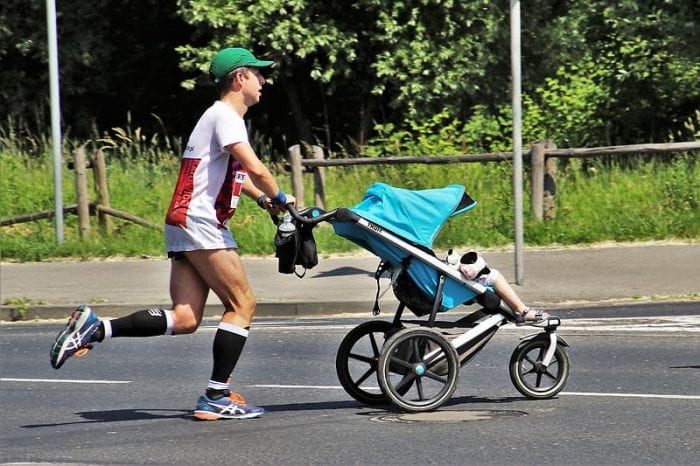 A jogger stroller will have larger rear tires than a regular one will. Also, the front wheel is often fixed so the runner has better control of the stroller. There is a steering mechanism included on the handlebar, as well. As a safety precaution, there's a hand strap for parents to wrap around their wrists during use.
Can You Use A Jogger For Everyday Use?
You absolutely can. If you're someone who is a pretty avid runner, then investing in a good 3-wheel jogger stroller that you can use for running and for everyday use may be the best idea for you. Otherwise, you'll have to switch back and forth between a jogger and a regular three or 4 wheel counterpart of the stroller all the time.
Is A Jogging Stroller Worth It?
This may not be a practical idea for someone who only jogs occasionally. Joggers commonly known as 3-wheel strollers come with a lot of features you won't even use if you're not a pretty serious runner. Those features are usually very pricey, so make sure you're considering your lifestyle if you're making this decision.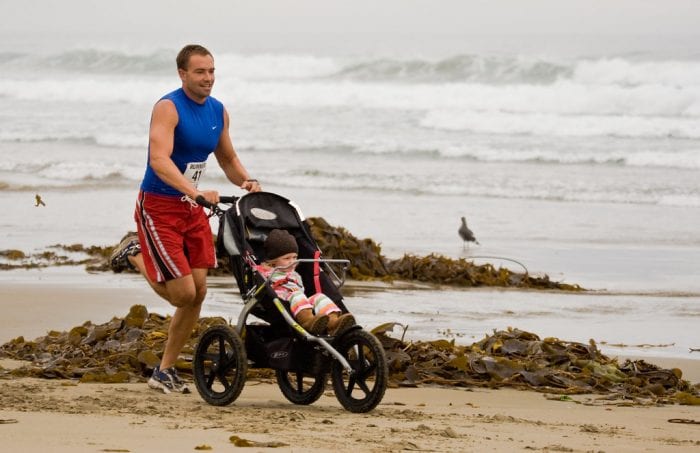 Do I Need A Jogging Stroller?
The biggest consideration for this is how much you run. If the majority of the time you put your little one in a stroller, you're pushing with it, then you will benefit from 3 wheels jogging stroller. But, if you're going to be using it mostly for walking with occasional jogs on your schedule, then a regular 3-wheeler or one of the classic four-wheelers is a better choice for you.
Three-wheel Jogging strollers have a fixed front wheel that isn't great for maneuvering through places where you'll want a tight turning radius. It's meant to give runners the stability they want so they can control it easily during a jog. The compact fold feature is crucial for those with limited storage space, ensuring that the stroller can be neatly stored when not in use. Additionally, having the weight distributed evenly across the stroller contributes to a smoother and more comfortable ride for your little one. Whether you're on the go to a park or simply folding the stroller for storage, these key features make the strolling experience convenient and user-friendly.
Still Asking Yourself:
Should I Get A Jogger Or Stroller?
If you are having a hard time deciding between a jogger and a regular one, or 3 or 4 wheels, then maybe you should get one of each. Many parents have multiple kinds of strollers. If your budget can handle it and it makes sense for your family, go ahead and get a jogger, a regular, and maybe even an umbrella stroller.
What Are The Best All Terrain Strollers?
For those of you who like to get out and hike or jog on some awesome trails, all-terrain strollers may be something you should look into. One of the best ones on the market is the BOB Revolution FLEX. It has features like 3 wheels, water-repellent material, multiple canopy positions, high durability, lots of storage pockets, and it's good for both jogging and all-terrain use.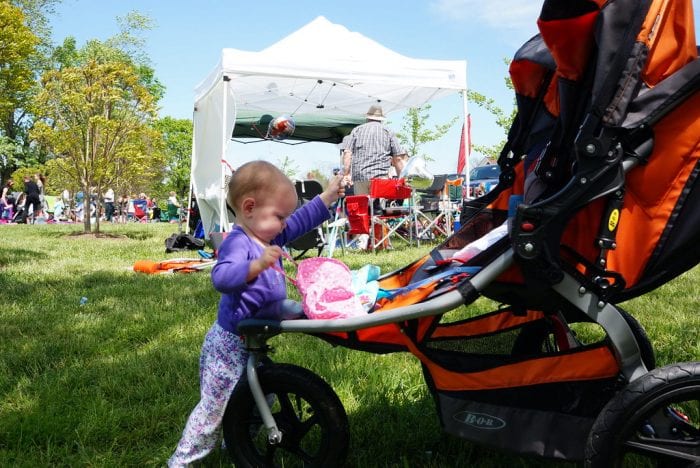 What Are The Best Strollers For 2019?
Looking at what the best stroller was for 2019, you'll find there are differing opinions. That's because people use them in very different ways. The best stroller for your neighbors may not be what's best for your family. That being said, baby experts do get together and make judgments based on their professional knowledge of what the best strollers are.
The best overall stroller in 2019 was the UPPAbaby Vista Emmett Stroller. It's a 4-wheeler that adapts to many kinds of uses. It also is a stroller system that can grow with your child. You can even convert it to be used with up to three children at one time. It's a high-end stroller system with 4 wheels that is a little on the pricey side but well worth the cost for its longevity.
3 Wheel vs Four Wheel Stroller
What Are The Best On The Strollers Market Currently?
The UPPAbaby Vista Emmett 4 Wheeled Strollers are still sitting up at the top of the list. Another one that's at the top is the Baby Jogger City Mini GT2. This three-wheeler can be used as an all-terrain, is great for use in crowded areas, and is small and easy to fold up and put away. Though these are 3-wheel strollers, they are technically not jogging strollers but may work well for that, too, because of their control features.
The Battle Of The Three Wheel Strollers And Four Wheel Strollers

Three-wheel or Four-wheel, which one is better is all about you. It's about the way your lifestyle, your activities, and your typical day with your baby. We have given you the information you need to make an informed decision on choosing the right stroller for your family. Now it's up to you to go find one. Or two or three or four wheels, as it turns out.
Wheel Stroller Frequently Asked Questions:
What Are The Disadvantages Of Three Wheels?
For one, three-wheelers tend to be heavier and more expensive. It can also tip over a little easier compared to the four-wheelers.
Are All Strollers Good For Newborns?
Strollers that can fully recline are the only ones appropriate for infants under 3 months old. On the other hand, a convertible stroller is designed to accommodate your baby from birth until they reach their toddler years. Typically, these strollers allow you to attach a car seat to the frame as well.
Which Is Better, a Baby Carrier Or a Stroller?
It depends on what activities are you planning to do with your little one. If you see that you might be climbing up stairs, or very bumpy terrains, a stroller might not be the best idea. Baby carriers can be easier to bring but it would mean more physically draining to the baby's caretaker. The stroller, on the other hand, will be the best choice if you will be wandering around or maybe doing a few errands. It can be more comfortable for the baby and for you, especially if it takes a couple of hours or so.
How Many Months Should A Baby Use A Stroller?
According to the American Academy of Pediatrics, strollers are considered suitable for children in their infant and toddler stages but should be discontinued by the age of 3. Pediatricians also advise against excessive reliance on strollers.
Are Bigger Wheels Better On A Stroller?
As a general guideline, strollers with larger wheel diameters tend to handle uneven surfaces better. Therefore, a pushchair equipped with larger wheels is more likely to provide stability and support on slopes and rough terrain.
Last Updated on May 15, 2023 by Bry Roquero
DISCLAIMER
(IMPORTANT)
: This information (including all text, images, audio, or other formats on FamilyHype.com) is not intended to be a substitute for informed professional advice, diagnosis, endorsement or treatment. You should not take any action or avoid taking action without consulting a qualified professional. Always seek the advice of your physician or other qualified health provider with any questions about medical conditions. Do not disregard professional medical advice or delay seeking advice or treatment because of something you have read here a FamilyHype.com.