Parents will do anything to see their infant sleeping contentedly during the day since little ones need as much sleep as possible to grow up well. Besides, moms and dads typically have chores in and out of the house when the sun is up. They cannot do any of that if the child loves making a fuss. Most parents solve this issue and give themselves a much needed break by getting a baby swing.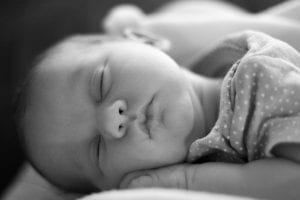 Best Baby Swing
A baby swing is similar to rocker or a hanging car seat, in the sense that you can place your child here while doing your chores. This is why many exhausted parents recommend them. The rocking motion tends to soothe a crying infant, and that gives you one less thing to worry about. You may or may not need to push the infant either, depending on how technologically advanced the item is. Many also come with seat covers, making them easy to clean.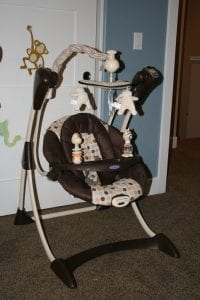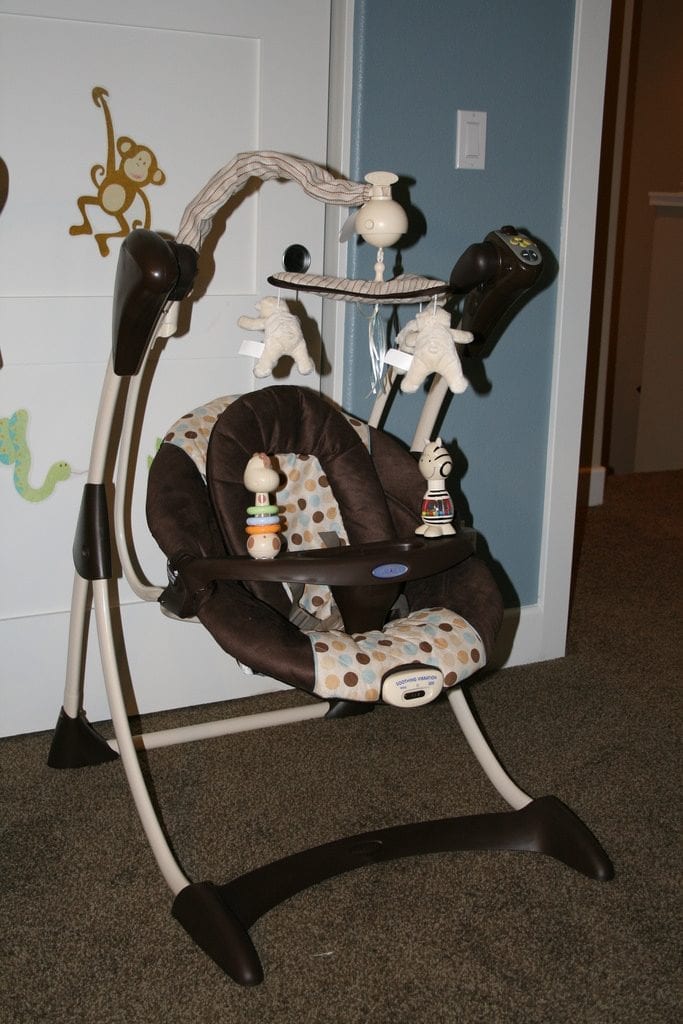 Don't worry if your go-to store is Walmart – baby swings are aplenty there. Here are the best baby swings being sold in this place at different price points.
Graco Comfy Cove Swing For Baby Girls
Another baby swing set Walmart has in store for you is Graco's Comfy Cove. This product will be fantastic for your little princess, from the flower decoration to the pink dots on the fabric. You can set it to sway at multiple speeds as you work at home, and your baby girl can nap cozily in it. There's nothing to worry about regarding her safety because the five point harness ensures that she won't get anywhere once strapped in the rocker.
Fisher-Price 4-in-1 Rock 'n Glide Soother
Do you want to get four different baby must-haves for the price of one? While Fisher-Price has cheap products for sale, you won't see anything flimsy in their 4-in-1 Rock 'n Glide Soother. The product swings, glides, rocks, and soothes. Not only can the seat make a 360-degree turn, which allows the child to face your direction anytime. It also vibrates and is perfect for kids who can already sit. It could be the best baby swing for your child!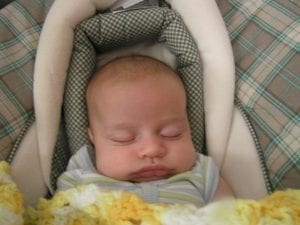 Best Baby Swings
Ingenuity InLighten Cradling Swing
In case you are the cool type of parent, you may want to spend your dollars on Ingenuity's InLighten Cradling Swing. Swings like this one do not merely soothe your child and let their seat move in 180 degrees. It can also keep your little one entertained, primarily because it comes with dancing lights. When you connect your MP3 player to it, then your child can genuinely have a party while your attention is elsewhere.
4moms® mamaRoo® 4 Baby Swing
Last but not the least, if you like to splurge on products for your little one – or you know that he or she will have more siblings in the future – why don't you go big with 4moms' mamaRoo 4 Baby Swing? It is a mechanical swing Walmart offers at a higher price point, yet buying it won't feel like you got robbed of your hard-earned money. You can connect an MP3 player to it or play music via Bluetooth to increase your child's relaxation. Best of all, it bounces and rocks the infant back and forth or sideways, depending on the motion or speed that you select. Once you lay your child or her in it, it is as if you are the one soothing them, not the machine. The 4moms mamaRoo 4 model is worth trying.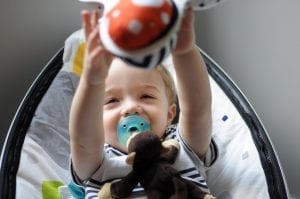 Other Good Options To Choose From
Here are some other options that are also worth checking out.
Graco Simple Sway
As the name implies, the Graco Simple Sway Baby Swing is nothing fancy, but it does its job. Here are some features of the Graco Simple Sway.
Uses D batteries or plug-in, making it quite the portable baby swing.
Two speeds with a gentle swaying motion.
This portable rocker has removable head support, making it machine washable.
Graco Glider LX
The Graco Glider LX is also a great choice. It is portable, has different vibration speeds, and has your standard features. This rocker's most unique feature is that it has high weight limits, fitting babies up to 30 pounds.
Graco Duetsoothe Baby Swing
The Graco Duetsoothe Swing and Rocker is another unique product. It has a higher weight limit than the previous options. In addition, it has a removable seat as well. This makes it quite convenient if you want a swing and a seat in one, so give it a try.
Fisher-Price Sweet Snugapuppy Dreams
The Fisher-Price Sweet Snugapuppy Dreams has quite a few unique features that set it apart from other items on the list. These include:
Machine washable. The plush seat pad is machine washable for the cleanest experience.
Nature or soothing sounds and songs, along with many more speeds.
This swing and rocker have many different positions, like side to side.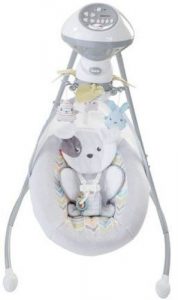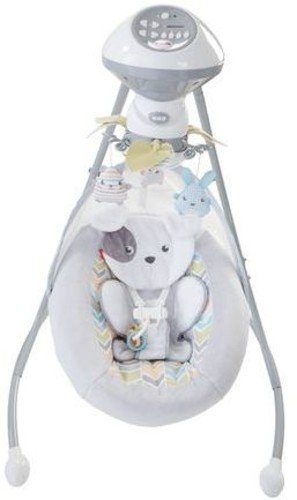 Try the Fisher-Price Dreams Cradle 'N Swing if you want another good option. The Cradle 'N Swing has some other unique features, such as:
The Dreams Cradle N Swing has 6 speeds and different sounds.
The Dreams Cradle N Swing is machine washable.
The Cradle N Swing includes a power cord.
The Cradle N Swing has a toy bar as well.
Graco Duet Glide
This is a take-along swing that doubles as a rocker, which is perfect if your child spends a lot of time in their swing. This has a side-to-side swaying motion. You can then switch from side to side to front to back. This is the best option for you if you're looking for a compact baby swing that takes up less space.
Graco DuetConnect LX  
This compact baby swing has the essentials, including up to six speeds. It's one of the best options on the market if you're just looking for something practical and straightforward.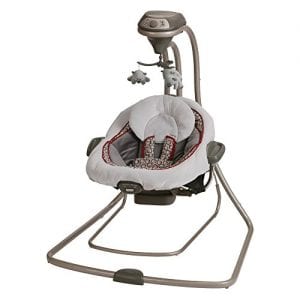 Ingenuity Power Adapt Portable Baby Swing
The Ingenuity Power Adapt is great for rocking your child to sleep. It has some great portable features and has what you expect. As of this article, the Ingenuity Power Adapt is only available through third-party sellers. But if you can find a good third-party seller, this may be well worth checking out.
4Moms Rockaroo
The 4moms Rockaroo is a great option for putting your little one to sleep. It's Bluetooth-capable, plush, and has all sorts of unique features to help your child fall asleep. It has to be one of the top models around. Give the 4moms Rockaroo a try if you want to.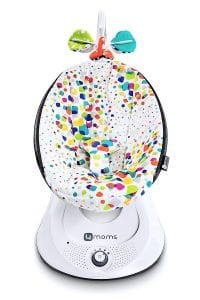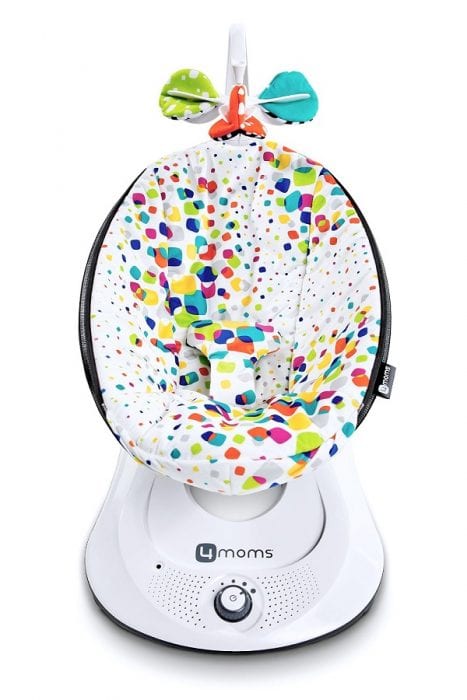 Slim Spaces Compact
The Slim Spaces Compact is another option if you want to rock your child to sleep with style. It's great for travel, but as of this post, it's only available through third-party means. Still, if you can try it out, do so.
Rocker Winslet
The Graco Duet Rocker Winslet is a nice little metal and plastic model that is imported. If you want to rock your little one to sleep with style and make them fall asleep in no time, it's a nice little option to try out.
Cozy Kingdom
The Cozy Kingdom isn't the top model, but it's portable, cheap and, and of good quality. If you're on a budget, you can afford the Cozy Kingdom. Give it a go and see if it's for you. Chances are, your child can sit in this thing until they fall asleep.
Swing Affinia
This is another from the Graco Glider brand. This is one of the top models when it comes to portability. You can carry this it from room to room, and it still holds up. It's a great safety swing and one worth trying. With that said, it's one to put on the registry.
Flora the Unicorn
Flora the Unicorn is a beautiful portable model that has a timer and a beautiful seat that depicts a cute unicorn. Some people love an aesthetically pleasing baby seat, and we think this is one of the best seats in that regard. Give it a go to see if it's for you.
What To Look For
Here are some features you should look for when you're shopping for a swing.
The most important feature in any product is safety. You should ensure that your child's swing has a 5-point harness to keep them safe and a strong build to keep it upright. Some may have shoulder straps or a safety harness, and this safety harness can keep your child strapped in. Most swings on the market are going to be safe, but you may end up with some bootleg ones that aren't.
Also, most baby swings will be both safe and comfortable. You want to ensure a swing doesn't sacrifice discomfort for safety and vice versa. Most are safe and comfortable.
You may want a take-along swing that allows you to bring it anywhere easily. Travel is always important when it comes to any swing. You want a take-along swing that has other convenient features as well. For example, a good swing folds flat. Any swing that folds flat will make it easier to store or carry around. And you'd want a swing that folds flat if you have limited space in your suitcase. Or you may want one that folds up flat for a car ride. Look for the best portable models that your baby will love.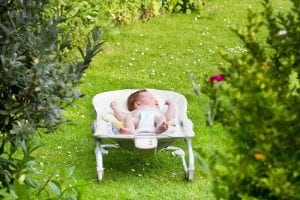 Many swings will have a toy bar or other accessories to make them cooler. The toy bar can keep the child entertained if they're a little wound up. Some may have a removable toy bar for when you're ready to let the infant nap for a little bit.
Swing With Cry Detection Technology
Some models on the market, such as the Sense2soothe, have cry detection. A swing with cry detection technology has a mic, and if it hears your infant crying, the swing adjusts its rocking and sounds to help soothe the child. This is a great piece of baby gear if you need a bouncer that can calm down a child. They can be one of the more expensive models on the market, but they are worth it.
You want a swing that has a seat pad that is easy to clean. Children love to make messes, and by making sure you have an easy-to-clean seat pad, you can make sure the seat will stay in shape for a long time. Some have seats that are easy to wipe off, while others have a removable seat pad that is machine washable.
Some models have a vibration setting that helps soothe the infant, which they love. More expensive models will have more vibration settings and vice versa.
A bit of white noise can help a baby go to sleep. Babies love nature sounds, songs, or other noises to help lull them to sleep. This can help a fussy baby. If your swing doesn't have white noise, it's pretty easy to play your own, but an option built-in is always convenient.
A swing with more than two swinging speeds is always good. Many swings will offer different swing speeds, as babies have their preferences. Some have more vigorous swinging settings than others. Look for a swing and seat with multiple options.
Different Reclining Positions
Sometimes, you need a swing with an upright position, especially if your baby to sit upright. However, sometimes you want a swing that can move from an upright position to different reclining positions. Even in its most reclined position, a good swing still has all the safety features, so look for one with a reclining seat. Some baby swings have up to three reclining positions.
You may want a swing with a higher weight limit for older babies. Some swings support older babies up to 30 pounds, while others have a 15-pound limit and aren't for older babies. It's worth buying a bigger one if you have a bigger baby.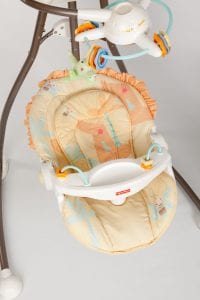 Having a baby swing that is easy to assemble is a good thing. Most swings don't require any rocket science, but if the assembly is complicated, it can make the swing less safe and secure. You want your swing to be more safe and secure; therefore, it's logical to choose a swing that is easy to assemble. It's worth it.
It's Soft and Comfortable
One of the most important features in any baby swing is that it helps soothe the baby or keeps the baby entertained. Most traditional swings have comfort and safety in mind. But some may include more ways to keep the baby comfortable, such as a motorized mobile, smart swing technology that swings the baby according to their preference, and more.
There is a swing for any budget, with the price low to high. Low-budget swings will have the essentials, such as swinging and stuff for the baby's safety. Swings that have a high price will have some great features. These a removable seat, a seat that can carry the baby's weight better, a machine-washable seat, mobile toys, and more. The price point is always important. If you have Prime, you can cut the price with free 2-day shipping.
The Verdict
All four of these swings for an infant are worth buying. They have their own device and distinct features which you won't easily find in another. They come at reasonable prices as well, considering how many things a single baby swing can do. You merely need to think of the one that suits your family's budget and your child's age when you go to Walmart. Baby swings also make a great baby gift for baby showers or birthdays.
Good luck!
Best Baby Swing FAQs
What Are The Top Swings On The Market?
The "best" baby swings depend on what you're looking for and what your budget is. Some parents may want a portable swing, while others may look for a gliding motion swing.  All the swings in this article have their own use, and you should check them all out. Also, you can always look at a list of the best baby swings if you're curious to see what they have to offer. There's a good chance that you can find the best baby swings for your situation.
When Can A Baby Use A Swing?
There are swings meant for babies as young as a newborn baby. Of course, different baby swings may have different age recommendations. As for a park swing, you want to make sure your baby can sit down before you put them on the swing seat. It all depends on what swing you get, is what we're saying.
Are Swings Bad For Babies?
The best baby swings are perfectly safe for babies. With a comfortable swing seat, head support, a 5-point harness, and other safety support, it's safe for a baby to swing in them. With that said, they aren't meant for sleeping. A little nap in the swing is harmless, but it's not a crib.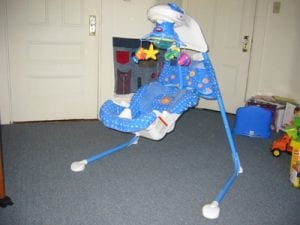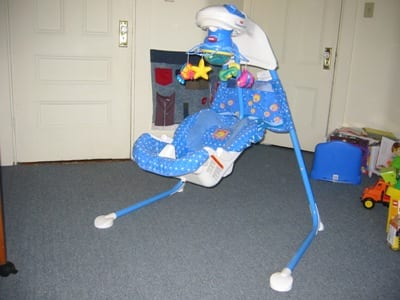 Can I Put My Newborn In A Baby Swing?
There are baby swings meant for newborns, so yes. Look for a portable baby swing that has a swing seat designed for newborns. This way, your baby stays comfortable in the swing at all times. Just make sure you look for an option meant for newborns because they don't have the neck control needed for other swing models.
How Do I Choose A Baby Swing?
Look around a baby store or online and see what type of baby stores they have. Of course, you may wonder what you should look for. Here are some things to look out for when choosing a portable swing.
What Type Do You Need? Do You Need A Portable Swing?
A portable baby swing is suitable for travel, while a more stationary swing may have more features. Some swings maybe a little bit in the middle, offering a portable swing with some stationary features. See if a portable baby swing is right for you.
Is The Swing Seat Comfortable?
Is a bouncer or swing better? A bouncer is more portable, typically doesn't use batteries, and does provide more fun. Meanwhile, a swing is meant for young babies who haven't used their legs yet. They both have their own uses, so try both out and see how your baby reacts to them.
Is A Baby Swing Useful?
A gliding swing or a baby swing is quite useful for calming down your infant and keeping them occupied in their early years. Some swings are more useful than others. Some may have nature sounds or be more of a gliding swing that moves around like the child is in their mother's arms.
Can Swings Cause Shaken Baby Syndrome?
Shaken baby syndrome involves a parent or caregiver violently shaking an infant, usually out of frustration because the child is crying. This may lead to brain injury or even more severe problems. Swings involve a gentle motion, so there's no way it would cause shaken baby syndrome. There would be a lot of lawsuits if that were the case.
Is There A Chance For Baby Swings To Cause Brain Damage?
Once again, the movements in a gliding swing or swing rocker are gentle, so there's no way these swings can cause brain damage.
Is It Okay For A Child To Sleep In A Swing All Night?
A baby swing or gliding swing is perfect for a small nap, but do not leave your child in the swing all night. Use a proper crib or baby bed for that. If your child isn't waking up, take them out of the infant swing and out of the room. We say that a 20-minute nap is okay for your baby to sleep in, however.
Which Models Can Hold The Most Weight?
Graco models tend to have the highest weight limit, which is around 30 pounds. Don't expect most models to go higher than that. By that weight, most toddlers would be bored with a baby swing. Many models tend to be less than that, but many babies grow fast and need more weight.
Do Baby Swings Help Infants With Colic?
Colic is a state, typically around young babyhood, where your infant is crying all the time, and it tends never to end. You may wonder if infant swings are good for colic or not. The movements of a baby swing rocker, along with nature sounds some infant swings play, can soothe a baby with colic. The head support and comfortability of a swing may help as well. However, there are some cases of colic where the child doesn't calm down at all. You may need to talk to your pediatrician if that's the case.
Are There Swings Meant For Toddlers?
Swings for toddlers tend to be those swings you find in parks, where you push them and the toddler enjoys themselves. There are some meant for indoors or outdoors, so try them all out and see if they work for you. Or get a nice tree swing if you have a tree.
When Can An Infant Start Using A Swing?
Many baby swings are for children as young as newborns, but there are some that aren't suitable for infants younger than a few months. As we say, however, always make sure that you follow the age recommendations to avoid infant deaths or injuries.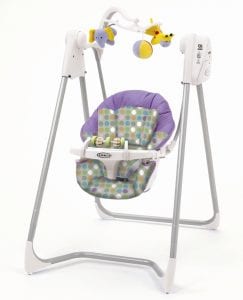 Last Updated on May 13, 2023 by Jeanne Meets
DISCLAIMER
(IMPORTANT)
: This information (including all text, images, audio, or other formats on FamilyHype.com) is not intended to be a substitute for informed professional advice, diagnosis, endorsement or treatment. You should not take any action or avoid taking action without consulting a qualified professional. Always seek the advice of your physician or other qualified health provider with any questions about medical conditions. Do not disregard professional medical advice or delay seeking advice or treatment because of something you have read here a FamilyHype.com.