As your baby gets older, they are still going to enjoy their swing seat just as much as they did when they were infants. This is why choosing the best swing when your baby is a newborn or while you are still pregnant is the way to go. This way, you can get the most out of the swing and your baby can use it until they are big. Let's discuss a few guidelines for choosing the best baby swings for big babies.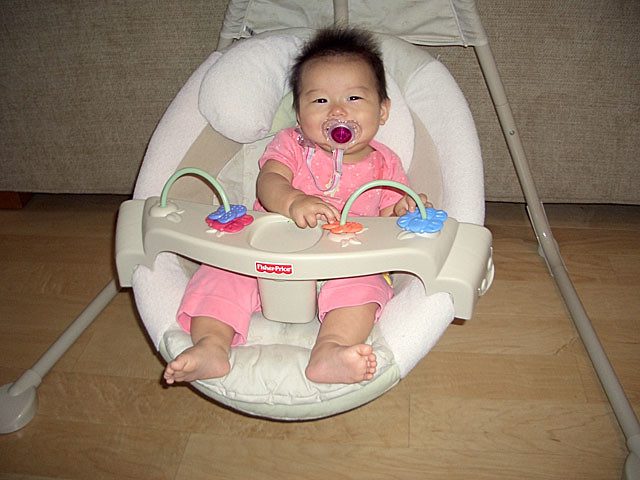 There are numerous options out there for the swings, so doing research is important. You want to make sure that you choose the one that can accommodate your growing child. This guide will tell you more about the best swing for bigger babies that is currently on the market, along with some close runner-ups. Also, other questions you may have about the many different swings will be answered so you can feel fully prepared to make the most suitable swing decision for your child's needs.
While the price is an essential factor when buying swings, it is not the only thing that you should look at. There are other factors to consider, such as safety features, portability, and more. To give an insight into what makes a swing ideal, we created a list of the top-selling swings from Amazon, and we highlighted the features it offers so you can compare and see what fits your needs.
Best Baby Swings For Big Babies: Guide
A baby swing is great to lull the child to sleep, however, most of them do have a weight limit.  While many can hold a baby gear, if you move them side to side and it won't hold big infants, it can break and might hurt the child. Sometimes the tree swing might work for when they're younger, but as they grow, they need a swing that fits their limbs.
Our Top Choices
Fisher-Price OnTheGo Swing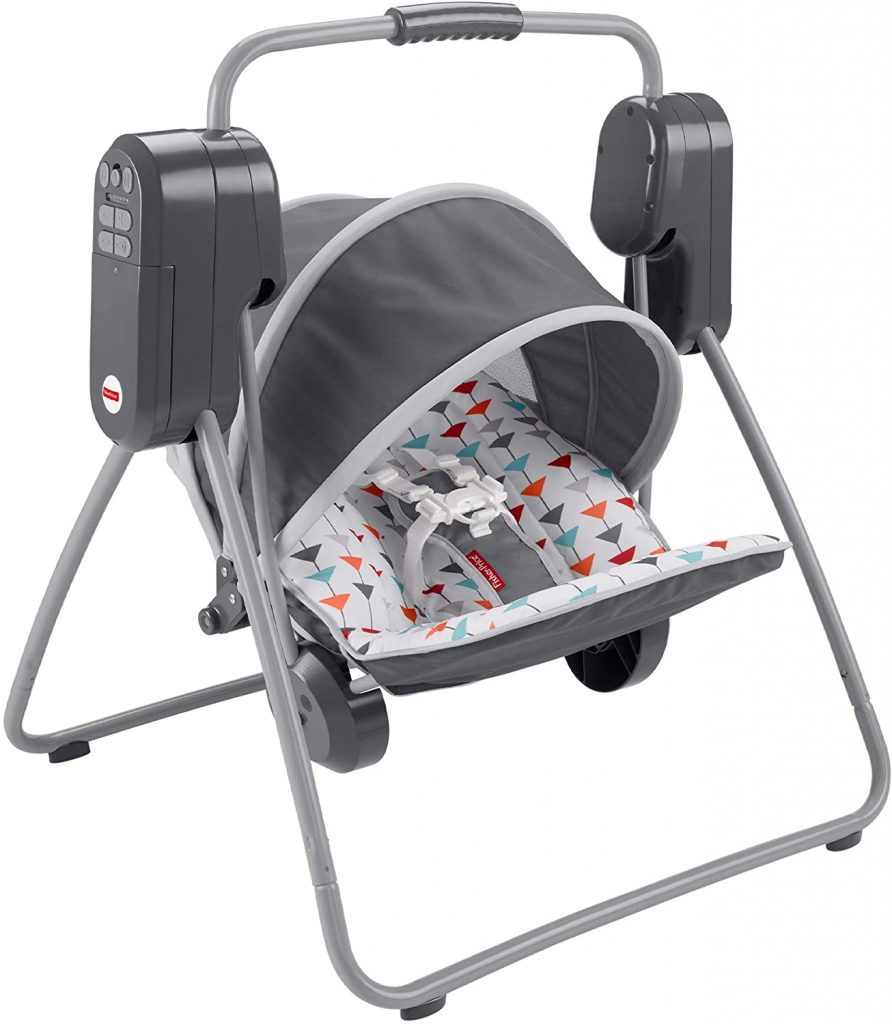 The swing is good for indoor and outdoor use. You can choose from the 6 swinging speeds to see what works for your young child.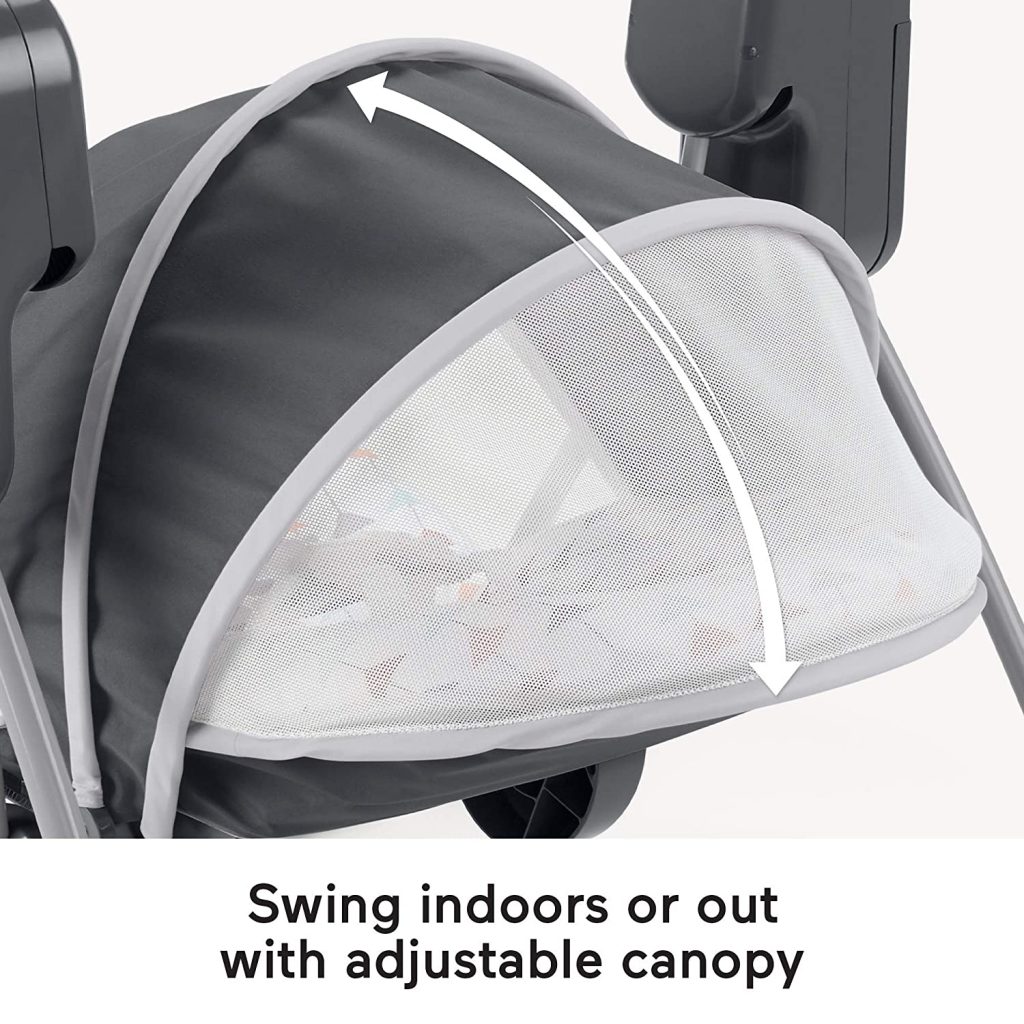 FischerPrice My Little Snugabunny Cradle'N Swing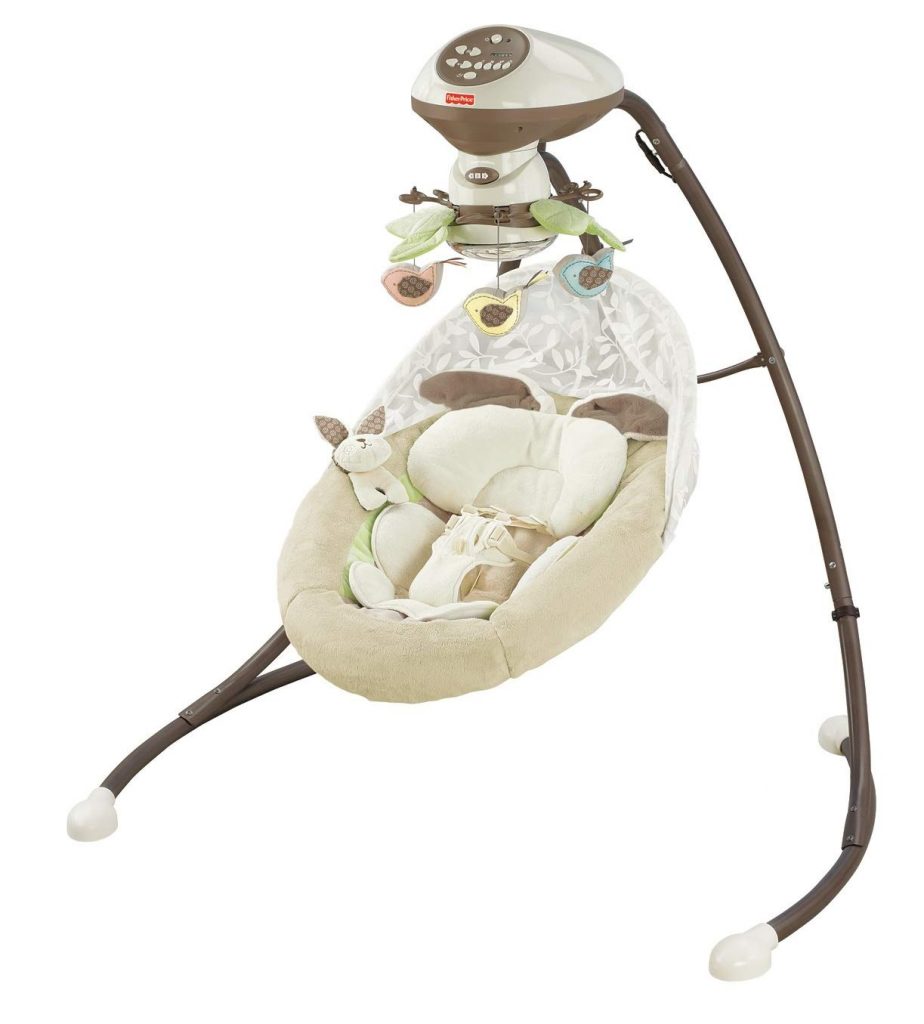 This has six swing speeds, 16 songs and soothing nature sounds that helps promote a relaxing environment for your young child. The two swinging motions is also a bonus feature that you might find handy when putting your kid to sleep.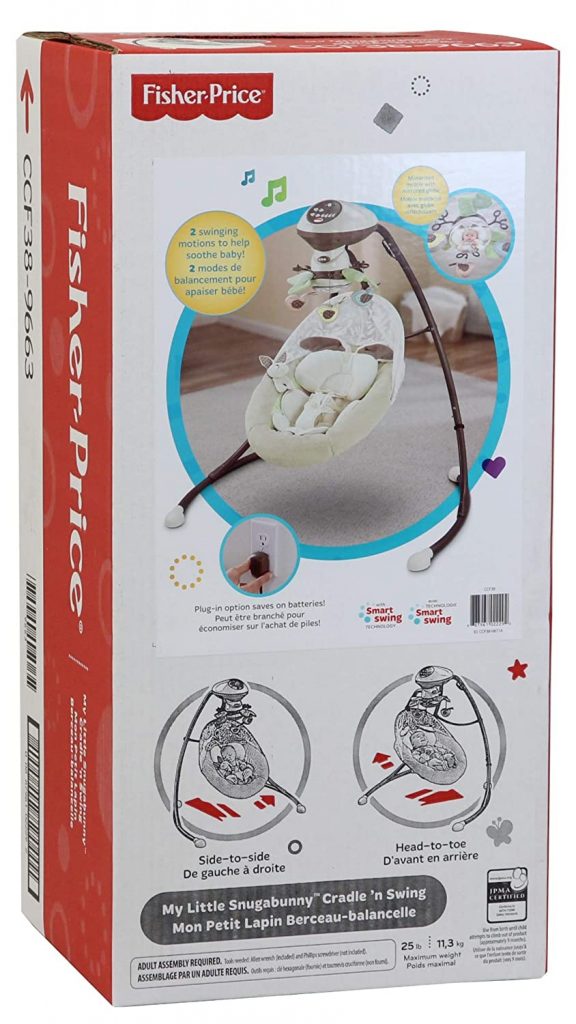 4Moms MamaRoo 4 Baby Swing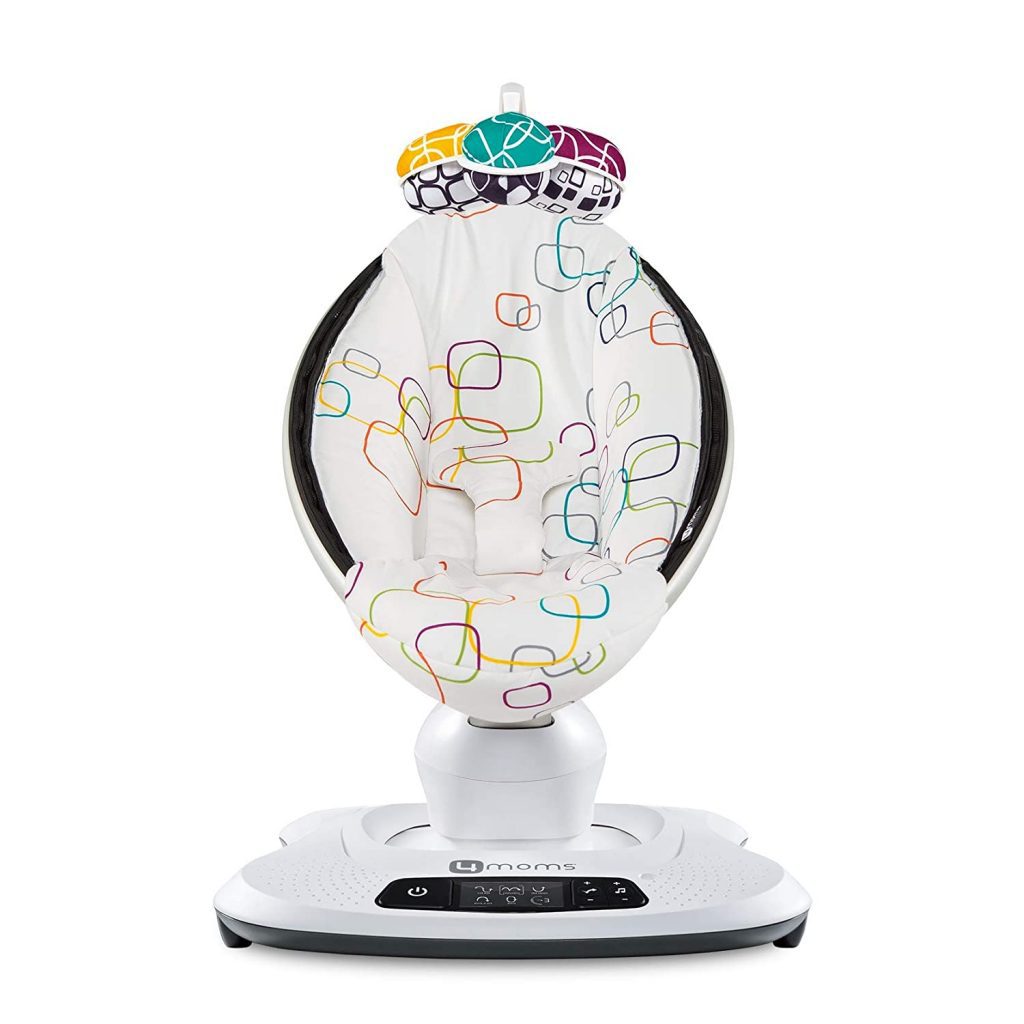 You get your money's worth with this as it has advance features that you can't find on other swings. Aside from its 5 unique motions and speed, it also has Bluetooth enabled control motions and sounds.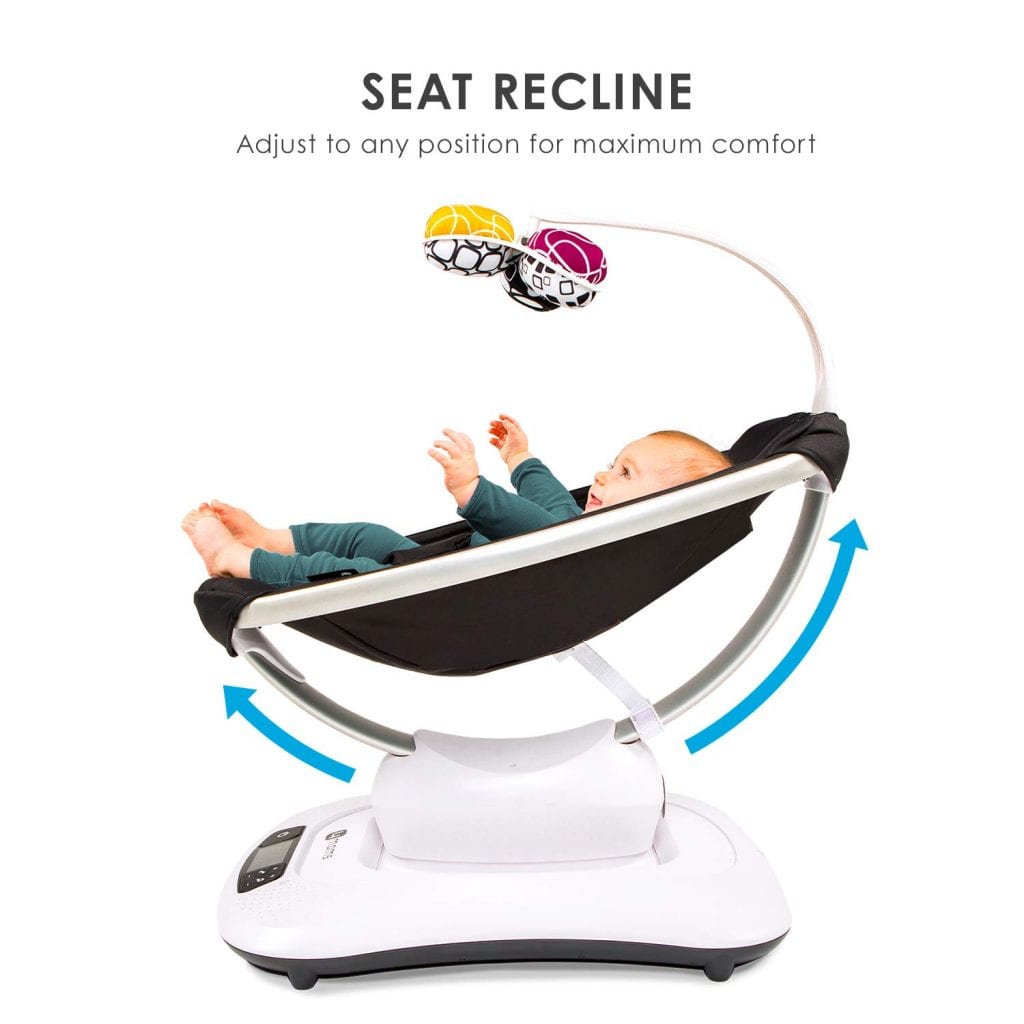 4Moms RockaRoo Swing
The rockaRoo swing is compact, which makes it perfect for you if space is your concern. It is also equipped with high technology features that allows MP3 compatibility and 5 speeds options.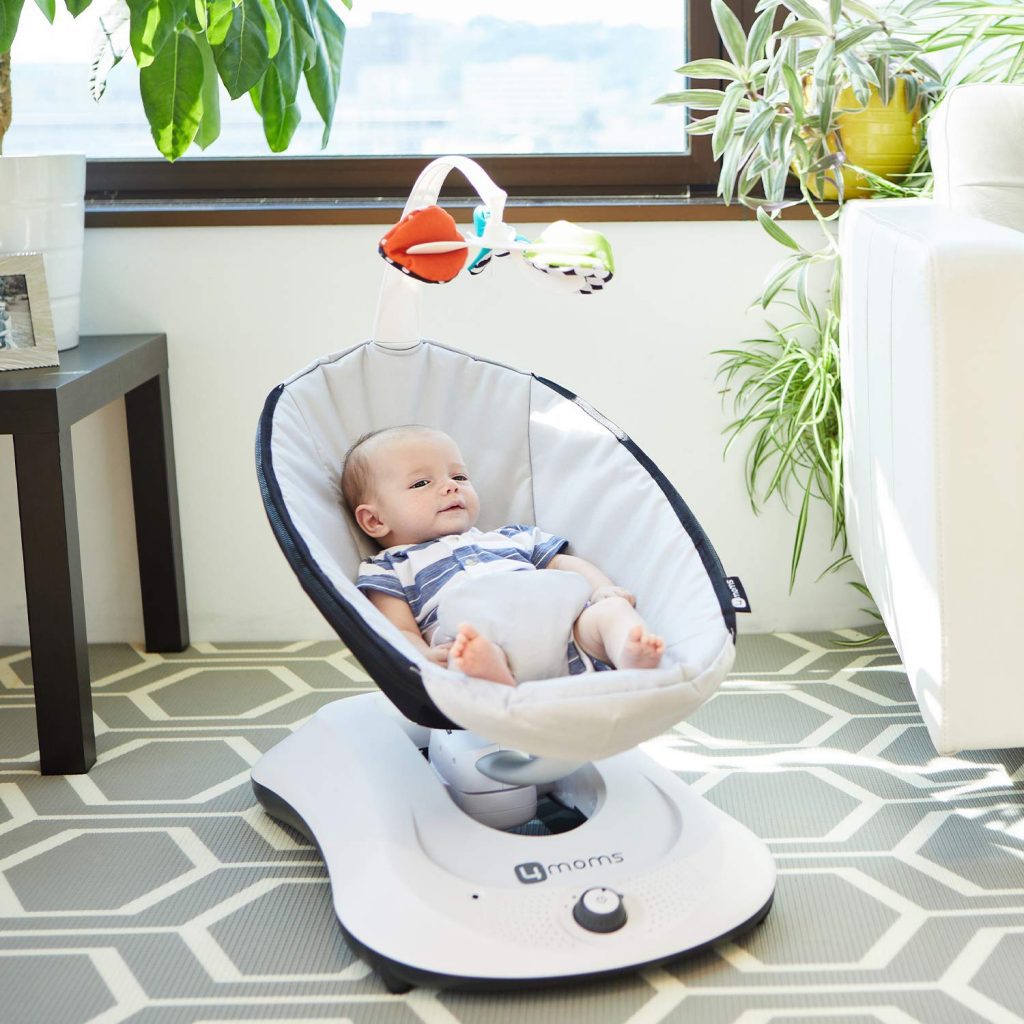 Swings are good for growing kids to help them go to sleep, and while most of the swing options out there are good for most kids, one that won't hold your child does put them at risk. If a kid falls out of a swing, it could cause injuries to their body, potentially their head since the skull is still forming, and it isn't a pleasant experience. The beauty of it is it will entertain the kid and can help you put the to bed. But you need a swing for big babies to do the job.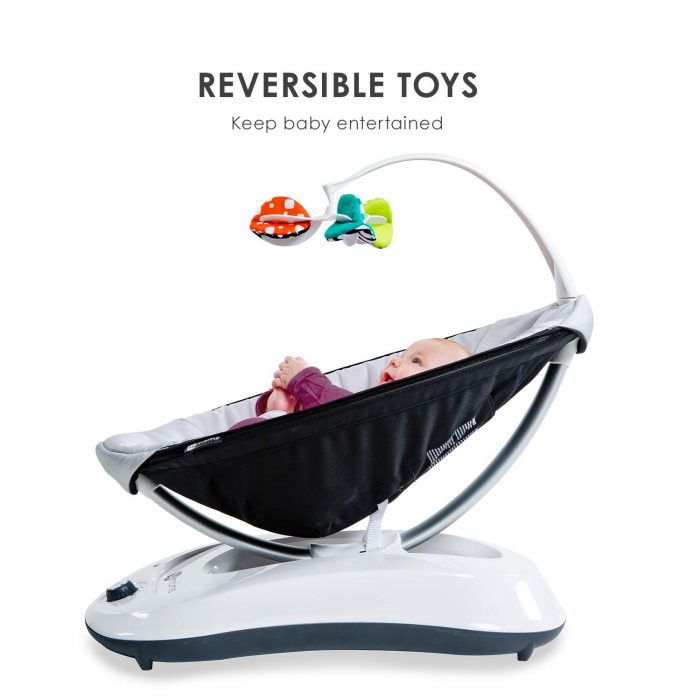 By investing in a swing for bigger babies, you can use this with babies over 25 pounds, so if your child is growing and loves it, or if it's a little bit bigger and needs a swing over 25 pounds, this will have it covered.
Swings all come with a variety of different features, including a 9 point harness, features for bigger babies, head to toe comfort, sometimes a swing and bouncer option to help entertain them, and even a swing rocker if your child likes to be rocked to sleep. See also baby swings with ac adapter. If you're worried about a weight limit in yours, then continue reading as we talk about the ideal swings to get.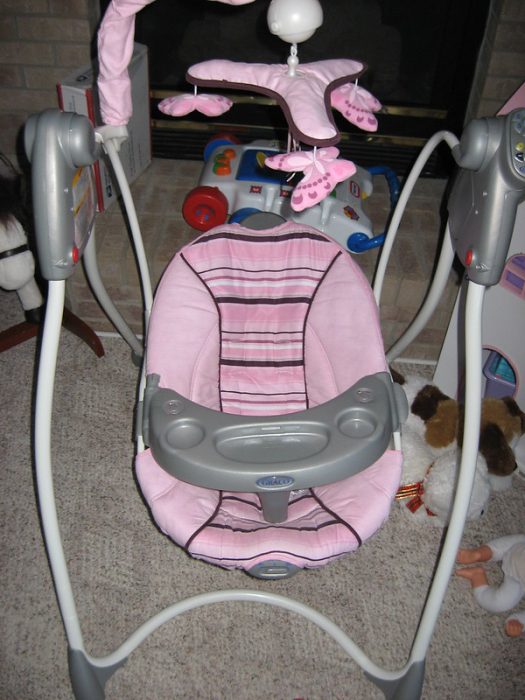 Best Baby Swings For Big Babies
Features To Consider
For the best baby swing for big babies, there are a few features that you should consider before you purchase one. There are some great ones on the market, but what features should you look for when it comes to getting the best baby swing for big babies? Read on to find out.
Movement: do you want the swing to go from side to side, or offer more motions. Some bigger babies don't want swings that go from side to side only, but other babies might like ones that only move from side to side.  When choosing a swing for big babies, you might want to opt for one with different motions, but if your baby is still learning to hold themselves up, a simple side to side swing might be ideal. If you want a swing with a variety of swing motions, you may need to spend more on it.
Sounds: some of these come with nature sounds and other motions.  Some of them have different motions you can use. The beauty of nature sounds is with this implemented in swings, it will help lure the child to sleep. Usually, nature sounds are good for babies since it can be used to calm them down while you swing them around.
Swinging motion: determining the swing for infants may come down to swinging motions. Some of these are a swing and rocker, which means you can swing and rock the child. Others are just swings. For heavy and tall babies, a swing and rocker is a good option, since it can help move them around.
Size: For heavy babies, you need a swing that will hold them.  Most heavy babies will fit into these, but if it can't hold a child over 25 pounds, it might be best if you get one that's made for heavy babies. If you don't, you do put them at risk for a head injury, which could be fatal. Understand the weight limit on a swing is there for a reason, so keep it in mind
Protection: a swing for big babies needs head to toe protection, which means it needs the same safety features you will get in a swing for smaller infants. That means, a 3 point harness might be available in this, but also look at any other shoulder straps feature that it will have to offer.
Harness: along with the previous point is the point harness you need. Depending on the type of baby you have and how much you want to protect them, you may want a certain point harness. A three-point harness is usually the standard, with three points of contact, but for extra protection you might want a five point harness. Just like with car seats, the right point harness will give you the most suitable swing experience.
Price: a swing is an investment, but getting the most suitable option for your child is ideal. The most suitable options for this are of course, a swing that might cost more. But usually, if it costs more, that means it has a variety of wonderful safety features for you to use.
Comfort: does your child like the swing? For big babies they might not like certain ones because they're too big. Get them one that fits their body and their limbs.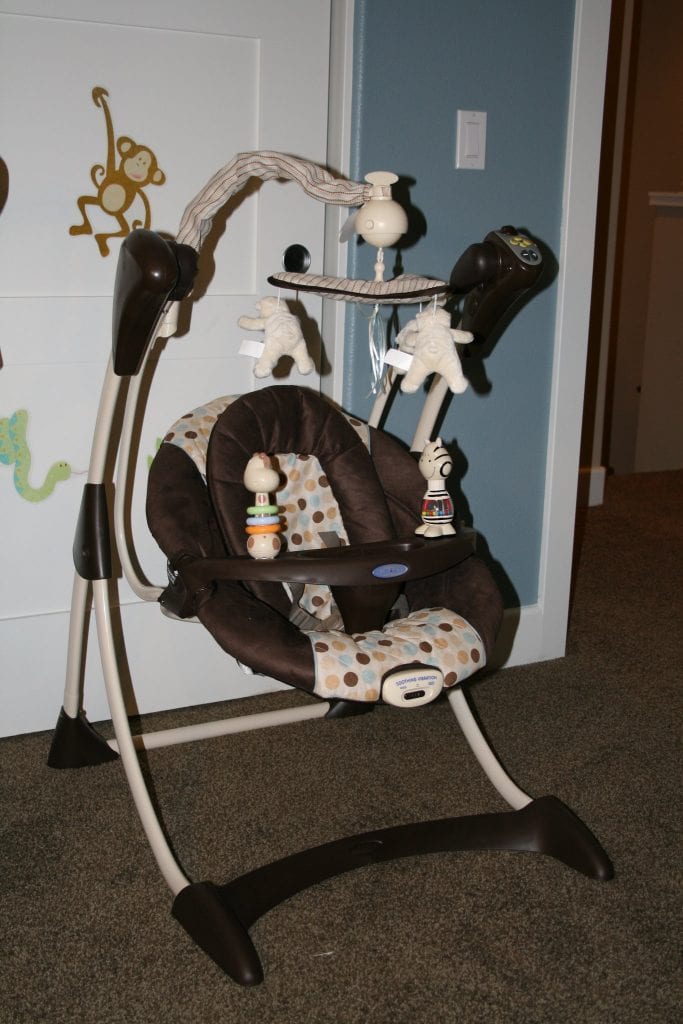 What's The Best Swing For Big Babies?
The best baby swing available today for your big baby is the Fisher-Price Cradle 'N Swing Sweet Snugapuppy. This also features a 5 point harness to ensure your child is locked in as they swing.
The Best Fischer Price Cradle N' Swing
It is probably the finest swing for a big baby, simply because it is simple, and yet very useful. It is a great one since it offers a variety of different positions, and the Fischer price swing is made with high-quality materials.  This doesn't have a lot of big features, but for big babies, this may be the most reasonable for them to enjoy.  It does has an easy and convertible option, along with a 5 point harness too. This one, along with the Snugapuppy, both offer a 5 point harness system.
The Cradle 'n swing offers side to side motions for the most part, so your baby won't be going very far on this cradle swing. The Cradle N' swing also comes with different sounds, including nature sounds that children will enjoy, and that's why it's a great cradle swing especially for luring a baby to sleep. This is one of the top swings out there, and while this does cost a bit more than the others, it's one of the best baby options out there that plays music.  It is not ideal for kids over 25 pounds however. Fisher Price is known for their high-quality products, and they are considered one of the best baby product manufacturers out there, so it's no wonder that this Fischer price swing is at the top of the list.
This is also one of the top swings available because it has metal legs that ensure durability and stability. This can swing front to back and side to side. Within these two motions, there are 6 different speeds that it can be set to. Also included, making this the best swing is 16 soothing sounds and songs that will lull and calm your baby. The Fischer Price Cradle N' Swing Sweet Snugapuppy is a great swing for big babies because it has different swing speeds, and head support as well. The Sweet Snugapuppy is with a bunch of different custom features too.  The head to toe swing speeds are nice and slow, and it offers swing speeds which aren't going to harm the kids.  It can offer swing and rocker features for the child too. The sweet Snugapuppy also comes with three friends that hang overhead, so big babies will enjoy this.  it is a great swing with many features, and  the Sweet Snugapuppy also comes with a mirrored dome feature. Too. The Sweet Snugapuppy also is convertible too, so it can give your child the comfort they deserve.
Lastly, these also have removable and machine washable padded seats to ensure that your kid is always swinging in an adjustable seat pad that is clean and comfortable.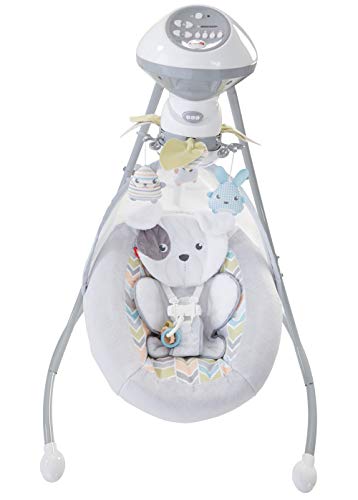 In addition to the Fisher-Price Cradle 'N Swing, another one that is considered one of the top choices is the 4moms 2015 mamaRoo. These also hold kids up to 25 pounds so it will last until your baby is big. This is considered one of the best because it has 5 motions and is small, yet sturdy to secure your baby in place. Another reason why this is popular because it can be controlled by a Bluetooth enabled remote. There are some Fischer price swings for big baby, but the problem is they usually are not the best because usually, after a certain point, the Fischer price swings end up getting negative reviews from parents with a big baby. But one of the top options that isn't super expensive is Fisher Price safari dreams swing. This is similar to the other Fischer price swing that we discussed before, but this is one that's made for big baby. This Fischer price swing has two swing motions to soothe baby and also some rocking motions. This Fischer price swing also has a mobile on top, but it comes with soft safari animals other than the cute animals that the Fisher Price Snugapuppy swing had.  This Fisher Price swing also comes with smart swing technology, so if it goes too fast, this Fisher Price swing will accommodate as needed.
Fisher Price usually doesn't offer the best for a big infant, but it does have some of the other baby items. They are the best options for smaller babies, and they do offer some good bouncer options for big baby.  Ultimately, Fisher Price is good for big baby options involving a bouncer or other options, such as a baby jumper, but for this, the most suitable are quite limited when it comes to Fisher Price.
The 4moms mamaroo is the best baby seat fabric for those who are more tech inclined.  This is an oversized infant swing, and it is a swing and rocker that's a little different. Unlike other swing and rocker options which usually involve your motions, this is one of the top options for tech people because this swing moves for you. It is a good swing for big babies because it will hold a bigger child.
How does it work? You press a button, and it will move similar to how you do, so any baby, whether it is a big baby or a small one, will enjoy this. This is a great swing for big babies too because it oftentimes is quite easy for you to use, and you don't have to worry about it breaking. It has a high weight limit, since it has a lot more support and can accommodate for a big baby. It even comes with a 5 point harness that will protect the child, and it is an ideal swing since it even bounces like you do. This one comes with a variety of bouncing and rocking features for babies of any weight limit. But a consideration is the price, since it is quite expensive compared to others.
The Graco simple sway is another option for those looking for a swing for big babies.  This one has another pretty sizable weight limit, and this comes with a 5 point harness to keep your child safe. The Graco simple sway baby has a plug in option, and this simple sway actually can save you money on batteries. The Graco simple sway also has a smaller frame and design compared to other swings for babies, so that means it will fit into most homes, and it has a weight limit that will hold most babies.  The Graco simple sway baby also offers a side to side motion, and is a swing and rocker which will help comfort and soothe your heavy baby. This even comes with vibrations too, and with this, you'll really keep your baby nice and relaxed.
The simple sway is one of the best options since it has a really comfy and spacious seat that is nice and deep. The simple sway also offers a deep, plush body for your baby to use, and this is a great swing for big babies since it also offers a head support too for the child. It's one of the comfiest, and smallest swing for fussy baby options on this list, but the Graco simple way is one of the top swings for heavier babies if you're looking for a good option for your space.
The Graco simple way is also a great swing for big babies because it is portable, and with the sizable weight limit, the Graco simple way is easy to take around. If you have to travel to the office, you can take the Graco simple way, which is not what you can say about some of the other options. If you have a big baby and need to move the swing to the other room, the Graco simple way is a good one to use. It is pretty easy to move about, and with this swing, your big baby will certainly be comfortable.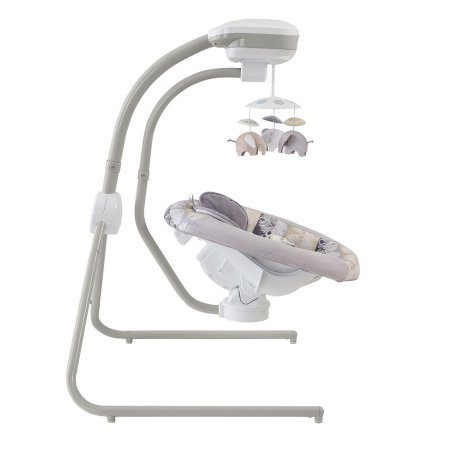 One last brand to consider as the best is the Graco Cozy Duet. This holds infants until they reach 30 pounds so this will last you much longer than the other two previously mentioned baby swings. This is so special because the rocker can be detached and used as a floor rocker. It is also light and easy to carry around.
Overall, any one of these three baby swings would be the best to have around. They each offer your baby different things and come at different price points. The best swing for you to purchase will all come down to your baby's needs and also you should take your budget into consideration. To find the best swings available, consider factors such as comfort, safety, and added features.  No matter which one you end up choosing, know that it is the best swing for you and for your baby. In general, you may want to go with an alternative to Fisher Price when choosing this, unless you decide to get the Fisher Price Cradle 'N Swing, since most other Fisher Price models have bad reviews on Amazon from parents who have a big baby.
Best Baby Swings For Big Babies
Conclusion
Now that you read about the top options, your next step is to figure out the best baby swing for your kid. Choosing the best baby swing for a bigger baby is hard, and sometimes, when you try to figure out the one for them it isn't easy. But look at the features, and determine for yourself the swing you can choose.
Best Baby Swings For Big Babies
Frequently Asked Questions (FAQs)
What Baby Swing Has The Highest Weight Limit?
There are multiple baby swings that have a weight limit of 30 pounds, which is the highest weight limit for a baby swing. The brand Graco offers at least five different ones with a 30-pound weight limit. Some of these include the Graco Dream Glider Swing and Sleeper, the Graco Soothing System Baby Glider, and the Grace DuetConnect LX Swing and Bouncer.
A Fisher Price swing usually has a smaller weight limit than others, so a Fisher Price swing usually isn't ideal for a super heavy weight limit.
What's The Average Weight Limit For A Baby Swing?
The average baby weight for a baby swing is 30 pounds. More and more manufacturers are making their swings with a 30-pound weight limit to ensure safe and extended use for babies.
Some Fisher Price options that are for medium kids are around 20-25 pounds. Fisher Price swings usually offer more interactive options, but the downside to a Fisher Price swing is the weight limit, so they are not the bet big kid swing.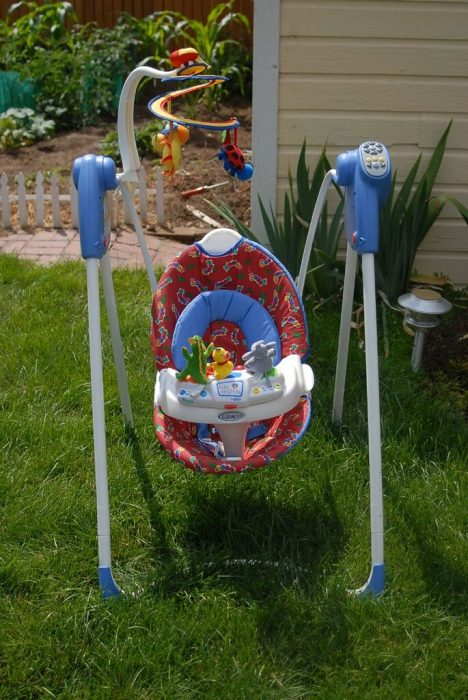 How Big Can A Baby Be In The Best Baby Swings For Big Babies?
The manufacturers of the most baby swings will determine how big a baby can be to use a baby swing. There are ones that are specifically for newborns and other that are ideal for kids as they grow. So make sure to pay close attention to the minimum and maximum sizes that your child can be in order to use a baby swing. You are able to use most on them until your baby reaches 30 pounds, but it is important to look up the information for your specific one.
What Is The Weight Limit Of Fisher Price Baby Swings
Fisher Price swings usually have the child around the 20-pound range. The best baby swing for a big babies usually can hold them up to that point.  It is usually is used for kids until they're a certain size, and usually, after 30 pounds even the top baby swing won't hold your child.
At What Age Can You Use A Baby Swing?
Most kids are ready to use a baby swing right out of the womb. You will just want to be careful to ensure that the harness has at least 3 safety points and there is enough padding and cushioning to support your baby in the swing. If your child is premature or has a low birth weight, it is best to hold off on the swing until they gain more weight. The top baby swing options will have enough padding to hold a child, and the it also comes with a headrest and other option to protect the kid. Usually, the best baby swing accommodates kids both large and small, but usually, a harness that's either a 3 point or a 5 point harness is ideal.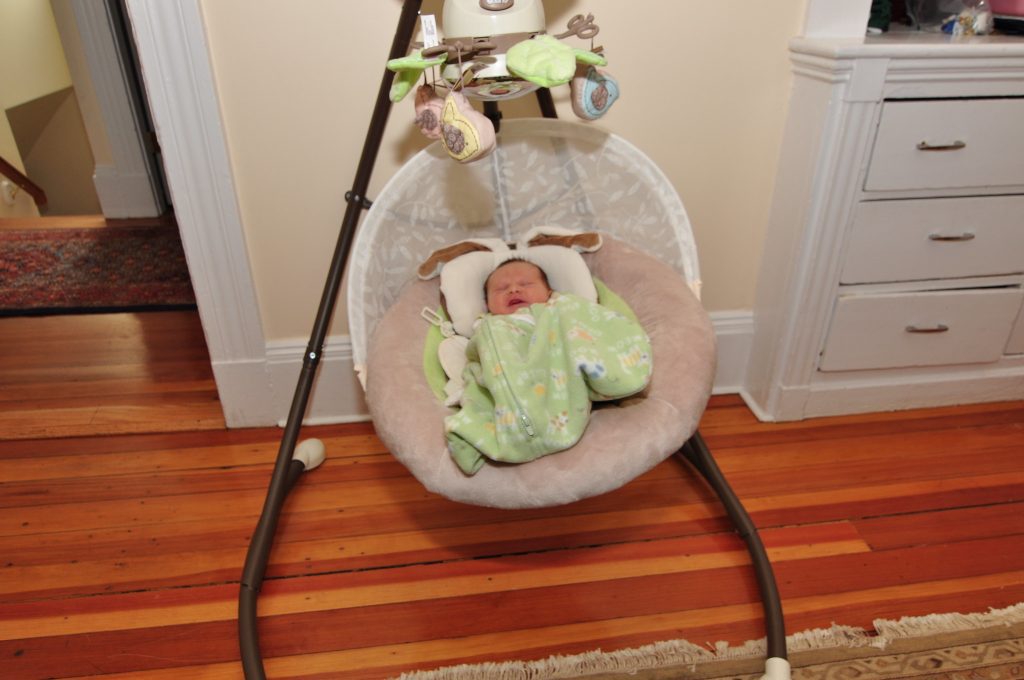 Do Baby Swings Cause Brain Damage?
If you leave your kid in a swing for an extended period of time then there is the potential for brain damage to occur. Babies are not used to having a constant swinging motion and their heads are not built to handle the motion for a long time. So in order to prevent brain damage from happening, you should not leave your baby in the swing for long periods of time.  The top baby swing options though usually have a way to stop this, so when choosing the one, make sure you choose one that can either stop itself, or hold the infant there.
How Many Infants Die In Swings?
A study was done on 11,700 infant sleep-related deaths over the course of 10 years and it was found that 3% of these deaths, nearly 350 babies, were deaths in swings or other sitting position devices. Usually, this is because of not following the weight limit, or if a child that is over the weight limit uses this, they usually aren't supervised.
What's The Weight Limit For Graco Swing?
There are many Graco swings that have a weight limit of 30-pounds. Most of them have a pretty small weight limit, so they are not ideal for big babies, but they can be good for smaller children, and are still a great swing for big babies up to that point. Usually, this can be the best baby swing for big babies up to the point where they are walking, but for bigger children, this might go past the weight limit one is used to.
What's The Weight Limit For 4moms Swing?
The weight limit for the 4moms swing is 25 pounds. It as well doesn't have a large weight limit compared to other options on the market.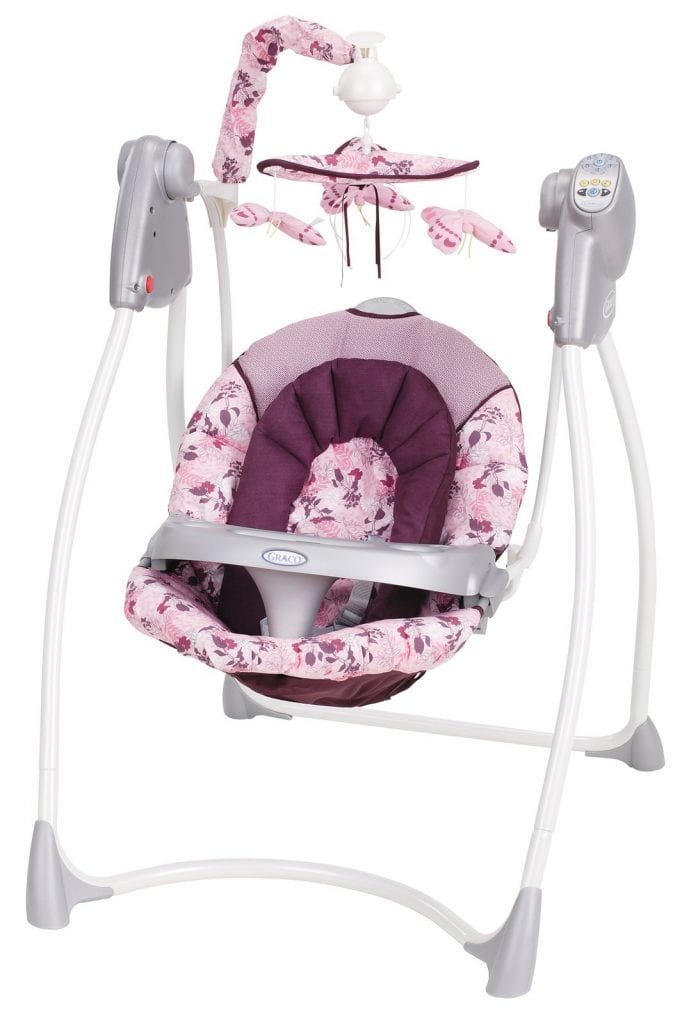 Does The Baby Swing For Big Babies Help With Reflux?
If the infant is placed in the correct position then yes, a swing can help with reflux. When children are seated upright and slightly at an angle, this prevents stomach acid from traveling up the esophagus, causing the reflux. The top baby swing helps with digestion, so if you're looking for the top option, get one that keeps the kid's head higher than the rest of the body.
Can A Newborn Use the Swing?
Yes, a newborn can go in a baby swing. In order for your newborn to have a safe experience in a swing, there needs to be a harness that has security in at least 3 points and no toys in the swing. You will also need to provide close supervision while your newborn is in the swing.
When you're using the top options, make sure you always secure your five point or three point harness before you begin. If you don't secure this 3/5 point harness, you can put them at risk for flying out, and even the top one doesn't prevent this.  Giving your child the option option is integral, since if a newborn is going into this, they need to be protected.
What age is baby too big for swing?
Can a 6 month old fit into a baby swing?
Is swing safe for 1 year old?
Is too much swinging bad for baby?
Disclaimer: FamilyHype.com (Family Hype & FamilyHype) is a participant in the Amazon Services LLC Associates Program, an affiliate advertising program designed to provide a means for sites to earn advertising fees by advertising and linking to Amazon.com.
Last Updated on May 13, 2023 by Inma Barquero
DISCLAIMER
(IMPORTANT)
: This information (including all text, images, audio, or other formats on FamilyHype.com) is not intended to be a substitute for informed professional advice, diagnosis, endorsement or treatment. You should not take any action or avoid taking action without consulting a qualified professional. Always seek the advice of your physician or other qualified health provider with any questions about medical conditions. Do not disregard professional medical advice or delay seeking advice or treatment because of something you have read here a FamilyHype.com.