Best Bottles For A Baby – Those cute younger babies feed a lot. In fact, they have to drink milk 8 to 12 times a day. It means that your baby bottle is going to be used a lot even if you are feeding them breast milk or formula, so you must ensure that the bottles have an anti colic system and it won't cause an upset stomach. You also want the containers to be safe for your baby to use.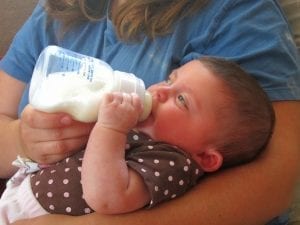 With that, well-known baby bottles were tested and checked if they are worth the reviews and popularity. These bottles may be made of glass or plastic baby bottles with no BPA. To help you choose the best bottle for your baby, these are the 13 best baby bottles that moms all over approve.
Top Baby Bottles
Best Baby Bottles – Comotomo Baby Bottle
Best Baby Bottle
Compared to the other best bottles for a baby on the list, these Comotomo baby bottles can be considered more expensive than most bottles as this one costs $14 each.
However, Comotomo Natural Feel Baby Bottles are also available for $21 for two pieces. Although it just came out of the market, the bottle is already garnering attention among moms. This is one of the best baby products available today. Since it has an ample-sized nipple base, it makes the transition from breastfeeding to bottle-feeding much easier. Its softness also makes it seem like a natural baby bottle that can also mimic breastfeeding.
Best Baby Bottle – Philips AVENT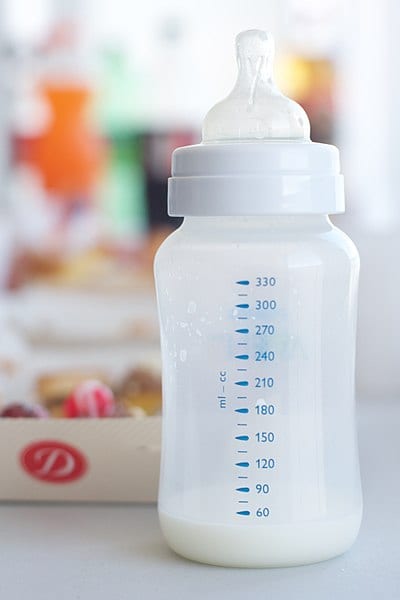 For only about five dollars each, you can get the best bottles by Philips AVENT Natural Baby Bottle as these bottles are cheaper compared to the first one (more details here).
You can choose from a plastic or glass bottle. Although the base and nipple are somewhat similar to the Tommee Tippee, it is narrower overall and in the nipple base. The slow flow nipple is also soft, and this is good at preventing babies from being colicky. The anti-colic bottle of this series allows babies to hold the bottle.
Best Baby Bottle – Dr. Brown's Original
Best Baby Bottle
Costing about $4-5 a bottle, these bottles for a baby are best in preventing gas, colic, and fuss.
It has a soft silicone nipple and it uses a unique vent system created by the owner of the bottles himself, it prevents air bubbles and any negative pressure vacuum from forming while the baby is feeding. The bottles are also designed to feel like real breasts. Although the plastic is BPA-free, the glass version is more recommended. However, cleaning the bottles, especially the vent system, can be difficult.
Best Baby Bottles – MAM Anti-Colic
Best Baby Bottle
With $4-$6 per bottle, if you buy the 4-pack, the MAM anti-colic baby bottles can best feed your hungry babies.
This has three sizes available: 5 ounces, 9 ounces, and 11 ounces. These bottles have slow flow nipples made of silicone. The texture of the nipples ensures that the container won't slip out of the baby's mouth and keep the silicone in their mouth. With a 94% acceptance for this bottle, your baby will be able to love it sooner than later.
Best Baby Bottle – Joovy BOOB PPSU
Best Baby Bottle
The Joovy BOOB baby bottles come in three types: glass, polyphenylsulfone (PPSU), and polypropylene (PP). Glass baby bottles are best recommended since they're sturdy, durable, and secure.
The silicone grippers also absorb the impact if you or your child happens to drop it on accident. The PPSU makes sure that it won't be absorbing colors, while the PP is similar to it but more vulnerable to retaining shades and smell.
Best Baby Bottle – Tommee Tippee Closer to Nature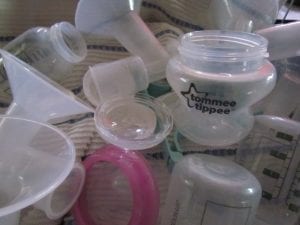 Best Baby Bottle
With $6, you can already get these baby bottles of Tommee Tippee Closer to Nature bottle.
It can compete with Comotomo regarding the bottle shapes, venting, and nipple base. It has an easy cleaning feature because it has a wide-neck bottle. The curvature allows you and your baby to grip it comfortably. Its nipple isn't as extensive as Comotomo's, but it's still significant.
Best Baby Bottle – Nuk Simply Natural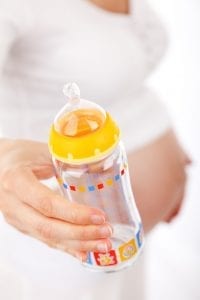 Best Baby Bottle
These baby bottles cost $5 per bottle and can come in 5- or 9-ounce containers.
Its nipple is also among the most innovative ones in the market due to its orthodontic design. The latter allows the tongue to be correctly positioned on the nipple. A flexible nipple allows for a continuous latch and has the same shape as a mom's nursing nipple.
Best Baby Bottle – Munchkin Latch
Best Baby Bottle
Although this baby bottle is still new, the Munchkin Latch Baby bottle already has some excellent features making it one of the best baby bottle options. It has an anti-colic valve that's unique from Dr. Brown's design. It's located at the bottom of the bottle, so it's easier to wash than Dr. Brown's bottles. The valve design also ensures that your little one will not ingest a lot of air, thus reducing gas and colic.
Best Baby Bottles – Flipsi Natural Silicone
Best Baby Bottle
The Flipsi Natural Silicone Bottles are similar to the Playtex baby bottle. The difference is that there is a reservoir for milk made from silicone. This can then be put within the bottle and just place the nipple back. The silicone allows the nipple cap to be sealed nicely in the container. The flexible silicone also keeps the negative vacuum or back pressure from building up, thus preventing gas, spit-up, and colic, helping reduce nipple confusion for bottle transition of a breastfed baby. The silicone bottle flips inside-out for easy cleaning and drying, with no need for a bottle brush. 
Best Baby Bottles – Playtex Ventaire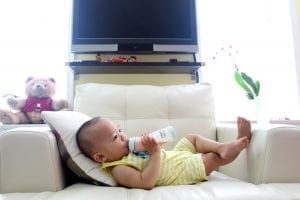 Best Baby Bottle
For only $4 per 9-ounce bottle, you can already have a Playtex Ventaire Baby bottle. Playtex has been around for a long time now. The angle of the bottle shape makes it comfortable for babies and parents to hold. It also prevents you from feeling arm soreness while feeding. Like the others, it keeps your baby safe from gas, colic, and ear infection. Babies even easily latch onto this bottle.
Best Baby Bottles – Born Free BPA-Free
Best Baby Bottle
The Born Free BPA-Free Baby Bottles only cost around $5 per 9-ounce bottle. It is already making waves among moms despite it being new in the market. This one uses a venting system called ActiveFlow, which can reduce gasses and colic in babies. While it does work well, cleaning it is also a hassle because of the small pieces of stuff you have to clean.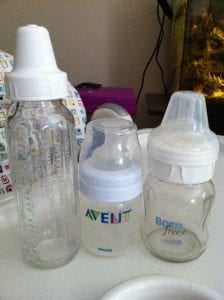 Top Baby Bottles – Minbie Newborn BPA-free
Best Baby Bottle
This one is an expensive bottle as it costs about $10 a bottle, excluding the nipple, which costs $5 per piece. The shape of the Minbie bottle nipples is unique and supports latch-on. They also feel natural and mimic breastfeeding motion. However, the slow flow claimed is faster than what the other brands offered.
Top Baby Bottles – The Kiinde Breastmilk Collection, Feeding, and Storage System
Best Baby Bottle
This is less of a baby bottle and more of a feeding system. Although one might think that it shouldn't be included in the list, it might do you good to check it out. The feeding system works by using pouches (breastmilk bottles) similar to a juice pouch and connecting them to the breast pump. Afterward, you can store the plastic bag in the freezer for later feeding. Twist Pouches collapse as your baby drinks. This system can cost about $30-70, depending on the accessories that it comes with. Feed directly from pouches, no transfer of baby's milk needed; No risk of spills or dirty bottles to wash. You can use a bottle warmer, like a Comotomo bottle warmer, to safely thaw and warm frozen breast milk.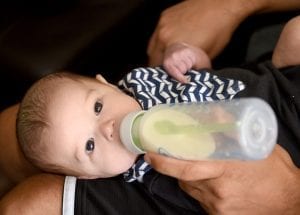 Conclusions On The Top Baby Bottles
Best Baby Bottle
Baby bottles are different from each other. Likewise, babies are also different from each other and may have preferences. A baby may latch onto one bottle but not with the other. You have to know what your baby prefers first before buying a bottle. If you have money to spare, you can purchase different bottles to check which ones your baby will latch onto quickly.
Top Baby Bottles – FAQs
Best Baby Bottle
Which baby bottles are the best for newborns?
Selecting the
best baby bottles
takes a lot of considerations. E.g., nipple size, bottle materials (plastic or glass), budget, size, and so on. Overall, the top pick of most mothers is the Comotomo Natural-Feel Baby Bottle. If you are on a budget, you can go for Tommee Tippee Closer to Nature Fiesta Bottle. And if you prefer to use a glass bottle, Dr. Brown's Options Glass Baby Bottles is the best choice. There are still more bottles to choose from for your newborn. Start with identifying what your baby genuinely needs (read further here:
https://www.whattoexpect.com/baby-products/nursing-feeding/moms-favorite-bottles/
).
What is the best anti-colic baby bottle?
If you notice some signs and symptoms of colic on your baby, maybe it's time to consider getting an anti-colic baby bottle. Take a look at these some of the
best baby bottles
that prevent colic:
Baby Brezza Two-Piece Natural Glass Baby Bottle
Tinukim Hands-Free Baby Bottle
Iiamo Home Baby Bottle
Philips Avent Anti-Colic Baby Bottles
Dr. Brown's Options Wide 3-Piece Neck Glass Bottle
How many bottle containers should I buy for my newborn?
If you are a new or soon-to-be mom, you might be wondering about
how many bottles your baby needs
. The answer depends on whether you will breastfeed or opt to feed your baby by bottle. If you choose to do both, 2 to 3 bottles are enough. In case you decide to feed your baby with milk formula, you will need a minimum of 5 bottles.
Which is better, Dr. Brown or Avent?
These are two top brands that aim to lessen the air intake while feeding your baby. Both are made of quality materials. However, they do have differences also. While you like Avent because it has a more extensive, shorter nipple and is easy to clean, Dr. Brown offers cheaper products that work better for colic prevention. Now that you know the main features and differences, it may become easy for you to choose. Knowing what is better will depend on your and baby's experience.
Both brands are popular in the market. However, determining which one is better is always a trial and error. Tommee Tippee bottles, just like Avent's, have short nipples but is closer to a mother's nipple. It has a unique venting system that reduces the air suction to prevent colic.
The prices of these two brands are almost the same, too. Like what has been said earlier, the decision on which one is better will depend on your experience.
What bottle is most similar to breastfeeding?
How often should you buy new baby bottles?
Do you have to wash baby bottles after every use?
Which milk bottle is safest?
What is the most expensive baby bottle?
How do I choose a baby bottle?
What is the best bottle to prevent gas?
What are the 4 types of feeding bottles?
Last Updated on April 29, 2023 by Bry Roquero
DISCLAIMER
(IMPORTANT)
: This information (including all text, images, audio, or other formats on FamilyHype.com) is not intended to be a substitute for informed professional advice, diagnosis, endorsement or treatment. You should not take any action or avoid taking action without consulting a qualified professional. Always seek the advice of your physician or other qualified health provider with any questions about medical conditions. Do not disregard professional medical advice or delay seeking advice or treatment because of something you have read here a FamilyHype.com.