Finding out that you are going to be a parent is an exciting and potentially overwhelming feeling. While you can't wait to be a parent, you also know that there is a lot of preparation to do to ger ready for your new baby. One purchase that is important when having a baby is baby bottles. There are a countless number of brands in the bottle industry that you can choose from so doing your research prior to purchasing is beneficial.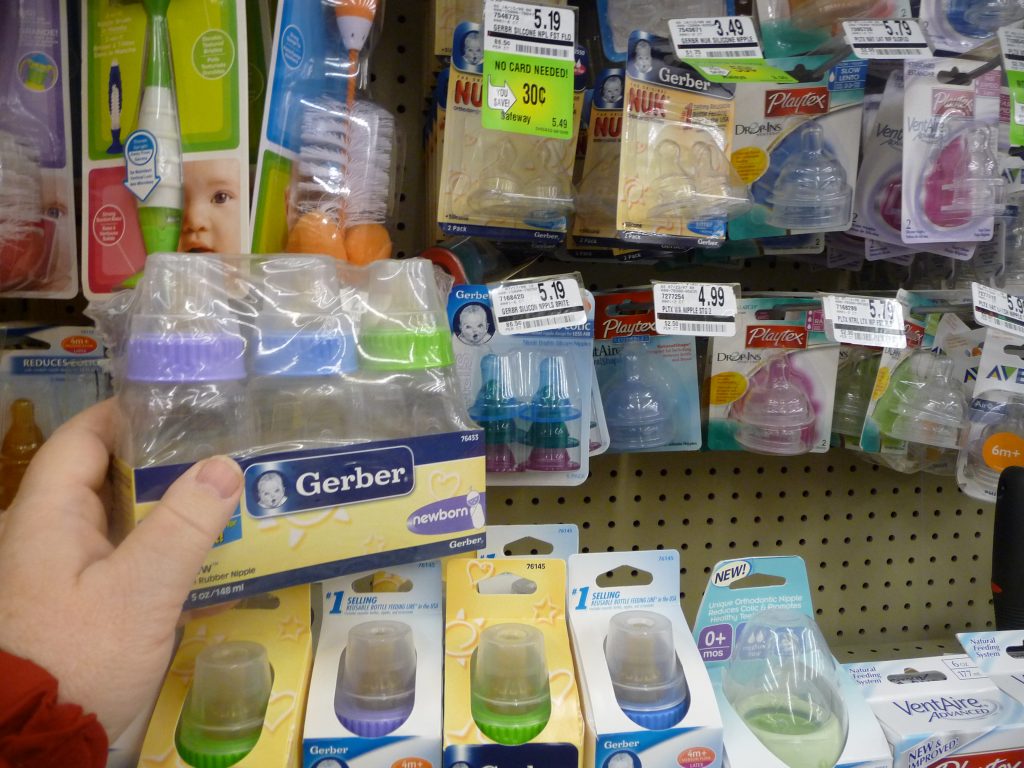 In this Comotomo bottle vs Tommee Tippee bottle comparison, the pros and cons will be identified and discussed. After you have completed this article, you will hopefully feel equipped with enough information to decide whether either of these bottles will be good for your baby so you can put the one you really want on your baby registry. And if you can't decide, then remember that you can always try both!
Comotomo Bottle Vs Tommee Tippee
The best way to decide which of these two bottle options to go with is by looking at the pros and cons of each option.
The Pros And Cons Of The Comotomo Bottle
The Comotomo baby bottles are made from a material that has been designed to mimic the skin and have the natural shape of a nipple. The purpose behind this is to ensure that your baby is able to easily and naturally transition from the breast to the nipple on the baby bottle. The Comotomo bottle also features a dual advanced anti-colic system vent that helps to reduce the symptoms of colic and fussiness.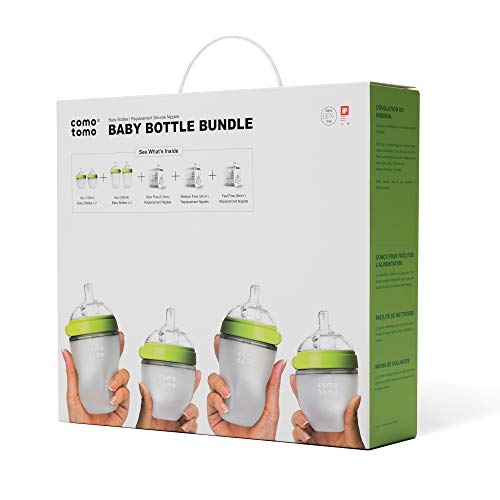 The pros of the Comotomo bottle are as follows:
A wide neck that allows for easier cleaning
The silicone material mimics that human skin to aid in transitions
Less colic
Heat resistant and leakproof
The cons of the Comotomo bottles are:
Does not fit in most bottle warmers
The teat is very slippery when wet and can be too long for some babies, which can prevent them from keeping a good latch
The Pros And Cons Of The Tommee Tippee Bottle
The most popular Tommee Tippee bottle is the Tommee Tippee Closer to Nature. This bottle is similar to the Comotomo bottle in the fact that it was designed to be like the natural breast. This too helps to ease the transition from the breast to the bottle. The Tommee Tippee Closer to Nature baby bottle also has an anti-colic vent and is BPA free. These bottles come in a variety of sizes, colors, and package sizes. 
The pros of the Tommee Tippee Closer to Nature bottle are:
Easy for the tiny hands of a baby to grasp because there are 3 ways for your baby to grip and hold the bottle
Fits most bottle warmers and warms in them quickly
It is considered a no-fuss bottle because it has fewer parts. 
Has a wide neck for easy cleaning and less nipple collapse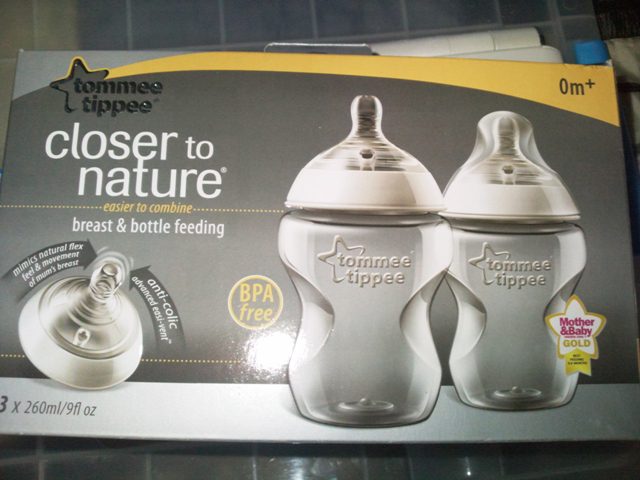 The cons of the Tommee Tippee Closer to Nature bottle:
The nipples of the bottle are too hard and babies will have a difficult time latching on
These are slow-flow bottles, but it has been found that the flow of the nipple is a bit too fast and not as slow as they should be
Comotomo Bottle Vs Tommee Tippee: Which Is The Better Choice?
At the end of the day, the decision is up to you when it comes to which is the better choice and which one goes on your baby registry. Many parents prefer the Comotomo bottles because they are the most like that of a natural breast. Babies have experienced less nipple confusion when using the Comotomo bottles. The dual vent to prevent extra air from entering the milk is also a huge plus when it comes to Comotomo bottles. Mothers who breastfeed have found that it is easier to make the transition to bottles with Comotomo bottles. With that being said, a breastfed baby is a happy one when going from the nipple to the Comotomo bottle.
Are Comotomo Bottles Good For Newborns?
Yes, Comotomo baby bottles are good for newborns. These baby bottles were designed to mimic the breast as much as possible. This means that you can use this baby bottle when you want to switch your baby back and forth between the breast and the bottle. This is a great bottle for fathers to use when feeding their babies because it is very similar to the feel of the natural breast and nipple. The Comotomo bottles have a slow-flow nipple that is recommended for babies ages 0-3 months because it promotes easier usage.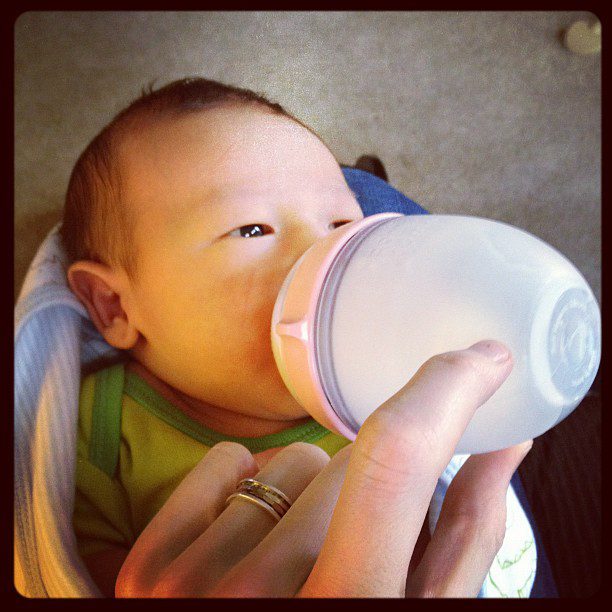 Do Comotomo Nipples Fit Other Bottles?
No, Comotomo nipples do not fit other bottles. If you have Comotomo nipples then you will have to use Comotomo bottles.
Are MAM Bottles Better Than Tommee Tippee?
No, MAM bottles are not better than Tommee Tippee bottles. The main reasons that set the Tommee Tippee baby bottles slightly ahead of MAM are the complexity of cleaning and assembly. The MAM bottles consist of 6 different parts. So that means that with all these extra parts, it will take longer to put together and it will also take longer to disassemble when it is time to clean them.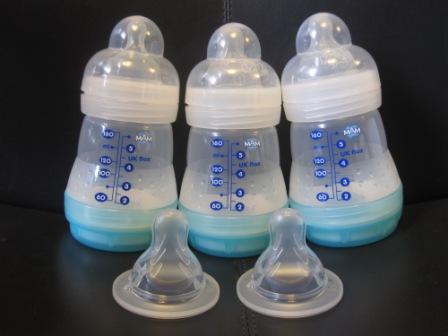 How Does Tommee Tippee Perfect Prep Work?
The purpose of the Tommee Tippee Perfect Prep is to ensure that the formula being fed to your baby is all-around perfect, healthy, and beneficial. This machine automatically controls the volume, quality, and temperature of the water that is used when mixing formula. In the Perfect Prep, the water passes through a filtration system to ensure that there are no bacteria. To kill any bacteria in the formula powder, it is rapidly brought to 70 degrees Celcius. Then, when no bacteria remain, the formula powder and the proper amount of water are brought to the ideal temperature for your baby to consume. 
What Baby Bottle Is Best?
The best baby bottle is the Comotomo natural-feel baby bottle. This bottle comes in either 5 oz. or 8 oz. so it is perfect for a newborn and for a baby who is transitioning from breastfeeding. This is the best bottle because it was designed to make the transition easier because it has the feel of a natural nipple and breast. This bottle has a wide mound that has been designed to avoid nipple confusion in the baby and a wide base that they like to hold onto and is easy to clean. The Comotomo natural-feel baby bottle is made of silicone and is BPA free so it is microwave and dishwasher safe. 
Can You Store Milk In Comotomo Bottles?
Yes, you can store breastmilk in Comotomo bottles and then freeze the milk, but when you do this the bottles will become discolored due to the breastmilk. It is recommended that the breastmilk be stored in a separate container and then when you are ready to use it, put it in the Comotomo bottles to heat and serve. So although you can store breastmilk in these baby bottles, it is not necessarily recommended. 
Can Comotomo Bottles Be Boiled?
Yes, Comotomo bottles can be put into boiling water and boiled. It is recommended to boil the bottles before using them. The bottles can safely endure temperatures up to 248 degrees Fahrenheit.
How Often Should You Replace Comotomo Bottles?
The replacement time depends on how much the Comotomo bottles are used. Based on the manufacturer, it is recommended that the nipples be replaced every 3 months, and the bottles themselves be replaced every 6 months.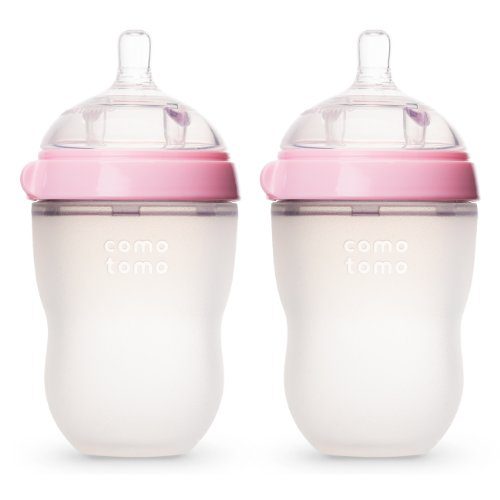 Why Are Comotomo Bottles So Good?
The main reason why Comotomo bottles are so good is because of their dual anti-colic system vents. The purpose of these vents is to prevent additional amounts of air being mixed in with the formula. This to keep your baby less gassy and less fussy. It also helps to ease and prevent the symptoms of colic. Another reason why these bottles are so good is because of the wide nipple and the wide base. This means that all parts of this bottle are easier to clean than other bottles because you can stick your hand down into the base to reach the bottom. With this, you can ensure that you are properly cleaning the bottle every time. These are also BPA-free bottles to ensure the health and safety of your baby. 
How Long Can You Use Comotomo Bottles?
You can use your Comotomo bottles for as long as your baby needs. Just make sure that you are replacing the nipples every 3 months and the bottles every 6 months. This is to ensure that your baby continues to get the healthiest milk and formula and also to ensure that the flexible nipples remain that way. 
What Are The Symptoms Of Colic?
Colic is defined as the frequent and intense crying of a healthy baby. Mothers who have a baby with colic have a hard time calming them down because it seems as if all their needs have been met. When a baby has colic the breastfeeding mom knows that she will have to work hard for success. The best way to proceed with this issue is to address the symptoms of colic, monitor your own stress as a parent, and boost the confidence that you should be feeling about the parent to baby connections. Some symptoms of colic include intense crying as if he or she was in pain, crying for no apparent reason, extreme fussiness after the crying has settled, predictable timing, and face discoloration. This is why you should purchase a bottle with an advanced anti-colic system in place.
Can Babies Use Bottles In Convertible Car Seats?
Once your baby is old enough to use a bottle on their own, you can give it to them while you are in the car. This way they can feed themselves while you are driving. For information on convertible car seats, check out our other articles that talk about the best baby carriers that are on the market today.
Last Updated on June 6, 2021 by Marie Miguel
DISCLAIMER
(IMPORTANT)
: This information (including all text, images, audio, or other formats on FamilyHype.com) is not intended to be a substitute for informed professional advice, diagnosis, endorsement or treatment. You should not take any action or avoid taking action without consulting a qualified professional. Always seek the advice of your physician or other qualified health provider with any questions about medical conditions. Do not disregard professional medical advice or delay seeking advice or treatment because of something you have read here a FamilyHype.com.