For babies, touch and feel books are something they'll be entertained with. They're simple, easy to understand, and they'll engage a baby's interests quite easily. Interactive and fun books are something that many babies do like to look at, and they're quite fun and really interesting to them. But what are the best touch and feel books for babies? Well, read on to find out.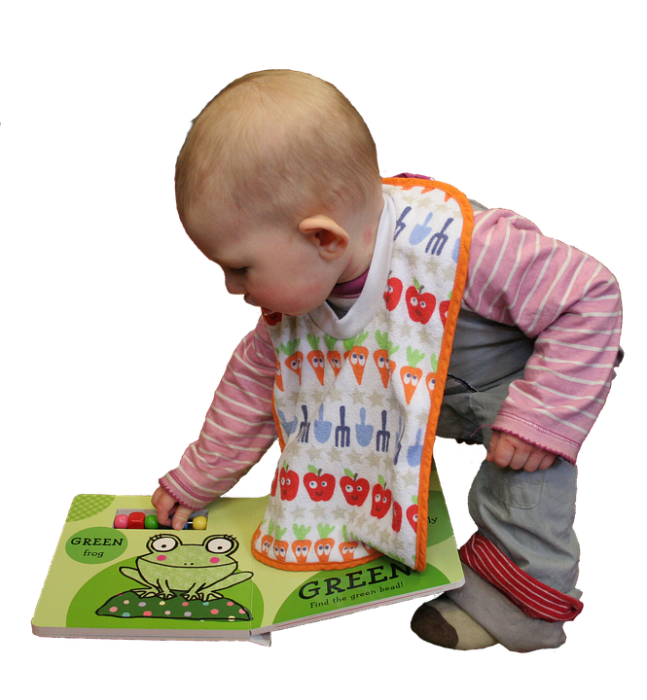 That's Not My Dragon…
This is a book by Fiona Watt, and it's a great one if you want to show the baby something new and innovative. Some ears are tuffy, prickly, and involve other sensations too. It's interesting to the baby because it does have cool sensations, and the final spread is definitely worth checking out. It's a super popular book in the That's Not My series of books, so if your child likes these, then they are definitely perfect for them. Plus, they have other books too, from pirates to princesses to even pandas, which may most probably be one of your child's best touch and feel books. So if your child likes those, you can buy many of these at Barnes and Noble, and they'll enjoy them.
Good Morning, Good Night
This book by Annie Alexander features baby animals as they play through the day and then get ready for bed at night. Good Morning, Good Night allows your baby or toddler to feel along as they see different animals have a great day. For example, in Good Morning, Good Night your 1-year-old will see a kitten play with yarn all day and then get ready for bed on the next page. Each page and each animal allows your baby to touch and feel along the way. This is a great touch and feel book to pick up at Barnes and Noble or to give at a baby shower. 
Pat The Bunny
This is a classic touch and feel book by Dorothy Kunhardt, and it's a must for any baby's library. This may be an older book, but it's a classic. It was actually the first touch and feel book for children, and just like you did as a child, the tot may play peek a boo, smell flowers, or even pet bunnies, whatever they enjoy. It's an immersive and fun book, especially if you love bunnies, and you know that your child does too. This baby touch and feel book can be found at Barnes and Noble, along with other Dorothy Kunhardt picture books.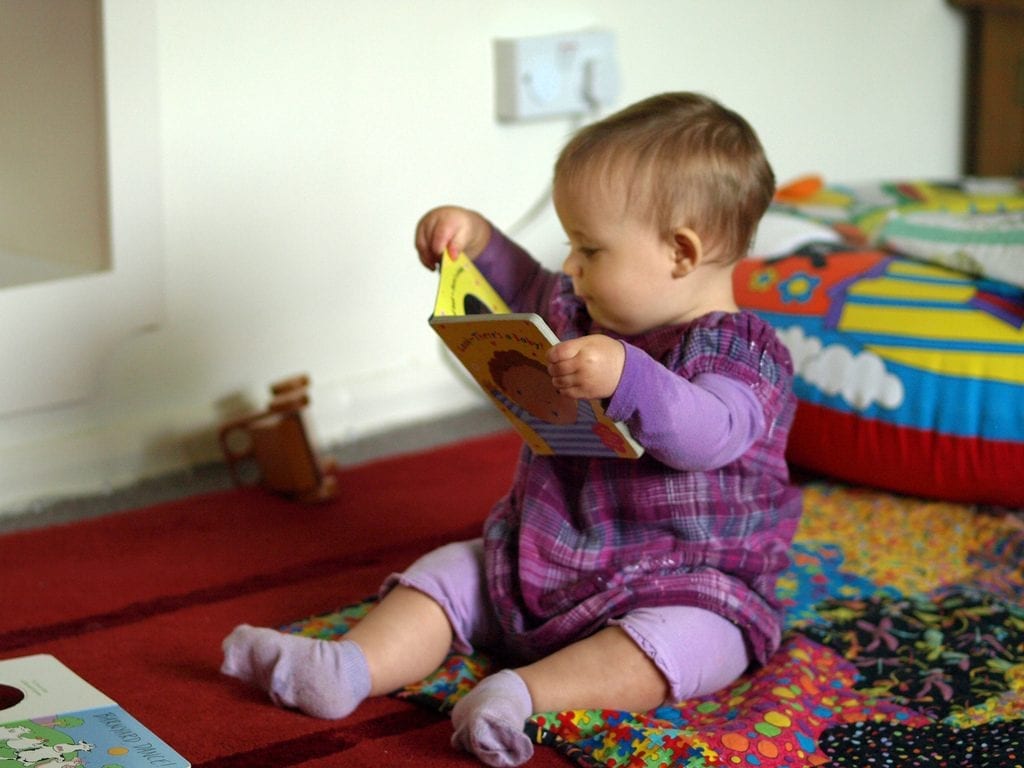 Skip, Hop, Explore And More Mix And Match Book
This is one of the best books for exploring various aspects and to interest infants. With this, infants can feel, touch, or even chew on the book. So yes, they can really engage all of their senses. The cool thing about this is that the pages crinkle and also squeak, and there is a cloud bookmark that makes it an awesome teether. The child can also hold the rattle to shake it, which makes it fun and a really engrossing book that mixes and matches. It's honestly one of the best interactive books out there for a kid that they'll enjoy, simply cause of how much they can do with this. So the next time you are at Barnes and Noble, check to see if this book is available.
Where Is The Baby's Belly Button? A Lift-The-Flap Book
This is a book by Karen Katz that is really good for children if you want to help them understand boy parts in a peekaboo-style. With this, you can lift up the flap to find out where the belly button, eyes, hands, and so much more are hiding. The illustrations are super eye-catching and bright, and the pages are in a peekaboo style, which does build excitement and engagement to anticipate what is underneath there. It is a great one to teach a baby about the parts of a body in a fun and super engaging manner, and in turn, the baby will be interested in this as well.
Tickle Tickle Peter!
If you know about Beatrix Potter, then this is probably a familiar book to you. This is a classic fairytale, and the coolest thing about this is that it has touchable pages and different characters on each page. You'll be immersed in Peter Rabbit's world, along with rhymes that are adorable, cute, and are perfect if you're wanting to create an interactive storytime for your child. Plus, your child will love this, because all of the books are made with some very touchable and immersive pieces that they will enjoy. You can find this Beatrix Potter book and more by her at your nearest Barnes and Noble bookstore
Tails
This is a book by Matthew Van Fleet and focuses on one singular feature of animals: the tails! The focus of the book is essentially touching tails, from alligators to skunks, that you can literally scratch and sniff and realize that they are stinky. This is a great book for tots that love to touch various things, or even tug on them since they can tug on these tails without hurting anyone. Other books by Matthew Van Fleet include Dog, Cat, and Alphabet. Each of these Matthew Van Fleet touch and feel word book also teach your baby or toddler about opposites and action words. You can find these and more Matthew Van Fleet books at your local Barnes and Noble.
Peek-A-Who?
This is a book by Nina Laden and is essentially a series of die-cut pages of different characters. Your child can guess who is looking at you. The thymes are simple, and they are a classic take on the popular game peekaboo that infants love. You, as a parent, will realize that the book has a lot of silly wordplay and puns. The last page is a lot of fun for the baby because it's "Peek a YOU!" and it shows a page where the baby looks at themselves within the mirror. It's fun, it's immersive, it's really an enjoyable book for tots, and it can be found at any Barnes and Noble bookstore.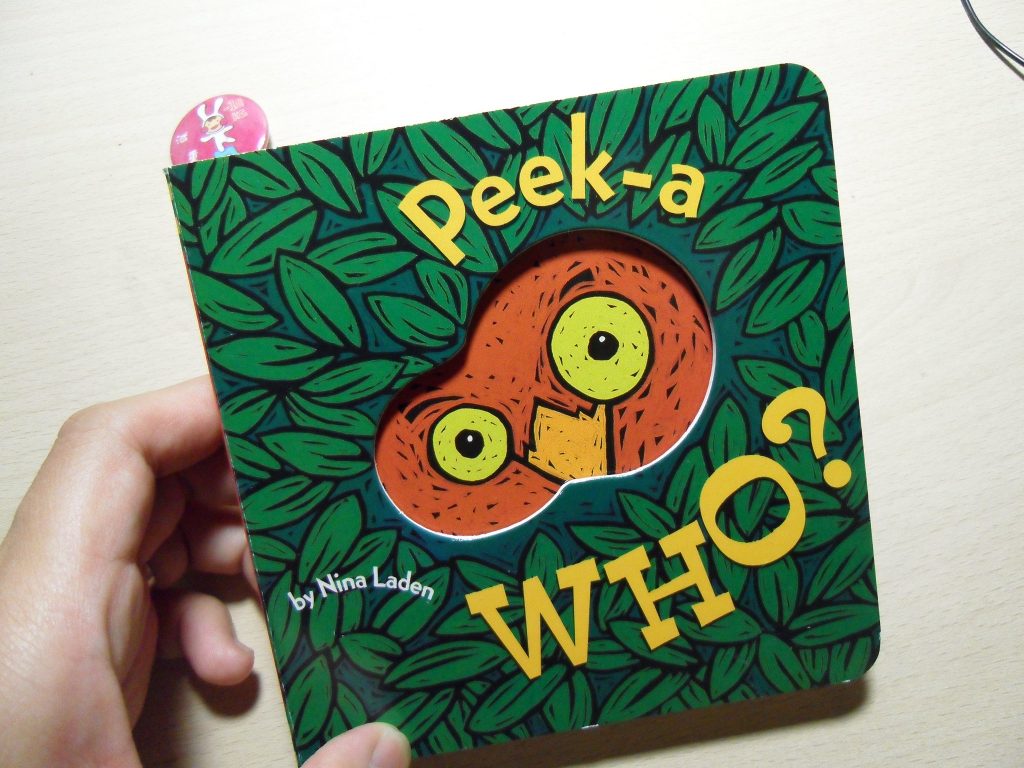 Fuzzy Fuzzy Fuzzy!
This is a best-selling children's book by the author Sandra Boynton. It is essentially everything that kids want: bright pictures that are super colorful, and little words. The focus of this is also textures and touches too, and they are what tots will love. You can have your tot close their eyes, and they can then guess what animal is which, and it's a fun, immersive, and engaging little book for kids. Plus, it is fun to guess what kinds of animals are in which, and also, what fuzzy types of creatures you'll be able to enjoy. Sandra Boynton has many different touch and feel word books to choose from at your local Barnes and Noble bookstore.
As you can see here, there are a lot of interactive books, and you'll be able to make reading fun for your child. You can, with these books, make reading a lot of fun, and from there, you'll be able to immerse your child in the world of reading, and in turn, they'll want to read along with you. Getting a child started with reading at an early age is super important, and these books that involve touching along with feeling are perfect additions for this, in that the child will enjoy reading. They'll also improve their senses as well with the interactive pages these books have to offer. So buy some of the best touch and feel books at your local Barnes and Noble and create a collection that is worth keeping.
FAQs On The Best Touch And Feel Books For Babies
Why are touchy-feely books good for babies?
Bright baby touch and feel interactive books are important for babies to develop their pre-language skills. These books also contribute to developing their senses and helping them learn more about communicating with you.
It is important to read book reviews about different baby books for your toddlers, to determine which ones he or she would be most interested in. Make a note on the page features, does it have sound and touch or just one or the other? Knowing this will help you find the right books for your little one. Check where to get these books here on this page.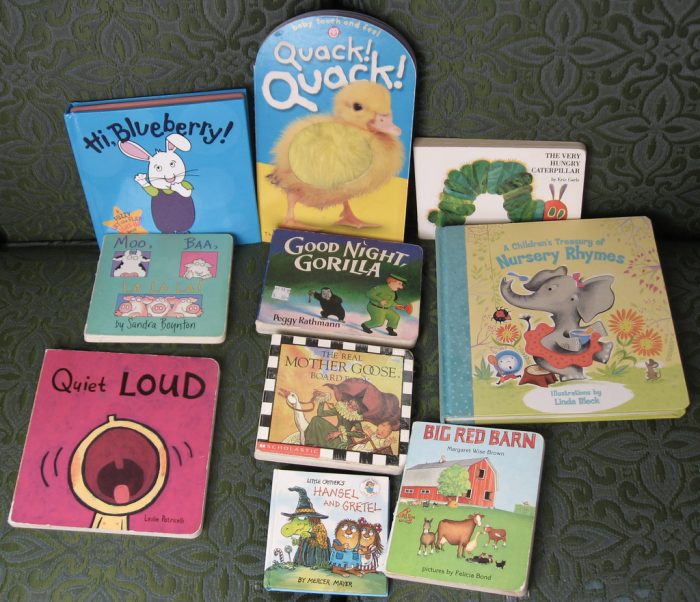 What is a touch and feel book?
A touch and feel book is an interactive baby book that allows toddlers to touch the book and feel different materials, such as something scratchy, or smooth. They vary in textures and different materials, which allows the toddler to get an understanding of how different things can feel to them.
Why are touch and feel books important?
There are a lot of different baby books out there that can help your toddler learn different skills. However, touch and feel sound books are important because they help teach your child what happens when you touch something and what it feels like. When these books come with sound, this makes your child engage even more with the book. Not only can they touch and feel, but they can also hear the book, which will delight all children of any age.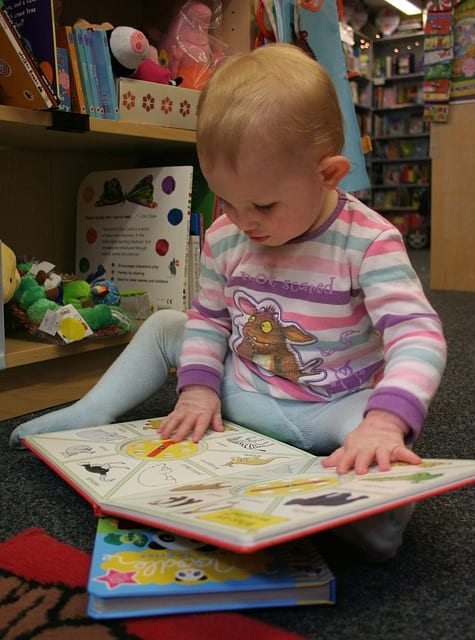 Why do babies need books?
Books are great for babies because they allow them to learn new skills, as well as hone already acquired skills. They can help your little one learn words by repetition along with understanding what the story is telling them.
How do you read a book to a baby?
When reading a book to your baby or toddler, you need to do the following:
Read to them slowly.
You do not have to read word for word.
Use your own words for some parts of the book, paraphrasing if desired.
Use your hands as you read.
Change your tone and pitch while reading, different voices for different characters.
Let them touch the book and turn the pages.
Point to pictures as you read about them and explain colors, sizes, shapes, and more.
While reading, take the time to stop and ask your toddler questions. For example, you can ask them what color the lion is, and if they cannot speak yet, you can answer it for them. This keeps them engaged in the story.
Make sure you read to your toddler while he or she is somewhat alert to be able to comprehend what is going on in the book.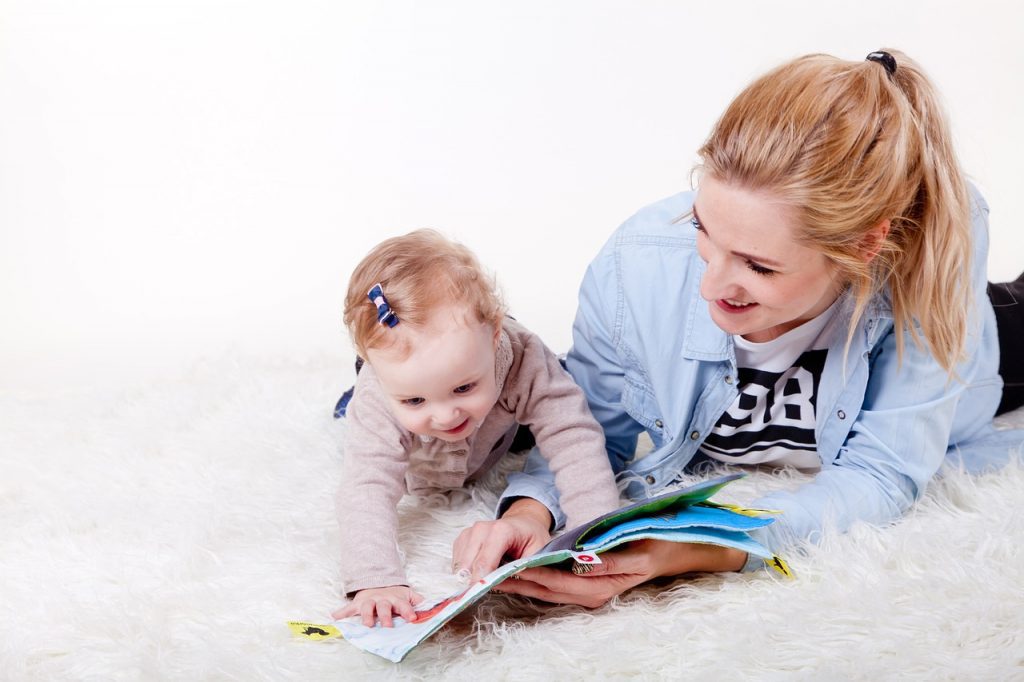 What age do babies turn pages in books?
In a sense, yes. Some research has shown that reading books to your baby or toddler can help their reading and vocabulary skills four years later. This is great for when they start school and need these skills.
What age do babies turn pages in books?
Babies start turning the book's pages between nine months and one year old if it is a board book and twelve to eighteen months for paper books. This can, of course, vary per child, but generally speaking, these are the ages they will start turning pages.
What age are board books for?
These books are for newborn to three years old. Board books, especially memory books, are important for your toddler that is still teething to have. This way, if they chew on them, it is not as much of an issue, and it allows them to also turn the pages easily, which can help their coordination. When a toddler is just learning how to turn pages, regular paper books may give them cuts or rip easily. In contrast, board books can become a fun baby game with turning pages. It also helps enhance the experience of babies while they read.
What is the difference between a picture book and an illustrated book?
A picture book shows pictures, and sometimes no text, that are part of the story, but only enhance the storytelling, not adding to it. Whereas an illustrated book can add to the story, sometimes being a part of the story itself, with text and pictures. Sometimes they will even tell the story and show certain parts of the story in images with text.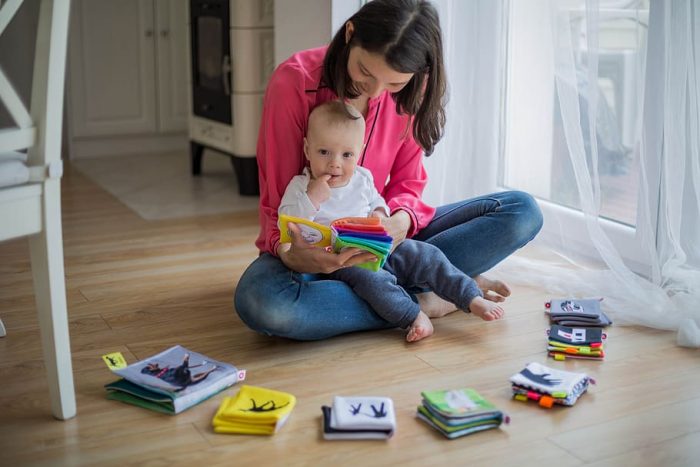 How do I introduce my toddler to a book?
You can start introducing your baby or toddler to books by talking or singing about the pictures. Allow your child to turn the pages and let them pick out their own books at Barnes and Noble.
How do you read to a toddler?
Don't expect your baby to love a book at first. Therefore, you need to encourage a play with the help of engaging books such as touch and feel books to incorporate describing, naming, and communicating.
Why is touch and feel books important?
Touch and feel books are essential to encourage children the use of senses through the spark of curiosity around them. It allows your baby or toddler to associate the texture they feel with the word it describes.
Why are touchy-feely books good for babies?
The best touch and feel books will help your baby or toddler get a proper idea of the world they are about to encounter. It helps in getting babies' attention. A great set of books for this is the Curious George touch and feel books. Your baby can experience the adventures that Curious George goes on while also being able to touch and feel.
What's the difference between touch and feel?
Touch is the act of touching with the hand or finger. Feel, on the other hand, is a quality of an object experienced by touch.
What are the best touch and feel books for your baby's bookshelf?
You can include these following touch and feel books in your Bookshelf: Pat the Bunny, Peter Rabbit Touch, and Feel, Llama Llama Sand and Sun, Sophie Peekaboo! Colors, Fluffy Animals, Feel and Find Fun: Building Site, Hoppity Hop Peekaboo! , and Things That Go (find more books at the ReadBrigthly page). Another touch and feel word book that you should consider Baby Einstein Backyard for All. Baby Einstein's Backyard for All teaches babies and toddlers about the backyard as it changes throughout the seasons. All of these books and more can be found at your local Barnes and Noble. 
A sensory book is a homemade book. It is filled with small items and activities to keep small children stimulated while under quiet time. You can also now buy sensory books at Barnes and Noble. A popular sensory book author is Roger Priddy. Some of his sensor books include the See, Touch, Feel word book, and then See, Touch, Feel: ABCs. All of his books include bright colors and create a great learning experience for babies as they get ready to say good night. 
How do I make my toddler's reading experience fun?
Pick the right books and read aloud. Encourage all forms of reading and create a reading space for your baby. In addition to this, let your toddler pick out their own book at Barnes and Noble. This way they become interested in what they're going to read.
Why is reading to a toddler important?
Kids who love to read to not only improve their literacy skills, their language skills improve, too. So check out the children's department at your local Barnes and Noble for some great reads. 
Does reading to your baby make them smarter?
Reading books to babies can boost children's vocabulary and reading skills. This is also true when you are reading an interactive book, baby einstein books, or scratch and sniff books to your babies and toddlers. All of these sorts of books are recommended for child development and can be found at Barnes and Noble.
How often should I read to my baby?
You should often read aloud to your baby toddler and do not worry about finishing the entire book. Just focus on pages that you and your baby enjoy. It can also be fun to include baby touch and feel books, along with some scratch and sniff once they wear one or two years old. Many parents begin by reading to their babies as part of their good night routine. 
Should you read to newborns?
Reading books to your baby when he or she is as young as four months old can entirely increase the chances of improving language development. It is best to start out with touch and feel word books, especially as your baby begins to touch and grab things.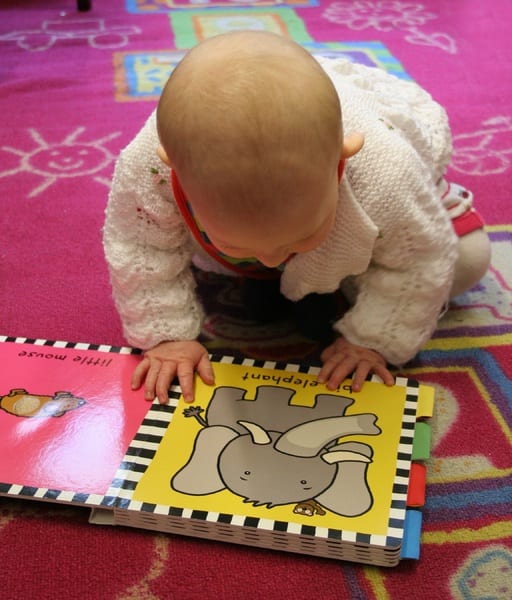 Best Touch And Feel Books For Babies Conclusion
It is important to get your child learning, whether it be with memory books, or touch and feel adventure books. Either way, you go, your child will be learning something new and enhancing their skills. It is especially important to give your child a board book during tummy time for babies. Even if they cannot read yet, they can still turn pages to some extent and look at the pictures. You can join them during tummy time and show them the book, even read it to them while they are learning to crawl. This gives them more interaction that young babies need, along with having something fun and interesting to look at while they are rolling around on the floor. Touch and feel baby books make the best books to give at a baby shower gifts to all your friends and family. 
Last Updated on March 30, 2021 by Marie Miguel
DISCLAIMER
(IMPORTANT)
: This information (including all text, images, audio, or other formats on FamilyHype.com) is not intended to be a substitute for informed professional advice, diagnosis, endorsement or treatment. You should not take any action or avoid taking action without consulting a qualified professional. Always seek the advice of your physician or other qualified health provider with any questions about medical conditions. Do not disregard professional medical advice or delay seeking advice or treatment because of something you have read here a FamilyHype.com.