Buying the best infant car seat can be challenging, not due to free shipping issues but due to broad options. NextFit car seat is one of the best options. It is equipped with great features. We also included a list of the highly-rated car seats from Amazon with their descriptions. By looking at the features, you can compare them with the NextFit car seat to see which one fits your needs most.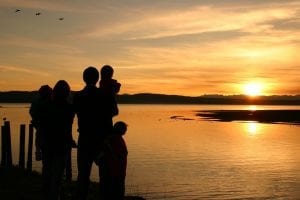 Traveling and going on adventures are all the craze for families today. Parents want their children to have the best memories at a young age. But going for a ride with kids can be daunting because their safety is a priority. Keeping them secured and happy on a trip starts with choosing the best baby car seat.
While there are tons of brands to choose from, NextFit Convertible Car Seat is the most excellent choice out there. It comes from the European baby brand Chicco Inc, which has been trusted since 1958 and has stores in 120 countries worldwide. Here are close reasons why the seat offers superior protection and comfort for your little ones.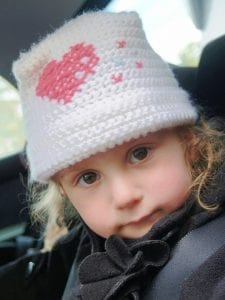 Chicco NextFit Zip Max Convertible Chicco Car Seat

It requires less effort to tighten integrated lock-offs as it is equipped with a super Cinch LATCH to tighten and Lock Sure seat belt locking system.
These infant car seats have 3D air mesh backrests, soft seat pads and a flexi belt for maximum comfort. It also allows 25% more legroom when converted into rear-facing mode while offering to extend calf support when in forward-facing mode.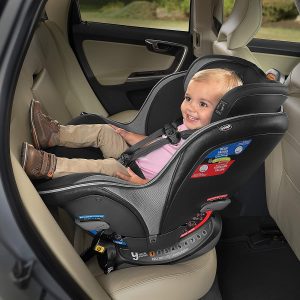 4Ever DLX 4 in 1 Car Seat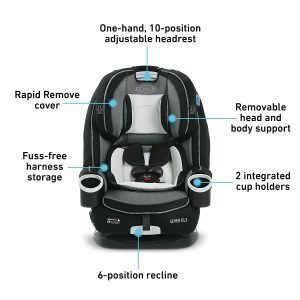 The 4Ever DLX car seat gives you 10 years of use at a reasonable price. It's a good investment since it grows with your little one. It is ideal for children 4 lbs up to 120 lbs.
This seat offers 6 positions recline and 10 headrest positions, and it has an unbeatable safety system to keep your child safe and sound while you are on the road.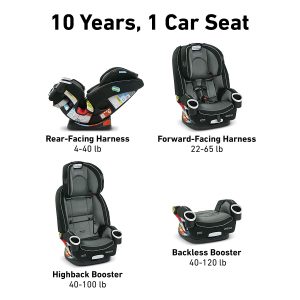 KidFit Zip Plus 2-in-1 Belt-Positioning Booster

The KidFit Zip car seat comes in different colors to select from, allowing parents to choose the style that suits their preferences. This model combines style and comfort while providing superior protection from side impact crashes or contact. The seat fabric is not only comfortable but can also be machine washed, allowing for easy cleaning on the delicate cycle. Additionally, the KidFit Zip car seat is lightweight, making it convenient to handle and transport.
The KidFit Zip has an ergonomic designed contoured seat that features 3 layers of foam, making it comfortable for children. It includes space-saving cupholders and a kid console for big kid essentials. Additionally, the KidFit Zip seamlessly integrates with a stroller system, allowing for easy transitions between car and strolling modes. It has a level indicator which is easy to install, and the one handed release feature makes it easy to install and remove.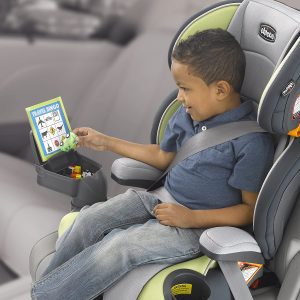 MyFit Harness + Booster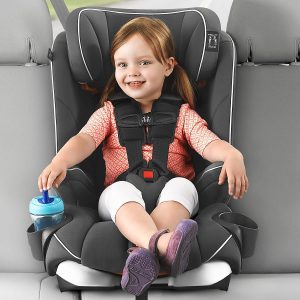 The MyFit Harness + Booster Car seat features a 4-position recline and a 9-position headrest to accommodate proper posture while you travel.
These car seats are also designed with Duo Guard 2-layer Rigid Shell with energy-absorbing steel reinforcement for side impact protection for the head and torso.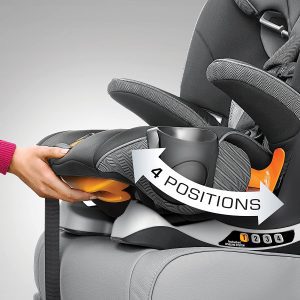 Chicco NextFit Safety Features
As discussed by the American Academy of Pediatrics, they must be seated in a rear-facing car seat until the toddlers are two years old or until they reach the maximum height or weight limit of the car seat. After that, the kid can then be in a forward-facing position for the easiest interaction with the family live.
This can be easily done with the NextFit convertible car seat. It helps keep your child rear-facing with one pull until they weigh 40 pounds. You can flip the car seat to a forward-facing position, with a weight limit of 65 pounds, when it is safe to do so.
You can also recline the car seats in nine different positions, and there are bubble guides that indicate the appropriate seat angle in both rear-facing and forward-facing modes. Because of this adjustability, the car seats can be accommodated in different kinds and sizes of vehicles. All with the assurance that your baby will have side-impact protection.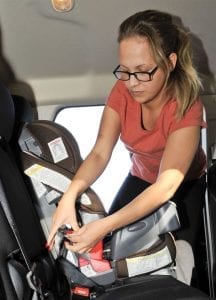 Chicco NextFit Installation
They offer easy installation in vehicles with a seat belt or lower anchors and tethers for children (LATCH) system.
If your vehicle has a seat belt, NextFit has seat belt locks to ensure that it fits snugly. For cars with a LATCH system, it has a super cinch force-multiplying tightener for security, as well as a slide path for a smooth transition between rear-facing and forward-facing positions.
The convertible car seat also comes with a removable infant insert that can support five- to 11-pound infants.
Chicco NextFit Styles
There are style options available. Arguably, the most famous one is the NextFit Zip convertible car seat.
It has a zip-off wash seat pad. Thus, it can be removed from the shell and makes washing and maintenance easier. ZipFit car seats also have seat padding and waist support so you can carry the baby safely inside or outside the car.
The other car seat styles are the NextFit Sport for heavier children (preschool and beyond) and NextFit Air with a mesh backrest. The Zip Air also features a 9-position leveling ReclineSure system, SuperCinch LATCH tightener, ESP energy-absorbing foam, a steel-reinforced frame, easy transitioning from rear-facing mode to forward-facing mode, and a machine-washable cup folder instead of a cup holder. The Zip Air offers reassuringly easy installation into your vehicle. It also has Duoguard, which offers side-impact protection through the ESP energy-absorbing foam, and the Zip Air features a newborn position that is easily removed once it is no longer needed.
Another style is the Zip Max. It offers your baby 25% more legroom when in the rear-facing position and additional calf support when facing forward. The MextFit Zip Max car seat also has ESP energy-absorbing foam, a steel-reinforced frame, and a LockSure seat belt locking system.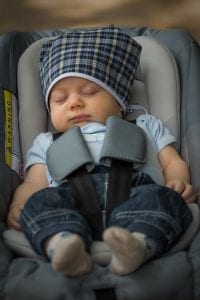 Chicco NextFit Durability And Comfort
Your child's use of the car seat can last all the way to preschool age. A steel frame supports the seat shell when children grow. The shell is two layers deep for all-around protection. It also features an expanded polystyrene foam which effectively absorbs impact energy in case of a crash.
The car seats come with thick comfort pads that correctly fit your baby. Your kid will be able to endure long rides, and you will have a peaceful drive because of this.
Chicco NextFit Good Reviews
Of course, customer reviews are more reliable when they come from the users themselves. It has over four-star ratings on baby stores, such as Albee Baby and Buy Buy Baby.
Parent bloggers also have good things to say about the convertible car seat. They laud NextFit for its top-of-the-line safety features and the comfort that it brings to their child. They also find its user-friendliness advantageous for other parents who wish to install it. Overall, parent bloggers and customer reviews think that this car seat is worth your money.
With the protection, ease of use, comfort, and durability that NextFit offers, it is no wonder it is the number-one-rated convertible baby car seat in the market. It further boosts Chicco's reputation for quality and excellence and gives parents the ultimate assurance they need—that their baby is safe, content, and happy.
Frequently Asked Questions (FAQs)
How long is NextFit by Chicco good for?
They have a known lifespan of up to six years. You may also view the car seat's expiration date printed on a label that can be found on both its seat and base. As an owner, make sure to follow this timespan to avoid any mishaps for the safety of your child.
Is NextFit washable?
Yes, they are washable, but there are a couple of reminders to take note of. First, you must use a sponge dipped in mild soap and warm water. Towel dry the plastics and air-dry the harness and LATCH connectors when eliminating water. Avoid using solvents, bleach, or household cleaners on the plastics and straps as they might weaken these. Additionally, if you are using a car seat with strollers, it is important to follow the manufacturer's instructions for cleaning the stroller components.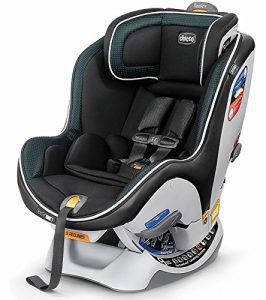 What is the safest convertible car seat on the market?
The Graco 4Ever DLX 4-in-1 Infant to Toddler Car Seat is one of the prestige offers in the market. Some of its primary features are the forward-facing rethread harness, rear-facing harness, backless booster, and high-back booster. These adjustments will surely protect your child in whatever type of accident. Some of its additional features include the inRight LATCH connectors system dedicated to more accessible transport and the RapidRemove seat cover.
Is Chicco NextFit safe?
Yes. The car seat is an excellent convertible that is extremely safe and high-rated for children of the same height and weight. Additionally, the KeyFit infant car seat is also recognized for its safety features and is highly regarded for its excellent safety ratings. Both the NextFit and KeyFit prioritize the safety and well-being of children during travel.
How do I recline my NextFit?
Before reclining the seat, it is important to ensure that the vehicle is on a level surface to avoid any technical complications. To adjust the recline, locate the recline adjustment handle in front of the child restraint and pull it forward to place the seat in the desired position. Whether facing forward or in a rear-facing setup, make sure the child restraint does not block the vehicle belt buckle for proper installation. Additionally, ensure the chest clip is properly secured and always place the child restraint in the back seat for a safe ride home. Remember to adjust the seat as needed for optimal comfort and safety.
Is Folding Chicco NextFit Safe?
Yes, it is safe, meeting the same safety standards as other car seats. Its foldable design makes it convenient for storage and travel. It is essential to install correctly and follow the guidelines provided by the manufacturer and the National Highway Traffic Safety Administration (NHTSA) for safety. The KeyFit is another popular and safe car seat option. If you're considering other reputable brands, UPPAbaby car seats, such as the UPPAbaby Mesa, are worth mentioning. It is important to ensure a tight and secure fit when installing any car seat, including the NextFit or UPPAbaby Mesa. Additionally, if using the car seat with a compatible stroller, it is crucial to follow the manufacturer's instructions for proper attachment and secure positioning. Other similar brands known for their safety features include Graco, Britax, Evenflo, and Maxi-Cosi
Is the Chicco NextFit ZIP worth it?
According to reviews, this convertible car seat is worth every penny. Parents consider the ZIP convertible car seat as their dream infant car seat because of its fantastic safety features, sturdy steel-reinforced frame, super padded headrest, five-point rethread harness, rear-facing and forward-facing positions, and quick installation. Another benefit is how easily you can unzip and wash it. This makes cleanups a breeze every time.
Is NextFit FAA approved?
Yes, All products of Chicco infant and convertible car seats are FAA certified approved.
How Heavy Is the NextFit?
The car seat's Maximum Weight Recommendation is 65.00 lbs, with a Minimum Weight Recommendation of 5.00 lbs.
What is NextFit iX?
It is tailored to kids up to seven years old. Its main features include a new LockSure vehicle seat belt-tightening system and a SuperCinch LATCH connectors functionality which is a force-multiplying tightener. It's also designed to cater to children from 2 kg to 29.4 kg. This quality car seat also offers a smooth and removable one-hand headrest adjustment that is a nine-position headrest which ensures their safety, comfort, and proper fit. It also has side-impact protection, rear-facing mode and forward-facing mode, and a newborn positioner.
What Age Is The Chicco NextFit For?
Does Chicco NextFit Turn Into A Booster Seat?
Is Chicco Good For Babies?
Which Country Made Chicco?
How Do I Know If My Chicco Car Seat Is Expired?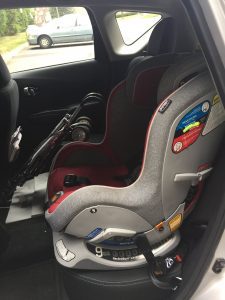 Last Updated on April 12, 2023 by Bernadine Racoma
DISCLAIMER
(IMPORTANT)
: This information (including all text, images, audio, or other formats on FamilyHype.com) is not intended to be a substitute for informed professional advice, diagnosis, endorsement or treatment. You should not take any action or avoid taking action without consulting a qualified professional. Always seek the advice of your physician or other qualified health provider with any questions about medical conditions. Do not disregard professional medical advice or delay seeking advice or treatment because of something you have read here a FamilyHype.com.