When buying a car seat, you should consider a lot of things like safety and budget. To help you decide, here are car seat reviews that contain some of the best products out there. The Evenflo car seat has been featured here and compared to other car seats that are recommended by parents who have tried the car seats with their babies.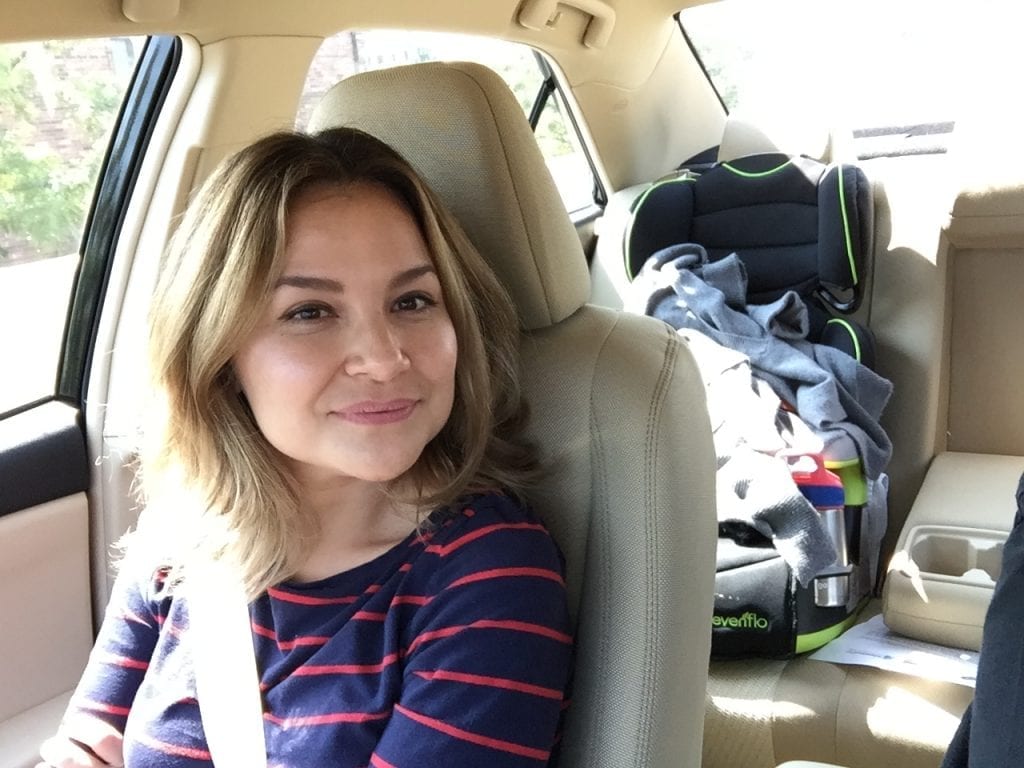 To give you an idea of what Evenflo car seats most people buy online today, we made a list of its highly rated car seats from Amazon. We also included a detailed product description for each so you can compare it with the other car seat brands that we reviewed. You can check the pros and cons of each one so you can come up with the right decision for your little one's car seat.
Type Of Car Seats
Infant Car Seats
There are weight and height limits on deciding what car seat the baby should use. Some restrictions can go up to 30 pounds as an average. Newborns or infants must use rear-facing car seats, and once they exceed the limits, they should use convertible car seats by then. The latter can be detached from the car without your baby being woken up.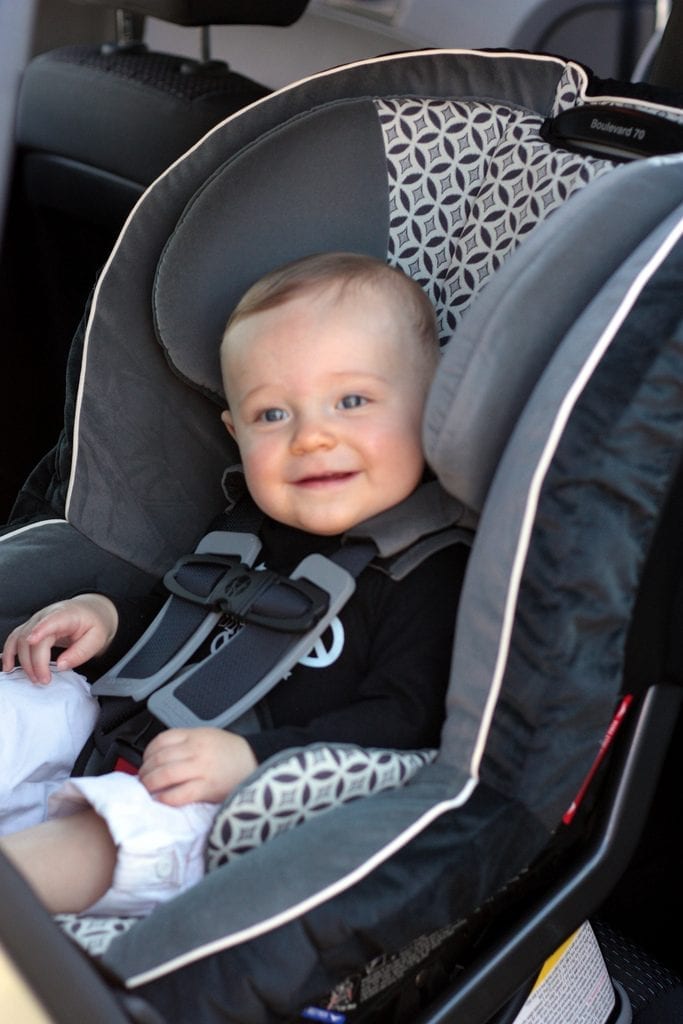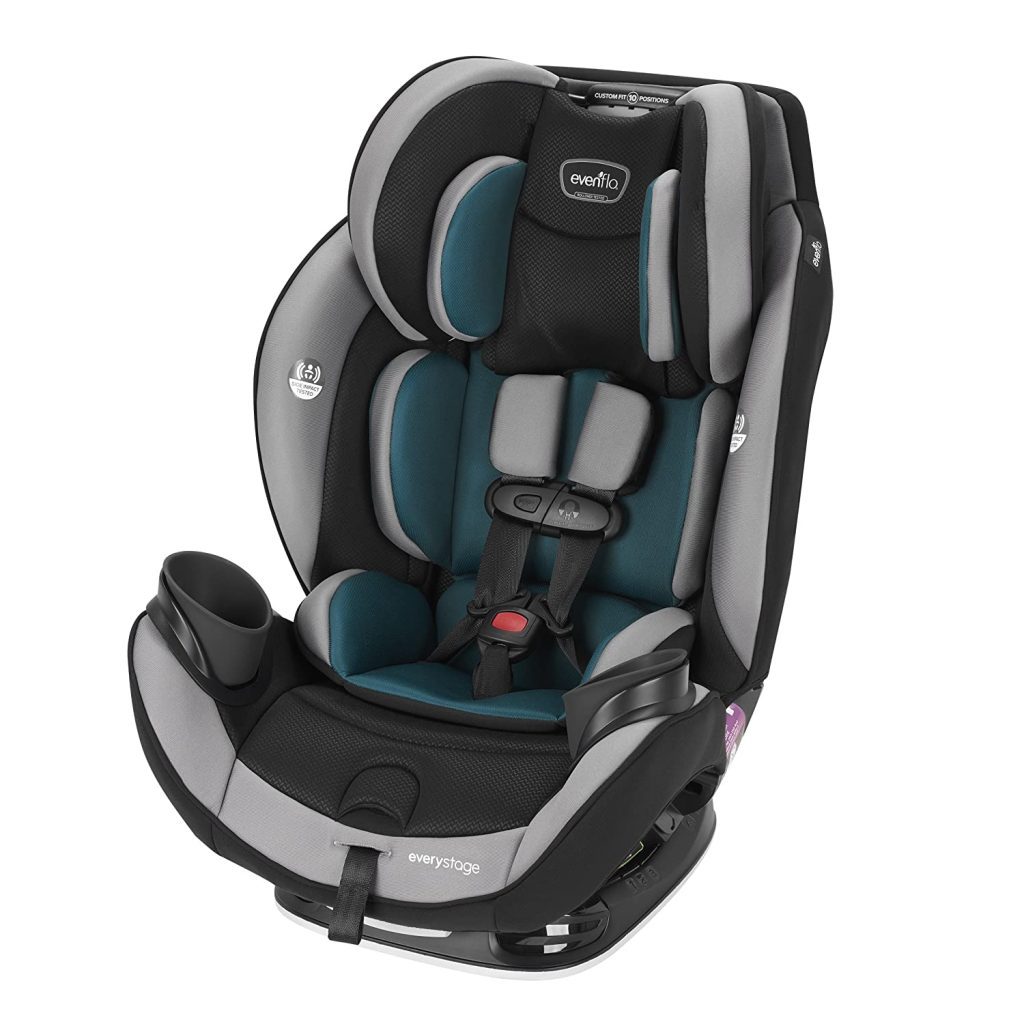 The EveryStage DLX is very durable and convenient to use. It is also multifunctional and can be used in 3 modes. It is the best car seat from infancy until your child grows up to 120 lbs.
This Evenflo car seat has a reliable latch system which gives it a tighter install and it has a well thought angled design to keep your child safe and comfortable.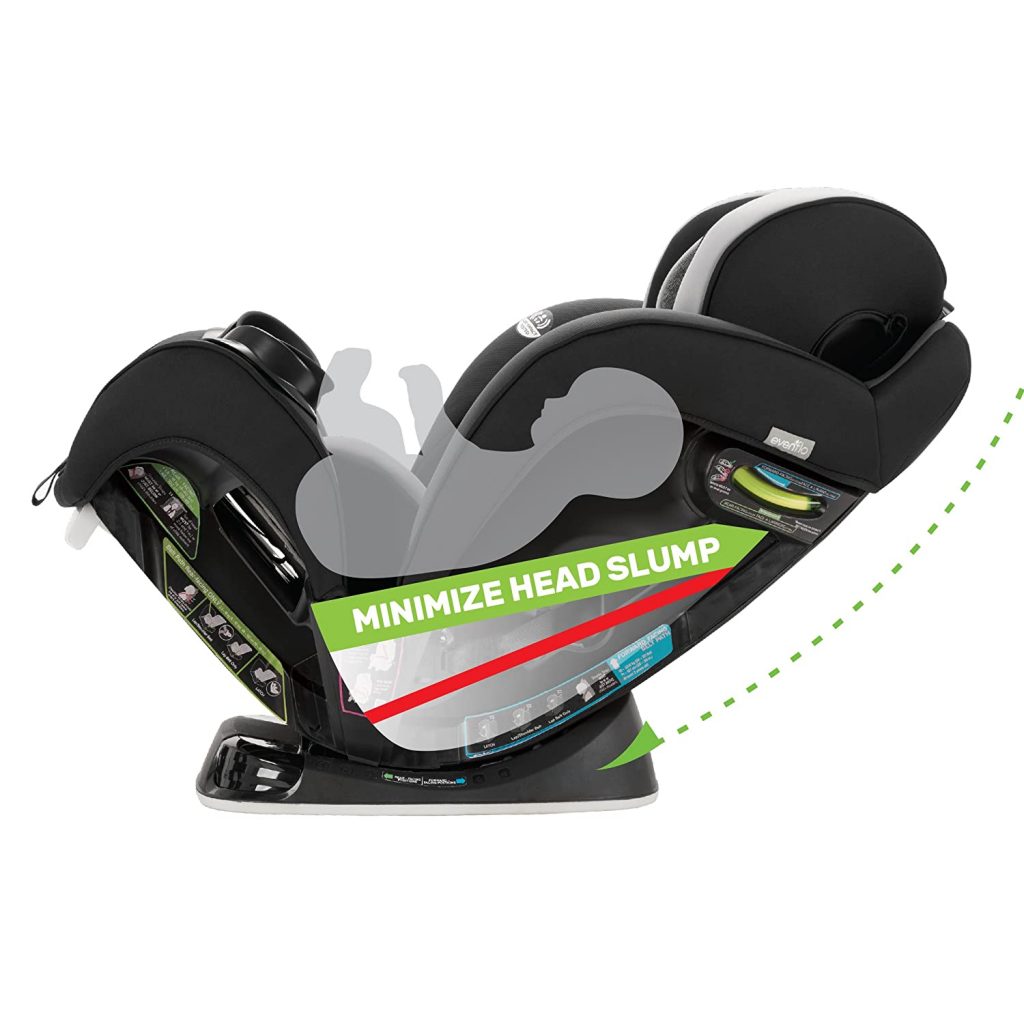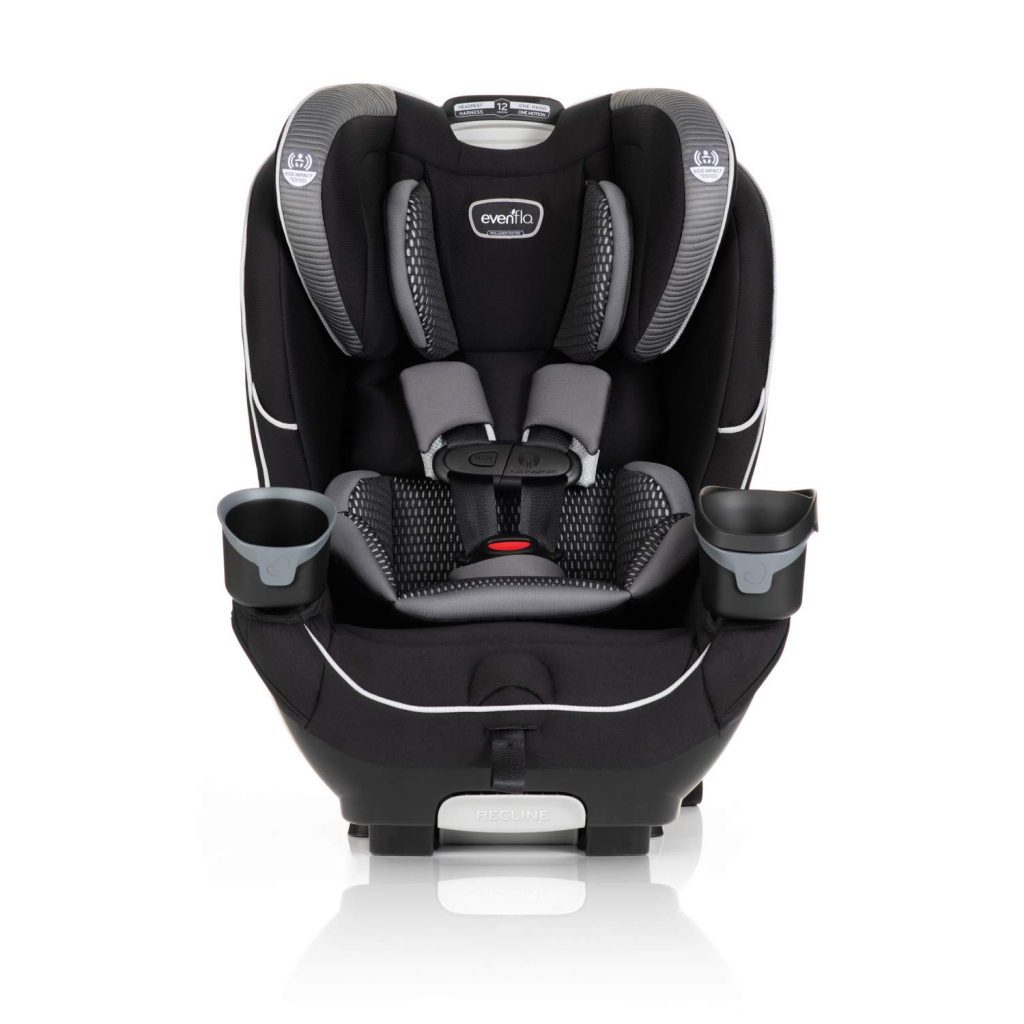 The EveryFIt is the only car seat your child will need until they turn 4+ as it promises 10 years of use. This Evenflo car seat can be converted from a rear facing harness to forward facing harness, and as your child gets older it can be converted from a high back booster to a no back booster.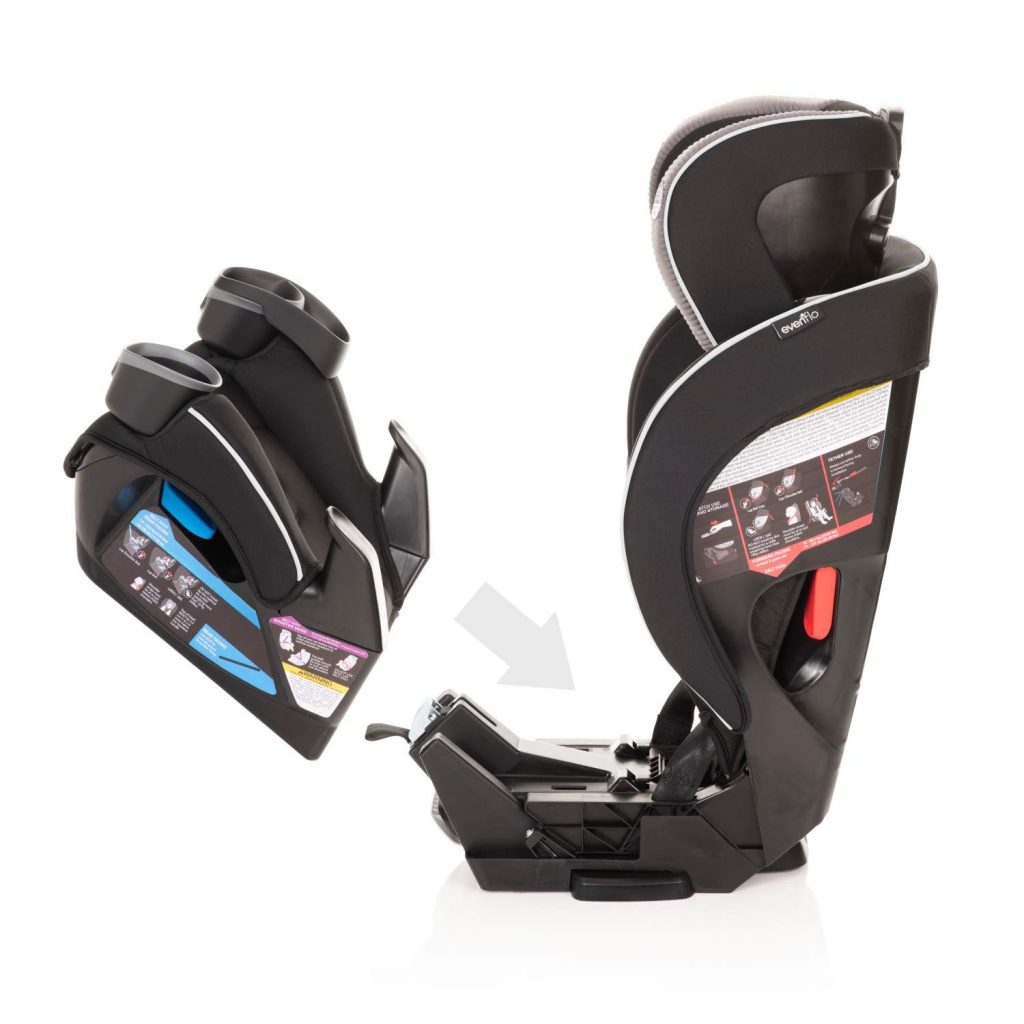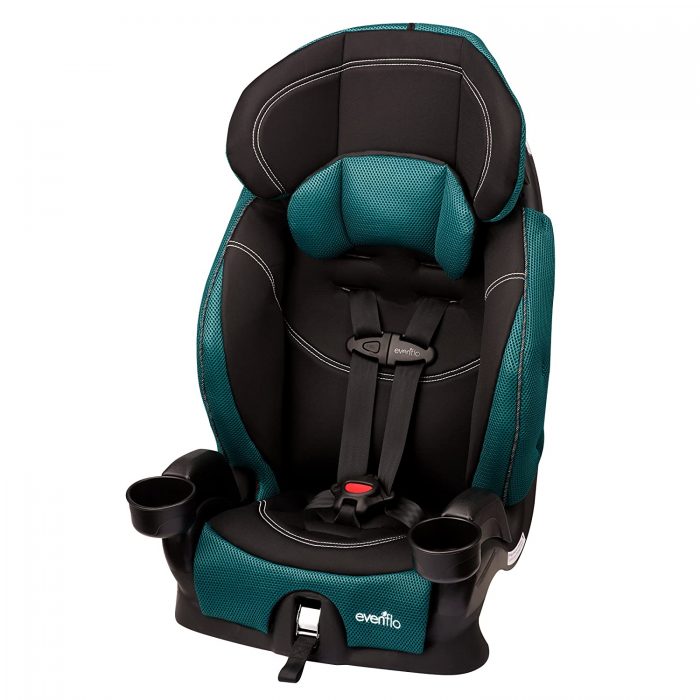 The Chase Harnessed booster can be converted 2 ways and it comes at a reasonable price. It also has an adjustable 5-point harness system to accommodate your child as they get older.
This Evenflo car seat side impact tested and is is complete with essential belt and buckles to ensure your child's safety while on the road.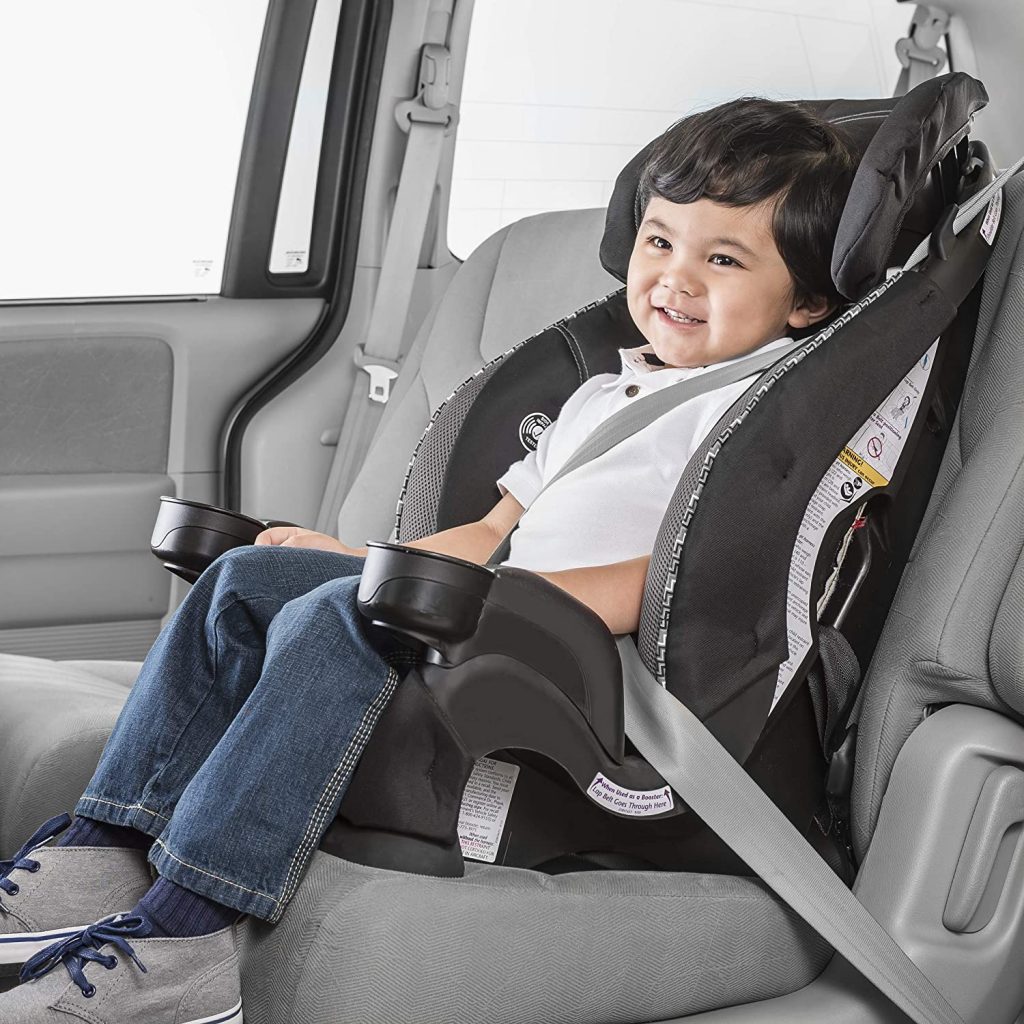 The Evenflo Sonus car seat is versatile, tried and tested, offers all season comfort and it has the necessary safety features to protect your child from impact during crashes. This car seat is ideal for children 5 lbs up to 50 lbs.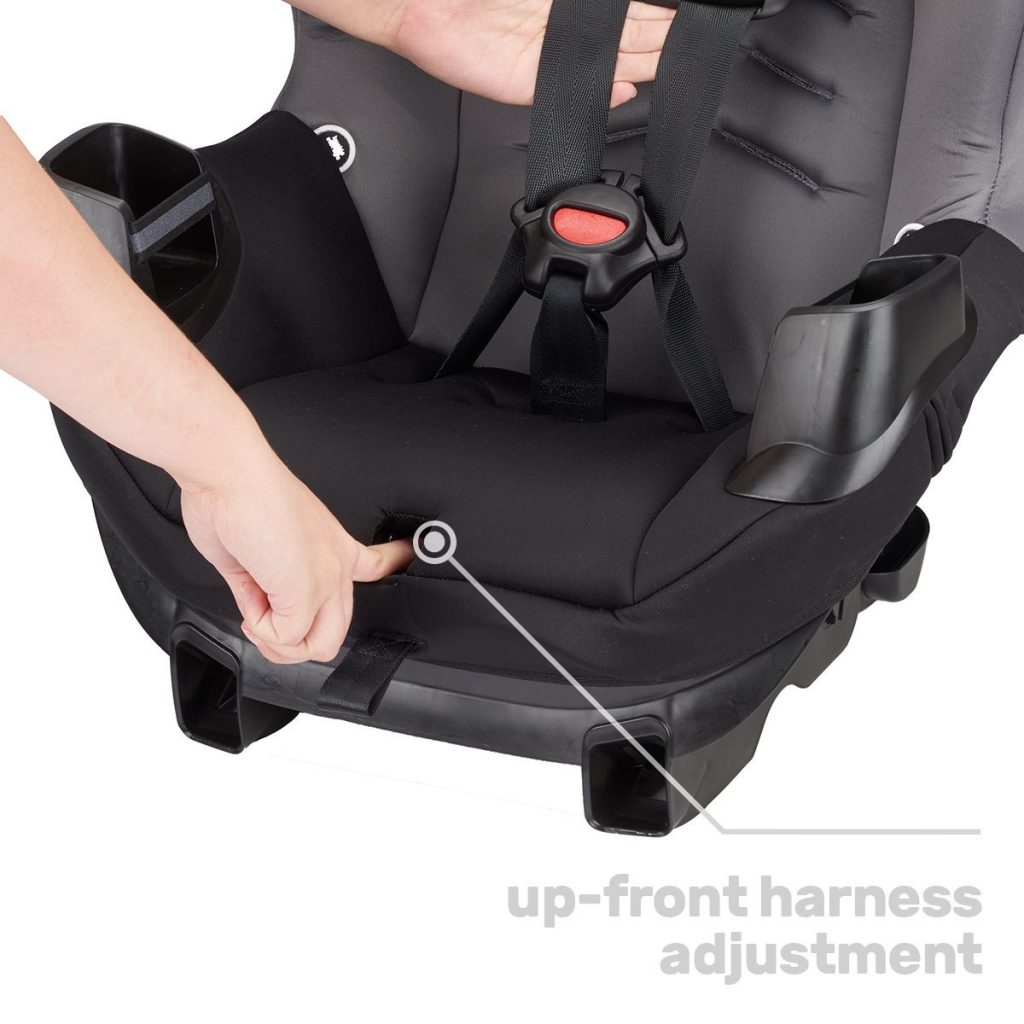 Convertible Car Seats
This is needed, especially since your child is growing. They would need to have this type of car seat once they're big enough, usually until two years old, and then they can go from a rear-facing seat to a front-facing seat.
Booster Car Seats
If your child has grown old enough for convertible seats but still needs help to sit up higher and be in a protected and safe position, this can help your child. Children at least four years old and 40 lbs can use this type of car seat.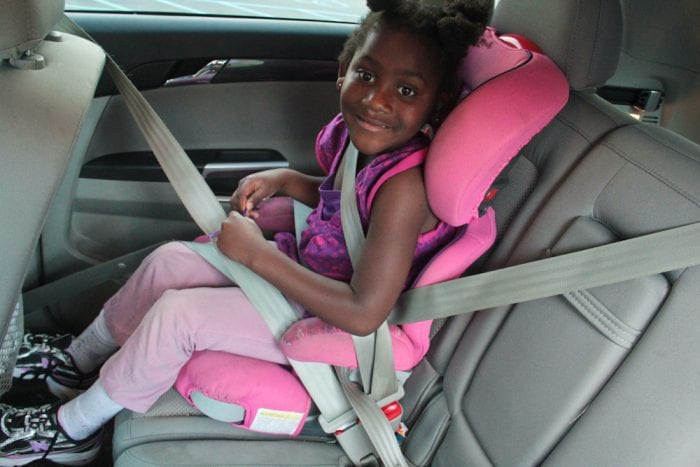 Car Seat State Laws
The car seat laws differ in all 50 states of the US. To know what age and size your child should be to be able to use a car seat according to the law, check the list made by The Insurance Institute for Highway Safety.
Best Car Seats
This one was decided by many factors like ease of use and installation, cost, and comfort but mostly because of safety.
Best Infant Car Seats
The following ones below have been crash-tested and are guaranteed to follow the Federal Safety regulations.
#1 Chicco Keyfit 30 Car Seat
Highly famous, this car seat model is ranked as the best choice due to its quality and safety. Many people prefer it because it offers a great cost not too far from those of premium infant car seats. Easy to install and use, The Chicco Keyfit 30 car seat is one of the best car seats for small infants as light as 4 lbs. It features a built-in belt routing lock-off system that is useful if you have a latch in your car.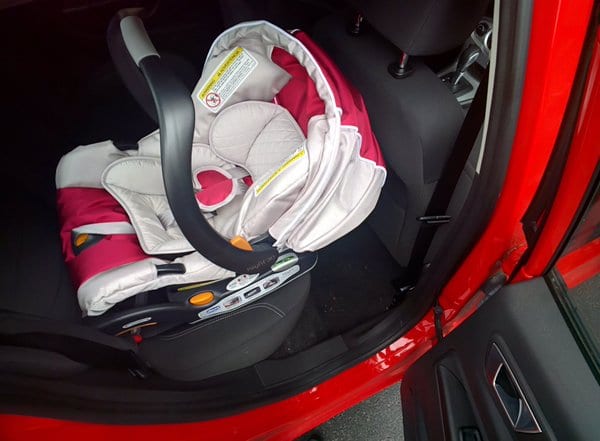 Pros
Has energy-absorbing foam which helps with impact protection
Easy to adjust 5-point harness
Can easily click into the base better than most car seats
Best for newborns 4-11 pounds
Lightweight
Excellent value
Cushions are machine washable
Cons
Since it has a wide base, it can be too bulky for the car
Only fits babies up to 30 inches or 30 pounds
Rough fabric
Chicco Keyfit 30 Car Seat Price
$199.99
1-year warranty
9 lbs Car seat weight
Five colors
The additional car seat base is worth $84.99
Chicco Caddy Stroller Frame costs $99.99
Chicco Cortina Travel System costs $299.99
#2 Britax B-Safe 35 Elite Car Seat
Best known for its safety features, the Britax B-Safe 35 elite lands itself second in the list. Also, it's easy to install in the car and is compatible with strollers. However, this car seat can be too narrow for your child, and they may quickly grow too big for the car seat.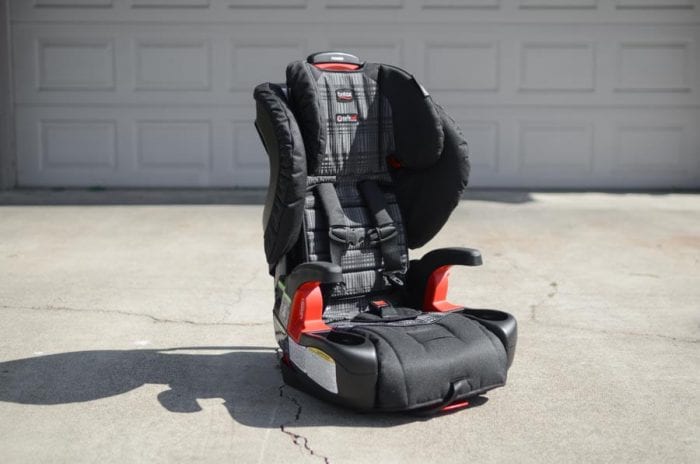 Pros
Extremely safe due to its impact absorption, stable steel frame, and impact protection
Newborns weighing 4 pounds can comfortably fit in it
Easily adjustable 5 point harness
A sound price that reflects the quality
Can fit into compact cars
Cushions are easily washable and removed
Cons
You might have difficulty getting your baby in and out due to the narrow seat
Heavier than others
Children can easily outgrow this before they even reach the weight and height limits
Britax B-Safe 35 Elite Price
$189.99
1-year warranty
Car seat heaviness: 11.5 lbs
Seven colors
Additional base: $99.99
#3 Evenflo Embrace LX Car Seat
If your baby is on the bigger side, the Evenflo Embrace LX one is perfect for you. This car seat is also very lightweight, so it makes it easier for parents to carry their sleeping baby.
Pros
Its impact protection on the sides and energy-absorbing foam are top-notch
Safe for newborns at 4 lbs and checked by safety advocates
Easily adjustable 5 point harness
Lightweight
Extremely reasonable price for the quality
Can carry larger babies who weigh 35 lbs
Cons
Small canopy
Babies sweat easily because the fabric isn't breathable
It has a broad base and may not fit in small cars
Offers only 90 days of warranty compared to others who offer a year
Evenflo Embrace LX Price
90-day warranty
Car seat mass is 7.5 lbs
Available in 12 colors
Additional base costs $31.99
Evenflo Vive Travel System is worth $111.61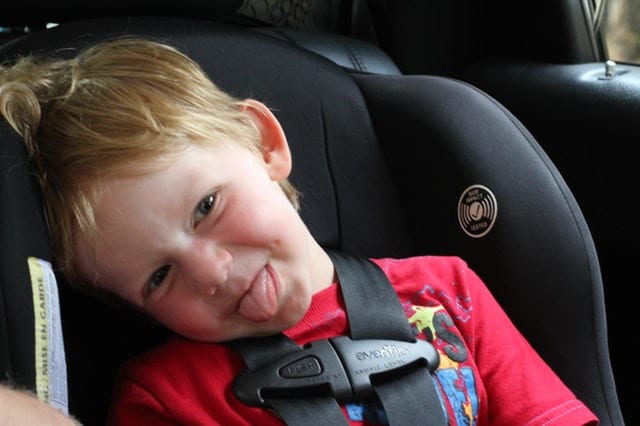 #4 Graco SnugRide Click Connect 35
Both popular, the Graco, and infant SnugRide line has been the favorite of many parents. Graco offers you reasonable pricing but good quality while Snugride fits for the bill. Although not as highly rated as the first ones, it is still good
Pros
Protects your baby from impact with the EPS energy-absorbing foam
Infants 4-35 lbs and up to 32 inches can fit in it
Lightweight
Easily maneuverable 5 points, front-adjust harness
Six base recline positions
Budget-friendly
Works with all Graco click-connect strollers
can machine wash the cushions
Cons
Top 3 picks' safety ratings are higher
The base is more difficult to remove compared to other car seats
The support is difficult to move between cars because of the latch system hook
Complaints about the seat overheating and not enough padding
Graco SnugRide Price
$145.99
year warranty
Car seat weight: 7.5 lbs
Five colors
Additional base:
Best Convertible Car Seats
#1 Britax Boulevard ClickTight
With its world-class safety, installation, and comfort features, this is easily the best convertible car seat. Kids as little as 5 lbs can use it as a rear-facing seat.
It has a 14-point harness that lets kids as big as 65 lbs stay in the seat longer and also indicates how tight and secure your child is.
Pros
Top-notch safety with its two-layered side protection, frame, and impact-absorbing base and harness pads
Easy installation due to ClickTight technology
Lets you know if your baby is within the proper tightness range
The harness can grow quickly with your child and even up to 65 lbs
Cons
May not fit in small cars due to its bulkiness
Short crotch buckle
Not convertible to a booster seat
Must pay $14.99 for a cup holder
Britax Boulevard ClickTight Price
$299.99
1-year warranty
Available in 5 colors
Britax Child Cup Holder costs $14.19
#2 Chicco Nextfit Zip
This one falls at number 2 because of the safety ratings and other parent-friendly features. It's also easy to use, install, and switch from rear-facing to front-facing.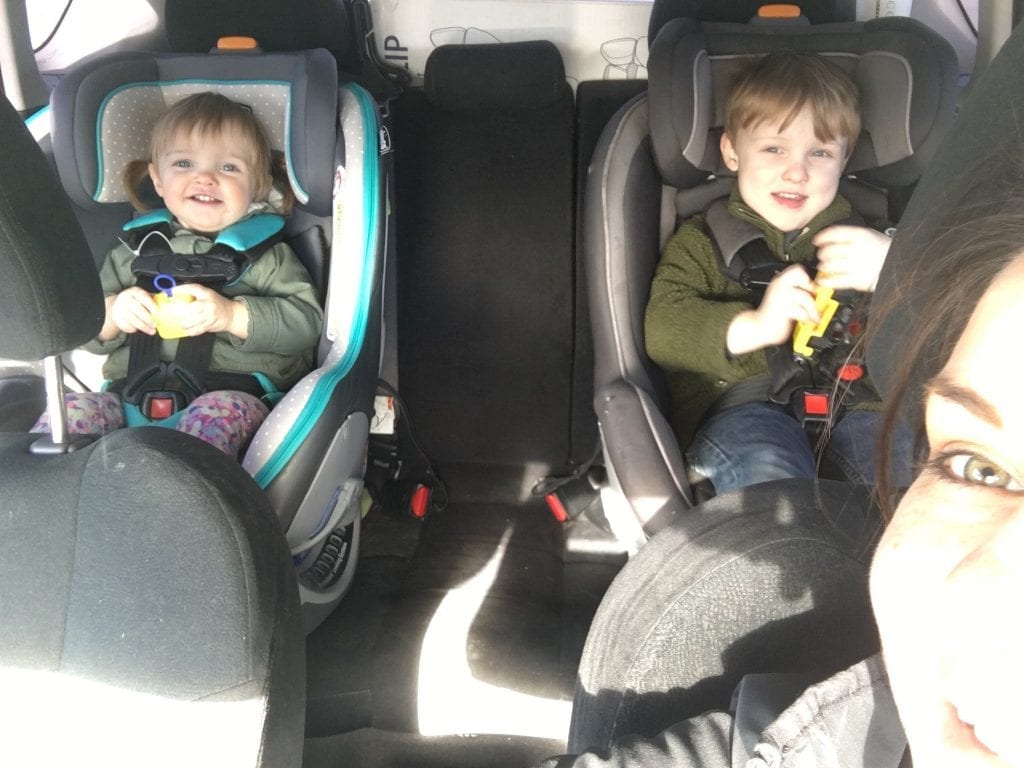 Its 5-point harness system can hold the belt sides up when loading and unloading. The zip model is useful, but pricey.
Pros
Excellent results on the crash test
9-position leveling technology makes it easy to install
an easily adjustable 5-point harness system
The 2-position chest clip and 6-position headrest adjusts as the baby gets bigger
Can accommodate newborns 5 lbs and heavier due to the removable infant insert
Can be unzipped for washing
Comes with insulated cup holder
Cons
Expensive
Some reports say the latch straps are difficult to tighten
Might not fit in small cars due to its bulk
Tough to remove and attach seat pad
Chicco Nextfit Zip Price
$299.99 (same seat without Zip feature)
Four color options offered
#3 Diono Radian RXT
The third spot goes to the Diono Radian RXT due to its design, safety, and versatility. Babies up to 120 lbs can even use this as a booster. Its narrow design, which saves space, can adjust as the baby grows and is also comfortable for the baby.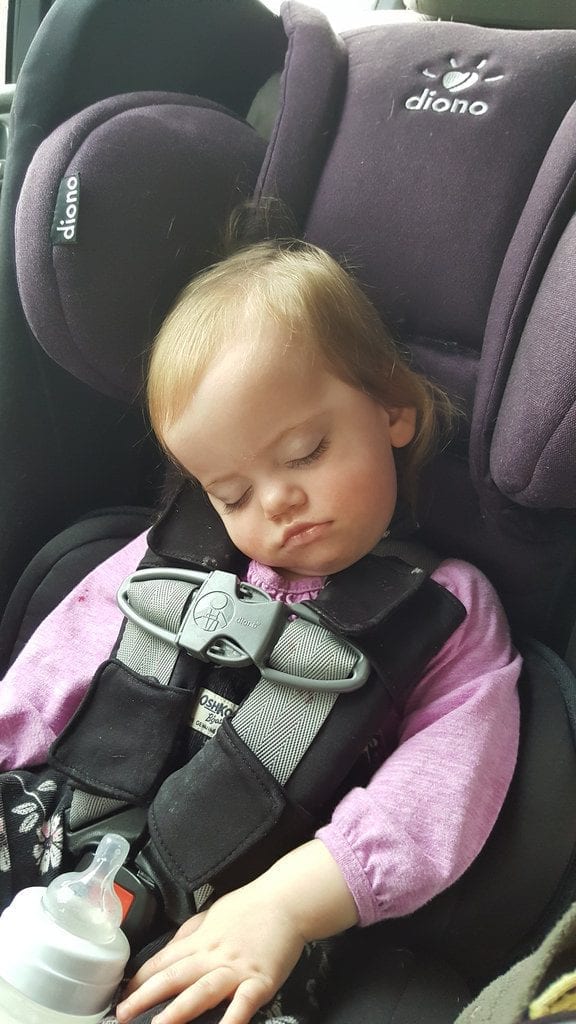 Pros
Safe due to the steel frame and EPS foam cushioning and energy-absorbing harness system
3-in-1 car seat
It's narrow, so it allows more space
Head support has 12 adjustable positions
The 5-point harness when forward-facing can fit in kids up to 80 lbs
Can be folded flat and has carrying straps
Has a cup holder
Cons
Complex installation
More difficult to adjust harness belts
The seat height and bottom and high and long so it may not fit in some cars
Pads are challenging to remove and reattach
Diono Radian Price
$306.20
one-year warranty
ten colors available
Diono Radian Angle Adjuster $6.93
Diono Carrying Straps: $7.99
#4 Evenflo Tribute LX
Evenflo only costs $55, the perfect price if you're looking for a backup car seat. It may not have as many features as the others, but it does meet the safety standards, has easy installation, and is lightweight.
Pros
Side safety protection and energy absorbent foam can protect your baby
Price is worth it because it passes the safety ratings
Easy installation
Extremely lightweight
Pad can be easily removed for machine wash
Cons
Not as sturdy as the others
Not convertible to a booster seat
Too roomy for newborns although it says 5 lbs infants can fit in it
Forward-facing only up to 40 pounds
Not as comfortable or padded
90-day warranty
Evenflo Tribute Price
$60.29
90-day warranty
Available in 4 different colors
Best Booster Seats
Booster seats are much simpler and don't have the same features as the other car seats like safety measures. This is because their purpose is to raise the kid high enough so that the belt system of the car fits them.
Safety 1st Backed Store n' Go Booster Seat: can be a backless seat and accommodate up to 100 lbs
Evenflo Big Kid AMP Booster: can be backless and provide up to 110 pounds;
Graco Backless Turbobooster: can accommodate up to 100 pounds;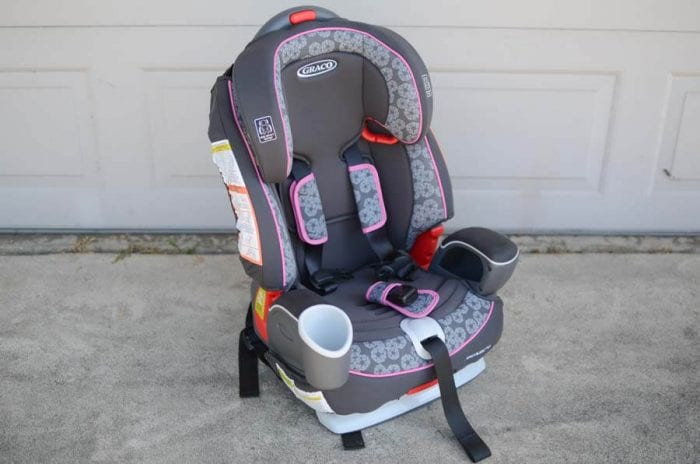 You can read other articles to know more about safety tips on car seats. But most of all, you should do your research to be aware of how you should adjust your car seat to maximize your baby's safety. This could save your kid's life one day.
FAQs
Are Evenflo car seats safe?
Evenflo car seats are safe because it meets government safety guidelines. It can be used as a rear-facing seat for newborn babies or as a front-facing seat for older kids.
Does FAA-approved Evenflo car seats?
Yes, only Evenflo car seats are FAA certified and approved for airline use.
Is Evenflo a good car seat?
Evenflo has a reasonably high safety rating.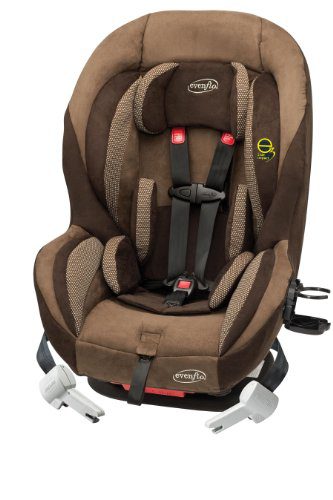 Can you use the Evenflo car seat without the base?
Some auto base-type models can be used without their base to make it easy to use the car seat in more than one car. An example of this is the Evenflo Port About.
Are the base of Evenflo car seats all the same?
Evenflo has made a large variety of seats with very different bases. All connect to the seats in different ways and not interchangeable at all.
How do you remove the straps on an Evenflo car seat?
Start by Loosening harness straps by pulling it toward you after pushing down the metal harness release button of the car seat.
Are there any recalls on Evenflo car seats?
Yes. Evenflo stated and Issued a Recall For 56,000 Car Seats.
How many years is an Evenflo car seat suitable for?
All Evenflo car seats expire six years after the manufacturing date. However, there are products with several exceptions.
What stroller is compatible with an Evenflo car seat?
Other baby carriers or car seats are not designed to fit the stroller frame of an Evenflo. However, The Journey 100 Stroller, Evenflo Embrace, and Evenflo Discovery are a perfect fit.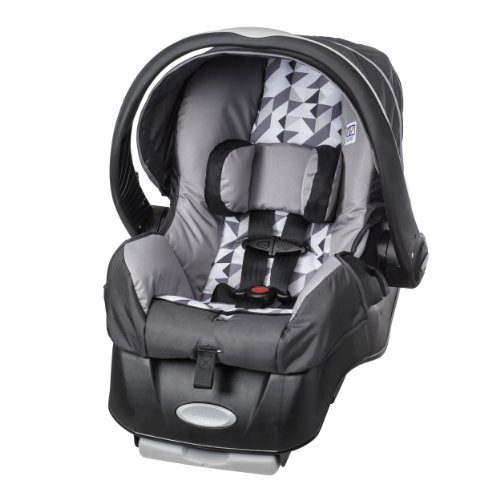 How should your kid use the Evenflo car seat?
Safety professionals and advocates recommend that kids ride rear-facing as long as possible.
Does Evenflo allow overhang?
A lot of Evenflo car seats allow 20% of the bottom of the car seat to hang. That is in front of the vehicle's front seat.
Is Graco better than Evenflo?
The thing to consider with this comparison is that Evenflo is a bit bulkier than the Graco because of the padding.
How do I clean my Evenflo Safemax car seat?
You can wipe clean the plastic and metal parts with mild soap and water and dried with a soft cloth.
Disclaimer: FamilyHype.com (Family Hype & FamilyHype) is a participant in the Amazon Services LLC Associates Program, an affiliate advertising program designed to provide a means for sites to earn advertising fees by advertising and linking to Amazon.com.
Last Updated on June 10, 2021 by Marie Miguel
DISCLAIMER
(IMPORTANT)
: This information (including all text, images, audio, or other formats on FamilyHype.com) is not intended to be a substitute for informed professional advice, diagnosis, endorsement or treatment. You should not take any action or avoid taking action without consulting a qualified professional. Always seek the advice of your physician or other qualified health provider with any questions about medical conditions. Do not disregard professional medical advice or delay seeking advice or treatment because of something you have read here a FamilyHype.com.