Having a baby is a wonderful and exciting thing. There are so many baby and mommy things to buy. With all the excitement, many people don't talk about or won't tell you the less glamorous side of having a baby. After you give birth, you could be bleeding for up to six weeks. And the first week to 10 days is always the heaviest. The best way to be prepared for this bleeding is by having disposable postpartum underwear. You will not want to mess up all your cute lingerie by wearing them after you have a child so postpartum underwear is the best and only way to go.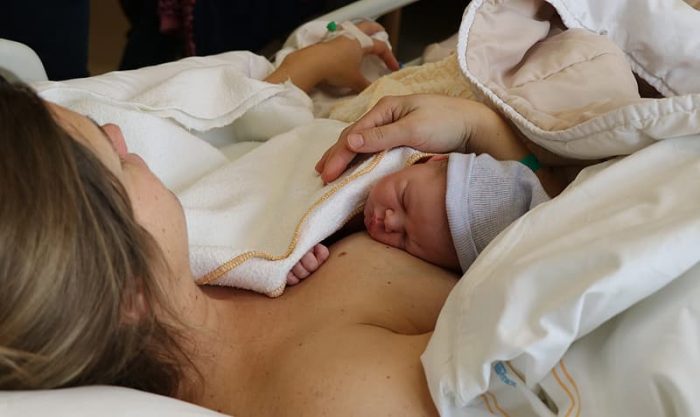 Postpartum bleeding is something that might surprise a new mom after giving birth, but it is perfectly normal. Getting the best underwear for your postpartum period is important because if you don't have something to wear after giving birth, you might end up wrecking your normal underwear. 
Bleeding is something new moms don't want on their underwear, and luckily, there are some underwear options which are comfortable, and good for post baby wearing. 
There are many different brands and options for postpartum underwear to choose from. Some are actually labeled disposable and others are under titled postpartum underwear that you will most likely want to dispose of after using them. After reading this article, you will know the best postpartum disposable underwear that is currently available to purchase and other options that are out there. In the end, you will feel comfortable selecting a brand or two of postpartum underwear that will best suit your needs.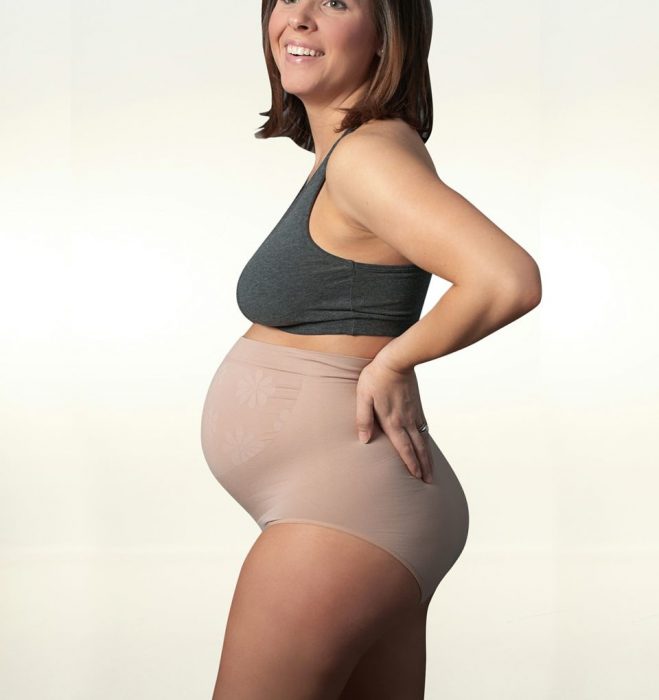 Things To Consider Before Purchasing Postpartum Underwear
There are a few things that you will want to consider before you purchase your postpartum underwear. The first thing is that they come in different types. You can purchase disposable postpartum underwear, period panties, or light compression underwear. Feel free to mix and match, depending on what your needs are and which types you feel the most comfortable with.
In addition to the different types, postpartum underwear comes in different styles as well. They are available in high-waisted briefs, bikinis, cross-overs, boy shorts, and bike shorts. The high-waisted briefs are usually the most common choice amongst those who have has C-sections because they will cover the incision. 
The last thing to consider before you purchase your postpartum panties is the different materials they can come in. Postpartum panties are found in mesh underwear, microfiber, cotton, spandex, and silicone panel. The mesh underwear is the version that most disposable postpartum underwear comes in. It will not past as long as the other materials, but it does provide breathability.  
New moms will definitely want these, and you can give a gift of post baby underwear, and they'll thank you for it.  Usually, most moms will get disposable mesh underwear when it comes to postpartum underwear. Mesh panties are the best to wear afterwards because they are comfy, breathable, and are moisture wicking. Mesh underwear is designed to let the period happen, and then, when it's over, you toss them. Mesh underwear is also incredibly stretchy, so if you do have a postpartum pooch, you don't have to worry about it being tight.  You want something that fits your body after pregnancy, and fortunately, disposable mesh is one of the best options out there.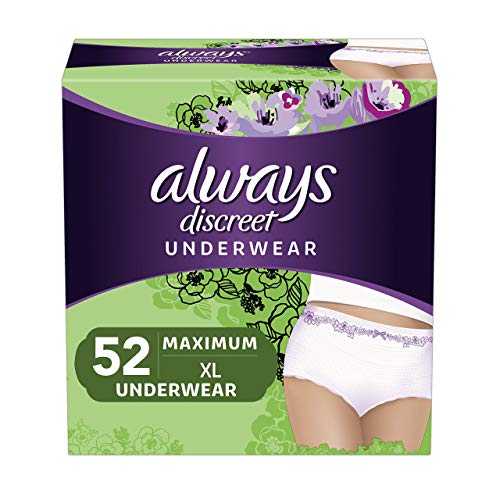 What Are The Best Disposable Underwear For After Birth?
The best postpartum disposable underwear is the Frida Mom postpartum underwear. This postpartum underwear is a boy-short style made out of light microfiber material. These are designed to help wick moisture off of the body. This feature is helpful if and when you begin to experience the midnight-postpartum sweats. One last feature of this disposable underwear is an inner pocket for you to put a pad in. This calls for east clean up because you can dispose of the underwear and the pad at the same time.  
Frida mom has some great options for postpartum underwear, including high rise ones to cover your C-section scar.  These are moisture wicking, and can hold ice packs and heating pads for new moms who need it.  This is the best underwear because it does come in a postpartum care package.  With a postpartum care package, you can after post birth care take care of yourself. They are soft brief panties, and offer a very comfortable postpartum experience.  Postpartum care usually involves taking care of the baby, but with underwear options including high rise ones to mask your incision area, they are great options for postpartum life since they don't get in the way, and make it easier for new moms. If there is a new mom in your life, give a gift of these. 
Fruit of the loom also has some soft brief panties that are great for postpartum care.  Buying these pre pregnancy can help make post baby care much easier for you.  They are high rise panties and won't mess with your C section scars, and offer moisture wicking too. They are soft brief panties, and while they aren't disposable mesh, these fruit of the loom panties won't make new moms feel guilty about throwing away when they're done.  Fruit of the loom is a super popular company in the united states, and they're perfect for postpartum life since they are soft and feel good. Post baby scars and pain won't irritate this area, and while mesh undies usually are what new moms buy, if you want something that has moisture wicking, and is high rise and feels good, these might be perfect for you. Fruit of the loom is super cheap too. 
Why Do You Need Postpartum Underwear?
You will need to wear postpartum underwear because your body will produce lochia after both vaginal birth and a C-section. Lochia is a stale, musty-smelling discharge. It will occur for up to six weeks. So your postpartum underwear will not only help to hold everything in place, it will absorb the lochia that is produced. 
Are Always Discreet Underwear Good For Postpartum?
Yes, Always Discreet underwear is good for postpartum because it is made of cotton that won't disturb any incisions and will provide a comfortable wearing experience. In addition to this, Always Discreet postpartum underwear has a layer of gel technology that is great for absorbing the lochia and bleeding your body will experience after childbirth.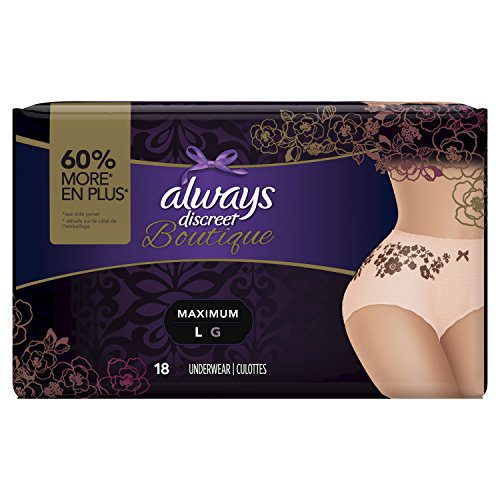 What Is Postpartum Mesh Underwear?
Postpartum mesh underwear is postpartum underwear women can buy that are the most similar to the underwear that they will leave with from the hospital. Postpartum mesh underwear mainly comes in the bike-short style and is made to be able to hold the large pads that will need to be worn after giving birth. This postpartum underwear fits over any incisions and is able to provide minimal support to the midsection.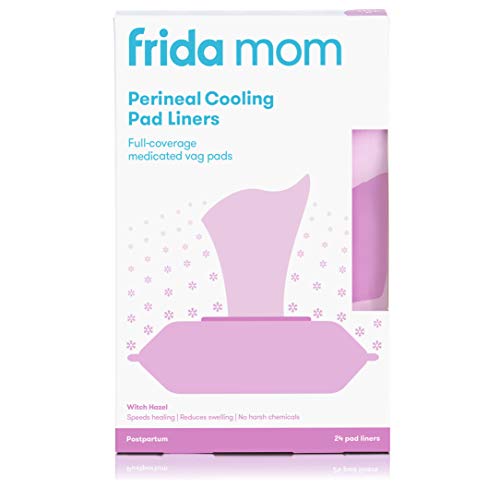 How Long Do You Wear Disposable Underwear After Birth?
You can wear disposable underwear for as long as you are bleeding and even after your bleeding has stopped. You can begin wearing disposable underwear for the first couple of weeks and then change to postpartum underwear that does not need to be disposed of. The length of time you wear disposable is entirely up to you, just as long as you exceed the time of bleeding. 
How Long Do You Wear Postpartum Underwear?
You should wear your postpartum underwear for the entire time while you are bleeding after childbirth. If you find the right type of postpartum underwear, then you may find yourself wearing them for months. You can wear them for as long as you feel comfortable. 
Do Postpartum Need Underwear?
Yes, when you are postpartum you should be wearing a specific type of underwear. They may not be the most stylish pair of underwear, but they will bring you the most comfort. They will also be large enough to hold the extra-large pads that you will be wearing for up to six weeks after you have given birth. 
How Long After Birth Do You Bleed?
After you give birth, you will be bleeding for up to 6 weeks.
What Underwear Should I Wear Postpartum?
When deciding the postpartum underwear that you will wear, there are a few things that you should take into consideration. Postpartum underwear comes in different materials and different styles. You have the option to choose from cotton, mesh, and microfiber. You can also choose postpartum underwear that comes in bikini style, high-waited, or boy shorts.
The best postpartum underwear on the market today is the Kindred Bravely High-Waisted Postpartum underwear. Even though high-waisted disposable postpartum panties are the perfect choice for women who have had C-sections, women who had vaginal births love this option as well. These postpartum panties are both stylish and functional while providing exceptional comfort. They feature a wide design so there is plenty of room for large pads.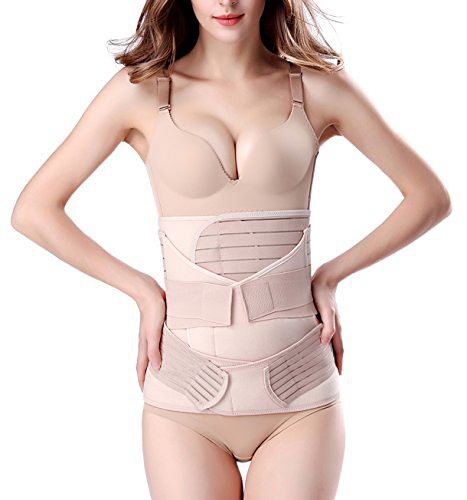 What Underwear Should I Wear After the C section?
The best postpartum underwear to wear after you have a C-section is high-waisted underwear. This type of postpartum underwear is made to fit over the incision. This reduces the chance of any friction or irritation. The incision from the C-section remains protected in high-waisted postpartum underwear. 
Best Postpartum Disposable Underwear To Wear
https://www.whattoexpect.com/baby-products/postpartum/best-postpartum-underwear/
https://www.womenshealthmag.com/health/g28570640/postpartum-underwear/
https://www.babycenter.com/baby-products/maternity/best-postpartum-underwear_40006636
Last Updated on June 6, 2021 by Marie Miguel
DISCLAIMER
(IMPORTANT)
: This information (including all text, images, audio, or other formats on FamilyHype.com) is not intended to be a substitute for informed professional advice, diagnosis, endorsement or treatment. You should not take any action or avoid taking action without consulting a qualified professional. Always seek the advice of your physician or other qualified health provider with any questions about medical conditions. Do not disregard professional medical advice or delay seeking advice or treatment because of something you have read here a FamilyHype.com.