As your child starts to consistently sleep through the night and master day-time bladder control, as well as grow up physically, it is important to make the switch from overnight diapers made for babies to overnight diapers for toddlers. The best diaper meant for an infant won't likely be the same as the what's best for kids of potty training age.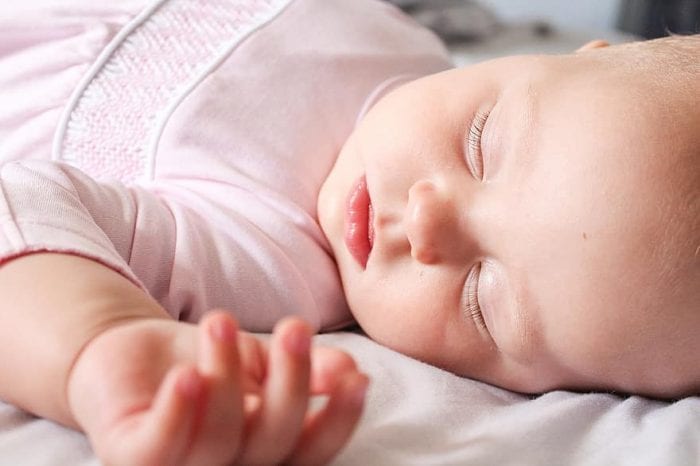 The best overnight diapers can make the difference between a dry, peaceful night and a fussy one plagued by an uncomfortable toddler. Regular diapers are meant to be changed every few hours, and don't hold everything in for as long, since you generally change them soon after your child has soiled them, while overnight diapers are built to keep everything in while keeping your toddler dry for many hours at a time. A dry and comfortable baby has a better chance of getting a good night's sleep.
Whether you and your child prefer cloth diapers or disposable diapers, there are many factors that go into choosing the best overnight diapers for toddlers: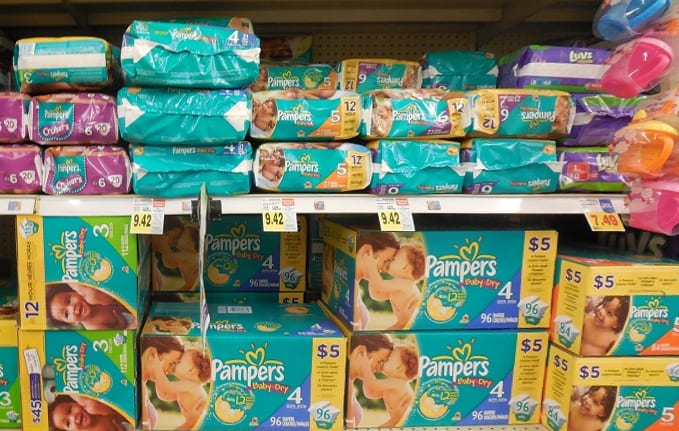 Absorbency And Leak-Control
One of the key elements to the best overnight diapers is their absorbency and leak control. These factors are important because they are essentially what defines overnight diapers: they are meant to be worn for long periods of time, so the diaper must first be absorbent so your child feels dry and second control leaks so your child can wear the diaper for hours without any spills.
Some children are more heavy wetters than others. For those, you want something with a super absorbent core. If you can't find anything that works to keep your child dry and comfortable all night, you can even buy booster pads to put inside the diaper for extra protection.
Both of the leading brands in nighttime diapers for toddlers, Pampers UnderJams and Huggies GoodNites, both perform well in both areas. UnderJams, in particular, have excellent leak control technology around the legs to help keep everything in, while GoodNites are very absorbent.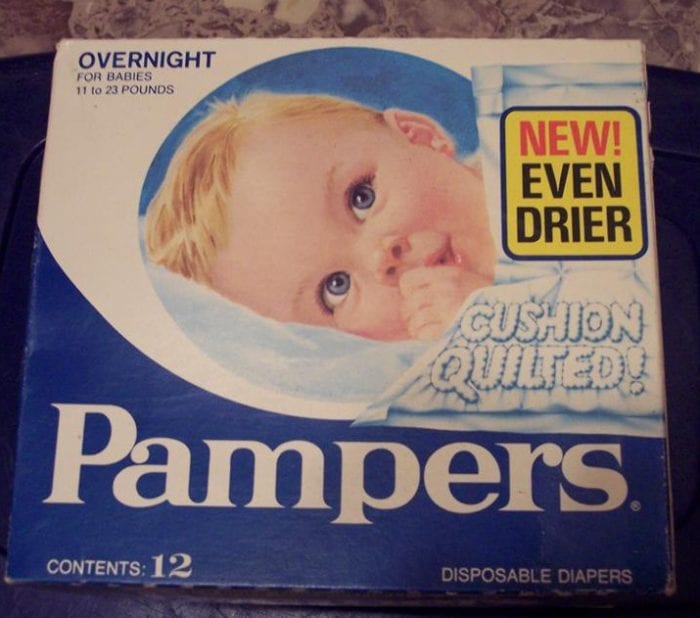 Durability
When it comes to overnight diapers for toddlers, the diapers not only have to absorb everything and keep it all in, but they must also hold up to squirming toddlers, especially toddlers who are just mastering potty training. If your child gets up at night and semi-independently goes to the bathroom, they should be able to easily get the diaper on and off, without breaking it. Potty training shouldn't be any more stressful than it needs to for your child.
Diapers with strong, but flexible sides are important, especially for children who are more likely to be messing with the diaper at some point in the night. Huggies GoodNites are well-known for their durability.
Fit/Comfort
Everyone likes to be comfortable when they sleep, and toddlers are no different. Finding a nighttime diaper that fits your child well is a good first step toward ensuring their comfort. Diapers come in different sizes for a reason. When it's time for your child to go up a size, you'll want to make sure you're doing that accordingly to prevent leakage. You should also consider the materials the diapers are made of. Pampers UnderJams, for example, opts for a softer, more cloth-like material that many children love. They're bedwetting underwear that are meant to feel much like regular underwear.
You can also maximize comfort for some children by opting for cloth diapers. Cloth diapers can be more comfortable for some toddlers especially if they are not heavy wetters. They can also save you money in the long run and are better for the planet than disposable diapers.
Using cloth diapers as your child's overnight diaper might seem out of your comfort zone, but there are plenty made for toddlers that would work well. One of our favorites is the Cloth-eez Workhorse Fitted Diaper, which is soft and comfortable. You can also use booster pads in them if that would make you feel more comfortable with the level or protection and absorbency.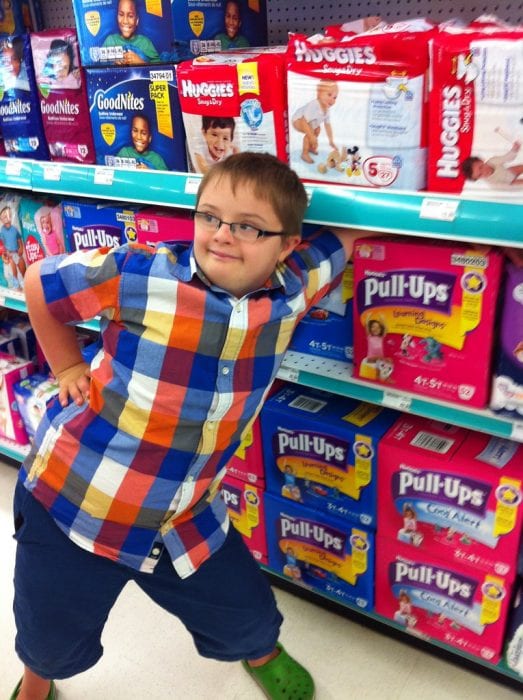 Options For Boys And Girls
Another way to pick out the best overnight diapers is to check if they have distinct options for boy and girl toddlers. This is important, because the brands that make these distinctions often have better-design diapers with absorbent padding placed with different children's needs in mind.
Brands like Pampers UnderJams and Huggies GoodNites come with options for both boys and girls in each of their different sizes.
Design/Appearance
Although it can seem relatively minor, nighttime diapers with a pleasant appearance that gets your child excited, because of their favorite characters featured on the diaper or because the diaper looks less like a diaper and more like underwear, whatever the reason, can help ease the transition toward dry nights.
Diaper Booster Pads
Booster pads are inserts that put inside a diaper to give them more absorbency power. Sposie Booster Pads are not only eco friendly, but they're also friendly to your baby's skin. These booster pads are hypoallergenic, free or harmful chemicals, and aren't made using chlorine bleaching. They're approved by pediatricians for use on babies with sensitive skin. You can even get Sposie Booster pads in a non-adhesive version. This is a great product for keeping your baby's skin dry at night.
Conclusion
Toddlers need to be dry at night just like when they were infants, so they can get good sleep. Even if you've moved away from using a disposable diaper during the day with your child because they're on to potty training, it doesn't mean you don't still want to put them in something to keep them dry through the night. Even toddlers that are fully potty trained during the day will still have accidents at night. Set them up for success and better sleep by finding the right nighttime diaper or underwear for keeping toddlers dry at night.
Frequently Asked Questions:
What is the best overnight diaper for toddlers?
There are two leading brands of nighttime diapers for toddlers, often considered the best overnight diapers widely available for toddlers, sometimes known as "bedwetting underwear" or "disposable underwear." Those two brands are Pampers UnderJams and Huggies GoodNites.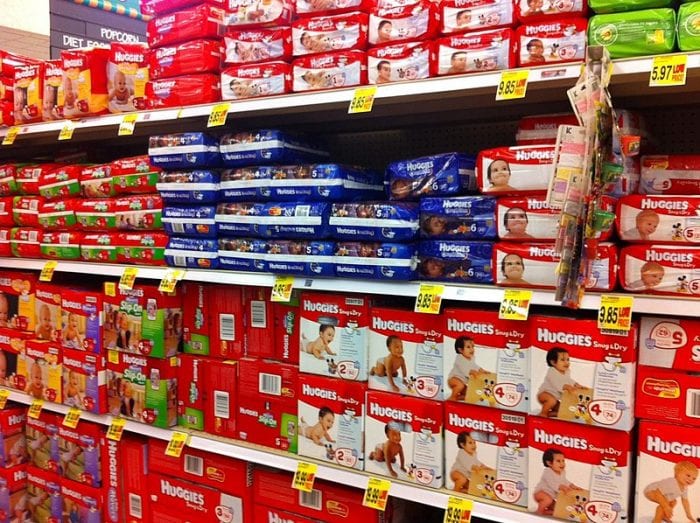 Why is my toddlers nappy leaking at night?
Toddlers' diapers can leak for many different reasons. You should first consider absorbency: is your toddler's diaper absorbent enough for their needs? If you find that's the problem, then it might be they need to go up a size, or you could start using a product like a Sposie Booster Pad to provide more absorbency.
If you've already ruled out absorbency issues, then consider if your child's diaper may not fit in the best way possible. Is it snug around the legs to help with leak protection? Is it snug in the belly and rise high enough to stop leaks there? Not all diaper brands are designed the same way. You may have to go through a little trial and error before finding the right diaper to fit your child.
Lastly, consider the placement of the absorbent padding in the diaper. Is your child wearing a diaper made specifically for boys or girls?
Ensuring that all of these factors are taken care of should help resolve nighttime leakage.
Do nighttime diapers make a difference?
Using nighttime diapers with your toddler make a big difference. Most diapers are made to be changed every 2-3 hours, while nighttime diapers can hold up during more than two times that long. They are also made to keep your child extra dry, increasing their nighttime comfort.
If you've already used diapers with your infant, such as Huggies OverNites, that were made for keeping babies dry at night, then you know they keep children more dry at night than daytime versions, like Pampers Baby Dry, Luvs Ultra Leakguards, or daytime Seventh generation diapers. 
One thing most parents notice is that many infants don't necessarily need nighttime diapers until they're slightly older than the newborn phase. Many very young babies do just fine using Pampers Swaddlers with their convenient wetness indicator or Luvs Ultra Leakguards diapers.
Are there night time diapers?
Yes, there are diapers made for nighttime use. Two of the most popular brands of overnight diapers for toddlers are Pampers UnderJams and Huggies GoodNites. These diapers are meant to keep your child dry for longer, with extra absorbency and leak protection as compared to daytime diapers. Seventh generation also has a line of nighttime diapers.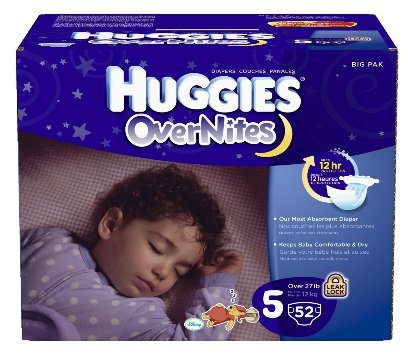 Should you size up in overnight diapers?
You should not size up in overnight diapers. Compared to regular diapers, overnight diapers made for toddlers already come in relatively few sizes; the leading brands have 2-3 sizes that are made to fit children ranging from 3 or 4 all the way through 8, so there is already a lot of variation in fit with the diapers.
If your child falls right in between sizes, you should see which size they feel most comfortable in, since one of the most important parts about overnight diapers is their comfort, but if your child truly does not have preference, then choosing the smaller size can actually be more beneficial for leak control, since the diaper will fit better around the legs and stomach.
If you're feeling like they need more wetness protection, then look into getting a product like a Sposie Booster Pad.
Are Huggies GoodNites and Huggies OverNites the same?
No they are not. Huggies GoodNites come in larger sizes meant to fit toddlers. Huggies OverNites are made in sizes for infants.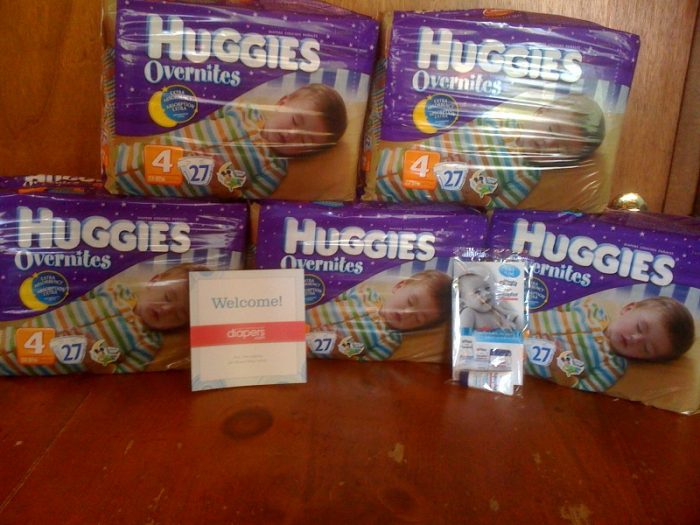 What are the best baby diapers for sensitive skin?
First of all, you want to look for diapers that are chlorine free. Diaper manufacturers will often use chlorine bleaching in the process of making diapers. The leftover chemical can be irritating to your baby's skin. 
Pampers Baby Dry diapers are certified as hypoallergenic which can help with baby's that have sensitive skin. You can also look for diapers that are made of plant based materials. Many of the best baby products are being made from plant based materials these days. 
Does Luvs Ultra Leakguards come in a nighttime version?
While they don't come in a specific nighttime version, they have extra leakguards when compared to other daytime diapers. Some parents have reported these to be good for use at night. The same is try of Pampers Baby Dry.
Last Updated on June 10, 2021 by Marie Miguel
DISCLAIMER
(IMPORTANT)
: This information (including all text, images, audio, or other formats on FamilyHype.com) is not intended to be a substitute for informed professional advice, diagnosis, endorsement or treatment. You should not take any action or avoid taking action without consulting a qualified professional. Always seek the advice of your physician or other qualified health provider with any questions about medical conditions. Do not disregard professional medical advice or delay seeking advice or treatment because of something you have read here a FamilyHype.com.