We have enlisted the 15 most favorite disposable diaper brands chosen by moms around America to help you make the right choice.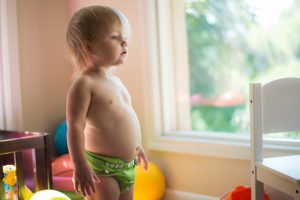 Disposable diapers saved us from all the cleaning we used to do when we wrapped our babies with blankets or cloth diapers. There are plenty of best diaper brands to choose from, and making a decision about which one is good for your baby (small or larger babies) can be quite perplexing.
Best Diapers For Your Baby
Preemie diapers
Recommended for preterm infants and similar to standard disposable diapers but in smaller sizes. The waistband has an open space for the umbilical cord stub.
Standard diapers
These come in varieties, like disposable diapers. There are best nighttime diapers for toddlers ,which are recommended for daily use.
Pull-ups
They are worn like pants, making them very convenient for babies and moms too.
Underwear diaper/training pants
This is recommended for babies transitioning to underpants or undergoing potty training. They look like pull-up diapers that are shaped like underwear, similar to a cloth diaper.
Swim diapers
These are the best for swimming pools or beaches that you can choose between a disposable and reusable swim diaper. The elastic guard surrounding the thighs acts as a barrier. They do not bloat when submerged in water.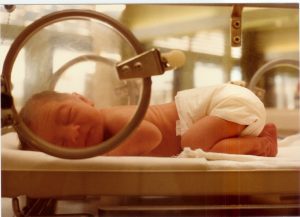 Top Disposable Diapers
Huggies Overnite Diapers
The Huggies Overnight diapers provide excellent absorption capacity and are one of the best from the Huggies line of products, featuring a double leak guard that guarantees dryness for up to 12 hours. This best overnight diaper features a closed fit waistband, pull-up strands for waistband adjustment, and wellness indicator strips. The materials of this best overnight diaper provide superb comfort and lessen the probability of diaper rash and chafing. These diapers are considered as the best overnight protection diapers in preventing leaks for comfortable and undisturbed sleep. Therefore, Huggies is one of the best overnight diapers for babies. 
Pampers Easy-Ups Training Pants Disposable Diapers
Pampers features the underwear style with a comfortable pull-up waistband with easy-tear and adjustable Velcro sides. Pampers easy ups are an excellent choice when training the baby to transition to underwear like a big kid. It absorbs wetness for up to 12 hours, and the outside has an extra lining to reduce the leakage. The soft lining inside of the Pampers easy ups potty training diapers are 100% cotton, plus multiple channels for more absorbency. This diaper is also good when your little one is potty training.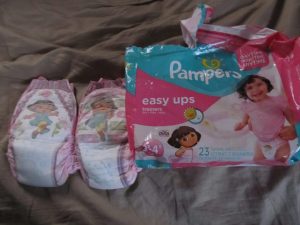 Luvs Ultra Leak Guards Disposable Diapers
Luvs features ultra-soft material with a 10-12 hour absorption capacity. Its extra leak protection keeps the baby super comfortable and it makes it one of the best overnight diaper. The wide waistband of the Luvs Ultra Leak Guard disposable diapers also secures it in place, which is a perfect choice for active babies. Luvs also saves you money, with 252 diapers in a pack. They also promise to give back your money if you aren't satisfied with their Luvs Ultra Leak Guards disposable diapers.
Earth's Best Tender Care Diapers
These diapers are made with eco-friendly and biodegradable materials from plants. They utilize a lesser percentage (20%) of petrochemicals than other diaper brands. The diaper pad is created from cornstarch and wheat, which are preferable ingredients for babies' sensitive skin. It is free from dyes, chlorine, synthetic colognes, and latex. It also offers comfortability with its stretchable waistband.
Huggies Little Snugglers Preemie Baby Diapers
Made especially for preterm infants, Huggies Little Snugglers features a waistband with a round cutout for the umbilical cord stub. These Huggies Snug diapers provide an absorption capacity of up to 12 hours and double-layer protection at the base to prevent dripping. Also, it has a wetness indicator that uniquely changes color to signal diaper change. These newborn diapers have no artificial fragrance and is made with soft materials for babies with sensitive skin.
Pampers Splashers Disposable Swim Diapers
These pool time disposable swim diapers are made from stretchable materials that do not expand. The disposable swim diapers feature double cuffs surrounding the thigh help avoid leakage, and the additional inner padding inhibits leakage even when submerged in the water. The sidebands of these great diapers are easily adjusted for the right fit. These swim diapers come in plenty of colors to choose from for a cute summer look.
Honest Baby Diapers
Honest has created diapers from biodegradable and eco-friendly materials. The core is made out of a plant pulp with wheat starch and corn that absorb liquid. This plant-based material has a natural fragrance, which is safe and comfortable for baby. It is hypoallergenic; it's free of chlorine, dyes, and latex. The side tabs are adjustable and easy to reattach.
Babyganics Ultra Absorbent Diapers
The core of Babyganics diaper is made from plant oils that absorb and protect the baby's skin. It doesn't have chlorine, latex, artificial lotions, and petroleum-based materials. The soft and stretchy sides make it easy to put on and adjust for a snug fit. The diaper also has a wetness indicator.
Pampers Baby Dry Diapers
These diapers have three times more absorbency power than other diapers. There are three layers of lining inside that ensure powerful absorption for up to 12 hours or overnight. Both the inside and its outer layer are made from soft materials. The diaper has several size selections. It also has a wetness indicator and elastic bands for a good fit.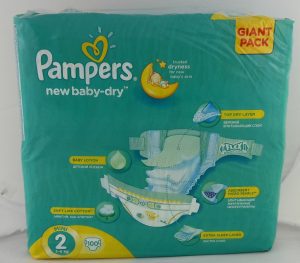 Broody Chick Eco-Natural Diapers
Another batch of hypoallergenic and chlorine-free processing diapers come from the Broody Company. These diapers are high-quality and are made from thin and soft materials that have outstanding performance in comfort and absorption. They are entirely biodegradable materials, thus making them very compostable. Their inner material permits ventilation, which lessens the possibility of irritation and diaper rash. Finally, the diaper core is made from natural absorbent material.
Naty by Nature Babycare Diapers
Instead of the plastic film commonly used in diapers, Naty Diapers use corn-based materials for the outside lining and plant pulp for the core, making them eco-friendly and compostable. They are high-quality and are free from dyes, chlorine, phthalates, synthetic perfumes, and petrochemicals. Another feature is an easy-to-strap design for more comfort and convenience. The material allows sufficient ventilation and is also hypoallergenic to prevent irritation. The Swedish Asthma and Allergy Association has certified and recommended these diapers.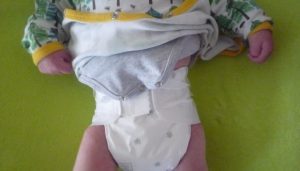 Kirkland Signature Supreme Baby Diapers
Kirkland ensures up to 12 hours' absorbency. It is free from rubber latex and other harsh chemicals. It is also hypoallergenic with a breathable inner lining that lessens irritation. The waistband is soft and stretchy, making it easy to adjust. It has a wetness indicator marker that changes color from yellow to blue, suggesting that the diaper is full.
Best Diaper Favorites
Pampers Cruisers Disposable Diapers
Pampers Cruisers are made for the little ones who are beginning to learn how to walk. The flexible leg cuffs and the soft and elastic side tabs secure the diaper to allow unconstrained movement. The diaper has an extra absorption channel, which lasts up to 12 hours.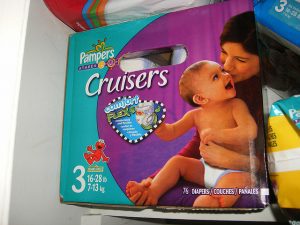 Bambo Nature Baby Diapers
Bambo Nature is licensed organic and utilizes plant pulps as its core. It is hypoallergenic and safe for baby's skin, according to the Danish Asthma & Allergy Association. Even when the diaper is soiled, the breathable, thin base ensures that the skin is free from irritation. The materials used are flexible, allowing more baby movements.
Huggies Little Movers Slip-On Diaper Pants
These slip-on diaper pants are perfect for babies who are taking their first steps but not yet potty-trained. These diapers by Huggies feature an underwear design with cute prints on the outside but a diaper on the inside. The stretchy material allows more effortless baby movements and an absorption capacity of nearly 12 hours. The straps are pre-fastened, which means you just have to slip it in on your baby.
As a parent, it's best to consider purchasing a diaper brand that you think is best for your baby. Also, you may want to consider looking for a few brands that are environment-friendly at the same time.
Usage Tips And Recommendations For Best Diapers
Want to get the most out of diapers? Here are some tips:
Store the diapers in a cool and dry place: Heat and humidity can affect the quality of the diaper and may damage the absorbent material. Ensure that the diaper's storage has minimal exposure to heat and moisture to prolong the material's quality.
Be extra careful in case your baby has sensitive skin. Some babies have hypersensitive skin, making them prone to diaper rash. Therefore, choosing hypoallergenic diapers is highly recommended in addition to hypoallergenic baby wipes.
Dispose of the excrement first in the toilet. Try to flush the baby's stool down the toilet if you can before disposing of the diaper to make it less smelly and messy.
Keep a separate bin for used diapers. Use a dustbin or diaper pail with covers to better contain the foul odor.
Carry garbage bags when a bin is unavailable. If you are traveling with your baby, make a habit of carrying garbage bags to store the soiled diapers until you find an available trash bin. Avoid throwing the diapers anywhere else, unless they are entirely biodegradable.
Check diapers fit periodically. Since babies grow fast, once in a while, you need to check whether the diaper size still fits your baby or you need to get a bigger size diaper.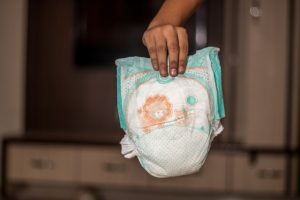 Since diapers are an essential part of your baby's needs, it is appropriate to decide on the right diaper. Continually check several brands and make some comparisons between different diapers before settling on one brand that works perfectly for your baby.
FAQs On Diapers Best For Baby
What are the best disposable diapers of 2022?
There are many brands of disposable diapers coming out, but here are some of the best that you might want for your baby:
If you have a newborn child, Pampers Swaddlers Sensitive Diapers is of the best diapers for your baby's sensitive skin.
Huggies OverNites Diapers works like a heavy-duty diaper that is perfect for good night sleep.
Considering you want a little cuteness, Honest Company Diapers has a variety of colorful, cute designs and patterns that will make your baby look extra cute. Yes, it's expensive compared to other leading brands with lower diapers cost, but these diapers with adorable designs are hypoallergenic and fragrance-free.
Which is better: Pampers or Huggies?
The battle between Pampers and Huggies seems like forever. Both brands continue to produce the best diapers on the market. These two have similar features, but according to reviews made by many parents, Pampers is one step ahead because its products are more absorbent compared to Huggies'. Thus, the baby tends to have a lesser diaper rash.
What is the best diaper for a baby boy?
Not all diapers work on both baby girls and boys. Little boys, especially the newborns, have specific needs when it comes to a diaper. Considering the absorbency, wetness indicator, and the shape of a diaper, Little Snugglers by Huggies leads over the other leading brands like Luvs, Honest Company, and Pampers.
Are Luvs a good brand of diapers?
Practically speaking, Luvs is an economical diaper for your growing child. Though you will find it cheaper compared to other brands like Pampers, Luvs also comes in different features and styles. It is the best option when you want to stay practical with your disposable diapers.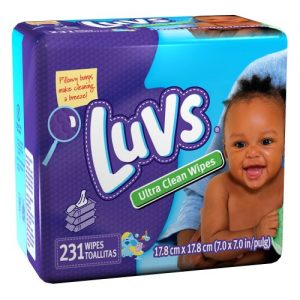 What brand of diapers do hospitals use?
Honest Company, Pampers, and Kirkland Signature are the top 3 picks in some reviews around the web. However, the Pampers Swaddlers Sensitive are widely used in most hospitals.
What are the most environmentally friendly diapers?
A lot of companies nowadays are practicing to be eco-friendly, including diaper makers. While these companies aim to protect your babies from rashes, they are also making an effort to save mother Earth. Now here are top environmentally friendly diapers: The Honest Company, Bamboo Nature, Pampers Pure, and Babyganics. There are still more best diapers that are ecologically friendly, but these five are some of the top pick brands that are the diapers best for your baby when it comes to eco-friendly diapers. .
What diapers are best for overnight?
To be able to have a good night's sleep, you have to keep your infant dry overnight. Here are the top 5 overnight best baby diapers that you can choose from: Honest Overnights, GoodNites Underwear, Pampers Pure, Huggies OverNites, and Luvs Ultra Leakguards. Most of these diapers, including Pampers Pure, last for 12 hours, keeping your baby comfortable and undisturbed all night long.
How do I choose a diaper brand?
If you are a new parent, finding the best diaper for your baby may add a little stress. So here are some essential factors that you need to consider when it's time to select the right diaper for your baby:
Must be absorbent to hold enough liquid
Fits your baby to prevent from leaking
Right size for your baby's weight
Must have super soft materials to make your baby feel comfortable
With minimal chemicals, especially when your infant has an allergy
Affordability to help you save and have more budget for other baby stuff
What brand of the best diapers is the most absorbent?
Absorbency and extra protection are essential factor when choosing the best disposable diaper for the baby. Considering the parents' reviews on diapers, The diapers best in this category are Pampers because they are superior when it comes to absorbency that makes it the leading overnight diaper brand too. The Pampers Pure Protection can last up to 12 hours, keeping your baby comfortable throughout the night.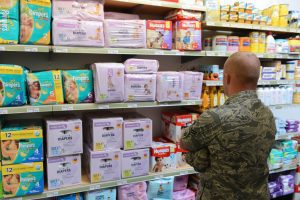 Are cloth diapers any good?
Cloth diapers are preferred by some eco-conscious family because they can be reused for a long period of time. Cloth diapers can be washed which means that they will not be added to the trash piles. Most times when cloth diapering, parents who decide to go with cloth diapers usually use reusable diapers during the day and then a disposable diaper at night to ensure their baby has full protection throughout the night.
What diapers do you need the most of?
Are eco-friendly diapers a better choice?
Are diapers with wetness indicators useful?
Do all diapers have the same absorbency?
Are Pampers diapers recyclable?
Most of these cloth diapering options are chlorine-free, but be mindful of these cloth diapers because they may not keep your own babies as dry and comfortable as the super absorbent diapers (read further here: https://momlovesbest.com/diapering/cloth-diapers/benefits-cloth-diapers).
Last Updated on May 17, 2023 by
DISCLAIMER
(IMPORTANT)
: This information (including all text, images, audio, or other formats on FamilyHype.com) is not intended to be a substitute for informed professional advice, diagnosis, endorsement or treatment. You should not take any action or avoid taking action without consulting a qualified professional. Always seek the advice of your physician or other qualified health provider with any questions about medical conditions. Do not disregard professional medical advice or delay seeking advice or treatment because of something you have read here a FamilyHype.com.