The one thing for parents to consider getting for their babies is an activity cube. They are essentially wooden cubes with different games that babies and toddlers can enjoy. Each side has a different set for them to play with. Some have either four sides or six sides.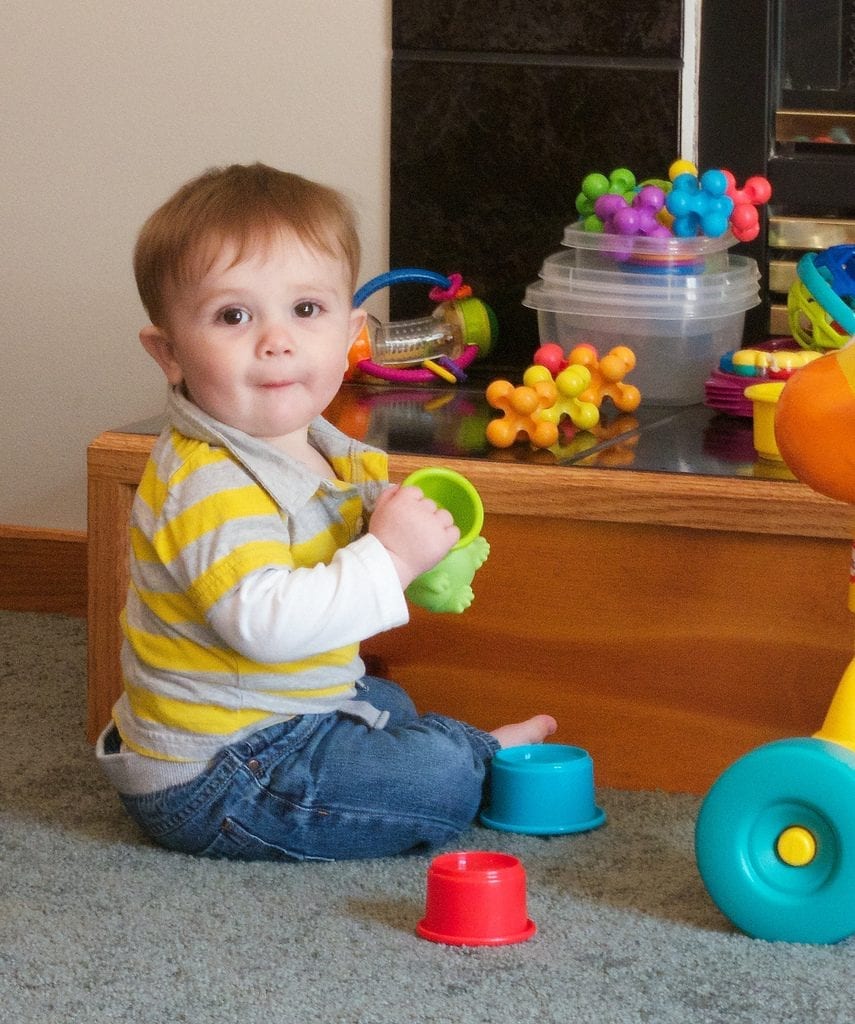 Some professionals encourage your toddler to get an activity cube, but should you? Well, we'll tell you why you should get one, and some of the drawbacks to them.
Can Help Children Learn How To Stand
Some children learn how to stand up with these. Depending on the model itself, it could help them learn how to stand up due to the height. If it's a sturdy structure like table models, you'll be able to get them to move about, and it's okay, especially if it's a little higher.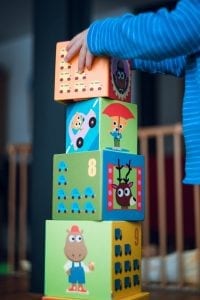 Good For Multiple Kids
If you have multiple children, this is definitely worth the investment, especially if the first kid plays with it, and the second one follows suit. You can get children of varying ages to play with it. It can be a good idea to get as it is one of the best toys for five year old boys and girls, even those higher in age! For example, sometimes you can get the baby to play with one side, while another child can play with the other side. Since there are multiple sides, each one will get a side, allowing for more playtime than ever. It is excellent if you do have multiple children who may benefit from this as well.
Can Help With Motor Skills And Coordination
Activity cubes are also great because they can help build coordination and other skills. There are usually shape spinners, beads, and bead mazes, and children improve their hand-eye coordination. Children can learn this, and if they like to build patterns, these are great for them.
Reinforces Early Concepts
If you want your child to learn basic concepts at an early age, such as the alphabet, shapes, numbers, and other imagery, this is one of the best ways for them to do it. Like how wooden alphabet blocks help them learn spelling and letter concepts, activity cubes do that too. Activity cubes help introduce these sometimes with little names and images that are on the cube itself, so they can look at say, a picture of a square, and realize that it's a square.
This as well can teach them early to speak concepts and stimulate cognitive growth, which is something that a lot of children can benefit from at an early age.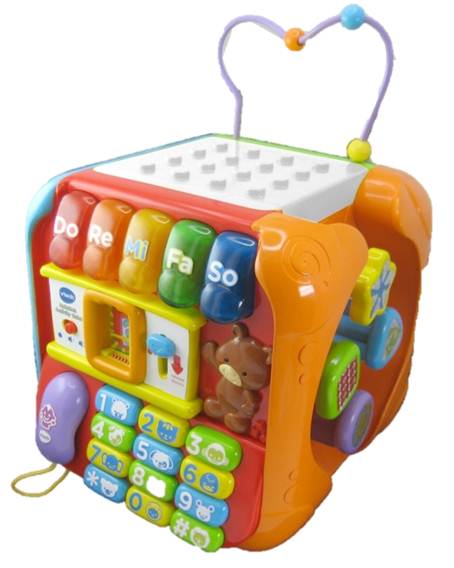 Has A Pretty Long Range Of Use
Some parents tend to complain that these activity cubes grow out of use after a bit, but here's the thing: if you get one for them before the age of 1, they can use this until they become 4 or 5 years old, which is a decent amount of time. Some are ideal for children up to 3 years old, but if you get a more complicated one, your child will grow into it. I do suggest getting one that's made for kids so that they can ultimately benefit from this as well.
Mazes To Help Stimulate Their Thinking
Mazes are suitable for kids because they can move these around and learn to move their hands. Mazes teach the children some excellent concepts, such as learning how to move about and problem solve. The mazes are usually the best part of these for kids, and you'll notice the changes in them.
Some Are Even Electronics
The Vtech ones are great for little ones, and they are electronic activity cubes. However, the one downside is that they may take a little bit for your child to learn how to use, due to the way that they're made. However, if you buy toys for them to grow into, it can help. Some of them even have different games similar to the bead roller coasters, as well as various spinning and flippy items. If your child is relaxed with electronics, they may like this maze, but you might be better off with a wooden bead maze or something else.
Enriching Experience For Kids To Use
With the attachments that this has, and the different items for your child, it can help with their sensory systems too, and in turn, help to build an effective and safe experience. It improves their touch, movements, hearing, and even sight, which allows the kids to have full-sense expertise in many cases.
Can Build Intelligence While Having Fun!
They can build intelligence so that you can work to develop essential skills that will help with getting better in life. You'll be able to fulfill many of the popular senses with the cube at hand. Meaning, you're getting a whole bonanza of experiences that your child will enjoy using, no matter what the odds might be. It is an object that you'll enjoy, and if you're looking to play with gadgets and give your child an array of devices that benefit all of the senses, this is one of the best options out there.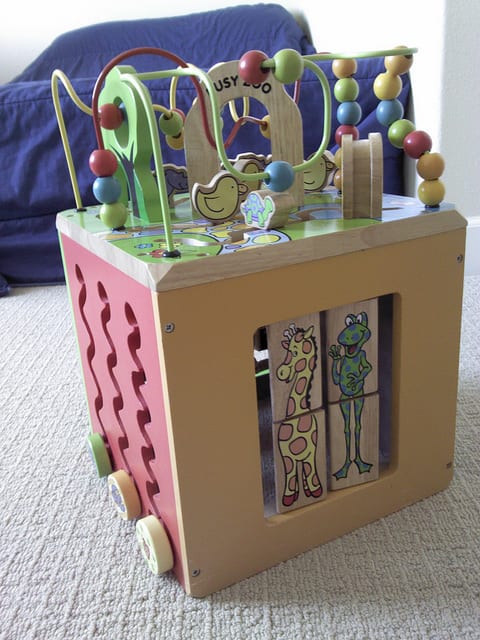 Activity Cube Is Super Worth It
The big question of is it worth it should be obvious. Yes, it's worth it. Yes, you're going to get a whole lot of benefits from this, yes you'll have a lot for your child to enjoy this. For many children, this helps to build the ideas and concepts that they need and help them get the most out for an activity cube. You'll definitely love it, and your children will love this too, no matter how many times they play with this, they'll come back for more no matter what.
FAQs On Activity Cube
Are activity cubes suitable for babies?
Activity cubes help develop a child's motor gross and fine abilities. Infants are just drawn to those toys, and they like it so much better than any other toy.
What age is an activity cube for?
Six months and three years is the ideal age for children to use an activity cube.
Where are activity cubes toys made?
There are a few that have been manufactured in the US. Most, however, are made in China. Check here for more product description: https://www.target.com/p/b-toys-wooden-activity-cube-zany-zoo/-/A-12025312.
Are there other languages of these activity cubes?
These toys only feature the English language and alphabet. However, some related toys offer other styles.
Are these activity cubes made of safe materials?
The plastic toys meet the BPA codes and requirements implemented on children's toys. The wood cubes are usually made of eco-friendly materials.
Are these activity cube toys heavy?
A few cubes are small in size and weigh much less than others. However, the majority do weigh quite a bit in relativity to your child's weight.
Can these toys be used with other blocks?
The shape and size of these cubes support the possibility of using blocks from other sets. However, not all of these sets have blocks included or do not support the need or space for blocks.
Is a wooden activity cube better than a plastic activity cube?
A wooden activity cube is better than a plastic activity cube. If your child does not want it, you can find plastic cubes that have a built-in musical system, lights, and other features for sensory development.
Are there loose pieces of activity cube?
All activity cubes come with the pieces fully mounted in it. The pieces are put into place to prevent the threat of choking.
Last Updated on April 28, 2023 by Lisette Lao
DISCLAIMER
(IMPORTANT)
: This information (including all text, images, audio, or other formats on FamilyHype.com) is not intended to be a substitute for informed professional advice, diagnosis, endorsement or treatment. You should not take any action or avoid taking action without consulting a qualified professional. Always seek the advice of your physician or other qualified health provider with any questions about medical conditions. Do not disregard professional medical advice or delay seeking advice or treatment because of something you have read here a FamilyHype.com.