From scooters to dune buggies to even traditional go-karts, these are fun and best for kids who can handle the speeds. They are quite entertaining. However, what are the go-karts for kids? Certainly not the same. Kids can't handle the same vehicle that an older kid can.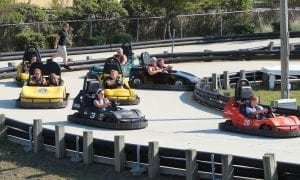 You need to get the right go-kart for the right age of your child. So, let's talk about them and why they suit some children. If you haven't yet seen a child's version, the idea of it may sound unsafe to you. However, some versions are equipped with safe design features, which will be discussed further in this article. Moreover, to give you an idea of what you can buy for your kids, we made a list of the best go-karts for children from Amazon, and we have included a short product description for each one.
Best Go-Kart Safety Features
Other features that may or may not add to the safety of your kid's chosen go-kart include rear wheels, knobby pneumatic tires (this matters for where they're going to be using the kart), and the type of power used to operate the vehicle. You could get pedal, electric, or look into gas pedal-powered go-karts for children. Beyond those things, you can also consider what the max speed is (younger children should be driving karts for children with a lower top speed), your kid's driving skills, and if there's an adjustable seat.
Now, we're going to look at some specific best go-kart options so you can see what is available.
Best Go-Karts For Kids
Razor Power Rider 360 Electric Tricycle
The Razor Power Rider definitely catches your eye. It just screams cool. It's an electric type that's shaped like a tricycle. Your kid's kart will accelerate with a button for the throttle. There is a hand brake that is just like that of a bicycle. Kids can take off and do some complete 360-degree turns with the rear caster wheels that can spin all the way around. The front wheels on these go-karts are pneumatic tires that are good for taking the brunt of high impacts. The best electric go-kart will give your kid an exciting yet comfortable ride.
The Power Rider is made of Plastic, Rubber, and Steel. It is electric powered and it can speed up to 9 mph with up to 30 minutes of continuous use.
It has a powerful motor and moves fast with no pedaling required.
It is uniquely designed to be safe and eye-catching. It is recommended for ages 8 and older or for kids up to 120 lbs.
Hauck Nerf Striker Kids Go Kart Ride On
The Nerf Striker is so much fun! It's a pedal go-kart, so the max speed depends on how fast your kid can pedal. A pedal go-kart is safer for younger kids. And this one has more to it than most. There are places to put your Nerf guns and blasters, there is an ergonomic and adjustable seat, it has a super easy-to-use hand brake, and it has low-profile rubber wheels. There's no worrying about charging the pedal go-kart and hoping the battery doesn't die in the middle of a battle because a pedal go-kart doesn't rely on a battery.
The Nerf Striker is multicolored with an elaborate design, it is a fun toy for your active kids. It comes with a sturdy tubular steel frame with race-style pedals and an adjustable bucket seat. It has rubber tires, 3 point steering wheel, and a reliable handbrake and brake pedal.
Hauck Fire Rescue Pedal Go Kart
The Hauck Fire Rescue Pedal Go Kart is an exciting and adventurous ride-on toy for kids. Designed to resemble a fire truck, it features vibrant red color, firefighter decals, and a realistic siren sound. With its sturdy construction, adjustable seat, and easy-to-use pedals, kids can enjoy hours of fun while developing their coordination and motor skills.
Pedal Children's Pedal-Push Sprocket Go-Kart 
This pedal go-kart looks awesome with its 10-inch EVA Wheels rubber wheels. It has an adjustable seat for maximum comfort, there's a hand brake that's easy to reach and an easy-to-use steering wheel. The Hauck Fire Rescue Pedal Go Kart has an easily designed pedal-push sprocket and is easy to maneuver. It's a very sporty-looking pedal go-kart made with high-quality steel and other materials.
The Hurricane Pedal Go Kart
Children may enjoy an exciting and high-performance ride on the Hurricane Pedal Go Kart. It delivers a dynamic and sporty appeal with its streamlined form and vivid colors. Pneumatic tires and a strong chassis provide this go-kart with outstanding traction and durability, enabling kids to easily maneuver over a variety of terrains. Young adventurers will have a comfortable and personalized riding experience thanks to its adjustable seat and ergonomic pedals.
Radio Flyer Ultimate Go-Kart
The Radio Flyer electric go-karts for kids give them maximum, safe fun with a maximum speed of up to 8 mph. It has larger wheels in the rear that allow for better drifting on turns. This electric go-kart can be used by younger kids as low as 3 years old. It has a maximum weight limit of 81 lbs. There is an adjustable seat so you can keep moving it as your kid grows.
Riding the Ultimate Go-Kart from Radio Flyer will make your kids feel like they are riding the real deal. The ride-on toy has a well-thought design, and it comes with front tires with rubber traction and parent-controlled speed locks. It can speed up from 2.5 up to 8 MPH, and it comes with a 24-volt battery with long battery life.
You should use this for kids under the age of 8, and the max weight limit is 81 pounds. Any more than that, and you're risking stressing the motor. The battery life depends on the speed and weight that is pulling on this. However, it doesn't seem to be that much of an issue.
The cool thing about this is that it protects the kid in any instance that it ever goes onto a public road or street. It has a flag that warns drivers that the kid is there, which gives a safer experience for the kid when they're sitting so low to the ground, as well. It's one of the best items for kids since it prioritizes safety.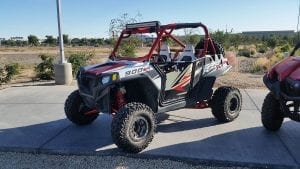 Razor Ground Force Electric Drifter Fury
This is a great one for electric-powered karts that stay on concrete and asphalt. They are pretty low to the ground, and they go pretty fast up to 12 mph max speed. This is meant for curves, however, and it will drive in many cases. This is good for those who like to try this type of driving. But as always, make sure you put the right safety gear on.
The Ground Force Drifter Fury is an electric go-kart that's powered by a 2 12-volt battery system. The two batteries give children 40 minutes of continuous riding from a full charge. Some electric pedal go-karts won't have that kind of ride time. It has a hand brake in the rear for easy stopping. And one of the coolest features of this electric go-kart is the Spark Bar that creates a shower of sparks behind the rider when they drive. Razor is definitely another great go-kart brand in the market.
Razor Dune Buggy For Children
Razor is one of the best when it comes to any vehicle for kids. This is essentially an electric go-kart that has a 350-watt electric motor, so it goes up to a speed of about 10 MPH. What that means is that the childkid will go fast enough to enjoy the smooth ride but not fast enough to get too hurt in the event of a crash. It comes with 8-inch knobby tires that are pneumatic, which means that it can handle terrain that's difficult or even offroading. It supports kids up to 120 pounds and is good for kids over the age of 8.
It is electric, and it is pretty simple to keep charged as well. You can use this for up to 40 minutes of continual use. You can just plug it in to charge it. It comes with different speeds, torquing, and hand braking that is meant for speed and climbing control. It's all operated by hand, and it's got safety features that showcase it's a safe vehicle to use. The frame is made of tubular steel, made to keep people safe, and it has a diamond-plated traction floorboard meant for this. It has a bucket seat that comes with a belt, and shoulder straps, along with an optional safety flag that allows you to show that the kid is in there, to make this even safer for them.
The Razor Dune Buggy is one of the more expensive electric go-kart options on our list. It's made of very high-quality materials that make it safer for kids to drive. It doesn't have a steering wheel, per se, but more of a steering handle system where the acceleration is controlled by a push button. The hand brake operates the rear disc brake easily from the steering handle.
The Razor Dune Buggy is not meant for younger kids. Its operation was designed for kids who are 8 years old and above. The max speed is pretty high at 10 mph, which isn't as easily controlled by younger children. If you're looking for the best then go with the Razor Dune Buggy. It's high quality and top-of-the-line.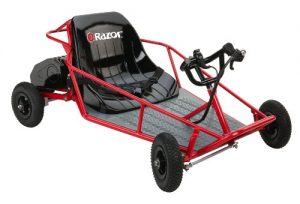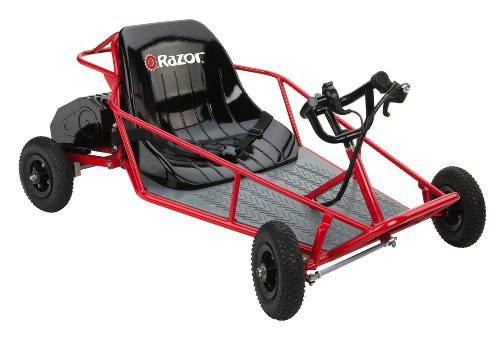 Hauck Lightning Pedal Go-Kart
This is a good option if you're looking to wear them out but also allow them to go on adventures. This is made for children that loved those Big Wheel karts but want something a little bit more. It has a steering-like frame, similar to the other cars, and it's made of tubing that's steel, and the wheels are rubberized to help with the connection. The seat is adjustable, too, so that it will grow with the child. This one is powered by pedaling, which means it's different than its electric counterparts. Still, it is pretty good if you want to keep it at levels that can be maintained. It's good for toddlers up to the age of 8 or so.
One of the great things about this pedal go-kart is its price. It's on the lower end of the range for a go-kart. You can also get this one in 4 different colors. It has an adjustable seat so it can grow with your child, and its max speed is up to the effort put in by the rider. What's more is that you can use this pedal go-kart for both outside and inside driving.
ZXTDR Electric Go-Kart
Now, the cool thing about this one is that it's one both kids and adults can enjoy. It has a weight limit of up to 220 pounds so that it can handle a lot of children and a lot of adults as well. It's a good choice among the top children's go-karts because it allows parent-child bonding. If you're over 6 feet, it can be a bit of a tight squeeze, but it's possible.
So, this is a great one if you really want to get the fun of riding in a go-kart too. The top speed is about 27 mph, so not as fast as a car per se, but it's great if speed is what you're looking for. Parents can also lock down the speed on this with the speed limits so that the kid can ride at a reasonable level. The brakes are hydraulic, meaning that the stopping power is strong and it's durable. The steering wheel is highly responsive for turning the big power wheels, too. With its high max speed rate, this kart isn't recommended for kids under the age of 10.
The battery life on this is dependent on how much you ride and the speed, but you can typically get at least 2 hours on this. For adventurous children, this is the way to go. It has an incredibly powerful 48-volt battery that gives you the highest max speed on our list. It also has the largest range for its adjustable seat, so it can be used by the greatest variety of riders compared to the other karts on our list.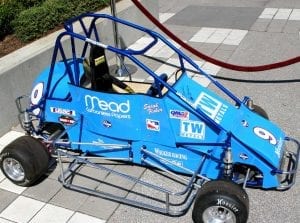 Coleman Powersports Go-Kart
This one gets up to 30 MPH on speed and can handle loads up to 150 pounds, and 5'5". This is a powerhouse go-kart that's made for camping and sports, and this one features a 4-stroke 1-cylinder engine and is suitable for young riders. If you have trails that you can zoom on, then this go-kart is perfect for you. This can fit adults too, and if you need to make trips, you can put it on there.
This is the only gas-powered kart on our list. Because of that, it has a higher listed price than even the Razor Dune Buggy. It's a two-seater, too, which also adds to the price. It has a 6.5 HP engine that is easy to steer with the pinion-operated steering wheel. The high max speed makes this one better for someone who has a little more experience behind the wheel of a gas-powered go-kart.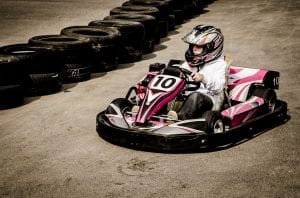 Go-Karts For Children And Adults
These are excellent for both children and adults and if you're looking for a reliable item, then this is where you'll find the perfect one for you to try. Most of these are pretty easy for children to get started with. And really, if you're stumped on which one to buy, you should consider how much interest your child has in a go-kart. From there, get them one that best fits their needs and one that allows them to enjoy the outdoors comfortably. You'll be surprised at its use. If you let your kid use this, it will be a great experience both parents and children can enjoy. The options may be overwhelming, and we hope that this list will help in the purchase decision.
FAQs On Best Go-Karts For Kids 
Last Updated on May 12, 2023 by Harold Chan
DISCLAIMER
(IMPORTANT)
: This information (including all text, images, audio, or other formats on FamilyHype.com) is not intended to be a substitute for informed professional advice, diagnosis, endorsement or treatment. You should not take any action or avoid taking action without consulting a qualified professional. Always seek the advice of your physician or other qualified health provider with any questions about medical conditions. Do not disregard professional medical advice or delay seeking advice or treatment because of something you have read here a FamilyHype.com.