These fun toys are perfect for the child that wants to cruise around. If you're wondering whether or not they should have these, the answer is yes, they should. Here, we'll talk about the fun little ride-on toys that toddlers will enjoy, and ones that they'll get constant use out of, no matter what they enjoy.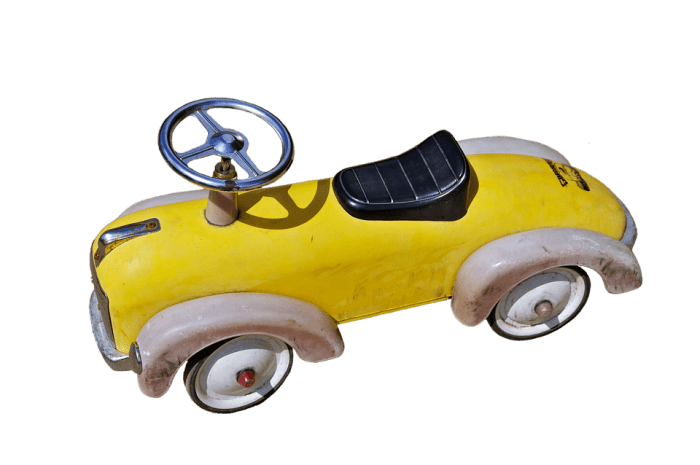 Little Tikes Truck
This is a fun small truck that is fully functioning and includes a horn, steering wheel, gas cap, and a lot of off-road bikes that is great for toddlers to strengthen their muscles and also work on hand-eye coordination. It is available in different colors, including blue or pink, and it comes with a drop-down tailgate, functional doors, and a floorboard for more fun. This is a fun one that allows them to move forward and backward without an adult. It's pretty durable, has a beautiful design, and it's safe for toddlers. It also is adjustable, so it grows with your child too. The one downside to it is that it might be challenging to assemble in some cases.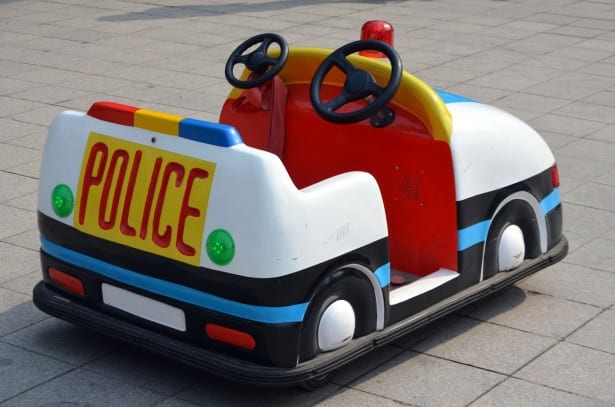 Radio Flyer Scooter About
This is a spiffy ride-on scooter that's like a tricycle currently, minus the use of pedals. Instead, you use your legs to push it forward. It's great for children who aren't at the level to use a bike without needing to work from training wheels to it. It doesn't have pedals, so they can get exercises while learning how to use it. It has a seat adjustment for toddler growth spurts, and it's great for toddlers ages 1-3. It also comes with streamers on the handlebars, along with a bell for them to ring so that others know when they are coming. It can be used both outside and inside, and also comes with a front bumper to protect the furniture and walls, so if they decide to bump into things, your furniture won't be nicked in the process.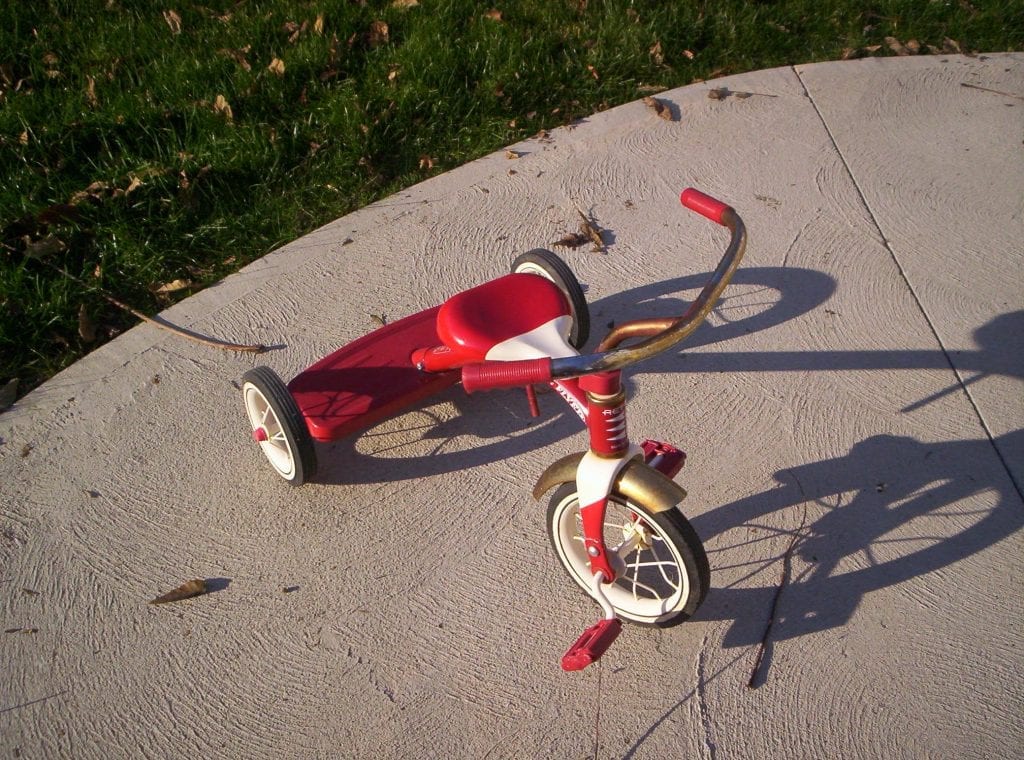 Step 2 Up & Down Roller Coaster
This is a super fun gift that children will love. It's an excellent way to get used to the bigger theme park rides, and they are getting the chance to ride their backyard roller coaster. The ramp is sturdy, and also secure, which means that there isn't a chance fo mishap as your child rides on this. For toddlers, the little tiny hills will feel huge to them, and they'll be able to feel safe and secure in their lane. They'll have a safe car that has walls on each of the tracks, and with the car, it will affirm that they are safe and have no chance of slipping out. They'll want to use this again and again, and it's perfect for kids looking for a thrill-seeking, or for those who want to have their theme park. It is very sturdy and attractive and is weather-resistant and durable. One downside is the feet area on this is small, and it's best that your child is fully supervised when using this, for obvious reasons.
Ride-On Excavator Pretend Play Small Truck
For those who are fascinated with construction and construction crews, this is a ride-on excavator that is perfect for this. It comes with a bright yellow helmet that matches, along with a rotating seat and a digger and bucket that move with a control stick. It can be used to scoop up anything from sand, snow, or even toys. It's perfect for sandbox play if you have a pretty big set. The wheels are great because it allows them to move backward and forwards, and it can hold up to 66 pounds. This is the perfect basic toy for kids to develop both physical skills and work on an imaginative play. It's ultimately all up to you!
PlasmaCar
This is an excellent toy for a playroom or large basement. It's like a tricycle, but it's similar in a sense. This is perfect for indoors, and if your child likes to roll around, but is too young to go outside near the sidewalks and streets, this is a wonderful car that's a precursor to the bigger wheels. It's got a form-fitting seat that's comfy, along with shoe grips that are good for the floor of the car. It brings about extra security in the car, or in a playroom with low carpet. They can even practice this while you're making dinner or something. It is well-built, durable, easy for use, support larger weights, and is lightweight as well. You will need to replace the wheels frequently, though.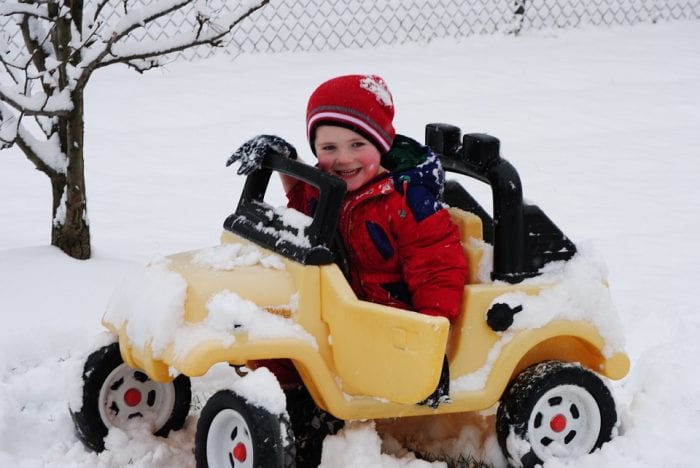 Little Music Parade Ride-On
This is a fun ride-on toy that is bright, cheerful, and it's fun for all sorts of music lovers. It comes with different sounds for them to explore and play around with, along with five different marching tunes that you can activate with just a button, along with various instruments including a drum and trumpet that make their own sounds. This is perfect for basic composers that want to bring out their tunes with a keyboard, and want to experience the fun of this. The sounds are powered by two AA batteries (which are included), but the little legs do the work for this, It even comes with a storage space in there that the little one can use for toys, snacks, or whatever they want to bring with them! It's the fun and rally engaging system that allows for children to really enjoy the music, and to work with this as well.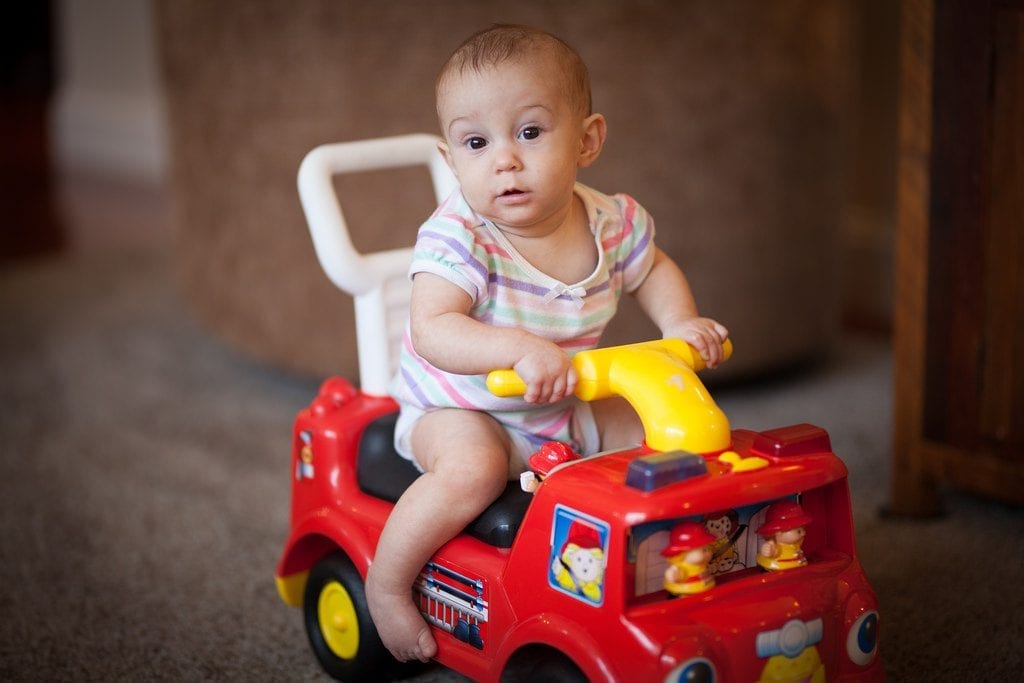 When it comes to ride-on items, these ride-on toys are perfect for it, and you'll be able to, with this, create a wonderful and immersive system that they will enjoy. Nothing beats the excitement of ride-on toys. These fun and engaging playthings not only provide hours of entertainment but also help develop essential motor skills and coordination. So, if you're looking for the best 1 year old girl toys on the market, we've got you covered. These are perfect for getting toddlers to move around, and if your toddler has ever been interested in this sort of thing, you'll want to consider getting this, since this is totally what they will love, and enjoy.
FAQs On Toddler Ride On Toys
What are the Ride-On Toys?
Best toddler ride-on toys such as a kiddie bike, a rocking horse, a pedal- or motor- powered kiddie car tops the list.
What age are ride-on cars for?
The maximum kids' age that gets allowed to use a ride on car range is usually 8-10 years old.
Are ride on toys safe?
Ride-on toys can be massive and motorized that may cause injuries and even death young kids. Parents should be cautious when buying since these toys may not support a child properly.
What is the best ride on toys for toddlers?
Best toddler ride on toys are the following: Little Tikes Go and Grow Lil' Rollin' Giraffe, Pewi Ybike, Fisher-Price Little People Music Parade, Step2 Whisper Ride II, FisherPrice Laugh & Learn Smart Stages Scooter, Little Tikes Princess Horse & Carriage, and Kiddieland My First Minnie (check here for reviews and prices: https://www.whattoexpect.com/baby-products/toys/best-ride-on-toys/).
What age do toddlers learn to pedal?
Most children learn to pedal between the ages of 2 and 3 years. Usually, toddlers learn to push backward before they propel the ride-on forward.
Are rocking horses dangerous?
Rocking Horse is also one of the coolest rides for toddlers. However, best rocking horses tend to be quite dangerous if parents will not assist their kids while playing. In some instances, the ride on toys' weight could also crush small fingers and toes of your kid.
Can a 1-year-old ride a tricycle?
Not until your child is physically able to handle a ride on a tricycle, then you should not buy it.
What age is the balance ride on bike for?
Balance bikes are for kids 1 year and a half to two years old.
Are balance bikes good?
Balance bikes are brilliant for toddlers. It is excellent for balance and coordination for kids.
What is the best balance ride on bike for a 2-year-old?
The Strider 12 Sport Balance Bikes is the best toddler ride on toys.
Toddler Ride On Toys Other Resources
https://www.goodhousekeeping.com/childrens-products/toy-reviews/g34425717/best-ride-on-toys/
https://momlovesbest.com/ride-on-toys-for-toddlers
Last Updated on May 11, 2023 by Patrick Magtaan
DISCLAIMER
(IMPORTANT)
: This information (including all text, images, audio, or other formats on FamilyHype.com) is not intended to be a substitute for informed professional advice, diagnosis, endorsement or treatment. You should not take any action or avoid taking action without consulting a qualified professional. Always seek the advice of your physician or other qualified health provider with any questions about medical conditions. Do not disregard professional medical advice or delay seeking advice or treatment because of something you have read here a FamilyHype.com.