Whether you're just starting out playing the drums or wanting to learn more about drumsticks so you can help a beginner family member or friend, we'll help you choose the best beginner drum sticks to play the drums with.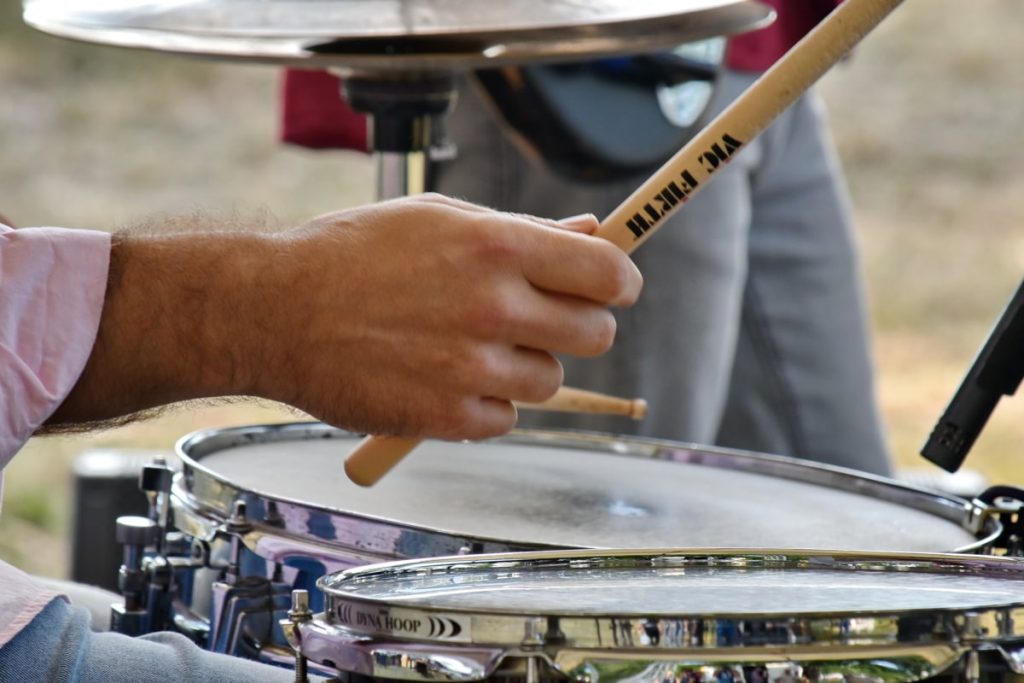 We generally recommend a 5A set of drumsticks for beginners, since they're an average weight, and for an adult beginner, drum sticks around 16 inches in length are ideal. These best beginner drumsticks are essentially standard measurements that work for a variety of techniques and styles as you begin to decide what is best for you.
We also recommend buying more than one pair of drum sticks at once as that will allow you to save some money by buying bulk, knowing that many beginners may break their sticks often as they improve their technique. Plus, it's always good to have a back-up pair of drum sticks, just in case.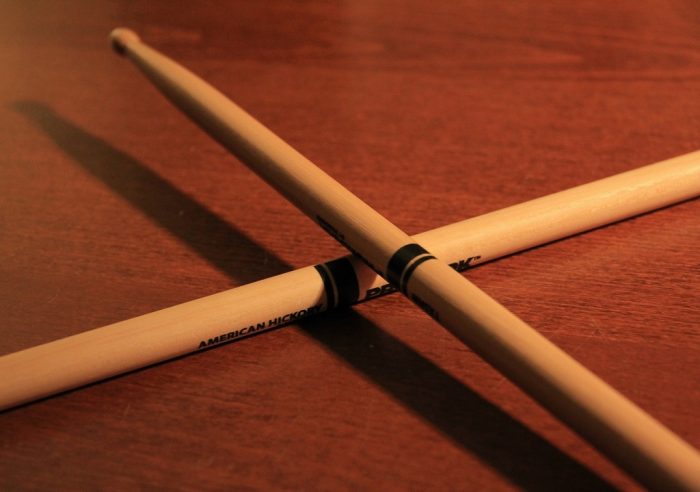 Our Favorite Drumsticks For Beginners:
Sywon 5A Drumsticks Hard Maple Wood
These drum sticks are a great option because they will be very comfortable in a beginner's hand. At the same time, these drum sticks are durable enough that you shouldn't break them too quickly. The best beginner size that we recommend is 5A and these come in a 3 pack with a carrying case, so you'll have everything you need to get started. 
All of this comes at an extremely reasonable price, so if you find you go through them quickly, you can always purchase more without breaking the bank.
For a pair of relatively affordable and high-quality drumsticks, we'd recommend the Vic Firth Nova 5A sticks. Though they are a little more expensive than the previous option, if you're looking to expose yourself to a favorite brand of many drummers at a reasonable price point, these pair of sticks are a great option.
On-Stage Maple 5A Wood Tip Drumsticks
If you're looking to buy several pairs of drumsticks so you can replace broken or worn in sticks often as you improve your technique, these basic 5A maple sticks are a great place to start.
At less than $2/each, you'll get plenty of bang for your buck with this pair of drumsticks so you don't have to be afraid of playing as hard as your heart desires.
Final Note
If you're still not sure if the electronic drums of playing the drums are for you, you may also want to learn about other kinds of great instruments for beginners, like keyboards for beginners and guitars for beginners. That can help you consider how much it costs to get started with the materials you'll need, such as the drums and cymbals. You can also look into the materials you'll need to replace often (like drumsticks) so you know what kind of maintenance you'll need to keep up with.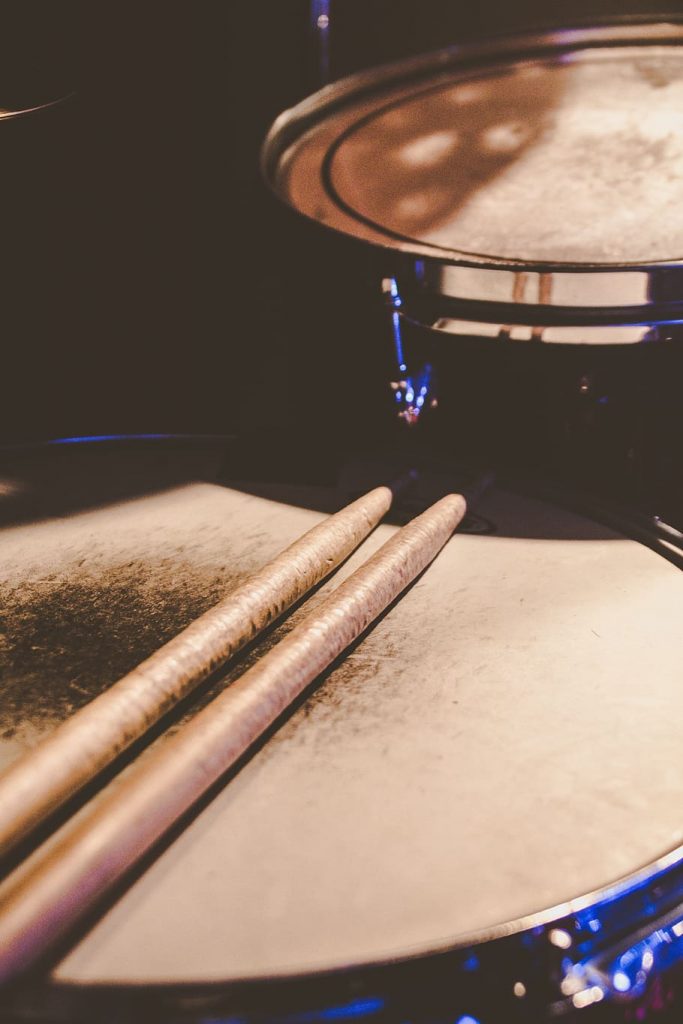 Don't forget that materials for drumming can also beyond your kit and sticks. You may also need stands for band or cleaning materials. It's a good idea to calculate all of these costs before you invest.
Frequently Asked Questions:
What is the difference between 5a and 7a drumsticks?
7A drumsticks are always thinner than 5A drumsticks, no matter which brand you purchase from. In general, 5A drumsticks are best for style since they're more or less the "standard" diameter of the stick, while 7A's thinness is great for playing jazz and achieving a more focused sound.
Are 5a drumsticks good?
5A drumsticks are an excellent choice for beginners who play drums. They're considered the "standard" drumsticks with an average weight. They have an oval "bead" (which is the tip of the drumstick). These tips can either be wooden tips or nylon tips. Since these drumsticks are relatively neutral, they can work for different genres as you decide what kind of music you'd like to play.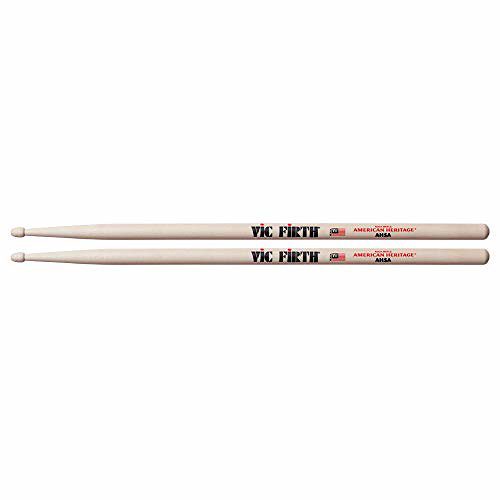 What is the best wood for drumsticks?
While the wood that you use for a drumstick doesn't have as much to do with sound as it does with comfort and durability, you can still choose the best types of wood for your needs.
Hickory is the most popular type of wood for drumsticks because of its comfortable weight and feel, while maple is another good choice because it is softer on your hands. That said, hickory will last longer than maple because it is more durable. These drumsticks are the best option for you when you go to your drum lessons.
Lastly, there is oak, but because oak drumsticks are so hard, they transfer more of the impact and vibration of your playing to your arms, which can be tiresome and uncomfortable, especially for a beginner so your playing will not be as tightly focussed as you want it to be.
What drumsticks should a beginner use?
The best drum sticks for a beginner to use is the 5A hickory drumsticks because these sticks are fairly standard. This is good to have in beginner drumsticks because it means they are easy to find and come at an affordable price, but also offer ease of playing and durability. These drumsticks can also be found with wooden tips or nylon tips.
What size of drumsticks should I use?
The best beginner drumsticks are a size 5A. As you specialize in a style of music, you may decide to opt for a different size (like switching to 7A for jazz), but in general, 5A will serve you to get started. These drumsticks are the best option for you when you go to your drum lessons.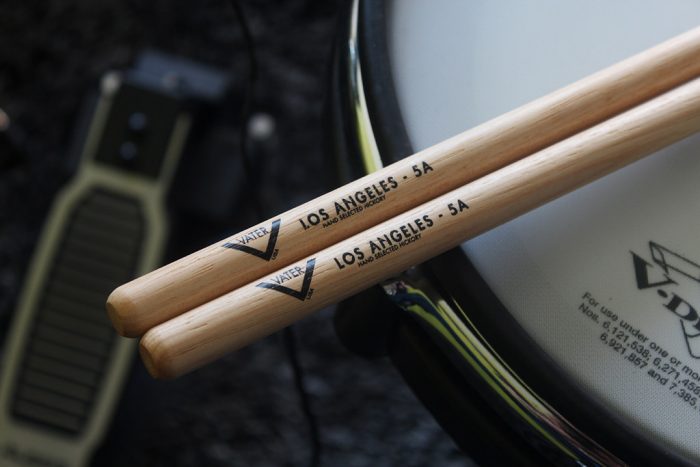 What drumsticks last the longest?
Many people swear by Vater brand drumsticks for durability, but many people don't like these drumsticks because they don't find them as comfortable for playing. Although choosing the types of drumsticks that will last is important, especially in terms of affordability, it is also a good idea to keep in mind which sticks you enjoy using the most.
How often do drummers break sticks?
How often a drummer breaks their sticks can depend on a variety of different factors. Newer drummers learning techniques may break their sticks more often, and the genre of music can also affect sticks breaking.
The quality of the drumstick, weight, brand, and materials can also all play a role, depending on how you use the sticks and how tightly focused you are or not.
Lastly, although it may sound counterintuitive, how often you replace your sticks can also affect how often they break. With use, drumsticks wear down and they are more prone to breaking.
Some drummers break sticks once a week or even once a session of playing, while others never break sticks, which is often related to when the last time they replaced their sticks or how hard they are hitting their drums and cymbals or other parts of their drum kit.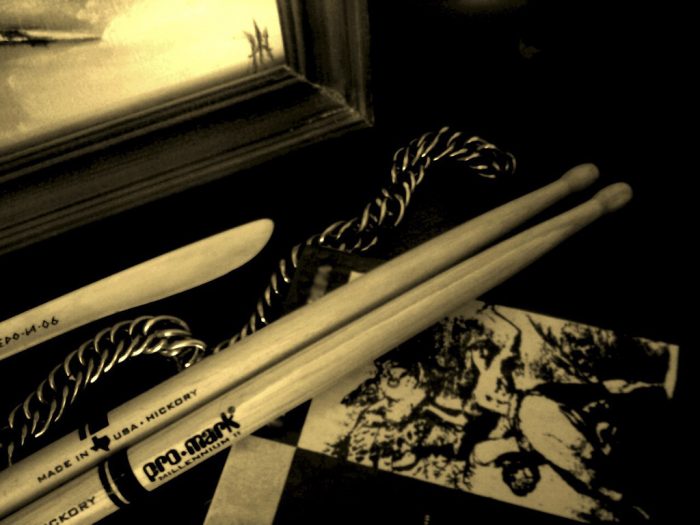 What brand of drumsticks is the best?
The best drum stick brands include Vater, Promark (under the parent company D'Addario), and Zildjian (which is the parent of the popular Vic Firth sticks. Each brand of drum sticks has its range of products, and many people find they prefer one over the other based on personal factors like playing style and preferred materials. Either way, these drumsticks are best for electronic drum sets, their surface areas, and they're great for drum lessons too.
Last Updated on June 4, 2021 by Marie Miguel
DISCLAIMER
(IMPORTANT)
: This information (including all text, images, audio, or other formats on FamilyHype.com) is not intended to be a substitute for informed professional advice, diagnosis, endorsement or treatment. You should not take any action or avoid taking action without consulting a qualified professional. Always seek the advice of your physician or other qualified health provider with any questions about medical conditions. Do not disregard professional medical advice or delay seeking advice or treatment because of something you have read here a FamilyHype.com.