When you think of children's scooters, you may imagine them built for older kids. However, there are expensive scooters available for all age ranges, including younger riders.
A good scooter can help the child's leg muscles improve, and it teaches them about mobility. They are also safe for kids. They won't go as fast and have less of a chance of tripping. Of course, with a scooter, you should buy protective gear like a helmet, knee pads, and gloves.
A List Of The Best Toddler Scooter
When looking for the best kids' scooters, here are a few things you should consider.
Steering
A child may have a hard time steering if the wheels move too fast. Luckily, most scooters have handles that are easy for your child to steer and are soft on their hands. This one allows you to be at ease.
Not too Fast
An older child will love a scooter that will go fast. However, a scooter should go at a slower pace. A fast scooter can be dangerous and may scare the kid. Toddler scooters go at a fast enough pace to be thrilling for a child, yet slow enough to be less risky.
Extra Wheels
A scooter built for older kids will be two wheel scooter, and the child must balance while riding. It can be challenging for a child and possibly dangerous. The best toddler scooter will have 3 wheel scooters or even four wheels for extra stability and safety. When your child grows and gets older, you can graduate them to those two-wheel scooters type.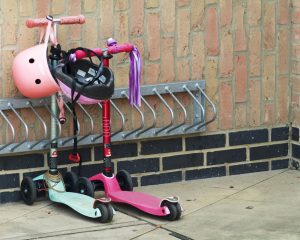 Bright Colors
Having vivid colors will capture your kid's attention. Meanwhile, a scooter for an older audience may have toned down colors.
Lightweight
You don't want their scooter to be massive. Many are lightweight and some are even foldable to have extra storage and portability.
Quality Build
A kid can be reckless. You'll need one that can stand up to their active lifestyle, with wheels that can go for many miles.
Without further ado, here are a few toddler scooters you may want.
Radio Flyer My 1st Scooter For Kids
It's suitable for younger riders, and its two-wheeled front lets the child steer with ease. Its base is broad, so your child doesn't fall, and the grip handle is easy to use. With either pink or red to choose from, any kid will love it.
Razor Jr. Folding Scooters
Razor scooters are quite sturdy another one of those 3 wheel scooters type, giving the child balance and stability. You can even fold it. This one allows you or even your child to carry it around and take it during travels. The grips are soft and foamy, allowing your child to hold on with ease. It is safe and can teach your child how to roam the road. The wheels are sturdy too. It'll last a long time, even for your future kids. These Razor scooters are one of the top toddler scooters.
YBIKE GLZ 3-Wheel Scooter
When you're trying to use your scooter, the YBIKE GLX is the way to go. Its foot deck is even more supportive, allowing for a smooth and quiet ride.  With a 44-pound weight limit, you're going to be happy knowing your child can handle it as your child grows. It's high-quality, lightweight, portable, has extra wheels, and is easy to steer. Check out more YBike series here: https://nymag.com/strategist/article/best-kids-scooter.html.
Micro Maxi Babies Kick Scooter
This Micro Maxi Deluxe Swiss scooter is excellent for younger children. It is superb that gives your child once they leave that phase. Despite the babies in the title, this micro maxi deluxe scooter can even work well for preteens. The wheels are high-quality, sturdy, and can handle some rough areas. Not to mention, you can replace the parts if you need to. This big, powerful ride is one that your kid is going to love. You can also check the review here: https://www.nytimes.com/wirecutter/reviews/best-kids-scooters/.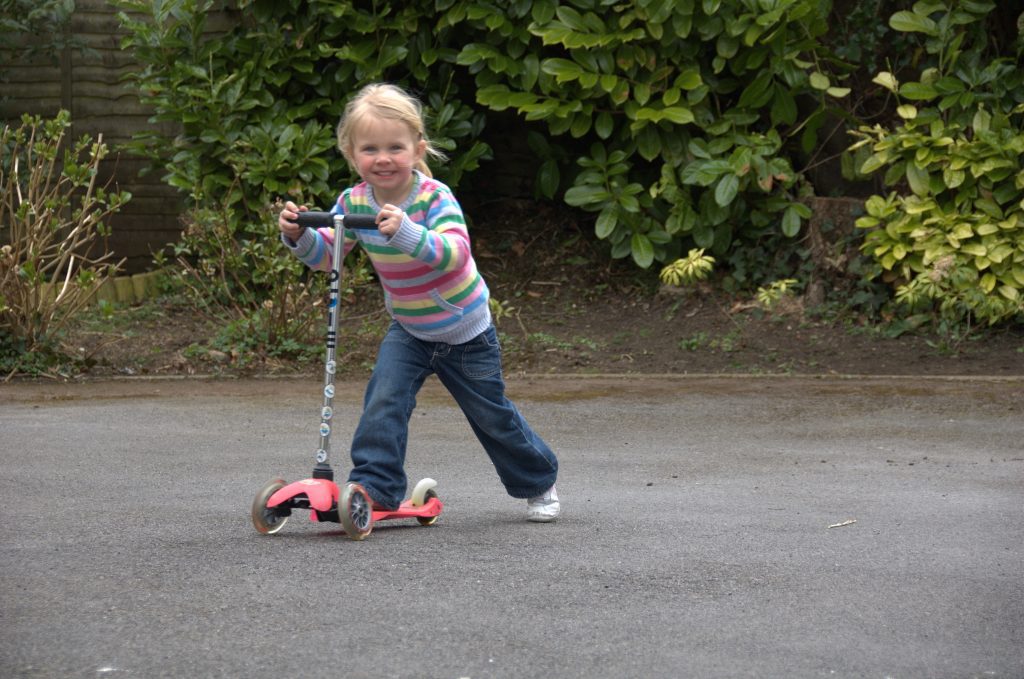 Fisher-Price Laugh & Learn Kids Scooter
Fisher-Price is always a good brand as it always promotes learning and fun. Besides having basic features, it can teach a child about basic educational facts. Numbers, letters, shapes, and everything else. Also, the lessons start simple and then become more advanced as your child grows and develops more skills.
It's great for fun and education. It'll educate your child as they kick around and enjoy the world around them.
It's great to help your child grow, and generations of kids will love it. We say give it a try.
Little Tikes Lean To Turn
This one is great for your little kids. It's pink and has 3 wheel scooters of balance. Your girl can carry it with ease, as it's only around five pounds. And no assembly is required. What is there not to love when it comes to this scooter?
It's cheap, and it's one of those toys that your kid will grow out of, but we believe your kid will love it when they are in that age range, so it's still worth a purchase.
Globber 3-Wheel Light-Up Scooters
Do you know what kids love? Things that light up! This 3-wheel scooter type lights up and is an adjustable height handlebar. It is extendable to adjust with your child's growth and has up to 110 pounds in weight limit. It allows you to have a good investment and not just a scooter they will outgrow. Not to mention, it's very high quality, and it should last for a good while. It also has a button lock wheel design, which is warranted if your child is a toddler. It allows your child to adjust to balancing and other more advanced features.
Bonus Important Content:
Kick Scooter Vs. Electric Scooters
There are many types, and one of the two main choices when deciding on a scooter is whether or not you want a kick scooter or an electric one. Let's compare the two and find out which one is ideal for you.
Kick Type
A kick scooter powered by kicking forward. It doesn't use any electricity or anything to power it other than a good kick. It is the cheaper option, as a kick scooter has no engine or batteries. An electric type may be able to be kicked too, depending on what kind it is. Kick scooter encourages exercise, and it may be the top parent's choice because of that. A kick scooter will grow with your child, too. The bigger they are, the more they can go faster thanks to the kick scooter. Try out a kick scooter today, and if it isn't for you, you can try the electric type.
Electric Scooter
This one is any scooter that uses electricity to move around. While it doesn't have the exercise of its kick counterpart, it's still quite lovely, and it allows your child to drive on an electric charge. Different types of scooters will have different ride times. Always charge the scooter overnight, and make sure it will last long enough for your kid.
Mini Kick
The mini kick is a scooter that is for toddlers and younger riders. It accounts for the fact that the toddler won't be able to kick it that far. It is something for your little kids, and we highly recommend your child try it out. It isn't meant for older kids, however. That's why it is just mini.
Toddler or Kids' Scooter
While this article is about toddler scooters, you have to remember that some children are taller, and maybe more suited for a kid's scooter. Toddler scooters typically are suitable for children 1-3 years of age because of the type of wheel design they feature, but if your child is a bit past that, you may want to skip out on the toddler scooters and buy one for an older audience. Plus, some of these favorite toddler scooters may be a little bit too childish. You may have to think about how long these will last for your kid as your child grows.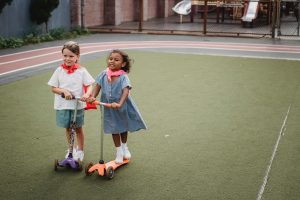 Other Features To Consider
Colors
The color can say a lot about the kid's personality. Many scooters will have many colors to choose from, so make sure your kid's favorite color is available.
Height Adjustable
You want one that adjusts as your kid grows. A kids' scooter will have a maximum height and maximum weight. Still, a proper height-adjustable handlebars scooter will be able to be adjusted for a good while, so remember that and see how much elevation is in a height-adjustable scooter.
When looking for height adjustable handlebars, always see how many inches the adjustable height handlebars can go. Some with height-adjustable handlebars can go quite far and give your kids quite a bit of room to grow. These adjustable height handlebar types may go from young toddlers' childhood to older childhood.
Good Hand Grips
You want to be sure that your child can hold onto the scooter without any slipping and with comfort. Test out the handgrips.
3-Wheel Scooter
These 3-wheel scooters type are the right start scooter for your child. You may wonder what the difference between a 3-wheel and one with two wheels is. The two-wheel set is a bit harder to balance, but the trade-off is that it's more portable. However, a child who is starting will probably benefit from three-wheel scooters. 3 wheel scooters type will either have one wheel up front and two rear wheels or two light-up front wheels and one rear wheel. This all depends on the manufacturer.
Flashing Wheels or Light up Wheels
You may want one with flashing led lights wheels or light-up wheels as well. Besides the fact that it looks cool, the ones with flashing wheels or light-up wheels can alert people if your kid is in the dark and using their scooter. With that said, always make sure to bring your kids inside. A scooter with flashing led lights wheels or light-up wheels could still be useful, with all things considered, especially if your kid can control the light-up wheels.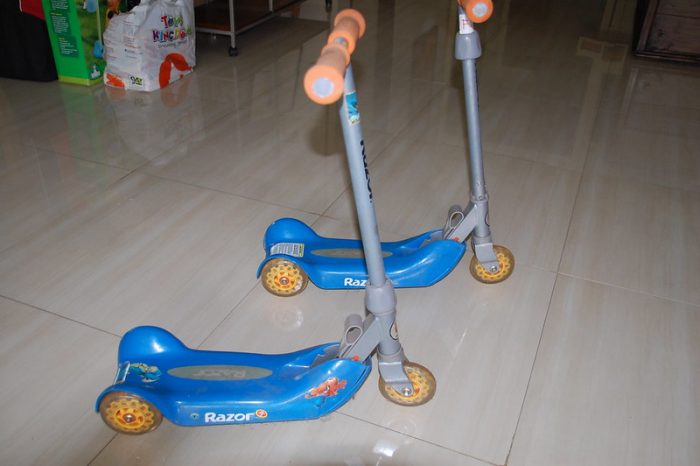 It's Easy to Control and Ride
Perhaps the best thing to look for in a scooter is how easy it is to control or ride for your child. Here are a few examples to consider.
Excellent balance and coordination. You may need a bigger or a full deck if your young one has trouble with motor skills.
A smooth and quiet ride. The kick scooters you should look for should be able to handle some rough terrain.
Your kick scooters should have adjustable height handlebars to allow easy turning. If it doesn't have adjustable height handlebars, it better exceed other departments.
A scooter for kids should have a sharp turning radius to allow smooth turns, too.
Best Scooters For Kids & Toddlers
Let's look at a few more scooters, shall we?
YBIKE Kids GLX Cruze Scooters
If you're looking for a toddler scooter, then the YBIKE Kids GLX Cruze is an excellent choice. The YBIKE Kids GLX Cruze is a colorful, 3-wheel kick scooter that has quite a few features, including safety. When you're buying a scooter, you want to make sure that it has a wide deck, good balance, and is of plastic materials that are soft on your child. The YBIKE Kids GLX Cruze is a great choice to help your child up to 5 years build their motor skills and teach them how to ride only a scooter with grace. The YBIKE Kids GLX Cruze is also great to learn to steer on. This 3-wheel kick scooter will be one for the ages they can use the same scooter at least until ages 5, that is.
Den Haven Kids Scooters
The Den Haven Kids 3-wheel kick scooter is another excellent young children's scooter. It is a high-quality type and has a few features you would expect out of a kick scooter, including adjustable height handlebars that lock-in. It also has adjustable height handlebars, foot, and rear fender brakes that are quite nice to use. Plus, its frame is made from high-quality aluminum, allowing your kids to have a stable ride-on toy possible. What kid won't love this lovely scooter? We can't think of any.
Maxi Kick Scooters
The Maxi Kick is one of the coolest scooters around. The Maxi Kick is highly rated for a good reason. It's a great wheel toddlers scooter. It has big wheels that are powerful and up to 5 inches. They also have a partially aluminum frame and rear brakes. This toddler wheel scooter has folding technology to make storage great as well. It's a folding kiddie kick scooter! The folding kiddie kick scooter also has lean-to-steer technology. For those who are unaware, lean-to-steer allows your child to steer better. You lean the handlebars to turn. It's a cool kids' scooter that will have your big kid coming back for more.
Smizze Deluxe Kick Scooters
The Smizze Deluxe Kick Scooter is another popular one. It's one of the top kid's scooters. So, what does it have that other toddler scooters don't? For one thing, the Smizze Deluxe has a unique tilt mechanism that prevents crashing thanks to its metal plate. It's also an adjustable little scooter for kids. Besides that, it has a unique style that kids, toddlers, and other folks will love. Try it out.
Micro Mini Original Scooters
The Micro Mini Original is useful yet straightforward in its design. It delivers a smooth ride-on toy with a wide base and comes in unique colors. It's the right scooter for kids and toddlers. Some parents may be looking for scooters that have a little more, but children at heart will love its simplicity.
Micro Mini Deluxe Kid's Scooters
When you're looking for the top toddler and kids scooters, the Micro Mini Deluxe scooter can win some hearts. So what is the Micro Mini Deluxe Scooter? It is known for its smoothness that also has learned to steer technology once again. It boasts a micro kickboard mini deluxe that has this technology. This micro kickboard is also one of the smoothest rides on the market. It's highly, highly rated, making it a great choice and the top kids' scooter we've seen.
Radio Flyer My First Scooter
The Radio Flyer My 1st Scooter is not a scooter for kids but is a great one for a little kid. This Radio Flyer has a wide base and a simple design and looks that your little one will love. Give it a go and see what we mean. Chances are, your little kids will love this Radio Flyer.
Conclusion
If your child needs a scooter, be it a wheel glider kick, an electric one, or any other scooter, it can be a fun way to travel and teach them responsibility. Give them a go and see what we're saying.
There are many unique scooters that toddlers and older kids will love. If you want to introduce your child to vehicles, this is an excellent way to start. The scooters for toddlers will depend on your child's needs and whether or not you want one that grows with your child.
No matter which one you choose, you're going to have a lot of fun watching your toddler.
Frequently Asked Questions
Last Updated on April 12, 2023 by Eunice Barbosa
DISCLAIMER
(IMPORTANT)
: This information (including all text, images, audio, or other formats on FamilyHype.com) is not intended to be a substitute for informed professional advice, diagnosis, endorsement or treatment. You should not take any action or avoid taking action without consulting a qualified professional. Always seek the advice of your physician or other qualified health provider with any questions about medical conditions. Do not disregard professional medical advice or delay seeking advice or treatment because of something you have read here a FamilyHype.com.