All the scooters can give your child a smooth, safe, and stable ride. It can either be powered by kicking your feet or one that starts with kicking off but switches over once you have momentum.
While a bike is suitable for kids, a scooter can be the talk of the town. However, you may be confused when you're out to shop for one. You might wonder, "What is the ideal scooter for ten-year-old heavier kids?" This post will make the process of buying it a lot easier. So, make sure to read until the end!
To help you choose the right vehicle for your child, we made a list of the best kids scooters from Amazon, and we included a brief description of their features so you can have an idea of what they offer. If you continue reading, you will also learn about the other scooter types and features such as the best bike scooter, classic scooter, transitional scooter, lighter scooter, standing scooter, micro kickboard maxi deluxe, commonly asked questions about new scooters.
There are so many things to look for in a scooter that allows kids to gain confidence, and we're here to show you a few of them. Let's begin.
Razor A5 LUX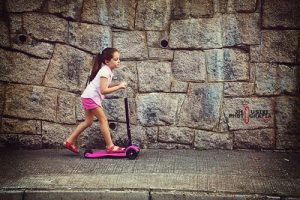 Razor A5 LUX Features:
The Razor A5 Lux comes with polyurethane wheels for a sturdy and worry-free and not so bumpier ride. It has a deck that can support smaller riders or ones up to 220 pounds.
The scooter is light and supports easy carrying. It can be used for commuting or for a fun outdoor adventure.
Since it has extra-large wheels it can still provide a smooth ride even on a rough terrain or rough surface.
BELEEV V5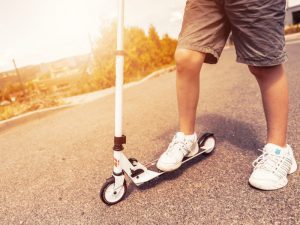 BELEEV V5 For 8 Years And Up Features
The V4 scooters are the top choice for new riders ages 8 and up, they can accommodate kids up to 220 lbs.
These have adjustable height handlebars that can be adjusted to 3 different heights based on the rider's comfort.
It is cost-efficient since your kid can grow with it. It also has safety features such as the Shock absorption mechanism and T-Bar Lock.
Jetson Jupiter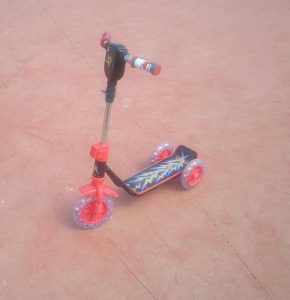 Jetson Jupiter Features:
The Jetson Jupiter kids scooter is flashy and fun to use. It is covered with 100 led lights on the stem and desk. It also has light-up led wheels which can be turned on or off by the rider.
The scooter has an easy folding version mechanism which makes it convenient to carry anywhere.
It also has an adjustable handlebar which allows easy adjustment according to your child's height.
Razor A Kids Kick Scooter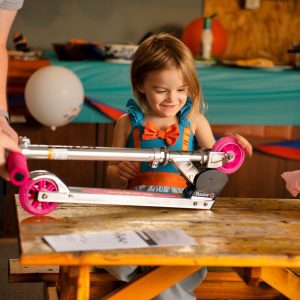 Razor A Features:
This razor scooter is recommended for 5 years and up and it comes with a 6-month warranty.
It is made of superior-quality aluminum construction hence it is a lightweight scooter but very durable.
The best kick scooter has height-adjustable handlebars, urethane wheels, and a rear fender brake.
Top Scooter Components
There are some that have one-wheel, two-wheeled, but also three-wheeled. When you're shopping for a kid's scooter, you may wonder what the differences are between front wheel suspension. Generally, a three-wheel scooter is one of the ideal scooters for kids who are younger. A big kid scooter will likely want a two-wheel scooter.
Just like a bike, the fewer wheels, the more advanced they are. Three-wheeled ones give your child more balancing skills, while two-wheeled options are good for advanced users. At ten, your child should graduate to a two-wheeled scooter rather quickly. Most kids scooters have wheels that can be removed. That allows for it to grow with your child.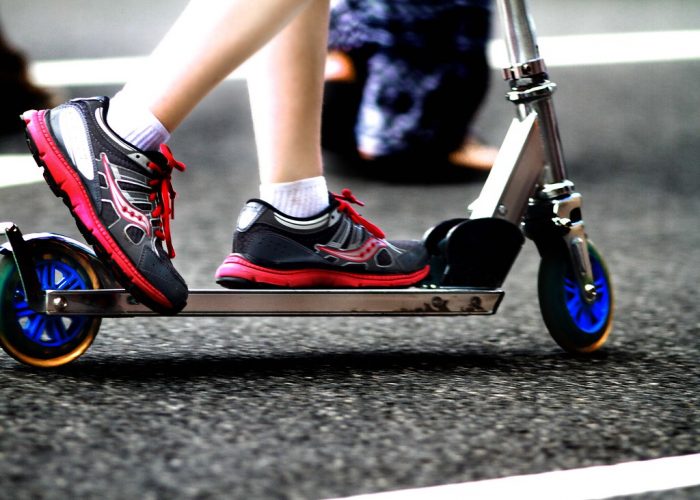 Electric Vs. Non-Electric: Which Is The Better Option?
First, there are the those that you kick to propel. Then, there are electric scooters that move thanks to the battery powering them. Either of these can be a good choice for 10-year-old kids. It's really more about the scooter features they're wanting.
An electric scooter is a lot more convenient, but many 10-year-olds will want a trick scooter they can kick so they can do some neat tricks with them. And share it with someone when visiting a friend's house. Stunt scooters typically aren't of the electric type. Teenagers who want to do some stunts and tricks will need one of the top trick scooters to take with them to the skate park. Plus, a non-electric one gets your child more exercise, which is always a plus.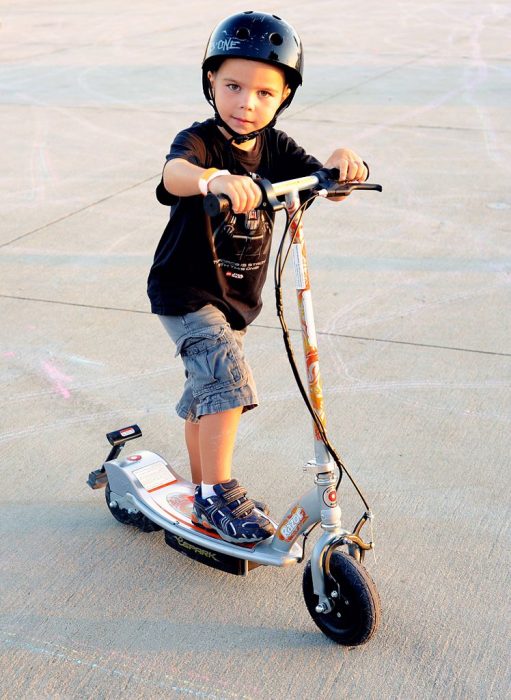 Deck
The deck of a scooter is what you will be standing on. You may notice that scooters have different decks of a variety of sizes. The wider the deck, the more beginner-friendly it is. Smaller decks take a little more balance but allow for better kicks. A pro scooter will have a more narrow deck, which is not good for younger riders or beginners.  Pro scooters are for those more experienced. It's important to get a deck that is ideal for your child's skill level. Finding the top option for your kid starts by looking at their specific ages.
Color
The color of the scooter is important as well. While some won't care what color the scooter is, others will want a bright color or a dark color that has a bit of edge to it. Many of these come in a variety of colors, and thanks to online shopping, it's easier to select from a palate and make a choice based on your color. Older children, especially, will probably want a specific color. If you aren't sure what color they would prefer, you may want to do a little investigating, or just straight up ask what they'd like.
Handlebars
The handlebars are something else you should consider when you're seeking a good scooter for your child. Most handlebars are shaped like a T, but they are adjustable, and buying one that does act easily is a good move. Good handlebars adjust easier so your child can still use them as they grow.
Your bet is to allow your child to try out a scooter's handlebar and see if it's right for them. Choosing a scooter that has adjustable wide handlebars is a really good choice because your child will be able to transition surfaces and use it for much longer. These often get outgrown quickly, otherwise, so why not make them last as long as possible?
Brakes
Brakes are the most important factor to consider. Your child's safety is your number one priority, and if they end up flying towards an obstacle, you want a scooter with brakes that are easy to use and will allow the scooter to stop within a reasonable time frame.
One braking system to consider is one with hand brakes on the front. It's just like a bike and is a good system for when your child needs to stop immediately. Another is the rear braking system, which is especially good for younger children.
With that said, not all scooters have brakes; that's right. Some scooters don't have any at all, so make sure the scooter you're buying does. The ideal scooters for kids, whether it's the two-wheeled scooter or three you're looking for, will have good brakes.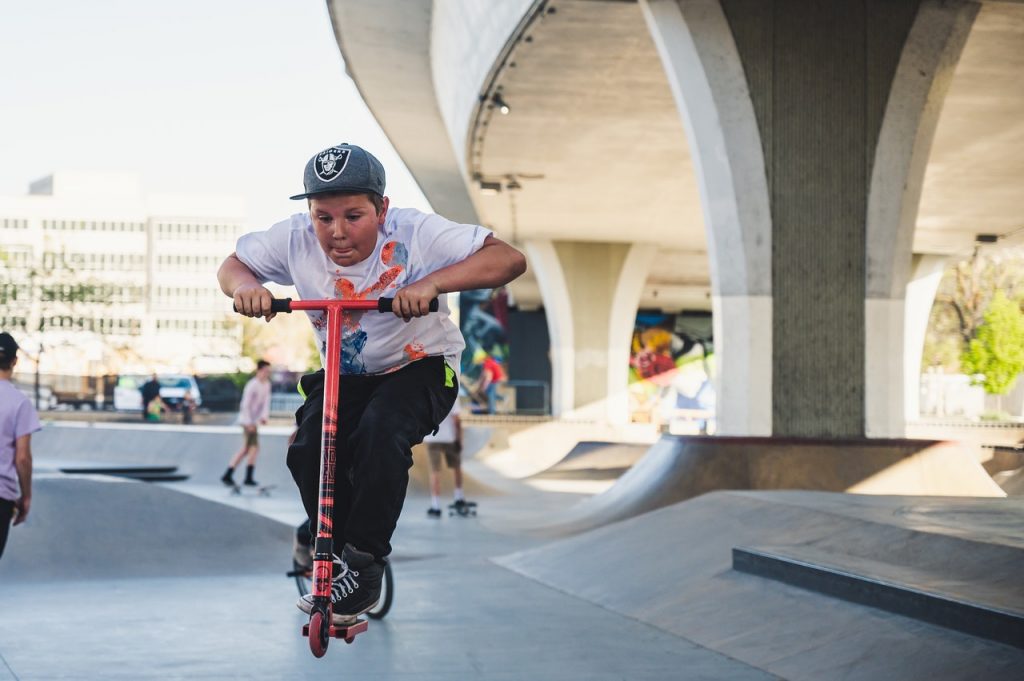 Weight Limit
Knowing the weight limit of the scooter is important as well. If your child is too big for the scooter, it's not going to work properly. The scooter's weight capacity is something that often gets overlooked by well-intentioned parents. Their list of things to look at will have items like checking for brakes, checking for two-wheel or three-wheel design scooters, and checking prices, but those aren't the only things that should be used to determine what the best scooters are. Many scooters will have a weight range limit and tell you approximately the age range it's good for, so make sure you're purchasing a scooter that your child can fit on.
Price
Finally, you need to consider the cost. Scooters aren't that expensive; there are lower ends that cost under $50, and even the higher-priced ones are only a couple hundred. The lower-cost products won't be as smooth or last as long. Perhaps buying one that is mid-range is good when you're on a budget. The cheapest isn't going to be a great option but it is okay if that's how you'll be able to give your child what he or she wants. You don't have to buy them a high-end scooter for them to just be able to have a little fun, cheap electric scooters can be enough especially for beginners. The basic features are all the same, like how you have to lean to steer, and the general shape of the handlebars.
You just need to be aware that with additional features, including adjustable handlebars, a wheelie bar, a rear fender, small wheels or big wheels, and a higher weight capacity, you'll likely be paying more.
Top Scooters For 10-Year-Old Children
With that said, let's look at a few scooters that are good for 10-year-olds.
Razor A5 Scooter
This one is good for almost all ages, so it can be considered one of the top choices for children. However, it's most recommended for kids ages 8 years old or older. It is a stable ride and holds up to 220 pounds, and even adults can ride one with ease. It lasts a long time, and it has a rear brake to make the process a whole lot easier. In addition, it has a great adjustable handlebar height and is made from some tough materials. It's not a high-end product, either, yet it boasts quite a few features.
Older kids usually like the Razor Scooters A5. It comes in three different colors, can be bought for under $100, and gives a pretty smoother ride quality compared to other kick scooters.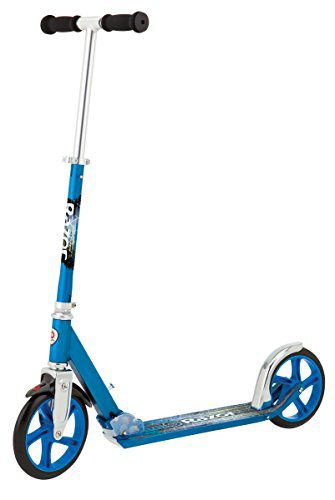 Razor E300S Scooters
It is an electric scooter, and it lasts for around 40 minutes on a single charge. It's a scooter that has a high weight limit and goes up to 15 mph. So while it's not dangerously fast, it's fast enough to get you around town. It's also a scooter that doesn't cost that much, considering what you're getting, either.
The Razor E300S scooter has a seat, large wheels that can roll over just about anything, and a weight capacity of 220 lbs. It's not going to be the ideal option for very young kids, but older kids should do just fine with it. There are multiple colors to choose from and the look of the scooter will likely serve as a good conversation starter for your child.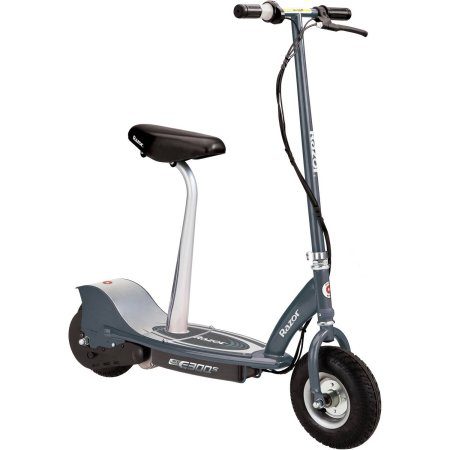 Micro Sprite Scooters
This an ideal kid's scooter because of its easy storage feature, lightweight, and two wheels, making it very responsive when you lean to steer. It's rated for the ages of 8 up to adults. It's constructed of highly durable materials and gives users a smooth and quiet ride.
One thing to note about the Micro Sprite is it's not meant to be used like stunt scooters. The Micro Sprite is to be used purely as a commuter scooter. These micro scooters don't have the same features as stunt scooters so it's not one of the top scooters for performing tricks.
Something that makes the Micro Sprite one of the top scooters for kids that are 10 years old is it comes in five different color choices. That means you should be able to find the perfect color for your little one.
Shopping For Best Kid's Scooter
But don't take our word for it. Look around on your own, too. Go to a store that carries scooters and see if your child can try a few of them. Everyone has their preference, and their favorite scooter may be one that isn't shown online or different from what you may have been thinking.
Going in-store allows your child to try a kick scooter, a pro scooter, a stunt scooter, a micro maxi deluxe, a micro mini deluxe, a micro sprite, or even a specific scooter brand, like MADD GEAR, to decide what the greatest scooters are. Alternatively, you can purchase one online and see if it's right for you. Many have good plans that make a scooter easier to return should you not be satisfied.
A scooter is excellent for a child, so try one out today and find a good scooter for your favorite girl or boy.
Best Scooter For Kids
Frequently Asked Questions
What Is The Best Scooter For Children That Are 10?
According to reviews, Razor Power Core E90 Electric and HOVERSTAR Electric Scooter are the best electric scooters for 10-year-old kids. However, you have a variety of other options, and the decision will still be up to you and your child. The top choice is going to be the one that allows your child to do with it what they want.
When Can A Kid Use A Scooter?
While kids learn motor skills at a certain age range, there will still be differences between each child. Kids who can walk with a steady gait, typically around the age of 2 or 3 years old, can ride a kick scooter. You may check for age-appropriate scooters that are slow-moving, have a wide standing platform, and have three wheels. They need to be capable of starting to learn how to lean to steer. The lean-to-steer functionality is one that will help kids when they're learning to ride a bike without training wheels, as well.
Always supervise your kid while they are on a scooter. Even the top kids' scooters aren't able to keep your child safe from falls and spills. You should always be with small children when they are using a kick scooter and make sure they're always wearing the proper safety gear, like knee and elbow pads and helmets.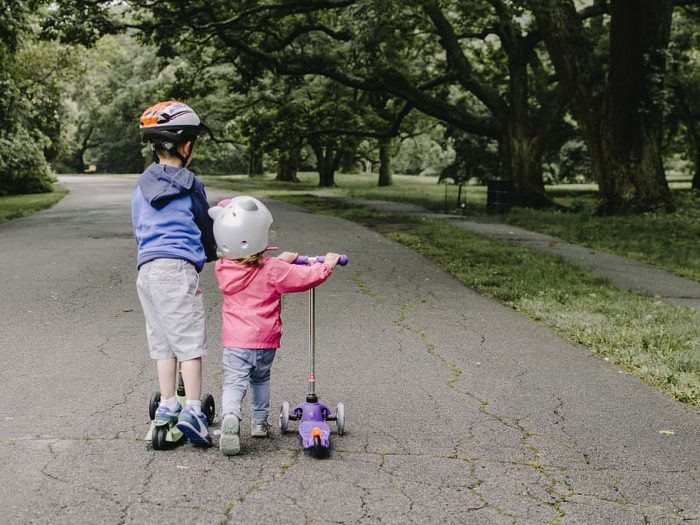 What's The Best Scooter For 6-Year-Old?
The top choices for 6-year-olds are the Razor A2 Kick Scooter and the Razor A3 Kick Scooter. The Micro Kickboard Mini Deluxe Scooter is also another popular option. When you choose kids' scooters for your kids, get the ones that are meant for their specific ages. You don't want to get a pro scooter to give to a 6-year-old child. The Razor A3 does have great classic features such as a lightweight frame made of aluminum and rear fender brakes for easy stops. The ideal scooter will match their capabilities.
What About Scooter Safety For Children?
You have to consider several factors to ensure your child's safety. Your young child needs to be at the appropriate child's age for riding a scooter, which is usually at least 2 or 3 years old. Second, consider the kind that you will buy; specifically, is it two-wheeled or three-wheeled? Then, you also need to decide on its features: the size, the wheels, deck size, foldability, color, rear fender style, durable aluminum material, lean-to-steer functionality, foot brake, and handlebar with grips. Also, look at the brand you want to get. There are many brands that have kid scooter testers and reviews you can check. Some of the popular brands include Razor, MADD GEAR, and Micro Sprite. Lastly, your child has to be comfortable while using it.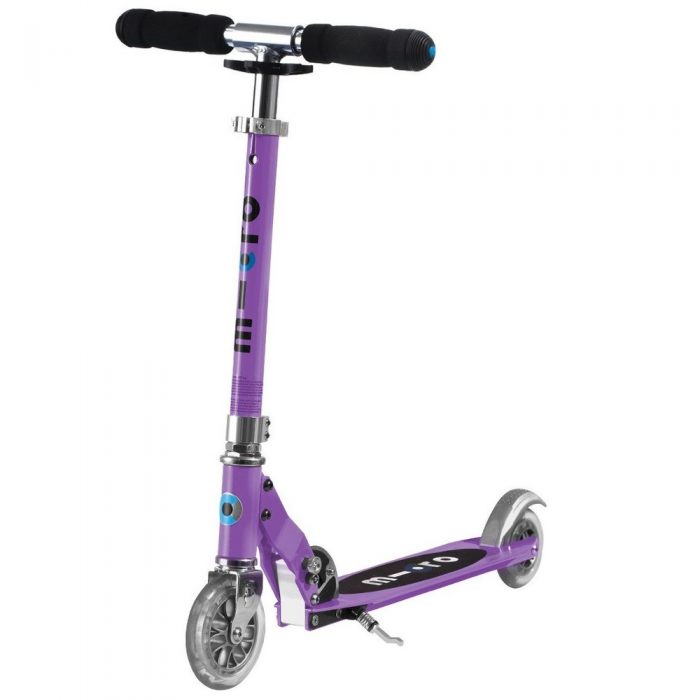 Are Electric Scooters Safe For Kids?
Electric scooters for kids are used for recreational purposes. When buying one for your child, it's crucial to consider its features as well as the possible risks that come with riding one. Razor's electric scooters are recommended for kids at least 8 years old. However, the use of scooters on public roads and bumpy sidewalks or during a commute is not for those under 16 years old.
Electric scooters don't make good stunt scooters, so if your child intends to use theirs this way, make sure you look into the top kick scooters or, maybe even a pro one. Kick scooters that are of higher quality will be better for doing tricks without falling apart.
Can My Child Ride A Scooter To School?
The recommended age for kids who wish to use electric scooters for recreational purposes is 8 years old. You need to be at least 16 years of age to use them on public roads. An electric scooter can be the ideal scooter for kids who want to use it to get to school, as long as their route is paved with sidewalks or bike lanes on neighborhood roads.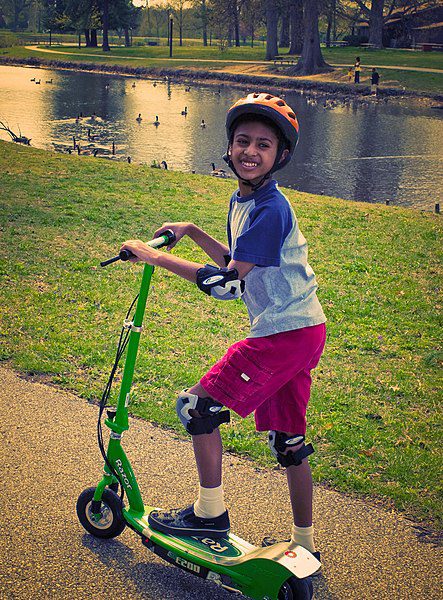 Are Bigger Wheels Better?
The answer will depend on your child's size. Little kids will have difficulty navigating scooters with large wheels. The large wheels will require your kid to exert more effort to steer, push, and use the brakes. Big kids who have more weight to help them learn to steer will find it much easier to maneuver scooters with large wheels. They are also more comfortable to use and are more stable on rough surfaces. That said, your supervision is still necessary so the child can ride comfortably and safely.
Can A 6-Year-Old Kid Ride A Scooter?
Electric scooters come in various designs, sizes, and features, and there are models made precisely for kids. Razor, a popular American manufacturer, and designer of personal transporters, recommends that their electric scooters be used by kids ages eight and up. However, some suggest that 6-year-olds can also use electric scooters that fit their size, have safety gear, and at the lowest possible speed setting.
Generally, the ideal scooters for kids at this age are kick scooters, like the cousin of the Micro Sprite, the Micro Mini. It has three wheels and a wider kick deck. It's one of the best scooters for younger kids.
What Is The Best Scooter For Kids?
Micro Mobility Systems (sold under the brand Micro Kickboard scooters in the US) is a leading Swiss company that invents mobility solutions. Their scooter products are known for their quality and innovation. Razor, a scooter initially developed by Micro and now manufactured by RazorUSA, is also another famous and high-rated brand of scooters.
Those who are looking for stunt Razor scooters or a pro scooter should take a look at MADD GEAR. You can find a good scooter for kids of young ages, and one to fit the needs of riders all the way up to adults. They're known for having some of the top stunt scooters on the market. Another brand to look out for that multiple kids enjoy using is the Globber Scooters.
Best Electric Kids Scooter For Speed?
To date, NanRobot's LS7 is the greatest electric scooter for speed available. Its top speed is 52 mph, thanks to the twin 1800W motors in its front and rear wheel. This scooter is not for kids' use.
Which Scooter Is Good For A 3-year-old?
There are many companies that release high-quality options for you to buy. Some of these include the Micro Mini 3-in-1 Delux, GOMO 3 Wheel, LaScoota 2-in-1, and the Chillafish Scottie. Of course, there are numerous other choices you can also buy which will fit whatever preferences you might have.
How To Choose A Scooter For Kids?
There are many factors to consider in choosing the perfect one. Some questions to ask are the type of scooter, height adjustability, height adjustability, and more. Most kids scooters stay upright and don't have a folding mechanism. There are also a lot of choices for little kids which have rear wheels for easier use, you just have to make sure that they wear helmets for their safety. If you plan for your kid to use the same scooter as they grow up, you should choose one that is long-lasting.
What Is The Safest Scooter?
For kids, one of the safest options would be the Micro Kickboard Maxi Deluxe. This can be used in a wide age range. It is very stable so that little children who use it can feel confident as they play with it. These sharpen motor skills and help children use their legs and arms independently. As long as you meet the safety requirements needed for riding and supervising your child as they use the toy, then it's okay to use this.
Which Is The Lightest Scooter?
The lightest would be the Madd Gear Carve Rize 100 Alloy. This has a folding feature with an adjustable handlebar, with light-up wheels, and is the most compact option for children!
What Age Is A 3-in-1 Scooter For?
3-in-1 types are ideal for little children who are younger, for example, toddlers aged 2 to 3. These are safe for young ones because they are balanced and not exposed to the dangers of falling. This is the best toddler scooter who are going to be experiencing using one for the first time. It lets them have a fun and smooth sailing ride.
Kids Scooters
Videos
Posts
Check Out The Top Scooter For 10 Year Olds My Pro Scooter On Facebook.
Images
Find out more information on kids' scooters for 10 year olds on My Pro Scooter Instagram.
Read scooter for 10 Year Olds update on LittleOneMag Instagram.
Best Resources: Best Scooter For Kids
Visit My Pro Scooter On Twitter For Updates On Scooter For10 Year Olds.
Get more buying guides, tips, and more details about the scooter for 10 year old kids on Razor World LinkedIn.
Last Updated on May 13, 2023 by Lisette Lao
DISCLAIMER
(IMPORTANT)
: This information (including all text, images, audio, or other formats on FamilyHype.com) is not intended to be a substitute for informed professional advice, diagnosis, endorsement or treatment. You should not take any action or avoid taking action without consulting a qualified professional. Always seek the advice of your physician or other qualified health provider with any questions about medical conditions. Do not disregard professional medical advice or delay seeking advice or treatment because of something you have read here a FamilyHype.com.