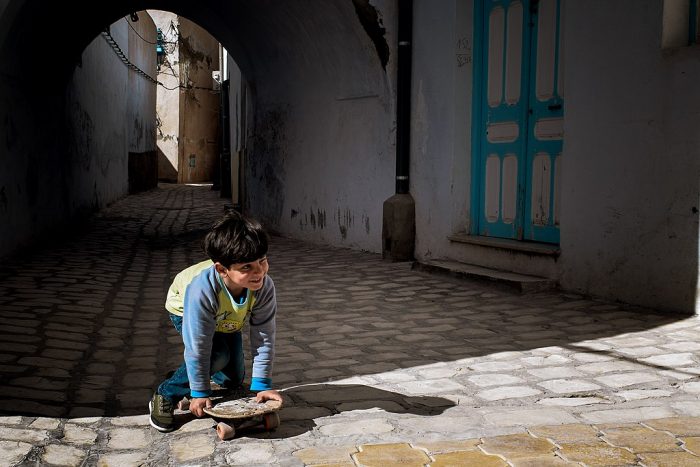 Many children want to start doing more activities independently outside as they start elementary school. From learning to ride a bike if they don't already know how to move up to a big-kid scooter, most children around 5-7 years old love toys that help them move.
Once they've mastered other kinds of activities, some adventurous 6-year-olds are interested in skateboarding. For younger kids, it's very important to pick out the best skateboards for kids in order to ensure both their safety and their ability to use the skateboard.
Now, you're probably asking yourself, "What factors should I keep in mind when looking at the best skateboards for kids?"
There are many different elements that define skateboards but there are two that are the most important when trying to decide which are the best skateboards for kids. They are:
Size
An ideal skateboard size for a young child is 7 to 8 inches in width and 27 to 30 inches in length. Skateboards of this size are great choices because they are quite small but not so small that your child won't learn about skateboarding.
You can also consider a slightly smaller board at 22 inches in length, sometimes known as a penny board, which is a small kind of cruiser skateboard. These are also some of the best skateboards for kids because they are so easy to transport.
Another great option is a mini-cruiser. A mini cruiser is a smaller one for children that offers a beginner experience. With a mini-cruiser, you'll be able to show kids how to handle a skateboard, and it's small enough that it will help them learn. A cruiser board is good for simply traveling around free streets and smooth surfaces. This mini skateboard is good for most kids, it is considered the best skateboard for beginners who are experiencing a new skateboard.
Usually, a mini-cruiser is easier to control than a regular skateboard for kids, and there are a lot of high-quality options. It can be pre-assembled too, so you don't have to worry about putting it together like other skating decks, but instead, you can start right away. A mini-cruiser is oftentimes fit for smaller children, and it is the best beginner option for a lot of children since a mini-cruiser, lets them start skateboarding. 
If your child becomes an avid skater and wants to skate everywhere, then a penny board will be the best choice for them because it is so easy to take anywhere – especially the skate park.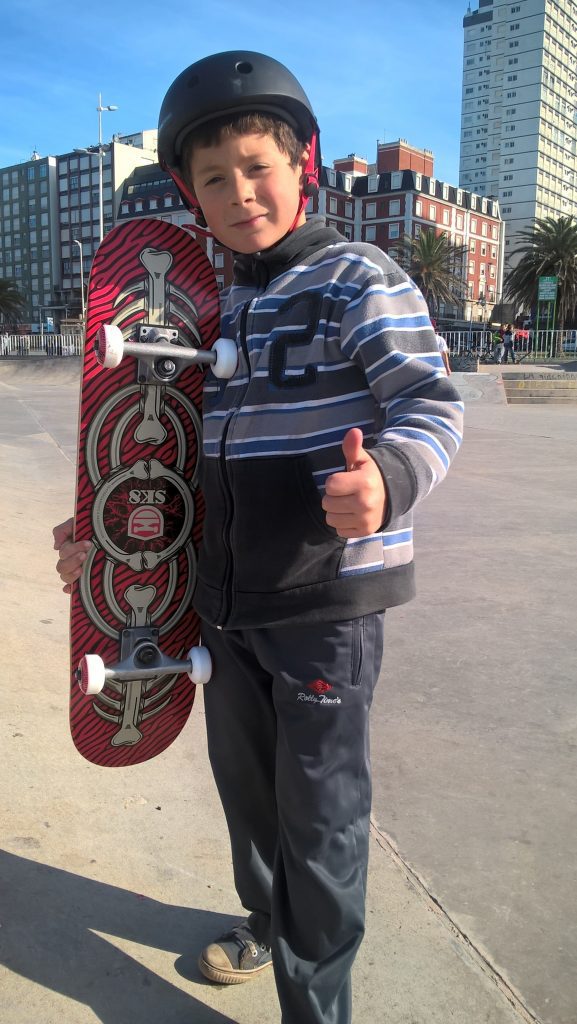 Material
Most skateboards, regardless of the type, are made out of wood. Smaller boards made for kids are also sometimes made out of plastic. Either of these materials can be very rigid or softer.
Plastic boards may be ideal for kids because they are easy to care for and less prone to breaking.
When it comes to material, the ideal beginner skateboard is plastic, but if you want something that is high quality and won't break down, maple wood skateboards are good for you too. You should consider maple wood, especially Canadian maple when you're looking for a skateboard deck. 
The maple wood skateboards are a step up from traditional options. With maple wood, you're getting a skateboard that is high quality.  It will wear down less, and maple wood is very strong. Maple wood is known for its durability, and Canadian maple is probably your best option. However, Canadian maple is a bit more expensive but it does make for a durable deck.  
Maple wood also doesn't have issues with abrasion either. That means maple wood is less subjected to breaks and tears, and if you're looking for ones that will give them a high quality, almost pro experience, you might want to consider a deck made out of maple wood.  Maple wood also can have great finishes on them, and it might come with grip tape that's already included in this. Canadian maple is much more expensive, but with a maple deck made of this, you'll get a high-quality experience, and of course, less possibility of the board flying off somewhere. 
It can be hard to find these for an affordable price though.  Canadian maple is usually a bit more expensive, and if you want to start skateboarding but don't have a lot of money, a maple deck might not be the right option. But, you can check with your local skate shop for a maple deck at an affordable price and see what they have to offer.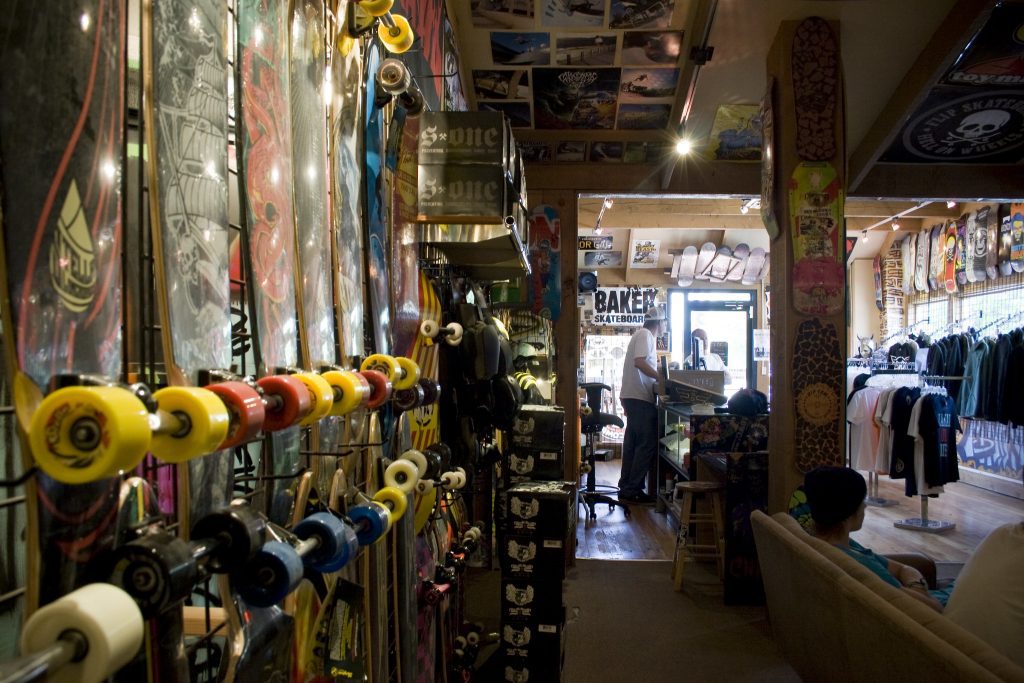 Should I Get My Child A Kit Or A Pre-Assembled One 
Some parents might try to get a maple deck for their children as their first skateboard. A maple deck is highly recommended when the child knows how to skate already since usually a maple deck is not assembled before use. 
Maple deck skateboards are durable and high quality, so if you know that your child will be using this a lot, a maple deck skateboard might be the better option. 
But, if you don't want to buy aluminum trucks, grip tape, or even different wheels, you might want to forgo the maple deck and get something already made. But, for a lighter, more durable experience, the maple deck that isn't pre-assembled but instead put together might be a good thing. Sometimes buying a completely assembled, complete skateboard is a good idea too.
Wheels, Bearings, And Trucks 
Getting the right wheels offers a high-speed experience, and the right trucks and speed bearings are important too.  Some parents like to choose speed bearings that will help control the skateboard for kids, while others like polyurethane wheels (pu wheels) because they are good for speed and control. Softer wheels are good for mini skateboards as well as full-sized ones, especially if it's for younger children who are just beginning.
The wheel bearings are important as well, and while speed is important, getting the right wheel bearings is an integral part of the board.  Parents who choose to get one for their kids should know about this. Skateboard wheels are important for their safety.
So what are the wheel's bearings?  Well, they're the part that holds the wheels together, and you need wheel bearings to control the speed and stability of the skateboard.  With customizable skateboards, you can choose different wheel bearings. 
Usually, the best type of wheel bearings for the job is the Abec 7 bearings.  Why are these wheel bearings used? It's because the Abec 7 bearings offer better tolerance and precision that comes with it.  With Abec 7 bearings, you're getting a much tighter tolerance, and for parents looking to get one that's easier to control, the Abec 7 bearings might be the best wheels bearings option to look into. 
The wheels bearings hold your wheels, and with the Abec 7 bearings, you're getting less resistance when you go fast.  Children who know a bit about skateboarding might want to consider the Abec 7 bearings because these wheel bearings will offer more movement based on the push. So if they like to go down long, straight pathways, the Abec 7 bearings might be good for a lot of children, and you should consider the wheels bearings that do the job. 
Most of the time, these wheel bearings have steel races and wheels bearings made of ceramic and titanium, to offer a high-quality experience for a child who wants to skateboard. 
Let's talk about the trucks.  You want aluminum trucks for your skateboard and even a skateboard for kids that is high quality and uses aluminum trucks over other types. 
Aluminum trucks are super common in skateboards, and aluminum trucks are usually what they're made out of. That's because, aluminum is incredibly common, and you can get aluminum trucks that are both cheaper and high quality. Aluminum trucks are very strong, so if you want a skateboard for kids that will last, you get this. 
Aluminum trucks do come in different grades, and some of them are forged too.  Aluminum trucks that are forged tend to be more precise, and the components and finish tend to be of higher quality. 
Aluminum trucks are built to last, and if they're forged aluminum trucks, they will do the job and then some over time.  There have been different kids tried and tested, but aluminum trucks are the way to go if you're looking for options. 
So if you're getting the trucks, get aluminum trucks, and make sure everything is tightened and connected perfectly before skateboarding too. 
Don't Forget Grip Tape 
Grip tape is of course the tape that is on top of the board in order to help you plant your feet on it.  You need grip tape to maneuver better, and without grip tape, it's a bit hard. 
Some boards already come with grip tape, but for complete kits, you'll need to add the grip tape yourself.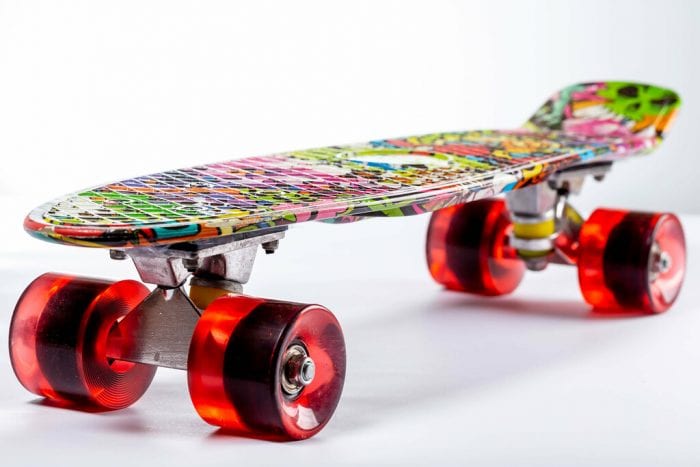 Best Skateboards For 6-Year-Olds
Here's our round-up of the best skateboards for kids.
Enjoi Repeater Multi FP 7.625 Skateboard Complete: This is the best skateboard on the list that are serious about learning to skateboard and continuing to do so in the future. Its size and quality make it so, but those features also make it one of the more expensive choices on the list.
Flybar 22-Inch Plastic Mini Cruiser Skateboard: This penny-board-sized choice is the ideal choice for younger children. Between the bright colors, smaller size, and plastic material, it's fun and easy to take care of.
Playwheels 28" Spider-Man Complete Skateboard: If your child is a lover of characters and looking for a larger board, this is the ideal skateboard for them. It's also on the lower end of the price spectrum, so it can also be a great choice for those who aren't sure how interested they are in skateboarding but would like to give it a try.
Skatro mini cruiser skateboard: the Skatro mini cruiser comes with 22-inch wheels and is the top choice if you want a high-quality experience. It comes with soft wheels which will help with grip, and is the skateboard ideal for a lot of children who are learning.  It offers a simple, smooth ride that at the end of the day, can't compare. 
Rimable Complete 22-inch skateboard: This is another pre-assembled board with a deck size that's perfect for children to learn how to ride.  It is a high-quality deck but it is a heavy-duty skateboard, so it might not have the smooth ride you're used to. However, the Rimable Complete does offer a high-quality skateboard for kids, and with the grip tape included on it, it certainly offers a fun experience. 
Best Skateboard For 6 Year Old
Frequently Asked Questions
Are Skateboards Safe For 6 year olds?
With proper supervision and protective equipment, skateboards can be safe for 6-year-olds. Parental supervision, as well as helmets, knee pads, wrist guards, and elbow pads, can make for a safe and fun skating experience for children as young as 6 years old. This extra protection can help your child minimize the bruises they get from falling into rough surfaces in skate parks. 
If you are going to let your 6-year-old ride, you should get a skateboard for kids that are made for them, along with aluminum trucks. While you might be hesitant about a high-speed skateboard for kids, once they start getting used to riding and learning how to control a board, you can get them a skateboard for kids that's a better fit.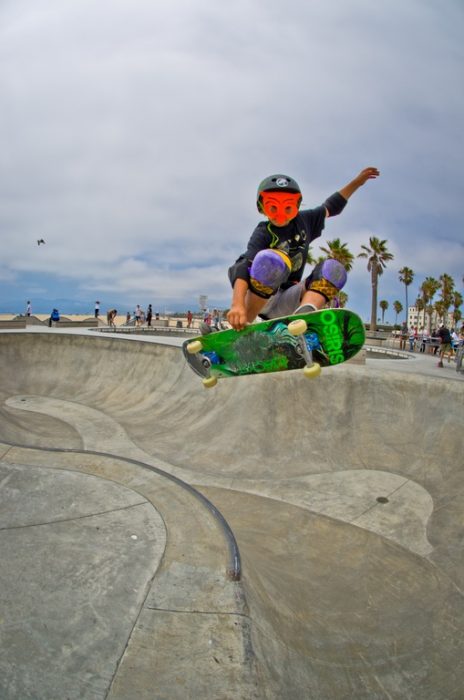 How Do I Choose A Skateboard?
Choosing the perfect board for your child means picking out the right skateboards for kids because those made with children in mind tend to be easier to take care of and the right size for little learners. Their first board is memorable so make sure that it is a good quality board where they can learn beginner technical tricks in the local skatepark near your house. Kids skateboards produced by Santa Cruz Skateboards (Santa Cruz Complete) or the Skatexs Complete Skateboard are good choices.
Is 7.75 A Good Size?
7.75 inches in width and 27 inches to 30 inches in length is the size of the ideal children's skateboard.
What Size Skateboard Should I Get My 6 yo?
A skateboard between 7 and 8 inches in width and 27 and 30 inches in length would be a good-sized starting skateboard that a 6-year-old could grow into. A 27-inch board is sometimes known as a nickel board.
You can also consider a "penny" board, which is a smaller cruiser skateboard. These kinds of boards tend to be around 22 inches in length.  These boards are sometimes the top choices for 6-year-old children because of their manageable size.
Should I Let My Child Skateboard?
Deciding whether or not to allow your child to skateboard is a personal decision that each parent will have to make. That said, we recommend sitting down with your child to find out why they want to skateboard and taking out a set of reasonable rules that your child agrees to follow.
This way, you as a parent can help to dictate how and when your child skateboards, but your child will feel heard and understood, thus making it more likely that they will follow the rules you lay out for them.
It is also a good idea to research the ideal kid's skateboards beforehand as well as the appropriate protective gear for your child, that way you can ensure that they are set up for a safe riding experience.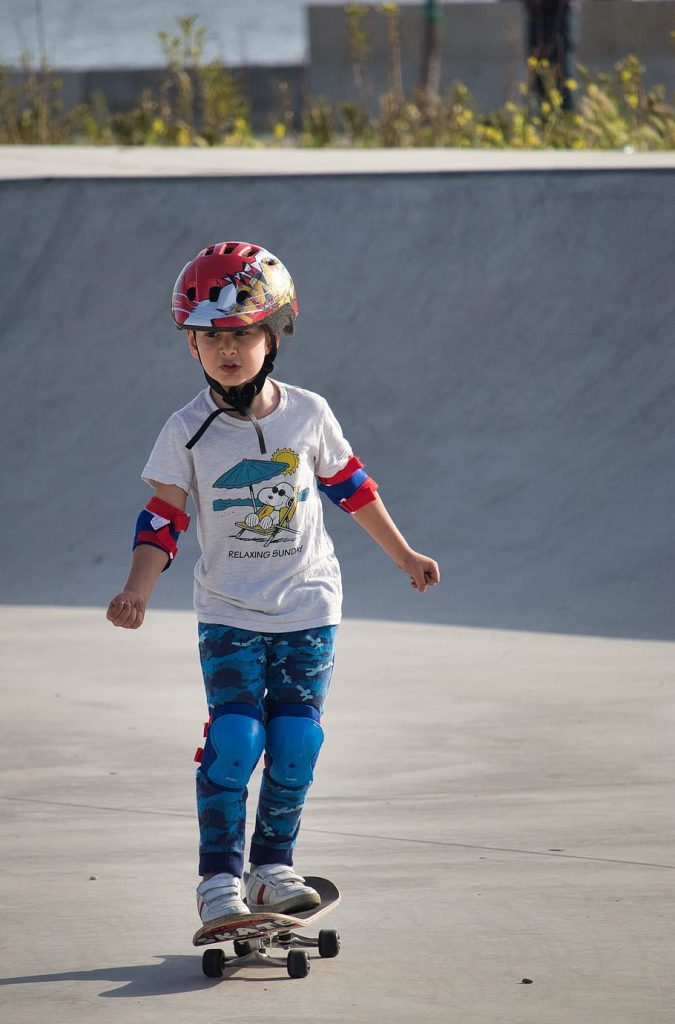 How Do You Make Skateboards Safer?
Although skateboarding can be a dangerous activity, there are many steps parents can take to make it as safe as possible for their children.
First, it is very important that parents sit down with their children and lay out some ground rules around a child's skateboarding habits. Will your child be allowed to skateboard unsupervised or must a parent be present? Can they skateboard in the street or do they need to stay on the sidewalk?
Having a set of reasonable rules that your child understands and trusts is a great way to lay the foundation for a safer skating experience. Getting them one that fits their body also helps.  If you don't get them a skateboard for kids, but instead something that's for larger bodies, it does put them at risk of getting hurt, so make sure you get a skateboard that is right for their body size.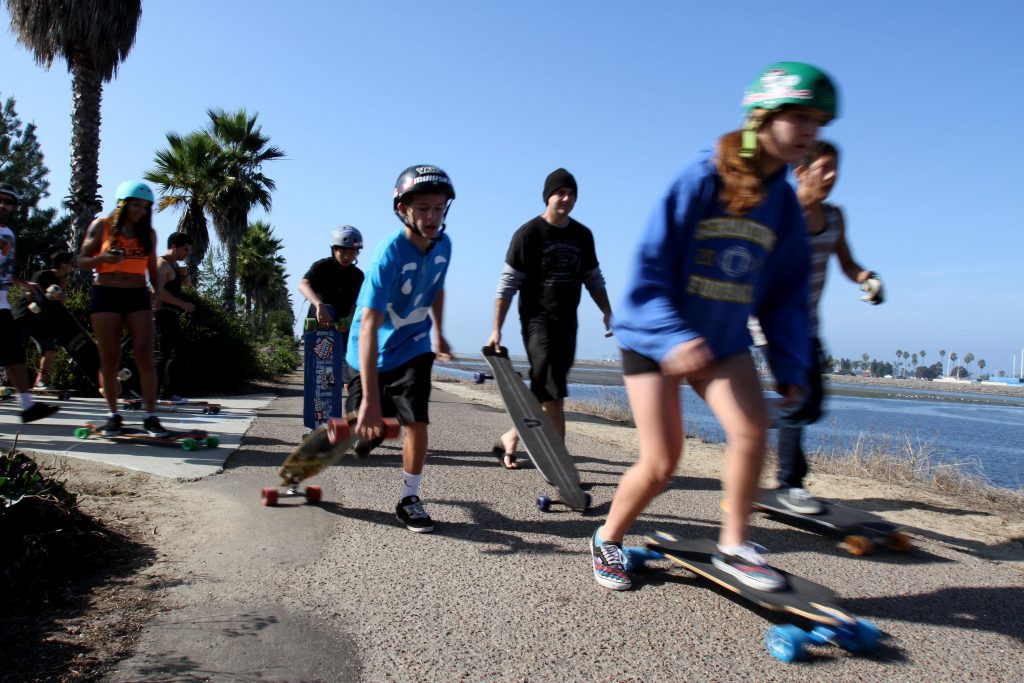 Parents should also invest in proper protective equipment for their little skaters. This doesn't just include a helmet, but also elbow and knee pads to help keep them safe during the little spills that are bound to happen skateboarding.
It is also a good idea to encourage young skaters to stay away from ramps or areas with many other people doing similar activities. Additionally, you should ensure that you have chosen a good kid's skateboard to ensure they are using the right size skateboard.
As we've mentioned in this article, different companies like Santa Cruz and Skatexs have many options. Children starting to take an interest need the perfect first board to jumpstart their experience. Remember the many points we've said in the article, such as considering the right wheels, trucks, materials, sizes, and preferences.
Yes, there are many children of this age that have been known to successfully maneuver a penny board. Basically, it depends upon the child's skill. It will always help them to have parental supervision as they discover and practice, though! To ensure that they are always safe.
Taking your child to the local skatepark is a good start – but go there when there aren't many people. There they will be exposed to the different skate tools that are available. Early in the morning is a good time. If there aren't any local options, you can choose safe and quiet spaces like an empty parking lot. Letting them practice and understand how to properly push, turn, slow down, and stop, is the ideal first step.
As mentioned earlier, boards between 7 and 7.75 inches are the top choices for children who want to learn tricks. The standard size is 8 inches wide, which is the top choice for teenagers.
A cheap board vs an expensive one offers a huge difference in terms of durability, speed, and response. The skate tool you choose can determine the difference between a forgiving ride and a ride that is rough and hard.
Last Updated on May 6, 2023 by Eunice Barbosa
DISCLAIMER
(IMPORTANT)
: This information (including all text, images, audio, or other formats on FamilyHype.com) is not intended to be a substitute for informed professional advice, diagnosis, endorsement or treatment. You should not take any action or avoid taking action without consulting a qualified professional. Always seek the advice of your physician or other qualified health provider with any questions about medical conditions. Do not disregard professional medical advice or delay seeking advice or treatment because of something you have read here a FamilyHype.com.