For an adult, beach trips always work. Sitting and soaking up some sun, taking a dip in the water; you don't need that much to have fun.
For energetic kids, however, they usually want more. They want some green toys to play with while they are on the beach, especially if you plan on staying there. Older kids are more specific with what they want to play compared to younger children but there are excellent bath toys for any child's age.
Luckily, there are plenty of beach toys that can keep your kid occupied for a long time, and none of them will break the bank. Let's look at a few of them.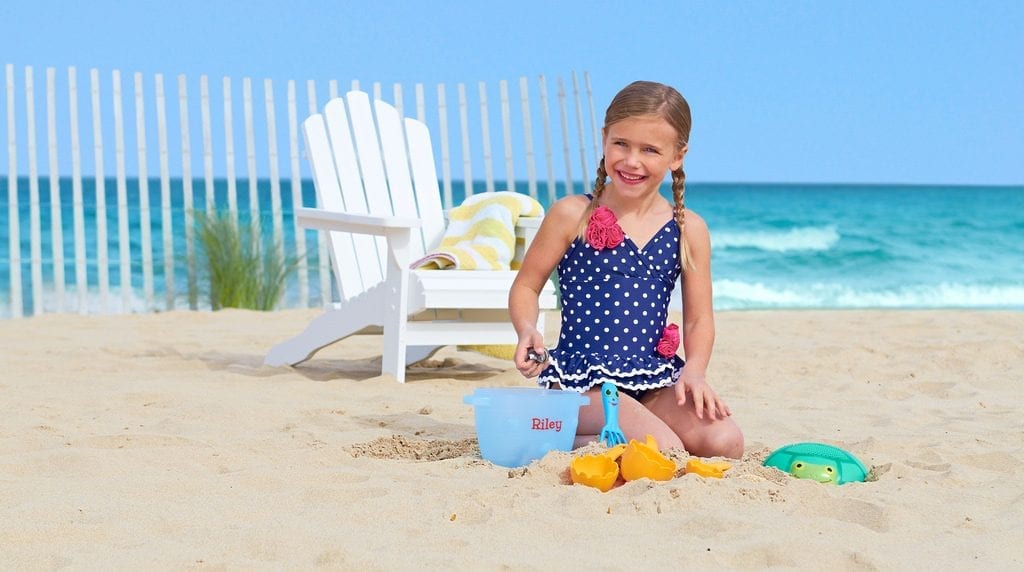 Hydro Waterproof Football
If you have multiple kids, or your kid brought a friend, a football designed for water play is a cheap, yet practical investment. This football is great for tossing while in water, and it floats back up if it hits the surface. A football can teach your children how to catch, and it can show them how they can maneuver while in water. It's honestly so fun that the parents may join in on the tossing.
Top Sand Toys With Chair Box Colorful Play Set
One staple of the beach is making sand castles from or at least using various tools to dig or sculpt messages in the sane. This set is a great starter pack to get kids busy just that. It has 12 lovely toys that your child will love to play with. They can mold something from the wet sand, rake it, shovel it, and even use shell-shaped measuring cups as sand scoops or transport water, and more. The carrying case even works as a chair. There is a lot for a child to do on the beach, thanks to this starter pack. The best of all is that it's under $20! A small price to pay for a whole lot of fun.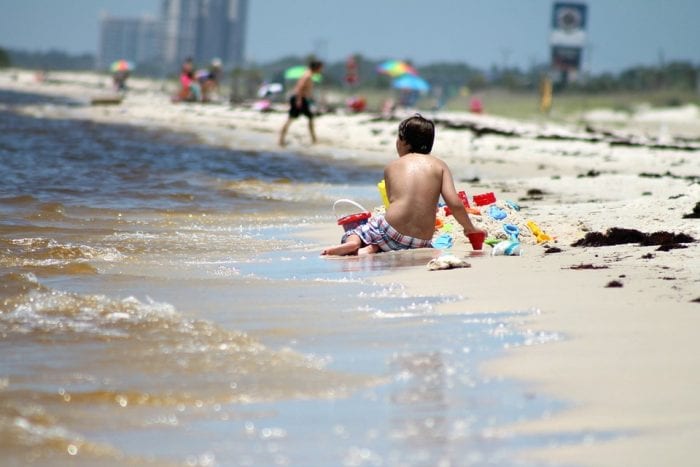 Quut Alto Sandcastle Stacker
The sandcastle. These things can be simple in design, or they can be complicated. Building sand castles is a great way to test a child's STEM skills. You can't go wrong with this particular stacker, which consists of three buckets your child can stack. They are simple yet good at what they do. They work well for wintertime too when your child can build a snow castle. They're simple buckets, yet oh-so-effective.
Happy Giddy Sand Chair
While you're thinking about the toys for your kid, you should also be thinking about what chair they'll be sitting in. It is a chair that is designed like a cute, colorful bug, and it's quite sturdy for your kid. Your child is going to love sitting in it and is going to love their companion. It's easy to clean and resistant to stains. Your child won't spill their pineapple mocktail everywhere as they relax and get some rays.
Djubi Classic Twist Catch Game
This game is pronounced Joo-bee. It's a unique ball game that involves nets. It's another game that is good for a child to develop catching skills, and it's great for the beach. Give it a try. Chances are, everyone will join in on the catching fun.
Octopus Kite
A kite is excellent for the amazing beach experience. When the weather is perfect, the sea breeze can send that kite flying high. This kite is designed like two octopus-shaped kites, and its tentacles go everywhere. It's very portable and easy for anyone to operate. Alternatively, buying any kite that's shaped like a marine animal is a good idea.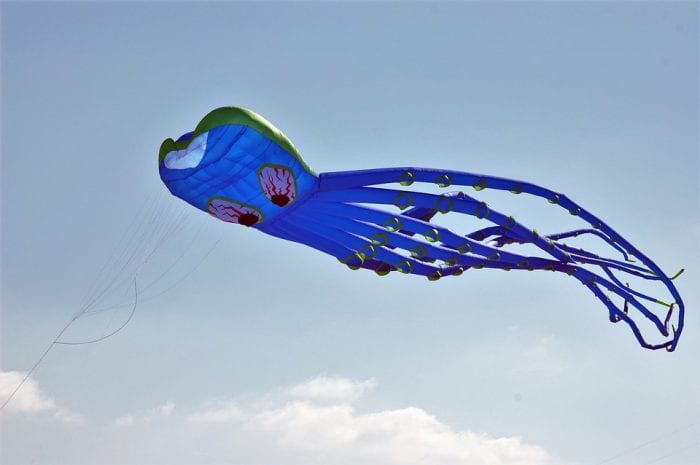 Catch And Release Aquarium Kit
If the beach has little finny friends, your child can try catching them with this kit. They can't take them home, so it's easy for you to release them once you're done playing. With a kit like this, it's suitable for older children. You don't want your younger one terrorizing the fishies, now do you? However, an older child who is fascinated with marine life is going to love this. He will probably use it for quite a while.
Crab Toss And Grab
Who doesn't love crabs? Well, until they snap at you. However, these crabs do no such thing. They have shells, and you can catch them and toss their shell. With a belly made of Velcro, it's an excellent catching game for the whole family. Any game that can improve the motor skills of your child is good for us.
Hape Grabber
It is wooden toys that resemble baking supplies. It's a pincer that lets your child reach for items. If your child is relaxing on the beach and needs to grab something, they can do so. It is great for water play as well. If your child finds something on the ground, they can quickly grab it. There are quite a few ways you can use a pincer, and we believe your kid will find their way. You can also add soft foam handles for extra hand comfort.
FoxPrint Sand Play Set
It is another excellent starter pack for a child who wants to learn more about sculpting and beach play using a crab mixing spoon. This set is shaped like animals, who have all come to play with your kid. With bright, a few fun colors, and overall user-friendliness, we believe your children will love them. Buy it and watch your child play for hours and hours. We guarantee they won't stop until you tell them to. And oh, these are dishwasher-safe and easy-to-transport sets.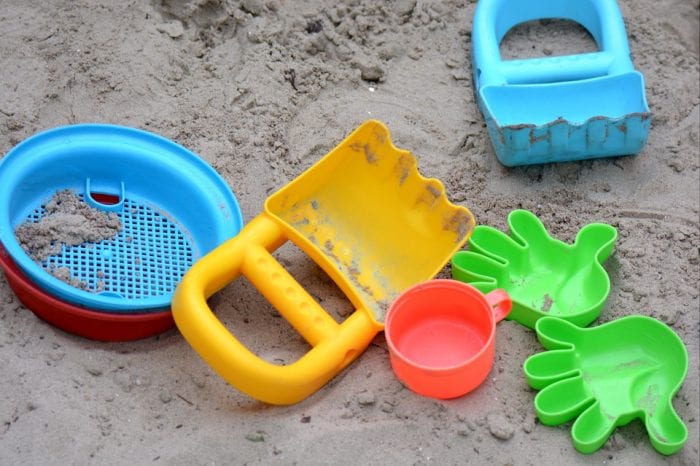 Conclusion
There are many ways to play on the beach. You can play in the sand, in the water, in the air, or even while you're sitting down. Your child is going to find many unique ways to keep them entertained as they spend a day on the beach. By giving them some toys, they will be mentally stimulated while you soak up some rays and unwind. The beach is meant for unwinding, so why worry about your child's boredom? Buy them a few toys and watch them have lots of fun with them. Chances are, you may join in on the fun too.
Just remember to supervise your child correctly, especially if they are younger. Swimming is something a child should be monitored on, even if there is a lifeguard. It can give everyone peace of mind and enjoy the beach more.
FAQs On Best Beach Toys
Can These Sand Toys Be Used For Other Activities Other Than Going To The Beach?
Yes, these sand toys can also be used apart from going to the beach. Since these toys include inflatables with corn holes and some plastic beach toys like turtle lids, they can also be used in pools, bathtubs, or free play for your kids.
Are These Games Suitable For Boys And Girls?
Yes, these toys are both enjoyed by boys and girls. These toys help in enhancing imaginative and social play, which can help them as they grow older and experience more activities in school.
Can I Put These Toys In The Dishwasher To Clean Them?
There are durable and heavy plastic toys that are safe to put in the dishwasher. But always remember to read the manual first that is enclosed with the toy. You have to make sure that it's safe to use in the dishwasher. Other types of durable plastic may be damaged if placed in the dishwasher.
Are Sand Toys Durable?
Yes, most of the more active beach toy products listed are durable and have high quality. They are made to withstand the heat of the sun and endure rough plays with the kids. Just make sure to bring them inside and not leave them out with the sun when not in use.
What Are The Toys To Play On The Sand?
Some toys that you can play with on the beach are inflatable turns tossing balls with corn holes, bath dolls, waterproof playing cards, or the American Summer Octopus Kite. They will also enjoy playing with Hape Sand Driller, Fin Fun Shark Fin, or the FoxPrint GT Beach Sand Play Set, Models, and Molds.
What Are The Fun Things To Take To The Sand?
There are lots of fun things that you can bring to the beach to help you enjoy your vacation. For adults, you can bring your favorite book or your waterproof camera to capture moments at sea or underwater. Kids can bring their active beach toy items and have fun playing in the sand. A paddle ball can also be a fun toy for older kids, a good break from the sand and water play.
What Should Kids Bring To The Shore?
Kids would love to bring their best beach toys to the beach. Of course, do not forget their sunscreen for skin protection and water bottles to keep you hydrated. Remember to bring just the right size of carrying bag, something that could hold the beach gear and all their toys at once for your next trip. A watering can and a mixing bowl are simple but versatile things to bring when going with kids, to the beach.
What Activities Can You Do At The Beach?
There are lots of fun activities that you can do at the beach. Aside from swimming, adults, and teens can play beach volleyball or frisbee. You can also have picture taking with families and friends.
What are the best toys to bring to the beach that you can buy for kids of all ages?
The best toys for kids would be the Activ Life Best Kid's, Flying Rings. These rings are safe even for small kids but may not be suitable when playing on windy days. There is also the Click N' Play 18 Piece Beach Sand Toy Set with a beach bag, which you can play to create sand molds using shovels, sand wheels, and a water can.
What Are The Games To Play On The Sand?
Kids will surely enjoy bringing toys to the beach. Some of these toys that kids will surely love are the Melissa & Doug Seaside Sidekicks Sandbaking Set, the TidalBall Set with mesh backpack, and the Spike Ball Rolling Game Set for the whole family. Melissa & Doug Seaside Sidekicks Sand-and-Water Sifting Funnel can do both sand or water funnel for outdoor play, perfect for older kids and younger kids for your next beach trip.
Are Silicone Beach Toys Good?
How Do You Organize Sand Toys?
What Is The Safest Way To Disinfect Kids' Toys?
Which Toys And Materials Are Suitable For Sand And Water Play?
How Do I Prepare My Baby For A Beach Day?
Other Resources
https://www.thespruce.com/best-beach-toys-4165759
https://www.momjunction.com/articles/best-beach-toys-for-kids_00565619/
https://momlovesbest.com/beach-toys-for-kids
Last Updated on April 12, 2023 by Eunice Barbosa
DISCLAIMER
(IMPORTANT)
: This information (including all text, images, audio, or other formats on FamilyHype.com) is not intended to be a substitute for informed professional advice, diagnosis, endorsement or treatment. You should not take any action or avoid taking action without consulting a qualified professional. Always seek the advice of your physician or other qualified health provider with any questions about medical conditions. Do not disregard professional medical advice or delay seeking advice or treatment because of something you have read here a FamilyHype.com.