When a child grows a little older, giving them their little vehicle to travel in is always a good little treat. Your child will feel more grown-up as they travel the neighborhood or to school on their bike, and you will love how they are getting out more.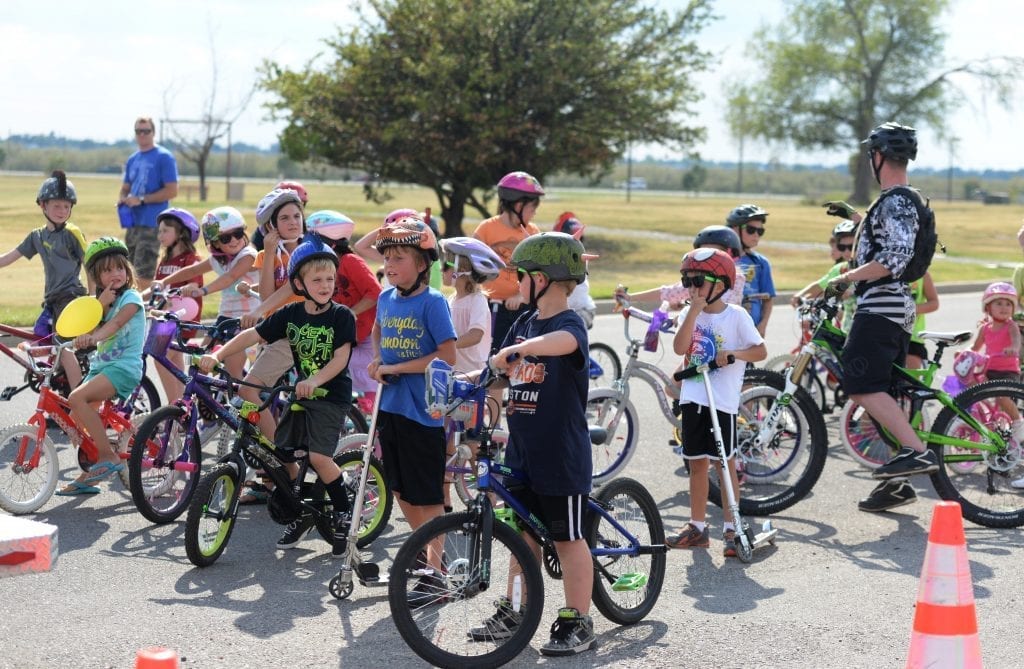 Why Scooter Is Popular To Adults And Children
One child's vehicle that has been growing in popularity for the past few years is the electric scooter. Popular with both younger and older kids and adults, the electric scooter is popular for many different reasons. A long time ago, kids' scooters were mostly exclusive to it being powered by their feet. Now, you can get one powered by electricity. In this post, we will dive into the world of the kids electric scooter so you can learn more about them, and we shall explain their ins and outs.
Kids Best Electric Scooters
An electric scooter is a motorized scooter that is powered by a battery. When it comes to a motorized scooter, they used to be powered by gas. However, around the year 2000, electricity became the more popular way to have a motorized scooter. They have three to four wheels, don't fold, and they can go around a max speed of 19 mph or 30 kph. You can also find an electric kick scooter that can go further if the child kicks forward.
Besides not needing gasoline, an electric scooter is popular because of how silent it is. You may not even notice a gang of kids passing by in their electric scooters. They're a good way for your child to travel, and here are a few reasons why they may be a great present for your child. If they are not children anymore, there will always be an electric scooter for adults.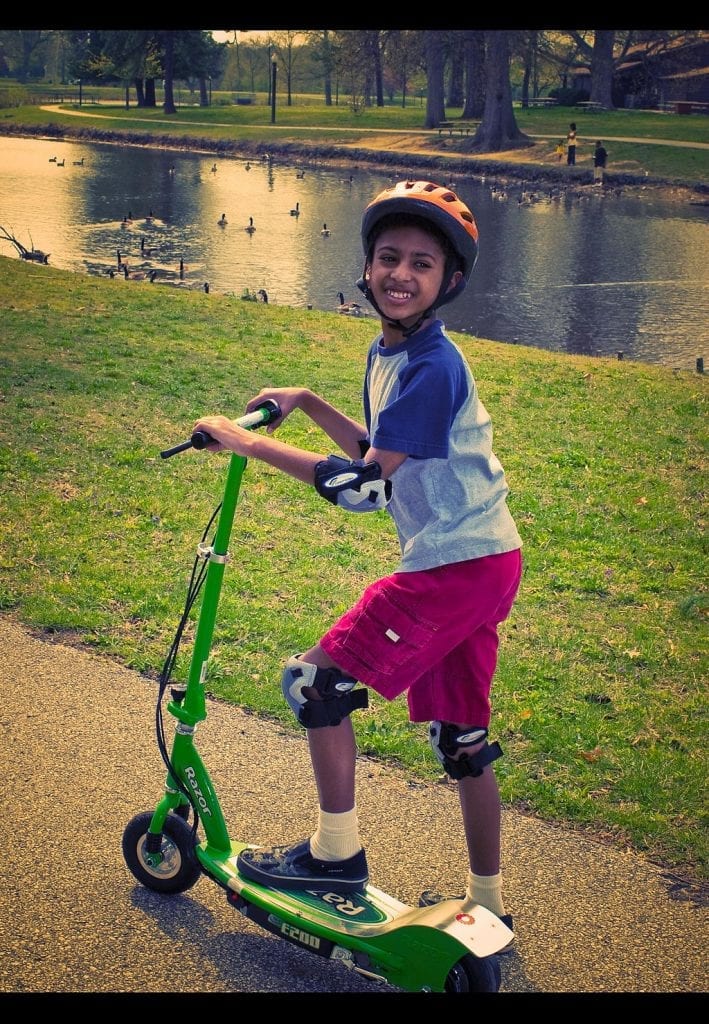 Best Electric Scooters For Kids Features
Allow Your Child To Easily Travel
The best electric scooter for kids can go up to 20 mph. If you live in a smaller town, your child can travel around with ease. One good sign of a child growing up is allowing for more independence. With an electric scooter, you should always give your child a curfew, track them, or supervise them as they travel, but it's still a good way for your child to feel like they are growing.
They Are Easier (And Little More Safe) On The Body
A bike is great for a child and provides excellent exercise, but if your child just wants to travel around, it can be a hassle to go to and from the neighborhood. With an electric scooter, your child doesn't need to use too much footwork. Of course, you should still ensure your child is getting enough energy somehow. Also, they tend to be less dangerous than skating, so that's a plus.
Battery
When you think battery-powered, you may imagine the battery failing on your child whenever they need it the most. However, most electric scooters' battery life can last all day if you fully charge it. If you charge them overnight, they can last you all day. And in the event they do break down, your child can always manually ride it by using their feet to propel themselves forward with a kick.
Looks Cool
While your child doesn't need to look cool 24/7, a scooter can show the other kids their style. A kid can customize their scooter with stickers and attachments, and they can even do a few tricks on them. Just make sure your child practices those tricks in a safe environment.
Good For Children's Friendly Competition
If your child's other friends have a scooter, they can use the scooters for healthy competition. For example, they can race using those. Maybe you can host a race in a safe environment and with fair rules. Give the winner a treat or another reward.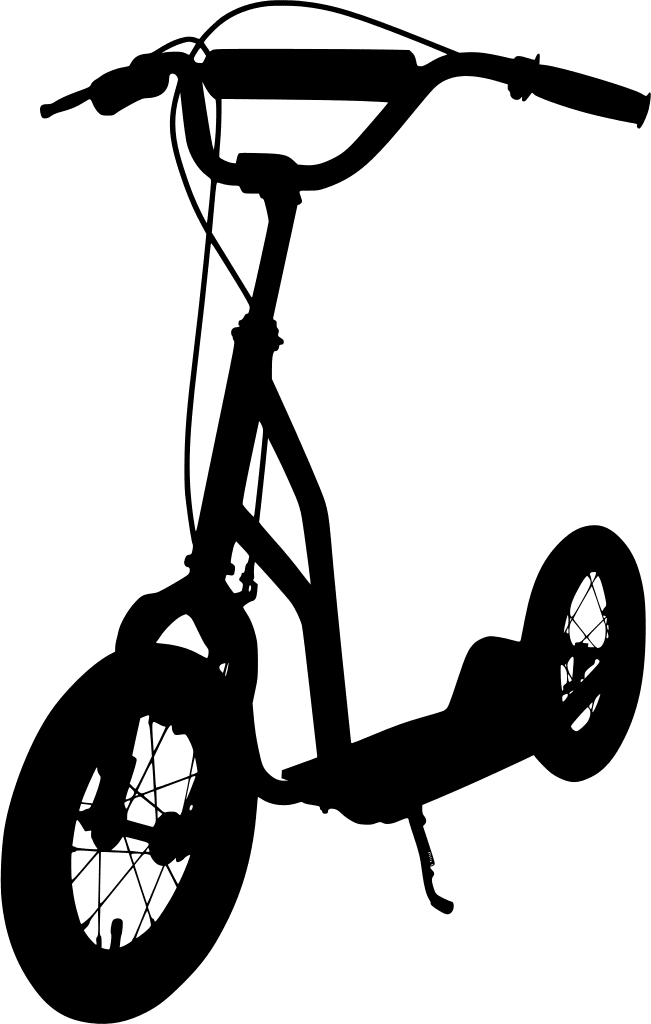 Best Kid Scooters:
Tips In Finding The Best One
If you want to pick the best electric scooter for kids, here are some tips you should keep in mind.
Quality Matters
When shopping for the best electric scooters for kids, keep in mind their quality. You should probably look at the reviews and whatnot before purchasing. When it comes to quality, while you don't need to buy the most expensive ones out there with all the unneeded bells and whistles, you also should not purchase a scooter that seems too good to be true in price. Many cheap other scooters are almost like scams. They break down easily, and then there is no way to replace or repair them whenever you try to contact the company.
You want a good electric scooter that has excellent customer service and warranty.
Safety Is Always Important
Even if your child thinks it's uncool, always make them wear safety equipment like a helmet when they are on the scooter. A scooter can be a bit faster than a bike, so a helmet definitely something you want your child to wear whenever they go on their adventures. Make sure you buy a helmet that is comfortable for your child, yet protects them. If it's too tight or loose, try on another helmet.
Always Charge It
This makes sense for any gadget, but especially for a scooter. Charging times may vary, but it can take an average of about 5-8 hours to charge a scooter from empty to full fully. This means you should leave the scooter charging overnight for the best results and to prevent it from dying while traveling.
Best Features and Specifications To Look For
When looking for the best electric scooters for kids, it is important to pay attention to the special features and specifications to ensure safety, smoothest ride and kids' fun! Some of the things to check are the scooter's motor, hub motor, rear wheel function, bike's hand brake, foot brakes, rear foot brake, top speed, led lights, riding modes, kick start motor, thumb throttle or twist-grip throttle, motor kicks, retractabe kickstand, chain drive motor or chain driven motor, cruise control and cruise mode, solid rubber tires (air filled tires or airless tires) and maximum weight limit or weight capacity (see the max rider weight allowed).
Keep A Curfew To Your Children
Give your kids time to travel and come back. Kids prefer to be given places they can explore, places they should stay away from, and keep track of them. This can guarantee the child is feeling independent and you feeling the peace of mind as they safely explore the world.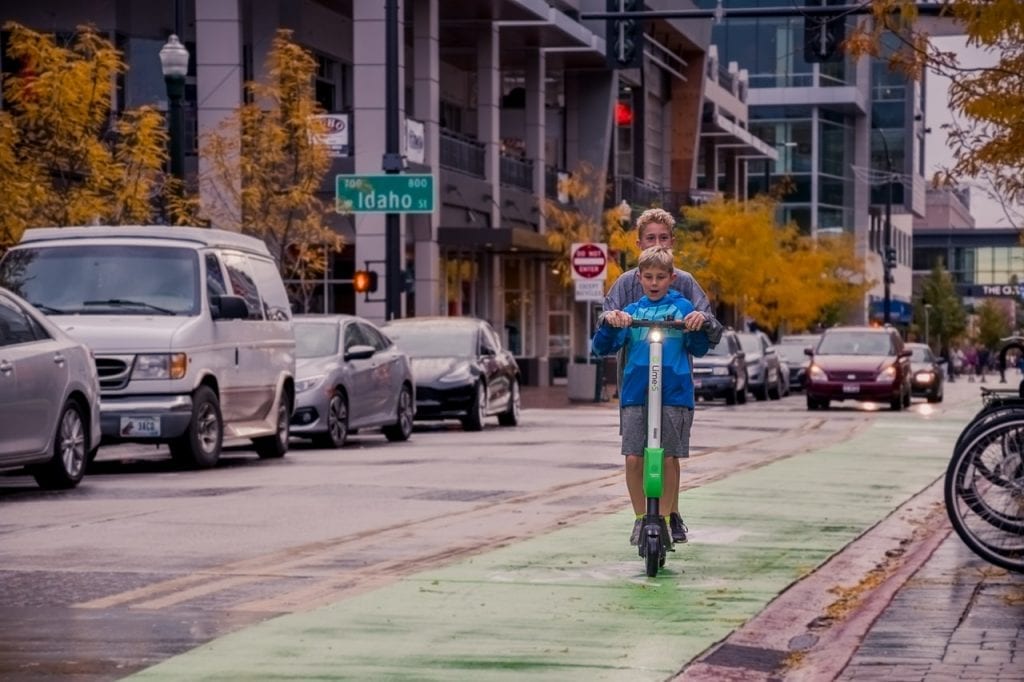 Finally, Have Fun
When your child is ready to travel, they will be having lots of fun with their scooters. Encourage fun, outside time, friendly competition, and anything else you can think of. Your child will love it.
There are many ways for a child to travel. Biking, skating, and of course, scooter riding. Try them all out and see which one your kids like the best. Then you can watch them have fun and grow alongside their electric scooter.
Best Electric Scooters For Kids
(Frequently Asked Questions)
Can A Kid Ride An Electric Scooter?
The question to ask back to this first question is: Is your kid old enough to drive a scooter? If he is, then it is safe for him to do so. Just as it is safe for him to ride the bicycle, yes, it is safe for him to ride the scooter. Therefore, the child must only ride a scooter that is age-appropriate for him. Meaning that if he is seven years old, it would not be safe for him to drive a scooter for adults.
What Age Is Electric Scooter For?
Younger kids like toddlers can ride a manual scooter at the early age of 1 through 5. A manual traditional kick scooter one helps them learn how to balance while pushing themselves to move forward to get the scooter moving. Once they master maneuvering the manual scooter, they can now be supervised while using the simplest electric scooter, most preferably when the child's age is 8.
Best Electric Scooters For Kids
(6 Years Old)
On top of the list for the electric scooters for kids aged 6 years old is the Razor A3 Scooter Clear (read further here), a durable and classy scooter that is navigated by using its wheelie bar system and its rear fender brake. It's made from high-grade aluminum, and it can accommodate a max rider weight of up to 140 lbs and a little more. The Micro Mini Deluxe Kick and Micro Mini Deluxe Kick Scooters for Girls follow close to second and third.

If you are looking for a budget scooter yet gives a safe and smooth ride, consider Razor Power Core E90. This scooter has hand-operated front brake, and retractable kickstand, so it can stand upright without tipping over.
Another scooter on top of our list for age 6 year and older is the Gotrax GKS Electric Scooter. It can be operated as an electric or kick scooter. It has 6-inch solid rubber tires that absorb vibration for a more comfortable ride. The GSK is powered by 25.2V battery and 15W electric motor powers that gives up to 7.5 miles per hour of steady speed.
Choosing The Best Scooter For Kids
When choosing a kids' scooter, parents should think about their child's weight and height capacity. They should choose a scooter that is sturdy enough to bear the weight of your child. Always ask about the weight limit of a particular scooter that you are interested in purchasing. Anticipate that your child may be bringing a backpack or friend along. Make sure the brake system is of good-quality because your child's safety is essential. Finally, if your child is below three years old, a plastic scooter can still be suitable for him. However, If he is older, metal types are more preferable. You can find many electric scooters guides on TomsGuide page.
3-Wheel Scooter Safety For Kids
Definitely, 3-wheeled types are safer for young kids, as they are pre-balanced the moment you purchase them. They're built with a front wheel and one wheel at the back to support the body of the scooter. This is very suitable for toddlers because they are still learning how to master their balance and the 3-wheeled type helps them be able to do that.
Best Electric Scooters For Kids

And Teens
The most fantastic teen scooter for parents and teens themselves is the Ancheer Kick Scooter. First, it is foldable, which makes it portable and adjustable. Its frame is made from aluminum alloy, which has a carrying capacity of 220 lbs. Additionally, it has a very safe brake system, made up of rear mechanical disc brake and a rear anti-locking brake system, ensuring a safe, comfortable, and convenient ride for your teenager. You can also find other scooters here: https://www.walmart.com/browse/toys/kids-electric-scooter/4171_133073_6774653_4137853_3209634_7994546_7248423.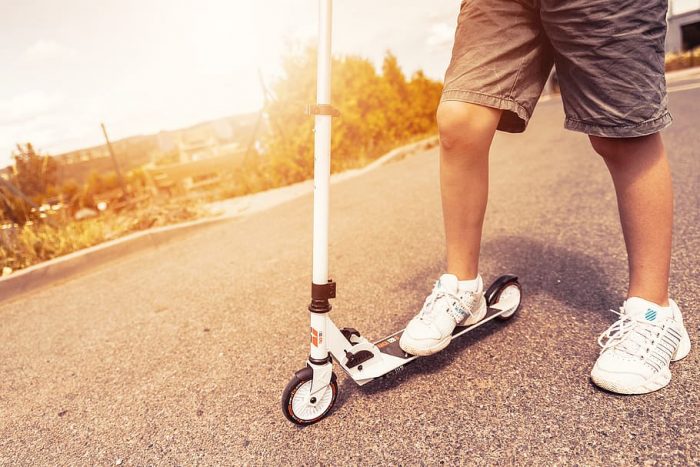 Why Are Trikes Dangerous?
Trikes do have their distinct dangers. Going back to where we started to learn how to balance, training wheels are so useful for us. However, when we remove them, we realize that making a turn becomes challenging to do. The trike driver needs to learn how to use the handlebar more than he uses his body when he takes a turn. He also must remember to use a helmet or safety gear, whether he is a 6-year-old or a 15-year-old.
Best Scooter For 3-year-old
One of the most preferred for younger children with the age of 3 is the Swiss-designed Scooter for Preschooler kids. This can be maneuvered indoors as well as outdoors. According to most parents, it is durable and well manufactured. It can be tested by letting your kids ride the scooters in either direction to see how effectively it self-balances—the Radio Flyer My 1st Scooter and the Razor Jr. Folding Kiddie Kick Scooter is also among the favorites for young riders.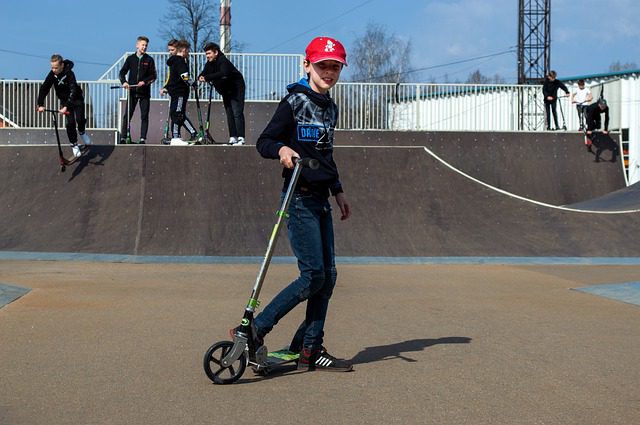 Electric Scooter For Children's Speed
How fast kids electric scooters can go will depend on several factors, one of which is how much power the batteries provide and how light or heavy the rider is. The type of terrain also influences what it is used for. But generally, the maximum speed is about 20 mph, which is the maximum allowable speed in the bike lane.
Last Updated on January 15, 2023 by
DISCLAIMER
(IMPORTANT)
: This information (including all text, images, audio, or other formats on FamilyHype.com) is not intended to be a substitute for informed professional advice, diagnosis, endorsement or treatment. You should not take any action or avoid taking action without consulting a qualified professional. Always seek the advice of your physician or other qualified health provider with any questions about medical conditions. Do not disregard professional medical advice or delay seeking advice or treatment because of something you have read here a FamilyHype.com.