When one thinks of a tent, they typically imagine a tent in the woods that are used for camping. However, another type of tent has made the rounds recently, and that's the toddler beach tent. 
A toddler beach tent is a tent you pitch on the sandy beach. For babies and toddlers, the sun can be too powerful, harming the baby with UV rays and burning their skin. A tent offers SPF protection and allows the baby to play in the sand in a safe environment. 
So if you're on the beach, they are quite important. Let's look at a few toddler beach tents that are great for a fun, safe day on the beach.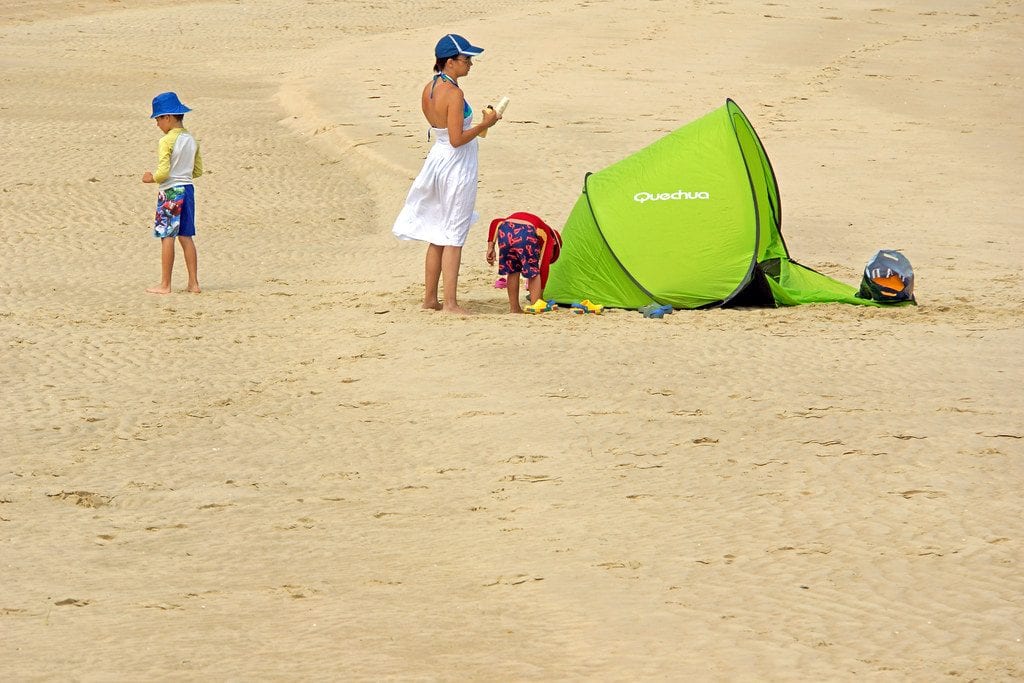 What To Look For In A Tent 
Let's discuss a few things to look for in toddler beach tents. 
Portability is always essential. You're going to be traveling, so you don't want a tent that's a pain to carry. Beach tents tend to be small and easy to carry and collapse when everything is said and done. 
It is the main reason you've bought a tent. Many tents, just like sunscreen, will have SPF levels, keeping those harmful rays away from your child (read further here).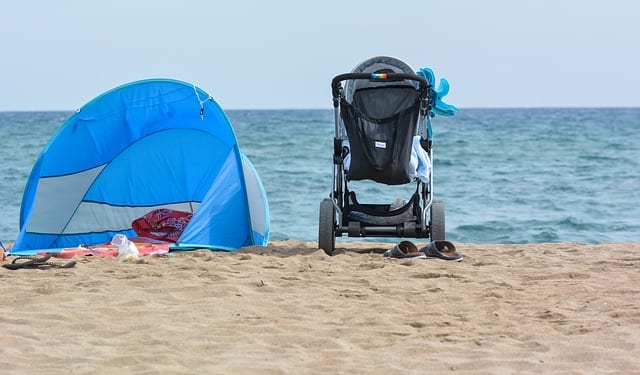 Besides the sun, these tents should be good for bugs, too. Even on the beach, some bugs can be dangerous for your toddler, and a beach tent is/
You want a tent that goes into the ground easily and stays there. Any wind and bad weather shouldn't be a match for a good beach tent. 
A beach tent may have pockets to store baby and toddler goods, so make sure your tent has that. 
Easily Fits a Toddler or Adult 
Sometimes, you may want to sit inside the tent in a toddler. While a tent for toddlers isn't the best place to sleep in, many of them will fit a toddler or adult with ease. There are tents designed for the whole family. 
Of course, other tents are for babies and toddlers use only, and that's okay as well. However, you may benefit from a tent that fits everyone.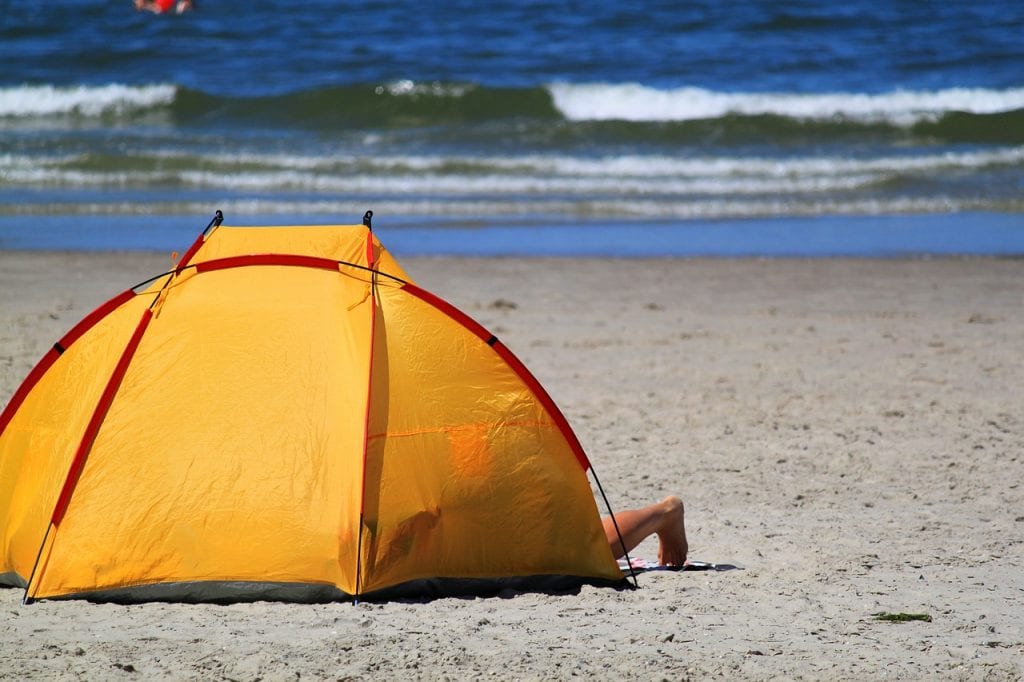 Now, let's look at a few tents. 
Baby Beach Tent 
It is a tent that has a lot going for it. It has 50 SPF, keeping the most harmful rays away from your child. It's easy to collapse, as well. Carrying it from destination to destination should be a cinch. 
Not to mention, it's easy to set up in the sand. The pegs that are included stay inside. The tent boasts large space and storage as well. It's a good toddler tent overall, and not too expensive. 
EasyGo Cabana
It is a tent that's designed not just for the toddlers, but from adults, too. Adults may need some time to unwind on a beach, and you can fit a family of four in it. At five feet in height and sixty feet in length, it's easy to put everyone there. Carrying it is a breeze, too. You can fold it into a tube and then be on your way. 
Fisher-Price On-The-Go Baby Dome
It is a tent meant for babies rather than having family use. It keeps the baby inside, though it can be opened as well. This tent keeps the sun away in a breathable environment. Also, this dome is good for playtime, as it has toys as well. It's not just good for the beach, but anywhere.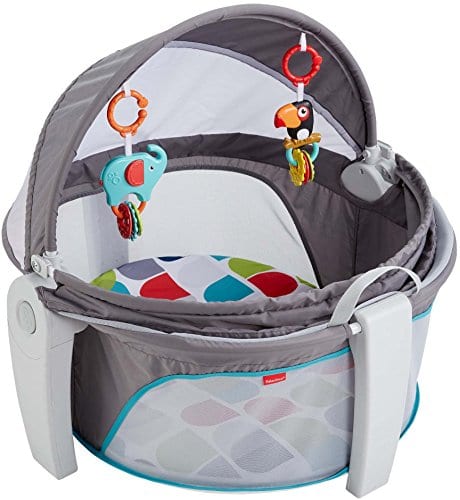 Baby Portable Beach Tent
It is another tent made for younglings. It has over 50 SPF and is quite breathable. It has all the toys a baby needs to keep entertained, and of course, it stays in the sand with ease.  
Tagvo Pop Up Beach Tent
It is one of the toddler beach tents that is good to set up. In addition to protecting your young one against the sun, it also has wind protection and storage space. It's another tent that is good for the whole family. 
Sunba Youth 
It is an awesome tent. With a young toddler, they may be missing out on the beach if they're in a tent, so why not bring the beach to them? This tent has a tiny pool suitable for a baby, and it is optional, so you can use it with or without a pool. Like all the other tents, it's easy to collapse and carry and provides plenty of sunblocks.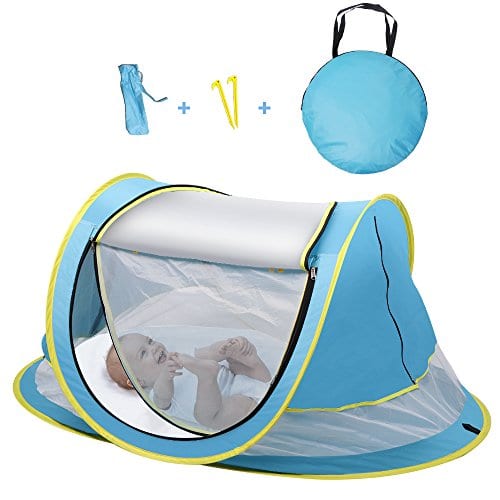 Babymoov Anti-UV Tent
It is a tent that is very easy to store. Most tents require a bit of work to unfold them, but this tent comes apart in seconds. Like the other tents, it's well ventilated and protects against the sun and other baddies. 
Otentik Beach SunShade
What we like about this one is that you can choose sizes. Some sizes fit up to an entire family of seven! Also, there are a lot of colors to choose from. Even the largest tent doesn't weigh that much, and it's easy to store. It has lots of reinforcement as well, including sandbags that are designed for the windiest of days. 
FAQs On Toddler Beach Tents
Toddler Beach Tents Conclusion
A day on the beach can be relaxing, but when you have a toddler, it's a little stressful. The sun and bugs can affect them, and having a toddler tent allows the toddler to have fun while you don't have to worry as much about them running into something that can hurt them.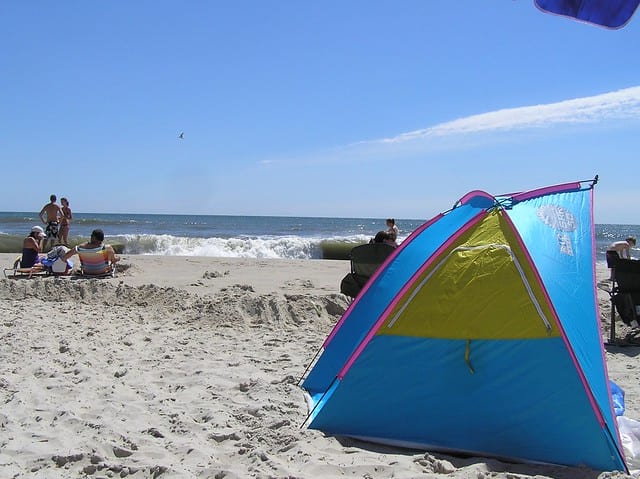 Pick your toddler tent wisely, and it can go far. A tent designed for adults can allow the entire family to have fun. If you have the beach for yourself, why not try a little bit of camping at night? Sleeping under the waves is just so relaxing, and you're going to love every bit of it. 
With that said, summer is almost ending, so having a tent that doubles as a nice autumn camping tent is a good move, too. 
Last Updated on June 25, 2022 by Jejomar Contawe
DISCLAIMER
(IMPORTANT)
: This information (including all text, images, audio, or other formats on FamilyHype.com) is not intended to be a substitute for informed professional advice, diagnosis, endorsement or treatment. You should not take any action or avoid taking action without consulting a qualified professional. Always seek the advice of your physician or other qualified health provider with any questions about medical conditions. Do not disregard professional medical advice or delay seeking advice or treatment because of something you have read here a FamilyHype.com.