The Stokke Xplory is one stroller that garners praise and reviews, but is it worth the investment? In this exploration, we'll address key questions and consider insights from user reviews.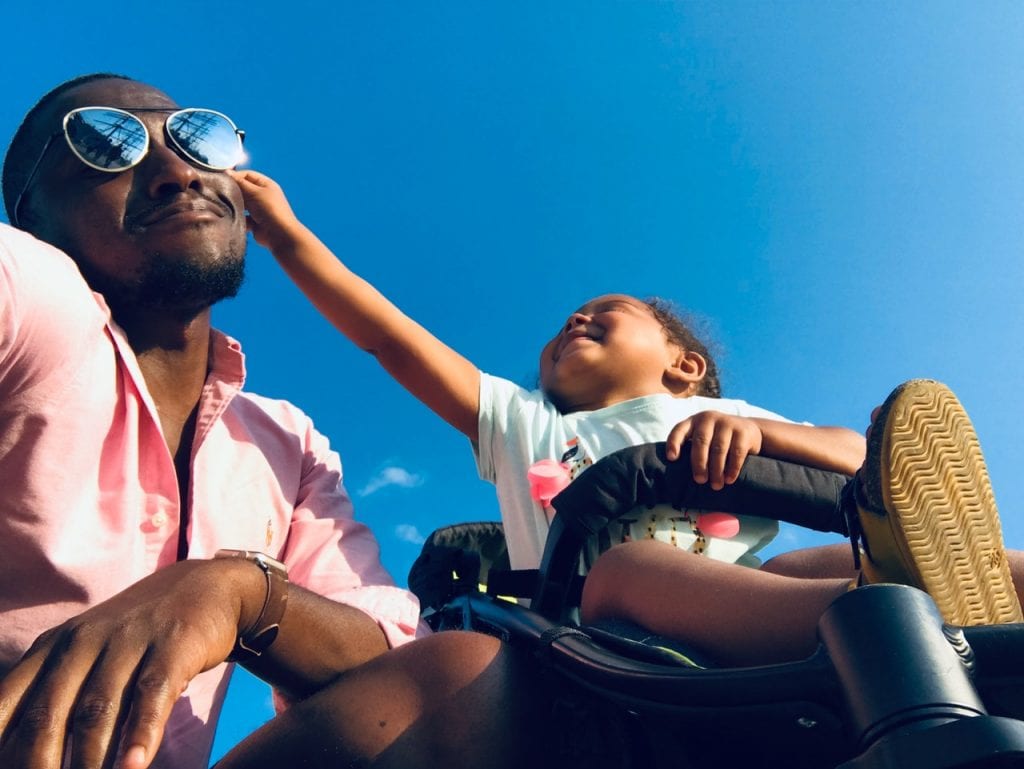 Strollers are, in a way, like cars. They all have the same purpose: to deliver your baby from point A to point B, but they all come with their unique features to make the ride much easier for both parent and child. Then, there's the fact that many of these stroller brands are a sign of luxury. As you may know, most strollers nowadays are designed to fit the urban lifestyle.
What Is Stokke Xplory Stroller?
Stokke is a company from Norway that has over 80 years of experience. It's a company that has delivered excellent quality products for many years, one of which is its variety of strollers. They have quite a few strollers available, one of which is the Xplory line. Stokke Xplory is a unique stroller that they offer.
The Xplory pushchair allows you to raise the stroller part so that you can have the baby closer to you. In theory, this helps improve the bond between you and the baby. It's a narrow stroller as well, allowing you to steer it around without any trouble whatsoever. The improved leg rest design of the stroller is also a good feature. And the details of the large canopy with mesh vents are fantastic. There are 3 panels and a sun vizor. The additional zipper in the middle panel allows extra air and a double peek-a-boo window. The stroller comes with a convenient shopping bag that can double as a detachable diaper bag. The fabric is water repellant that protects the inside.
Being one the best luxury strollers, it comes with a hefty price tag, going from around $900. It almost feels like you're buying a car. Originally, this Stokke Xplory stroller was even more. Over $1,100! For many parents, this is a second mortgage, and when you're spending so much already, you may have to decide whether or not the stroller is worth purchasing or if you should pass.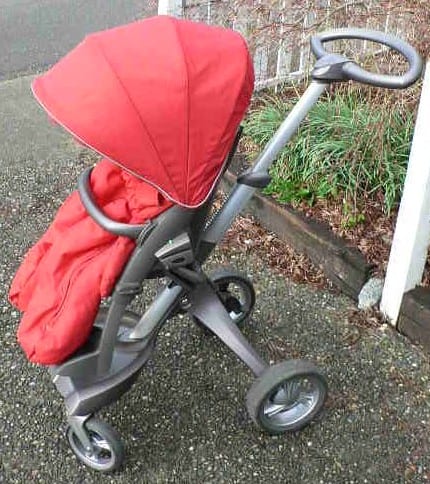 The stroller's unique design and details are inclusive. The adjustable seat height is reversible and the adjustable handle bar can cater to parents of varying heights and ensure a comfortable pushing experience. According to Stokke Xplory's review, the use of this stroller results in better interaction between the parent and the child. Its forward-facing has a high seat that keeps the child closer giving the child a sense of security. You can raise your baby higher to table height when needed to promote eye contact. The adaptable design allows you to easily adjust the stroller for a more inclusive and engaging dining experience. It would be nice to include the first child, third child, or older child at the table when the parents are having a coffee instead of having him turned away in the stroller.
Is It Compatible With Car Seats
Besides multiple stroller seat positions, when combined with an infant car seat, the stroller is a part of the travel system. A car seat can be added to the black chassis with the use of car seat adapters. A car seat can be added to the black chassis with the use of car seat adaptors, seamlessly integrating the car seat with the stroller seat unit. This can be convenient for transitioning a sleeping baby from the car to the stroller without disturbing them.
How Easy Is It To Use?
Many strollers of other brands can be impractical to use, from assembly woes to buttons that just don't seem to work. However, the Xplory is one of the only stroller options that is quite easy to use. Adjusting it to suit your height and where you want the baby to be is effortless. It is good for almost all conditions as it has rain cover or storm cover for the rainy season, a foot rest for bigger kids, sturdy front wheels for rough terrains, and more. There are strollers available that are parent parent-facing mode, and of course, the seat height is just perfect for kids. There are strollers that are world-facing for adventurous babies so you can imagine just how convenient this brand is for moms and babies.
Does It Maneuver Well?
When it comes to Stokke Xplory, you want a stroller that delivers control well, and this stroller does the job. Its unique design ensures that turning and gliding it across the ground feels natural, provided that you're on the appropriate surfaces. You can run laps and go strolling through tight spaces with ease. While you may not have to do that in your daily life, you never know.
Another unique feature of this stroller is that you can push the stroller in its two-wheel mode without suspension. This is ideal for sandy beaches or pebbles. These sturdy details are also found on the high-end strollers Cybex Priam or Bugaboo Fox.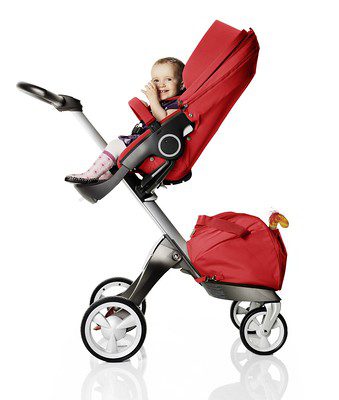 What Surfaces Are It Good For?
The Xplory is primarily designed for urban parents who are joggers or use long walks and other flat surfaces. This is not an all-terrain stroller. When it's snowy outside, on the rough ground, or you're in a less-than-favorable setting, the stroller does fall apart. That's one flaw of the Xplory. We do feel like, because of the price tag, it should offer front and rear wheel that adjust to handle all sorts of rough terrain, but sadly, it doesn't.
What About The Strokker's Brake?
The brake in any stroller is essential. If something happens, you want a brake that is easy to deploy to protect your child. This brake is quite easy to activate, and you can do so in your flip-flops. Other stroller makes using the brake a bit annoying, which is always a shame.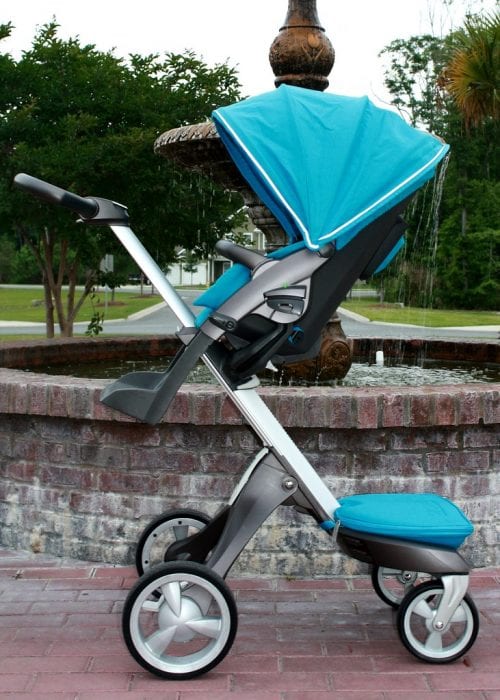 How Much Does It Weigh?
Despite the Stokke Xplory stroller's minimalism, it's not that light. It's about 27 pounds, meaning that you may need to get a workout in before you try this stroller out. Luckily, the stroller folds easily, and it is easy to lift and store too. Now, compared to its upgraded version, Stokke Xplory X, both strollers weigh about 27 pounds, requiring a bit of effort. However, the advantage is that they both fold easily and are simple to lift and store, which is a plus, at the very least.
Who Can It Carry?
This roomy stroller carries kids from birth weight up to 45 pounds, and as young as six months and is suitable for infants who can sit unassisted. There are second-seat items you can purchase for a younger infant if you so wish. This can be suitable for the newborn if Stokke Xplory Carry Cot (bassinet) is used.
What Materials Is It Made From?
Being a luxury stroller, it has quite a lot going on when it comes to materials. To secure and protect your little one from bump discomfort, this stroller includes car-grade aluminum and is designed to withstand some bumps. You get what you pay for, considering the metal is a concern of yours. Its front wheels and 2 rear wheels are rubber-coated.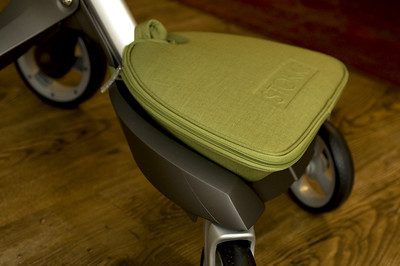 What About Folding It?
Being able to achieve a more compact fold for a stroller into a cool and useful piece when you want to carry it with you is always fantastic. However, this stroller has a bulkier fold to it, and it comes in multiple parts. When you want to store this stroller, you may need a few hands as you do so.
What Is It Lacking?
As mentioned in several Stokke Xplory reviews, this stroller is lacking a few features. It has no cup holder, and besides the seat, stroller frame, bumper, bug net, rain shield, extendable canopy, removable seat insert, luggage, storage bag, or changing bag, all additional stuff to protect the child are sold separately. This is a little disappointing, considering the price tag. We feel like they should include more.
Also, this stroller does lack recline positions for sleeping when it comes to the front-facing mode. Again, this is something the stroller should have to begin with.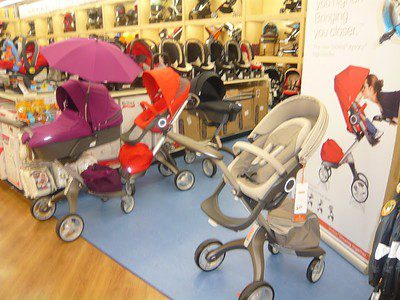 Is The Stroller Worth It?
If you're an average parent who is on a budget, this stroller may not be worth it. While its adjustability aims to deliver more bonding between parent and child, this stroller is a bit lacking. It's heavy, hard to fold, and doesn't come with a cup or the essential accessories. Not to mention, those wheels don't go through many terrains. Pushing on grass is a bit tricky and heavy.
If you have money to burn and live in the city, this stroller may be worth it for you for the luxury alone, and being able to see your baby as you walk freely around is always a plus. But even then, there are luxury strollers that can deliver more features, including the ability to glide across all kinds of terrain. We feel like you should try out this stroller and see if it can deliver your expectations, but otherwise, you may want to search elsewhere.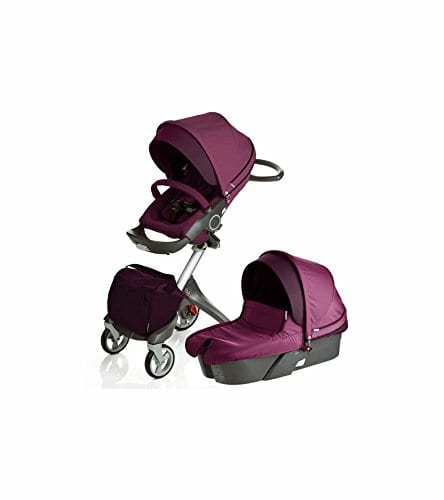 Stokke Xplory Review
While this stroller is indeed high quality and has some unique features, it does lack some essentials that the other strollers seem to have. When you're a parent, sometimes you have to sacrifice luxury for convenience. The most important thing to consider is the baby's comfort and safety. And most strollers can deliver the job this stroller can do for half the price, even more.
This isn't to knock on the Xplory pushchair; it's still a versatile stroller, but you may want to shop around before you make your final decision.
Frequently Asked Questions:
Are Stokke Strollers Worth The Money?
Yes, the Stokke Crusi Double Stroller. It is ergonomically designed for the baby with a large cargo basket and height-adjustable handlebar.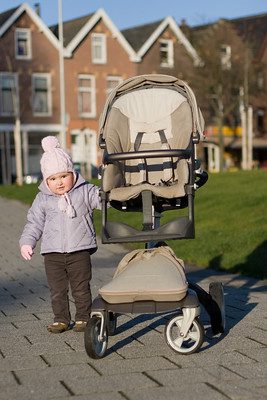 Does It Recline?
Yes, Stokke Xplory stroller seats offer 3 recline positions when the seat is in parent-facing mode. These are upright position, semi-reclined, and a lie-flat. When forward-facing, it offers two positions – upright and semi-reclined.
How Much Does The Stroller Weigh?
The Stokke Xplory (chassis and seat, including the textiles) has a weight of 17.8 kg. The Carry Cot is separately packed and weighs 5.3 kg.
What Age Is Stokke Stroller For?
The recommended age for the use of Stokke Xplory is six months, as per EU recommendations. Babies are supposed to lie in a vertical position, and this has an upright position that might need the baby to be able to support his/her head. However, with the ability to accommodate various stroller seat positions, the Stokke Xplory can cater to the needs of toddlers as well.
Is Stokke A Good Brand?
Yes, Stokke is a good brand known for its premium quality children's furniture.
Does The Stroller Have Suspension?
Are All The Strollers From The Brand Waterproof?
Can I Take The Stroller On A Plane?
Can Babies Sleep In A Stroller?
While it's generally safe for babies, including newborns, to take short naps in a stroller with a newborn carry cot under supervision, it's crucial to prioritize their safety. Ensure the stroller provides a comfortable, reclined position, use safety straps properly, and avoid prolonged sleep in a seated position. For extended periods of sleep, transfer your baby to a flat, firm surface like a crib. Each baby is unique, so consult with your pediatrician for personalized guidance.
What Is The Difference Between Stokke Stroller V5 And V6?

Is Stokke Xplory Better Than Maxi Cosi Stroller?
Is Stokke Xplory Height Adjustable?
Does The Stokke Xplory Carry Cot Comes With A Sleeping Bag?
Other Resources
Last Updated on May 12, 2023 by Rejie Salazar
DISCLAIMER
(IMPORTANT)
: This information (including all text, images, audio, or other formats on FamilyHype.com) is not intended to be a substitute for informed professional advice, diagnosis, endorsement or treatment. You should not take any action or avoid taking action without consulting a qualified professional. Always seek the advice of your physician or other qualified health provider with any questions about medical conditions. Do not disregard professional medical advice or delay seeking advice or treatment because of something you have read here a FamilyHype.com.