When it starts heating up, your kid probably wants a nice pool to swim in. Many parents will turn to their local community pool for that or to the water park in town, but it's such a drive, and it can be a hassle if you don't want to be there, but your kid does. Plus, the costs add up, and who knows what the other kids are doing in that pool or at the water park?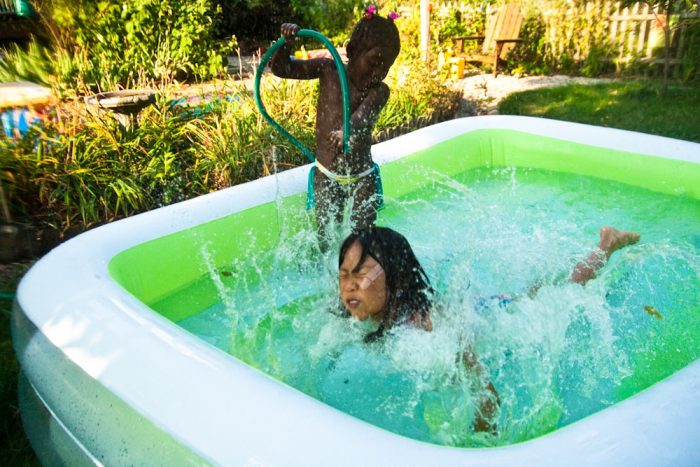 Home pools are the solution to that. While we all can't install a pool in our home that's as big as the town pool or water slides like they have at the water park, there are plenty of inflatable pools that are cheap and have all the fun of the community pool, all at home. You can kind of turn your backyard into a junior water park with some of the kiddie pools available now. Let's take a look at a few of them in a minute. But, we'll start by looking at things that can help you decide if you should get one of the inflatable pools for your yard.
Should You Get An Inflatable Pool?
Some of us don't have a lot of extra money to put into kiddie pools and other toys outdoor play intended. Sometimes you'll see water slides and toys that make water sprinkles that look fun, but aren't they a waste of water and ultimately money? While that may be true for some products, a backyard pool that your kids, and even you sometimes, can enjoy right at home can be very much worth it. 
There are some truly affordable splash mat products that have water slides and pools attached to them. Your kids can cool off when the sun is high and the days are long during the summer. You really can just about turn your backyard into a junior splish splash water park. Why not let your kiddos relax under the cool shade of the rainbow canopy with the comfort of their own home right there? You'll save time, gas, money, and stress by getting your own inflatable pool to have in your yard.
INTEX Inflatable Kids Rainbow Ring Water Play Center
This is an inflatable pool that has quite a few activities for your kid, and it's all for around $50. This pool has ring toss, a water sprayer, a ball toss game, and much more. It's one of the best pools for your little ones because of all that it can do. You could even turn it into a ball pit when it gets cold outside. It is one of the best kids swimming pools since it comes with more activities than just the pool.
It's only 15 pounds as well, so it's quite mobile. The only downside is that it's only four inches in depth. Older children may not care for it that much. However, if you have a young child who is learning to get their gills, it's great. This is a good product for toddlers and young school age children.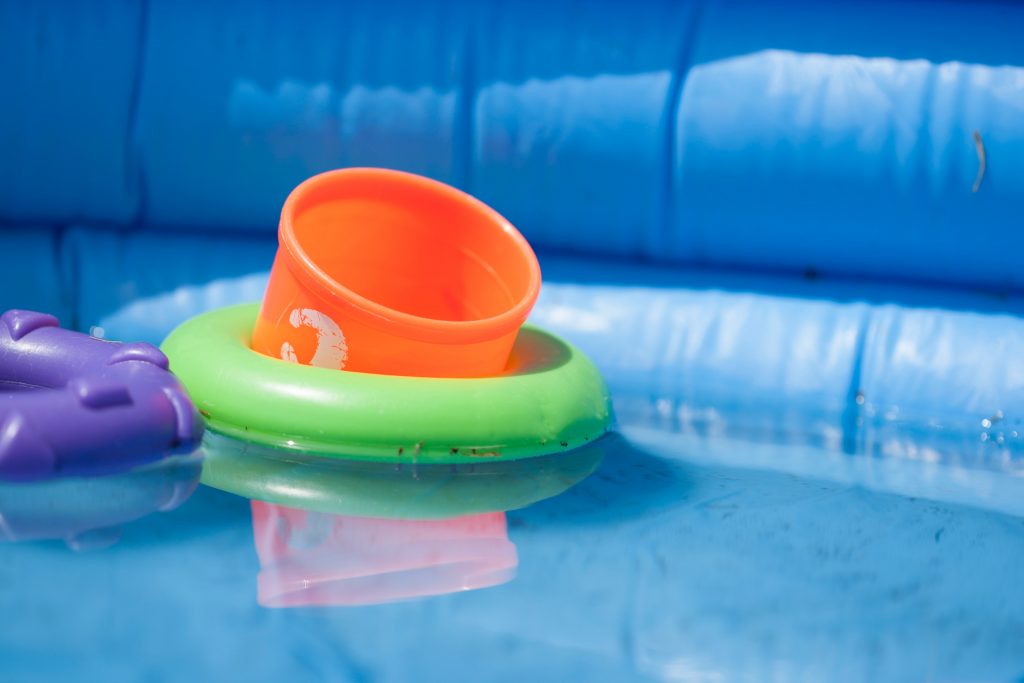 Manley Banzai Kids Splash Lagoon Pool
This is a PVC pool that has a nice little slide and three rings. When you inflate it, there are different chambers to make sure the entire pool doesn't deflate should your kid poke a hole in it. It's a pool that is quite durable and has a great aesthetic to it. While some older kids may not care for it, this pool works great for your little ones. This is a great Banzai toddler pool, but the manufacturer has others that slightly older children will enjoy, too. You can also find more Banzai toddler pools, such as the Banzai Splish Splash Water Park.
Intex Swim Center Pinwheel Inflatable Wading Pool
This is a colorful pool that has quite a few pinwheel patterns and whatnot on it. It's quite great looking and has an inflatable pool for maximum comfort. It can fit up to 204 gallons, and you can unplug it once it drains. 
It's a bigger pool as well, so older kids, and maybe even you, will love it. 
Banzai Baby Sprinkles Splish Splash Water Park Sprinkling Activity Center
As the name implies, this pool is great for toddlers. It has a little slide and different ocean designs. It looks great, but as you may imagine, it's not great for older kids. Younger kids will feel like they're having an ocean adventure. It comes complete with a splash mat to crawl around on, a rainbow canopy, and a whale slide. Everything is the perfect size for a little toddler play date amongst friends. The whale slide and rainbow canopy are even good for an infant to crawl around on and under. It's quite durable for a rowdy toddler and has many great designs to it as well. It's one toddler pool you won't want to get rid of until your kid grows up. It's easy to carry and set up, too.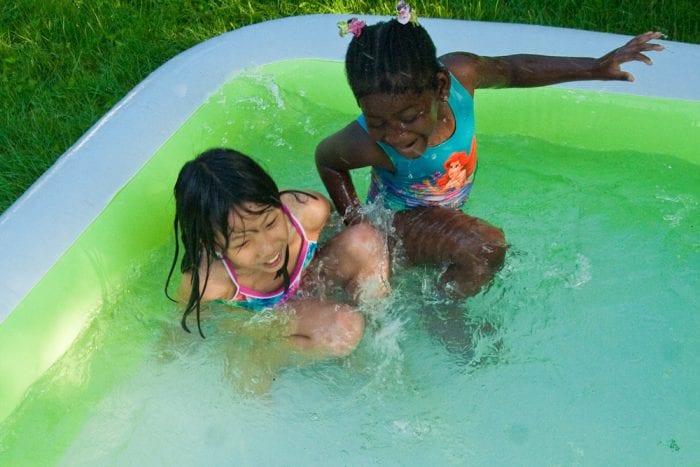 Intex Sun Shade Inflatable Pool
This is a nice little pool with a sun canopy and fish decorations. It's designed for durability, too, crafted from ten gauge vinyl that keeps up with even the toughest kids. There is also a sprayer. Just plug in a hose, and you can have quite a bit of fun with your child. It even has a repair patch in case your kid somehow finds a way to break it. It's a pool for smaller children, but one that they will love for going on a junior ocean adventure.
Swim Ways 60" Spring Pool
This is a pool that has quite a few features. Water blasters, depth, and other bells and whistles occupy this pool. It can fit around five kids, so your kids can have a party with their friends. It's a pool that does cost less and can tip over, but if you supervise your kid, you can have quite a bit of fun with it.
Intex Easy Set Pool Set
This pool is quite deep and has some large floats as well. It's sturdy too and fits up to three people. It has an easy setup, including a DVD that explains it all, and accessories that will help you set it up even faster. While it doesn't have some of the fun features like some of the other pools mentioned, such as a sprinkling post, a baby dolphin or relax under canopy, or starfish rings like a junior ocean adventure splash mat, it is very good quality and has lots of space. It's one pool that you'll want to try out.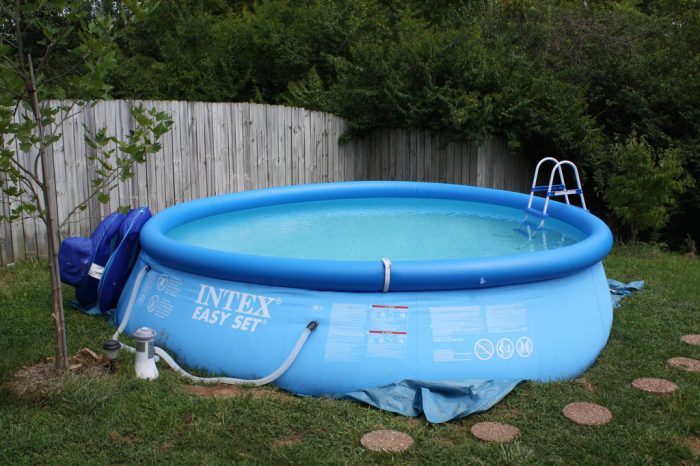 What To Look For In a Pool 
When you decide to look for a pool for your kids, here are a few things to consider before you buy one.
Durability Does this pool have a backup plan if your kid pokes a hole in it? Does it have an easy repair? Can it take a beating? Is an easy to use repair patch included with your purchase? An excellent inflatable pool will have all of that and more. When looking for the best kids swimming pool, this is essential considering the kind of play kids do.
Accessories Is it just a pool, or does it have a slide and other games as well? Do you get cool things to play with and useful accessories like starfish rings and 1 repair patch? Maybe you get even more than that, such as a slide, 4 inflatable starfish rings, and 1 repair kit. Some kids will like just wading around in a pool, while other children will want something more. Make sure you're appealing to all your children's needs when you buy a pool. 
Appeal Is it a pool for toddlers, or can everyone have fun in it? Some home pools are built for little kids, and others are deeper and wider for an entire family. Plus, a family-sized pool means you're less likely to get rid of it because everyone outgrew it. However, if it doesn't appeal to the age group who should be using it, it's less likely it will get used very often. For instance, the Banzai toddler collection includes the Banzai Splish Splash Water Park which comes with a splash mat, 1 inflatable dolphin, water slide, 4 inflatable starfish, and a palm tree. The splash mat, 1 inflatable dolphin, and starfish rings are all separate pieces that are included with your purchase of the Banzai Splish Splash Water Park.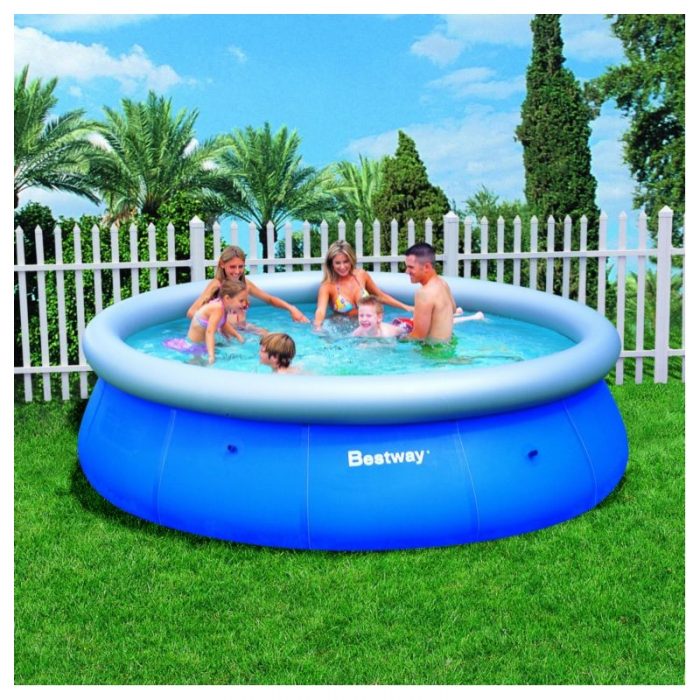 Size If you have a small yard, you'll need a pool that won't take up too much space. Some pools manage to save space while still having all the bells and whistles your kids will love. Others feel too cramped. It will all depend on what your needs are. It is also good to know if the size will fit your storage when choosing the best kids swimming pool that you need.
Mobility  Some pools are easy to carry around. They may have an easy plug to drain the water, and then they will deflate into something anyone can carry. Other pools may be less mobile. Think about this if you're traveling or moving a lot. If it's going to be too difficult for you to get your pool in and out for use, you're less likely to set it up very often. Also, it could end up damaged if you're having a hard time moving it. 
Off-Season Use When it's no longer extended pool season, some pools still have an appeal. You can turn pools into ball pits, or put autumn leaves in it. Of course, most kids won't want anything to do with the pool when it's freezing, but if it's warm enough to play outside but not warm enough to go swimming, your pool can get plenty of usage. Consider this when you're looking at getting a splash mat or something similar. There's not really much you can do with that in the off season. An actual pool with sides to contain the leaves, balls, or other items you could put in there for play may be better suited for your family if you live somewhere that gets cold.
Best Kids Swimming Pool FAQs
 What is the best kiddie pool?
Swimming is one of the most enjoyable activities for children. Having a real pool may be too expensive so parents can get a kiddie pool instead. Here are some of the best suggestions: Intex Snorkel Buddies, Gamie Duck Pond, and Jilong Inflatable Family Pool. If you want something that's less about swimming and more about just having fun and cooling off, then check out the Banzai Splish Splash Water Park splash mat.
What is the best swimming pool?
Adults enjoy swimming as much as kids do. Some of the best swimming pools are Intex 16′ x 48″ Round Ultra Frame Pool, Heritage Georgian Above-Ground Pool Set, and Intex Easy Set Pool.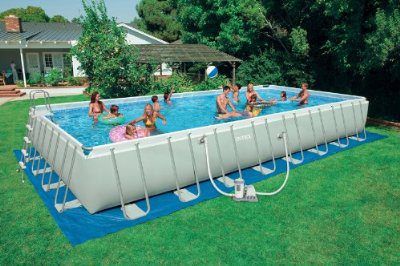 What can I put under a kiddie pool?
You can put an under pool padding to protect the kiddie pool. One option for the under pool padding is the puzzle piece playmat. 
What is the best portable swimming pool?
Above ground, pools are portable as they can be easily moved from point A to point B. Some of which are Intex Swimming Pool- Easy Set, Bestway Steel Pro 10′ x 30″ and Coleman 18′ x 48″ Power Steel Frame Above-Ground. 
Can you keep water in an inflatable pool?
Yes, you can keep water in an inflatable pool. It is essential to treat water in the pool with chemicals to avoid water wastage. 
How long can you keep water in a kiddie pool?
If the water is untreated with chemicals, water must be drained right after use. With chemicals, water may be kept from 1 to 2 months, depending on the frequency of pool use. 
Best Kids Swimming Pool Other Resources
Last Updated on April 11, 2021 by Marie Miguel
DISCLAIMER
(IMPORTANT)
: This information (including all text, images, audio, or other formats on FamilyHype.com) is not intended to be a substitute for informed professional advice, diagnosis, endorsement or treatment. You should not take any action or avoid taking action without consulting a qualified professional. Always seek the advice of your physician or other qualified health provider with any questions about medical conditions. Do not disregard professional medical advice or delay seeking advice or treatment because of something you have read here a FamilyHype.com.