Even if you've never seen a Minions or a Despicable Me Minions movie in your life, you recognize these yellow creatures. Their merchandise is everywhere. You see them on billboards, on cars, and they're the subject of memes for aunts everywhere. If you have a child, chances are that they love the Minions as well. So here are some toys that they may be interested in. You can find these popular little guys in various different forms, from action figure toys, to Play Doh sets, to Minions plush buddies, and more. With so many Minion toys, which are the best? We're about to find out what the best and top Minion toys are and which ones make for the best gift ideas.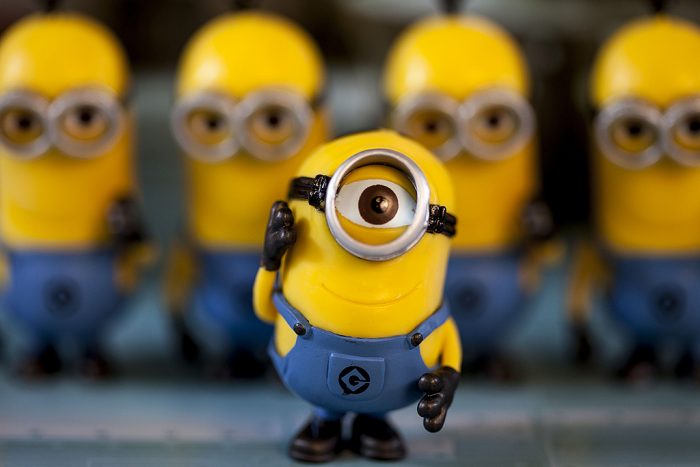 Minions Action Figure Set
This is an 8 figure set that includes all the main characters of the Despicable Me world. These are mini-figures that include the Minions as well as Kevin, Bob, and Stuart. These PVC toys are smaller, but they're filled with lots of fun. Your kid will spend hours making these figures go on many adventures. They're great to carry around, too. Just don't be too rough on them, as their arms are a little delicate. Kids can enjoy acting out scenes from the movie with their favorite characters.
Despicable Me Minions Coloring Book with Stickers
Ok, so this one isn't exactly a toy, but coloring books make our list for the best Minion toys because kids and parents both love them. Coloring is a great activity that allows kids of all ages to work on their fine motor skills and develop their creative side. This book has 96 pages of Despicable Me Minions coloring and 240 stickers. This is a great gift idea that has a useful life that is sure to outlast some of the best Minion toys.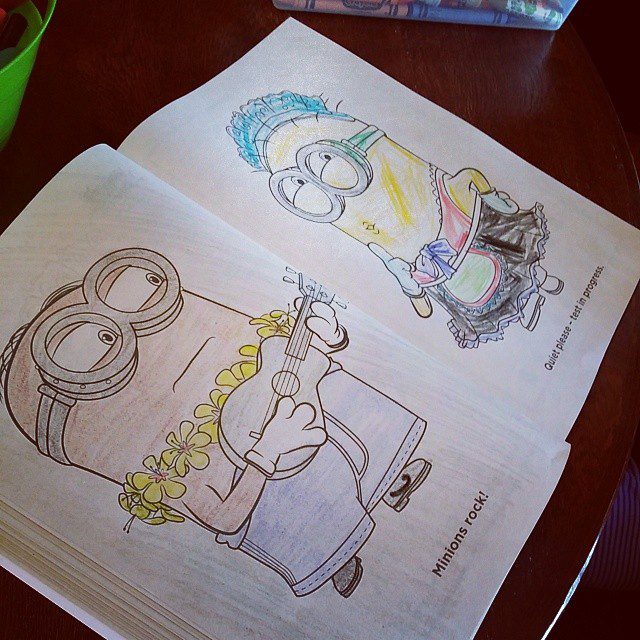 Despicable Me Minions Collector Tin
There is a collection of tiny action figure pack toys called Mineez. This toy figure collector tin comes with two Mineez Minions characters inside. As you collect more and more of the small toy figure characters, you can store them all together in the collector tin. These are some of the best toys because kids find it exciting to try and collect all of them and they can pretend play with them. The high quality tin is the perfect place for your kids to store all of the Mineez they've collected.
Play-Doh Minions 
Play-Doh is a staple of kids for many generations. It's a great way for your kids to learn how to be artistic without too much of a hassle. This set allows your kid to make their own Minion and customize it. They can give the Minion a new hairstyle, create different scenes from the movie, and then tear them down and recreate them once again. This set comes with everything your kid needs, and they will love every bit of it. Great for creative minds, the only thing you need to be mindful of is the mess it creates. Play Doh is easy to clean up, though—something parents love about this high quality colorful dough.
There a couple of different Minion Play Doh sets to choose from. With one of them, kids can create different disguises for the Minion character of their choice. You can also go with the Minion Play Doh Hair Salon. Kids will have fun designing different hairdos for their Minions characters. When it comes to the best Play-Doh sets for boys, Play-Doh is one of the top options for inspiring creative play in children of all ages.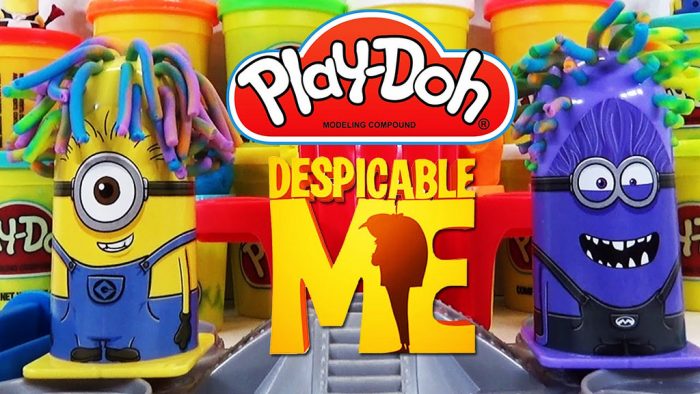 Minion Hasbro Memory Game
The memory game is a lot of fun when you're a child. Chances are, you're familiar with how the memory game works. You have many different pairs of cards. In this set, in particular, there are 48 pairs. Players take turns flipping cards, and if two cards match, they get the cards. Whoever has the most cards wins. Great to play on your own, too. This card set comes with lovable Minion characters and it helps improve a kid's memory. Easy to play, hard to master. Minion themed games like this are good gift ideas that will help bring the family together for some good quality time.
Mega Construx Minions Shark Bait 
This is part of the Mega Bloks universe. An alternative to Lego, these setpieces are a great way to show kids the value of building something. This set includes a shark scene and has a shark they can put together. This shark isn't dormant, either. It opens its mouth and moves around its fin. You can move around a fishing rod for even more fun. It comes with many different props as well, including the iconic banana. This set has a lot of pieces, but an older kid should have no problem putting it together.
The great thing about Mega Bloks Minions is these kinds of toys are great for imaginative play. Children can imagine whatever they want to build. Then they can work on their fine motor skills while trying to connect the pieces together. Mega Bloks Minions come in various other high quality sets, as well. You can get the Supervillain Jet, the Minions Vampire set, or even the Mega Bloks Minions Station Wagon Getaway Vehicle set. Keep in mind that some of these sets come with a lot of pieces. For instance, the Station Wagon set has 188 pieces, so it may not be a good choice for very young children. The recommended age for the Station Wagon set is actually 5 to 10 years old. It comes with 2 Minion toy characters, a safe with loot to go in it, working wheels, a blaster gun, and so much more. Your kiddo can have fun making a getaway in their awesome Minion toy station wagon.
Minions Bob Interacts With Teddy Bear
Who doesn't love Bob? Bob has his own teddy bear, and this set has both of them. It can talk, sing, and interact with your child. You can put the teddy bear on Bob and Bob will interact with it quite well. It's a smaller Minion, but one that gives your child the most authentic experience possible. It's one Minion toy that every child is going to love, and you're going to love watching your kid interact with it. It's soft, can react, and your kid will love it. With that said, it's smaller than you may think, so beware of that.
Minion toy Bob will move his head left, right, and forward or backward. He also comes with many sound effects and the familiar voice of the original Minion character in the movie. This one is fun for kids to interact with for sure, and it is a high quality Minion toy, however it is quite expensive. This Minions toy figure goes for more than $100.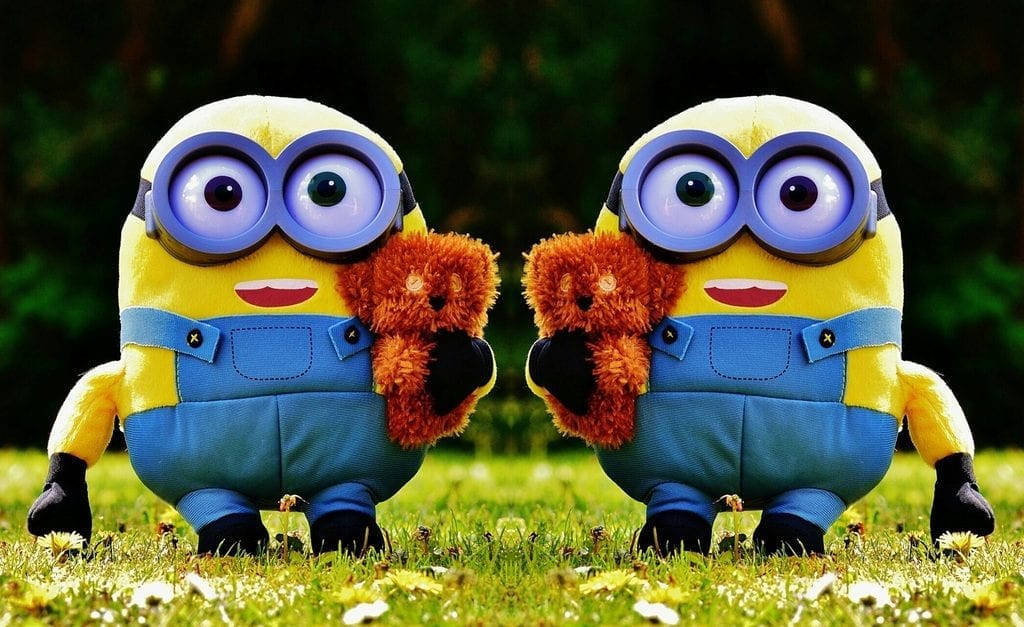 Minions Tumblin' Stuart
When a plush falls down to the floor, it rarely gets up. However, this Minion actually does get back up when it falls. Meet Stuart. Stuart is a bit childish, making flatulence and laughing at everything, but boy, does he entertain your children. It has all the features of the Stuart in movies and it's so soft that you're going to love it. It looks and feels like a real Minion. It's one toy your child won't want to put away anytime soon.
Tumbling Minion Stuart makes all sorts of noises. He laughs, he talks, and makes plenty of other sound effects. His body is soft, but he has plastic feet, goggles, and eyes made of high quality materials. Minion Stuart is interactive and will talk back to you. This Minion toy is also kind of pricey, though, at just under $100.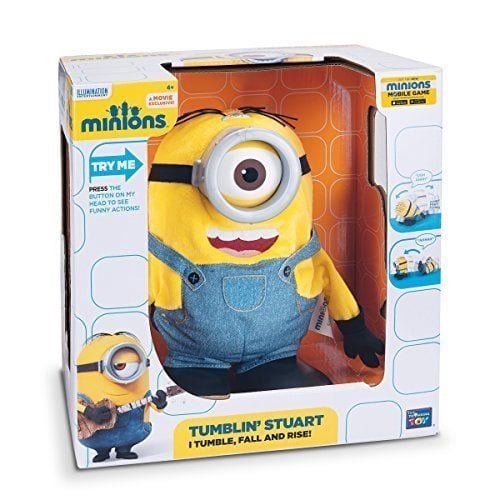 Mattel Games Kerplunk Despicable Me
Most parents find games to be some of the best toys for their kids. The game of Kerplunk has been popular as of recently. It's similar to other tower games like Jenga, where you must remove pieces without anything falling. In this game, there are 30 Despicable Me Minions pieces, and they're all in the tower. Players must take the sticks out and be mindful the Despicable Me Minions don't come tumbling down with them. Whoever has the least amount of Minions falling in the end wins. Try it out and see the fun. It's great for your kids, their friends, or for a family game night. Check it out today. With that said, it may be recommended to older players, as the setup is a hassle. It's worth it if your kids love the Despicable Me Minions movie, though.
Despicable Me 3 FART BLASTER
Ah, fart jokes. Kids love these jokes, and so do children at heart. Luckily, this fart blaster doesn't stink. It's a horn that plays different fart noises, and it can be used as a whoopie cushion of sorts. You can press a button, and the fart sound will be delayed, allowing kids to be pranksters while not harming anyone. The only downside is that you can't control the volume, so some parents may be annoyed by your kid's constant use of that. 
While there are some parents who probably won't find this Despicable Me Minions toy best for their kids, it's best to try to keep in mind that kids are kids. If you don't take yourself too seriously, you can find the humor in this Minion toy, too. The fart blaster was a big joke in the Despicable Me Minions movie. The best toys are the ones that make your kids smile and laugh and this one is almost sure to do that.
Despicable Me Minions Eye-Conic Long Range Static Free Walkie Talkies
These are fun for boys and girls to use with their friends. The walkie talkies come in a pair with Minion Dave and Minion Stuart depicted on each. These have pretty good reviews and are fairly high quality walkie talkies. The Despicable Me Minions Walkie Talkies make great gift ideas for 7-9 year olds who like to go on missions during fun imaginative play sessions.
Parents will love that these Despicable Me Minions Walkie Talkies are equipped with volume control. They'll also love the low price of them. 
Mini Minion Action Figures
There are many different types of these Mini Minion Action Figure Pack toys. One series of these action figures is the Splat 'Ems packs. The action figure is less than 2 inches tall and is made of a squishy material that sticks to the scenery board included in the pack. There is a catapult that kids can use to launch the Minion toy toward the board to get it to stick. The coolest thing about these packs is there are multiple variations of them, so your kiddo can try to collect them all and use them together to set up whole Despicable Me Minions movie scenes. 
Despicable Me Minions—Talking Minion Dave Toy Figure
Minion Dave, with his adorable hair cut and smiling face is a favorite of the Despicable Me Minions for many kids. The Talking Minion Dave Toy Figure stands at 7.25 inches tall. His eyes and arms are moveable. You can push the pocket on the front of his body to get reactions from Minion Dave. He is programmed with 25 different sayings from the Despicable Me Minions movie. Minion Dave is recommended for children ages 4 to 10 years old and is one of our reasonable priced gift ideas. As an added bonus, Minion Dave requires 2 AA batteries, which are included when you purchase. 
Plush Buddies
This is another Minions plush, and this one has Bob and Stuart as characters. These Minions are under a foot tall, but they are soft and cuddly. Great for a kid who needs a friend while sleeping, or someone who needs a companion while they travel. Check out these buddies today and your kid will love everyone. With that said, they are a bit pricier, but you get what you paid for. These are high-quality plushies that your kids will love. Kevin and Stuart are two of the most popular Despicable Me Minions, making these Minions Plush Buddies great gift ideas for many kids.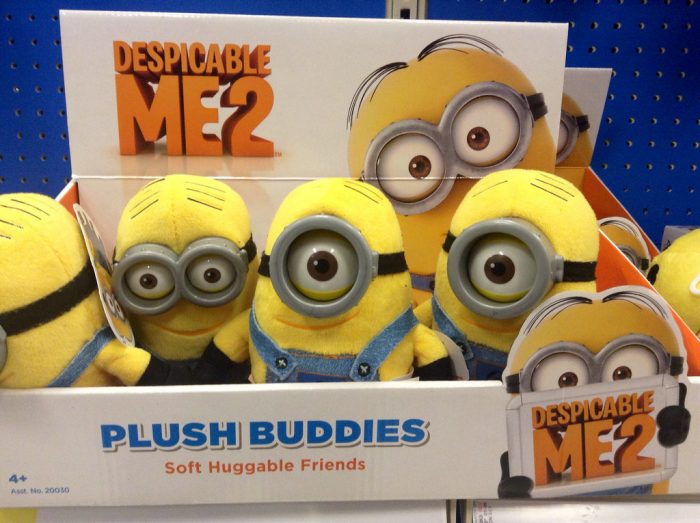 Minions: Seek And Find
Who doesn't like a seek and find game? This is available in physical or digital formats, making it good for any occasion. Kids of reading ages will love finding everything and looking for all the items the Minions are searching for. It's great for kids who are waiting at school or in the doctor's office. You can choose to get the Minions: Seek and Find or the Despicable Me Minions: Seek and Find. Your child will stay engaged with all of the high quality pictures including the Minions characters they're so familiar with. However, these books are a bit short, so be mindful of that.
Top Minion Toys Conclusion
The Despicable Me Minions are popular with both kids and adults. It's for this reason that there are so many high quality Minion toy gift ideas to choose from. Our hope is that in our article about the best Minion toys, you've been able to find something to work for your needs. From the many options of toy figure pack sets, to the imaginative play Minion building sets, and to the many Despicable Me Minions games you can choose, there are high quality gift ideas for all ages of Minion enthusiasts.
FAQs
How much is the Minion Tumbling Stuart toy?
Minion Tumbling Stuart only costs less than $55. It's a little pricey, but seeing the different tricks that it can offer makes the price forgivable. This is a moveable toy figure that can interact with its user.
Can my 2-year-old play with this toy?
A 2-year-old cannot technically play with the toy because they are below the minimum age limit. However, you can turn it on for entertainment purposes without letting the toddler touch it. The best Minion toys for 2 year olds will be the Plush Buddies Minion toy.
Is it suitable for my 4-year-old?
Yes, it is suitable for your 4-year-old. It happens to be the minimum age limit for this toy.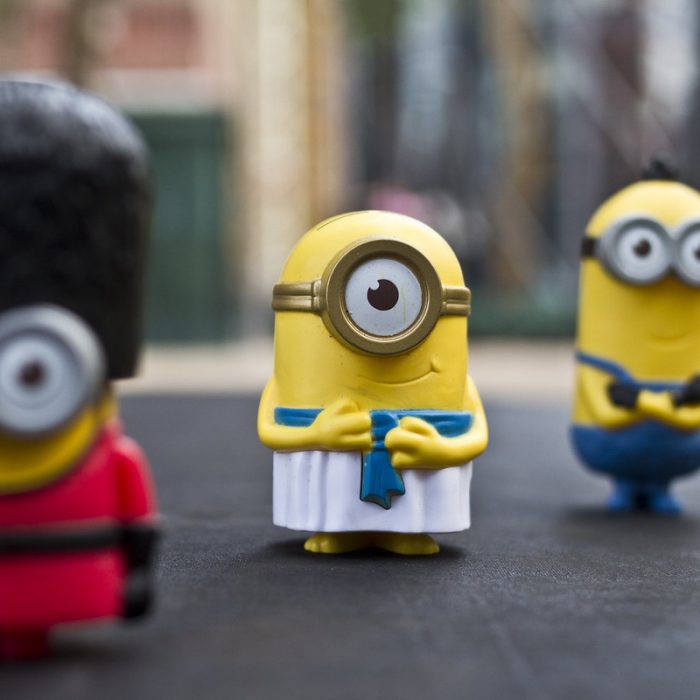 Why is this Minion called Tumbling Stuart?
Minion Tumbling Stuart has gotten its name from the fact that it can bend forward, flip backward, and rise again. These are essential steps for tumbling.
Can the toy version do the same trick that Minion Tumbling Stuart is known for?
Yes, the toy version can do many things that the original version can do. 
What other fun things can it do?
Fall back

Bend over

Rise

Giggle

Talkback

Fart
 How does it function?
The quickest way to turn it on is by pushing the button on top of the head. Then, the mechanisms hidden under the cuteness will work and allow Tumbling Stuart to entertain you and your child.
Does it follow voice command?
Yes, it does. When you say something, it will do various tricks.
What are the toy's dimensions?
It measures 10 x 4.5 x 9.5 inches. It is big enough for its price.
Can you consider Minion Tumbling Stuart as a plush toy?
Yes, it is technically a plush toy. Its body is very huggable.
Why is it ideal for young children?
The toy is ideal for young children because it is soft and highly interactive. They can see their new best friend in it.
Does its voice sound like what we hear in the movie?
Yes, it sounds very much like the Despicable Me Minions movie version of Tumbling Stuart.
Can I recharge this toy?
No, the Minion Tumbling Stuart toy is not rechargeable. You must get new batteries for them.
How many batteries does Minions Tumbling Stuart need?
It requires six AA batteries in total. How often you'll need to change them depends on how often your child plays with it.
Where can I find this toy?
You can find it at virtual marketplaces like Amazon and Walmart.
What are the best Minion toys?
Some of the best Minion toys include: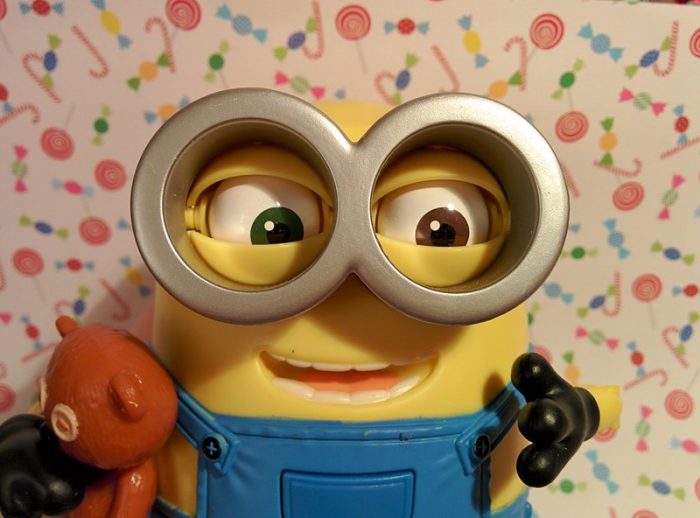 Despicable Me Minions—Eye-Conic Long Range Walkie Talkies (Minion Stuart and Minion Dave)

Minion Bob Interacts with Teddy Toy Figure

Minion Toy Play Doh Sets

Despicable Me Minions Action Figure Pack
Top Minion Toys Other Resources
https://momlovesbest.com/kids-minion-toys
https://toynotes.com/minion-toys
Last Updated on May 9, 2023 by Inma Barquero
DISCLAIMER
(IMPORTANT)
: This information (including all text, images, audio, or other formats on FamilyHype.com) is not intended to be a substitute for informed professional advice, diagnosis, endorsement or treatment. You should not take any action or avoid taking action without consulting a qualified professional. Always seek the advice of your physician or other qualified health provider with any questions about medical conditions. Do not disregard professional medical advice or delay seeking advice or treatment because of something you have read here a FamilyHype.com.