Strollers are something that many parents think a lot about before they decide which is right for them. Every stroller has its pros and cons, and being able to choose the right stroller for the right situation is always a good thing. 
With that said, one way you can decide if a stroller is right for you or not is to compare them. There are quite a few strollers on the market, and two good ones are the Britax Frontier and the Britax Pinnacle. Even between brands, there are quite a few differences. Let's look at what makes these two car seat brands different from each other.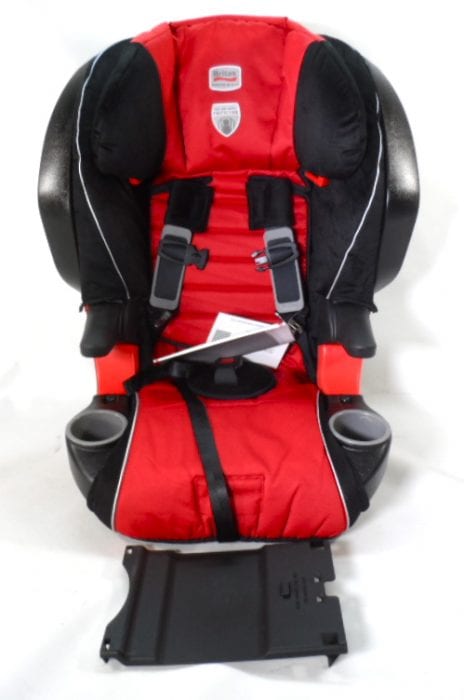 How They Are Alike
Before we contrast the two car seats, there are plenty of ways to compare the two. Britax Frontier vs. Pinnacle comparison has the following similarities. Both are highly rated in safety; if you want a car seat that goes above and beyond, these two are the car seats for you. 
Both car seats are made from SafeCell, a frame that uses steel and plastic to help keep the seat nice and stable. If there is an impact, it's quite good at absorbing the blows and preventing your kid from hurting itself. 
Both car seats have headrests that do the same thing when it comes to protection. Besides being oh so comfortable, they are designed to help prevent debris from hurting your child, making you have some peace of mind.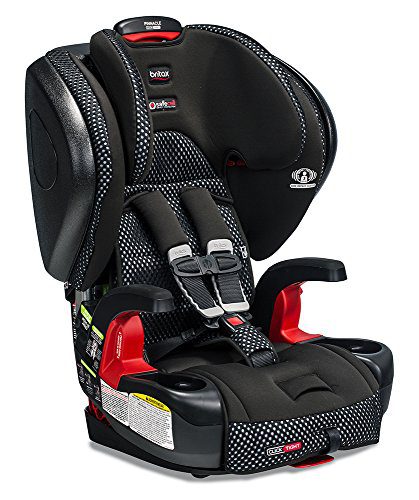 While all car seats have their safety features, these go above and beyond, by allowing side impact protection that is impact absorbing that helps to keep your child safe at all times. 
Also, both car seats are easy to install. As the name suggests, both the Frontier Clicktight Harness 2-Booster and the Pinnacle Clicktight Harness Booster feature the Clicktight installation system. The Clicktight installation system allows for safe, but easy installation of the booster car seat. All you have to do is snake the seat belt through the Clicktight key path and buckle it on the other side of the booster car seat. All of the Britax car seats feature the Clicktight installation system so all users will have peace of mind when installing these booster seats. 
Both car seats have a nine-year expiration as well, making them long-lasting. 
The car seats also have a good weight limit system as well, lasting a long time. When your kid grows, transitioning them from seat to seat is always quite easy and practical. 
These two car seats, overall, have a lot of similarities. It just scratches the surface. The point is that both are safe and practical car seats. Now, let's talk about the differences. 
The Differences
 These car seats have quite a few similarities, but there are differences as well. Mainly with the safety features. Here is the other side of the Britax Frontier vs. Pinnacle. 
With the Pinnacle, there is a protective layer in the headrest. It gives your child more impact protection should a car crash happen. This is also mentioned in TheBabySwag.
While the extra cushion gives you a little more peace of mind, the Frontier is still quite safe. The cushion of the Pinnacle does add a bit of weight and bulk, which can turn off some parents from using it. It's already a heavy car seat. However, it does provide plenty of safety, so it's one thing to consider when you're deciding to purchase the two.
The Price 
Now, let's look at the prices of both car seats. 
The Frontier Clicktight Harness 2-Booster car seat is around $223 on Amazon, with prices varying depending on where you are. While not the cheapest car seat in the world, the price is still quite nice for a high-quality car seat. 
The Pinnacle, meanwhile, is around $247 on Amazon. 
Overall, the price difference between the two car seats isn't that huge. It's a little over $20 to get the Pinnacle over the Frontier. Some parents will gladly pay a bit more to get more safety. However, if you're someone who is counting every penny, you may be a little turned off by the price difference. 
With any car seat, the prices are changing all the time, and many sites offer different prices. Keep searching, and see which one is right for you.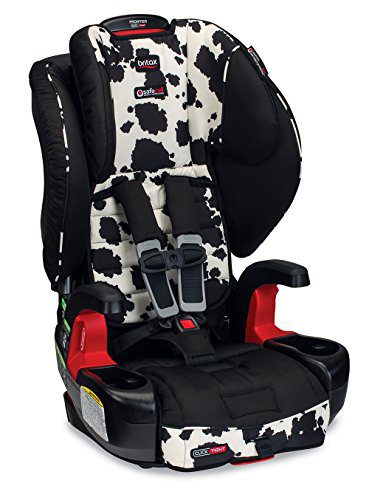 Britax Frontier Vs. Pinnacle: What Are the Reviews Saying?
When selecting a product, you may always want to look at the reviews and see what they are saying. Both car seats have highly positive reviews from parents like you. Customer reviews are essential for this Britax Frontier vs. Pinnacle because these people had their first-hand experience with the product. Let's take a look. 
The Frontier by Britax booster seat has around a 4.5 star average on Amazon. Many reviewers praise the car seat for its practicality and how it saved their child. A few customers were unfortunate enough to deal with a car crash, but fortune enough that the Frontier protected their baby. 
A few negative reviews of the car seat claim there is a design flaw in the Britax Frontier, that the harness is not tight enough and that you need a cutting board to fix the problem. It is seen as a huge oversight, though it may be a defective unit, considering most of the reviewers have no complaints. 
The Pinnacle has about 4.6 stars on Amazon, making it around the same when it comes to customer reviews. Again, people love how easy this car seat is to use. There is a minority of individuals who had trouble with the harness or received a defective car seat product, but with anything, that is bound to happen to a small number of people.
So What Do We Recommend?
So, Frontier or Pinnacle? There are so many similarities between the two, and there is only one real difference. The Britax Pinnacle has an extra cushion, giving your child more safety, but with added cost and bulk to the product. While the price increase isn't too much, some people may be turned off by the Pinnacle. 
The Britax Frontier Clicktight Harness 2-Booster is still a safe car seat, even without the added cushion. While some customers have reported some harness issues, this is in the minority because all have shown that the safety is supported by the easy Clicktight system that uses the seat belt.
Overall, you are the only one who can decide which car seat is right for you. We recommend the Britax Pinnacle, but if you don't like bulky car seats, that may not work for you. 
Conclusion
Britax makes some great car seats designed with protection in mind. No matter which one you pick as the best car seat, you are in safe hands with this car brand. 
With that said, have you used either of these car seats? Which one did you like? Tell us. We'd love to hear your opinion on both the Frontier Harness 2-Booster and the Pinnacle Harness to Booster.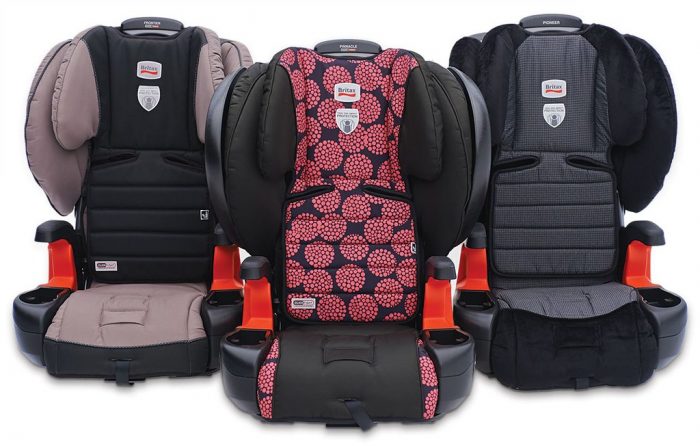 Britax Frontier Vs. Pinnacle FAQs
 What is the difference between Pinnacle and Britax Frontier?
Aside from their prices, the difference between Britax Frontier Harness 2-Booster car seat and Britax Pinnacle is their weights. One weighs 25 pounds and is quite slim, whereas the latter weighs 26.5 pounds. You can also check for comparison here: https://csftl.org/britax-combination-seat-comparison/.
Are the Pinnacle Clicktight Harness Booster car seat and the Frontier Clicktight Harness 2-Booster infant car seats?
Unfortunately, these booster car seats do not double as infant car seats. This also means that these booster seats are not convertible car seats. Infant seats on solely rear-facing and convertible car seats go from rear-facing to forward-facing. The Pinnacle Clicktight Harness Booster car seat and the Frontier Clicktight Harness 2-Booster seat are only for when your child is old enough and weighs enough to sit in a forward-facing booster seat position. 
Does Britax Pinnacle recline?
The Pinnacle by Britax cannot be in recline mode. Primarily when used as a booster. Once installed, the Pinnacle won't budge for recline purposes.
How do you put a Britax Frontier in booster mode?
In booster seat mode, the shoulder height of the Britax Frontier Harness 2-Booster car seat should adjust from 15-23 inches.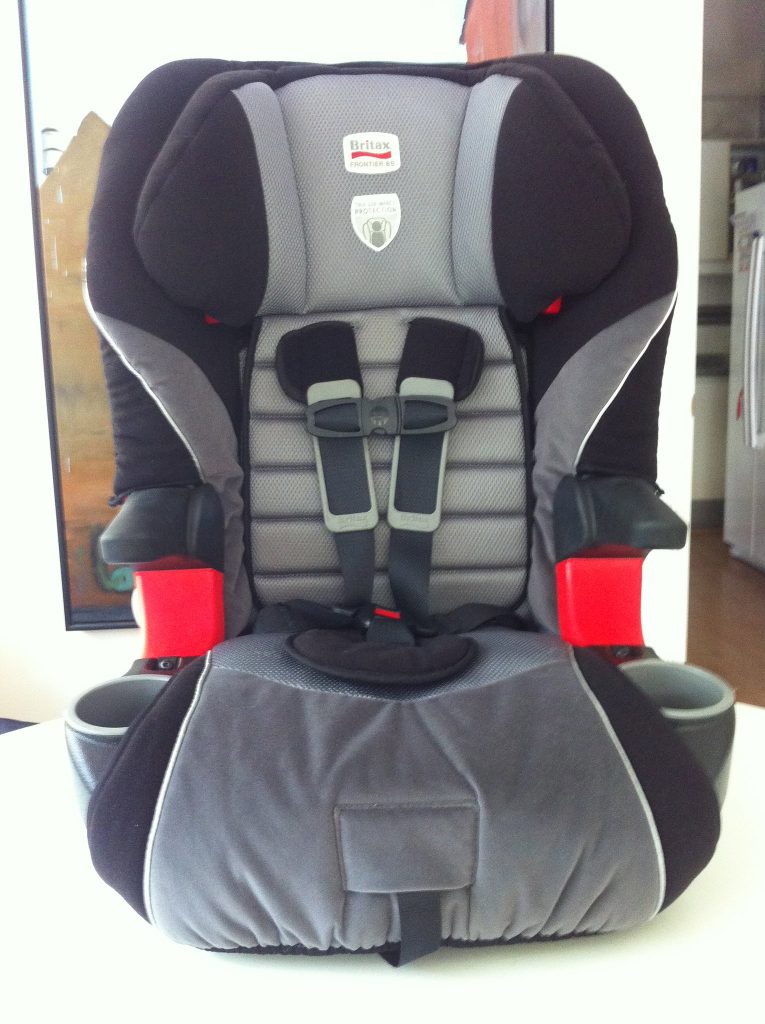 How long is a Britax Frontier Good For?
Due to Britax Frontier's higher weight and height limits, the seat has an expiration date of six years after the date of manufacture. But that is except for the Frontier and Frontier 85, which expire after nine years.
How do you recline a Britax Frontier?
To recline the Britax Frontier Harness 2-Booster car seat, simply adjust the position of the recline with a handle on the lower front of the seat.
Is the Britax Pioneer a good booster car seat?
Unfortunately, the Britax Pioneer has been discontinued, but when it was available it was a popular booster car seat amongst parents. The Britax Pioneer harness 2-booster car seat has 2 layers of side impact protection, featured 2 cupholders, and had a weight limit of 70 pounds in the forward-facing harness and up to 110 pounds in the booster seat. 
Last Updated on June 15, 2021 by Marie Miguel
DISCLAIMER
(IMPORTANT)
: This information (including all text, images, audio, or other formats on FamilyHype.com) is not intended to be a substitute for informed professional advice, diagnosis, endorsement or treatment. You should not take any action or avoid taking action without consulting a qualified professional. Always seek the advice of your physician or other qualified health provider with any questions about medical conditions. Do not disregard professional medical advice or delay seeking advice or treatment because of something you have read here a FamilyHype.com.