Shopping for a Pepp baby pram or a Nuna Pepp stroller? Before giving birth, you want to prepare some baby stuff and that includes pepp strollers. You want a quality stroller or Nuna Pepp stroller for your child that can be used with their car seat, but you don't want to pay a lot for a Nuna Pepp stroller that just doesn't cut it.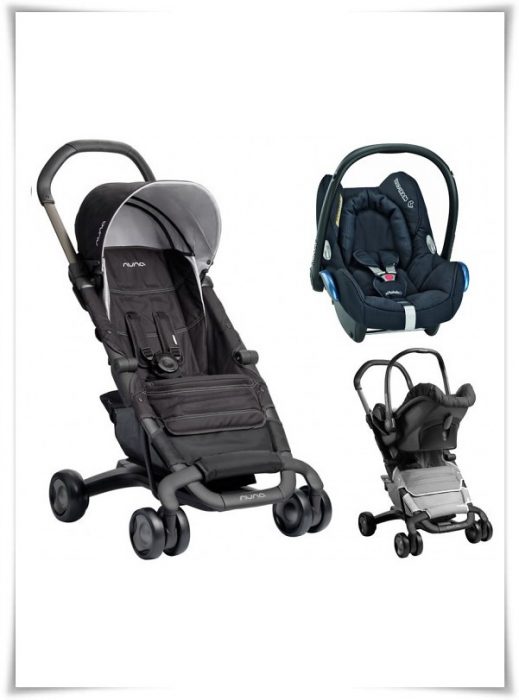 Of course, you also want the one that opens easily, has a big room for the baby, and is something you can bring to any trip.
Nuna Pepp For Newborns
The Pepp stroller is a popular choice for newborns due to its thoughtful design and features. It provides a cozy and secure environment for infants with its flat reclining seat, allowing them to lie comfortably. The stroller also features a five-point harness to ensure the baby's safety during the ride. Pepp is lightweight and compact, making it easy to maneuver in crowded spaces and convenient for parents on the go. Its quick and easy folding mechanism is especially beneficial for busy parents who need a stroller that can be folded and unfolded effortlessly. With its combination of comfort, safety, and practicality, the Pepp is a reliable option for newborns and their parents.
Choosing The Best Strollers For Kids 3-7 Years Old
Here's What You Need to Know
Choosing the best stroller for children aged 3 years and above requires careful consideration of their specific needs and your lifestyle. Look for strollers that offer a higher weight capacity, sturdy construction, and ample roomy seat space to accommodate the growing child comfortably. Features like adjustable handlebars, a reclining seat, and a large storage basket can enhance convenience. Additionally, consider strollers with robust spring suspension technology and all-terrain back and front wheels for smooth rides on various surfaces. Prioritizing safety features such as a five-point harness and a reliable braking system is crucial. Evaluating factors such as foldability, portability, and compatibility with additional accessories can also help determine the best stroller option for your child's comfort and practicality.
Nuna Pepp Stroller For Kids
Meet the Pepp stroller, a Dutch stroller that is available in the US. This stroller is a luxury stroller, meaning it costs a pretty penny, but it's said to be compact and runs well on different types of terrain. This product stands out for its luxury and uniqueness.
Pepp Stroller /Nuna Prams
A Pepp stroller is fairly lightweight, has wide-set wheels that help give your baby a smooth ride, and comes with an infant car seat adapter so you can use it with your baby's infant car seat, such as the Maxi Cosi and other stroller brands of infant car seats. It also provides more room for the baby.
Can you use the Pepp stroller with your infant car seats? Or is it one that isn't worth the money? Let's find out in this review.
Other travel systems are worth a shot. Hence we made a list of Amazon's best-selling travel systems for babies to give you an idea of your options. We also highlighted the essential features of each stroller to provide you with the opportunity to choose right. If you want to learn more about the comprehensive information that Pepp offers, you can continue reading the article.
Who Can Fit the Pepp Stroller?
The Pepp is excellent and fits a child from the newborn stage, who is still in an infant car seat carrier, until 50 pounds, giving it quite a range. It is perfect for a baby or for a toddler who likes to look around. Thanks to its leg rest, the Pepp stroller gives the ultimate space saver for your child to enjoy the world around them. It has adjustable calf support that gives plenty of space to stretch and to lay out flat for a smaller child or fold down when they get bigger. You'll need to refer to the manual to find steps for using it with various car seats. Just make sure that everything is adjusted beforehand, and there you go.
Ergobaby 180 Reversible Travel System 
Like the Pepp stroller, this stroller from Ergosbaby is reversible, you can flip the handlebar to change the view of your baby.
It is lightweight and just around 20 lbs. You can easily carry it anywhere.
It comes with necessary features such as an extra large storage basket, a huge sun canopy, mesh sidewalls, and a reclining seat.
BRITAX B-Lively Lightweight Stroller

Like the Pepp stroller, this one has an all-wheel suspension and strolls easily even on a bumpy road.
It has swivel front small wheels for easy maneuvering.
It is also lightweight and with compact fold feature, three-position recline, upright position, and more.
It is compatible with all Britax infant car seats.
This stroller has included adapters such as the Nuna Pepp Next stroller.
Highly recommended for babies up to 55 pounds.
Ergobaby Metro+ Compact Baby Stroller
The Metro Lightweight baby stroller is compact and easy to carry, when folded it can fit on subways, buses, and airline overhead bins.
It is well-padded and comfortable for the baby to travel on since it supports the head, back, bottom, and legs.
It has spring suspension and large back tires that help ensure a smooth ride.
Mountain Buggy Cosmopolitan Buggy Stroller
The stylish and classic Cosmopolitan stroller offers a comfortable, luxurious, and smooth ride.
It's versatile, you can alternate between forward and rear-facing options.
It also has a 22-pound storage capacity where you can put more baby stuff.
What About Nuna Strollers Canopy?
A stroller should have a beautiful complete canopy system to protect your little one from the sun and other elements hitting your baby. The removable UPF 50+ canopy with flip-out eyeshade gives you a sun visor and a drape you can use for your baby's entire protection. The dream drape makes it so your little one can sleep peacefully when they want to and stay dry if it starts to rain.
You can simply lay the seat back to a full recline position and pull the dream drape rain cover down for a nice little bed on-the-go situation. This also works over your car seats when you have them attached to the stroller frame. It will slide over your sleeping baby silently when they fall asleep in their car seat and you don't want to take them.  You can then put it away, and it's quite lightweight, so it isn't a burden. It includes your typical peekaboo window as well, which is in the back of the seat, so you can see your kid and keep a watchful eye on them.
Can The Pepp Stroller Recline?
A good Pepp stroller has a way to recline in three different positions. The stroller uses a zipper recline. It is quite a hassle, to be honest. You have to move the seat back and zip it. This one will need two positions in hand, making it quite annoying. Imagine if you had a reclining chair that you could only recline when you zip it up. This review has to take points away from the two-handed recline feature.
Reclining the Pepp stroller with a lever is always a good thing, and we're sad that the Pepp by Nuna doesn't have it. Perhaps future models may make the recline a bit easier. When you're using the stroller with your infant car seats, the recline feature won't even really matter.
Nuna's Pepp Handle Bar
A stroller should have a fantastic handlebar. The Pepp stroller handlebar is adjustable, with five positions that make it suitable for short and tall parents alike. Everyone should be able to use the handlebar comfortably, and with the Pepp, that's possible. We do like a stroller that takes all sizes into account, and that's okay.
Also, the handlebar of the stroller is comfortable for your hands. When your hands are going to spend a lot of time gripping a handlebar, it should be comfortable. Some infant car seat carrier handlebars have been known to leave blisters on parents' hands. Also, many strollers, double strollers, and wagons have, too. Pepp won't leave blisters on your hands and gives you a comfortable spot to place them.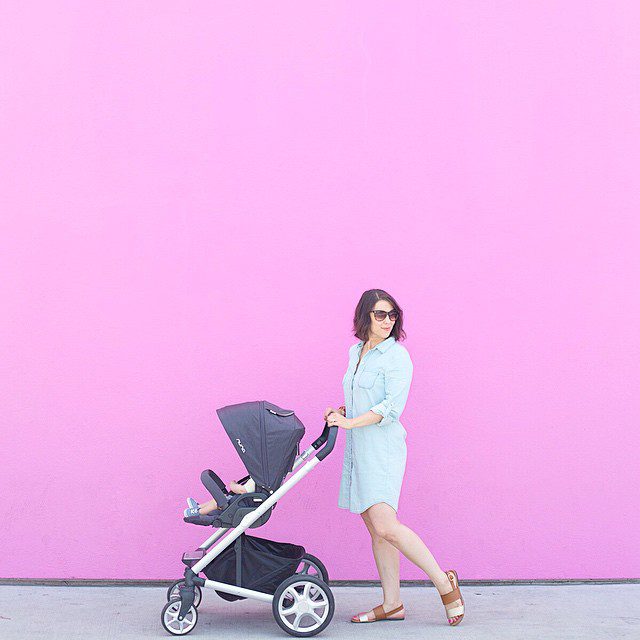 Pepp's Harness
A good stroller has a harness that makes it much easier for you to adjust everything. The Pepp stroller has a five-point harness, such as what you find in infant and toddler car seats, that can be three points as well. This Pepp stroller has a beautiful harness, but the shoulder straps are a bit annoying to put together. Strollers and car seats all have adjustable harness lift straps, and you'll find that many of them are tough to assemble or adjust. The Nuna stroller also features a Magnetech secure snap that makes harnessing your baby easier.
Pepp's Basket
Many strollers have baskets that you can use to store goods. Pepp has a small basket that can store all the essentials in a small diaper bag, but we do say it should be more prominent. You can hang stuff from your Pepp stroller as well, making it a good thing. It would have been nice to see a little more storage space for this review, but you have to expect there'd be less with such a compact stroller. At least this stroller has some storage, unlike an umbrella stroller, which has none. You'll just have to decide what's more important to you, having lots of storage or having a compact stroller.
Pepp's Wheels
The chrome-accented wheels on a stroller are always something you should look at, as one handed steering wheels that are high quality can make the strolling experience so much better and vice versa. The Pepp stroller has rubber wheels and is a four-wheeled stroller. This uses the double-single combo to make the swivel wheels easier to maneuver than other four-wheeled types.
The wheels of Pepp are quite easy to turn, especially in tight spaces, and while it's not an all-terrain vehicle,  does handle uneven surfaces decently enough. While you're not going to go in the woods with the stroller, it's quite lovely and can absorb some bumpy rides. A compact stroller is much better at maneuvering through all kinds of spaces than a full-size stroller. That makes it a good everyday stroller and a great travel stroller.
Pepp's Brake
A right brake is needed in case your stroller goes awry. This Pepp stroller by Nuna is excellent for all shoe types, and it's quite easy to lock and unlock. It has a one-touch rear-wheel braking system. Try this Nuna out a few times, and you should be the master of it. Some strollers have brakes that are a puzzle to figure out, and when you need to use them, that's something that should not happen whatsoever. This stroller was designed with convenience in mind so parents could be more at ease.
Pepp's Other Accessories
You can purchase additional accessories for your Pepp stroller like a child tray and wheeled travel bag to make your adventures a lot easier.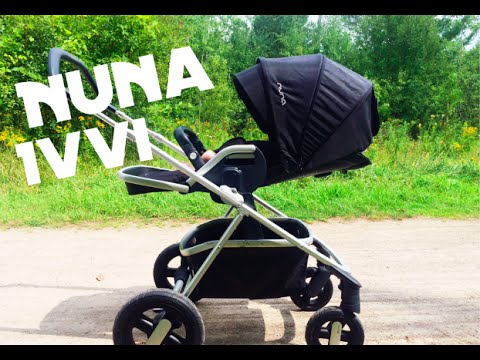 Folding Pepp Strollers For Smooth Ride
It's quite easy for you to fold this stroller and store it. It's quite intuitive. This Pepp stroller by Nuna folds nicely into a size that's easy to carry around. You can quickly put it away and use the included Velcro straps to keep it secure. We do wish that there was an automatic lock instead of belts, but that's okay. This stroller is 19 pounds, so it's still a little heavy, but it's overall not that bad to carry otherwise.
You can also fold it down and pull it behind you like a tow behind a bag. This Nuna stroller can be pulled just like a carry-on suitcase. It's a good travel system stroller that will make your life easier while you're on your trips. Pepp stroller can collapse down to quite a small size like an umbrella stroller, but while giving you the functionality of a full-size stroller for your travels. This part of the design is one of the things we like the most about this review. And to make your travel more convenient, there is a travel bag for Pepp that you can purchase separately.
How Much Does Nuna Pepp Cost?
Even though it's a luxury stroller, you can get it for a fair price. This goes for around $269 online, making them not the cheapest strollers out there, but also not too much. This one may make justifying it much more manageable.
The Pepp has a lot of good things going for it, such as its wheels, maneuverability, and it's versatility. It also has all-weather seat fabric for better durability, and is compatible with many different infant car seats, such as the Maxi Cosi, because of the included adapter. It's one of the more versatile travel systems.
But Pepp also has its cons, too. The harness is quite annoying to use, making it a puzzle to put together. We also feel like the peekaboo window should be in a better place. Also, the velcro strap lock of the stroller is a little impractical. In this review, we have seen the features of Pepp.
It's an excellent stroller for the price, and we recommend you check it out.
You can see if your local store has it, and if so, you can test it with your baby and see if it's right for you.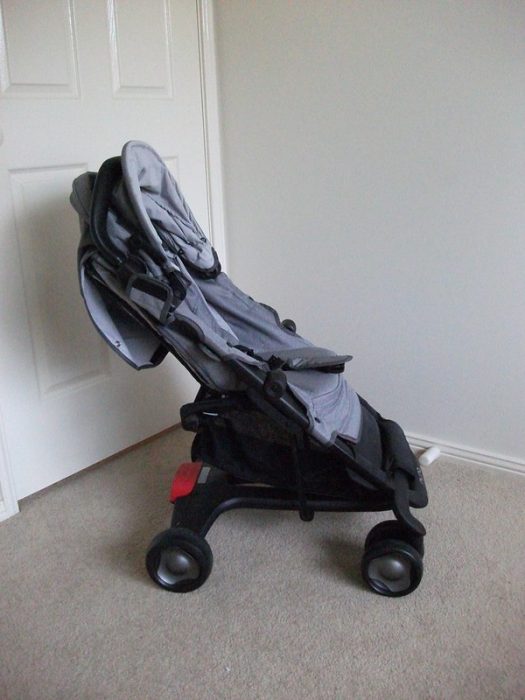 Pepp Strollers – Final Thoughts
There are many types of strollers, and Pepp is just one of them. This stroller combines a bit of luxury and affordability, along with a mixture of excellent features and features that do need improvement. So overall, a mixed bag. If you can find the stroller discounted, by all means, give it a try. Pepp has plenty of good stuff. Plenty of people sell their unwanted travel systems on neighborhood social media sites. However, we do believe you could do much better for the retail price. Anyway, this has been another stroller review. We hope that you enjoyed the review, and hope that you will come again.
Frequently Asked Questions (FAQs)
What Is Best Nuna Strollers?
The best Nuna stroller out there is the Nuna MIXX2. A Nuna MIXX2 review would reveal that it is a high-end stroller due to its leather-wrapped handlebar, self guiding magnetic buckle that automatically locks into place, premium all season seat to keep your baby cozy during winter and cool during summer, high-quality fabrics with a comfy infant insert and significant rear rubber ties. Other additional features include foot-friendly brakes, mesh peek-a-boo window, and excellent storage. The best offering, however, revolves around the seat's ability to face both forward and back at the parents, alongside its adjustable leg rest and easy-to-use push button.
You can also check out the Nuna Tavo. It has a new design and includes all of the convenient features you get with the stroller. It folds flat easily like a piece of luggage with one hand. This Nuna has an incredible suspension system so your baby gets a smooth ride. You'll have the dream drape you get with the buggy and the all-weather fabric you get from the seat. The Tavo also has a few of the luxury upgrades the MIXX2 comes with.
Can You Jog With Nuna Pepp Strollers?
The Nuna Mixx is composed of large wheels and an all-wheel suspension that is perfect for crossing varied terrains – from the suburbs, city, and rural environments. This Nuna also takes pride in its front-wheel lock option dedicated to beaches or any other tricky surfaces. Despite these features, the makers of the Nuna Mixx still do not recommend the stroller for running or jogging. What's missing is a lockable or fixed front wheel that will prevent the stroller from swerving.
You'll find that most travel systems aren't comprised of strollers meant for jogging. The travel system stroller is supposed to help with making life a little more convenient for parents. From the click-in car seats to the car seat bases that you can install in several vehicles, the travel system just helps to take away everyday annoyances that other types of baby gear present.
Is The Nuna Pepp Stroller Worth It?
Yes, they are definitely worth the price. The Nuna brand offers a range of strollers known for their quality, functionality, and stylish design. Many parents find Nuna strollers to be worth the investment due to their durability and ease of use. However, whether a Nuna stroller is worth it for you depends on your specific needs, preferences, and budget.
Does Nuna Have A base?
The Nuna PIPA comes with a base and also has an additional one upon purchase. This extra base is a big help if your baby will be riding with his or her grandparents or caretakers often or if your family owns two cars. The feature of Nuna PIPA car seat series lets you move your car seat from one location to another location quickly without having to use the seat-belt installation method. It also saves you from buying another extra car seat for your other vehicle.
Infant car seats can be pretty pricey. So, when you buy into one of the travel systems that comes with the car seat base, you may have to spend a bit upfront, but it will ultimately end up saving you money, most likely. A travel system is more versatile so you don't have to do more than one of the same thing.
Does Nuna Pepp Have Double Strollers?
The Nuna Demi Grow is an offering by Nuna designed to serve the whole family for years. Pepp by Nuna can aid one or two children from infancy up to toddlerhood. Take note that the Nuna Demi Grow also works with two bassinets, two infant car seats, two toddler seats, or one of each.
The Nuna Demi Grow isn't one of those side-by-side strollers double strollers are known for being. Pepp can be used first as a single, and then you can add another car seat or use a stroller seat that will be in line, not next to each other. Users of side-by-side strollers and double strollers often struggle to fit through doorways. This Nuna stroller solves that problem for parents.
What age is the Pepp for?
The pepp stroller is good for both newborns and up to 3+ years old. You just have to find the right stroller.
Does Pepp fit on airplane?
Yes. In most cases,  you can bring a Nuna stroller on a plane. Just make sure you bought the collapsible Nuna stroller.
Which Pepp Stroller Is Allowed In Flight?
When it comes to choosing a stroller that is allowed in flight, it is essential to consider the specific guidelines and regulations of the airline you are traveling with. Many airlines permit collapsible strollers for use in the cabin, provided they meet certain size and weight restrictions. Generally, lightweight and compact strollers are more likely to meet these requirements. It's advisable to check the airline's website, contact their customer service via email, or consult their specific policies regarding strollers and their allowances for in-cabin use.
Additionally, some strollers come with travel-friendly features like a compact fold and a carrying box, making them easier to transport during air travel. Keep an eye out for stroller sales or discounts to find suitable options that fit your travel needs.
Is Nuna+Pepp A Premium Brand?
How Do You Remove A Carseat From A Nuna+Pepp Stroller?
Do You Need An Infant Insert For Nuna PIPA?
How Long Can You Use A Nuna+Pepp Stroller?
What Is The Newest Nuna Pepp Stroller?
How Much Is The Pepp Nuna Stroller?
What Size Is Pepp Next?
Last Updated on May 12, 2023 by Allen Laconsay
DISCLAIMER
(IMPORTANT)
: This information (including all text, images, audio, or other formats on FamilyHype.com) is not intended to be a substitute for informed professional advice, diagnosis, endorsement or treatment. You should not take any action or avoid taking action without consulting a qualified professional. Always seek the advice of your physician or other qualified health provider with any questions about medical conditions. Do not disregard professional medical advice or delay seeking advice or treatment because of something you have read here a FamilyHype.com.