If you are in the market for one of the most prestigious strollers that fit your lifestyle as a mom, then you have come to the perfect place. For some of us, the best strollers are not only about functionality. We want more than that. We want the best luxury stroller – the entire stroller – that we can feel good about being seen with. This article provides an overview of some of the top baby luxury strollers in 2020 available online and in-store for newborn babies.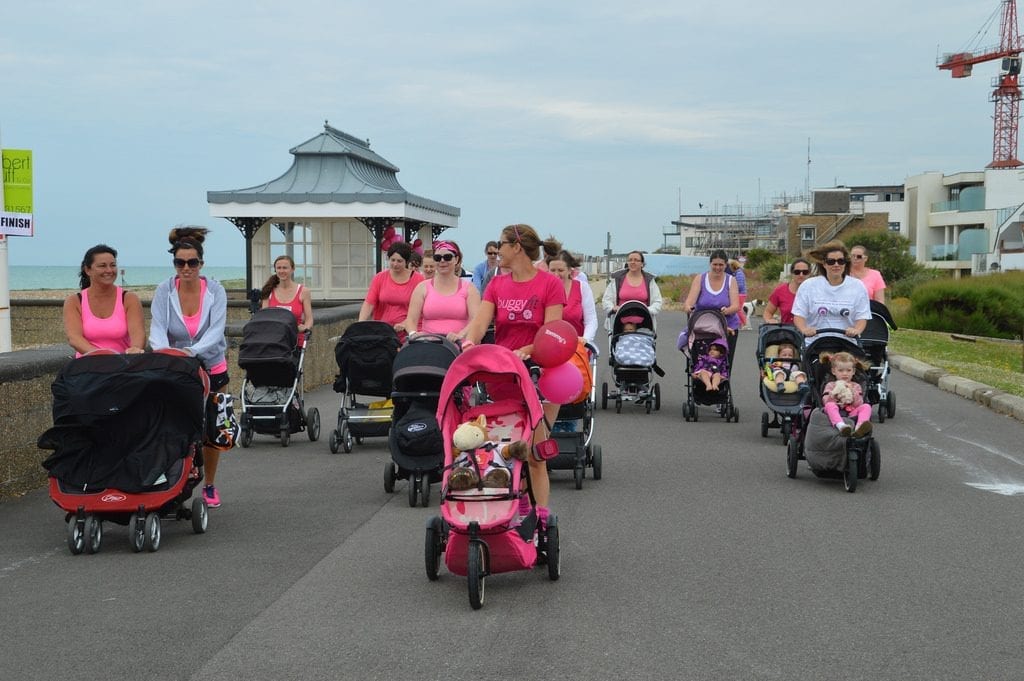 The highest-rated and best luxury strollers have been chosen based on the factors of ease of use, style (including front wheels and rear wheels and toddler seats), weight limit, and beauty while maintaining the essential features of an everyday pram. These luxury strollers combine safety and storage features with sophisticated for a complete solution for today's fashionable and safety-conscious mom. The following fancy prams and strollers feature the top of both worlds, combining safety and beauty to make for a full riding experience.
The coolest and most sophisticated stroller will give you everything you are looking for and more. You can get the best travel system strollers that include a sophisticated pram, and high-quality materials that make for durable strollers, give a smooth ride with air-filled tires, are easy to fold, and help you feel like a hot mom. Does that not sound amazing? We will get started in a minute by taking a look at one of the classic premium favorite prams, the Bugaboo Fox. But first, let us briefly look at some of the important features you will not want to overlook when choosing a super stylish stroller.
Hot Mom Strollers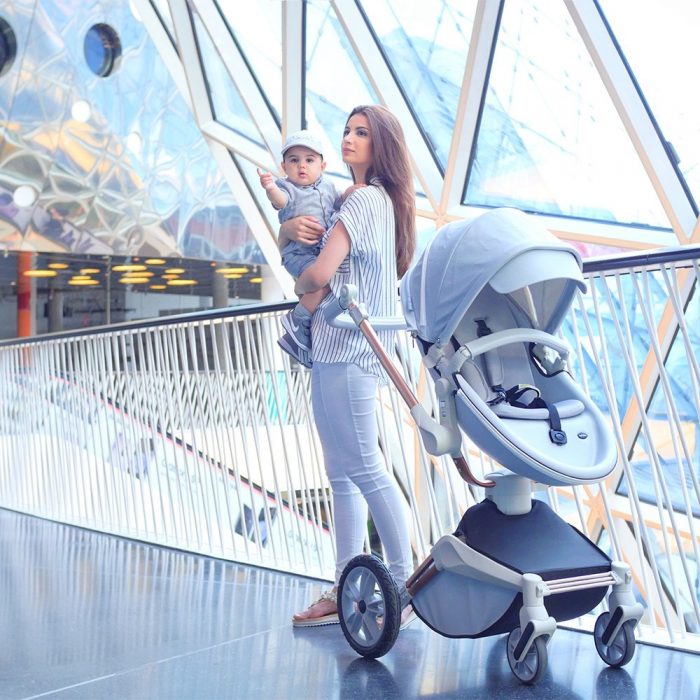 The Hot Mom Baby Carriage is one of the most fashionable baby strollers on the market today. Most luxury prams will cost more but they're guaranteed to be worth your penny. This high-end pram looks sophisticated and very modern and it has waterproof PU leather material and a leather handlebar making it truly luxurious yet comfortable for babies.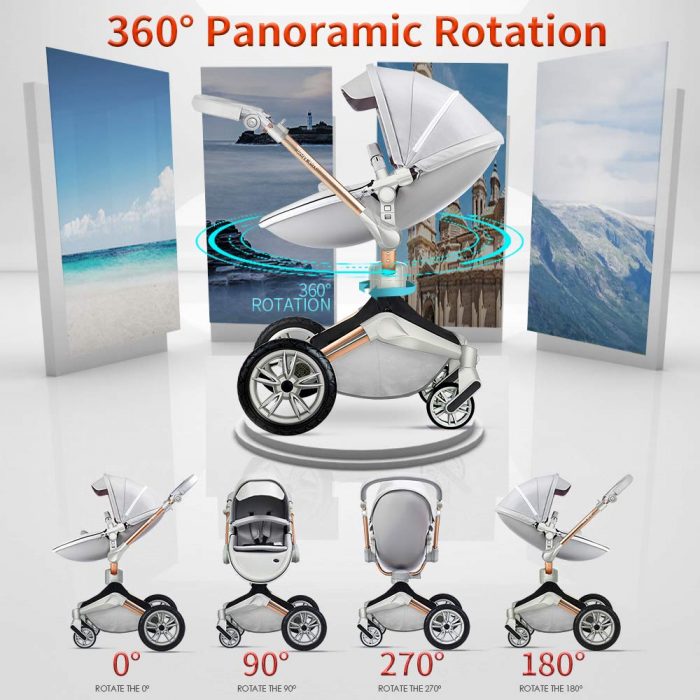 Chicco Bravo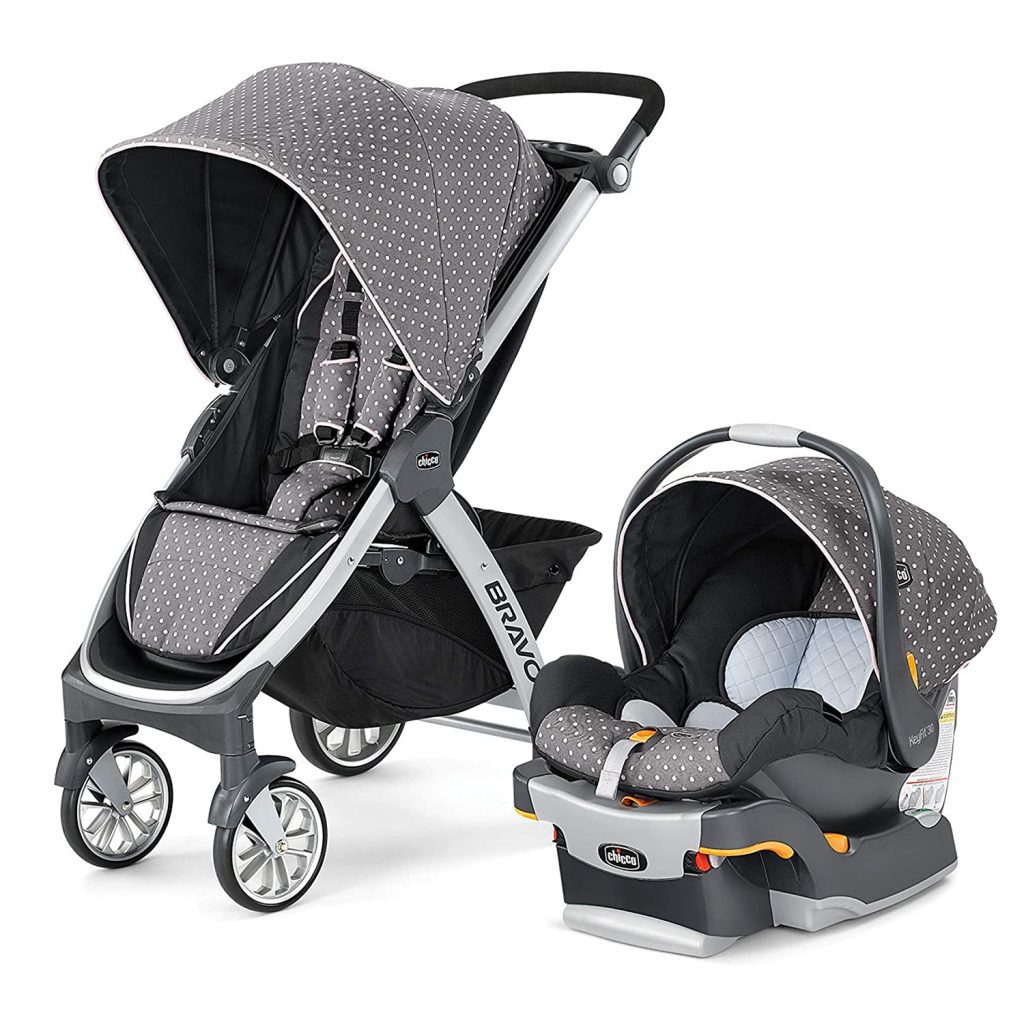 Chicco is one of the popular brands for baby essentials like luxury strollers and car seats for the newborn and older child and its new Bravo Trio does not disappoint. The Bravo Trio prams are reasonably priced yet they include many safety features that other pram brands do not have. They have a bassinet included and a foam-filled toddler seat.
Maxi-Cosi Pram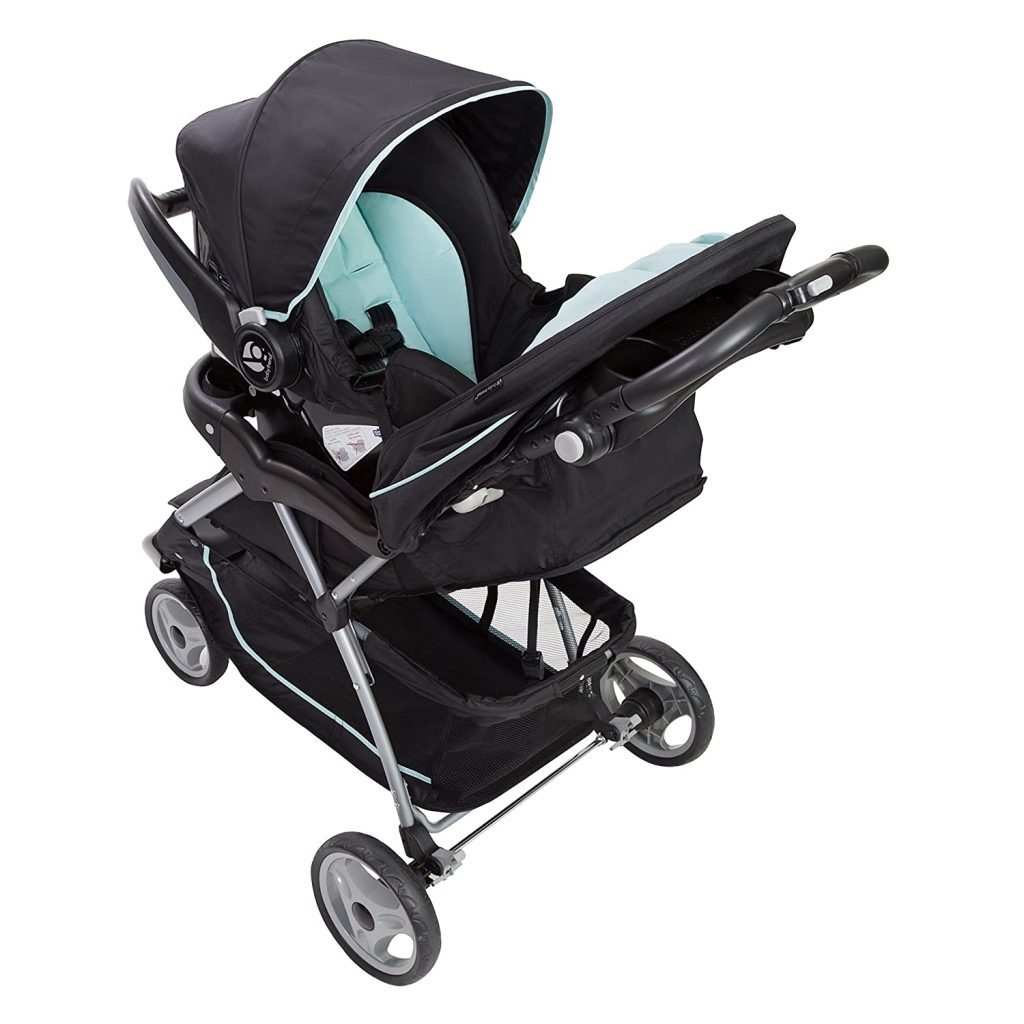 The baby strollers from Maxi-Cosi are modern and sleek looking, it is also easy to push and adjust their front and rear-facing modes. This luxury stroller has spacious storage which can be useful, especially during travels. Maxi-Cosi prams are renowned for their exceptional quality, innovative design, and superior functionality, making them a popular choice among parents. These prams are carefully crafted with the utmost attention to detail, ensuring comfort, safety, and convenience for both the parent and child.
Maxi-Cosi prams offer features such as adjustable seating positions, easy maneuverability, ample storage space, and sturdy construction. They are designed to provide a smooth and comfortable ride for the baby, even on various terrains. With a focus on safety, Maxi-Cosi prams often incorporate features like five-point harness systems, reliable braking mechanisms, and sun canopies for protection against the elements. Whether strolling through urban streets or exploring nature, Maxi-Cosi prams provide a reliable and stylish solution for parents seeking a high-quality and reliable means of transportation for their little ones.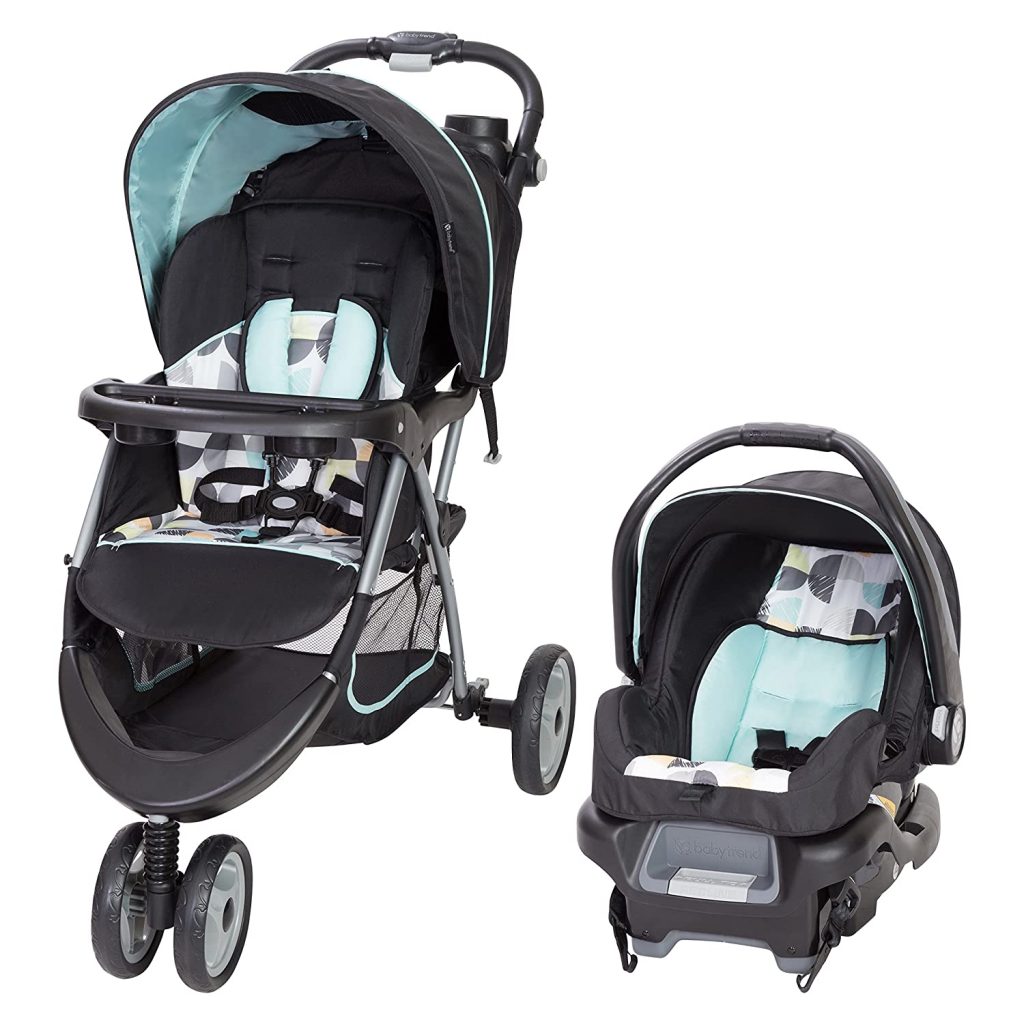 Pivot Luxury Stroller

This baby luxury stroller and car seat combo received a 5-star rating on Amazon because of its versatility. It can be transformed into six convenient modes including a carriage mode and it has multiple handy features that make its price worth it. It is a highly versatile and stylish choice for parents seeking a luxury strollers option. This luxury stroller is designed with the utmost comfort and convenience in mind, offering a smooth and enjoyable ride for both the parent and child.
The unique feature of the Pivot luxury stroller is its ability to easily convert from a traditional pram to a forward-facing or rear-facing toddler seat, providing flexibility as your child grows. With its compact and lightweight design, it is easy to maneuver through crowded spaces and narrow pathways. The Pivot luxury strollers also boast a range of convenient features, such as an adjustable canopy, a large storage basket, and a removable child tray. Safety is paramount, with a secure five-point harness system and reliable brakes ensuring peace of mind for parents. With its luxurious design and practical functionality, the best Pivot Modular Luxury Strollers offer an exceptional and enjoyable strolling experience for both parent and child.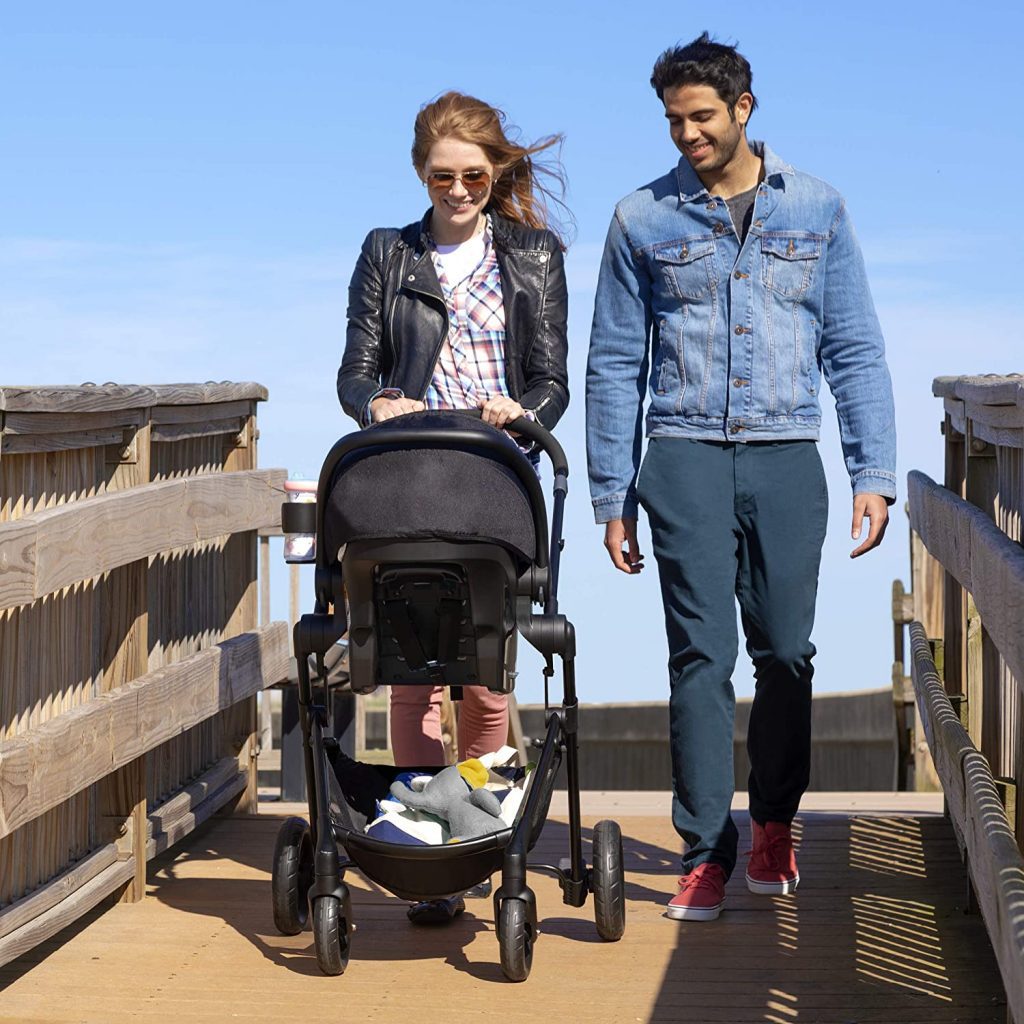 Best Baby Luxury Strollers
Top Features
We get it, you want a baby stroller that does not counteract every bit of style and fashion you have. But, you must find the sophisticated luxury strollers of your dreams, without forgetting to look for the features you will need, also. For instance, travel systems give parents a whole plethora of conveniences that you will not get with separate components. Like other strollers, travel systems are designed to work together to make a parent's life easier.
When you go to leave for the store, you simply put the baby in their car seat, tie them in with their 5-point harness, and then click the carrier into the base that is already installed in the vehicle. You will get to the store, detach the carrier from the base, and take it into the store with you without having to remove the baby from its seat. The same is true for putting the car seat carrier into the stroller and taking it out again. When you have a very young infant, you should consider a travel system baby pram as an option.
Safety should be at the top of your list, too, when you are choosing a sophisticated luxury stroller. Start by looking at the buckles that will be securing your baby in their best strollers. A 5-point harness is the safest mechanism for securing infants and small children. A bassinet handle is also useful for extra protection.
Make sure there is a 5-point harness built into the design of the sophisticated luxury strollers you will be purchasing. You will also want to make sure there is an adequate rain cover, a car seat adapter, and a good all-wheel suspension system included. If you are looking at double strollers, consider the size of your doorways and those that you will be most frequently going through, since you will be accommodating two toddler seats. Some of the side-by-side double strollers get quite wide and will not fit through doors. You would either need to look for a more narrow double pram or look at double prams that have seats front to back instead of side by side, as the second seat would be difficult to fit in most small doorways.
The storage basket of a baby pram is highly important also. If you are someone who uses your best baby strollers to store your purchases, diaper bags, water bottles, snacks, and more, then you need to find a sophisticated pram that has a very large storage basket. Some of the top prams will not even have a storage basket, so be aware of that. Diaper bags can get heavy so you at least want somewhere to put those when you need a break.
Finally, the comfort of your child needs to be considered, as well. If you are going to be using the best baby strollers as jogging strollers, then you need to get a jogging stroller that has been designed for that kind of use. Luxury strollers are designed for specific types of use sometimes. A jogging pram will have a better suspension, easy-to-steer wheels, a front wheel that locks and unlocks, air-filled tires for a smooth ride, a strong hand brake, and typically a different center of gravity to prevent tipping, especially on bumpy terrain. There should also be complete stroller padding in the sophisticated stroller you select to keep your baby while they are riding.
Bugaboo Cameleon 3+
This highly sought-after sophisticated stroller is a mother and baby's delight. This fashionable and sturdy stroller comes in an array of customizable options that add even more appeal to this accessible stroller. The 2019 model features a new under-basket positioning and sleeker design that add to the overall value of this pram. Stroll around the town with your baby in style. Once you have tried the Bugaboo Cameleon 3+ Strollers, you may be pleasantly surprised and instantly understand why this luxury pram sells out months in advance. It is one of the best strollers for big kids and tiny kids on the market.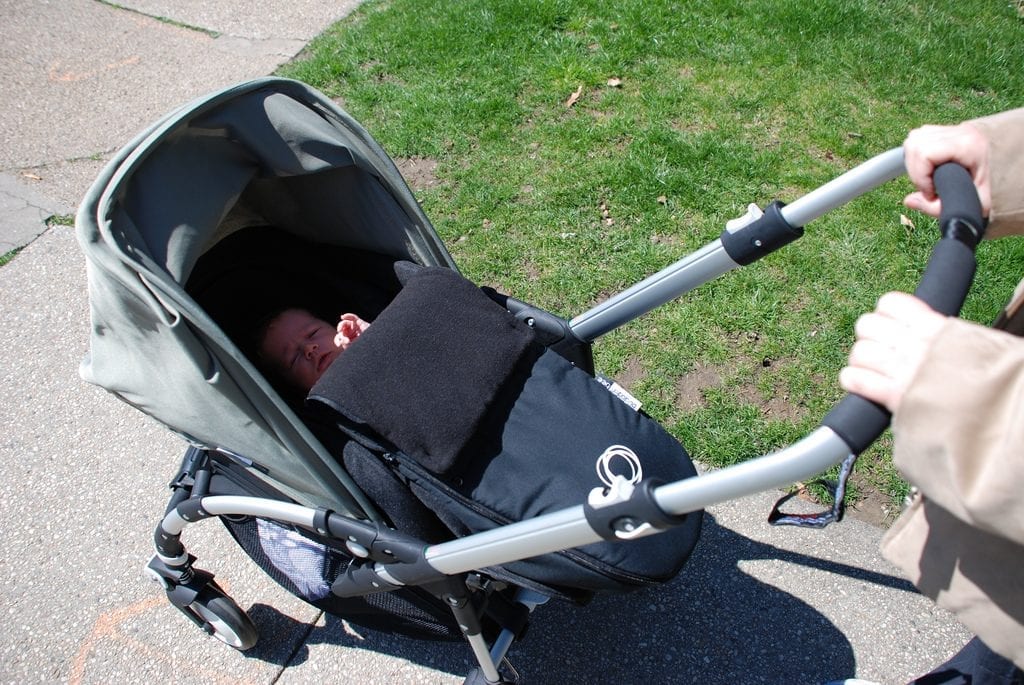 Features:
Mesh Underbasket, Color Customization
Where to Buy Bugaboo:  Online via the Brand Website and High-End Baby and Child Retailers
 Average Price: 999.00 – 1199.00
Hot Mom Baby Carriage
This luxury sophisticated luxury stroller created by Hot Mom features a perfect egg seat cradle combined with a 360-degree somatic design that is sure to impress onlookers and delight both mom and baby. This luxurious stroller boasts a soft gray pattern that is unmatched in beauty and stylishness. Both mom and baby are sure to enjoy a stroll through the park at any time of day with this Hot Mom fashionable stroller.
There are several prestigious features you will love with the best Hot Mom luxury stroller. This luxury stroller comes with quite a few perks. There is a rain cover that can block out water and wind. You get a mosquito net cover. The best strollers have cup holders. You can also use the included adaptor to make the Hot Mom baby pram suitable to use with several different infant car seats. The materials are waterproof and very easy to clean. You can adjust the height of the seat and there is an adjustable handlebar, also.
Features:
The Hot Mom pram features a sturdy construction for full comfort and support of your baby. The adjustable telescopic pole and egg seats can be positioned so that mom and baby can maintain contact and comfortability while strolling. Hot Mom designed the baby pram seat to be better for your baby's spine. The air-filled rear tires give you and your baby a smooth ride to enjoy, as well.
Where to Buy: Online via Brand Websites and High-End Baby and Child Retailers
Average Price: 589.00 – 699.00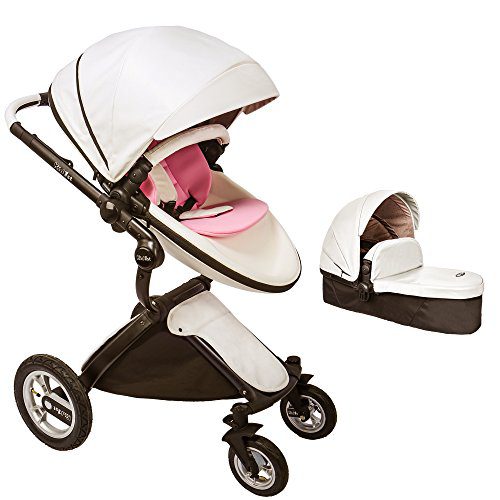 Mima Xari Rose Gold
This gorgeous rose gold-framed pram is as efficient as it is breathtaking. The Mima Xari allows for maximum customization by allowing you to choose your stroller's frame, color, and seat pad. This luxurious pram combines a three-position reclining function with a 360-degree rotation so that both mom and baby can ride comfortably with ease and style.
This sophisticated pram was built to be innovative. Mima Xari luxury pram switches from its patented "carrycot inside" system to a seated baby pram within seconds. You can also reverse the pram from sitting backward to sitting forward with ease. There are two different sitting heights. It is easy to fold, has multi-layered, high-quality materials, and does not have the typical storage basket that's open for all to see.
The Mima pram has three onboard storage options, including two lidded baskets and one rear basket that features a drawstring. All of the built-in storage options provide secure and out-of-sight storage to preserve the beauty of this luxury stroller's design. This ergonomically designed and easy-to-use pram is available for purchase at Pottery Barn Kids.
Features:
Reversible/Forward Facing Seat, Custom Chassis Color Selection, Adjustable Handlebar, All in One pram System
Where to Buy Mima Xari: Pottery Barn Kids Online
Average Price: 1505.00
Maxi Cosi Zelia 5-in-1 Modular Travel System
Maxi Cosi is a brand that provides parents with sleek-looking necessities like car seats to use with their babies. This particular one is part of a very useful travel system. Travel systems make it easy to move your child around when you are out and about without having to take them out of their car seat carrier. You can take them from the car to the baby pram and back without having to ever unbuckle their 5-point harness. It is a complete pram system that saves you money and time.
Features:
Lightweight pram, Travel System Compatible, Moisture Wicking Material, Easy to Clean
Where to Buy Maxi Cosi: Albee Baby, Target, Buy Buy BABY, Amazon
Average Price: $400.00
Bumbleride 2020 Speed Baby Carriage
Those of you looking for the best luxury strollers in the jogging stroller category can take a look at the best Bumbleride 2020 Speed Stroller. This luxury stroller comes with a rain cover, a wrist tie, a removable bumper bar, and an air pump to keep the air-filled tires full for running over all sorts of terrain. You can use these jogging luxury strollers from birth with an infant car seat carrier for up to 65 lbs.
The front wheel of the pram has a locking mechanism that can be set to full swivel, partial swivel, or completely locked depending on the steering capabilities you need at the time. This sophisticated pram folds up to super small so you can store it in even the smallest of trunks.
You can also check out some of Bumbleride's other royalty prams, including the best Indie Twin Double luxury strollers. It is a side-by-side double stroller that's built to still be more narrow than the average double stroller.
Features:
Adjustable handlebar, Extendable Canopy, Large Storage Basket, One Step Compact Fold, Includes Air Pump, Air Filled Tires for Smoother Ride, 5 Point Harness, Travel System Compatible
Where to Buy Bumbleride: Albee Baby, Pottery Barn Kids
Average Price: $575.00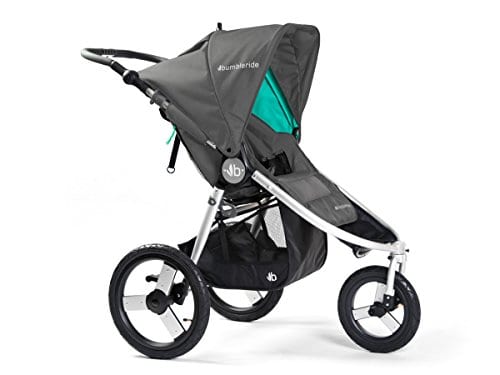 Peg Perego Booklet50
This Peg Perego travel system is the total package for what most parents will be looking for from the top luxury prams. For starters, you can easily click the car seat into the best baby mono stroller without any sort of adaptor needed. The width of this great product makes it easy to maneuver through just about anywhere. It also folds up to be very small so you can store it in tight spaces. The incredible stroller storage baskets underneath are extendable for those times when you need a little extra space.
Peg Perego products like car seats, high chairs, and prams are made in Italy. You can also check out their best options for double prams and other car seats as your baby grows.
Features:
Travel System Compatible, Up to 50 lbs., Multiple Recline Positions, Easy Compact Close
Where to Buy Peg Perego: buy buy BABY, Target, Amazon, Peg Perego website
Average Price: $650.00
Baby Jogger City Mini 2 Stroller
The Baby Jogger City Mini 2 Stroller is slightly less luxurious than some of the other best strollers on our list, but urban moms love it for its sleek design. First things first, even though the word jogger is in the name, the Baby Jogger City Mini 2 luxury Stroller is not a jogging stroller. It is meant as an urban stroller that maneuvers easily through crowded areas.
The Baby Jogger City Mini 2 Stroller gives you the ability to control it with just one hand like you would a jogging luxury stroller so busy parents who have things to carry can maneuver around without issue. This baby pram can also be used with a car seat as part of a travel system. The Baby Jogger City Mini 2 Stroller has adjustable calf support, folds up easily can be carried with one hand by a handle on the back of the best baby strollers seat, and can be used from birth through toddlerhood with a 5-point harness. The Baby Jogger City Mini 2 Strollers is the complete pram package wrapped up in a very compact design.
Also, check out the Baby Jogger 2020 City Mini 2 Double Baby Carrier.
Features:
5 Point Harness, Travel System Compatible, Easy to Maneuver Smooth Ride, Easy to Stroller, Large Storage Basket
Where to Buy Baby Jogger City: Target, Albee Baby, Amazon
Average Price: $270.00
Best Luxury Strollers Conclusion
You have reached the end of our current list of luxury prams. Now that you have an idea of what kind of luxurious model strollers are available for today's sophisticated moms, you should feel more confident in purchasing your next high-end stroller. The coolest part about all of the strollers discussed here is that moms never have to choose between style and safety!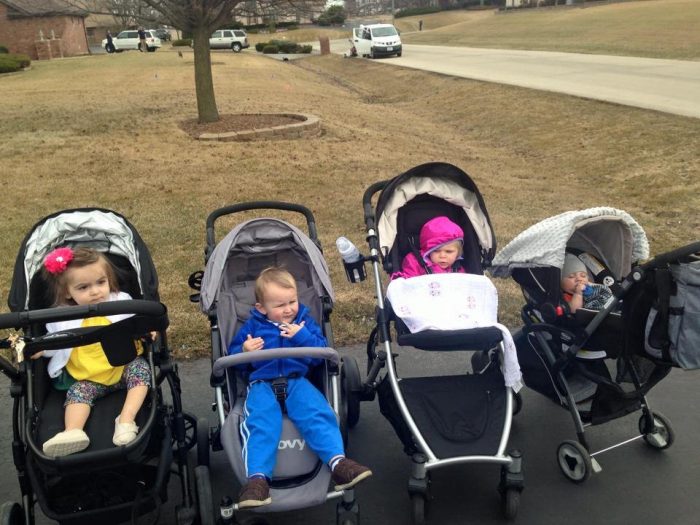 Frequently Asked Questions (FAQs)
What Car Seats Do The Royals Use?
One of the most popular brands that royals use is Maxi-Cost. Maxi-Cosi is a well-known brand that offers a range of car seats suitable for different ages and sizes. They are known for their safety features and comfort. Britax is another reputable brand known for producing high-quality car seats with advanced safety technology. They offer various models suitable for different stages of a child's growth.
What Age Is Ideal For Stroller?
The age at which a child no longer needs a pram can vary depending on their individual development and preferences. Generally, most children transition out of using a pram between the ages of 3 and 5 years old. However, it's important to consider several factors when determining when to stop using the best stroller such as the age, weight of your kids, and physical condition.
What Can I Use Instead Of Stroller?
When a child outgrows a pram or no longer requires one, several alternatives can be used depending on the situation and the child's needs. Here are some common substitutes for prams:
Child Carrier Backpack: A child carrier backpack, also known as a baby carrier, allows you to carry your child on your back or front. It provides hands-free mobility while still keeping your child close and secure.
Wagon: A wagon can be a fun and practical alternative for transporting your child. They provide seating and can be pulled or pushed, making them suitable for outings to parks, beaches, or other outdoor activities.
Tricycle or Balance Bike: If your child has developed enough balance and coordination, a tricycle or balance bike can be a great option. These allow them to actively participate in getting around while also engaging in physical activity.
Walking Harness: A walking harness or wrist leash can be used to keep your child close while allowing them to walk independently. It provides a sense of freedom while still ensuring their safety in crowded or busy areas
Is Bugaboo A Best Stroller?
Yes, Bugaboo Pram is generally considered a high-quality brand known for its prams. They are known for their stylish designs, durability, and attention to detail. Bugaboo often offers features such as adjustable handlebars, multiple recline positions, and easy maneuverability. The brand has gained popularity for its smooth ride, sturdy construction, and versatility, allowing parents to use the prams in various terrains and settings.

What Colour Is The Best For Pram?
Other Resources
Baby Pram Updates
Facebook – Instagram – Email – Phone Number
Latest News On Prams In MommyHood101
Facebook – Instagram – Email – Phone Number
MomLovesBest Updat4es On Baby Prams
Last Updated on May 12, 2023 by Bry Roquero
DISCLAIMER
(IMPORTANT)
: This information (including all text, images, audio, or other formats on FamilyHype.com) is not intended to be a substitute for informed professional advice, diagnosis, endorsement or treatment. You should not take any action or avoid taking action without consulting a qualified professional. Always seek the advice of your physician or other qualified health provider with any questions about medical conditions. Do not disregard professional medical advice or delay seeking advice or treatment because of something you have read here a FamilyHype.com.