When you're shopping for a car, you want a quality car that will last you a long time, so why not apply the same principle to your stroller? A good baby stroller can last a long time. Therefore, if you plan on having more kids, it can end up saving you a lot of trouble. Even if you don't, you can sell it for a chunk of the original price.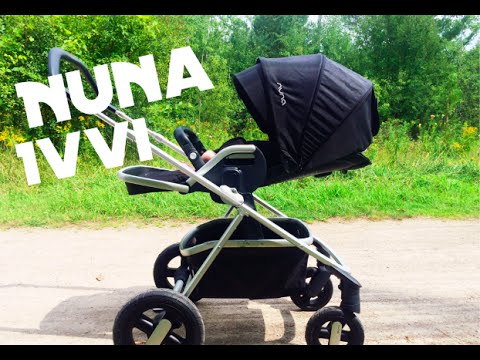 Meet Nuna's IVVI line. It is one of the best strollers because it is quite luxurious and is said to glide across all terrain with ease. Also, it's a good travel system, and it can be used for babies and toddlers. 
However, it's quite expensive, going for around $600-$1,000 depending on where you look. So, is it worth it and highly recommended? Let's look at some features and find out. 
If you are looking for something that will not break your budget, there are many travel systems that you can find online such as the highly-rated product from Amazon that we listed in this article that can serve as alternatives. We included a brief description for each one to help you sort out your options. After checking the list, you can continue to read the detailed review of the Nuna IVVI if you want to learn more about it.

Evenflo is one of the most popular affordable brands for baby essentials and accessories around the world. Folio3 is one of the brands most selling stroller because of its easy storability, high quality materials and reasonable price.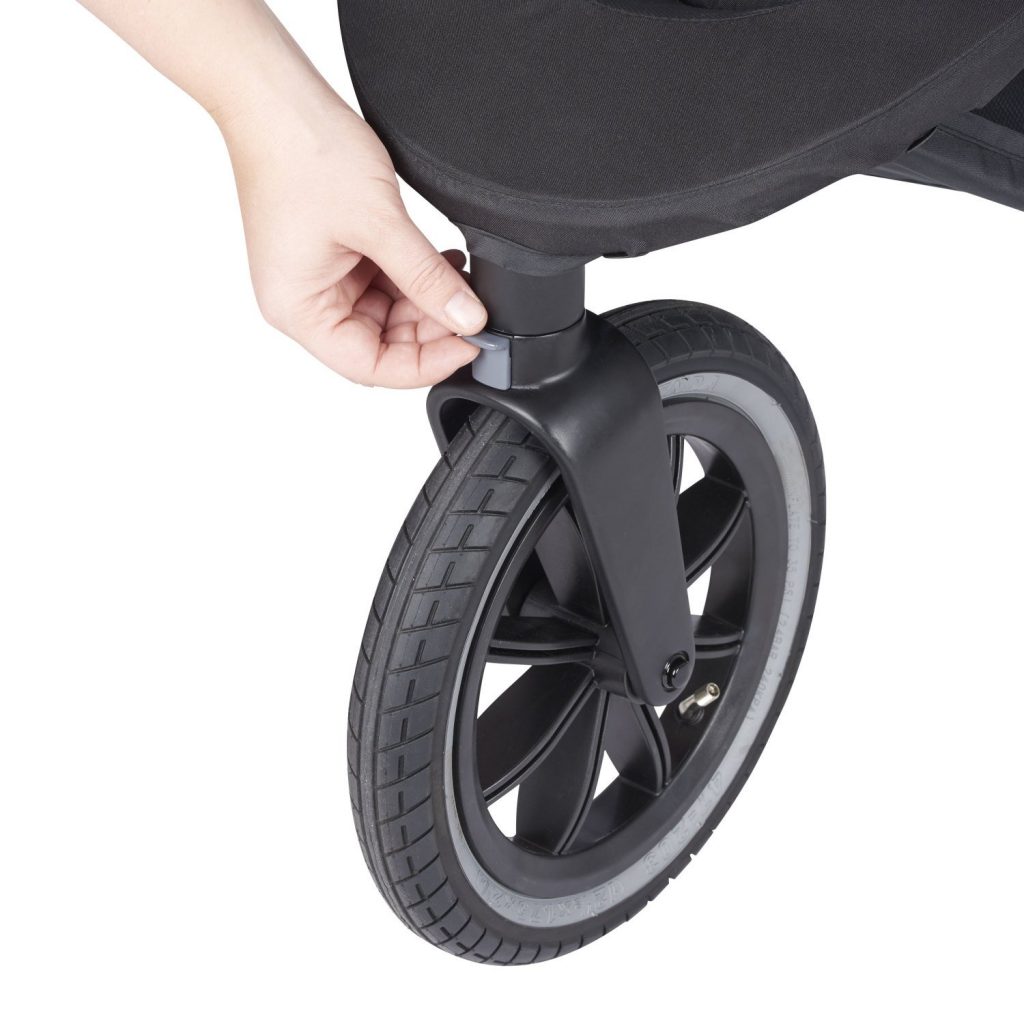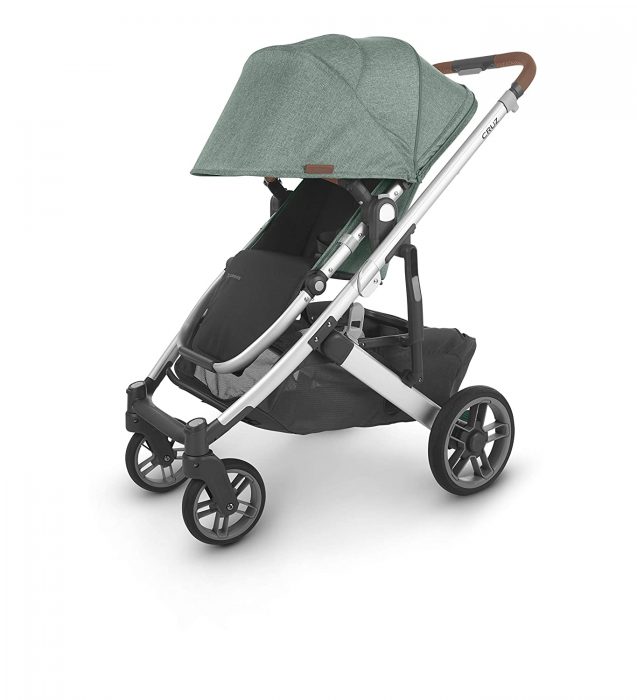 The Cruz V stroller from UPPAbaby is not your regular stroller, its sleek design makes it visually appealing but more than that, it also has dual action rear suspension that is designed to ensure a smooth ride for your baby no matter what their weight is. It's a good idea to include it on your list of choices if you are wanting to get something fashionable yet safe for your little one.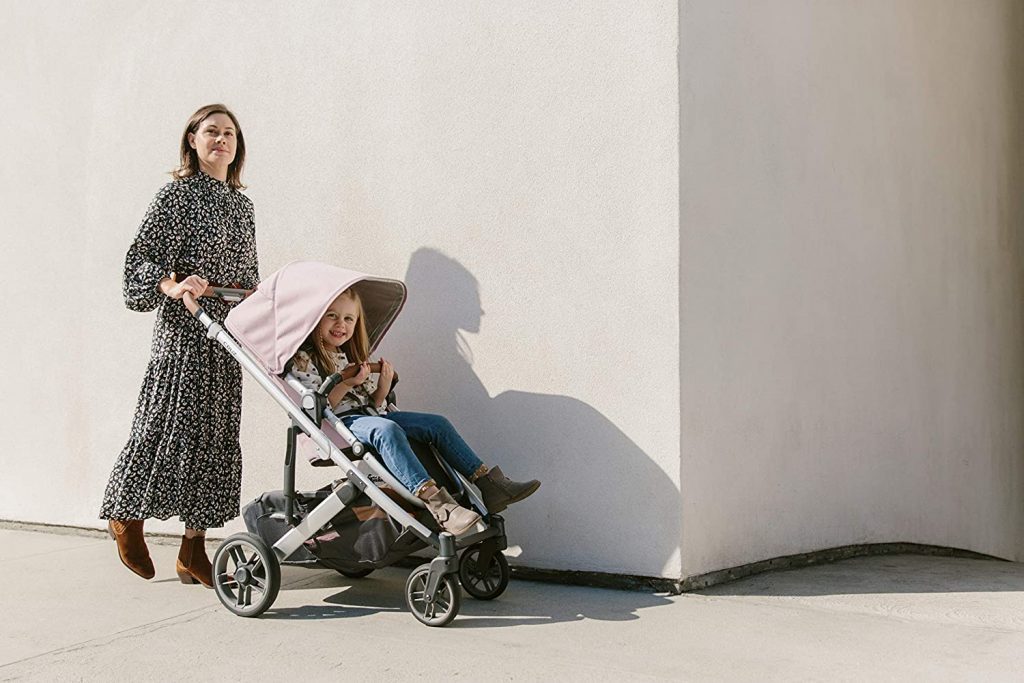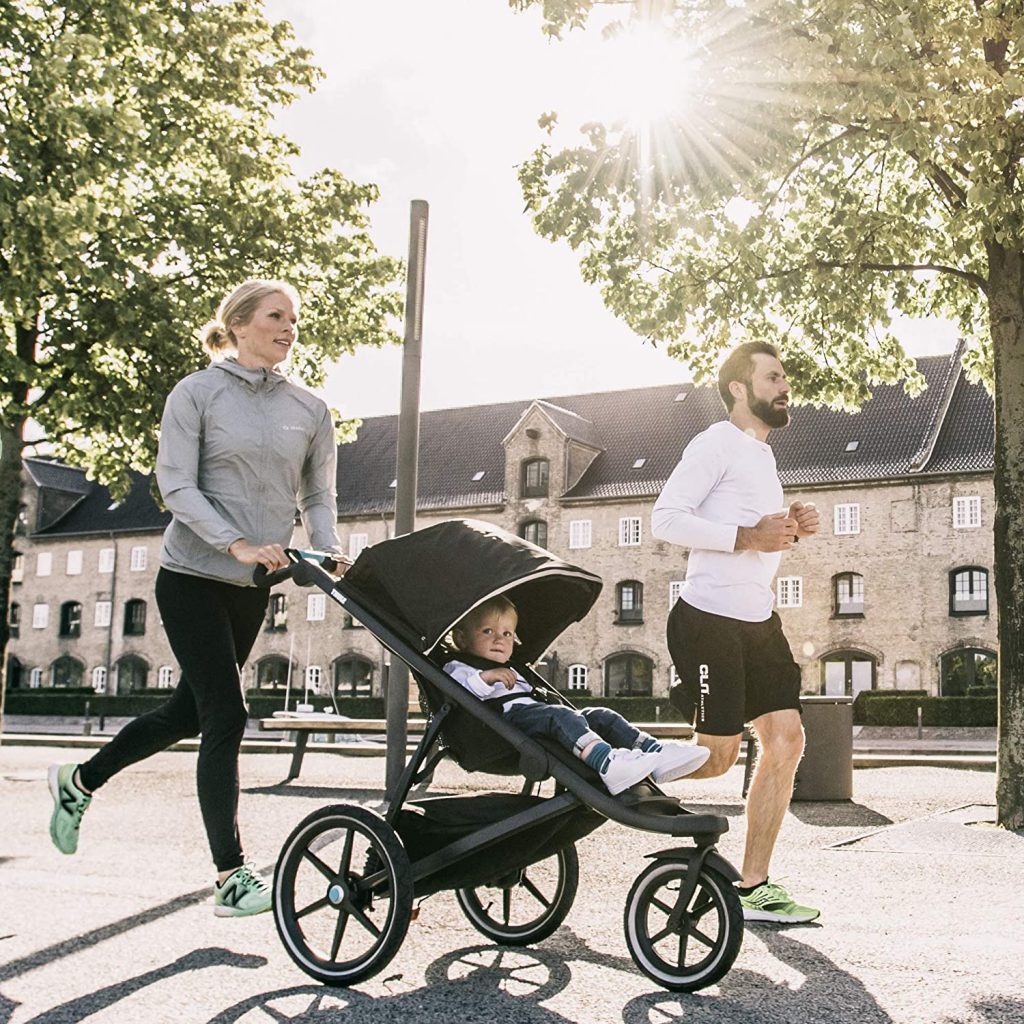 This stroller is a good option if you are always on the go. The full size stroller is designed with a comfortable seat, a padded 5-point safety harness and a multi-position canopy with ventilation. You can take your baby out while you enjoy your regular activity with the Thule Urban Glide 2.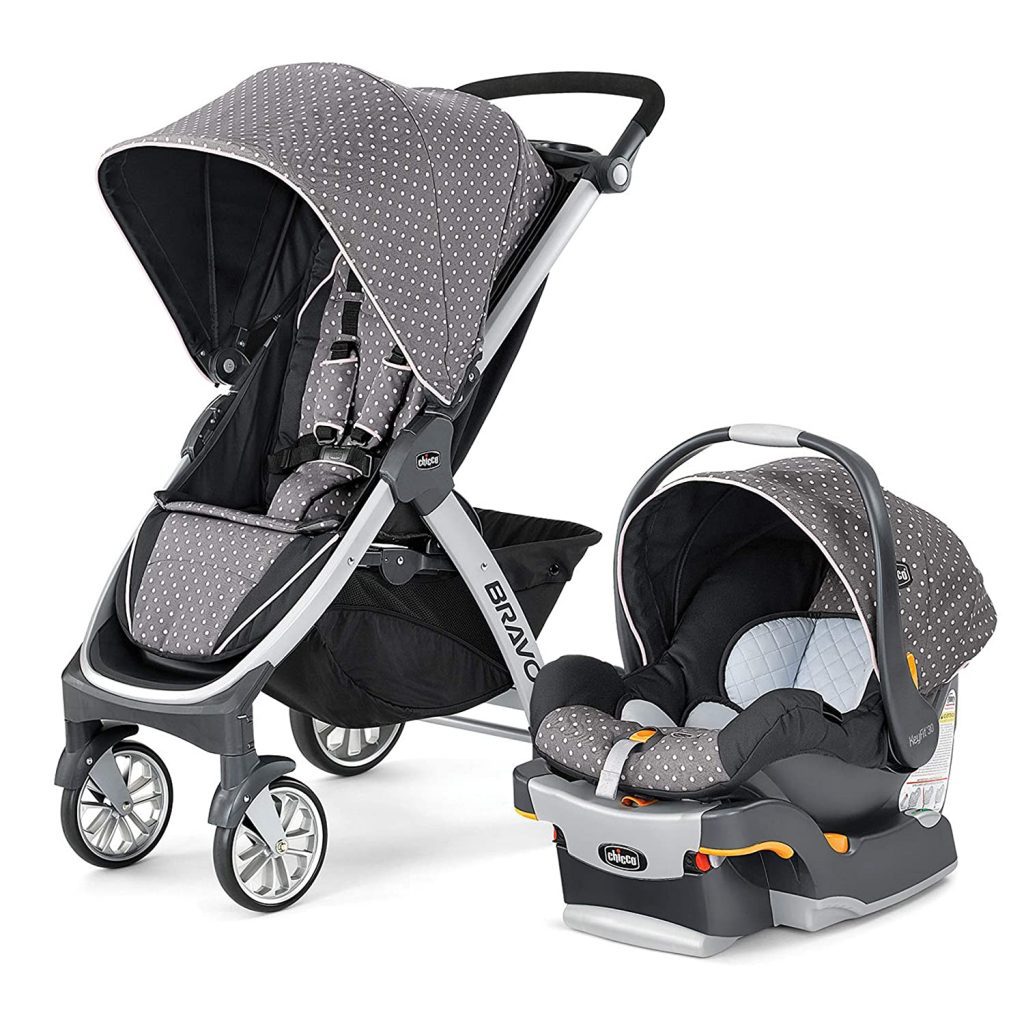 The Stroller from Chicco is versatile, durable, and can be used for older babies and toddler. The Bravo Trio received good reviews on Amazon and many people are claiming that it is worth every penny.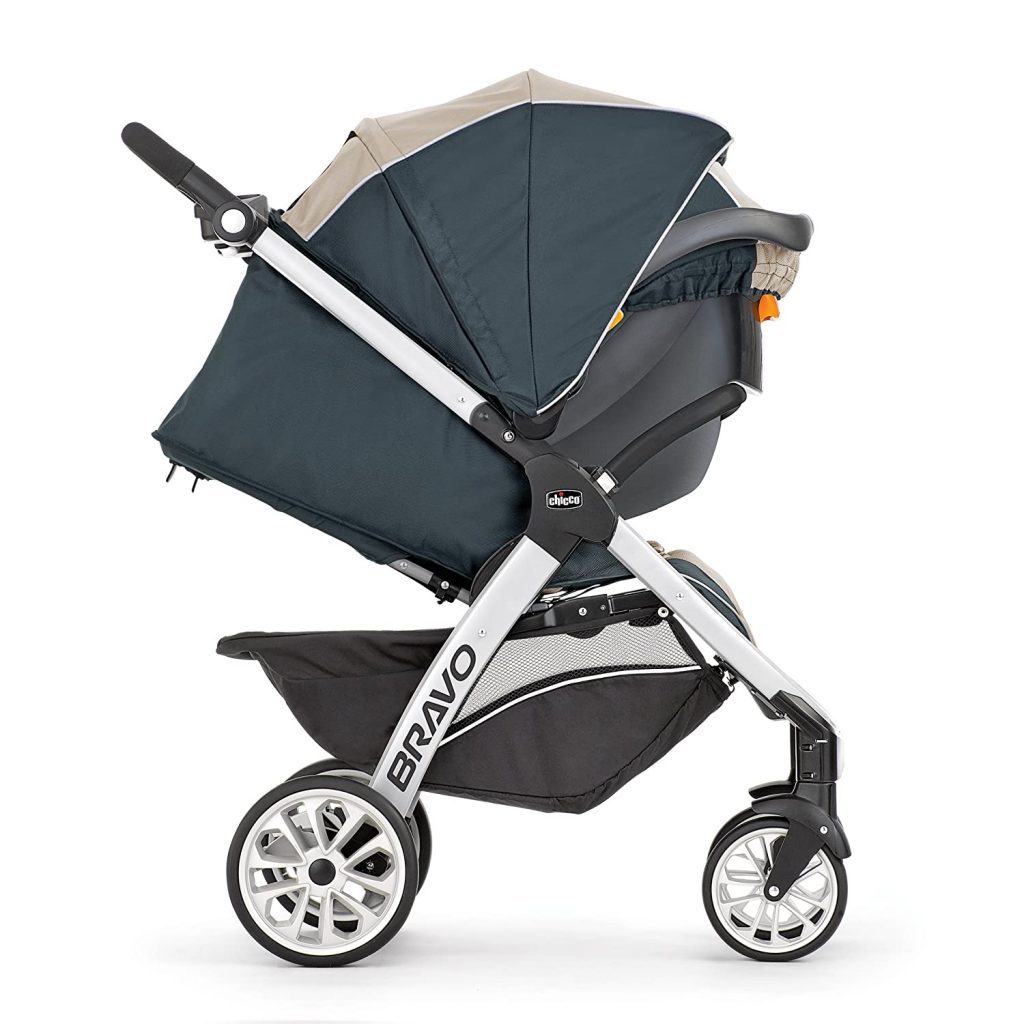 Features 
This stroller has some wheels designed for all terrains. Being a parent, you'll realize quickly that the stroller sometimes needs to go through more than even pavement. From the sand in the beach to a snowy day, life doesn't throw you even terrain all the time. Even if your ride is on the pavement, it may not be so even. Therefore, leading to a bumpy ride that wakes up the baby and keeps you frustrated.
We're surprised at how well these wheels handled different types of terrain, delivering a smooth ride for your baby and you. With the all-terrain wheels, this baby stroller has an all-weather seat that makes it the even more ideal selection.
The problem with many strollers is that their handlebars weren't meant for people of all heights. Sometimes, you can be too tall or too short for these, and that ends up being a problem. It has a handlebar that easily adjusts to any height, giving you the ability to comfortably push your baby anywhere.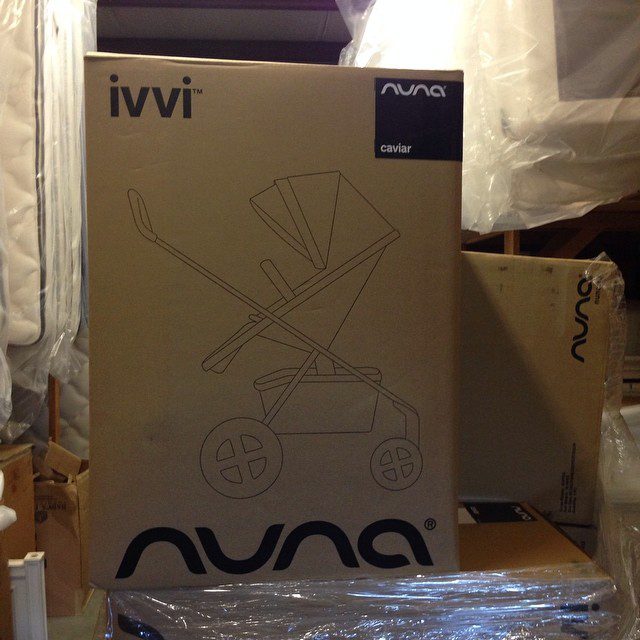 When it's hot outside, that seat liner can go from comfortable to uncomfortable in a flash. Luckily, you can take out the seat liner the IVVI has and allow everything to be more breathable. Installing it and taking it out is quite a breeze.
Many strollers have a storage shopping basket that you can use to put your extra baby supplies in, but they often are lacking. However, the IVVI has a shopping basket that's quite big, and it's good for groceries and other events that require you to have a lot of stuff. 
Made From Great Materials 
This stroller is made from the best materials, such as plenty of wood. Wood prevents the stroller from overheating when it's hot outside and freezing when it's cold. Many strollers use too much metal, making the baby frustrated. This stroller includes foam-filled seat padding that will keep your baby comfortable throughout the entire ride.
Also, there is a canopy that works as a great sunshade, giving your baby or toddler time to rest as you go about your daily life. It is easy for you to zip up and allow your baby to get some beauty sleep. Or if you want to play a fun game of peekaboo, you can do that as well. 
Good For All Types of Toddlers And Babies 
The IVVI works as a travel system so it has an excellent weight capacity. A baby up to 50 pounds should fit in there nicely and have plenty of legroom. Some strollers are a little less forgiving with their weight limits, but not this one. With that said, always make sure you're following weight limits.
The IVVI boasts a recline that is quite nice, and it depends on your region. If you live in Europe, the back reclines, and in the US, the entire seat does. Either way, it provides your baby with a comfortable ride that they will love.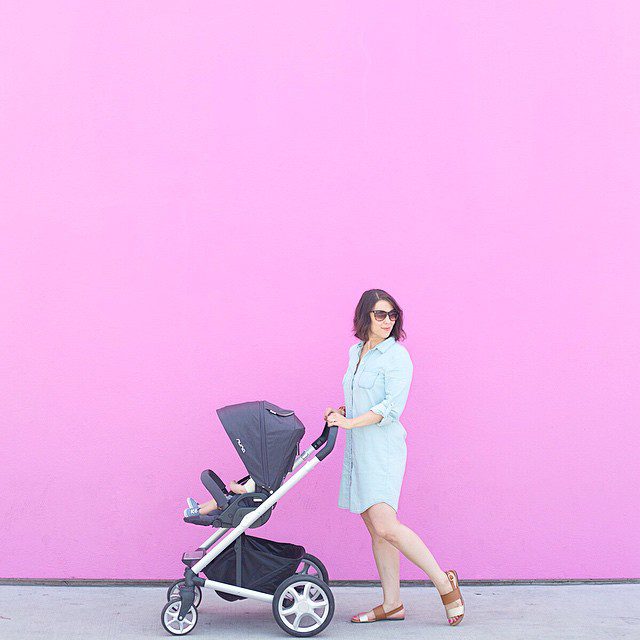 With that said, there is a disadvantage to the IVVI: it's heavy! It's around 30 pounds, and for some parents, that's a monster. This weight is oftentimes more than parents want from their travel system. Of course, you do get a lot with that weight, but a few parents may head to the gym first before they make the purchase. 
While you can fold the frame of the stroller for storage space, it's bulky as well. Some parents may be a little turned off by that. Many strollers benefit from being easy to store, but with this stroller, you may want a bigger car that gives your stroller more room to breathe. 
Many strollers come with additional accessories you can buy to enhance your experience, but besides a little snack tray with a cup holder, not too much is available. Some parents may not care, as this stroller has everything they need, yet a few parents may want a little more. 
What We Think
It is a great stroller, but the price may turn off a few people. If you have the money, or if you can find it cheap, buy it immediately. Otherwise, consider your needs. If your stroller adventures end up with you on some poor terrain that keeps your wheels stuck, the IVVI is a lifesaver. 
However, if your stroller adventures are mostly pavement, that's even, and you don't like heavy objects, this one may not be for you. With that said, there is a lot to love about this stroller, so we say to try it out anyway. If you can find a place to try it, give it a go. You may end up loving it so much, and you'll buy a second for your friend.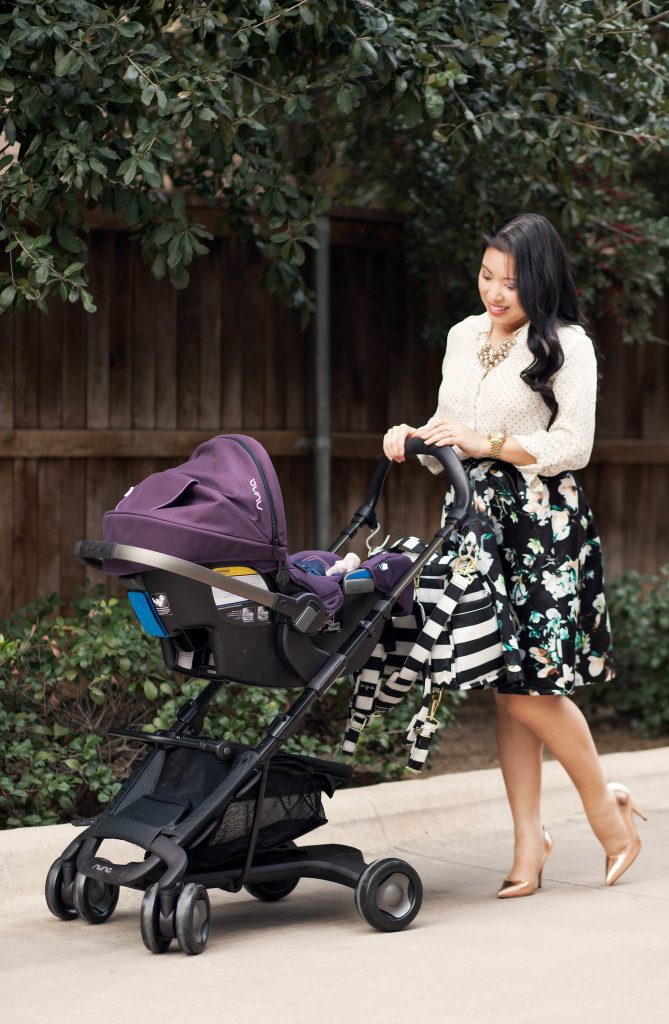 Conclusion
The IVVI is a fantastic luxury stroller. While we wish it was a little lightweight and less bulky, it's a small price to pay for all the features it has. You and your baby will be the talk of the town the next time you're out and about. It's expensive, but it's well worth the price, especially for a tired parent who wants their baby to have the most comfortable ride possible. If you can find it at a store, see if this is the best stroller for you, or try it out risk-free on a site that allows you to do so. Before you do that, you can always find additional product reviews from parents why have used this stroller before. These reviews can best help you because they are from parents just like you and they will let you know if it is highly recommended. If you do end up purchasing the Nuna IVVI make sure to look into what the tear warranty is and how long it will last.
FAQs
What is a Nuna IVVI?
A Nuna IVVI is a premium stroller that babies can use from their first ride up to when they are ready to stop using it. It comes in three colors.
Why is the Nuna IVVI seat unique?
Based on Nuna IVVI reviews, its seat is unique because it is useful for all seasons.
Does it have a reversible seat?
Yes, Nuna IVVI stroller has a reversible seat.
Is the Nuna IVVI dream drape useful?
Yes, according to Nuna IVVI baby stroller reviews, the dream drape is useful. It can shield the baby from the outside world as they try to take a nap.
Can a newborn use Nuna IVVI?
Yes, a newborn can use the Nuna IVVI baby strollers. Parents only need to use the height-adjustable feature to recline it at the lowest angle.
Until when can my baby use the Nuna IVVI stroller?
Your baby can use the Nuna IVVI stroller until their weight goes up to 50 lbs. It means it is useful for babies aged 2 or 3 years old due to the height-adjustable features. Throughout this entire time, you are able to keep your baby safe with the simple, one-touch rear-wheel braking system.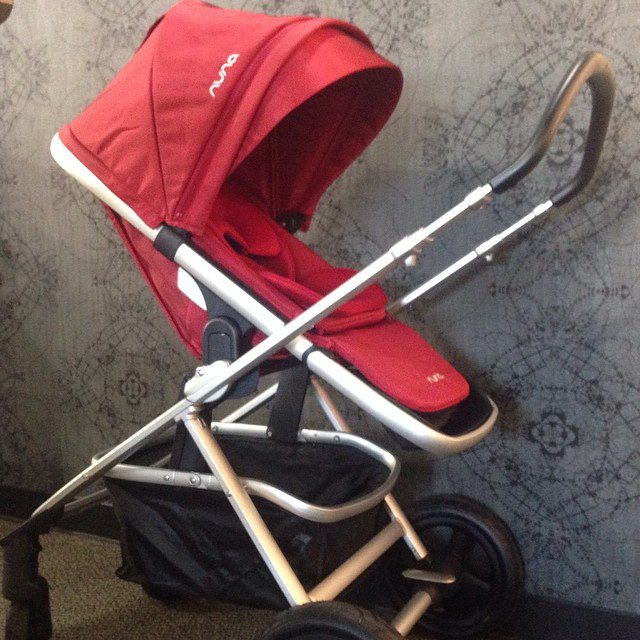 How much does this stroller weigh?
The stroller itself weighs 29 lbs. It is on the heavier side.
What are its dimensions?
Nuna IVVI measures 42.7 x 25.4 x 43.1 inches.
What are the Nuna IVVI measurements once folded?
The folded size of the Nuna IVVI stroller measures at 25.4 x 18.7 x 29.2 inches.
Does the Nuna IVVI require assembling?
Yes, Nuna IVVI baby stroller reviews claim that you need to assemble the stroller once it comes. The wheels are quick to lock into the chassis, though.
Does it have a car seat adapter?
Yes, the Nuna IVVI baby stroller has a car seat adapter. The car seat adapter makes the stroller easy to use the Nuna PIPA infant car seat. 
Which car seat is compatible with Nuna IVVI stroller?
Nuna IVVI stroller is compatible with the PIPA infant car seat. It is also from the Nuna brand. The Nuna PIPA infant car seat has side impact protection and a heavy-duty shell that is lightweight, yet resilient. The ergonomic handlebar makes the Nuna PIPA infant car seat easy to carry around. The Nuna PIPA is great for city living because it does not require a base to be installed, just a seatbelt. With the Nuna PIPA, you can always see your baby when the sun canopy is closed because there is a mesh peek-a-boo window. The sun canopy is also removable! Another great thing about the Nuna PIPA is that it is made with a premium knit fabric to keep your baby comfortable at all times.   
What accessories does Nuna IVVI come with?
This Nuna stroller comes with a bumper bar, carrycot, dual footmuff, child tray with a cup holder, and seat liner. There is also an accessory bag included.
Is there a rain cover for Nuna IVVI?
Yes, there is a rain cover for this Nuna stroller. It is one of the accessories in the box.
What is the maximum weight that the storage basket can hold?
The storage basket can hold up to 10 lbs. If you try to go beyond the weight limit, it might break.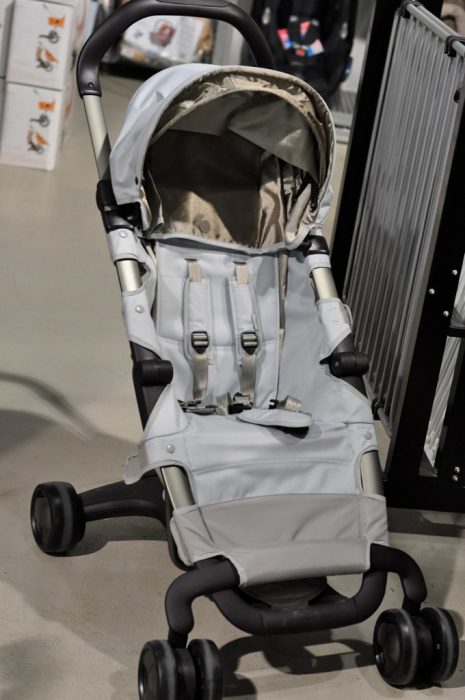 Is the Nuna IVVI a double stroller?
Unfortunately, the Nuna IVVI does not convert from a single stroller to a double stroller. Although it is considered a multi-mode stroller because of the four different modes you can put your baby. But, as stated before, one of these modes is not a double stroller.
Disclaimer: FamilyHype.com (Family Hype & FamilyHype) is a participant in the Amazon Services LLC Associates Program, an affiliate advertising program designed to provide a means for sites to earn advertising fees by advertising and linking to Amazon.com.
Last Updated on November 11, 2020 by Sherri Laxamana
DISCLAIMER
(IMPORTANT)
: This information (including all text, images, audio, or other formats on FamilyHype.com) is not intended to be a substitute for informed professional advice, diagnosis, endorsement or treatment. You should not take any action or avoid taking action without consulting a qualified professional. Always seek the advice of your physician or other qualified health provider with any questions about medical conditions. Do not disregard professional medical advice or delay seeking advice or treatment because of something you have read here a FamilyHype.com.