A baby travel system stroller is always convenient if you need it. Today, we'll be looking at a travel system for baby girl strollers (or boy. There isn't really a difference.) In some cases, you may find that some baby gear looks more like it's meant to be a girl car seat or strollers girl babies will like the colors of, but the functionality will all be the same for girls and boys. Before we begin, however, let's take a look at what a travel system is.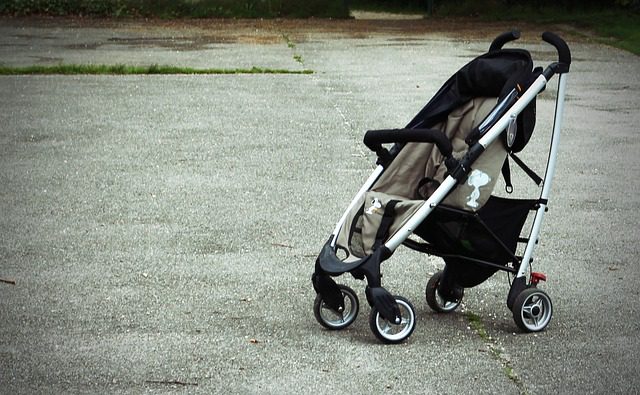 It is also highly recommended that you read reviews online on baby strollers and travel systems to get an idea of what people are mostly buying these days and why they are buying them. We made a list of the best travel systems from Amazon, and we included a detailed product description for each car seat and stroller combo so you can see what features they have. You can also continue reading to see the review of our picks for travel systems and more facts

What Is A Travel System?
A travel system is a combo of a car seat and a stroller. Travel systems are good for when you need the best of both worlds, and you can typically combine the two to get the most out of it. With a stroller, it's recommended that the baby is at least six months old, or until they can sit up without assistance. However, some strollers are infant friendly. 
You may wonder what your options are when it comes to travel systems (baby strollers & car seats combo), the answer to that is there is actually a lot of choices that are available for you. Hence, buying the best baby strollers and car seats combo can get really difficult. To help narrow down your list,

The travel system is a great option if you are looking for a stroller that will grow with your baby. It can be used from infancy to toddlerhood and comes with an infant car seat that can accommodate your infant from 4-35 lbs.
This type of travel systems can be converted  from an infant car seat carrier to infant stroller then to a toddler stroller.
The Graco Modes Travel Systems allow 10 riding options to choose from.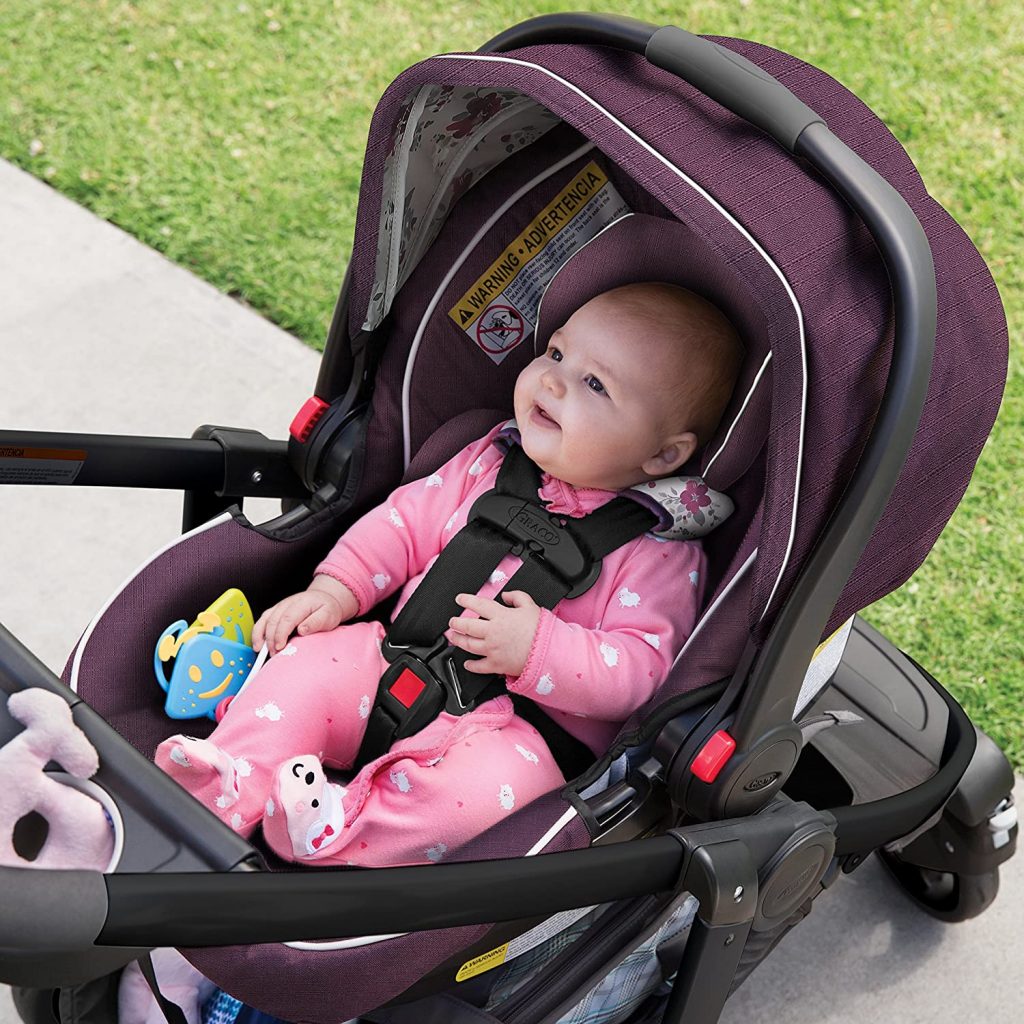 The Pivot Modular Travel System is best for parents who likes travelling. The stroller is light weight and it comes with an oversized storage basket that will fit all your baby stuff.
Modular Travel Systems feature an infant car seat that has superior safety features as well as many handy features that can make cruising hassle free for you.
These travel system strollers can be used 6 ways and can hold up to 4-35 lbs.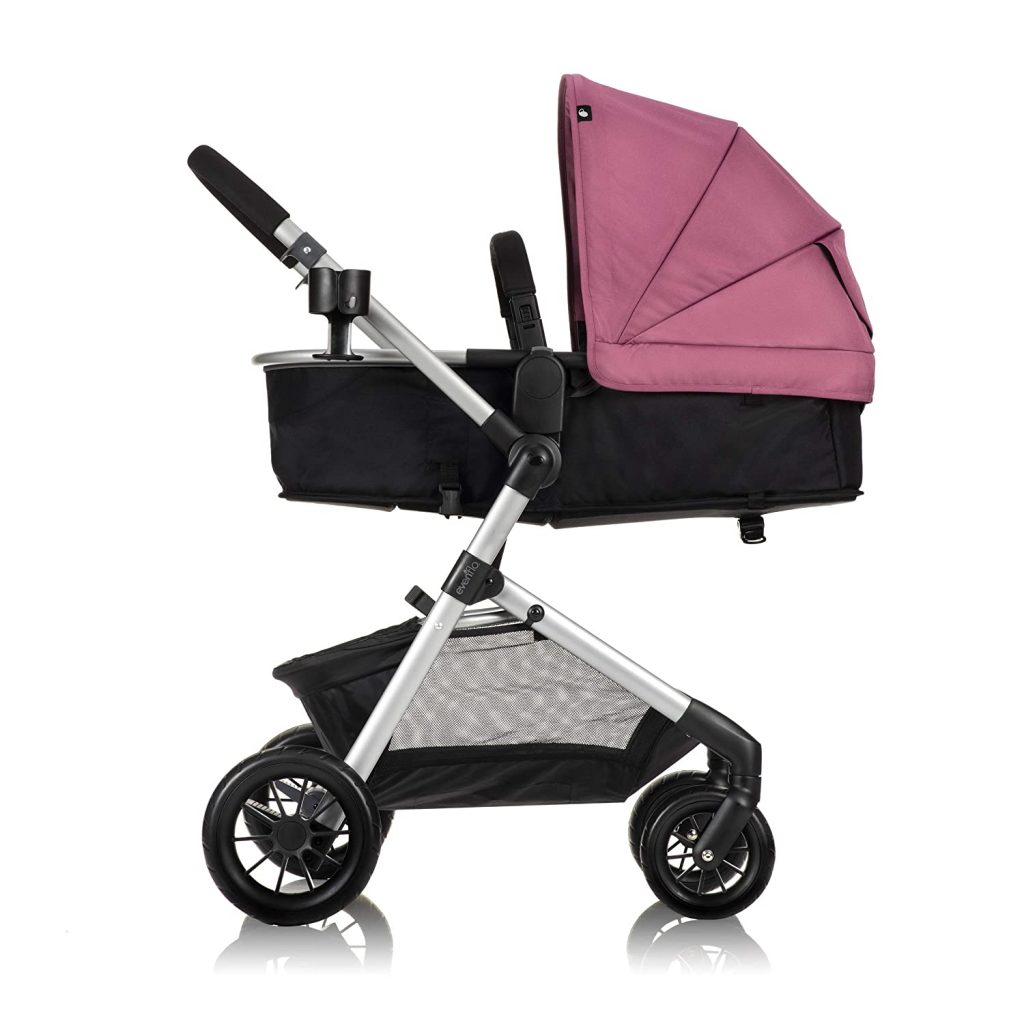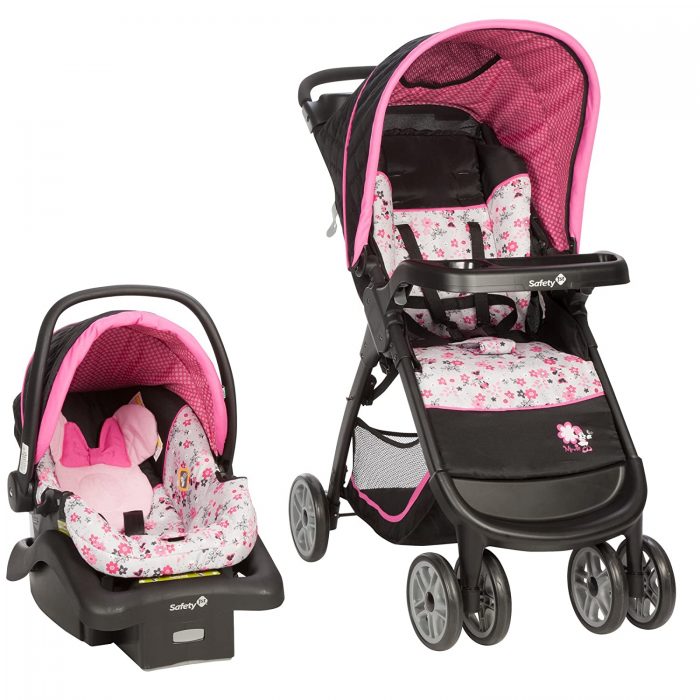 The Baby Minnie Mouse travel system has a girly touch to it, it's cute and has a lovely Minnie Mouse pattern.
These travel system strollers have an advanced design that features quickclick technology for easy transition from car seat to stroller.
The Minnie Mouse baby stollers include 22 LT rear-facing infant car seat that offers superb protection from side-impact and adjustable stay-in-car base.
These travel systems can accommodate up to 22 pounds.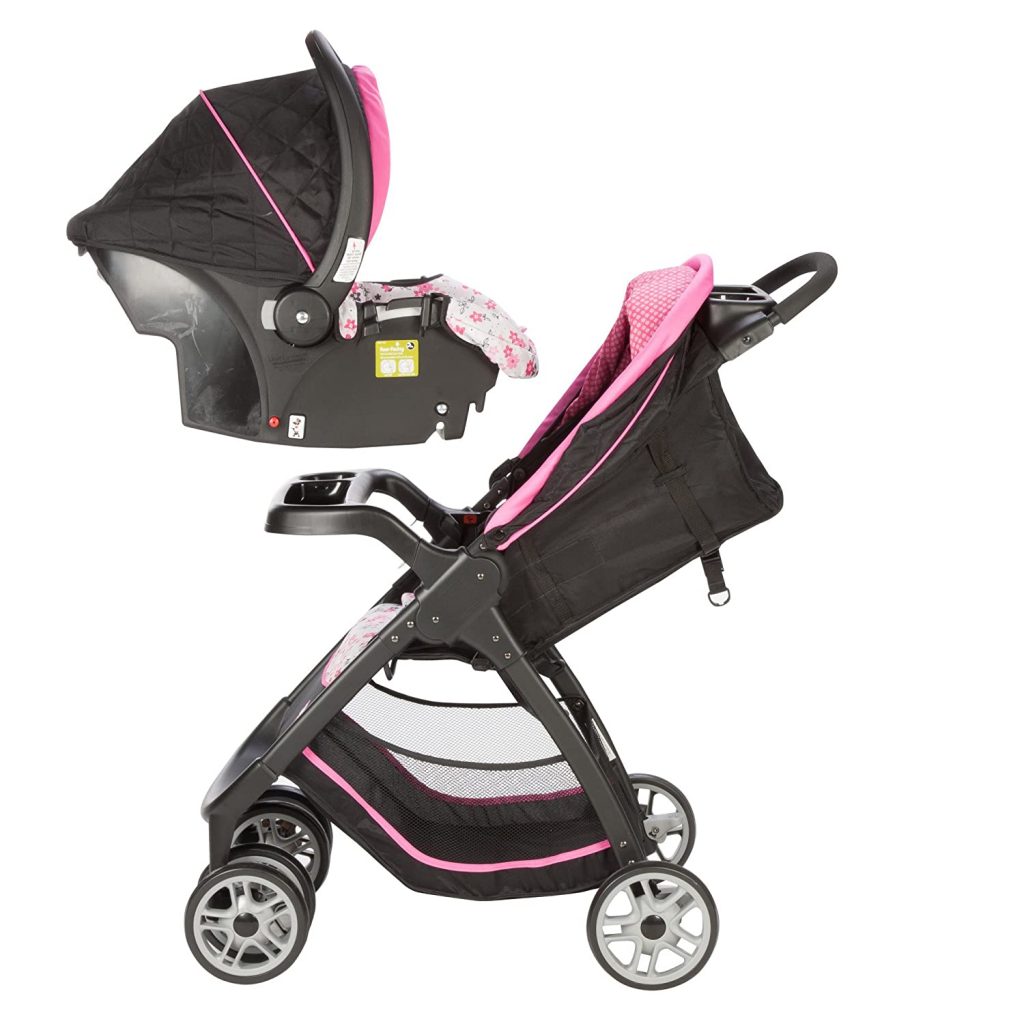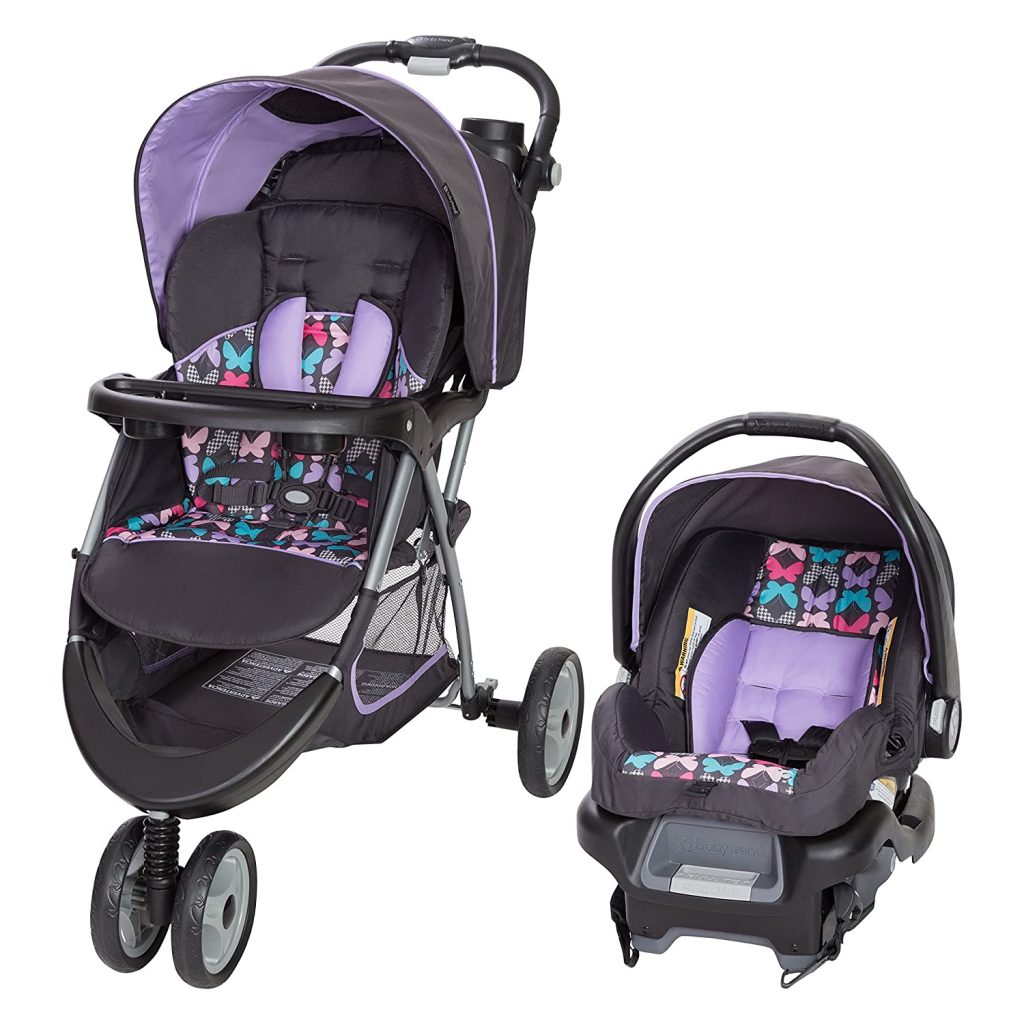 The EZ ride Travel System (Baby Stollers and  Car Seats) comes at a very reasonable price without compromising quality.
The travel system strollers are made of durable materials for their frames and can hold to 50 lbs.
These EZ Ride 35 travel systems come with a large canopy and large storage basket, swing away child's tray with snack/cup holder and covered parent tray.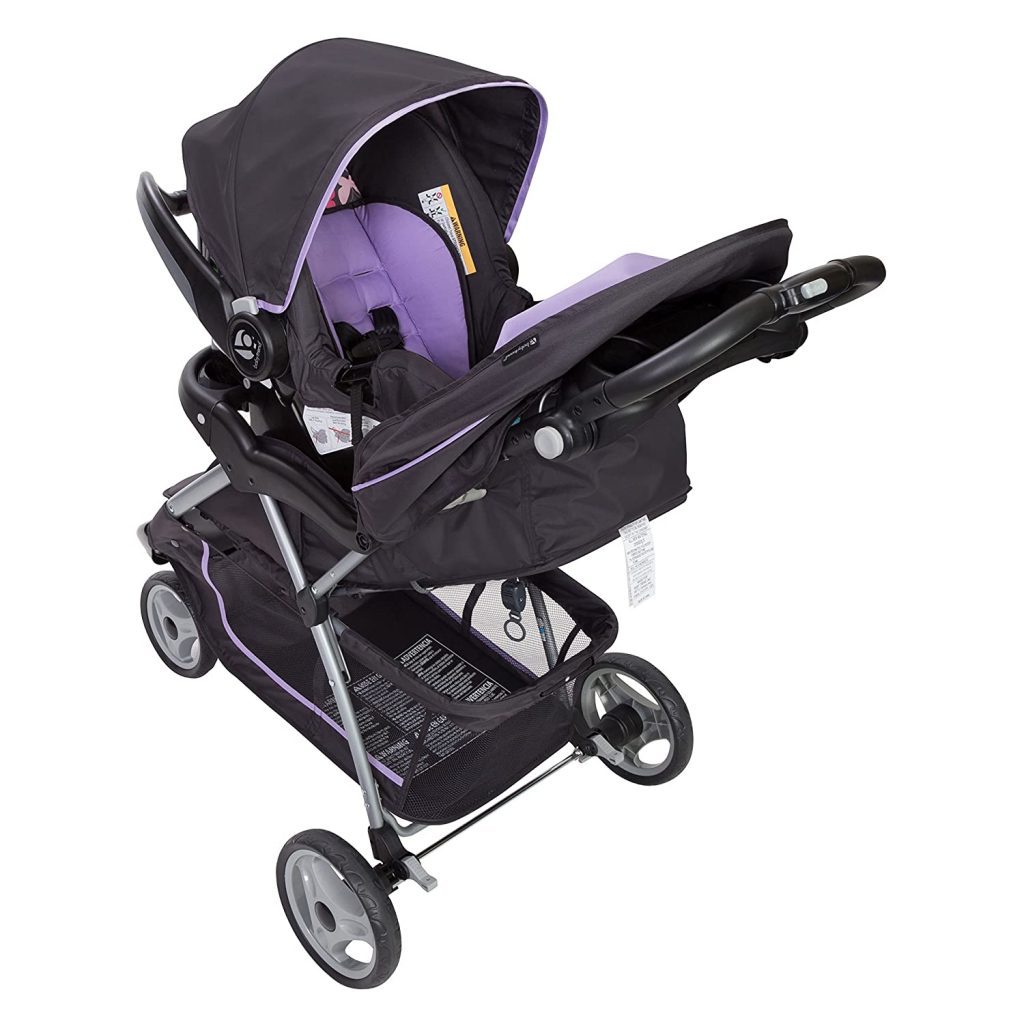 Many travel systems strollers will have an infant car seat carrier that can be easily clicked into the travel system strollers. You can also purchase a car seat base that can be installed in your vehicle so that both your car seat and stroller can be used with a convenient click connect system. Travel systems baby products make life more convenient for parents.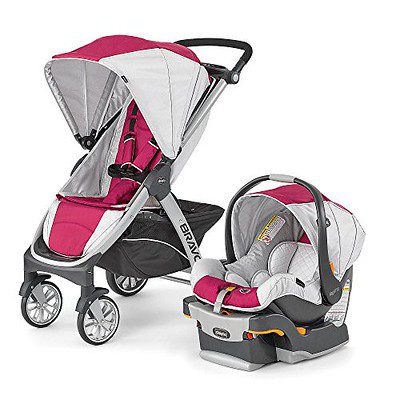 You can purchase a car seat and then a stroller later on, but some strollers may not work with certain car seats, or you may need an adapter for it to work. 
Usually, a travel system costs less than buying them separately as well. You've got to love the packaged deals, but the price of your travel system is your own personal information, so just purchase the one that works best for your needs. 
Is There A Travel System Made For Girls?
We mentioned that gender for travel systems do not matter, and that is true. Your girl doesn't need anything different. However, many of the travel system strollers on here have color options. You can pick a pink or similar colored stroller if you want the stroller to be more gendered, which is a perfect travel system for baby girl. One thing you can do is indicate your color or pattern preference on baby strollers or travel systems have on your gift registry before you have your baby girl. Then someone can purchase the baby strollers travel systems you like the most. 
Our Picks On Travel Systems (Baby Strollers And Car Seats Combo)
Baby Trend Expedition Jogger Travel System
This is a budget travel system, with prices around $200. For parents who need to save every penny, it's a nice combo that looks great. Best of all, you don't sacrifice quality. None of your personal information will be hinted at because the travel system looks more expensive than it is.  It's a travel system that holds a lot of stuff in its basket, and it's able to turn sharply. Another cool part is it's easy to fold and store, too. This Baby Trend travel system is meant to make life easier for parents, but an affordable price.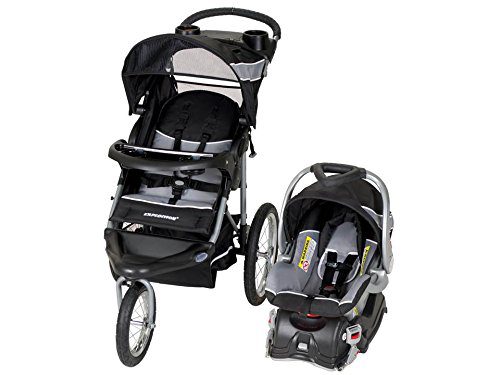 As the name implies, this is more for parents who want to jog, but it works as a regular combo as well. If you do wish to jog, you have to wait until your kid is in the standard seat first, so beware. Baby Trend travel systems should be used based on the instructions provided with the products. 
Jogging strollers and jogger travel system strollers have become popular amongst parents who don't use them for jogging because they're easy to steer and turn with. These baby strollers travel systems are great for more crowded places and for times when you may have your hands full. There are some car seat and stroller travel systems that aren't very easy to steer when you're one handing it. These budget-friendly options of jogger travel systems stroller sets are perfect for parents looking for convenience and maneuverability. There are also car ride travel bases you can install in your vehicles so you can easily click connect your infant carrier into the car.
Graco Element LX Travel System
The Graco Element LX Travel System comes in several different colors, some of which could be considered more girl inspired. The Element Travel System gives you a ton of storage that's expandable. You can use the infant carrier with a click and go base in your car. The stroller with the Element Travel System folds up very thin and is easy to put in a trunk or back of a car. You can even fold it up with one hand.
Chicco Bravo Trio Travel System
These travel system strollers have an average price of $379.99. While the price tag of the Bravo Trio Travel System strollers are a bit expensive, think about all you get. You may end up saving a lot in the long run. These are great travel system strollers and car seats combos. For the car seat, it's quite easy for you to put it in your car. The stroller itself is quite adjustable as well, with the ability for you to put your infant seat in there, and then adjust as your kids grow up. It even has a cup holder, which some strollers make you pay extra for.
This is one of the travel systems (car seat stroller combos) that is fairly compact. That makes it easier to maneuver through crowds and around things. It's a modular travel system that lets you easily click the car seat carrier into the travel system strollers so you can be on your way quickly. 
Keep in mind that with modular travel systems, the strollers car seat compatibility may not extend to all brands. Some travel system strollers can be used with adapters, though, that will allow you to use another brand infant car seat with your system. For instance, you might could get an adaptor to allow you to use an Evenflo travel system carrier with this Chicco Bravo travel system.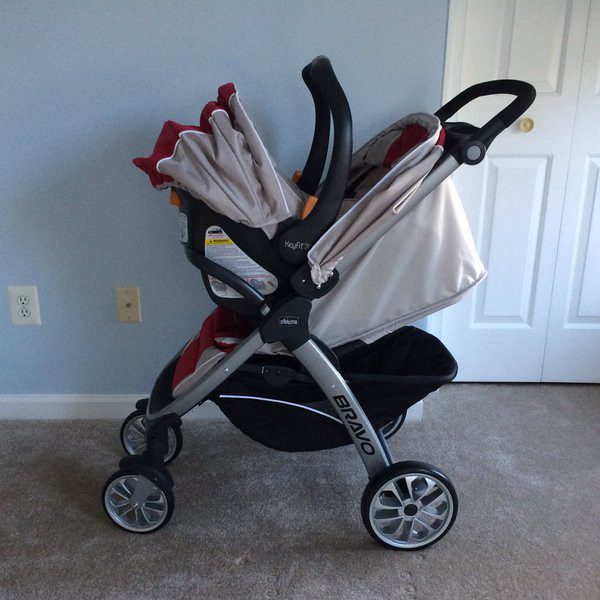 Britax B-Free & B-Safe Ultra Travel System
This travel system is a bit pricey, going for over $500 in most retailers. However, it's still worth looking into for quite a few reasons. Britax is known for making high quality products, and that includes any girls travel systems. Travel systems are becoming more of the norm these days, so that's a good thing to know. Now, let's look at those reasons.
For one thing, this stroller has a huge weight limit. Most strollers go around 50 pounds, but this one goes up to 65. When you're a kid, this is a sizable difference. Also, it has an awesome canopy to protect your little one from the elements. It's easy to store, including having a storage basket. 
The only downside of the B-Free & B-Safe travel system strollers is you can only wash the seats by hand. It's a little disappointing since many strollers have removable, machine washable seats.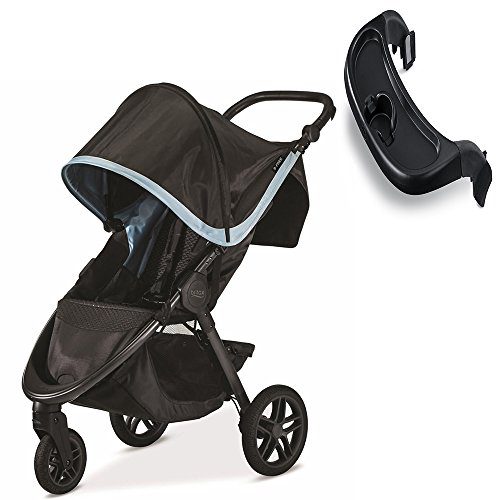 Baby Jogger City Mini GT Travel System Stroller
We'll start by saying that, though the word "jogger" is in the name of this travel system strollers baby girls can ride in, it's not intended to be used for jogging. It's a bit misleading, but this is part of a girls travel system that a lot of parents love. It's around $579, and you get quite a bit. For one thing, the Baby Jogger travel system strollers are great for those who are in a hurry or dealing with crowds. These travel systems are slim, easy to turn strollers that use their three wheels to the best of their abilities.
The Mini GT travel systems are also easy to fold and carry, too. It's a light stroller for a compact world. The only disadvantage is that the storage basket, while it exists, is a bit impractical to reach and is a bit small. Sadly, with a thin unit, you do have to sacrifice a little bit of storage, so remember this. 
2019 Nuna Tavo & Pipa lite LX Travel System
At about $700, this travel set is quite pricey, but it's well worth it, we say. Plus, you can add the Tavo & Pipa Travel Systems to your gift registry and sometimes, multiple people will go in together and get them for you. These travel system strollers have a beautiful look to it, with chrome and leather, but they are also not just all style. The canopy is easy to use and uses magnets, making it quiet. It's easy to fold and store, and the tires are foam and allow for a smooth ride. The Nuna travel systems are suitable for newborns as well, and theirerecline systems are excellent.
Oh yeah, and the car seat part is light. It's a little above 5 pounds, making it one of the lightest around. When you're a parent, every pound matters, and we are glad to see a combo that is light for most parents. 
The only disadvantage is that the car seat is hand wash only. It's almost 2020, and we still have car seat covers you can't put in a washing machine. That's a little strange.
UPPAbaby Cruz Travel System Strollers
These travel systems cost around $850. Parents who are on a budget will probably want to look elsewhere. However, if you do have some money to burn, these travel system stollers are nice to try out. They are compact, stylish travel systems that are so easy to steer. You can do it with one hand. Also, these travel system strollers are great for surfaces that are uneven and rough.
The Cruz Travel System Strollers boast reversible seats, huge canopies, and other ways for you to protect your little one. These travel system strollers and car seats are an overall great combo, so try them out if you can afford to do so.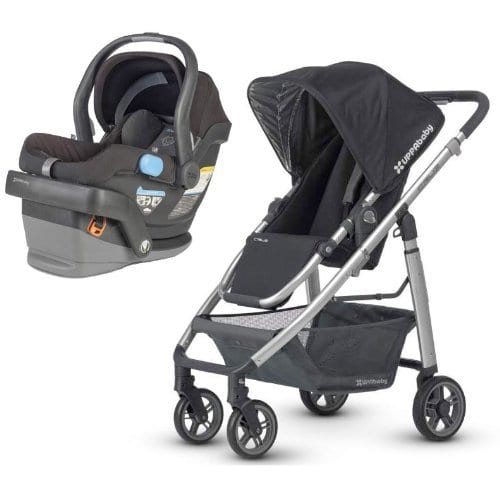 Conclusion On Travel System Strollers
There are quite a few travel systems designed for your girl or boy, and these boast quite a few features. Moreover, we love the fact that there is a travel system for any budget. If you want something luxurious, there you go. If you want something cheaper, but still quality, there are plenty to choose from, like the Evenflo travel systems or maybe Safety 1st. You're a busy parent, so having a travel system to do the work for you is awesome. You can find a store to try some of these out, or order them online.
FAQs On Travel Systems 
What is the best travel system for babies?
One of the best travel systems for babies and a great travel system for baby girls is the Britax B-Lively Travel System with B-Safe 35 Infant Car Seat. This Britax Travel system includes an infant car seat and base, B lively strollers, and car seat adapters to help you secure the car seat in its place. This one is pretty pricey, though, so if your financial personal information doesn't allow for a more expensive price tag, you can look for something similar made by other manufacturers.
What is the best Graco travel system?
The best travel system strollers among the Graco travel system products in the 2020 survey would be the Graco Uno2Duo Travel System. This type of travel system is among those unique ones that can be transitioned into double stroller apart from having a compatible infant car seat.
What's the best stroller car seat combo (travel system strollers)?
Choosing the best stroller car seat combo or travel systems strollers can be quite confusing, knowing there are lots of car seat combo and strollers out there. But the most popular one is the 2017 Britax B-Agile 3/B-Safe 35 Elite Travel System. This combo carries babies and toddlers up to 25kg, so it's a good investment. The best one among the travel system strollers for you, though, is the one that fits with your all of your personal information.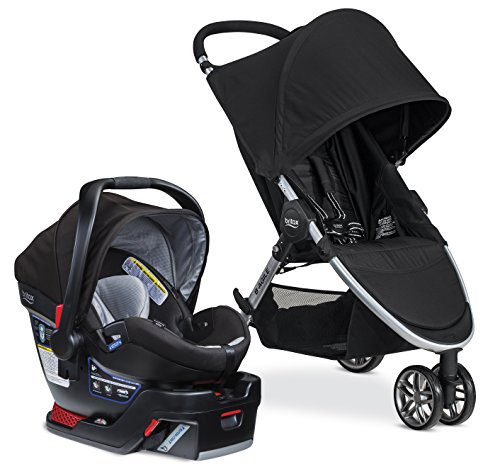 What is a 3 in 1 travel system?
A 3-in-1 travel system is the best ideal option for parents who want an all-in-one solution for their traveling needs. Typically, a 3-in-1 travel system includes a pushchair frame, a bassinet, toddler seat, and a baby car seat.
What is the safest seat in the car for a baby?
According to a study in pediatrics, the safest seat in the car for a baby would be the center rear seat. The study showed that babies from newborn to 3 years old who is seated at the center rear seat are much safer by 43% compared to those seating at the other seats.
What is a travel system for babies?
A travel system is a kind of pushchair that mostly matches a rear-facing car seat and a carrycot. With the right travel system, the car seat and carrycot can both click in and out of the pushchair easily. Travel system strollers are very convenient, especially when you are traveling with a baby who is sleeping soundly.
What's the difference between pram and travel system?
Prams are generally designed for newborn babies, whereas travel systems typically can still be used for older babies. Prams are designed to stay flat, so it takes a lot of space. The travel system, on the other hand, may take a lot of space, but they also can be used for other purposes, unlike prams in which babies just need to stay flat and lie down.
Disclaimer: FamilyHype.com (Family Hype & FamilyHype) is a participant in the Amazon Services LLC Associates Program, an affiliate advertising program designed to provide a means for sites to earn advertising fees by advertising and linking to Amazon.com.
Last Updated on June 15, 2021 by Marie Miguel
DISCLAIMER
(IMPORTANT)
: This information (including all text, images, audio, or other formats on FamilyHype.com) is not intended to be a substitute for informed professional advice, diagnosis, endorsement or treatment. You should not take any action or avoid taking action without consulting a qualified professional. Always seek the advice of your physician or other qualified health provider with any questions about medical conditions. Do not disregard professional medical advice or delay seeking advice or treatment because of something you have read here a FamilyHype.com.