The best play-doh sets for children of any gender or age are sets that allow them to manipulate the dough in many different ways, without too many small pieces that could break, get lost or be ingested. When searching for the best playsets, it's important to look for those factors first, then narrow down which sets might be appropriate for your child or the child you're buying for based on other factors like gender, interests, and age.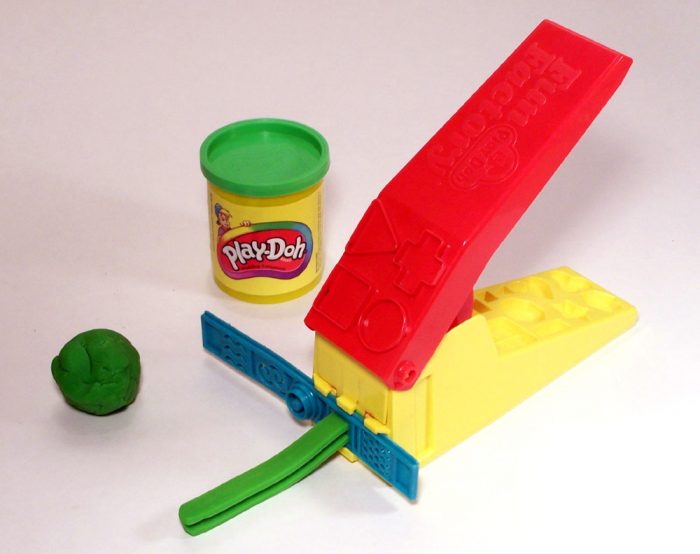 It is important to note that while some of the best play sets that are easily manipulatable, colorful (usually non-edible) dough are from the brand Play-Doh, they are by no means the only manufacturer of such sets. It is even possible to make some similar dough at home.  
If you plan to buy a set, you can consider other brands like Super Soft Dough, and even other materials like clay, slime, and putty, that have similar functions that kids also enjoy. This can be helpful when buying gifts for a child that already owns many sets from one brand to help branch out and avoid buying duplicates. 
In any case, there are a few kinds of sets out there that are immensely popular among all children, but especially young boys.
Food Sets 
Among the most-treasured kinds of play sets, there are a wide variety of sets featuring food-like dough. Many children's first dough creation is a pancake, and they often move on to hamburgers and hot dogs, given their easy shapes. When your child wants to advance to more difficult forms and even "cook" their food, a play set can come in handy. 
Play-Doh sets featuring food are generally better for older children that have a better understanding that the dough should not be eaten. This is, of course, for safety reasons. Most dough, slime, clay, and putty made for playing contains chemicals that can be harmful if eaten and at best cause an upset tummy, so it is best to avoid any association with food for younger children. 
Some of the best Play-Doh sets in this category include the Burger Barbecue Set, Breakfast Cafe Set, the Play-Doh Kitchen Creations Magical Oven, and the Play Doh Kitchen Creations Sizzlin' Stovetop Set. We love that each of these sets includes different cooking utensils and ways to "cook" the dough, which make for hours of fun. They also have several different elements to extend the toys' use. You will find that these best Play-Doh sets also include different cans of Play-Doh and Play-Doh colors.
Another great option in the food category of the best Play-Doh sets is the Play-Doh ice cream set. This ice cream machine produces Play-Doh in the shape of ice cream that fits nicely onto cones. Some of the pieces included are multiple decoration items for the ice cream cones that your boy creates.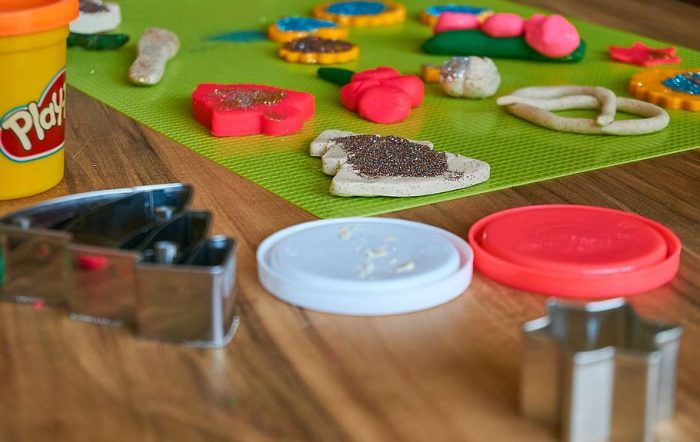 Construction And Dump Truck Sets 
Perhaps the best Play-Doh sets for boys are sets that feature cars, trucks, and even excavators. These kinds of Play-Doh sets add a new dynamic to toys your boy may already have and might encourage him to make new use of his favorite toys. 
This can, also, of course, invite a big mess, so be sure to establish which toys he's allowed to use with the dough and which ones he's not before you open this can of worms. That said, this kind of doh set invites curiosity into how construction processes work in real life, which is also a great teaching moment for your little ones. 
Some of the best Play-Doh sets in this category include the Wheels Gravel Yard Construction Toy and the Wheels Cement Truck. Both of these Play-Doh sets include dark, shiny Play-Doh colors that are unique to these kinds of kits which boys wanting to pave the table will surely love.
Cookie Cutter/Shape Cut Out Sets 
If the larger plastic toys don't seem like a good fit for the boy you're hoping to buy playdough for, because they are too big or too closely resemble other toys he has, or for any other reason, then a kit that encourages kids to make flat shapes on the table could be a better idea. 
Some of the best Play-Doh play sets in this category include the Academy Activity Case, the Play-Doh Kitchen Creations Magical Oven, and Rollers, Cutters, and More Playset. These Play-Doh sets encourage extra creativity and give kids the tools they need to carry out any design they have in their minds. These Play-Doh sets include shapes from dinosaurs to stars and tools for working with the dough, so you don't have to donate your best silverware for playing. You will find that these best Play-Doh sets include different cans of Play-Doh and Play-Doh colors. A store table would also be a great purchase to go along with this Play-Doh play set.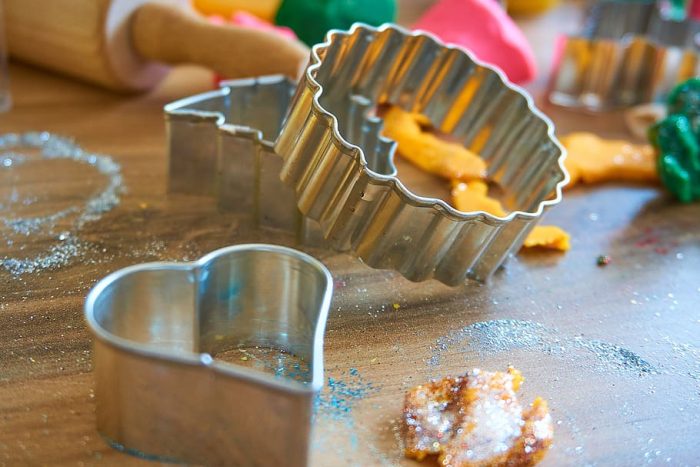 Factory/"Noodle"-Making Sets 
Some of the most classic play dough sets are sets that create long "worms" or strings of dough in certain shapes. Today those kits are often called factory or noodle kits and work much like noodle-makers that adults might use. These sets are great because they help a kid work through a process of creation toward a final product that they have control over. 
Some of the best Play-Doh sets in this category include the Fun Factory Set and the Play-Doh Kitchen Creations Noodle Makin' Mania Food Set. Both of these Play-Doh sets include all the tools a boy needs to get started pumping out playdough "worms" or noodles and are classic best play sets. You will find that these best Play-Doh sets also include different cans of Play-Doh and Play-Doh colors.
Ultimately, Play Doh sets for boys is a fun type of arts and crafts activity that they can enjoy for many years. By playing with Play-Doh, they will learn fine motor skills and engage in so much open-ended fun. Just for a nice re-cap, here are a few of the best Play-Doh play sets that can be purchased for your boys that include multiple different cans of Play-Doh and Play-Doh colors:
Play-Doh Doctor Drill
Play-Doh Kitchen Creations Magical Oven
Play-Doh Fun Factory
Play-Doh Sweet Shoppe
Play-Doh Play 'N Store Table 
Play-Doh Numbers and Letters set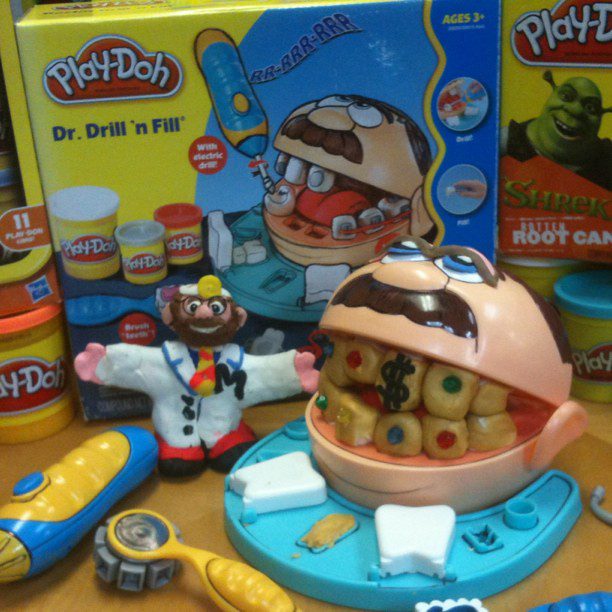 Frequently Asked Questions: 
What age is appropriate for playdough? 
The most commonly recommended age for playdough is 3+. This is because of both the choking hazard that playdough can pose as well as because children at that age have better hand dexterity and coordination that makes for a smoother playing experience. 
That said, of course, parents may decide to allow children to use playdough when they are younger if supervised; however, parents should be cautious when their children are engaging in play doh fun because of the potential choking hazard.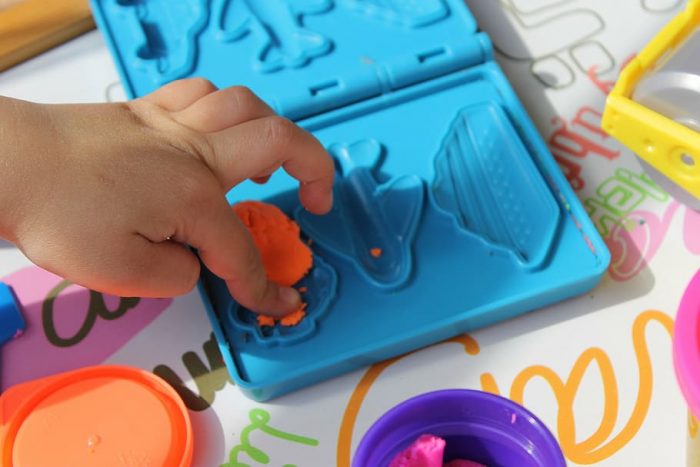 How do you make homemade playdough? 
There are many different recipes for homemade playdough, which can be an excellent alternative to the store-bought kind, both for reasons of cost, safety, and fun. Making your own playdough means you can control the ingredients you put in it, the colors the dough takes on and the quantity of dough you make, all of which allow for a personalized experience. 
Most play dough recipes require some mixture of flour, oil, food coloring, and water. We have had success with Domestic Superhero and Food.com's recipes, but there are many recipes you can find online with varying ingredients depending on what is available to you. When you're done with your Play-Doh play creations, put them in a proper store table.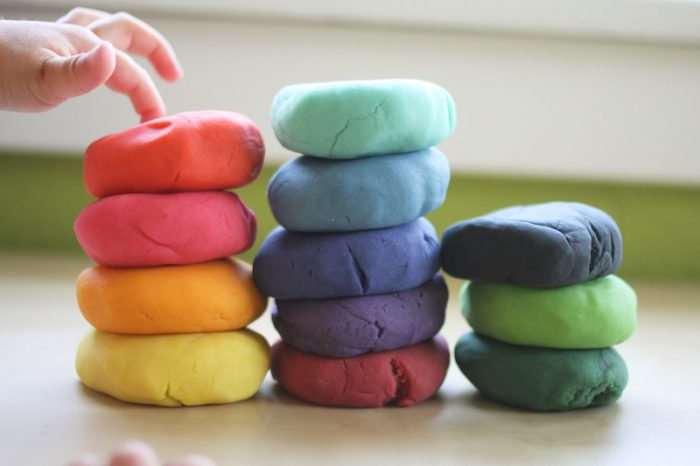 Is Play-Doh good for educational purposes?
Yes, Play-Doh can be used to help your son learn. For example, if your boy is interested in a certain career, then they can use the Play-Doh to play pretend and practice. One such play set is the Play-Doh Doctor Drill Set. The Play-Doh Doctor Drill Set includes a mouth with Play-Doh teeth and all the tools that a dentist would use. The Play-Doh Doctor Drill helps your son gain knowledge and experience about a specific career that they may want to go into in the future.
Is playdough dangerous? 
While Play-Doh is great for an endless amount of open-ended play, playdough can also be dangerous in certain circumstances. The primary concern for children surrounding playdough is if they try to eat it. In this sense, there are two possible dangers parents should be aware of. 
The first is that playdough as well as many of the plastic toys that often accompany doh sets can serve as choking hazards for young children. Since playdough is easily molded, it can be any size, and it is deceptively soft, so it is still important to be careful will children that might not have had problems with choking hazards in the past because play dough is different from other toys they may have been exposed to. 
The second way that playdough can be dangerous is if it is ingested because of the modeling compound that is used in it. If a child manages to swallow it, playdough can make their stomach upset and, in some cases, the chemicals in certain doughs or clays can cause more serious harm, depending on their ingredients. 
If you think your child has eaten some of the playdough, it is a good idea to get in contact with your healthcare provider quickly to determine the right course of action, depending on what kind of playdough and how much of it your child has ingested. 
In addition to proper supervision, having a proper store table for your son's Play-Doh is one good way to help reduce the chance of Play-Doh being ingested.
Last Updated on June 12, 2021 by Marie Miguel
DISCLAIMER
(IMPORTANT)
: This information (including all text, images, audio, or other formats on FamilyHype.com) is not intended to be a substitute for informed professional advice, diagnosis, endorsement or treatment. You should not take any action or avoid taking action without consulting a qualified professional. Always seek the advice of your physician or other qualified health provider with any questions about medical conditions. Do not disregard professional medical advice or delay seeking advice or treatment because of something you have read here a FamilyHype.com.