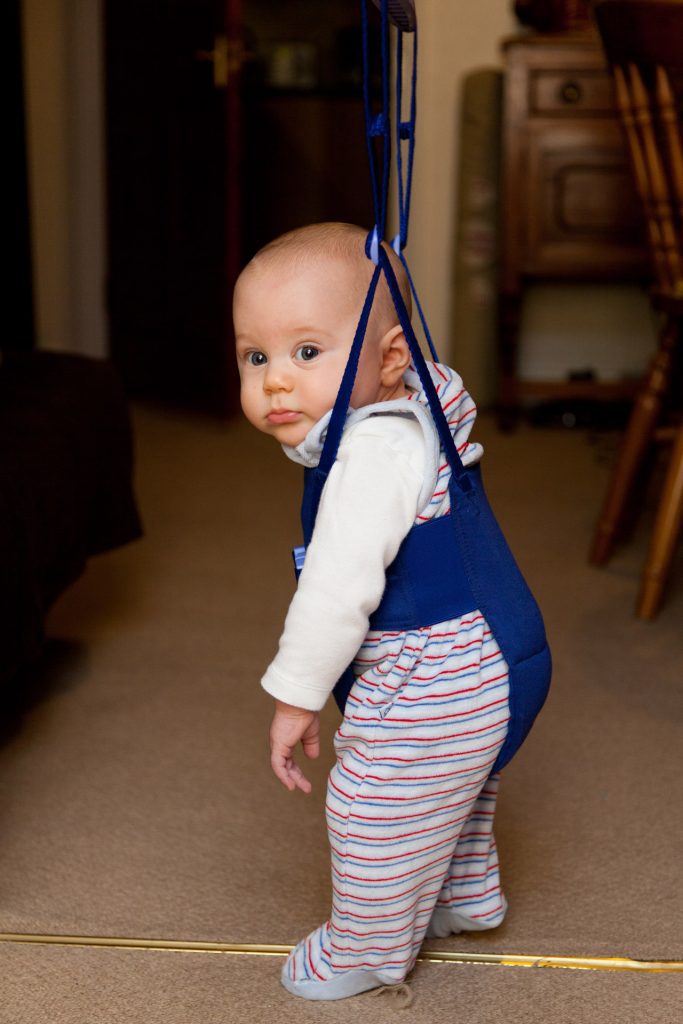 Babies love to bounce around. As soon as they can, they're going to bounce.
So why not buy them a toy that takes full advantage of this fact?
Meet the baby jump toys. This baby jumping toy is designed for bouncing babies, giving them a safe place to jump. Parents can free up their hands while their babies get the exercise and play time they need with a baby jumper, door jumper, or exersaucer jump station. Why do people like baby jumpers? Let's discuss why these baby jumping toys are so popular in this post.
Many famous baby brands offer jump toys, and because there are too many options available, it can be easy to get confused in the end. To help you, we made a list of the highly-rated baby jumpers from Amazon based on user reviews, and we also included a brief product description for each one. If you continue reading, you will also see our favorites from popular brands and more FAQs on baby's jump toys

Baby Jumpers
A baby jump toy or a jumper is any toy that lets a baby bounce around in a safe location. Here are a few reasons parents love them.
Fisher-Price Animal Activity Jumperoo,  Blue, One Size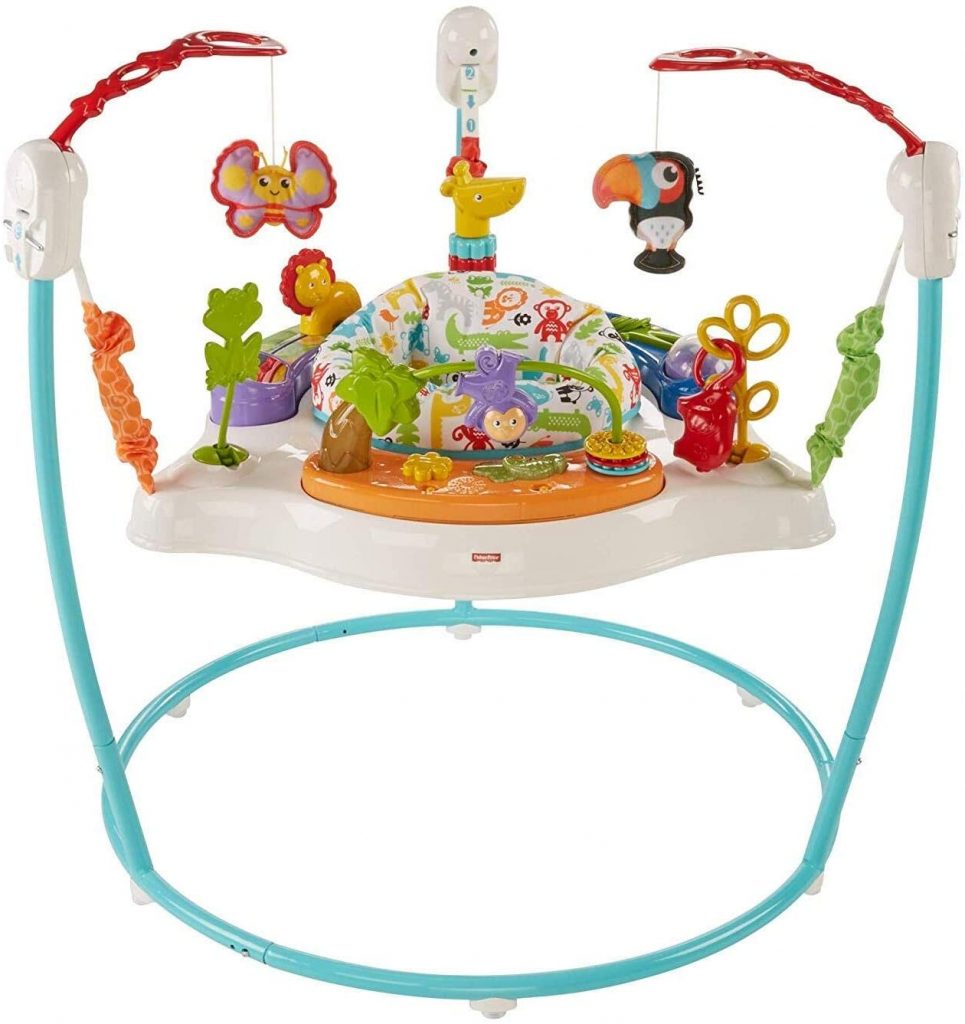 The colorful and fun infant animal activity Jumperoo from Fisher-Price is the ideal first jumping toy for your little one. It encourages your infant to explore and learn how how to balance.
The bright colors and sounds it comes with improves their sensory development. It comes with a 360-degrees spinning seat and other animal accessories and toys.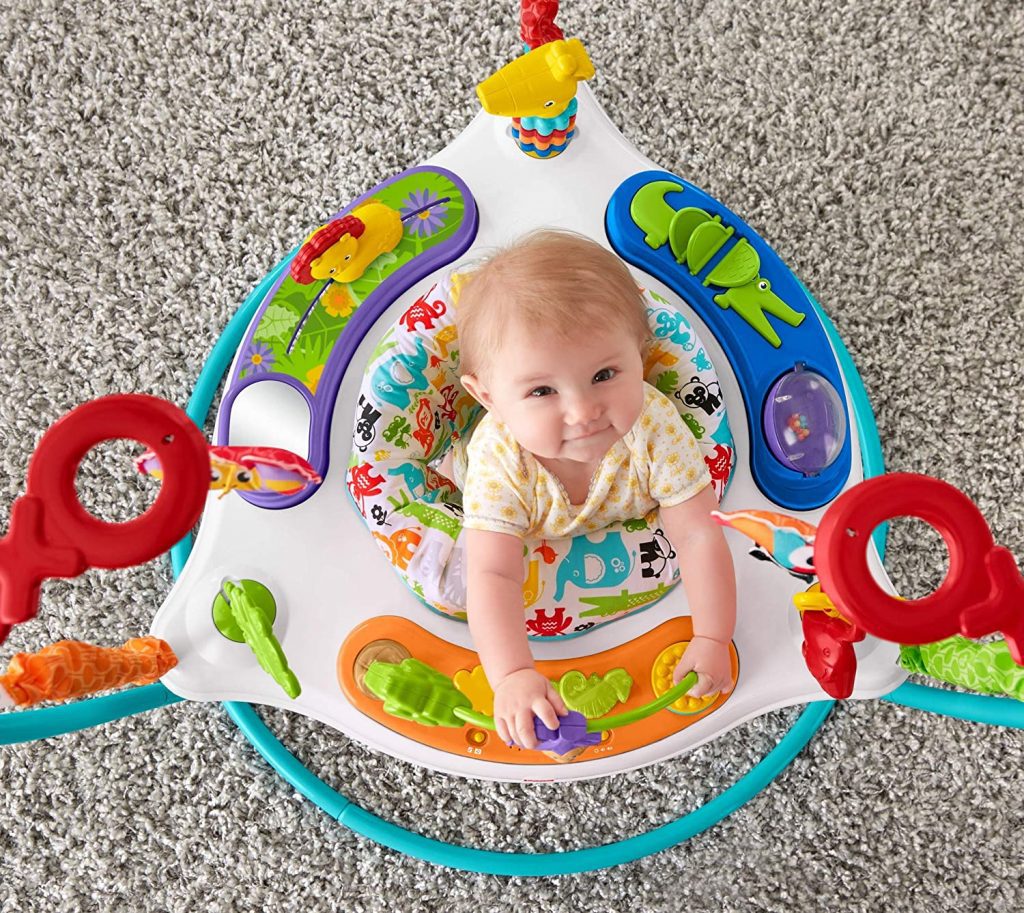 Fisher-Price Jumperoo: Pink Petals
The baby activity center, Infant Jumperoo Pink Petals, from Fisher Price makes a good addition to your baby's activity toys. It is very girly and can be adjusted to accommodate your baby's height as they grow.
This baby jumper has a sturdy frame and keeps your little one safe as they play.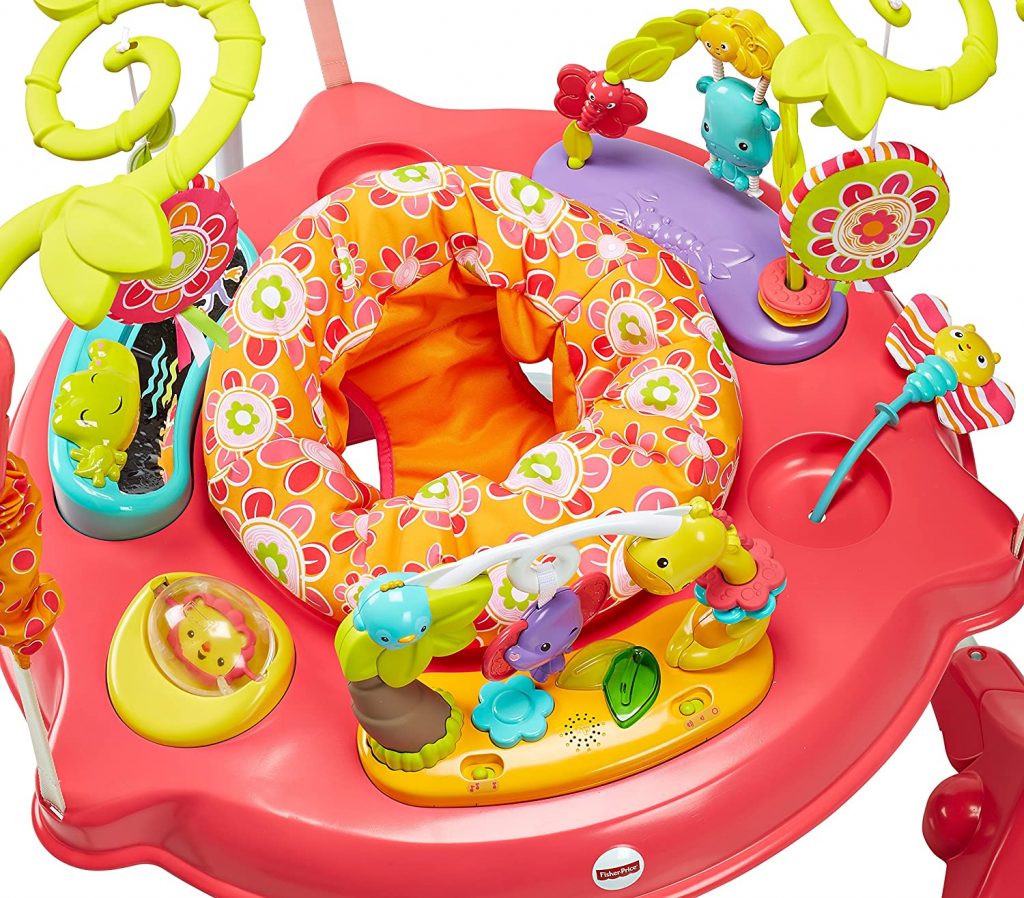 3-in-1 Jump Gym for Toddlers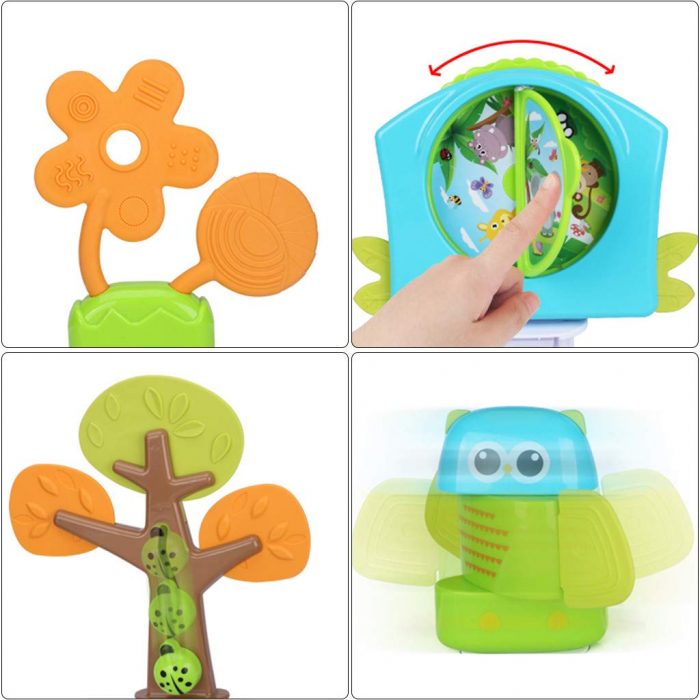 The Baby Gym can be used 3 ways, it encourages your child to cruise and interact, to get a good workout while playing and it also serves as a table for coloring and more.
You get a good value for your money with the baby Toy from Bouanq as it grow with your baby. this baby jumper is recommended for children 4 months plus.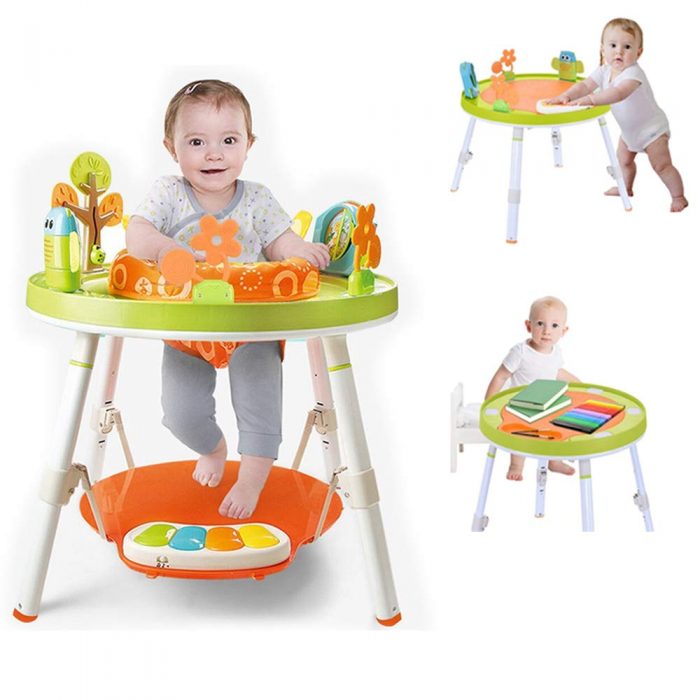 Fisher-Price 3-in-1 Sit-to-stand Activity Center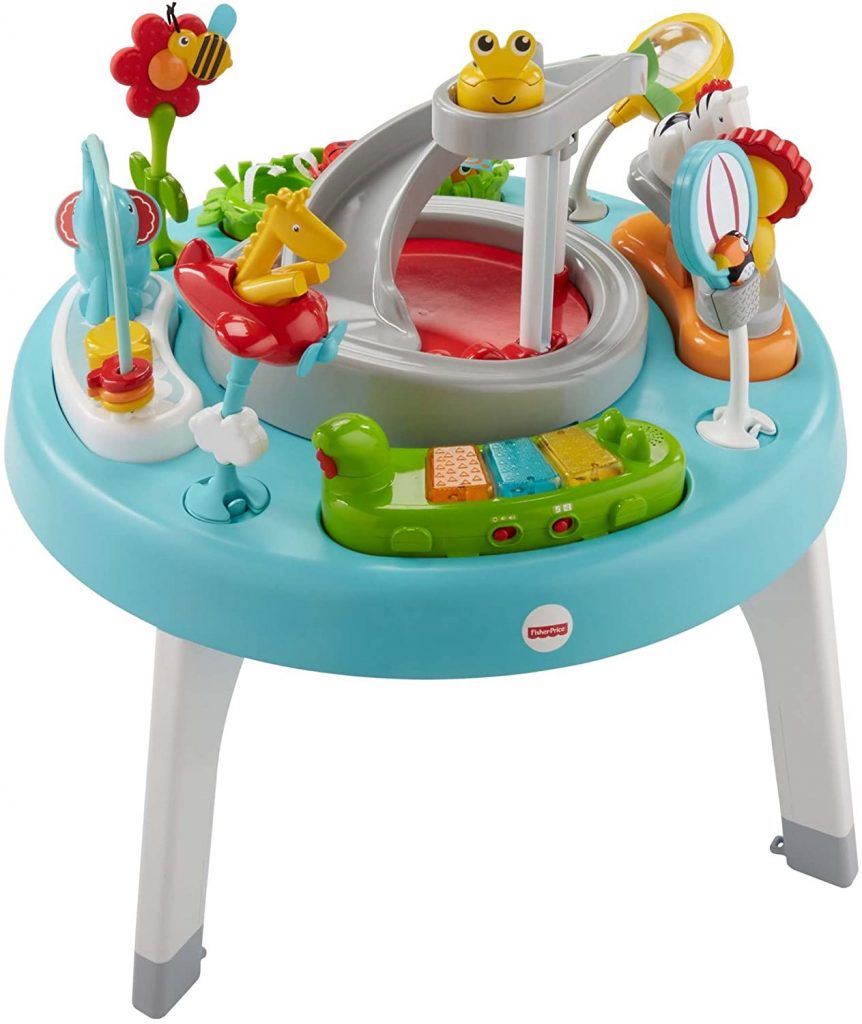 The multifunctional infant toy from Fisher Price comes with a newborn playmat, infant activity center and toddler play table. It offers 20 minutes of music and 3 adjustable height position.
This infant activity center is very easy assemble and clean and it has removable legs convenient storage.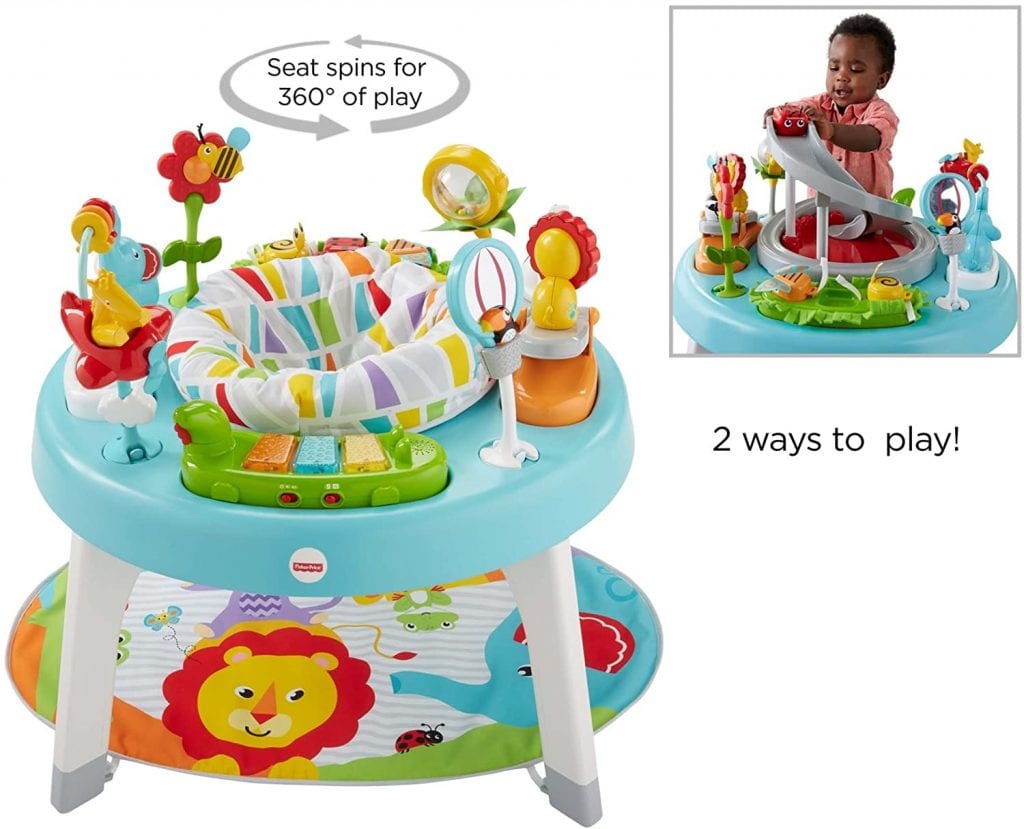 Baby Jumpers
A Great Source Of Fun For Your Child!
They keep the baby entertained. When you're busy, entertaining your baby is always something you want to do, and these toys allow your baby to bounce ang jump around for a little while. Jumpers are so nice in that regard. Note that babies should never be left unsupervised in baby jump toy, though. While these baby toys are designed with plenty of safety features built in, babies are not meant to be left alone in them.
They help your baby release any pent-up energy they may have. If it's naptime, letting your baby jump around beforehand may tire them out and give them some easy resting.
Baby Jumpers
Baby jump toys can encourage leg development, but remember to limit jumping to 15 minutes, or else your baby may get hurt. Their little legs can become exhausted pretty quickly when playing in baby jump toys, so be mindful of how much time you're allowing them to sit in a jumper.
These baby toys come in a few categories, such as: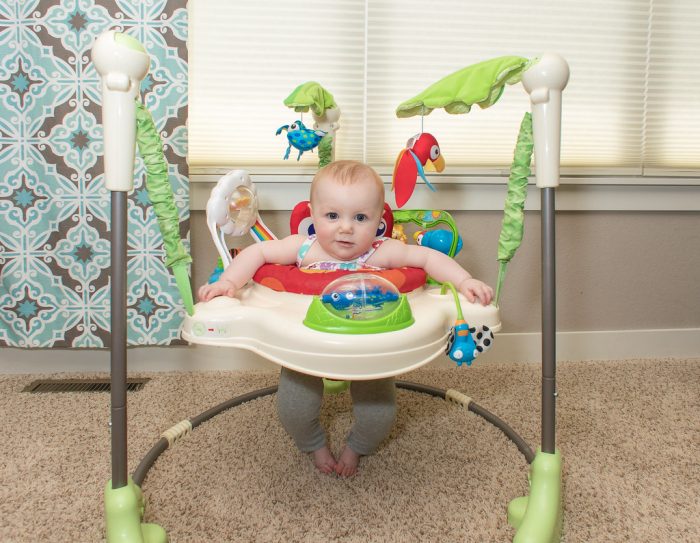 Doorway Baby Jumpers
A doorway jumper is just like the name describes. You take the straps and connect it to the doorway. What makes these jumpers nice is that they don't take up much space, so small households rejoice. The only downside is that if the door is high traffic, it's a little inconvenient. We suggest putting a doorway jumper on a door that you rarely open.
Door jumpers are great for many types of households, but they need to be attached to the door frame properly for them to be safe for babies. Make sure you follow the instructions that come with doorway jumpers to ensure your baby can jump way happily without getting hurt.
Freestanding Baby Jumpers
This is a jumper that is like a high chair, complete with straps. It doesn't require any door, but it does tend to be pricier and take up space. Still, it's worth trying out if you want to get a jumper.
Freestanding baby jumper is often much more than just a stationary jumper. These baby gear products are full on activity centers with padded seats that can turn all the way around to various toys on all sides of the baby jumper. The best baby jumper can keep your little one entertained and engaged for an entire play session.
Age For Baby Jumpers
You may wonder what stage of development your baby needs to be before you can use a baby jumper. It all depends. In order for your baby to use this, they have to put their head upright without assistance. This usually happens in six months, and it's good for babies up to one year.
The window for babies to use these baby products may not seem to last very long, but bouncing in a baby jumper is the best activity your child can do to help with the development of their leg muscles. This is a good way to prepare babies for learning to walk.
Duration On Baby Jumpers
You may wonder how long your baby should jump around. Jumping time should be no longer than 15 minutes. Jumping around in a baby jumper can be good for a developing baby, but too much can hurt their joints and may cause delays. Make sure your baby isn't using it too much.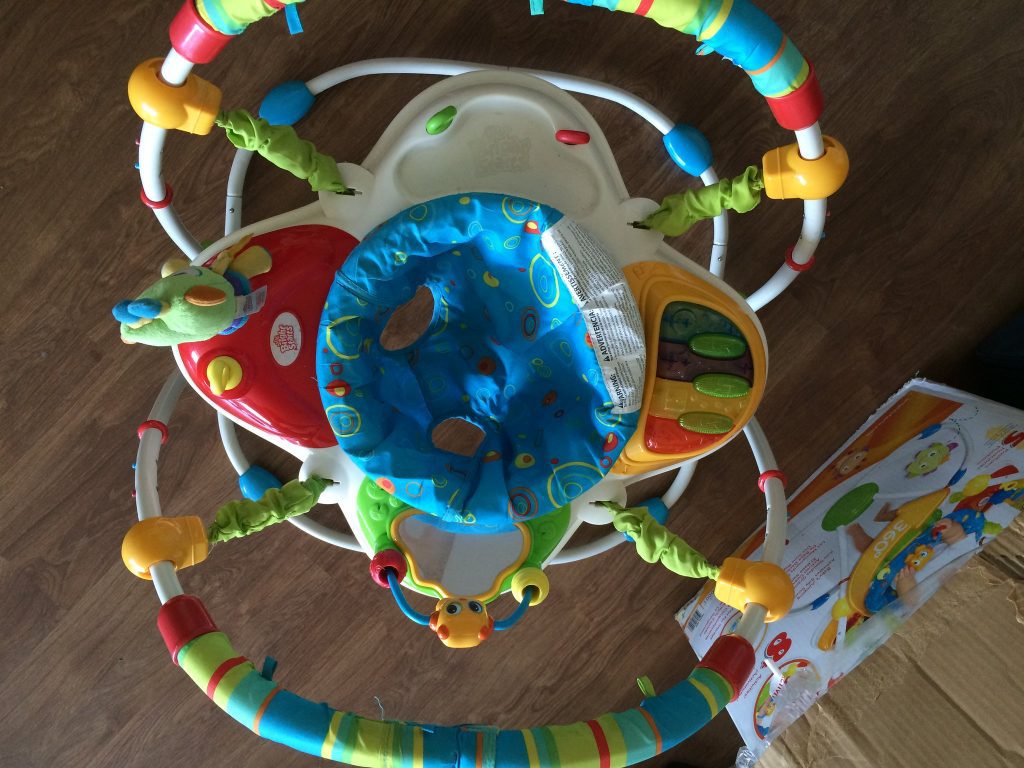 Baby Jumpers
If you're purchasing one, here are some things to look out for.
This is an obvious one. You want a baby jumper that can strap your baby in, yet it isn't a hassle to get out. Most jumpers you buy on the market should be secure enough, but if you're buying a baby jumper off third-party sellers, then you may want to be aware.
You want a baby jumper with a good weight limit to avoid accidents. Usually, the weight limit should be a lot more than your baby, so remember that. Weight limits are something that you don't want to test, as it could lead to serious injury.
The weight and height limits of a baby jumper were set specifically for that piece of equipment. It's not a good idea to ignore those limits. Always adhere to the standards set so your baby can play safely in their baby jumper the way it was intended to be used.
A baby jumper gets messy. It's possible for your baby to get a little sick on one and throw up, or cause other messes. Many jumpers have machine washable covers, making it so much easier when you're in a hurry. If it's hand wash only, make sure it's easy to wash. You want a seat pad that you can keep clean without a hassle because it inevitably will get dirty.
Baby Jumpers
Extra Stuff Of The Baby Jumpers
Some jumpers, mainly the freestanding ones, tend to come with hanging toys and other wonders. It can keep the baby entertained as they jump around, and teach them other skills. These activity centers are great at stimulating your baby, as well as allowing them to develop their muscles. Doorway jumpers don't have the same availability of space for adding toys and extras, so if you're looking for more of an activity seat, you'll want to go with something like the Fisher Price Rainforest Jumperoo or the Baby Einstein Neighborhood jumper.
Jumpers tend to be relatively inexpensive depending on what you get. Doorway jumpers are quite cheap, with some units going for around $20. However, the freestanding ones with all the bells and whistles may cost a little more. Being a toy that gets six months of use on average, consider your budget when purchasing one.
You shouldn't feel like you have to get the most expensive jumper baby product. A baby jumper just needs to be safe and effective for what you want them for. A door jumper will provide your baby with the exercise he or she needs, while freeing up your hands to fold laundry, make a meal, or send that important email you've been meaning to get to.
The other thing you can do is look for a used baby bouncer. Since these are items that babies can only use for a short part of their lives, baby jumper is pretty easy to find on websites where people resell things they don't need anymore. You will also likely run into different jumper baby toys at garage sales if you go looking.
Many jumpers will have bumpers to protect your baby's surroundings. For example, a doorway jumper should have a nice bumper so that your baby won't scratch the paint of your doorway. That's something you should always strive for.
A stationary jumper doesn't have a bumper, but it does have a frame that keeps it stabilized where it won't hit the walls or furniture around it. This is why an activity jumper takes up so much more space than a door jumper.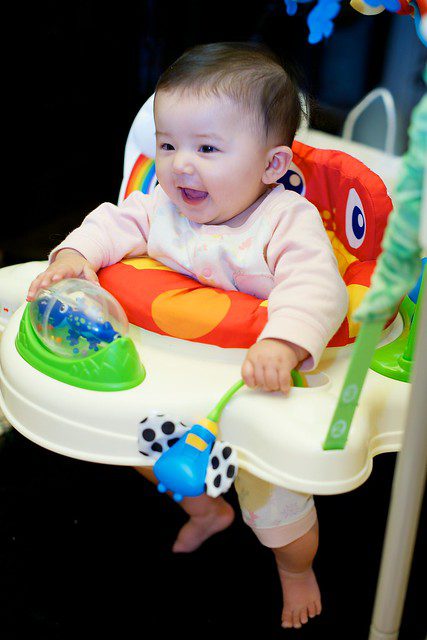 Baby Jumpers Options
Now, let's look at some jumpers.
This is a cool little doorway jumper. This jumper is easy on the door, and the wallet, and allows your baby to bounce around to your heart's content. Something that's nice about this door jumper is it actually does have a couple of little toys for baby to play with that are hanging from the straps.
Evenflo ExerSaucer Door Jumper
This is a great budget jumper, going for around $22. This is another doorway jumper that keeps your baby and your door safe, and it's easy to set up. Also, the seat has some cool patterns to choose from as well. While it doesn't have any toys attached, the seat on this door jumper is padded well so your baby stays comfortable during play time.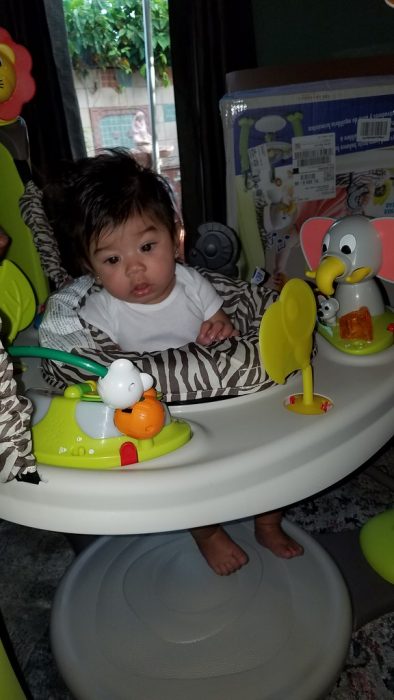 Jolly Jumper Exerciser With Door Clamp
This is a more expensive jumper at around $80, but it's still unique. It has a fabric seat instead of a molded one. Besides that, though, there isn't really too much of a difference between this and cheaper jumpers.
The Jolly Jumper can blend into most household decors. Some parents may not want a bright door jumper that sticks out in the room. Or, they may not want to use it in a doorway at all. The Jolly Jumper can be hung from a door way with a door clamp or you can purchase a stand that can be set up anywhere. The door clamp is included with bouncer, while the stand must be purchased separately.
Fisher-Price Rainforest Jumperoo
This is a freestanding one that includes an activity center, so your baby will always be entertained. It has music, lights, toys, and more. It's well worth trying if we do say so ourselves, but being a freestanding jumper, it is over $100.
A good idea would be to put this Fisher Price Jumperoo on your baby registry. Activity centers like this make great gifts so there's a good chance someone will want to get it for your little one. Exersaucer jump toys are popular on baby registries because they're known for being something baby loves best. That also means it's easily what dad and mom loves best.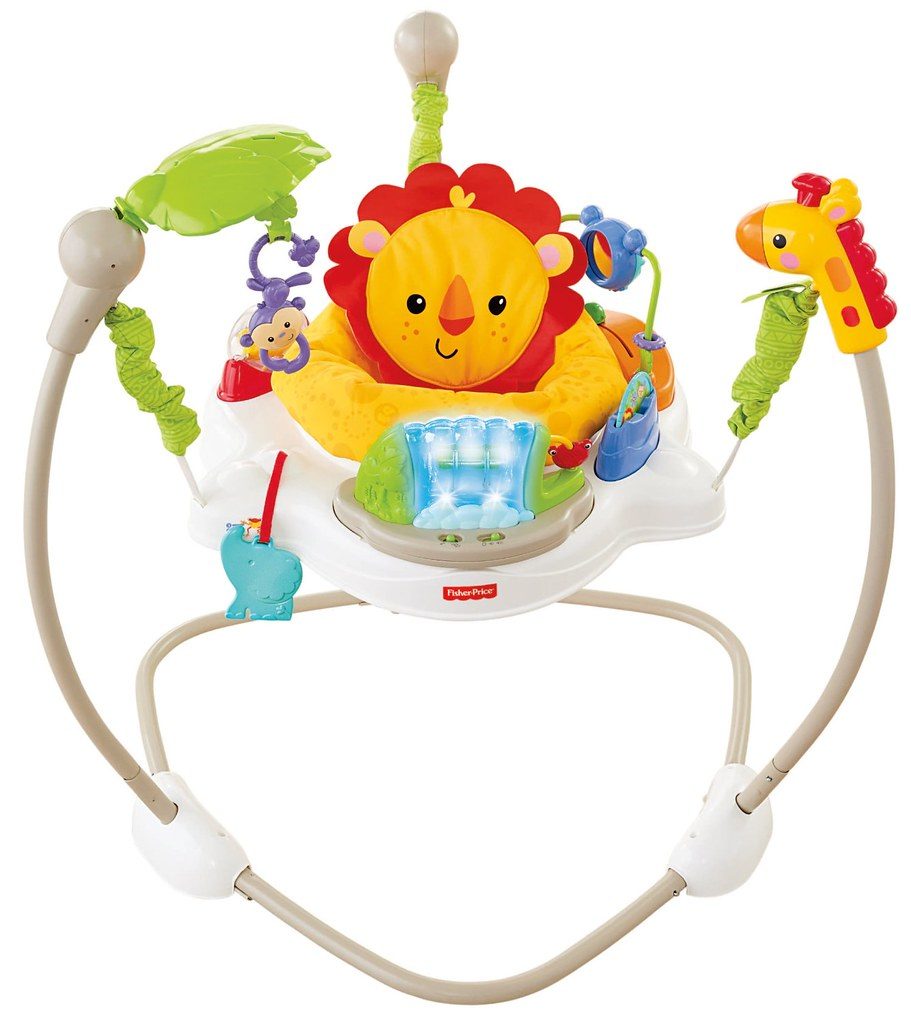 Baby Einstein Activity Jumper Special Edition, Neighborhood Friends
This is a jumper that is freestanding and includes a nice activity center, with a cool little piano as well. It's a little cheaper than the Fisher-Price one, but it is still a bit costly. However, it's well worth trying out if you want a baby jumper with some unique features. The Baby Einstein jumper serves as an activity seat where your baby can learn stationary jumper skills while sitting comfortably and safely.
Baby Jumpers Conclusion
There is a good reason why parents love these toys, and why babies can't get enough of them. If your baby wants to jump around, these jumpers are a good place to start. Whether you opt for a jumper you can hang in the doorway with a door clamp or a stationary bouncer, like the Fisher Price Jumperoo, these products are good for the development of babies, both in their bodies and their minds. Just make sure to follow the directions, and don't allow for too much jump time, and everything should be good.
Baby Jumpers FAQs
What age can my child use baby jumpers?
Typically a child can start to use a jumper when his or her age is about 3-4 months. But in most cases, in around 4 months is perfect for using a jumper.
What are the best baby jumpers for toddlers?
To top the list, there's Fisher-Price Rainforest Jumperoo – Best Jumper for Infants, Jolly Jumper – Best for 3 Months Old Baby, Jolly Jumper Exerciser – Babies Weighing up to 28 Pounds, Baby Einstein – Keeps Your Baby Occupied, and Evenflo ExerSaucer – Great Jumper.
Are these bad for children?
Yes. In fact, there are cases that babies get injured while using a jumper. Most injuries come from babies being left too long in a jumper or being left unsupervised while they're bouncing.
Are Jolly Jumpers bad for toddler's development?
At some point, yes. Jolly Jumpers put the baby/child in an upright position for a long period despite their undeveloped spines and nervous system. The other thing to be careful of with a Jolly Jumper is to make sure you adhere to all instructions for using the door clamp properly. This way the jumper works the way it's supposed to for the development of your baby.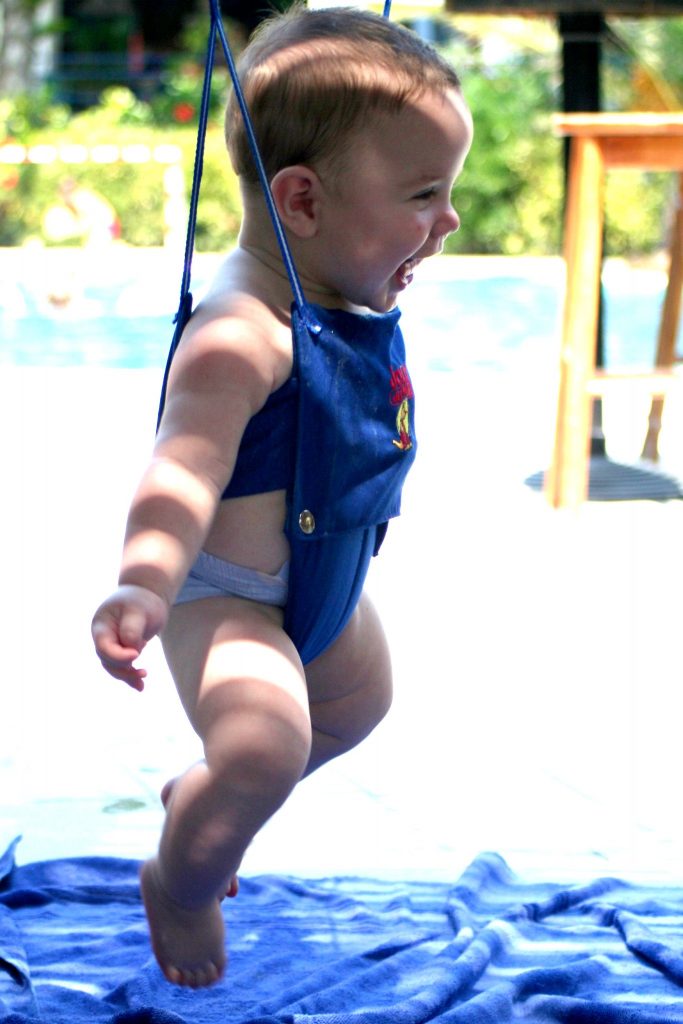 How long should a child be in a Jolly Jumper?
Babies can use Jolly Jumper Exerciser as early as 3 months op to the child's walking age. Provided with baby's maximum weight of 28 lbs (13 kgs) only.
What is the best age for a child to use a Jumperoo?
The best age for a toddler to use a Jumperoo depends. It will include the ability of how well the baby is able to maintain his or her head up. Not to mention the capability of the jumper you're using. Your little one has to have the mental and physical capacity to learn stationary jumper skills.
Last Updated on August 2, 2022 by Inma Barquero
DISCLAIMER
(IMPORTANT)
: This information (including all text, images, audio, or other formats on FamilyHype.com) is not intended to be a substitute for informed professional advice, diagnosis, endorsement or treatment. You should not take any action or avoid taking action without consulting a qualified professional. Always seek the advice of your physician or other qualified health provider with any questions about medical conditions. Do not disregard professional medical advice or delay seeking advice or treatment because of something you have read here a FamilyHype.com.