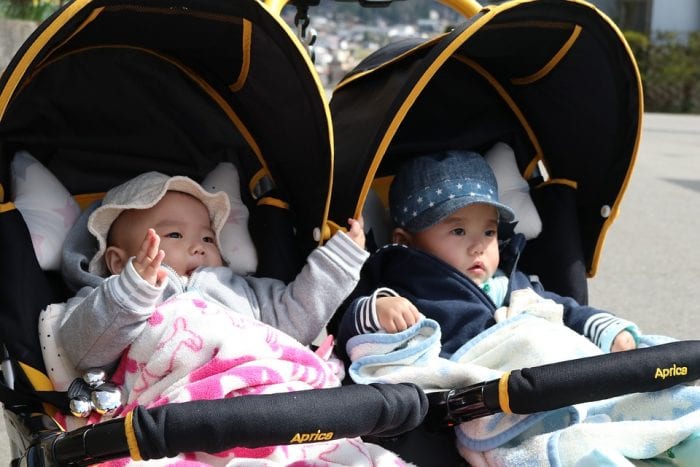 When you've given birth to twins, you need a stroller that can carry both. Let's find out the best double strollers or double umbrella strollers, shall we?
Many brands offer twin strollers, and it can get confusing when choosing which one to buy. To give you an idea, we made a list of the best double strollers for twins on Amazon with their unique features.
Best Features Of A Double Stroller
What you need in double strollers is typically the same as a regular one. Here is a double stroller review and some factors to consider when you want to purchase twin strollers.
Portability Of Double Stroller
When buying a double stroller product, you want one that won't break your back. You should get yourself lightweight strollers, easy for you to fold and store, yet can keep your babies nice and snug.
You have two kids, which can already be a hassle for your vehicle, so make sure that you have one that is easy to fold and store. Some side-by-side strollers are a little bulkier, while other double strollers are more portable. Get yourself one that has a portable lean, unless you have lots of room to store one.
Budget For The Best Double Stroller
There are different twin strollers for all sorts of budgets. You may be able to splurge a little bit and get one of the best luxury strollers that allow your twins to roll out in style. Alternatively, you may be looking for a more affordable but still has good quality. Think about your budget, and see which one fits your budget quite well.
Room To Grow  
You want the best double stroller designed for newborns. However, you also want one that allows room for growth. Your newborn twins will soon be toddler twins, so think about that.
Easy To Maneuver Stroller
One that is easy to control, with an adjustable handlebar, is a good choice, especially if you're strolling in tight spaces or in an area where you have to make some sharp turns. That all depends on where you live. Some parents may be able to use an inline double stroller that just offers a smooth ride in a straight direction. One option to consider is a push cart for babies with adjustable shoulder straps. This allows the child to feel secure and comfortable while riding in the inline double stroller.
Side By Side Double Stroller?
Some parents prefer the side-by-side capabilities, but one of the downsides of side-by-side strollers is they are much wider.  A side-by-side twins stroller is the best option if you know both will use them.  However, some side-by-side ones are a bit on the big side and may be awkward to move about.
Full Reviews Of The Best Double Stroller
A full review is good to look at. With a full review, they'll talk about the pros and cons. Usually with a full review, they're done by parents too, and if car reclining seats and other features are included, they will mention these.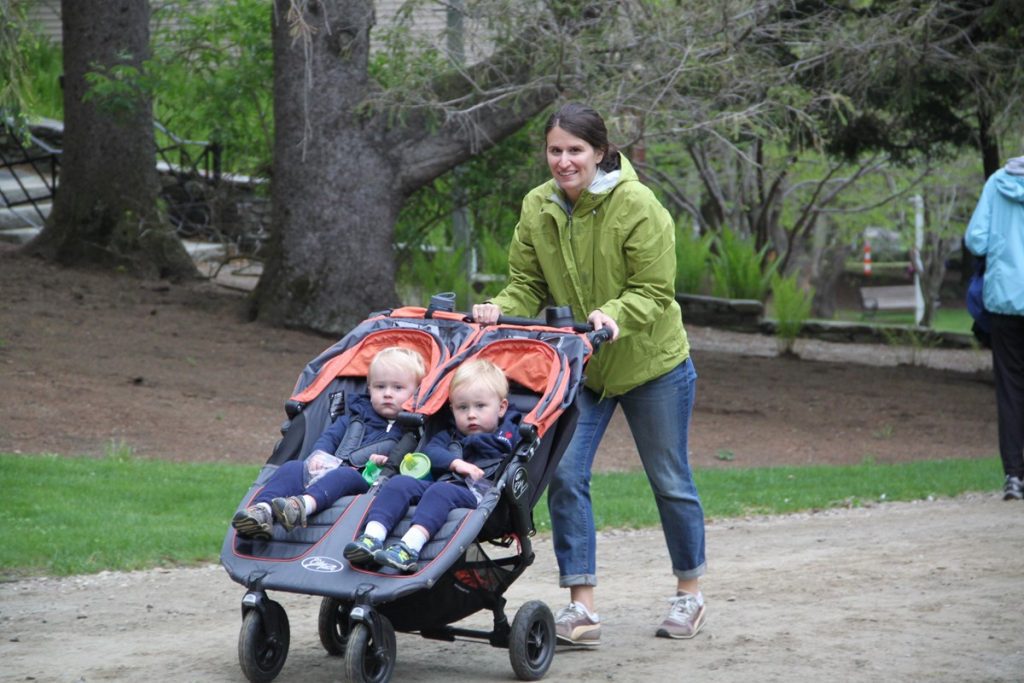 Convertible Double Stroller
One of the features of twin strollers is, of course, the ability for them to become car seats. Some parents love the convertibility to infant car seats because with these car seats, you can just put the car seat adapter on there, and then, they go from car seats to strollers.
However, these car seats don't always come with one. You may have to get universal car seat adapters to make their car seats compatible. This, of course, can make the price much higher, and if you don't think your older child will be using these car seats enough, it may not be good for them.
Now, let's look at some strollers.
Choosing The Best Double Stroller
1. Joovy Scooter X2 Double Stroller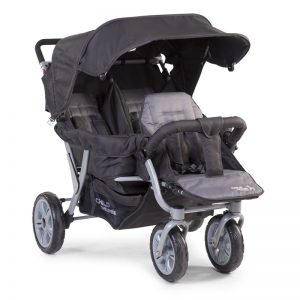 With the ScooterX2 you won't have to worry about getting stuck or folding to pass through. The narrow doorways design will allow you to fit without trouble.
It measures 30″ in width and it can accommodate infant twins or toddlers up to 45 pounds each or 90 pounds in total.
It is complete with a cup holder, a large compartment, and an oversized canopy for sun and rain protection.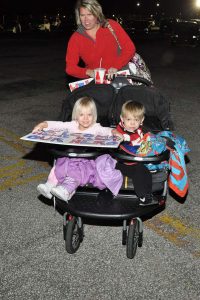 2. Baby Trend Navigator Double Stroller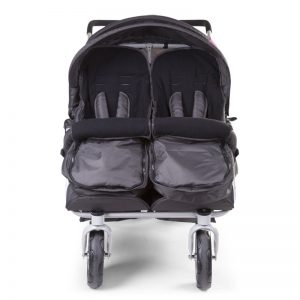 The Navigator Double Jogger Stroller seats are your perfect companion if you like strolling or jogging outdoors.
It can accommodate 2 baby-trend infant car seats and it has front swivel wheels and pneumatic tires for sweat-free strolling.
It collapses fast and easily and it has padded seats to keep your little one happy while you stroll.
3. Baby Trend Sit N Stand Double Stroller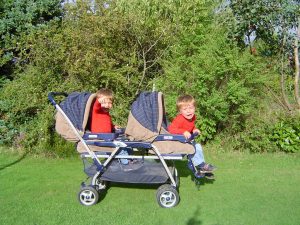 The Sit and Stand stroller is ideal if you have an infant and a toddler since it allows the older one to sit or stand on the rear platform.
It includes two full-size seats, a bench seat, and a standing platform, with the rear seat providing additional seating options.
It has a foot-activated rear brake which gives you more control when strolling.
4. Graco DuoGlider Double Stroller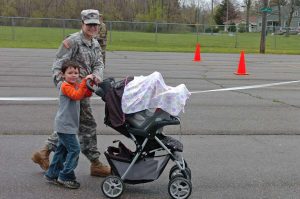 The DuoGlider can accommodate 2 children up to 40 pounds each. It is a practical option for a growing family.
It has safety features that you can customize according to your baby's needs.
It includes rotating canopies and footrests which give your children a fun-filled ride.
5. Peg Perego Book For Two Double Strollers
The Peg Perego Book for Two is another great side-by-side stroller, and this side-by-side is pretty easy to fit anywhere.
However, despite it being side-by-side, the Peg Perego Book for 2 is actually one of the smaller ones out there. The Peg Perego Book for 2 is just 29 inches wide, so it won't be too big for most places, which means you can use the Peg Perego easily in most places, due to the compact side-by-side features.
The Peg Perego also fits inward and easily, like a book. Peg Perego products offer excellent car seat compatibility, making them a versatile travel system that works well. The Peg Perego Book for Two, however, does not sell the infant car seats together with it. The infant car seats are sold separately, so if you want to get the infant car seat rumble seat adapters, you will have to buy them along with one infant car seat.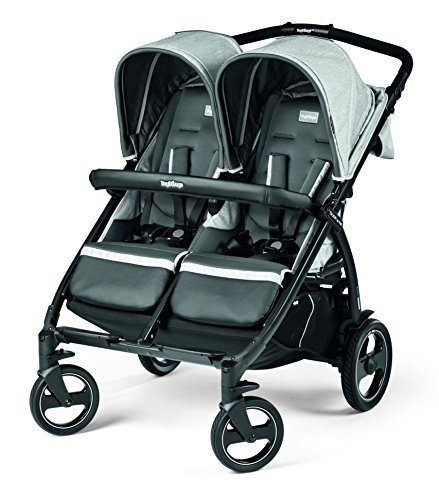 6. Baby Jogger City Double Stroller
(Mini GT)
It is an awesome little jogging stroller. For those who don't know what a jogging stroller is, it's a stroller that lets an active parent jog while they are pushing it. This boasts quite a bit of range, being able to hold one kid that's up to preschool age.
It does work as a travel system with certain baby carriers. The baby jogger City Mini GT2 double does work with the City Mini 2 double prams and is one of the safest infant car seats out there. If you're looking for a convertible stroller for twins, the City Mini GT2 has a wide range. With the City Mini 2, you can use this with a child up to 50 pounds, and many parents report the baby jogger City Mini GT2 is very easy to move around even when a child gets older.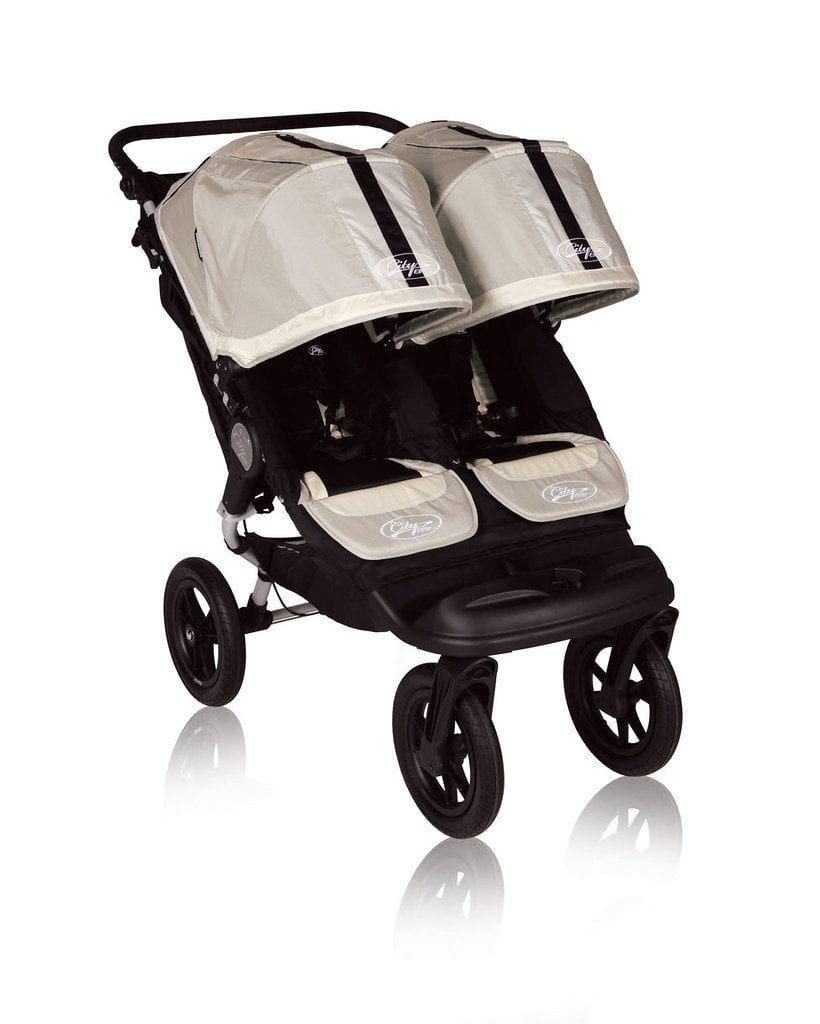 7. Bumbleride Indie Double Stroller
The Bumbleride Indie Twin, an outstanding double jogging stroller, is perfect because it uniquely combines the convenience of an umbrella stroller wagon with the functionality needed for twins. This stroller for twins is easy to move about, and you can actually convert this to one stroller if you don't need this.
The Indie Twin is made with air-filled tires and all-wheel suspension, and the Indie Twin is one of the best strollers to give little passengers an easy ride. If you want to put the umbrella down, this umbrella stroller is one of the best. The one downside to the indie twin however is that the price is high, but you can check the price on Amazon or other competitor sites, or even read the full review on that there.  The full review will tell you what you need to know. This is one of the best strollers out there, and they also are infant car seats too.  You can take these and convert them to infant car seats, which makes it a travel system you can use, and one of the best baby carriers for twins.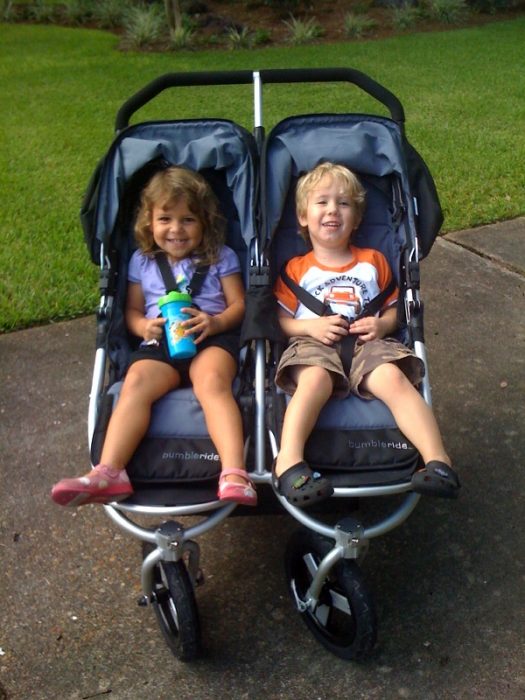 8. ZOE XL2 Double Stroller
It is a lightweight double stroller that is more for parents on a budget. The stroller's weight is only 19 pounds, allowing you to carry it with both hands. It's also filled with accessories that make it awesome for a busy mom or dad. Overall, give it a try. You don't need to be too luxurious when you're raising twins; sometimes, a  budget stroller works just fine. Try this one out and see what we mean.
9. Joovy Scooter X2 Double Stroller
It is another budget stroller. It's good for urban parents, and it has lots of room for a growing baby. Besides being cheap, it also has a nice little basket that is quite spacious. We understand that if you're a parent of a newborn, you need a stroller that can hold a lot of stuff, so here you go.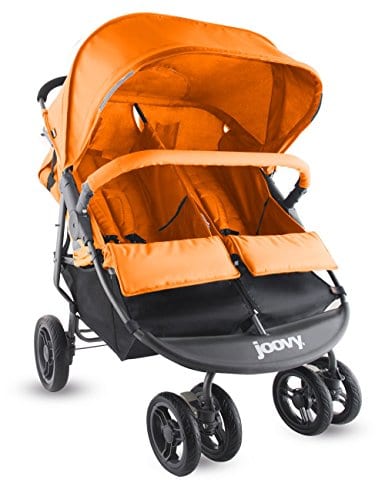 10. J Is For Jeep Brand Destination Ultralight 
Oh, you need an even cheaper stroller? This product is an affordable double stroller, going for around $180. This stroller is again an urban stroller that's quite easy for you to push. As the name implies, it's a stroller that's quite light, so parents who may not have much strength should be able to push with ease. Give it a go and see if it's the stroller for you. Odds are, you're going to love it.
11. Joovy Twin Roo+
It is a good stroller for early childhood, going up to 6-9 months. It's a unique little stroller, having a shape that's more like a shopping cart. It's quite affordable, and it's so easy to fold. You can store it in practically every storage space. It is a good stroller when you're on a budget during the first year. You can eventually trade in this stroller for a nicer one, but for now, this works just fine.
Best Double Stroller
Frequently Asked Questions
What Is The Best Double Stroller?
If you are a parent of two, getting a double stroller is a good decision. Here are the best that you can consider buying:
Baby Jogger 2016 City Mini GT Double Stroller
Chicco BravoFor2 2-Passenger Double
Graco Roomfor2 Click Connect Stand and Ride Stroller
UPPAbaby VISTA v2 Stroller
Contours Options Elite Tandem Double Strollers / Tandem Stroller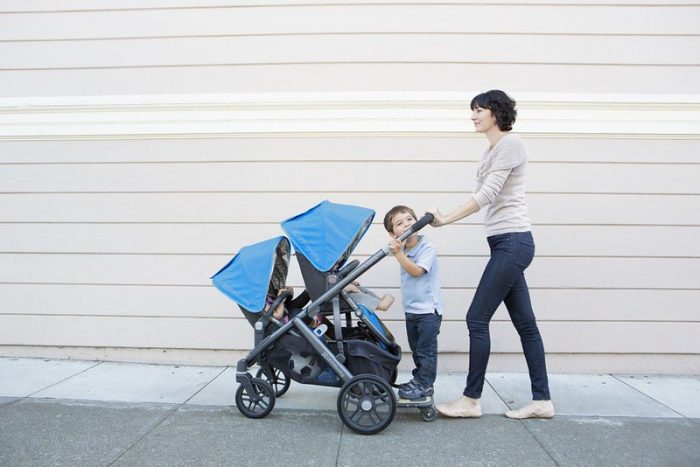 Which Double Stroller Is Best For Twins?
The Bumbleride Indie Twin is an exceptional double jogging stroller that stands out due to its ability to seamlessly blend the convenience of an umbrella stroller wagon with the essential features required for twins. This stroller offers effortless maneuverability for twins, and it can also be effortlessly transformed into a single stroller when needed.
Which Double Stroller Is Easiest To Push?
The UPPAbaby VISTA v2 Stroller is one of the easiest to push as it also has the best reviews from parents in terms of its maneuverability and sturdiness. It gives your babies a smooth ride and easy travel.
Do Double Strollers Fit Through Doorways?
Typical residential doorways have widths ranging from 30 to 36 inches. It's worth noting that all of the double strollers we suggest fall within the width limit of 36 inches, although some may exceed 30 inches. Hence, it is crucial to assess the doorways in your home to ensure compatibility. Additionally, take into account the weight of the stroller as an important factor to consider.
At What Age Do You Stop Using A Stroller?
According to the American Academy of Pediatrics, the use of strollers is suitable for children during their infancy and toddler years, but it is advised to discontinue stroller usage once the child reaches the age of 3. Pediatricians also emphasize the importance of avoiding excessive reliance on strollers.
What Age Range Is Suitable For Double Stroller?
Double strollers have the capacity to accommodate two children starting from birth and up to the age of five. There are three distinct types of double strollers available: side-by-side, tandem, and convertible. Among these options, side-by-side strollers are particularly favored due to their popularity. They enable both children to have a clear view of each other.
What Are The Pros And Cons Of A Double Stroller?
One of the primary advantages of a tandem stroller is its ability to maintain the same width as a single stroller, enabling easy passage through doorways. However, a significant drawback is that they can be more challenging to maneuver due to their extended length. This elongated design also poses difficulties when attempting to fit certain tandem strollers into smaller trunks.
Should 2.5-year-olds Have Double Strollers?
If you take pleasure in extended walks with your young child in a stroller, it may be worthwhile to consider investing in a double buggy. Children aged 2 and 3 have limited walking endurance and slower pace, which means they may struggle to cover longer distances. If you typically embark on mile-long or two-mile walks and intend to continue doing so, it can prove challenging without the assistance of a double stroller.
Can I Take A Double Stroller On The Plane?
At the ticket counter, you have the option to check one stroller and one car seat per child without incurring any additional charges. If you happen to be traveling with two children, you can check a double stroller instead. Alternatively, you also have the option to check these items at the gate.
When Should I Start Buying A Double Stroller?
It is advisable to start considering the purchase of a stroller during pregnancy or a few months before your baby is due, as it allows you time to research and make an informed decision. Brands like Nuna, including the Nuna Pepp, along with other popular brands such as UPPAbaby, Bugaboo, and Graco, offer a variety of strollers suitable for newborns and infants, making them good options to consider when starting your search.
DISCLAIMER
(IMPORTANT)
: This information (including all text, images, audio, or other formats on FamilyHype.com) is not intended to be a substitute for informed professional advice, diagnosis, endorsement or treatment. You should not take any action or avoid taking action without consulting a qualified professional. Always seek the advice of your physician or other qualified health provider with any questions about medical conditions. Do not disregard professional medical advice or delay seeking advice or treatment because of something you have read here a FamilyHype.com.