Having twins can be an amazing experience. You have two babies, both identical, and who knows where they're going? With that said, having twins can be a hassle as well, with you having to pay double. That is when you need to buy accessories that are meant for two people. 
The twin stroller is one such idea. When you've given birth to twins, you need a stroller that can carry both. Let's find out the best newborn twins stroller, shall we?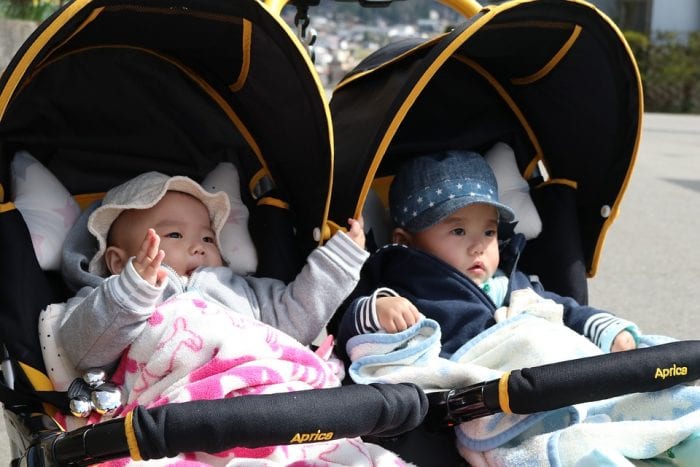 What To Look For In A Twin Stroller 
What you need in a twin stroller is typically the same as a regular stroller. Here are some factors to consider when you want to purchase a stroller for twins.
Being a double stroller, you want one that won't break your back. You should get yourself a stroller that is lightweight, easy for you to fold and store, yet can keep your babies nice and snug. 
There are different twin strollers for all sorts of budgets. You may be able to splurge a little bit and get a luxury stroller that allows your twins to roll out in style. Alternatively, you may be looking for a more affordable but still quality stroller. Think about your budget, and see which strollers fit your budget quite well. 
You want strollers designed for newborns. However, you also want a stroller that allows room for growth. Your newborn twins will soon be toddler twins, so think about that.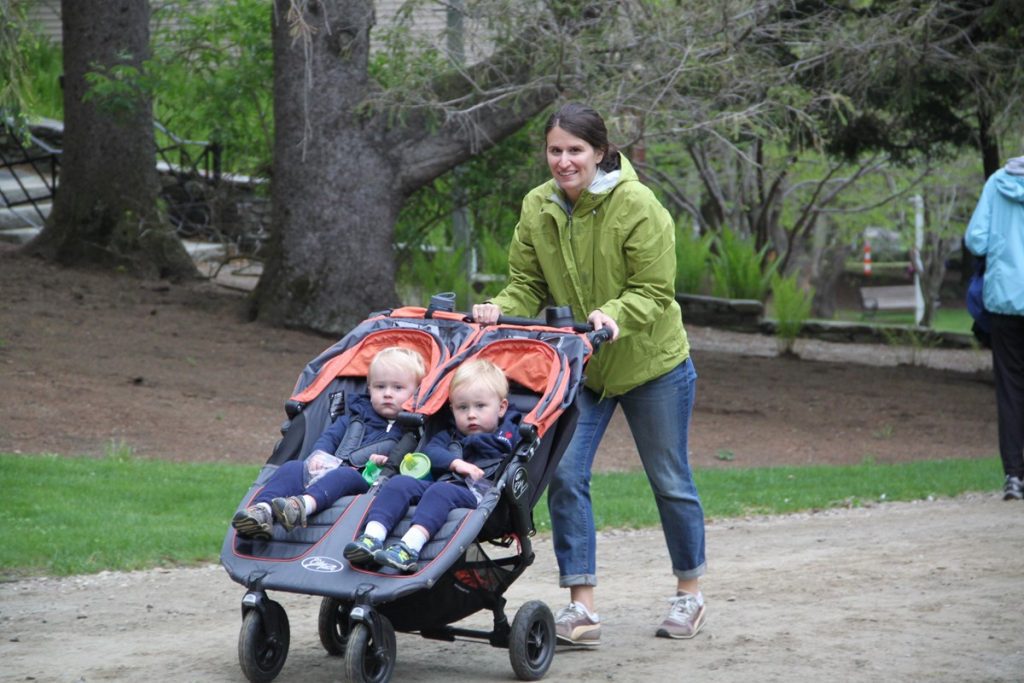 A stroller that is easy to control is a good move, especially if you're strolling in tight spaces or you're in an area where you have to make some sharp turns. That all depends on where you live. Some parents may be able to use a stroller that just has a smooth ride in a straight direction. 
You have two babies, which can already be a hassle for your vehicle, so make sure that you have a stroller that is easy to fold and store. Some strollers are a little bulkier, while others are more portable. Get yourself a stroller that has a portable lean, unless you have lots of room to store a stroller. 
Now, let's look at some strollers. 
Baby Jogger City Mini GT Double
It is an awesome little jogging stroller. For those who don't know what a jogging stroller is, it's a stroller that lets an active parent jog while they are pushing the stroller. This stroller boasts quite a bit of range, being able to hold kids up to preschool age. 
Also, it's a stroller that's easy to maneuver and can handle some uneven terrain. It's a nice, mid-range stroller that's well worth trying.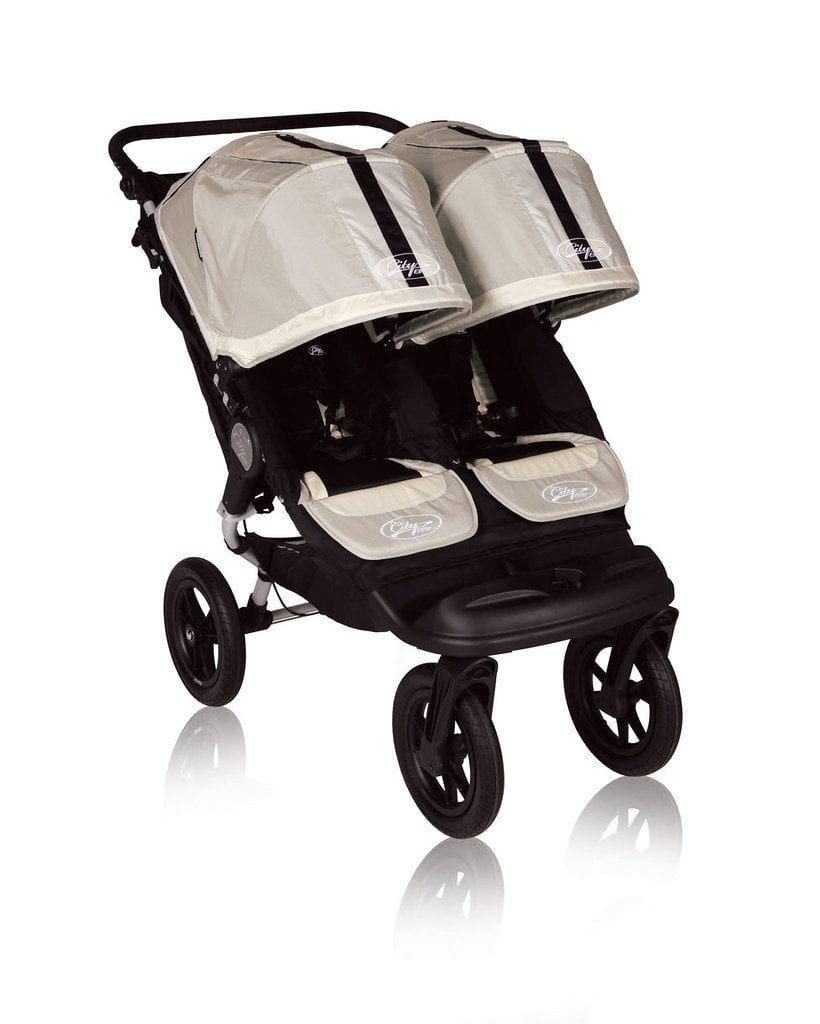 Bumbleride Indie Twin Double Stroller
It is another great stroller that is useful for all types of terrain. If you live in a rugged area, or an area that is prone to a lot of snow, this stroller does the trick. 
It's a higher-priced stroller, but it's well worth it if you can afford it. It has a mode that's for newborns and infants, and it has an amazing recline, allowing your little ones to be as safe as possible. Again, if you live in an area where the terrain is bad, you're in for a nice stroller. 
ZOE XL2 BEST
It is a lightweight stroller that is more for the parents on a budget. It's's only 19 pounds, allowing you to carry it with both hands. It's also filled with accessories that make it awesome for a busy mom or dad. Overall, give it a try. You don't need to be too luxurious when you're raising twins; sometimes, a  budget stroller works just fine. Try this one out and see what we mean. 
Joovy Scooter X2 Double
It is another budget stroller. It's's good for urban parents, and it has lots of room for a growing baby. Besides being cheap, it also has a nice little basket that is quite spacious. We understand that if you're a parent of a newborn, you need a stroller that can hold a lot of stuff, so here you go.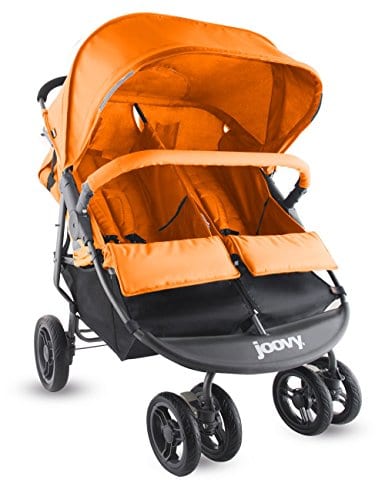 Read my review. Check Latest Price.
J is for Jeep Brand Destination Ultralight Double Stroller
Oh, you need an even cheaper stroller? This product is an affordable double stroller, going for around $180. This stroller is again an urban stroller that's quite easy for you to push. As the name implies, it's a stroller that's quite light, so parents who may not have much strength should be able to push with ease. Give it a go and see if it's the stroller for you. Odds are, you're going to love it.
 Joovy Caboose Ultralight
This item is a good stroller for twins or a kid and their sibling. It's been a good stroller for the price, having some cool accessories as well. If you need a stroller that has a tray for your kids, a nice little console, and all the other essentials, you can't go wrong.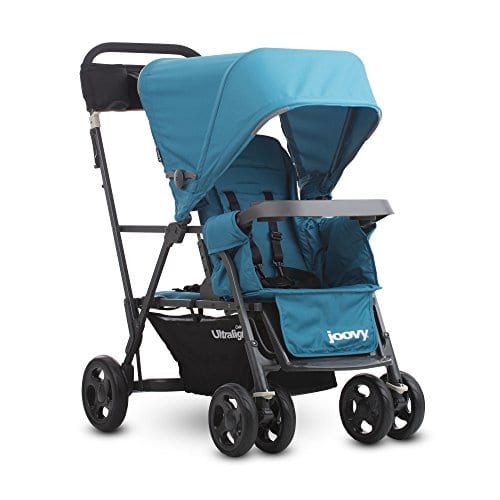 Joovy Twin Roo+
It is a good stroller for early childhood, going up to 6-9 months. It's a unique little stroller, having a shape that's more like a shopping cart. It's's quite affordable, and it's so easy to fold. You can store it in practically every space. It is a good stroller when you're on a budget during the first year. You can eventually trade in this stroller for a nicer one, but for now, this works just fine. 
Frequently Asked Questions (FAQs)
If you are a parent of two, getting a double stroller is a good decision. Here are the best double strollers that you can consider to buy:
Baby Jogger 2016 City Mini GT Double Stroller
Chicco BravoFor2 2-Passenger Double
Graco Roomfor2 Click Connect Stand and Ride Stroller
UPPAbaby 2017 VISTA Stroller
Contours Options Elite Tandem Double Stroller
There are so many factors to consider when getting the right stroller. We tend to get easily fascinated with the beautiful features. While those are really important factors to take into considerations, some parents may also consider something more convenient, easy to use, easy to unfold, and even the one that folds up the smallest. Take a look these compact Double Strollers that are widely known in the market:
Summer Infant 3Dtwo Double Convenience, 22 Lbs
Kolcraft Cloud Side-by-Side Double Umbrella, 24 Lbs
Bravo For 22 Passenger Double Stroller, 26 Lbs
Joovy Caboose Graphite Stand-On Tandem, 27 Lbs
Children whose age gap is close (less than two years) will more likely do well in a double stroller. And a side-by-side type of stroller is more suitable for those kids who have 2 to 4 years age gap.
Are double strollers worth it?
Double strollers are double the price of the single ones. But more often, a double stroller makes it more convenient for parents, especially when walking around. The price will be worth it when you find it very useful and makes your life easier.
What's the lightest double stroller?
We found Summer Infant 3Dtwo Double Convenience and Joovy Caboose Ultralight Graphite Stroller as two of the lightest strollers. Summer Infant weighs 22 lbs while Joovy Caboose is 23.5 lbs.
What type of double stroller is best?
When it comes to a stroller, you'll find it very tricky to pick the best. There are many types, features, and a lot more factors to consider. Here we gathered the best types of stroller that you can find it best for twins:
Maclaren Twin Triumph
Joovy Twin Roo+
The Bumbleride Indie Twin, oooh la la
Baby Jogger City Select
The Joovy Scooter X2
BOB Revolution Flex 3.0 Duallie
These two types of double strollers particularly differ in width. The tandem type of stroller is in-line, narrower, and easy to maneuver, especially to crowded places like shopping malls. It is more compact compared to side-by-side stroller and gives you more space in your storage and even in your car trunk.
Can you fly with the double stroller?
There are no limitations when you want to bring your strollers when traveling. You will just need to follow the airline or airport process upon checking in. Most parents would find it easier and convenient to bring a tandem stroller as it is easy to maneuver and saves up more space.
Conclusion
There are plenty of high-quality strollers on the market if you're looking for a portable yet best newborn twins stroller. Having twins is indeed a joy, but you want to make sure you're saving money in any way you can. Just make sure you're purchasing a stroller that is best for both the parent and the twins, and you will go a long way. 
DISCLAIMER
(IMPORTANT)
: This information (including all text, images, audio, or other formats on FamilyHype.com) is not intended to be a substitute for informed professional advice, diagnosis, endorsement or treatment. You should not take any action or avoid taking action without consulting a qualified professional. Always seek the advice of your physician or other qualified health provider with any questions about medical conditions. Do not disregard professional medical advice or delay seeking advice or treatment because of something you have read here a FamilyHype.com.
Last Updated on March 26, 2020 by Anna Amad