Boys are imaginative, and a playset can help stimulate your boy's imagination to higher levels. One playset your son can have lots of adventures with is a castle.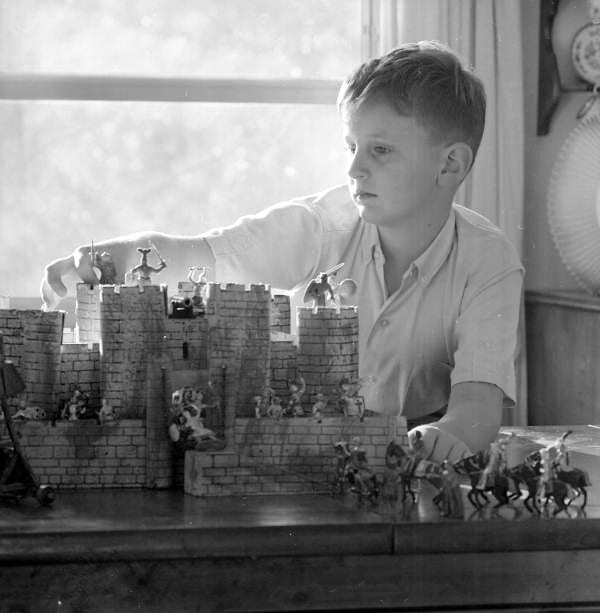 Castles have captured our imagination for many years. Sometimes, we go back to a realistic time, where a king had his palace and commanded his country from his throne. Other times, we have a more fantasy approach, with a dragon guarding the castle and a king who tells the four warriors of light to look for the magic crystals to stop evil. These toy sets are both whimsical and realistic. Let's look at some of the best boy's toy castle sets.
What To Look For In The Best Boy's Toy Castle Sets
Most castles will have some assembly required, and some take longer than others. More elaborate castles take longer, and vice versa. Make sure the castle comes with instructions that are easy to follow.
Many toy castles will come with various accessories like figures, weapons, swords, and interior decorations that can help enhance the experience. 
If the castle is empty, it will lead to one disappointed kid. Having a castle filled with secrets, wonder, and aesthetics can help remedy that. 
Many of these castles are assembled and are hard to carry around if your son is a traveler. However, there are a few preassembled or castles that fold away or turn into a carrying case. This makes it a lot easier to carry. 
Finally, as a parent who may be on a budget, you need to find the castle that delivers the most fun for less. Sometimes, you may be able to find an original castle without spending like you are the king of it.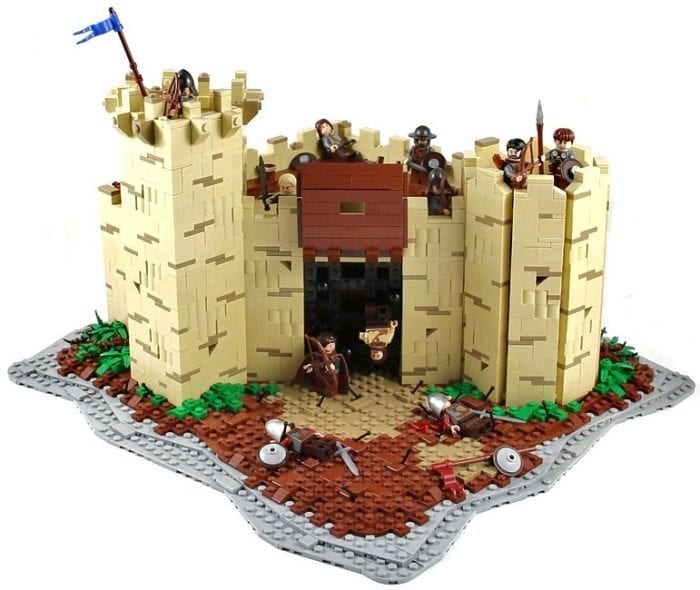 Source: flickr.com
ELC Wooden Castle
This is an affordable castle made of wood. You put this wooden castle together, but it's easy to assemble. This wooden castle features a knight, drawbridge, trap door, and a wall that can collapse. Wooden toys are always a good thing, and this wooden castle is one of the best.
Playmobil Knights Hawk Knights Castle
This castle isn't so easy to assemble; it can take up to 2 hours, but it's worth it. Unlike the previous entry, it is made from plastic, and it has more features, including a cage, trap door, hidden stairs, and more. It also comes with various figures, accessories like swords and shields, and a weapon (check here). It looks great, and with all its features, your boy can flex his fantasy muscles.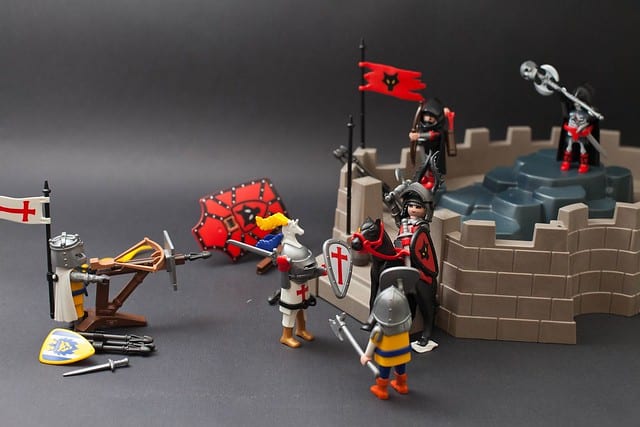 Le Toy Van Buccaneer's Fort
What boy doesn't love pirates? Why not combine the idea of pirates and having a castle with this neat little pirate fort. This castle features many secrets, including a door that revolves, a rope ladder, a cannon, and much more. 
You can combine both types of fortresses, too. The pirates can plan an assault on the king to steal his treasure, or the king's army can take out the pirates. There are many possibilities.
Lego Harry Potter Hogwarts Great Hall
It's a Lego set, so we're not going to complain that it takes a while to assemble. If your boy likes Harry Potter, this figure looks just like the great hall in Hogwarts. This building set comes with various characters from HP. 
There is also a set that includes the entirety of Hogwarts, but it's so big and expensive that most boys won't want to take it on until they're older.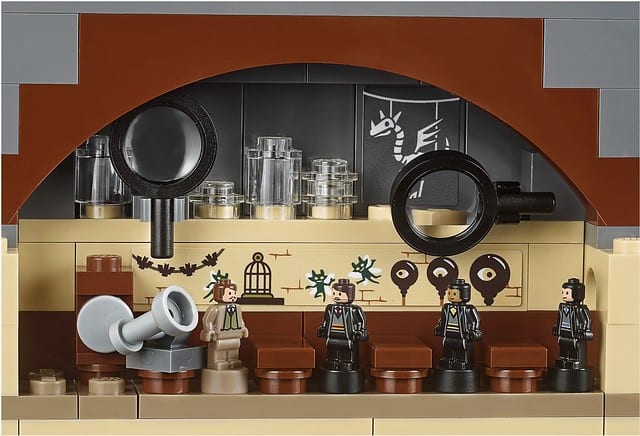 Happyland Sherwood Castle
Robin Hood is a character who has captured the imaginations of many for years. This is a castle that needs a bit of assembling but comes with all the Robin Hood action figures. This building set has a working drawbridge, it's not too daunting, and it's a simple, yet cool castle.
Oskar & Ellen Soft Castle
Most of these castles come with cool figures, but you may want something more. Why not finger puppets? This castle comes with finger puppets of a man and a woman, a horse, a witch, and a dragon. The castle itself is soft and comes with accessories. You don't need any assembly, either. If your boy is a little puppeteer, maybe you should give this one a try.
Melissa & Doug Fold And Go Medieval Castle
Melissa and Doug is an emerging popular name in kids' toys, and for a good reason. This Melissa & Doug folding medieval castle is quite detailed, with everything you'd come to expect, but it also is foldable and doesn't need assembly. 
Why we love it: This Melissa & Doug folding medieval castle might not look like the fanciest on the block when closed but, once you open it up, it reveals all sorts of stairs, turrets, platforms, and working parts like a drawbridge, trap door, arched walkway, and removable turret. Find out more of its features and price here. 
Le Toy Van My First Castle 
This castle fits together through slots, making these easy to assemble building toys. It's made of wood, and you can pick a red or a blue castle. Not to mention, this castle is very durable and looks great.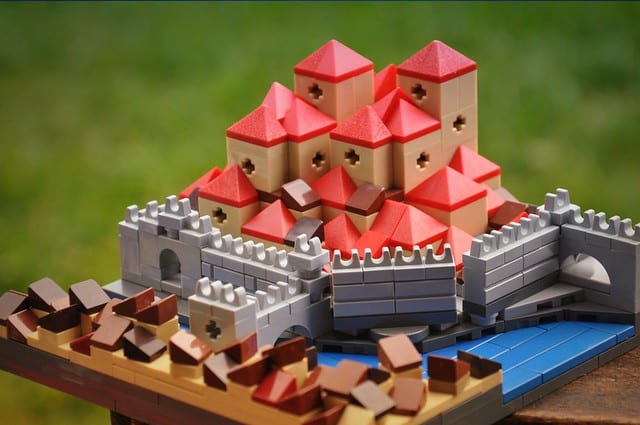 Castle Building Bricks In A Box
This is a castle that is made from wooden bricks. There are 150 pieces in all, and it comes with various castle accessories as well, including archways, windows, and more. It doesn't have any figurines, but if your kid has their own, they'll love it. This is an excellent castle for the creative mind, as there is no right way to make the castle. This building set is a great way to teach your kids how to design their castle and be the king in it.
Janod Knight Castle Carrying Case
This is a beautiful little castle set. Let us explain why. It has a castle, a trap door, and a jigsaw moat that your kid can put together. It comes with various knights, horses, moats, scenery, and accessories like a treasure chest, making the adventure possibilities quite a bit. Also, as the name implies, it is a folding medieval castle that you can put in a carrying case, which makes it easier to carry around. If your boy is a traveler, he is going to love this, and we believe that you will too.
These are great castle sets that your boy will surely love.
FAQs On The Best Boy's Toy Castle Sets
What are the children's castle toys?
Children's castle toys are traditionally considered as playpens. However, some of its items are puzzles and building constructions that most children collect and connect.
Are there any distinctive castle toys for boys and girls?
Yes, different castle toys for boys and girls are available in the market. There's LEGO for boys; Barbie and Disney for girls.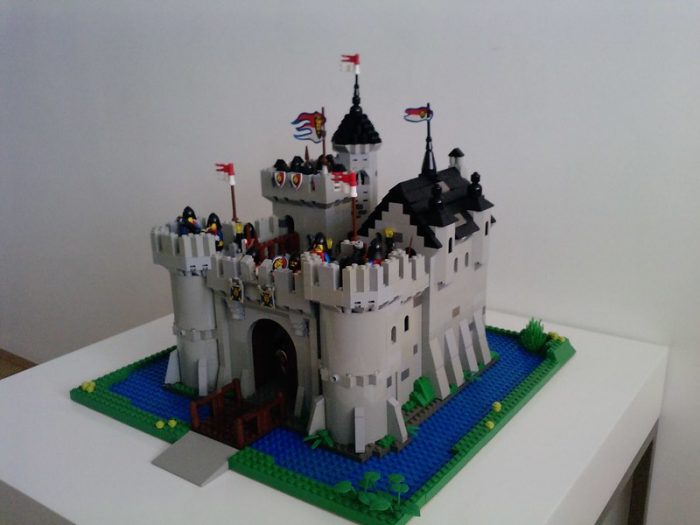 Can boys play with girls' castle toys and vice versa?
Of course, they can. If your son wants to play with the girls' castle, that is okay. Same as if your girls want to construct and build the castle by themselves. Both are perfectly normal.
What benefits do boys toy castle can provide?
Boys toy castle has both aspects of building and role-play that children love. It supports developmental experience, imaginative play, and social interaction.
Can castle toys benefit my child socially?
Castle toys promote cooperation. Its playtime supports both building and role-playing development. It promotes good team effort, as well as encourages conversations.
Will a castle toy improve my child's psychomotor skills?
Yes. The children's castle toys process movement together with the mental activity that supports psychomotor development.
Do castle toys enhance overall cognitive abilities?
Yes. Boy toy castle does improve a child's overall cognitive abilities such as social, psychomotor, motor, and hand-eye coordination ability.
What are the few other benefits of castle toys?
Aside from the overall mental and physical benefits of castle toys, children can also gain unique experience from it. There is an opportunity to grow and develop a desire for self-expression.
Do castle toys improve problem-solving abilities?
Yes, absolutely. By putting the pieces together of the boy toy castle, children can learn how multiple structures can come together.
How do castle toys promote mental function?
Castle toys promote children's mental function by allowing them to learn new and inventive ways of creating something out of their ideas during playtime.
What are some of the safety issues with castle toys?
Well, one of the main issues of castle toys is the small pieces it has. It poses a natural choking hazard for children below one or two years old.
Is there a recommended kids' age for castle toys?
Different castle toy brands cater to different types of children. However, most castle toys range from 3 to 10 years in age.
At what age should kids stop playing with castle toys?
You can expect that children older than 10-years-old will start to lose interest in castle toys. That is because they cannot gain much from playing it by that age.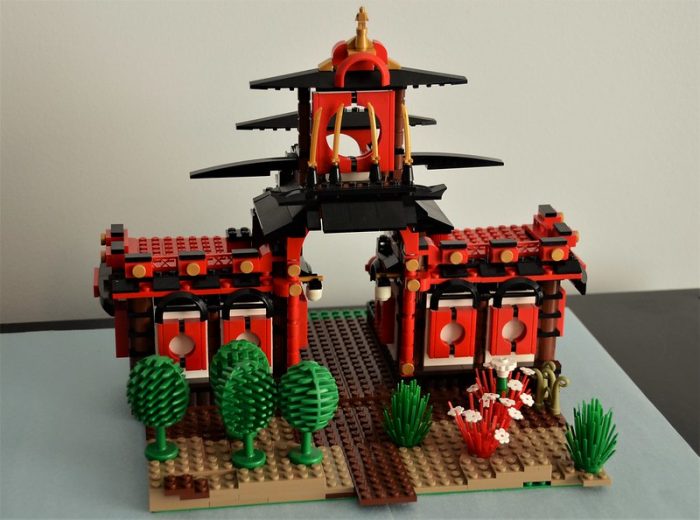 If my children are not interested in castle toys, should I try to encourage them towards it?
No, you don't have to do that. Allow your children to decide whether they will like to play with castle toys or not.
Last Updated on April 21, 2021 by Marie Miguel
DISCLAIMER
(IMPORTANT)
: This information (including all text, images, audio, or other formats on FamilyHype.com) is not intended to be a substitute for informed professional advice, diagnosis, endorsement or treatment. You should not take any action or avoid taking action without consulting a qualified professional. Always seek the advice of your physician or other qualified health provider with any questions about medical conditions. Do not disregard professional medical advice or delay seeking advice or treatment because of something you have read here a FamilyHype.com.