Do you know who loves to climb? Younger kids. They are like little monkeys, or young climbers having imaginative play and always wanting to climb and swing from stuff in jungle gyms, which is why you need to choose climbing toys that are good for your kids.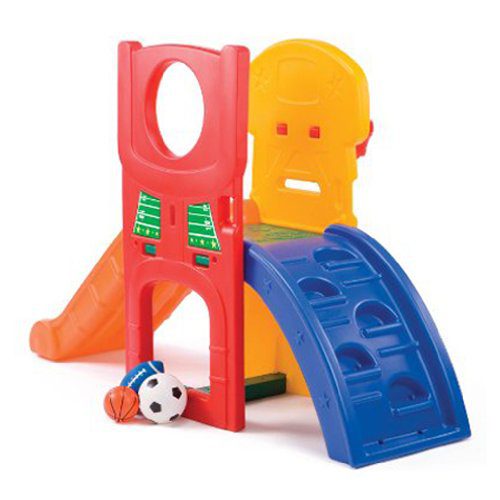 They are active, stubbornly cute, and super vibrant. Unlike monkeys, who are designed to easily climb and swing from things, toddlers aren't too developed in the arms and legs and can injure themselves. That's why it's important to have things your child can curiously climb on that don't run the risk of causing an injury.
If you plan to buy a climbing structure for your little one, it is imperative to do your research and read reviews based on verified buyers to ensure that you purchase the right one. What do you need to consider? If you're new to wall climbing, the factors you need to consider are climbing walls, climbing net, choking hazards, maximum weight capacity, floor space, and textured base. To help you, we created a list of the best climbing toys for a 1-year-old from Amazon, and we included a brief description of each one. We also reviewed popular brands, and we wrote detailed information about the commonly asked questions about the active play structure in the article, so keep on reading.
For many parents, it can be kind of scary when they start seeing their child climbing on things. But it doesn't have to be overwhelming, though, and you can help them learn how to do it in a better way if you supply them with a safe environment in which to practice. After all, this is the period to train your own sports climber since this is the perfect time to develop their roleplaying skills. Climbing is important for toddlers as it's one way they can work on the development of their muscles and gross motor skills, that's why toddlers love it. There are some really good, fun, and safe climbing toys that will help you feel more at peace and they feel more confident. That's what we're going to talk about here, the top toddler climbing toys.
Best Toddler Climbing Toys
Little Tikes Hide And Seek
Little Tikes has been in the business of making toys for quite a long time. This particular toy allows your little one to climb and crawl safely all over it so you can feel good about your growing child's well-being. These are high-quality kid climbing toys that you can get for a very affordable price. They're also super easy to assemble. They have round edges and not sharp edges and they are weather resistant. It can be setup in the house if you have enough space or at the backyard (indoor and outdoor play). it is perfect for younger and big kids.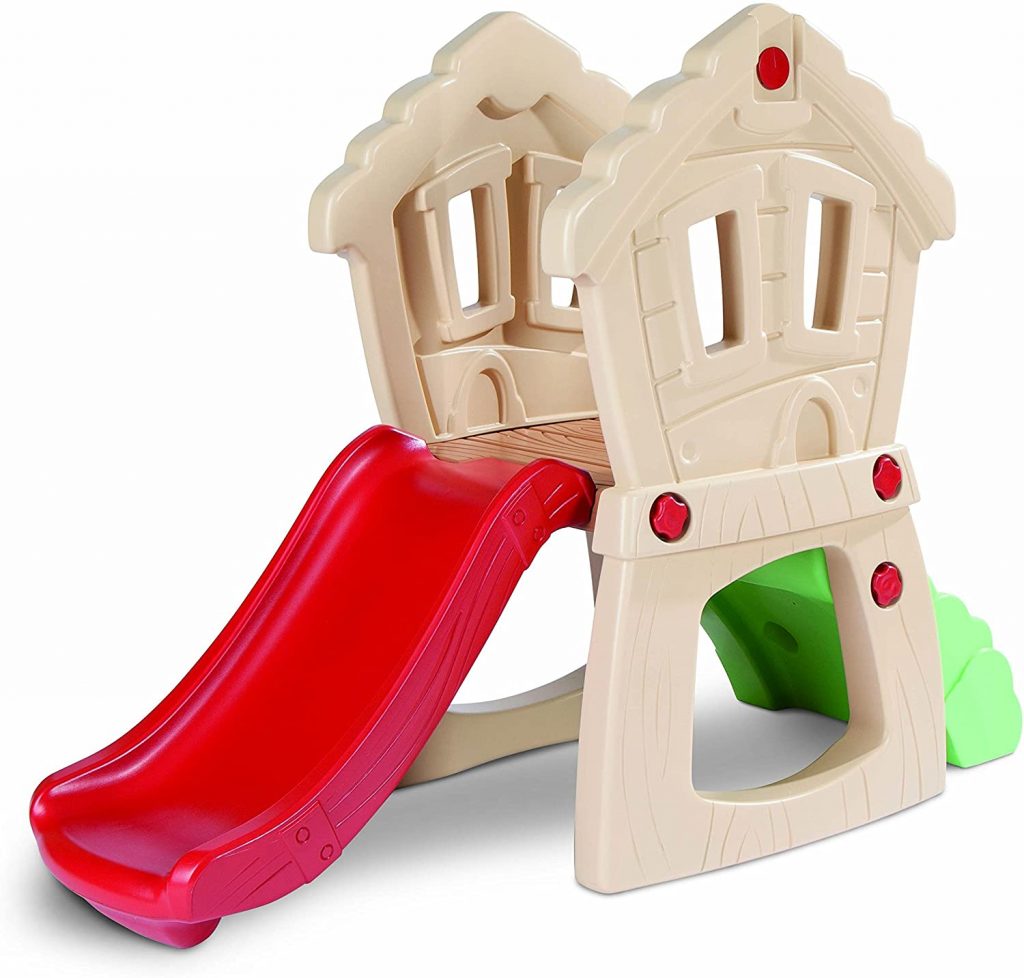 The Hide and Seek Climber is a perfect gift for your child and a great addition to your playroom.
It has an easy climbing rock wall that your child can enjoy when they crave something adventurous.
It also has clubhouse windows in case they want to play hide and seek and a slide for an extra adrenaline rush.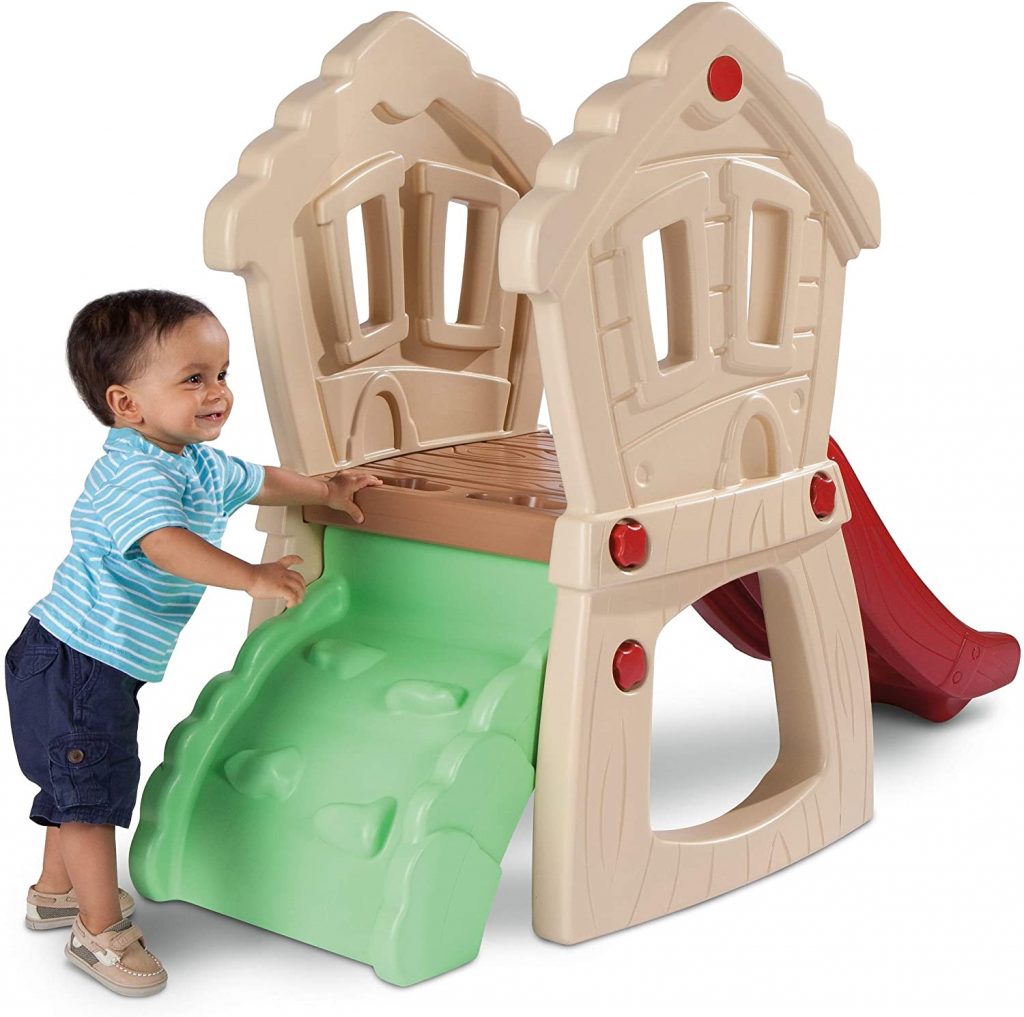 MAGIFIRE 5 Pieces Inflatable Climb And Crawl
This is one of the safest toys for older kids who are already crawling. It's easy to assemble because you simply have to blow up the pieces and Velcro them together for your child to have, what is essential, an indoor climbing toys for infants and toddlers. The exterior of each piece is anti-slip, even, so your kiddo can play without the risk of sliding off to the hard floor. It can be a crawling toy first and then a climbing toy as your little one starts to stand up.
The inflatable playset is soft and safe for toddlers and infants. It is an ideal toy when they start to climb and crawl. Its bright color can help improve their eyesight.
It has a two-layer special design to keep babies safe when they play.
It is made of durable food-grade PVC and has durable materials that are CPC certified. It also has Velcro to keep the blocks together and avoid gaps that can be potential dangerous risks.
It is non-toxic so it is recommended for children 9 months up to 3 years of age.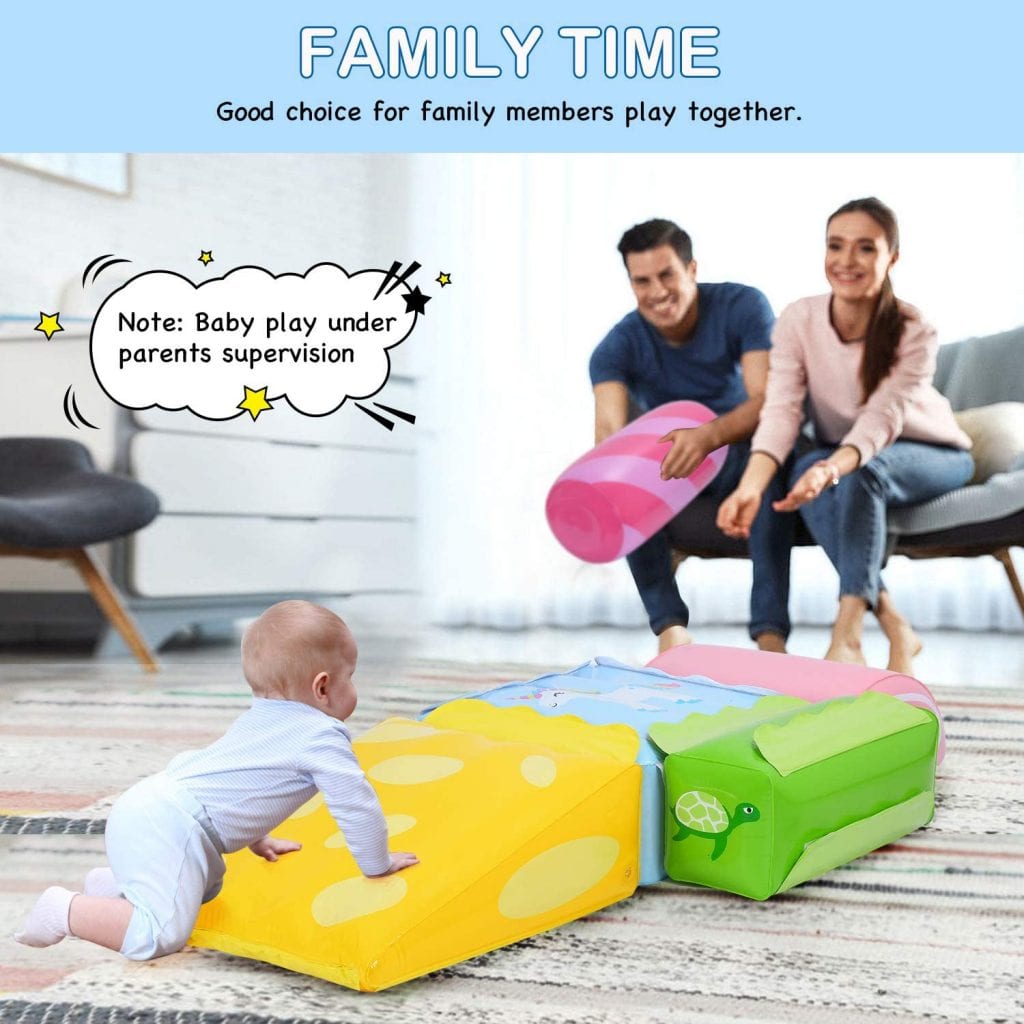 Little Tikes Little Baby Bum Wheels On The Bus Climber
This climbing toy and activity center has plenty of features that appeal to toddlers and infants. It looks like a bus, which is already enticing. There is a slide off the back of the bus. All of the parts are made of heavy-duty materials so they can be used inside and outside. This set will help with the development of gross motor skills, as well as stimulating the mind through lights and sounds on the dashboard.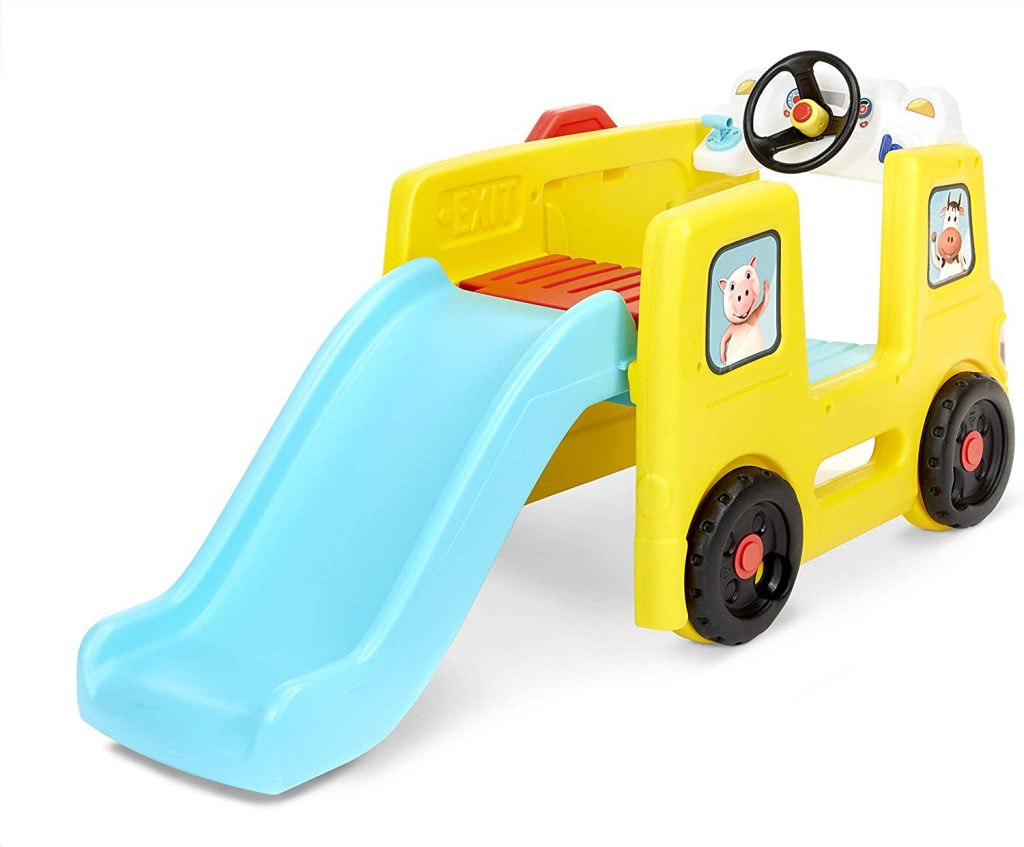 The musical learning toy is complete with climber and slide, the interactive musical dashboard features a horn, ignition, and gear shifter.
The slide is safely designed, it is 18″ high with a gentle slope.
This is the best toddler climbing toy to consider.
It is a colorful bus that kids will surely like especially if they are a fan of Little Baby Bum's video series the "Wheels on the bus".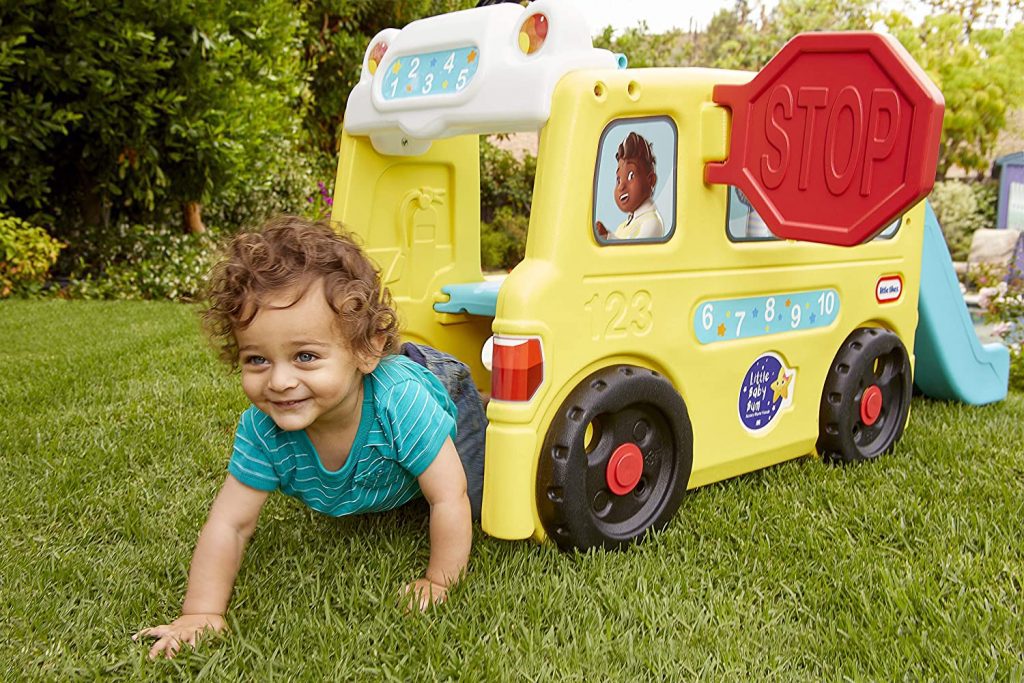 ECR4Kids – ELR-12683 SoftZone Climb And Crawl Activity Play Set
The ECR4Kids SoftZone Climb and Crawl Activity Play Set is perfect for infants who are crawling and kids learning to pull up and climb on things. It's made of lightweight soft foam shapes that can be moved around and configured in different ways. The SoftZone Climb and Crawl Activity Play Set has 5 stars on Amazon in almost all of its reviews. This is because the SoftZone Climb set is one of the top kid climber toys for allowing children to safely develop their gross motor skills. While the SoftZone Climb and Crawl Activity Set is a little on the pricey side, it's well worth it for what you'll get.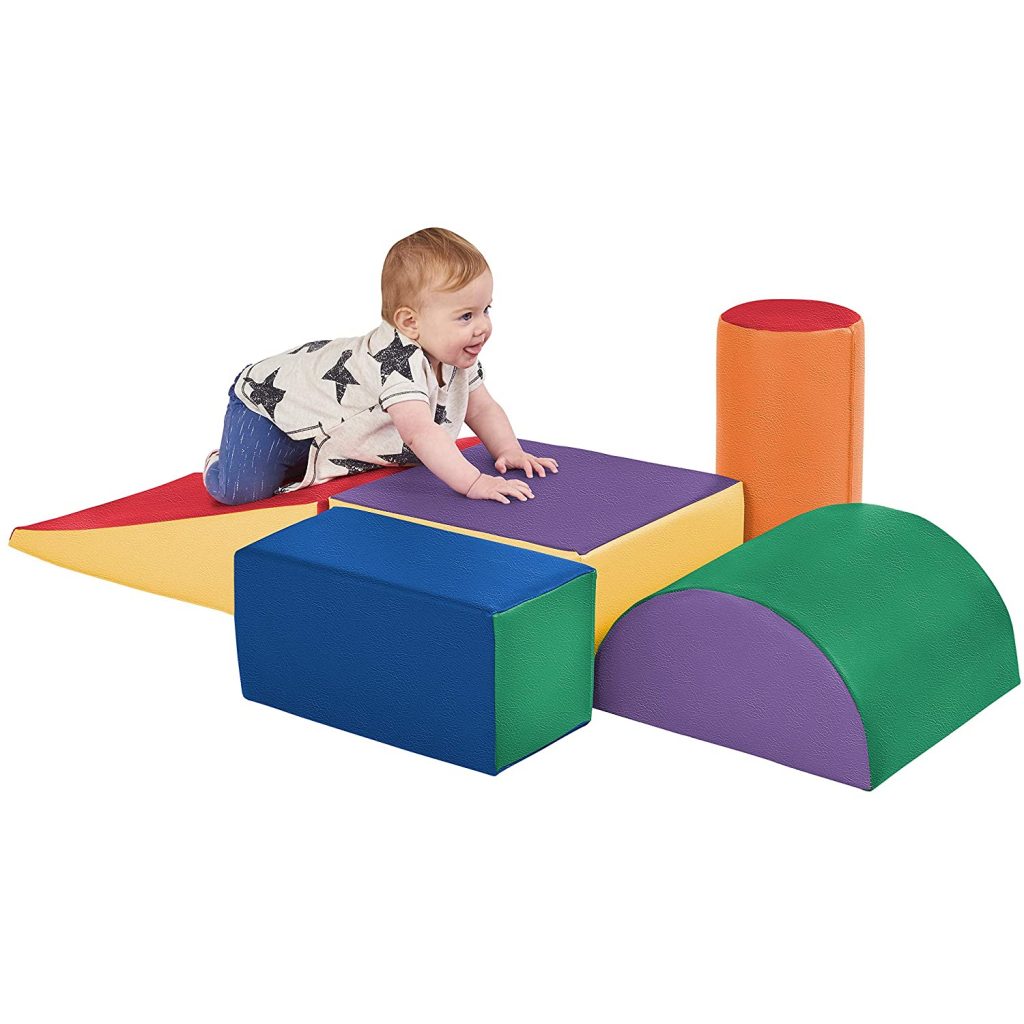 The colorful foam activity playset is made especially for infants and toddlers who are very active.
It is designed to be soft, safe, and flexible to keep babies safe from injuries while climbing and crawling during play.
The toy structure is very low maintenance, it can be cleaned with mild soap and water solution.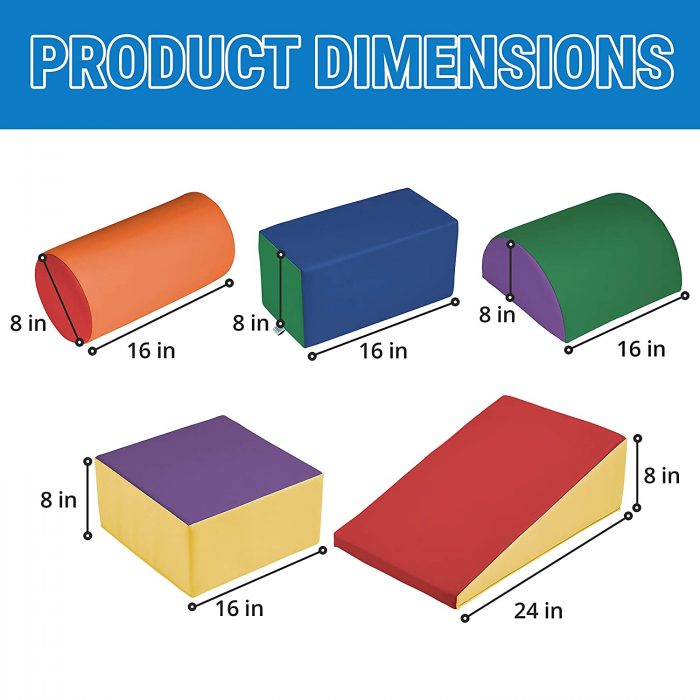 Eezy Peezy Monkey Bars Climber Tower
The Eezy Peezy Monkey Bars Climbing Tower is for a child's age slightly older than the sets listed above. This one is for children ages 3-8 years old. The monkey bars set is easy to assemble with heavy-duty pieces that can support up to 150 lbs. of weight. It's actually in the shape of a dome climber rather than a tower like a name indicates. A toddler climbing a dome climber has to use their arms and their legs to get to the top. They will develop better gross motor skills, as well as more stable muscles.
Dome climber structure that is perfect for children who are 3-8 years old.
High-quality construction so you have peace of mind when kids are playing.
Helps to develop muscle stability and fine motor skills through the use of both arms and legs.
The Best Step2 Children Sports-Tastic Activity Center Playset
The Step2 Sports-Tastic Activity Center Playset is highly affordable and tons of fun for little ones. This playset comes with a small slide with steps on the other side for toddler climbing time. There is a baseball hanging on the side and a bat that your little one can swing when he wants to play ball. There's also a basketball and a little basketball hoop so kids can choose the sport they want to play. This is one of the top toddler climbing toys for kids who are 12 months to about 3 years old.
Lightweight at only 8 lbs.
Perfect for allowing small children to develop their gross motor skills safely.
Helps with hand eye coordination and problem solving skills, as well.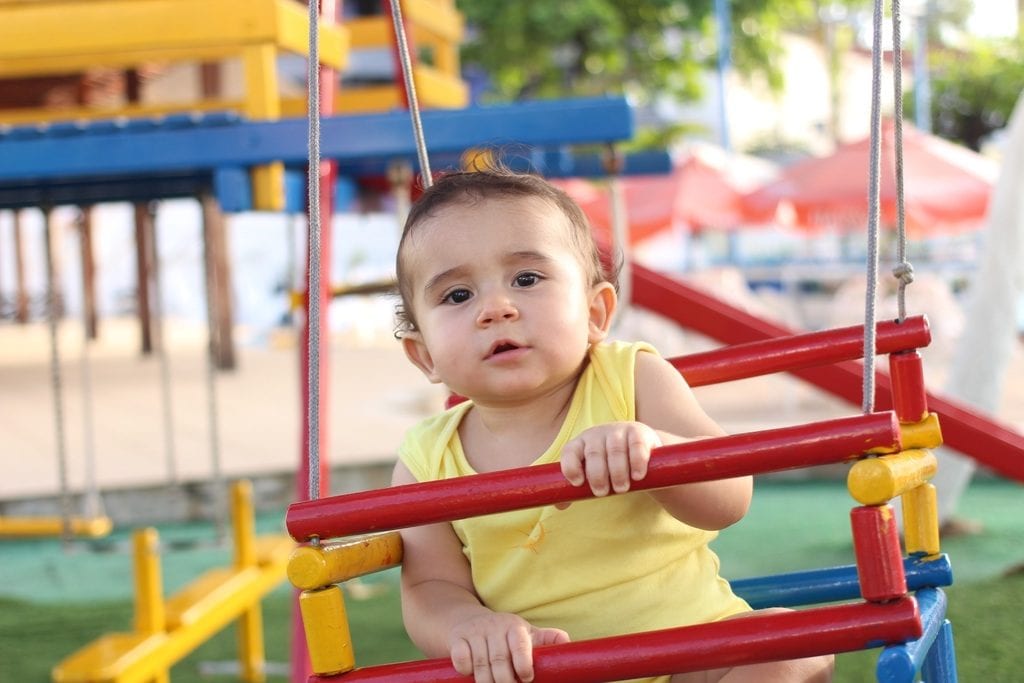 Choosing The Best Climbing Toys For Toddlers
Look for a toy appropriate for their age. Some toys are designed for a large age range, while others are only meant for a younger audience. Look at the weight limit and make sure your toddler falls within that. And understand that younger kids climbing toys are designed for targeting what specific ages of kids need and what they're capable of.
Outdoor use or indoor use? Some toys are good for inside, outside, or both. For instance, you can get a climbing toy that also includes a swing set for outside.
Can it easily be stored whenever it needs to be? Climbing toys that can be folded down and put away easily are ideal for many parents.
What other features does it have? Some climbing toys consist of a jungle gym too. There may be a ball pit, a swing set, or a caterpillar tunnel attached, with a climbing wall, basketball hoop, or countless other sports activities.
What is your budget? You have to consider the cost of a climbing toy. While there are certainly plenty of options for affordable climbing toys, some of them also cost a lot. Most of the time, the larger they are, the more they will cost. Or, the more extra features they have, such as a ball pit or basketball hoop, the more expensive they'll be.
What color is suitable for your child? Climbing toys for toddlers should be brightly colored to appeal to your child's senses. There's a reason most ball pit balls are rainbow colors. It's because kids this age are stimulated by bright colors. Given the chance to play on a climbing toy with lots of color or one with muted colors, most kids will go for the brighter option.
Assembly. Most of these toys can be assembled with ease, taking no longer than 30 minutes, but some are easier than others. With that said, it isn't that hard to  most climbing toys together.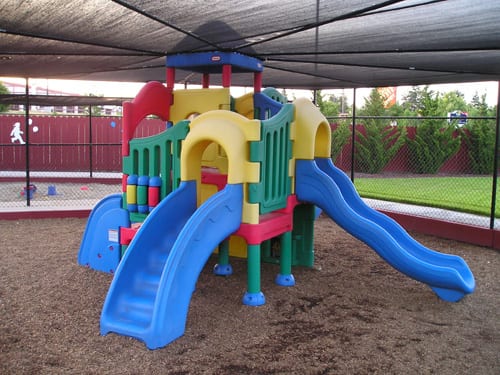 Step 2 Play Fun Climber For Toddlers
Step 2 is a good brand in the world of toddler toys. This versatile toy lets your children climb, and it comes with a slide as well. There are little activity places that allow two kids to play as well. It has crawling areas, and a ball playroom too.
Despite all the stuff there is to do with Step 2, these climbing toys cost very little. They're small, portable, yet action-packed toys your child will love.
Toy Monster Toddler Monkey Bar Tower
What kid doesn't love monkey bars? Monkey bars are great for toddlers who are learning how to climb, and it's a toy that is great for kids of all ages. It can hold up to 150 pounds, meaning that even some adults can comfortably climb on it, as well as multiple kids or multiple children too.
It's also easy to assemble and store, making it an ideal toy. It's very durable too, so you won't have to worry much about it falling apart.
Step2 Sports Climbing Toy Best For Toddlers
This toy has a slide and a place to shoot a basketball. The point of this climber is to stimulate your toddler's various motor skills, keeping them strong. You can shoot basketballs into the basketball hoop, and the product is easy to assemble. It can take up to 20 minutes to assemble.
Also, it's good for indoor play as well. If you live in an apartment or are dealing with bad weather, your kid can have fun in the safety of indoor jungle gym. This is definitely one of the good climbing toys available in the market today.
ECR4Kids Play Boat Climber
You know what kids, and adults, love? Pirates. This climber has a pirate ship theme, and it's easy to put together and sail the seas with. Okay, you can't actually sail on it, but your child can with the power of their imagination. It's a sturdy, small toy that's good for kids. Because it's small, you can clean it with ease and keep it indoors.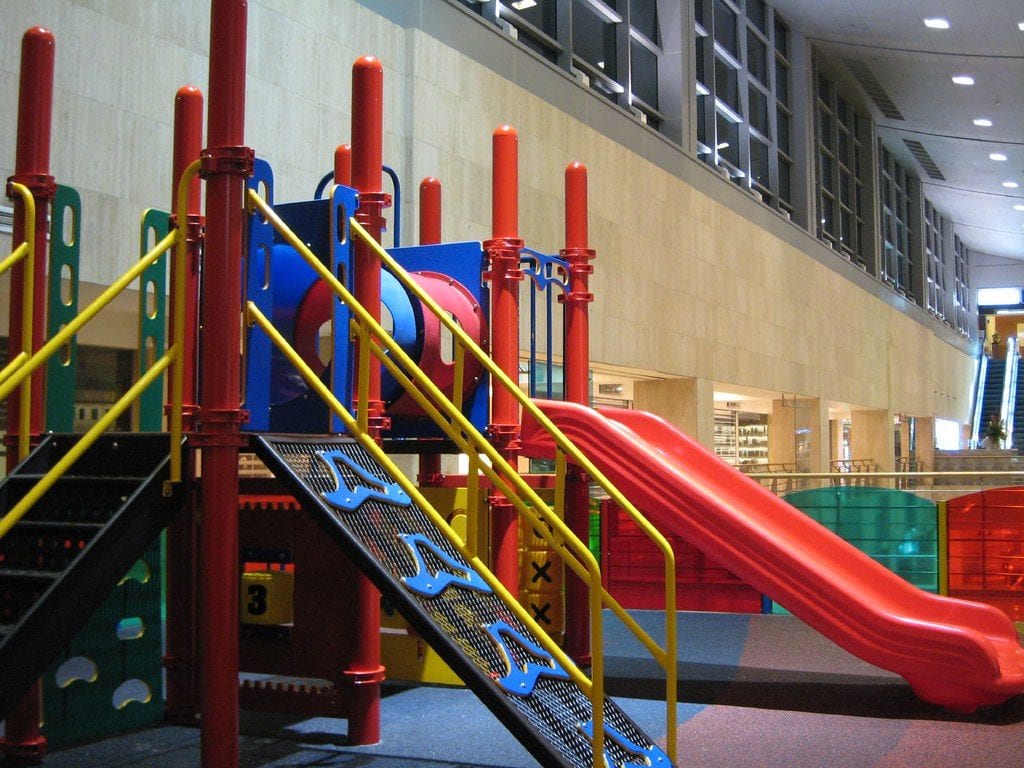 EZPlay Children Panda Indoor Playground
This toy is good for kids that are 12 months to 5 years old, making it a long-lasting toy. It's a colorful, bright toy that can take on many different kids, and it's made from some beautiful wood. It holds up to 160 pounds, so invite your toddler's friends for a playdate.
The only downside is that it is a bit pricey, but your kids can use it a good while, and since it's indoors, you can have year-round fun too.
Step2 Panda Climber For Toddlers
This is another great climber that is good for a younger audience. It comes with a nice little crawlspace, plenty of room to climb, and much more. Its frame is great for small spaces as well. If you have an apartment, this climber doesn't take too much room and holds up to 60 pounds. It's not great for parties, but a couple of tiny toddlers can easily fit on it. Also, it's so easy to clean too.

Best Climbing Toys For Toddlers:
Conclusion
There is no right pick when it comes to these climbing toys. These toys have various uses, and your toddler will be able to get quite a bit out of each one. We say to do your research and find the one that is suitable for your child. Chances are, you can find the good one for your situation that your toddler will love. Whether it comes with tons to do like a climbing wall, a basketball hoop, a slide, and a ball pit, or it's nothing more than some foam shapes on the floor, the right climbing toy for your child will help them develop strong muscles and build confidence as they start to take on more of the world.
Frequently Asked Questions For The Best Climbing Toys For Toddlers
What Age Is A Toddler?
The Age of a toddler is from 1 to 3 years old. This is the age when children love to explore and try out different activities.
Once your baby learns and masters running at about 17 months old, he or she will soon practice climbing, which is around 24 months or two years old. Usually, climbing is seen in babies when they are able to pull themselves up to stand. Now, they won't be ready to take a true climbing wall, but starting to climb on furniture and other low-to-the-ground items is perfectly normal.
Are Dome Climbers Safe For Toddlers?
According to most climbing equipment websites, indoor and outdoor dome climbers are among the kids' favorite playground equipment. They love them because some are easy to climb while others can be challenging. Generally, these climbers are not only great for fitness but are also safe for your kids.
Why Do Toddlers Like To Climb?
Although climbing can be challenging for parents, it is an important step toward their babies' development. They climb once they realize that they are able to.
What To Buy A Toddler Who Loves To Climb?
Are Toddler Climbers Worth It?
What Can A 1-Year-Old Climb On?
Is It Normal For A 2-Year Old To Climb?
Do Autistic Toddlers Like To Climb Things?
What Climber Toy Is Best For Your Baby's Motor Skills Development?
The top choice for parents is the Foamnasium Gymnasium, a high-quality climbing toy that is known to be great for learning crawling, climbing, and balance. Other equally favorite climbing toys are the Little Tikes Activity Garden and the Softzone Little Me Play Climb and Slide.
Why Is It Important For Kids To Visit The Playground?
When you bring your kid to the playground, you're not only giving him a chance to have fun but you are providing him the opportunity to develop in a healthier way. Free play is great for your baby's brain and climbing and running activities that they do in the playground strengthen their bones, muscles, and their immune system. Many playgrounds will have a climbing wall built into the play set. This is because climbing on a climbing wall works most of the muscles in the body. Make sure that you check the recommended age for the playground, though, before letting your little one attempt to make it up the climbing wall. It will be printed somewhere on the playground for parents to reference.
At What Age Do Toddlers Stop Climbing On Everything?
Why Is Climbing Important For Toddlers?
How Do I Stop My Toddler From Climbing On The Bed?
Can A 2-Year-Old Go Rock Climbing?
Other Resources
Find Some Of The Best Toy Climbers On GreenActiveFamily Twitter
Find Best Climbers For Toddlers On MomLovesBest Twitter
Last Updated on April 12, 2023 by Raymond Sy Tamco
DISCLAIMER
(IMPORTANT)
: This information (including all text, images, audio, or other formats on FamilyHype.com) is not intended to be a substitute for informed professional advice, diagnosis, endorsement or treatment. You should not take any action or avoid taking action without consulting a qualified professional. Always seek the advice of your physician or other qualified health provider with any questions about medical conditions. Do not disregard professional medical advice or delay seeking advice or treatment because of something you have read here a FamilyHype.com.