Xylophones are a fun instrument for all. Besides being one of the handfuls of familiar words that start with the letter X, they are a colorful instrument that is easy to use. There are many toy xylophones out in the market for children that you can checkout, many of them by Fisher-Price. In this post, we will look at the details of this favorite toy from Fisher Price, the xylophone, as well as other toymakers.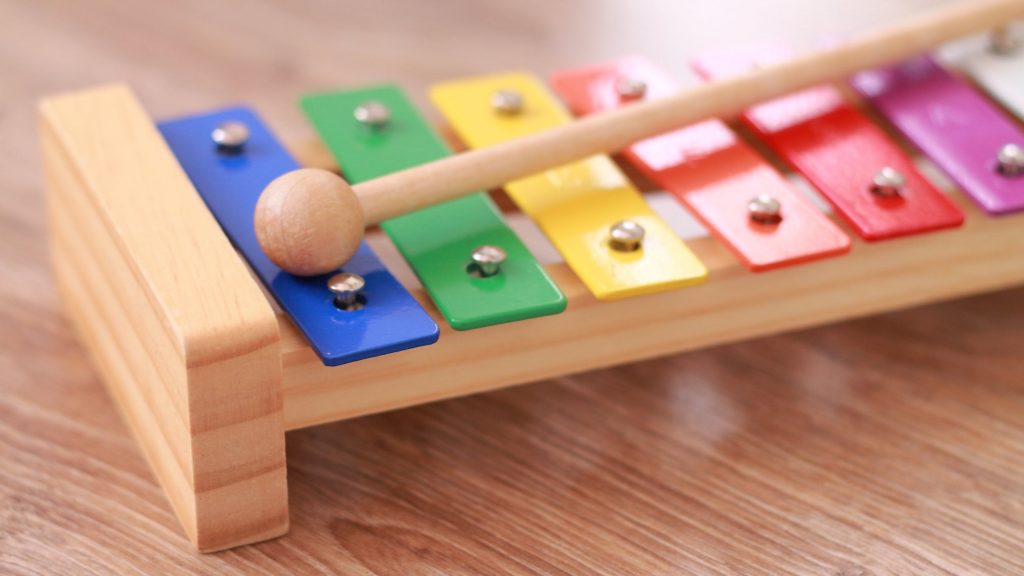 What To Look For In A Children's Xylophone
These xylophones will be played by children who may be a little rough with them. That's why you should buy a xylophone that can handle some roughhousing. Many xylophones are made from durable wood or plastic, but cheaper models may be a bit more fragile.
You want a xylophone that sounds good. Some children will just want a xylophone to hit and make silly noises with, but children who are more musically gifted may wish for a xylophone that plays excellent sounding music. Who knows? Maybe your child will want to be a little musician. You'll also want a xylophone that sounds great enough, so it doesn't annoy you or the other family members.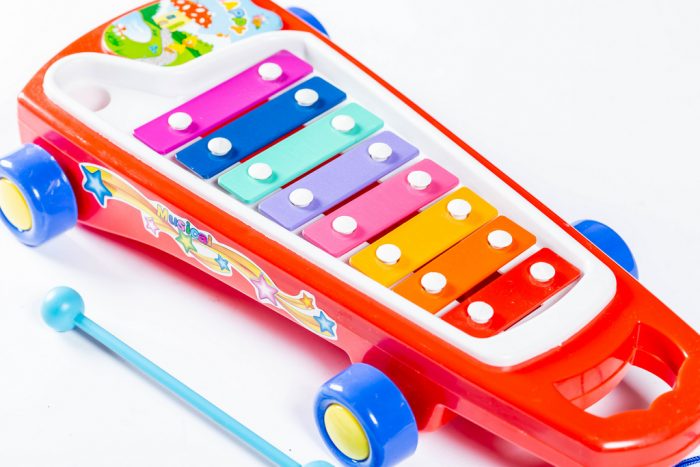 Some xylophones come with music books that can teach kids how to play a real song. An older child can follow along and make music that is more than them randomly banging on the xylophone. You're going to love every bit of it, and so will your kids. And by you enjoying it, we mean you're going to love watching your kids become talented.
You'll want a xylophone that is safe. No sharp edges, no mallet that can injure a child, and no choking parts. That's why you need to purchase a xylophone that is safe for your child's age range. As they grow older, you can buy them a more complex xylophone.
Finally, you will want a xylophone that your kid can pull around with its cord. The classic xylophone pull toy is great for children who are just learning how to walk and still practicing their walking skills, as it teaches them motor skills and balancing, which is essential for any age. These pull toy xylophones will come with all of that and much more.
No Parts That May Be Lost
If you're buying a xylophone for a young child, you'll want one with the mallet attached through a short cord to the xylophone and parts that won't get lost. Nothing is more disappointing than your kid not being able to find their hammer. An attached mallet is definitely a plus!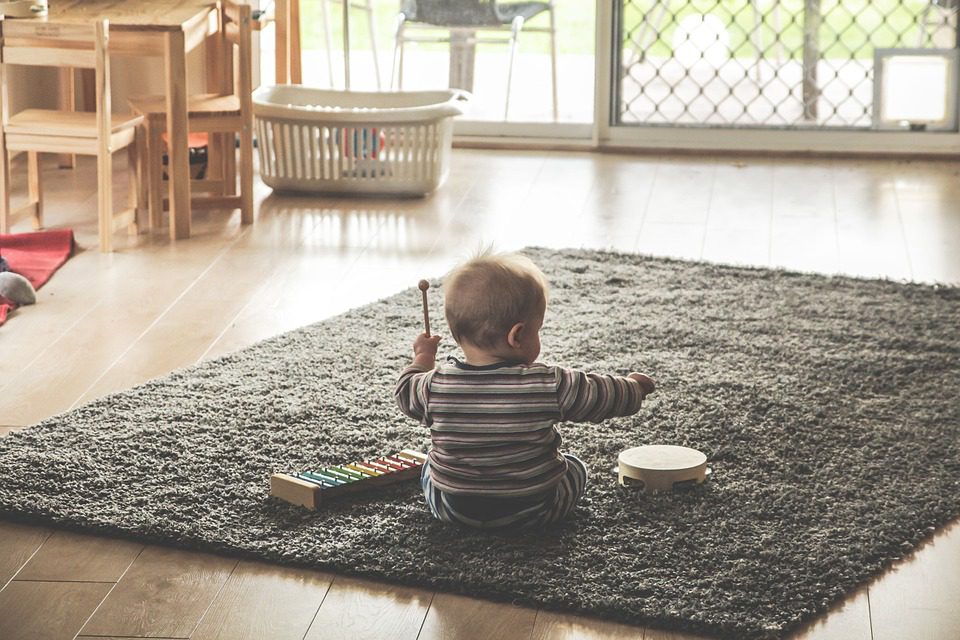 Other Bells and Whistles (Literally in this case!)
Some xylophones come with other instruments like bells or a piano. Your kid can practice will all the other instruments for more variety and to see which one they will love. Odds are, your child can find the instrument that is right for them and then jam out. Some xylophones also include unique games and other entertainment.
Fisher-Price Classic Xylophone
Fisher-Price is great if you want a classic children's xylophone meant for toddlers ages 18 months and older. This Fisher Price top xylophone is a great toy that you can pull, with easy-rolling wheels, and an instrument you can play. When your toddler plays with it, they will learn about hand-eye coordination and love to jam out. When toddlers pull it, they can help balance it (more details here).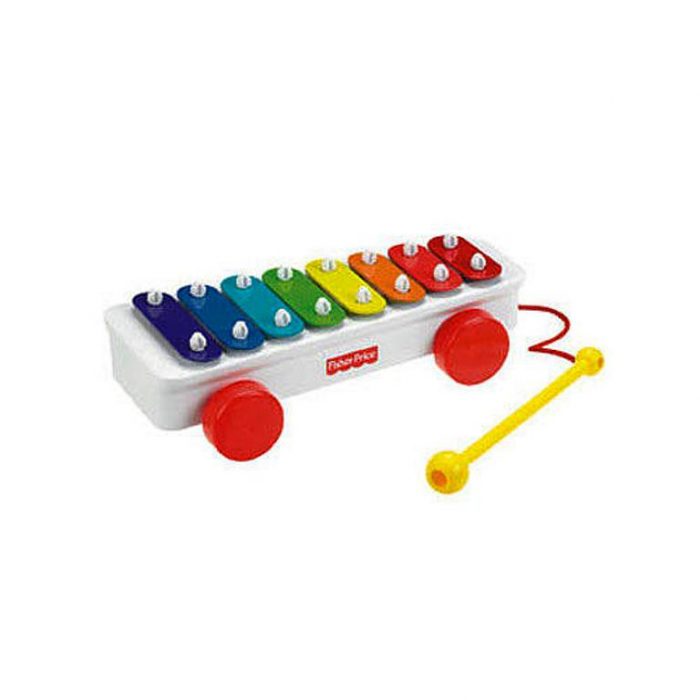 Hape Pound & Tap Bench
This is a cute wooden xylophone that's great if you want pure quality. It comes in two forms. The first form is a traditional xylophone that plays some good sound. Then, there is a game that involves your child hitting the balls using the hammer. It's a great little toy that is safe for children of all ages. It's great for babies and toddlers, and older children may find use for it as well. Overall, we say give it a try.
Liberty Imports Rainbow with Drums
This set not only includes the traditional xylophone, but it has drums for your kid to jam out to a bell they can ring. All these instruments are great for a child who loves music and wants to find out their favorite device. They can do so thanks to this impressive little musical set that they're going to love, and you will as well. Try it out and see the difference.
This set also comes with music, a songbook, and other little accessories that your kid will enjoy. We say that's it worth a try.
Toysery Piano Xylophone with Songbook
This xylophone combines a piano with a xylophone to make a toy that is great for babies and infants, and older children alike. It's a plastic xylophone that is quite durable in what it does and has plenty of features for older kids. It includes music sheets that are easy for any kid to read. This teaches a kid how to play unique songs and follow directions. Also, the xylophone sounds excellent as well.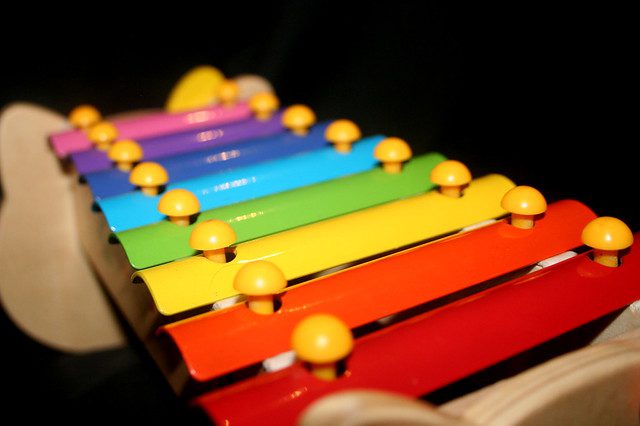 Skip Hop Explore & More
This xylophone is excellent for children who are toddlers and older. This xylophone looks like a fox, and your child can pull it around like a little pet. Also, the hammer that's included stays attached, which is excellent for a child who gets frustrated losing stuff!
Despite it being a xylophone for young children, it plays music quite well, and we are impressed at everything it does. We say check it out and see if it's to you and your child's likings.
D'Luca Xylophone With Music Cards
This one is great for older children. It has color-coded music cards, allowing your child to learn how to play real songs. It's great for children who are legit interested in music and as their musical abilities grow, they will want to learn much more about how it works.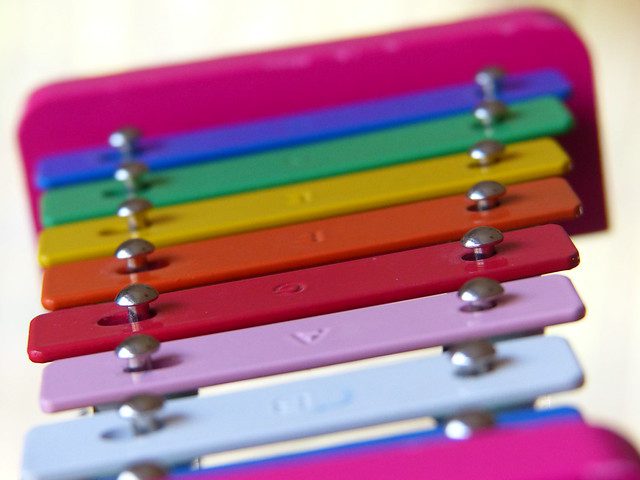 ALEX Toys Rub A Dub Bath Toy
This is a cool bath toy that your kid is going to love. With waterproof sheets, it's a toy your child can use to practice while playing. So skip out on the rubber ducky and give them a bath toy they're going to love to play with for a long time.
Fischer Price Friday Xylophone
The Fisher Price Friday xylophone is a familiar toy for some parents, and it does offer some gross motor skills to your child.  It is one of the best baby toys out there and offers fun music for kids experience.
The Fischer Price Friday is a colorful xylophone, and with the Fischer Price Friday xylophone, your child can role play being a musician, without even needing sheet music. The Fischer Price Friday is a toy classic, and even comes with a pull string attachment which makes the Fischer Price Friday both a pulling toy, and a music toy, and is one of the toys classic you can get.
The Fischer Price Friday is one of the great toys classic you can get for your son or daughter, nephews and nieces, maybe your grandson or granddaughter because it is quite fun for many children. It is sturdy and has a lot of fun colors. Your child can learn to play music at a basic level and also build motor skills with this too. They are made in the United States, and you can ask them to ship and arrange delivery to just about any country and anywhere in most cases.
A toy xylophone is a great one for building coordination and is one of the key building toys for gross motor skills.  While your child may be too young and unable to read sheet music, that's okay because these building toys offer basic information on motor skills.
There are plenty of cheap xylophone toys on the market, and you can look into special offers for this to see which one is right for you.
Frequently Asked Questions
What is the best Xylophone?
10 Best-sellers Xylophone that is frequently bought on the market include Stagg XYLO-SET 37-Key, Gearlux 32-Note Glockenspiel Bell Set, Lyons Diatonic Alto, GP Percussion, Fisher-Price for toddlers, CB Percussion 6855 Bell Kit, and Giantex Percussion Glockenspiel Bell Xylophone Kit – you can check this out in your favorite local musical instruments seller.
How would you describe a xylophone?
A xylophone is a musical instrument that belongs to the percussion family or category, where it plays different pitches and creates a different sound and tune.
What instrument is similar to a xylophone?
There is the Balafon, Laggutu, and Txalaparta. These are similar to a xylophone. A lyre harp, although not similar to a xylophone, can also provide a unique and melodic sound that can be enjoyed by both beginners and professionals alike.
How do you read xylophone notes?
There are notes above a xylophone. The notes B, C, and D. These notes can be written in the bass or treble clefs.
Can xylophones benefit children's development?
Yes. Xylophones provide benefits by helping toddlers develop gross and fine motor skills.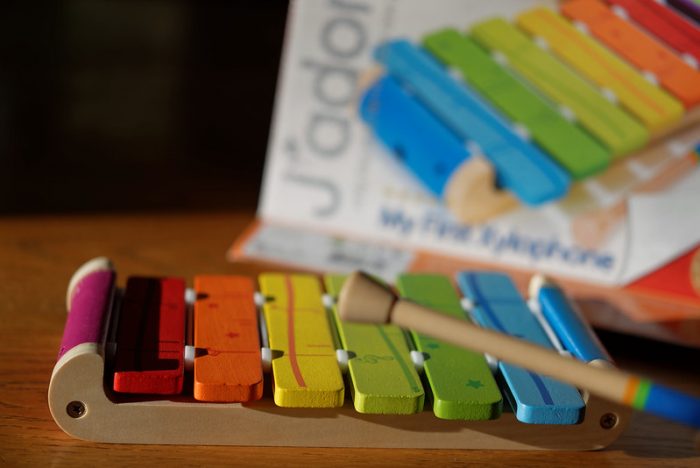 What is the best age for children to use xylophones?
Toddlers who can learn how to play easy tunes can use xylophones. There is honestly no age restriction to playing the instrument. As the baby grows, they can continue playing with the xylophone.
Is a Xylophone safe for children?
Yes. Most xylophones are made from safe content, 100% BPA, lead, and phthalate-free wooden and metal materials.
What to look for in a children's Xylophone?
Choose a kids' Xylophone that contemplates your preference in materials, as well as the price.
Is Fisher-Price the best choice?
Xylophone from this brand is the customers' choice item in the market. Its 8 colorful keys help mini maestros develop a sense of accomplishment in early music-making creativity. FP Xylophones have received a lot of 5 stars and reviews from parents worldwide. Some stores even offer shipping and delivery.
How to use a xylophone?
Your kid can start using the FP xylophone by just tapping the keys with the tethered mallet to create a sound.
What is the most famous Fisher-Price toy?



What is the benefit of xylophone toy?



What is the oldest xylophone?



What is an alternative to Fisher-Price?

What is the easiest instrument?
Numerous instruments might be regarded as being simple for kids to learn. The xylophone, ukulele, recorder, and harmonica are a few common options. The toy violin is an additional choice and is a wonderful way to start learning to play stringed instruments. The simplest instrument to learn for a youngster will ultimately rely on their own interests, skills, and learning preferences.
Fisher Price Top Xylophone Other Resources
https://www.kohls.com/product/prd-2445363/fisher-price-classic-xylophone.jsp
https://www.fatbraintoys.com/toy_companies/schylling/retro_fisher_price_pull_a_tune_xylophone.cfm
https://shop.mattel.com/en-ca/products/fisher-price-classic-xylophone-cmy09-en-ca
Last Updated on May 11, 2023 by Nisa Jabajab
DISCLAIMER
(IMPORTANT)
: This information (including all text, images, audio, or other formats on FamilyHype.com) is not intended to be a substitute for informed professional advice, diagnosis, endorsement or treatment. You should not take any action or avoid taking action without consulting a qualified professional. Always seek the advice of your physician or other qualified health provider with any questions about medical conditions. Do not disregard professional medical advice or delay seeking advice or treatment because of something you have read here a FamilyHype.com.