More and more people see pigs as something more than food. They are smart and fun animals that make great pets. However, we realize that not everyone can own a pet pig. Luckily, if you're a family who loves pigs, your child can hold a stuffed pig that they will love forever. In this post, we will look at some of the plushest pigs, the huggable hogs, and the sweetest sows in the market.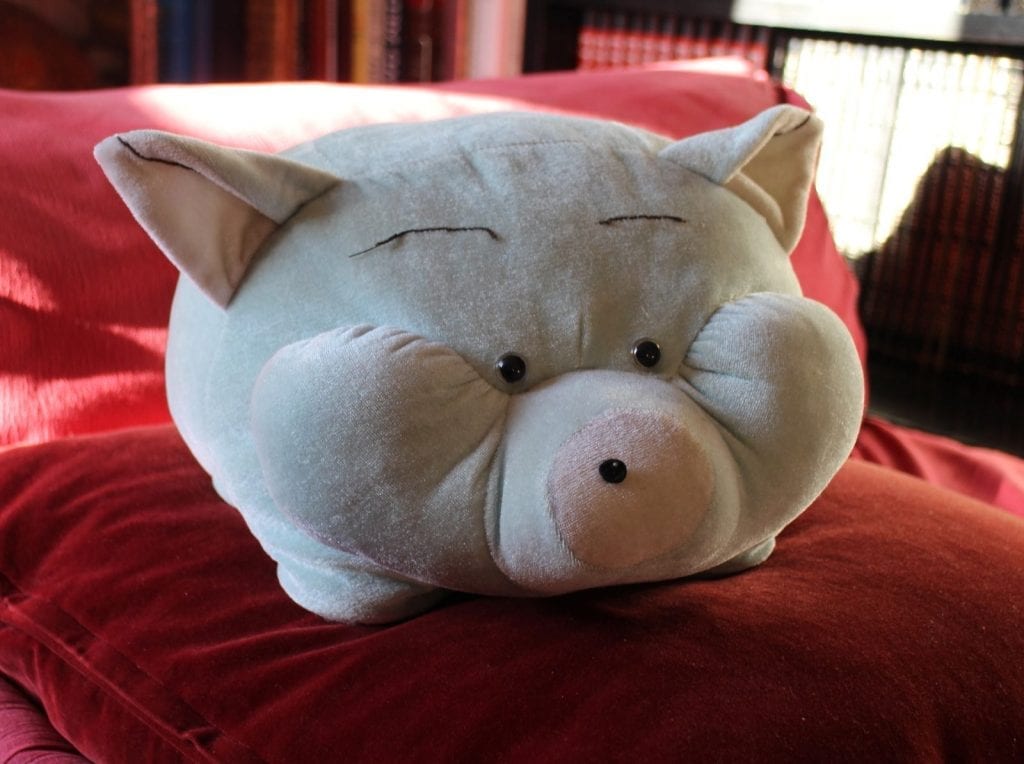 Minecraft Baby Pig 7" Plush
Kids (and adults) love Minecraft. Besides the terrifying mobs, lovable animals are one of the reasons for that. This plush depicts the baby pig in all of its blocky glory. It's one thing that your kid will want to take to all sorts of adventures.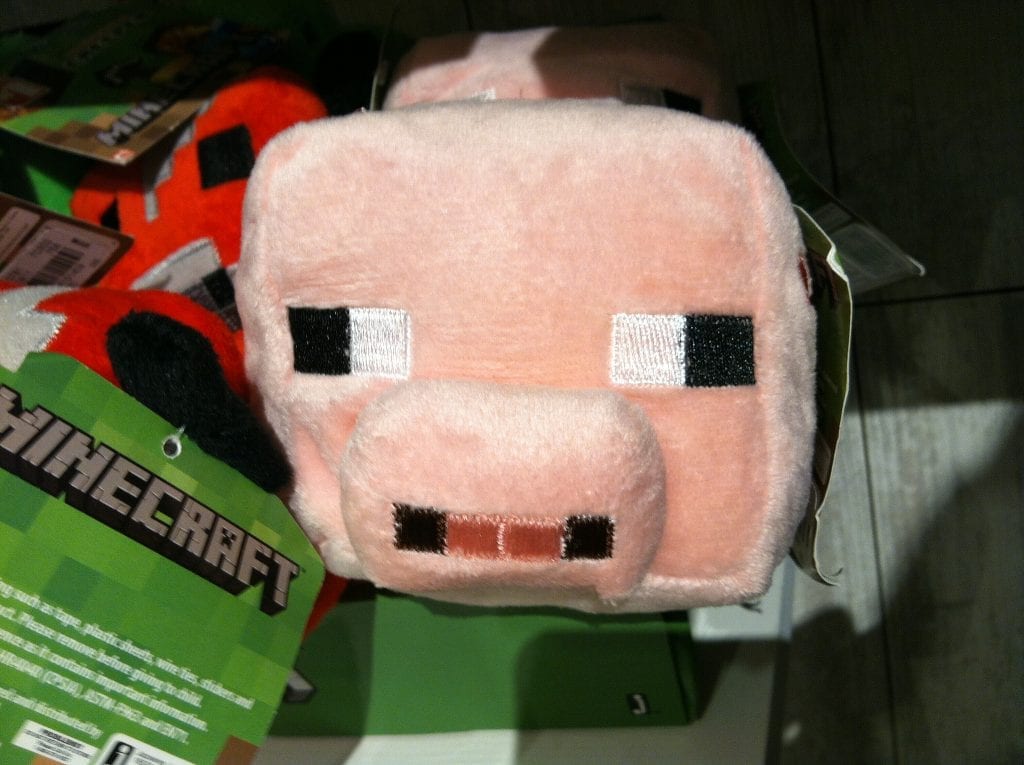 Wildlife Artists Pig Farm Critters Plush Toy
This pig is so soft that your kid will fall asleep on it. The maker of this toy is known as the Wildlife Artists, and they love to create high-quality animal plushes. This is one of many, so if your kid likes this toy, they may like the others, too. You should check out the other products of this brand.
Gund Mini Chub Pig Stuffed Animal Plush
One of the sweetest types of pigs is the chubby ones that you can't resist cuddling all day long. This is part of Gund's Chub series, depicting adorable animals with full cheeks and bellies. Your kid will want to squeeze this pig and never let go once they get ahold of it.
Wild Republic Pig Baby Plush
This is a baby pig plush that your baby will love. It's so soft and comfortable, and you won't even be able to resist it. 
GUND Prissy Pajamas Mini Pig Stuffed Animal Plush
This is one friend that your kid will want to bring to bed every night. This pig has a cute little bow on her head that makes her look stylish. She is also wearing PJs, making it seem like she is ready for a sleepover. 
Jellycat Dancing Darcey Piglet Stuffed Animal
Ever seen a pig dance? Well, now you can! Darcey is a daring dancer, complete with an adorable white tutu. Great for a daughter who is interested in dancing, it's one pig that keeps on giving. You'll want this pink pig plush stuffed animals all day long and watch your kid dance with her.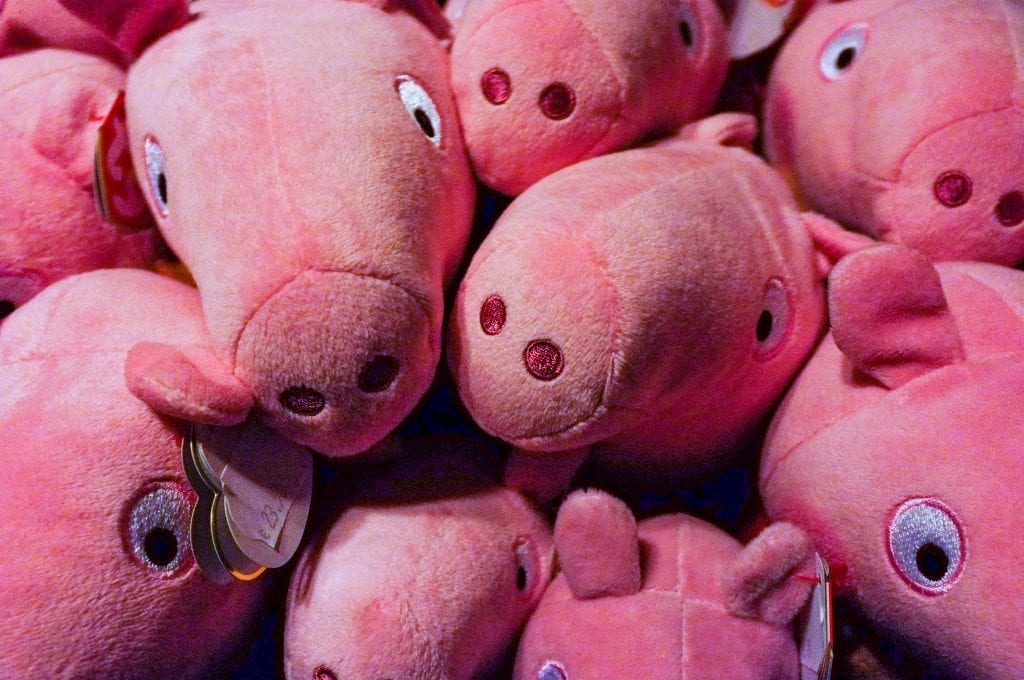 GUND Wiggles Snoring Pig Animated Stuffed Animal Plush
You read that right–snoring, not snorting. This stuffed animal pig is dreaming about feeds, rolling in mud, and cuddling up with your kid. It talks in its sleep and even wiggles his ears. It's a bit pricier, but because it does so many things, we believe that it's worth every penny.
Pigs Plush Stuffed Animals Set
If your kid is a pig enthusiast, you may want to buy stuffed toys in bulk. This set includes a family of stuffed animal pigs, big and small. It's a pig set to end all pig sets, and your kid will want to hog it all to themselves. 
Lifelike Stuffed Pig by Melissa & Doug
The Melissa & Doug company is known widely for its children's toys, books, and educational pieces. From Melissa & Doug, you can purchase a giant, lifelike stuffed animal pig. Your child will have loads of fun with this stuffed animal pig that resembles the real thing. 
Giant Snuggle Buddy Stuffed Pig
What if you want a life-sized stuffed animal pig? Well, this one is for you. This stuffed animal pig is five feet tall, more prominent than some adults! It is ideal if your child needs a life-sized plush to cuddle up with. This is the boss of all hogs, and your kid is going to cherish it for a long time.
Ty Beanie Boo Piggley the Pig
Ty is one of the best-known makers of plushes. This stuffed piggy is filled with beanies and is ready for snuggles. Since it's Ty, your kid will want to collect them all. Thankfully, it won't be as bad as the Beanie Baby craze 20 years ago.
Steiff Sissi Sitting Piglet
Say that three times fast. This piggy sits down and is made of high-quality materials. Sissi is a cute pig who is no sissy. She is ready to travel with your kids and accompany them on all of their adventures. It's a very detailed plush that has an airbrushed finish. You and your kid will love everything this mini pig stuffed animal has to offer, guaranteed!
Ty Beanie Babies Ballerina Peppa Pig
Peppa Pig is the (in)famous pig from Britain. If your kid loves Peppa, then this Ty plush is for you because it showcases Peppa as a ballerina. This Peppa Pig Plush (again, try saying that three times fast) can be an excellent companion to the other plush that we have mentioned above as well.
Pig Zoopurr Pets 2-in-1 Stuffed Animal and Pillow
If your kid needs a pillow to sleep on, this is for them. This pig plush can transform into a pillow that's great for traveling purposes. Your child will love sleeping on it and dreaming alongside the pig. Try this plush today, especially if you go out of town a lot. Your kid will fall asleep on it every time.
Hallmark Rockin' Cupig Plush Stuffed Animal
Whether it's Valentine's Day or not, this plush will steal your heart. This pink pig plush has wings, performs its dance, and can capture the love of everyone around them. There is nothing stupid about Cupig, the pink pig plush.
Toasty Pig Lavender Aromatherapy Microwavable Plush
You can put this plush pig in the microwave or freezer, but do not eat it! This pig plush stuffed animal exudes a lavender scent that is great for a kid who is sick or having an episode. They can calm down and relax, thanks to this pig plush stuffed animal's lovely scent.
Aurora World Pigasus Pig Plush
As you may have inferred from the name, this is a Pegasus-like pig. The Aurora World Aurora Sweet stuffed animal has a beautiful wingspan that allows it to fly great distances (at least in your child's imagination). The list of Aurora World pig pink stuffed animals is long. The Aurora World pigs come in a multitude of different sizes for your child to choose from. Aurora World also makes other stuffed animals.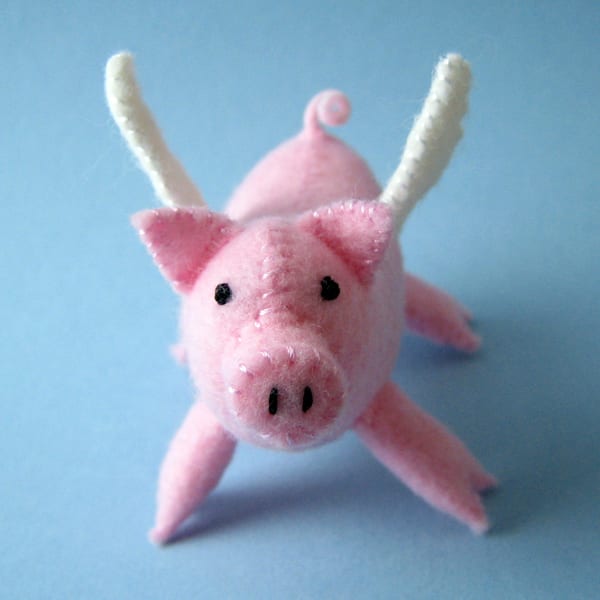 Now that you have a few plushes to look at, free up your piggy bank and buy a pig plush toy! Pink pig plush stuffed animals also make great birthday gifts as well!
FAQs On Best Stuffed Pig Toy
Why do kids sleep with toys?
Kids feel comfortable when they cuddle up with their favorite stuffed pink pig toy and go to sleep because this activity relaxes their mind.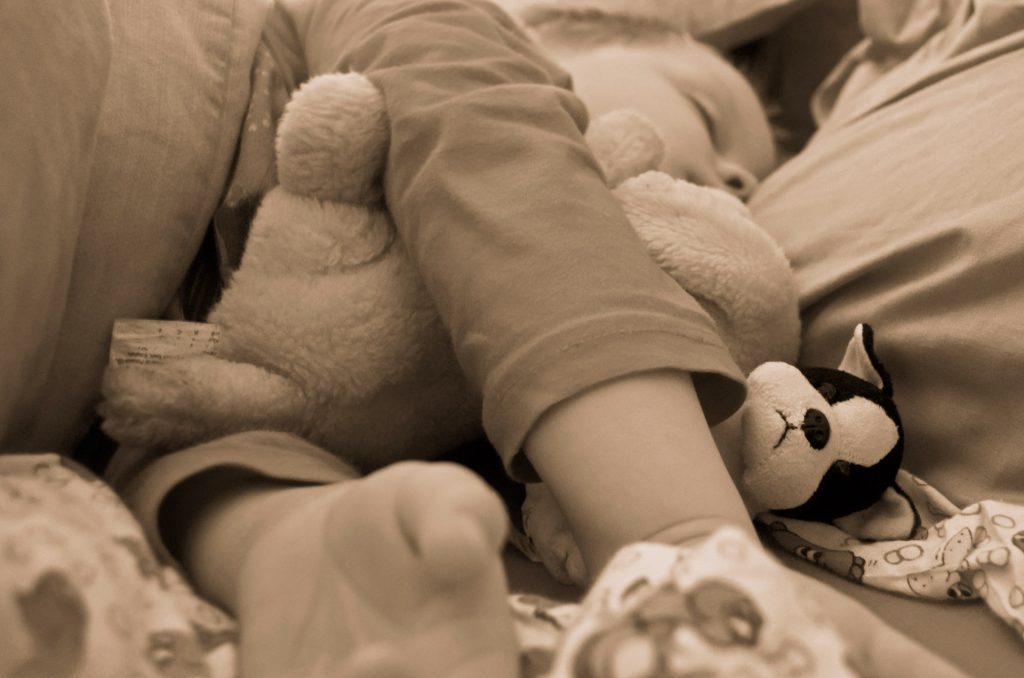 Why kids love stuffed animals?
Stuffed animals make great recipients of a child's pretend-care and discipline. It encourages nurturing imaginative play that is crucial to their mental and social development.
Can stuffed animals help with anxiety?
When a child touches or pets a stuffed animal, their anxiety and stress levels become lower.
At what age should a baby stop playing with stuffed animals?
Though the stages are different for everyone, kids should ditch their children's soft toys between the ages of 10 and 14 years old.
What do stuffed animals symbolize?
Stuffed animal children's soft toys allow children to show compassion.
Can a 1-year-old sleep with a stuffed animal?
Blankets, pillows, and soft toy stuffed animals pose no risk to your baby. However, make sure the stuffed animal isn't too big for your child. It should be a toy your baby will be safe with that has no rips or tears in the fabric sewing.
What age can a baby sleep with a toy?
Though stuffed animals children's soft toys are soft, try not to let your baby sleep with it until he's at least 12 months old to avoid suffocation or strangulation.
What age do babies get attached to toys?
About half of toddlers develop an attachment to things they consider as a "comfort object." Some start wanting one as early as six months.
Does hugging stuffed animals release oxytocin?
Yes. That is because oxytocin is known as the "cuddle hormone" that calms your mind and body.
Why does hugging a teddy bear feel good?
Babies feel a sense of assurance that the soft and cuddly teddy bear or pink pig toy provides unconsciously for a good night's rest.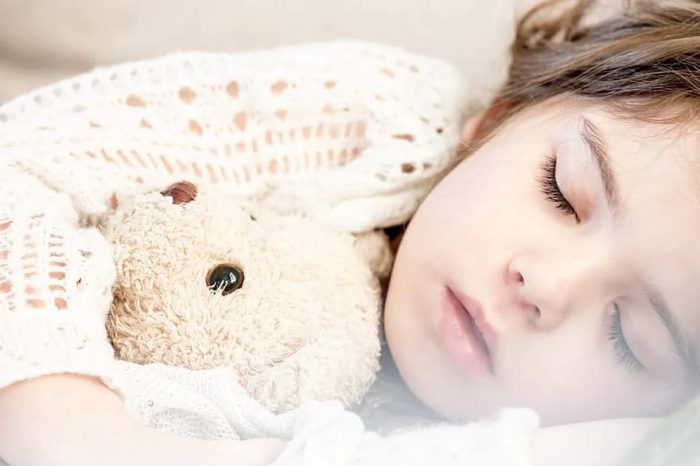 What is the best lovey for a baby?
You can get any of the following for the best children's soft lovey for your baby:
Burt's Bees Baby Organic Bee Lovey Plush
Fox Angel Dear Blankie
Little Giraffe Chenille Blankey
Angel Dear Pair and a Spare Blankies
SwaddleDesigns Cozy Baby Lovie Puff Circles
Aden + Anais Silky Soft Musy Mate Lovey
When should a child stop sleeping with a stuffed animal?
Kids have different growth schedules. At five months, though, most kids will no longer need a soft and cuddly comfort object like a soft toy, plushie, or a stuffed animal.
Best Stuffed Pig Toy Other Resources
https://toynotes.com/pig-stuffed-animals
https://www.stuffedsafari.com/Stuffed-Pigs-and-Plush-Pigs-s/133.htm
https://www.babylist.com/hello-baby/best-stuffed-animals
Last Updated on April 13, 2021 by Marie Miguel
DISCLAIMER
(IMPORTANT)
: This information (including all text, images, audio, or other formats on FamilyHype.com) is not intended to be a substitute for informed professional advice, diagnosis, endorsement or treatment. You should not take any action or avoid taking action without consulting a qualified professional. Always seek the advice of your physician or other qualified health provider with any questions about medical conditions. Do not disregard professional medical advice or delay seeking advice or treatment because of something you have read here a FamilyHype.com.