Hands free puming bra, sleep bras, or breasteeding bras are part of motherhood. What moms tend to underestimate is the importance of high-quality  bras for moms. Some don't bother adding it on their shopping list before childbirth, thinking that undergarments without a wire will suffice. Others perhaps see a comfortable nursing bra as a waste of money since you are supposed to use it while breastfeeding only. Either is a total letdown because such a maternity bra comes with benefits that the regulars cannot provide.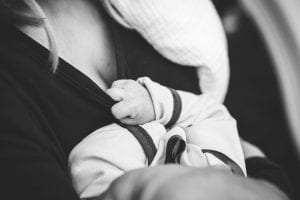 Nursing Bras Are Made Out Of Breathable Fabric
What is super likable about breastfeeding bras is the material that manufacturers use to make them. You won't see one that's crafted out of polyester, nylon, or lace. Those can be itchy against the skin even when they are dry, so you can imagine how much more uncomfortable they can become once milk drips little by little.
If you have sensitive skin, worry no more. The fabrics that maternity bra makes use instead are cotton and bamboo. They are breathable; they feel buttery soft to the touch. Neither you nor your hungry baby will complain about being in close contact with these materials.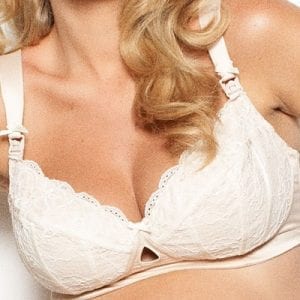 A Breastfeeding Bra Gives Quick Access
When you are a breastfeeding mom, you cannot wear an undergarment that you need to unclasp entirely before giving milk to your infant. That can be especially difficult at night as your senses won't be fully awake by the time you have to breastfeed the child. Hence, it is practical to invest in a nursing sleep bra that lets you free one clip down cup from the front instantly.
Similarly, there are maternity bras for daywear. Such brassieres provide breast support quite well even without a wire underneath. They can feel more like a sports bra than anything, which promises comfort for breastfeeding mothers like you.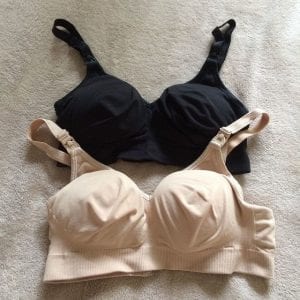 A Breastfeeding Bra Stretches Enough
The breast size often changes, depending on how much milk it holds. The size fluctuations can vary  for ever mom.  That is the reason why it is vital for the fabric of your day or sleep wireless nursing bra to be comfy and show some flexibility. When the breasts are smaller than usual, they should still fit well in the undergarment. In case they well due to an excessive amount of milk in them, the breastfeeding bra has to be able to stretch to accommodate the larger size.
They Cover Up Leakage
One obvious problem with regular brassieres is that your breastmilk will start leaking through it and your t shirt once you don't get to breastfeed on time. Your body knows when to produce sustenance for the baby, after all, and there's no way to stop the milk production without expressing yourself.
Nonetheless, when you obtain a maternity nursing bra, the material is reliable enough to cover up any leakage. The liquid won't seep through the fabric so that you won't find yourself with an awkward wet patch in front of your top anywhere.
A Breastfeeding Bra Won't Make Your Style Or Budget Suffer
Finally, if you worry that breastfeeding bras will make you unattractive, you may still be thinking of the old designs that are only evident for grandmothers. The truth, however, is that new manufacturers have come up with different styles of motherhood maternity wireless nursing bras that can support your breasts and offer comfort at the same time. You may also opt for the ones that can transform into non-breastfeeding garments so that they remain useful for years. Choose the perfect band size for you and make sure the bra straps sit firmly on your shoulders.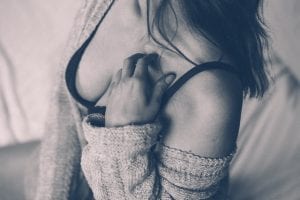 Are you ready to buy daytime or sleep breastfeeding bras now?
Nursing Bra: Frequently Asked Questions
When Should You Start Wearing A Nursing Bra?
It is recommended to get a breastfeeding bra during the 8th month of pregnancy. During this period, the bra size or the cup sizes are commonly the same when there will be regulation of your milk supply.
Do Tight Bras Help Milk Production?
No. Wearing a tight bra can decrease your milk supply. Tight bras, such as underwire styles, and tight straps can cause an issue in milk flow and supply because it makes your body think that it doesn't need more milk. A tight-fitting bra, such as a sports bra, can lead to mastitis. Experts recommend wearing bras that are not too tight but are still supportive. It must be a comfy and wireless bra. If you want to wear sports bra styles, there are sports bras that are made for breastfeeding mothers.
Can You Use A Regular Bra As A Nursing Bra?
such as drop-down cups or easy-to-open clasps that allow for easy access during breastfeeding sessions. Breastfeeding bandeaus also offer additional support for lactating breasts, which tend to be larger and heavier due to milk production. The cups are often designed to accommodate pads, helping to absorb any leakage. Regular bandeau may not provide the same level of comfort, accessibility, or support required for nursing. Therefore, it is generally advisable to invest in a properly fitted nursing bra to ensure optimal comfort and functionality during breastfeeding.
Should You Wear A Breastfeeding Bra All Day?
The decision to wear a breastfeeding bandeau all day depends on personal comfort and preference. Breastfeeding bandeau are specifically designed to provide support, convenience, and easy access for nursing mothers. They offer features like drop-down cups or easy-to-open clasps that make breastfeeding more accessible. Many breastfeeding bandeau are made of soft, stretchy materials that accommodate fluctuating breast size and provide extra support for lactating breasts. Wearing a breastfeeding bandeau during the day can offer comfort and support while allowing easy access for nursing sessions. However, some mothers may find that wearing a breastfeeding bandeau all day can feel restrictive or uncomfortable, especially during sleep or when not actively breastfeeding. In such cases, it's perfectly fine to switch to a comfortable, non-underwire bandeau or a nursing tank top during non-feeding hours. It's important to listen to your body and choose what feels most comfortable for you. Ultimately, the goal is to prioritize your comfort and convenience while ensuring easy access for breastfeeding whenever needed.
What Bras To Avoid When Breastfeeding?
Can I Pump Without A Breastfeeding Bra?
How Many Days Can You Wear A Breastfeeding Bra?
Last Updated on April 27, 2023 by Mary Cimeni
DISCLAIMER
(IMPORTANT)
: This information (including all text, images, audio, or other formats on FamilyHype.com) is not intended to be a substitute for informed professional advice, diagnosis, endorsement or treatment. You should not take any action or avoid taking action without consulting a qualified professional. Always seek the advice of your physician or other qualified health provider with any questions about medical conditions. Do not disregard professional medical advice or delay seeking advice or treatment because of something you have read here a FamilyHype.com.