For many years, the pretend cooking with a kitchen set was a staple of any childhood household. Who doesn't like pretending to be a cook and playing with toy appliances? These wooden play kitchen sets can teach the value of cooking and working in a real kitchen using sets that are safe and easy to use. Pretend play has been proven to be good for the development of children's brains. Parents can see their child's mind opens in a new way when they play make believe and role play games. You can put a pretend play kitchen in a kids playroom, outside for backyard play, or anywhere else that will inspire your little one to be cooking with the best toy food toys as an aspiring chef.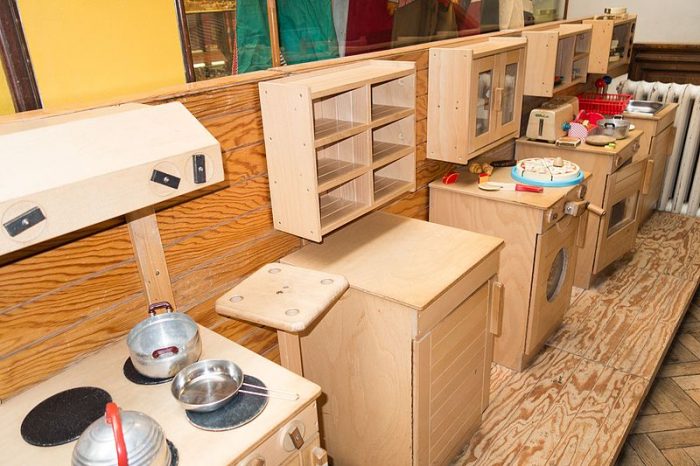 If you have no clue yet what to purchase, the list of the highly-rated wooden play kitchen sets from Amazon that we made for you may help you sort your options and finally come up with a decision. We highlighted important information for each one so you can compare its benefits. If you also continue reading, you will find more FAQs on wooden play kitchen set and reviews of our top brand favorite
Many toy kitchen sets use plastic materials. While there's nothing wrong with that, having a good quality solid wood play kitchen will surely extend the life of this fun toy for your kids. Today, we'll be looking at kitchen cooking and furniture toy sets that use wood materials. Wooden kitchen sets can be much more sentimental, more aesthetically pleasing, and last much longer. Here are a few toy kitchen sets that can do all of that and much more. Let's take a look at a few of them.
KidKraft Farm to Table Play Kitchen Set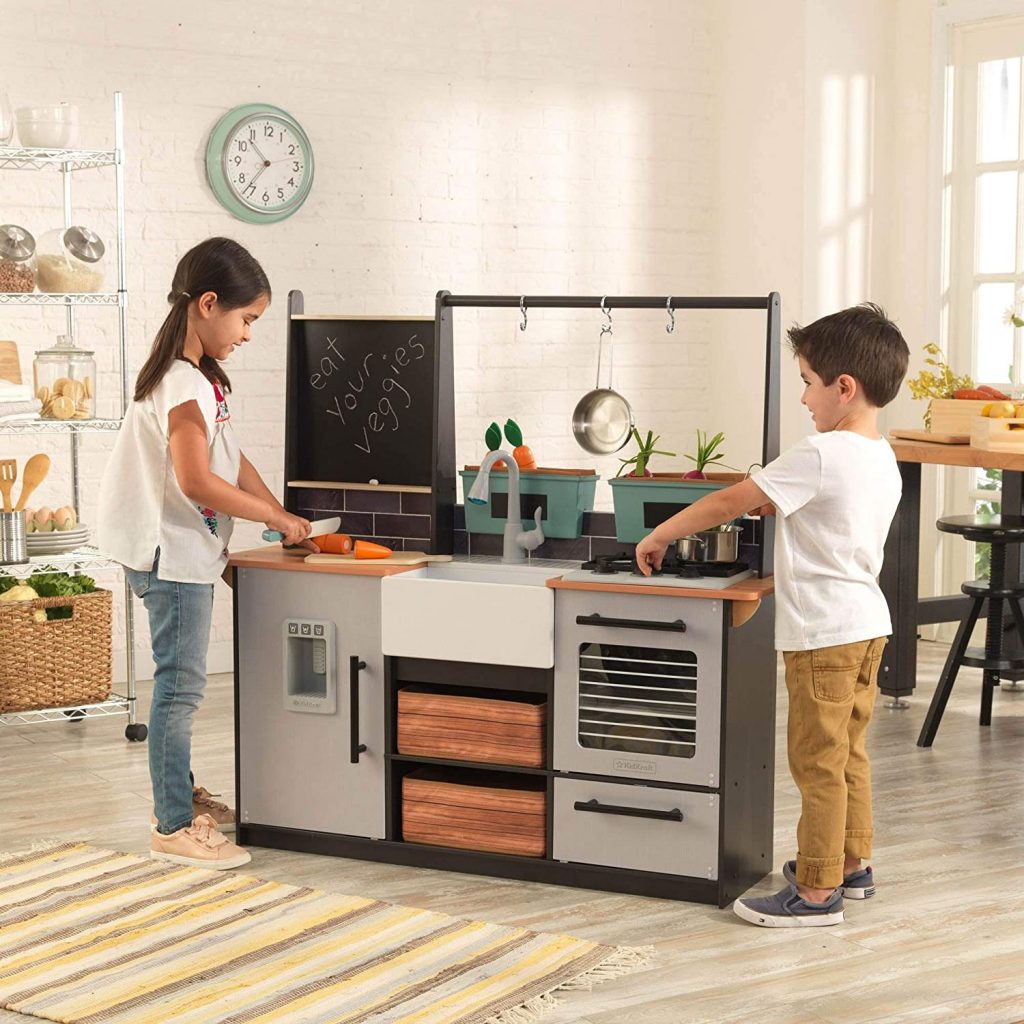 The toy kitchen playset has a rustic minimalist design and it comes with 18 piece accessory and play-food set. The cooking play set has a realistic cook top with fire-inspired light and sound.
This toy kitchen set is easy to assemble and has downloadable instructions from Apple App Store or Google play.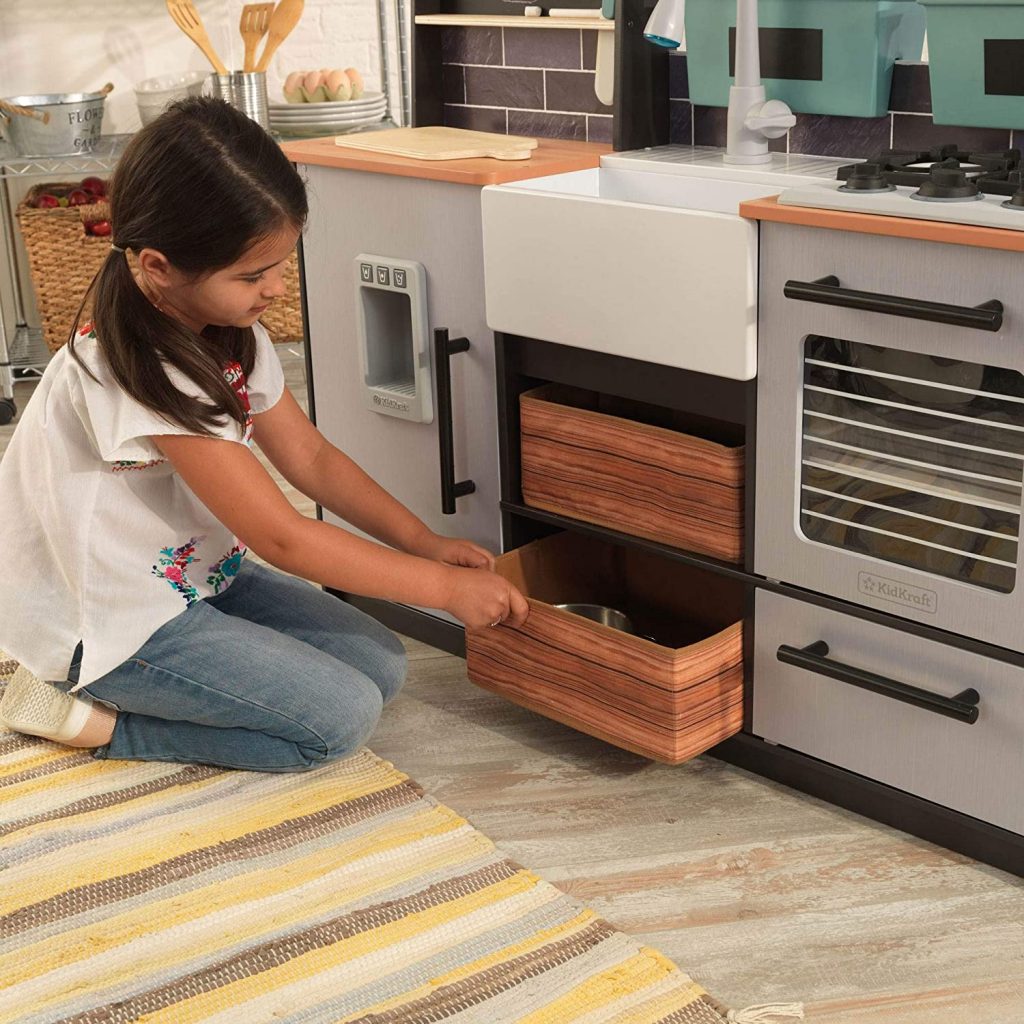 Best Choice Products Pretend Play Kitchen Wooden Toy Set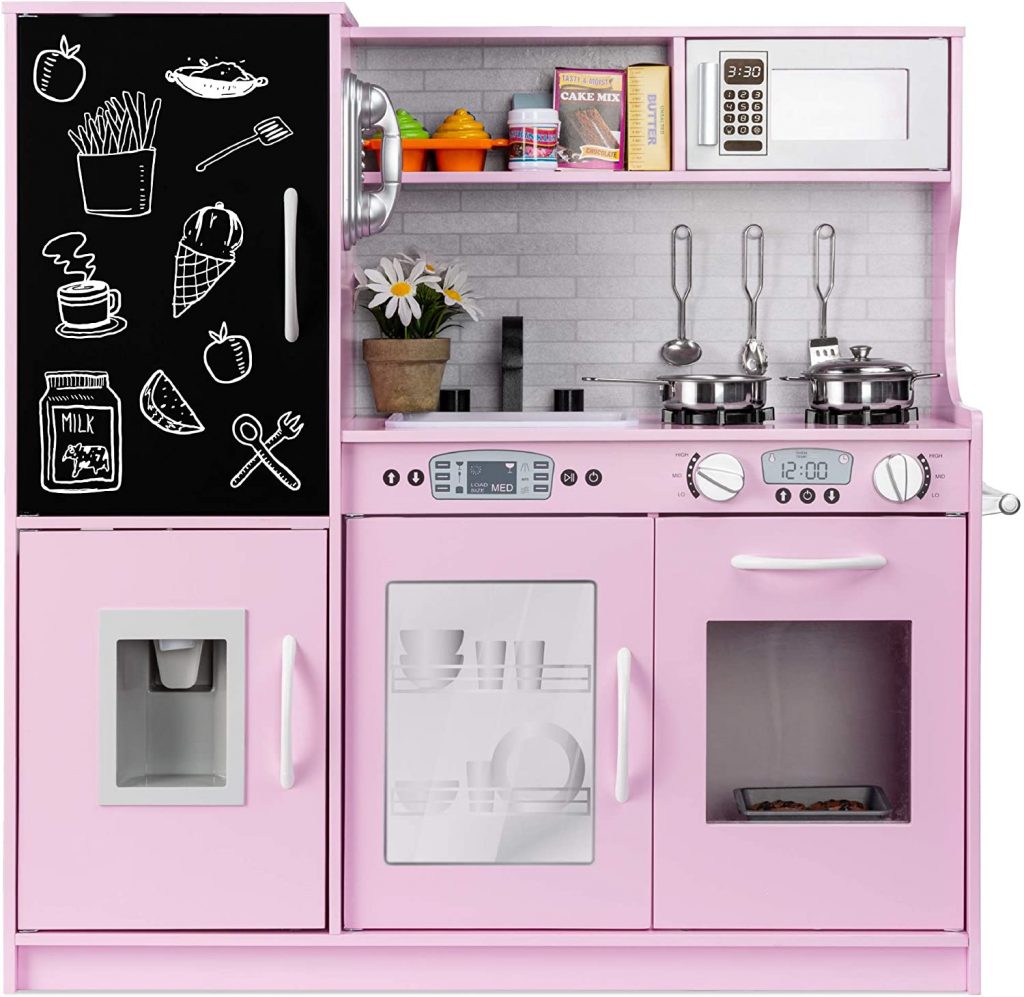 This toy kitchen play set comes with a feminine design and powder pink color. These kitchens play set also includes the best small chalkboard sets, providing a Chalkboard surface so your child can write their recipe or notes.
The toy kitchen furniture looks like a real kitchen and it is build to match your child's size to mimic a realistic cooking experience.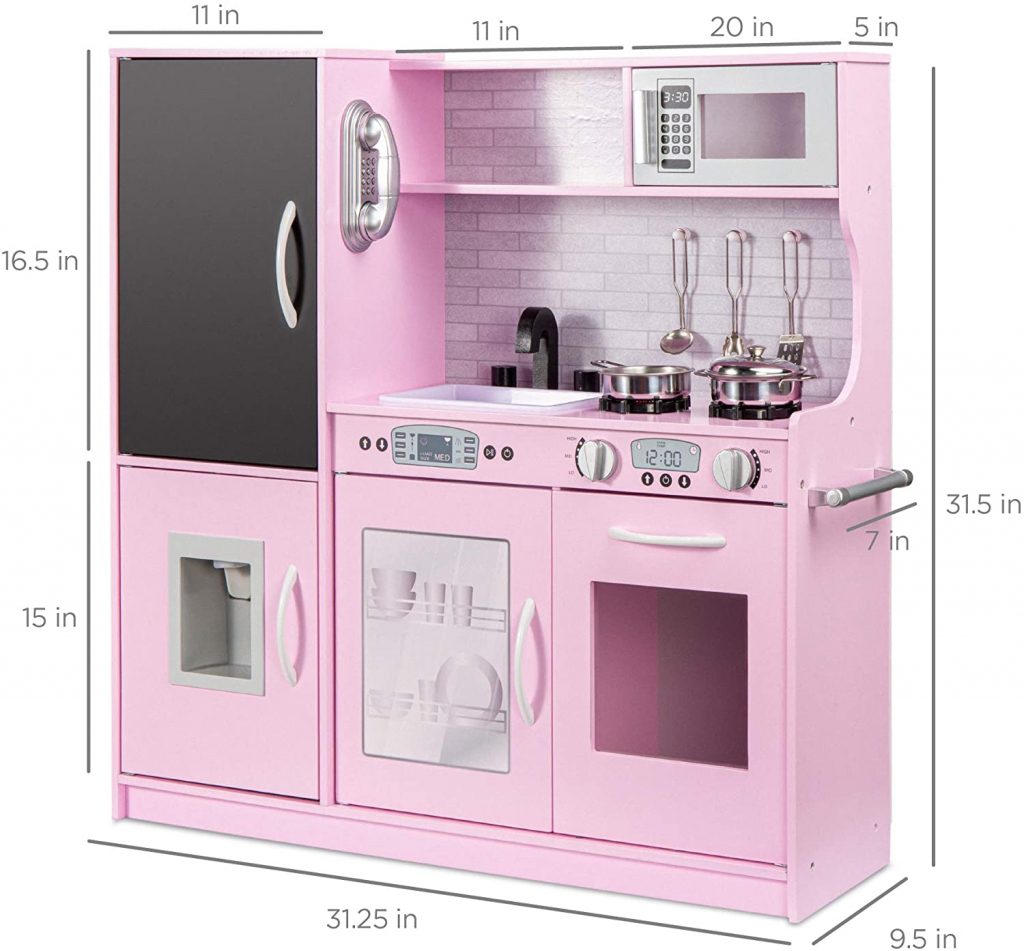 KidKraft Large Kitchen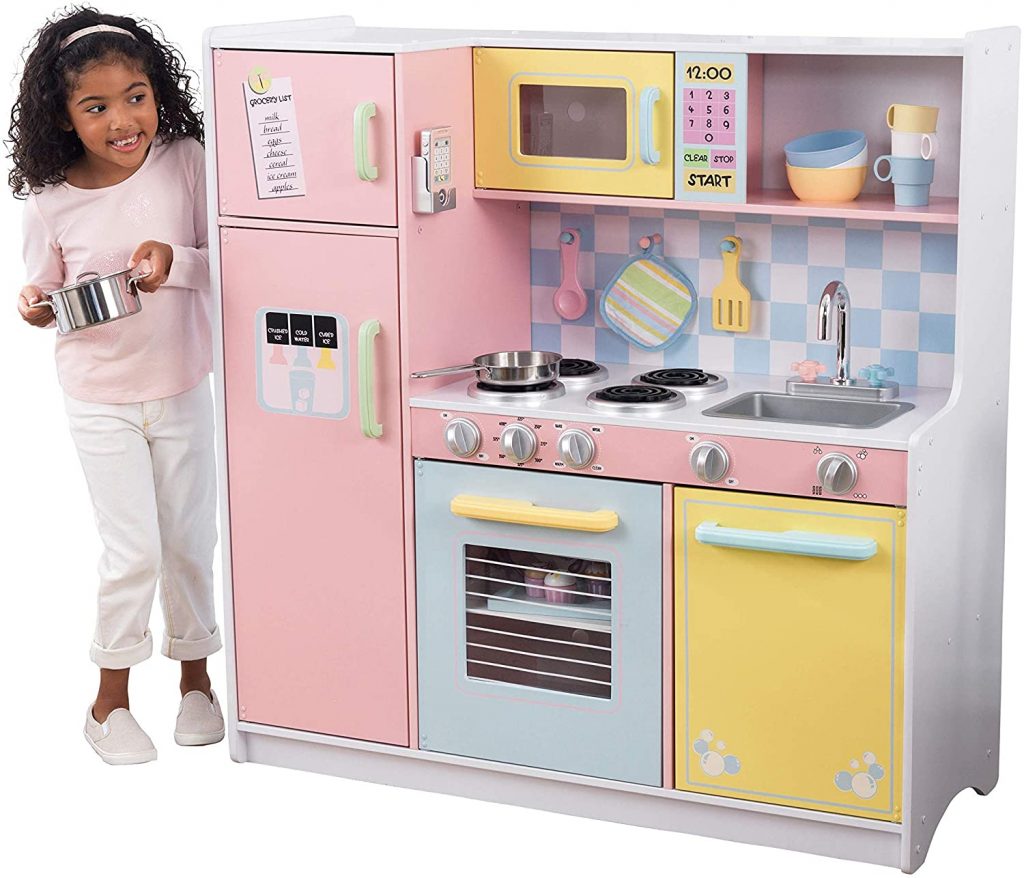 The Large Kitchen furniture is made MDF, PVC and T-Molding. The play set measures 42.2 x 16.2 x42.9 inches and it is designed for creative play.
This toy kitchen set features handy pegs and utensils, working knobs, and doors for the refrigerator, freezer, microwave, oven and dishwasher that opens and closes.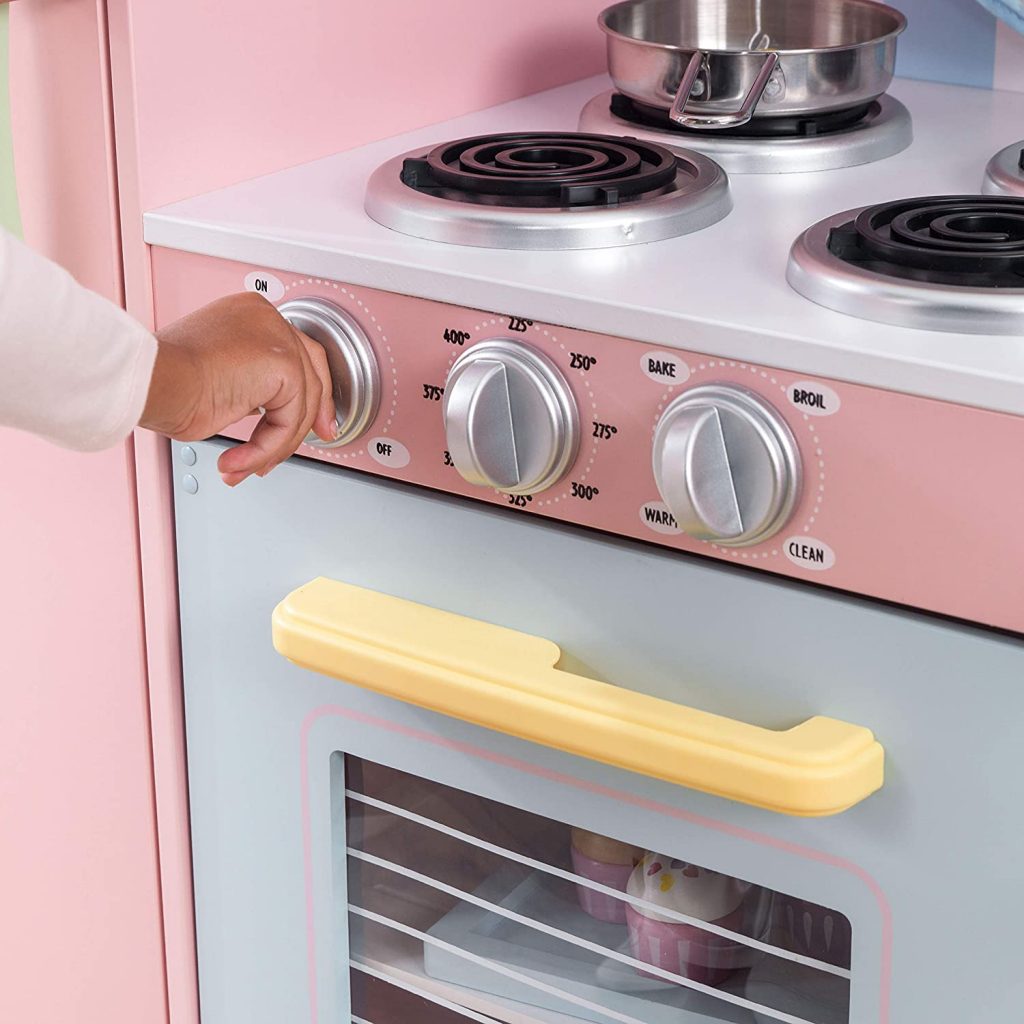 KidKraft Ultimate Corner Play Kitchen with Lights & Sounds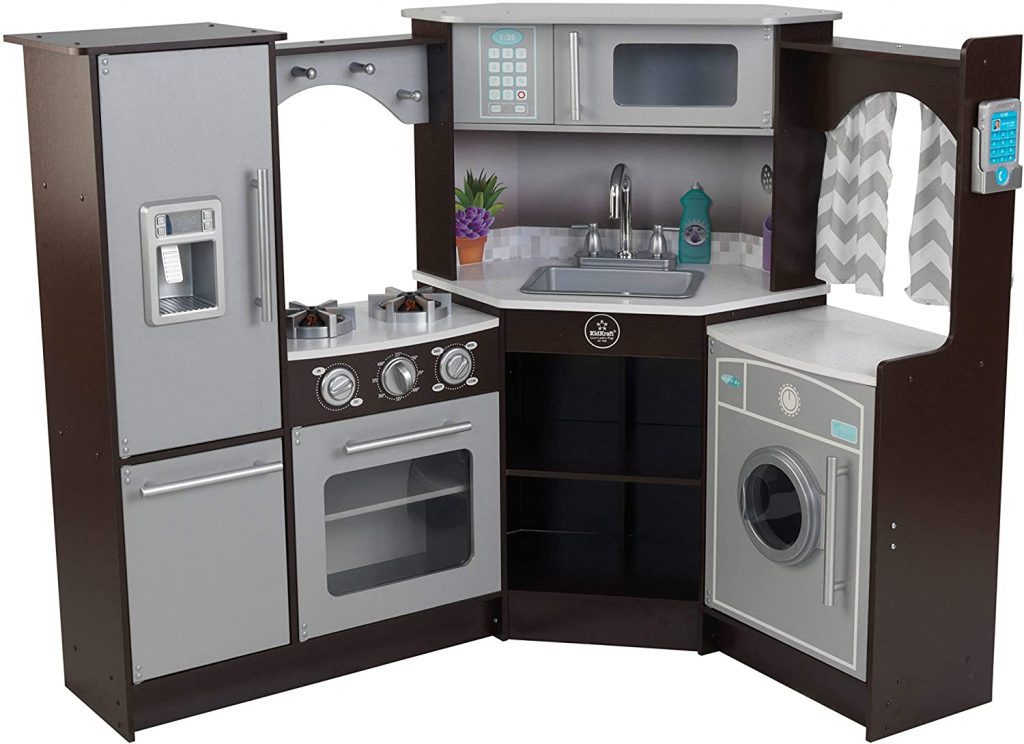 The Play Kitchen furniture has a unique corner design and it has toy kitchen burners that is equipped with realistic lights and sound.
The wooden play kitchen set comes with functional doors and removable sink toy furniture for easy cleaning.
This toy kitchen furniture is made of high quality sturdy woods that lasts.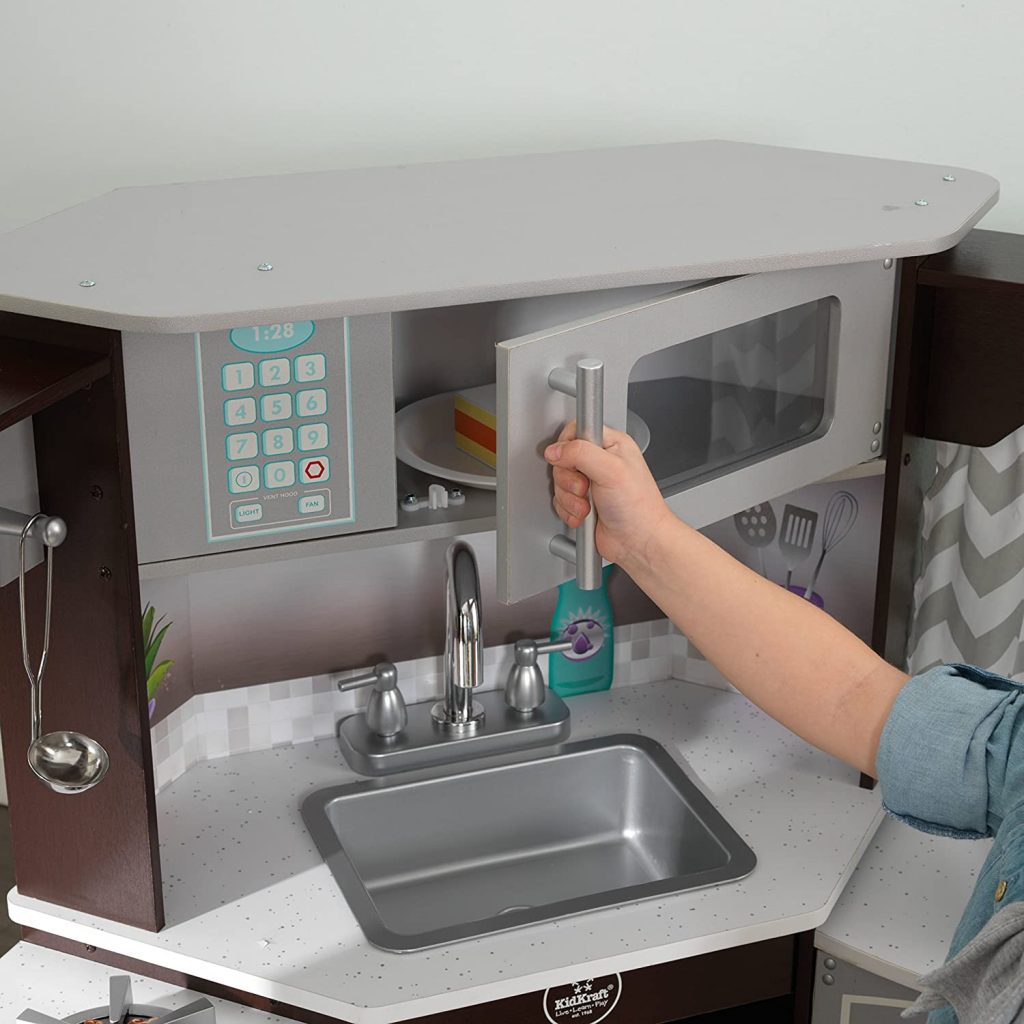 Coco & Michelle Faux Wood Refrigerator, Brown
This one is a refrigerator toy for pretend play kitchens that's not made of real furniture wood, making it a little less expensive. However, the finish looks so good, you or your child won't care. It is a beautiful mini wooden fridge that has an open and shut door. The toy kitchen set also includes a sink as well. Your child can pretend to store items and other goods in that fridge, and then take them out when they're ready to use them. When the refrigerator door opens in a new kids wooden kitchen set, you'll get to watch your child's eyes light up. It's one of the kitchen toys that your kid will love for a long time. 
KidKraft Let's Cook Wooden Play Kitchen
This wooden play kitchen set includes furniture toys like stove, sink, and storage cabinets. Your child can pretend to wash dishes, store their belongings inside the cabinets, and pretend to cook a meal with the stove. It's a wooden play kitchen set that looks beautiful and has a lot of room for imagination. Your kid will spend hours trying to create the best recipes in their heads. Note that this wood play kitchen doesn't come with the pretend play food toys your kiddo will need to complete their imaginary kitchen scenes. You'll want to add a play food set toys and other furniture with this toy kitchen if you're going to give it as a gift. 
Here's hoping the mini chef of the household will grow up to one day be a real chef. The imagination opens in a new way when children get to pretend they're being a cook with their realistic kitchen set. Anyway, now for the next item on the list.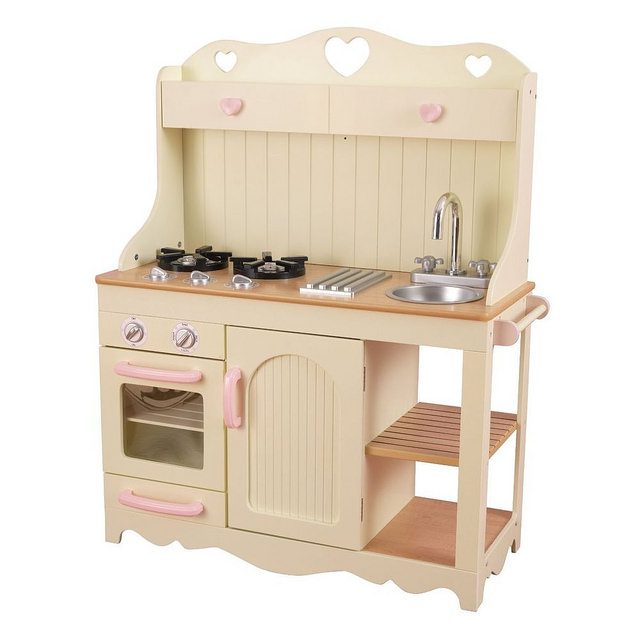 KidKraft Vintage Kitchen Set
The wooden play kitchen sets of the 1960s era are out of this world. What better way to recapture the magic of this time than with a wooden set that looks like something from 50 years ago? This set comes with a microwave, stove, fridge, and other kitchen cooking and furniture toys you need for a great meal. This set also comes in a variety of colors. Blue, pink, the list goes on. This Kidskraft wooden play kitchen set can blend in with their room quite well. Every door in this old school looking toy kitchen opens in a new room for your child to explore. Your kids playroom will be transformed into bustling kitchen with these beautiful wood play kitchen toys. Get the feel of a time long past with this wooden vintage set. You and your kid will both love what these kitchen toys have to offer.
Childcraft Korners For Kids Deluxe Kitchen, Set Of 4
It is one of the best wooden kitchen set toys with a lot to offer. It comes with a wood finish and quite a bit of kitchen furniture and appliances to choose from, along with lots of storage space. Your child will spend hours and hours trying to cook the best meal possible, and you're going to love how it can keep your kid more organized. It's one of the best toy kitchens that your kid is going to use again and again, guaranteed. Try these deluxe kitchens with furniture toys and appliances today and see for yourself. 
Teamson Kids Little Chef Chicago Multifunctional Play Kitchen
Teamson Kids has a whole line of wooden play kitchen sets. You'll find them in a variety of styles. They look like natural wood with color for accents included. Each kitchen set has a very sturdy construction. This one is double sided so children can play together from both sides of the kitchen. It's easy to assemble, and includes kitchen toys like cook top, an oven, and a dish washer, as well as a sink.
Melissa & Doug Cook's Corner Wooden Kitchen
The Melissa & Doug wooden kitchen has a slightly retro look to it. It has a refrigerator,  an oven, a cook top, a removable sink, and a kitchen timer that does actually work. It's angled so it's perfect for putting in the corner of a room. The kitchen toys are solid wood and very sturdy. You can couple this pretend play set with some Melissa & Doug kitchen utensils and a play food set for the perfect gift. 
Melissa & Doug have been around for quite some time making kids toy options that are 100% screen free and encourage good, quality, wholesome fun for children. They manufacture toys for baby, kids, and family interaction because they understand the importance of pretend play.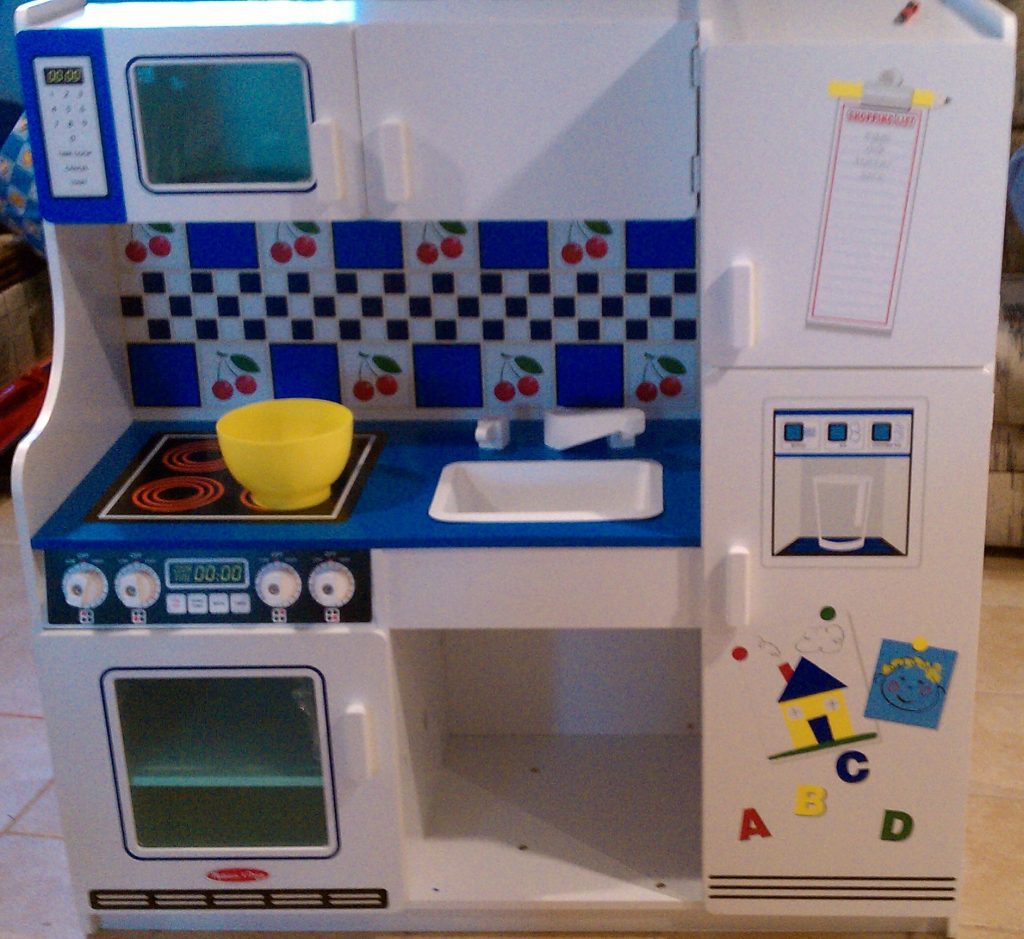 What To Look For In A Kitchen Space 
When buying a kitchen space for your kids, here are some factors you should consider when making your decision. 
Real Or Fake Wood? 
Some wooden play kitchen sets are from real wood from real trees, and others may come from faux wood. When choosing a wooden set, you may wonder which you should be considering the most. The real thing may cost more, and the faux set may cost less. But let's be honest, your kid probably won't be able to tell the difference between real or fake sets. The choice is up to you in the end. We will say that most of the time, a pretend play kitchen that's made out of real solid wood looks more aesthetically pleasing than play kitchen sets that are made of synthetic wood products.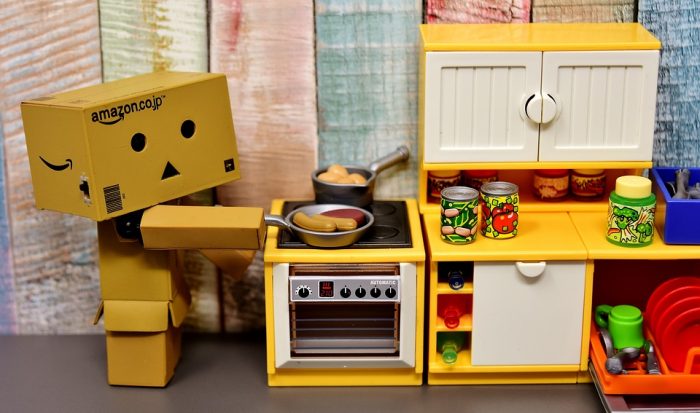 The Color 
Some wood sets have a wood color to them, looking like they were from a real tree. Other sets are more colorful and come in a variety of choices available. The vintage set is the perfect example. Some people will love the variety of colors, while others will look for a more wooden finish. In the end, the choice is up to you. Talk to your kid and see if they are picky about colors. If they aren't, maybe you should give them a set with more wooden features. If they are, get them a more colorful set. It all depends on what they like.
Having the option of different colors to choose from allows for parents who want kitchen toys that sort of match the room they're going to be in to get something that works for them. Then their child's mind opens in a new way with their new play kitchen sets and accessories while the parents can feel good about the way their house looks.
Aesthetics
The aesthetics are important, also. Some play kitchens look very much like toys. Others look more like a real kitchen with backsplash tile and all. If you would prefer to have a wooden kitchen that looks more like a home improvement – one that you can pair with a bed, toy tables, a good nursery dresser – rather than a home eyesore, then take the time to find one like that. Your child might also think it's cool if their kitchen looks a lot like the real kitchen in the home. 
What Does It Include? 
You may base your decision on what appliances there are that come with the set. Some will have a fridge, others will have a stove, and some will include an entire kitchen. More tools mean more imagination and more playtime, but they may cost more. It's another thing that you may need to think about before you make a decision. If your child is just happy with a stove and nothing else, get them that. Otherwise, look for something with a bit more accessories to it. 
Also, some play kitchen sets and accessories don't come together. That means you might have a huge kitchen with a fridge, oven, stove top, and microwave, and even a beautiful backsplash tile included in the design. But, there might not be a play food set with or or the dishes and utensils needed to make meals.
Accessories And Other Furniture Toys
Some sets may have accessories and furniture to bring more fun to the kitchen. For example, they may have skillets, fake food, pots, pans, working table, chair and all the other stuff. Others may have sets that are available separately. If your kid has accessories and furniture toys already, a set without accessories and furniture may be a greater value. Otherwise, you should buy them a set that has accessories. If you want to let them choose their own accessories, you could also provide them with gift cards along with the kitchen set so they can get what they would like.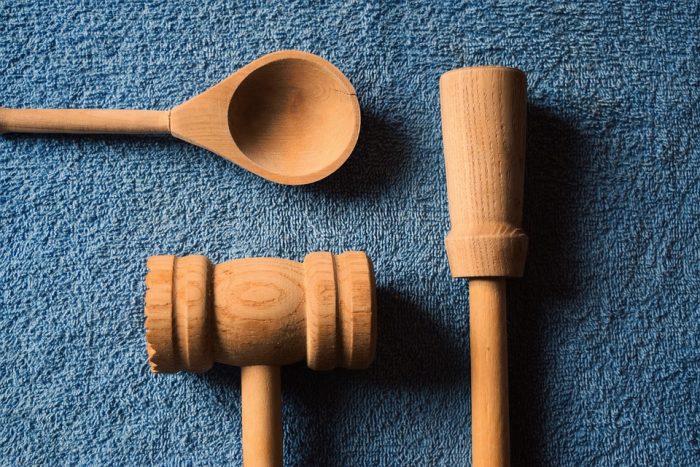 Storage Space
Finally, think about the storage space. Some sets have shelves and drawers to store your accessories and even other toys in the room. If your child is mindful of picking up and putting things back where they belong, more storage space is always ideal. Otherwise, you may want to pick a set that has more places to play and fewer places to store.
Kids who are baby and toddler aged have a tendency to like putting toys in things. So, if you are getting the play kitchen sets and accessories for a baby or toddler, get something that has a door or two that opens in a new way for your little one to explore.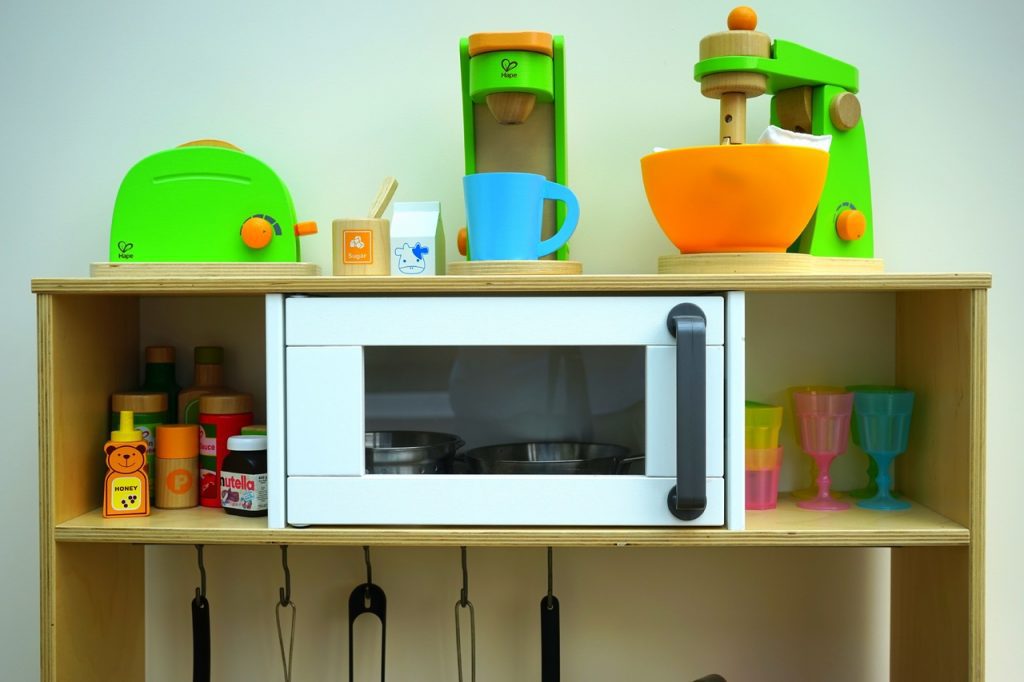 Conclusion On Play Kitchen Sets, Accessories and Furniture Toys
There are quite a few wooden kitchen sets to pick from, and they all have their pros and cons. If you're looking for a good set that can showcase your kid's talent for cooking, take a look at a few of these sets and see what they can offer you and your kid. The mind opens in a new way  when children play pretend. There is a good chance that your child is going to love each one of them. Try them today. You'll likely find them to be a cute home improvement to your play room or wherever you decide to place them. 
FAQs On Wooden Play Kitchen Set Toys, Furniture and Other Toy Appliances
What is the best kitchen set for a toddler?
The best kitchen set for a toddler is Hape's Tabletop Cook and Grill Play Kitchen. It is a compact toy that makes setting up and cleaning up effortless. You can get this one for a baby or toddler. You'll see them start to develop their pretend play skills as their mind opens in a new way.

Which children's play kitchen is best?
Little Tikes' Tasty Jr. Bake 'N Share Kitchen is the best play kitchen for growing children. Its height can be adjusted as your child becomes taller. Couple this with a furniture toys like table and chair set to give your child a more complete play cooking session.
What is the best play kitchen?
The best play kitchen is KidKraft's Uptown Espresso Play Kitchen. It is a 41-inch tall toy so that it may be of the same height as your kid. Keep in mind that different sets are made for different ages of baby and kids so you'll want to consider that when you're deciding on play kitchen sets, furniture toys and accessories.

What age is best for play kitchen?
Children who are 2 or 3 years old can start playing with a toy kitchen. Their cognitive and creative skills may improve with pretend play. As they start to grow, their mind opens in a new way so you'll see that most play kitchen sets, furniture toys and accessories get played with for a long time because the imagination can do more and more with them.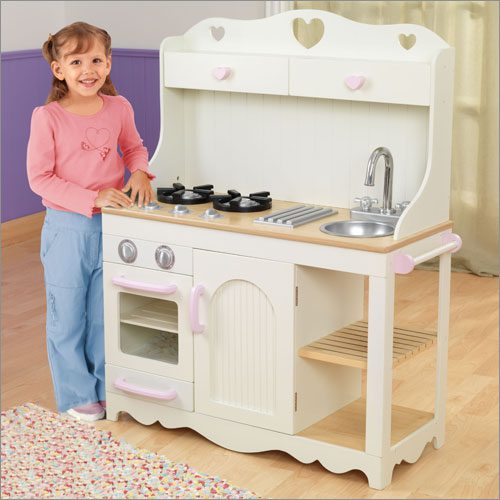 Do kids need to play kitchen?
Kids need interactive toys, so they need a play kitchen. Not only will it grow their interest in cooking, but it will also encourage them to be imaginative to enjoy the toy. There's a reason you'll see play kitchen sets, furniture toys and accessories in most preschool classrooms. It's because a baby and kids get increased development from playing with sets like these.

Is a play kitchen worth it?
Yes, play kitchen toys are worth buying for your child. However, be sure that the materials used to make it will last long. You can also find a backyard play kitchen that has a grill and grilling accessories. And you may want to get a few furniture toys that will best match the kitchen play set.
Where can I find a play kitchen for sale?
You'll find some of the play kitchen, accessories and furniture toys in large popular retail stores. The wooden ones are a little bit harder to find in store, though. If you go online to sites like Amazon or Wayfair, you'll have better luck. You can easily shop and compare online. Just click on an item and when it opens in a new tab of sale kids items, then you can compare it to others side by side. Make sure you've set your settings correctly to ensure that when you click on something it opens in a new tab with sale kids items.
Last Updated on May 9, 2023 by Inma Barquero
DISCLAIMER
(IMPORTANT)
: This information (including all text, images, audio, or other formats on FamilyHype.com) is not intended to be a substitute for informed professional advice, diagnosis, endorsement or treatment. You should not take any action or avoid taking action without consulting a qualified professional. Always seek the advice of your physician or other qualified health provider with any questions about medical conditions. Do not disregard professional medical advice or delay seeking advice or treatment because of something you have read here a FamilyHype.com.