Many of us carry a lot of stress and tension in our bodies. It leads to aches and pains. Massage therapy helps relieve some of those aches and pains but gets expensive when you go for frequent appointments. What if you could have a massage every day in the comfort of your own home? You can with your own massage chair.
Owning one of the best massage chairs provide you with a lot of benefits, most of which are related to a person's physical and mental well-being. It offers relaxation, pain relief, and rejuvenation. In this article, you will learn more about massage chairs – brands, designs, features, and everything else concerning massage chairs.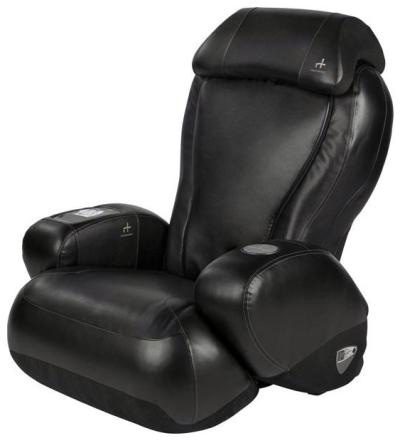 Here's what you need to know when choosing the best massage chairs. Massage chairs have multiple functions, some more, some less, so look for the functions that suit you the best. Massage zones vary a lot. Choose one with as many areas as you want. Pay attention to the type of massage rollers and track the chair has, as well as other components like airbags. Consider the size. Look for customizable massage features. Decide how much you can spend and choose a chair that's within your budget.
Generally, massage chairs are pricey. This is a machine capable of giving you a full body massage whenever you want one. They're designed with highly advanced technology to mimic the techniques of a human massage therapist. We'll look at some good options of massage chairs further down, but let's start by going over the important things to look for. As you read through the information, jot down features that you want. It'll help when you start shopping.
Choosing A Massage Chair
You'll find, as you start shopping, there are a multitude of massage chairs to choose from. Go into your hunt knowing these aren't cheap chairs. And, generally, the more functions, massage areas, and customizable options there are for your body massage, the more a massage chair costs.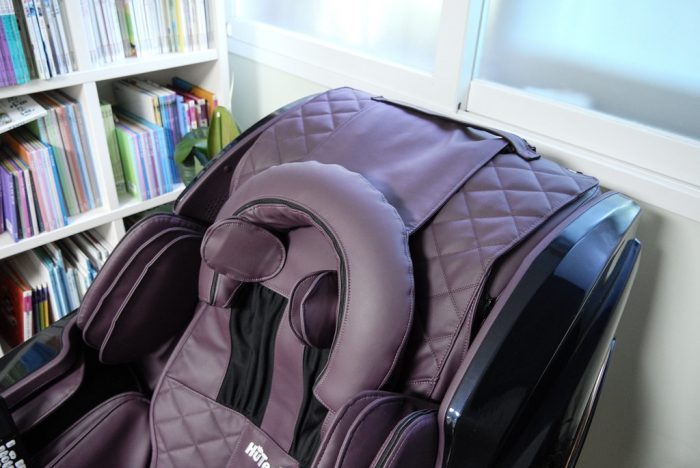 Massage Chair Functions
The best massage chairs include several different functions. Premium chairs have better quality functions and more of them. Below is a list of features you can get with a massage chair. There are more, but these are some of the most popular.
Heat
Kneading
Rolling
Tapping
Vibration
Sound
Adjustable roller intensity
Shiatsu
Inversion therapy
Reflexology
Best Price
The price is tied to the number of functions and their quality. It's also determined by things like chair upholstery, space-saving features, conveniences, and ease-of-use.
Many massage chairs are covered with genuine leather. Some manufacturers use synthetic fabrics, though, because they're engineered to hold up better against the chair motion and heat.
Target Zones
Massage chairs have multiple zones where they can target the muscles in specific areas. If you're looking for a chair that provides a full body massage, you need to make sure the options you're checking out include all the massage zones you want.
Some chairs don't include leg and feet massagers while others do. The same is true for arm and hand massagers. Chairs may have different zones for your back, too. The massage zones might have different mechanisms for providing the massage, as well.
Mechanisms
The best massage chairs likely has multiple kinds of massage mechanisms. That means there are rollers, various tracks, and airbags. Keep in mind, though, that more mechanisms usually mean more money.
Let's look at track types first. There's an L-track, an S-track, and a J-track. Each of these provides different benefits.
The L-track is long. It starts at the neck and ends at the glutes. It's usually about 4 feet long. It's made to conform to the natural curves of the spine.
An S-track is shorter than an L-track. It only goes between the neck and the lower back. While they're shorter, they allow some room so the spine can remain flexible.
When you combine the L-track and the S-track, you get the J-track. The J-track gives you better range but while still allowing for the spinal stretching and flexibility of the S-track.
Rollers do just what it sounds like they do. They roll over the muscles to apply pressure. You can also have massage heads that provide more of a kneading motion.
Sometimes, a massage chair has airbags. Airbags offer a different kind of pressure for your massage. Air fills the bags in various parts of the chair. The airbags use compression on your muscles that increase the blood flow. It's a good way to help with muscle soreness.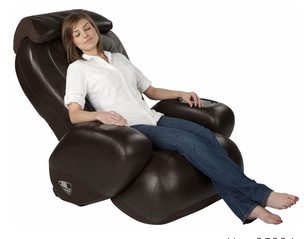 Size
Most average adults will fit in many massage chairs. However, if you need a massage chair for someone who's over 7 feet tall or under 5 feet tall, you may need to find one specifically designed for people outside the average height range.
The same goes for weight. Consider the weight limit of a chair before you buy it.
You'll also see there are massage chair options in different sizes with regard to space needed in your home. Before you bring home your brand-new massage chair, measure the space where you intend to put it so you know it will comfortably fit.
Customizable Target Features
It's nice if you can customize your massage the way you want to. For instance, you can add heat to a massage with some chairs. Not only does the heat feel good, but it also helps your muscles relax, which leads to better circulation and stress relief.
Many have a recline option. Some have a normal recline capability. Others have a zero-gravity recline feature. The reclined position you're placed in takes the pressure off your spine during the massage.
We recommend you choose a chair that allows you to select your massage intensity level. The most advanced chairs have options for several levels of intensity.
You should also look for preset programs. The programs are based off what people often ask for when they go to get a massage. They're targeted programs that provide massage therapy for specific regions of the body.
Best Massage Chair Options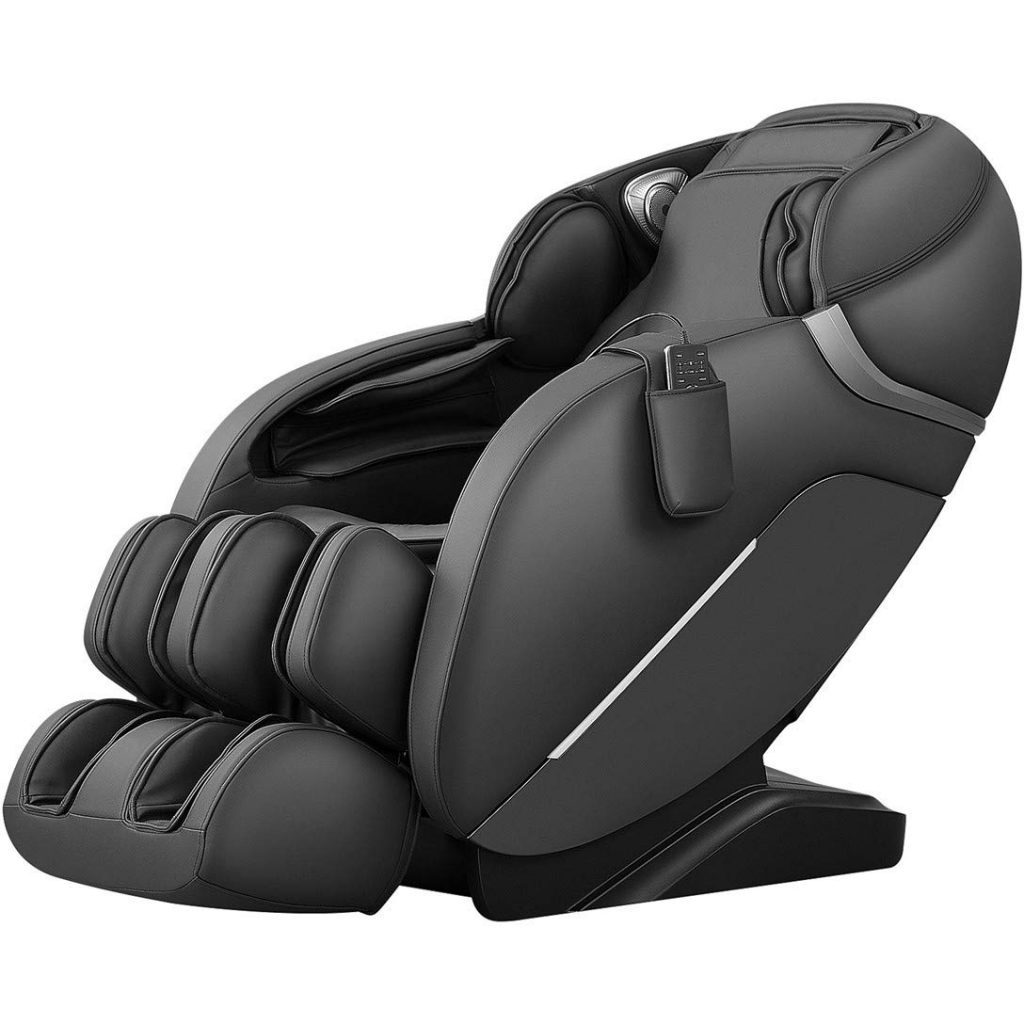 This massage chair doesn't need a lot of space. It has a compact space-saving design. You'll start your massage with a full body scan that allows the chair to customize your session for your body size. The roller will adjust. There's heat therapy available in the lower lumbar section of the chair. You can press a button and instantly recline into zero-gravity position. This chair is covered by a 1-year warranty, too.
Pros:
Foot rollers and airbags for the legs
Full body airbag massage, as well
Heat therapy for the lower back
Built for a maximum weight of 380 lbs.
Adjustable massage intensity levels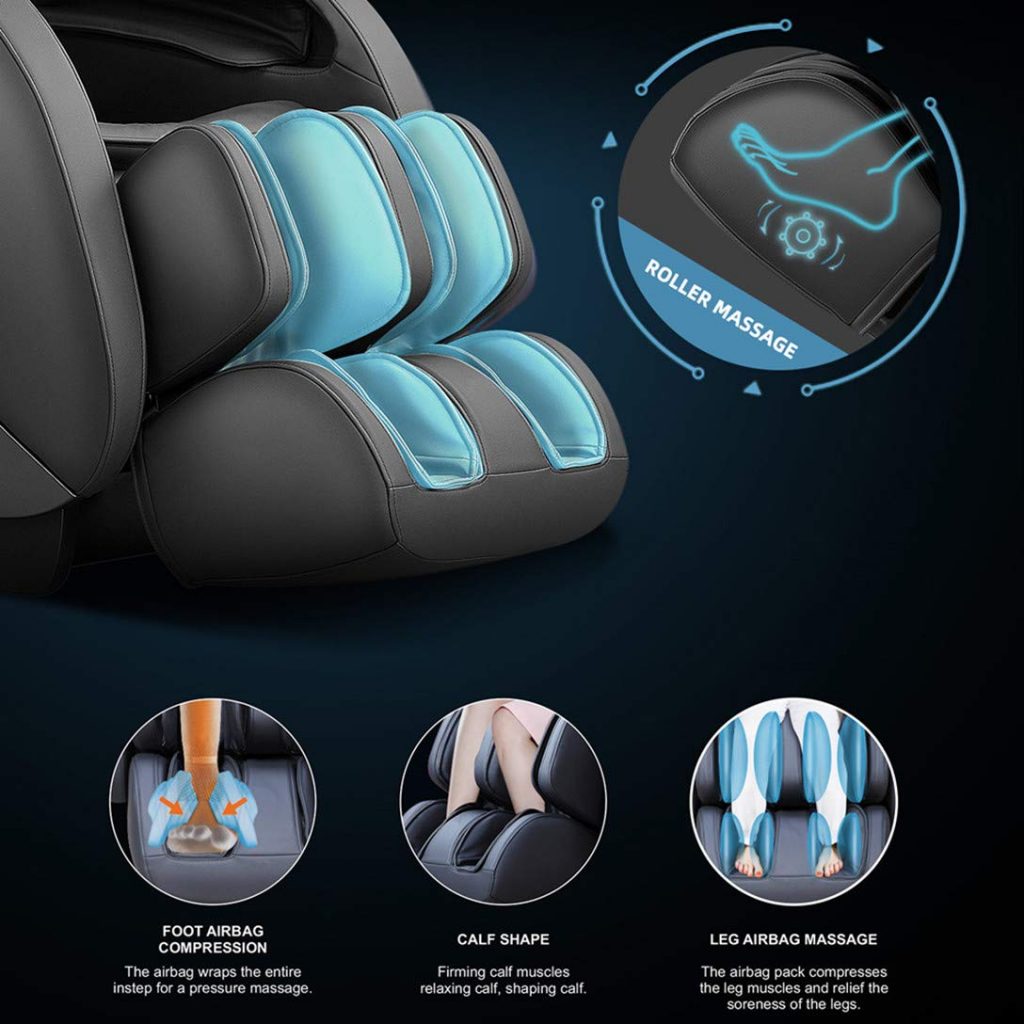 Cons:
Some reports of massage chair quality problems
Needs better neck support
Massage chair remote needs upgrading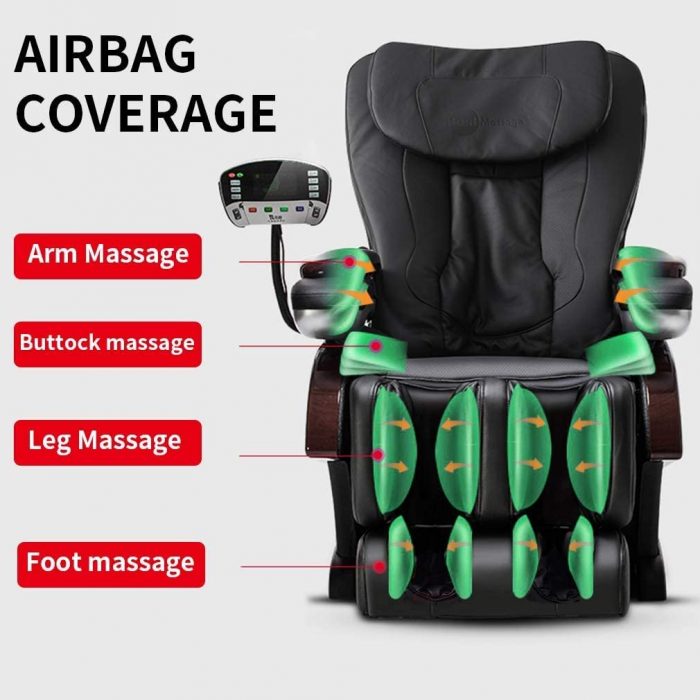 It allows you to customize the massage for you. You can adjust the recline, the intensity, the speed, the width, and more. Several pads support the parts of your body that need it the most, such as the neck, lower back, and shoulders. Built-in airbags compress your muscles to improve the circulation of blood that aids in your recovery. IT has 9 preset programs and many functions to choose from.
Pros:
Massage chair with Sleek design
21 airbags for full body massage
SL Track for stretching and massage
Massage chair ncludes Bluetooth speakers
Heat therapy for back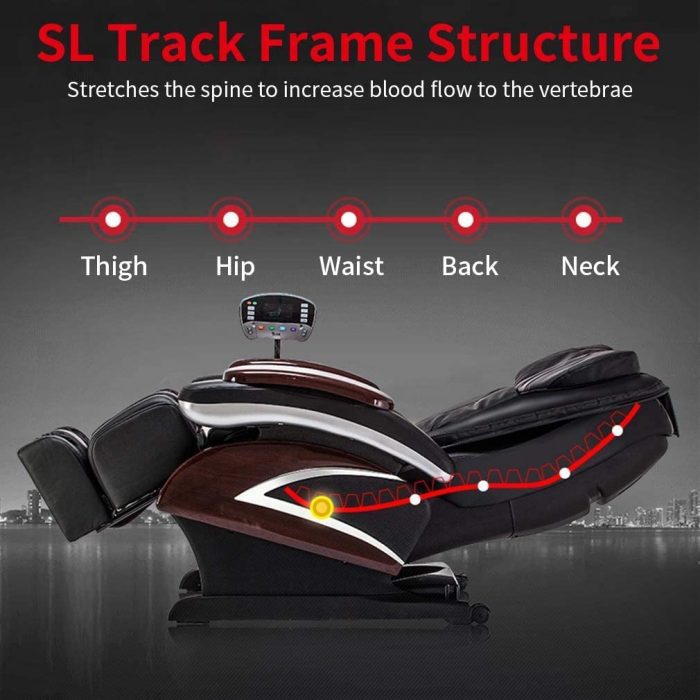 Cons:
Not high-end functionality
No rollers for foot massage
Intensity is too much for some people
It has a space-saving design for a bargain price that's less than $1,000. It reclines into the zero-gravity position. You can play your favorite songs through the Bluetooth speakers. You can choose from 6 preset modes or customize your own massage with the remote. Choose the speed, strength, zones, and appropriate body size. There are foot rollers, as well as back heat therapy.
Pros:
Massage Chair on wheels for easy placement
Adjustable height
Massage chair ncludes a body scan function
Budget-friendly massage chair
Easy to assemble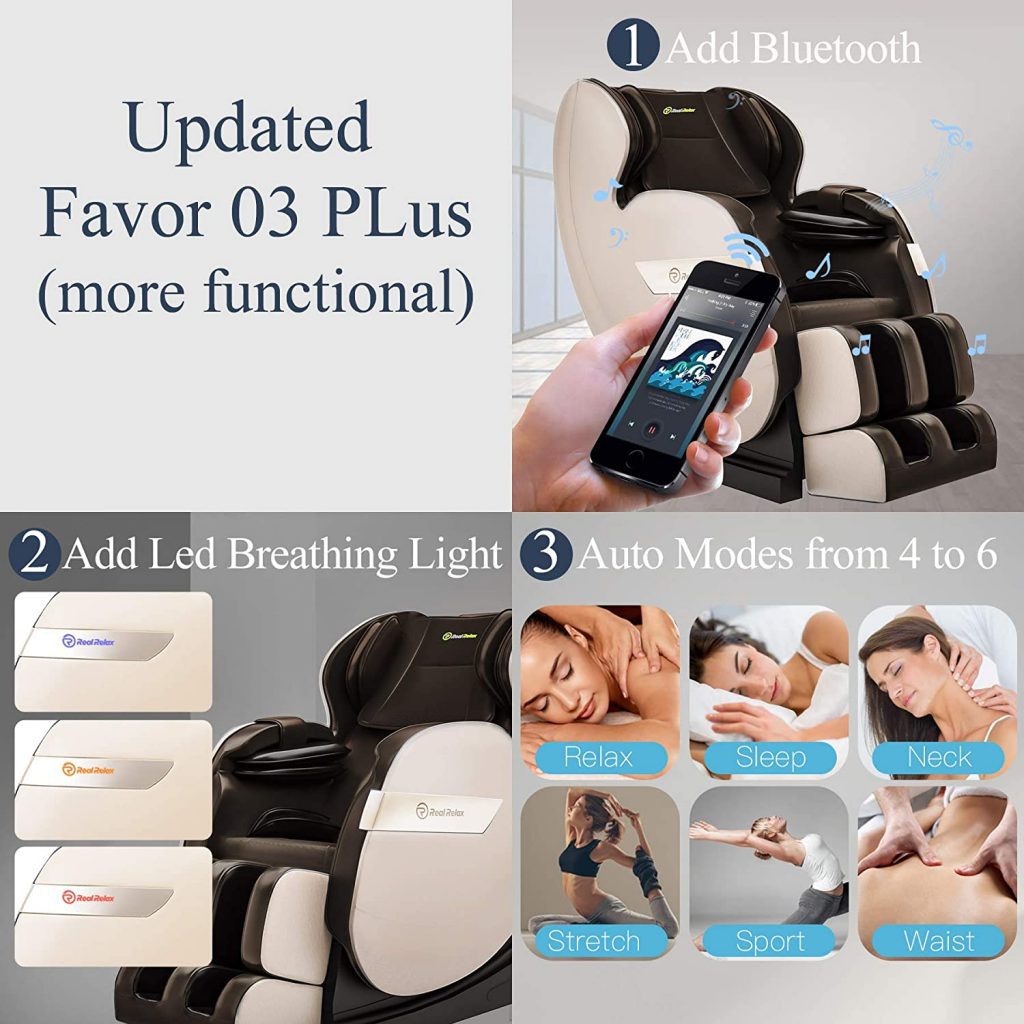 Cons:
Not enough support for lower back
No place to save your own custom settings
Unable to recline back and foot section independently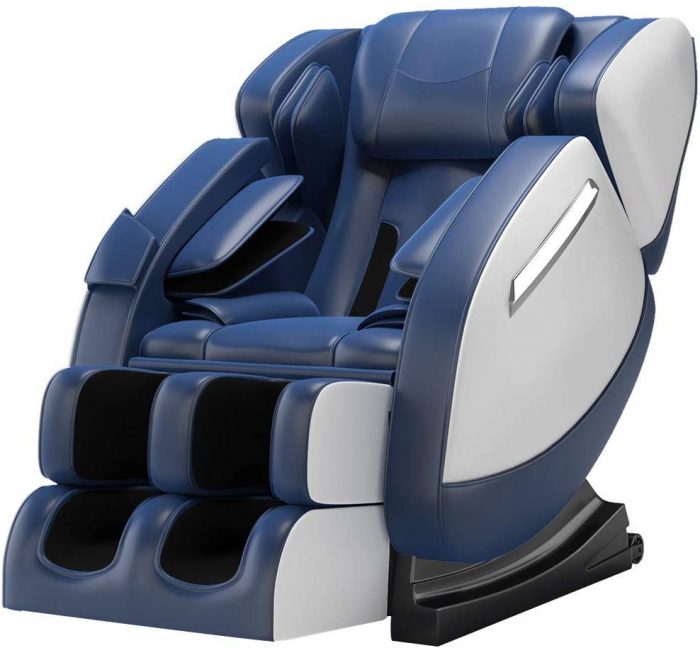 It includes both rollers and airbags for different types of massage functions. A button allows you to recline back into the zero-gravity position, which takes the pressure off your spine and helps your heart. You can adjust the intensity level of your massage, choose from 6 preset programs, and choose your recline. Play all the music you want through the Bluetooth speaker, also.
Pros:
Highly affordable Massage Chair
Heat therapy for your lower back
Foot rollers
Footrest is extendable
Durable synthetic leather upholstery
Cons:
Needs more padding on massage chair
Assembly is a little tough
Massage too intense for some people
Is A Massage Chair Worth Buying?
They are expensive, but they're worth it if you have the money to spend. Benefits of massage chairs include better mobility, faster recovery of sore muscles, better spinal alignment, and improved blood circulation. It's a great way to unwind and de-stress after a long day.
Conclusion
Shopping for the best massage chair is fun. You'll likely find the best prices online where you can compare many at the same time. But it's a good idea to go try some out at a local retailer so you know what feels best to you. Look at the types of functions you like, the extra features available, what size chair works best, and what zones will suit your needs the best.
Best Massage Chairs
FAQs:
Which Brand Is The Best?
There are some notable brands for making massage chairs. Kyota, Osaki, and Real Relax are all worth looking at.
How Much Does A Good One Cost?
Premium level chairs cost between $3,000 to $5,000, and up. You can find high-quality chairs for $1,000 to $2,000, though.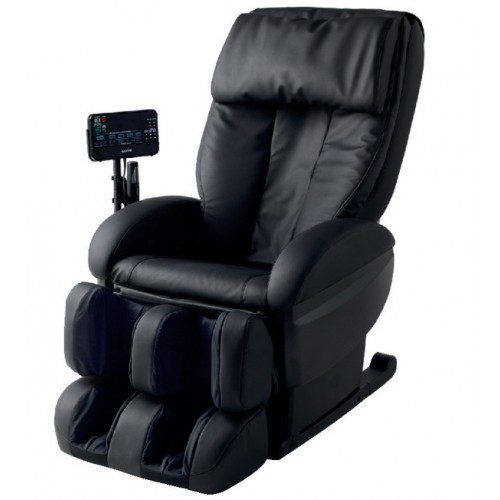 Can It Hurt Your Back While Massaging?
It can if used improperly or in the case of a pre-existing injury like a slipped disc. If you aren't used to massage, it may hurt in the beginning. If you use the chair too much, it can lead to bruising and damage.
Is It Bad To Use  It Too Much?
You can use it too much. Too much use coupled with too high of an intensity level could result in damage to your muscle tissue.
Do Massage Chairs Use A Lot Of Electricity?
They don't use a lot of electricity. They're designed to be energy efficient.
Is It Good For Your Health?
They are when used properly. Do not overuse a massage chair. It's meant for healing and recovery.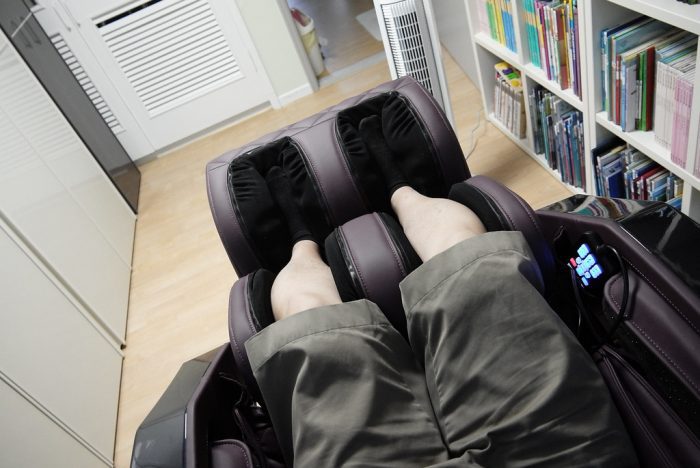 Is It Tax Deductible?
If you buy one because you simply want one, then no. However, if your doctor or another health professional recommends one, it may be tax-deductible with the right documentation from the advisor.
What Is The Best Zero Gravity Massage Chair?
The best overall is the Luraco iRobotics 7 Plus. The most budget-friendly chair is the Kahuna Massage Chair Recliner LM-6800.
Disclaimer: FamilyHype.com (Family Hype & FamilyHype) is a participant in the Amazon Services LLC Associates Program, an affiliate advertising program designed to provide a means for sites to earn advertising fees by advertising and linking to Amazon.com.
Last Updated on May 3, 2022 by Marie Miguel
DISCLAIMER
(IMPORTANT)
: This information (including all text, images, audio, or other formats on FamilyHype.com) is not intended to be a substitute for informed professional advice, diagnosis, endorsement or treatment. You should not take any action or avoid taking action without consulting a qualified professional. Always seek the advice of your physician or other qualified health provider with any questions about medical conditions. Do not disregard professional medical advice or delay seeking advice or treatment because of something you have read here a FamilyHype.com.