Living in an area where there are snowy winters and springs can sometimes be quite a lot of work. You'll find yourself having to shovel your driveway and your sidewalks frequently sometimes. But, you can get a tool that will help make those snow removal days easier. That tool is the snow blower. Snow blowers are built to take the extra labor out of removing snow from around your property.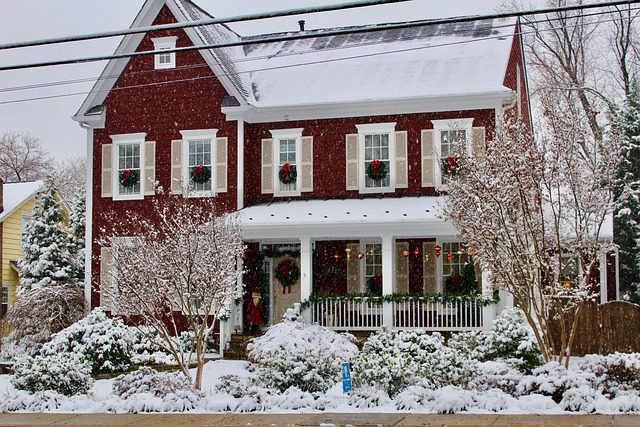 So, how do you go about choosing the best snow blower? There are types of snow blowers—electric, single-stage snow, two-stage snow, three-stage snow, and track drive. Power sources vary, too—corded, battery-powered, and gas snow blowers. You'll need to decide on power steering, auto chute rotation, chute material, headlight integration, and the type of tires. Finally, consider the level of maintenance each requires.
The details of snow blowers and what's important to their operation may not be common knowledge to some of us. So, we're going to start out with looking more in depth at the most important factors of snow blowers you're considering. After that, we'll look at some examples of snow blowers currently for sale in the electric category. 
Getting To Know Snow Blowers—Different Types
We mentioned above five different types of snow blowers. Now let's look at what each of them is good for.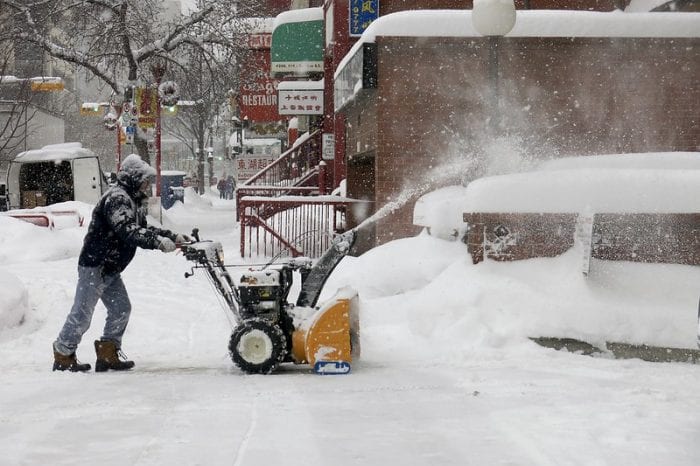 Electric – These are meant for clearing the snow off of small driveways or from the sidewalk in front of your home. They're lightweight and can't handle anything over 12" of snow. There's not a lot of maintenance with these. You will need to get an outdoor extension cord, though.
Single-stage snow blower – You get can these as electric or as gas snow blowers. They're still pretty lightweight and are small compared to other types. They're meant for light to moderate snowfalls. You still wouldn't be able to handle anything more than 12" with this type of machine. 
Two-stage snow blower – This type can handle upwards of 18" of snow. They have the power to remove the deeper, wetter, heavier snowfalls. These also have augers that don't touch the ground so you can use them on gravel or concrete. 
Three-stage snow blower – These are very efficient and pack the most power. There are two metal augers that will rid your driveway of both snow and ice. You'll have your pick of extra features that make this a more high-end choice of snow blower, too. 
Track drive – The track drive snow blower is what you want if you live in a mountain town that's covered in snow all winter long. This is the type that will cut through anything and dig you out of heavy, thick snow. But, you won't need this type unless you have a very steep area to clear or one that is unpaved. 
What's The Right Choice Of Power Source?
You also get your choice of power source. You can go with electric with a cord that will need to be plugged in. There's also electric that is battery operated so you can go cordless, but then have to charge it in between uses. And finally, you can go with a gas snow blower. 
The electric snow blowers aren't as powerful and can't handle more than a foot of snow. They're really for areas that are not prone to heavy snows. They're also not ideal for large areas because of the cord. The great thing about them is they're lightweight so easy to maneuver, they don't cost as much as other types, and there's virtually no maintenance.
The cordless snow blowers, much like the traditional corded electric ones, aren't meant for heavy snows, either. These are great because you don't have to work around a cord while you're clearing the snow. The downside is, the battery can die on you right in the middle of your snow removal session. Then, you end up having to wait for the battery to charge or get the snow shovel out.
Gas snow blowers are the ones that you can get for heavy deep snow. They pack the most power to handle the toughest jobs. They don't require a cord or charging. However, they do require gas fill ups, oil changes, and a lot more maintenance than their electric powered counterparts.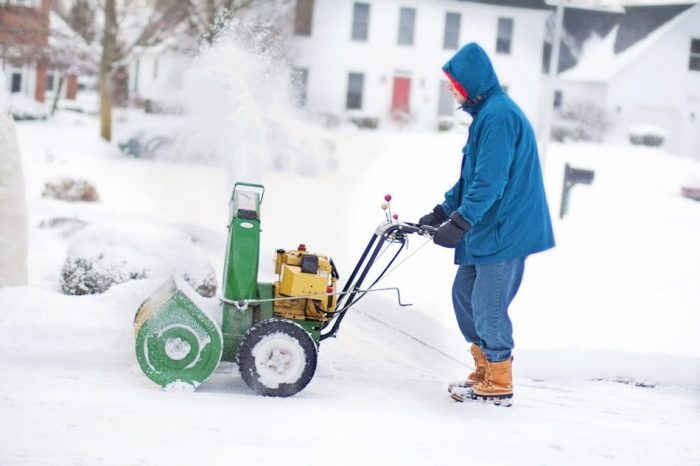 Those Other Features
Most consumer products have those other features that make them more attractive than the competition. Choosing a snow blower is no different. Here are some of the extra features you can find that will make your choice for the best snow blower a little more difficult.
Power steering – This is something you're going to want if you are going with one of the more heavy duty stage snow blowers. No matter what type of machine you go with, you'll need to be turning it back and forth. That means a heavy gas snow blower will require a lot of work to turn unless you go with power steering.
Auto chute rotation – The snow you're clearing has to go somewhere, right? Typically, when you're going down a driveway, you want the snow to all go to one side. In those cases, you'll need to turn the chute for blowing the snow out every time you turn around. If you don't go with auto chute rotation that can be turned with a button push or something similar, you'll have to stop your session and turn a crank to switch it.
Plastic chute – This might seem weird, but the best snow blowers will have a plastic chute, not one made of metal. Metal chutes don't take the wear and tear very long. Eventually they start to rust and then snow gets stuck inside clogging up the chute. The plastic chutes are made to be slippery enough that the snow just slides right through easily.
Headlights – This isn't a necessary feature but it can help when you're having to get out and do the driveway in the early morning hours before the day breaks. It can help you to see the path in front of you.
Tires – Try to go with airless tires. The best snow blowers won't have air-filled tires because they are in need of maintenance much of the time. You won't have to worry about a flat with airless tires. 
Now, let's look at some snow blowers!
Best Snow Blower Options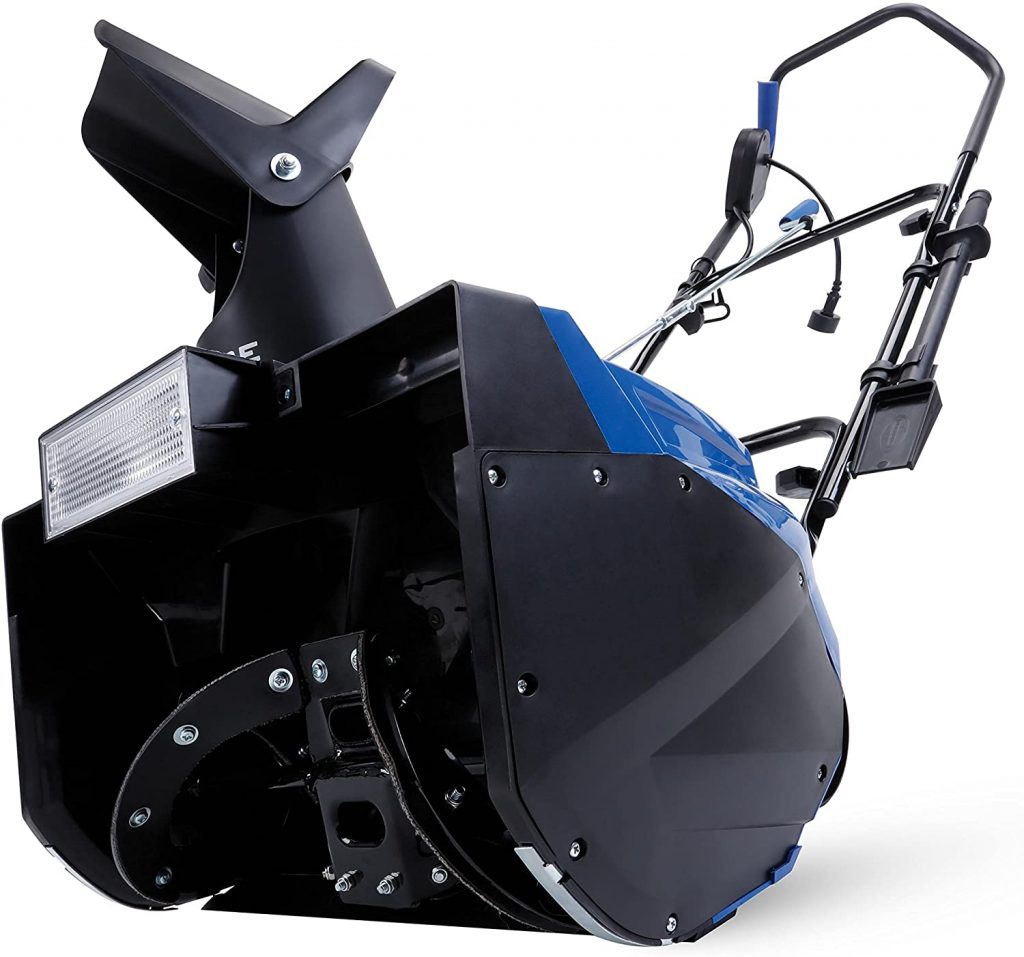 This is a single-stage snow blower that is electric. It has a 15 amp motor that is capable of moving up to 720 lbs. of snow in a minute. The steel auger is 18 inches wide so you shouldn't have any issue with clearing a mid-size to large driveway. There are headlights on the front to make things easier to see. You can change the direction of the chute by 180°. The machine comes with a chute cleaner tool, as well, so you don't have to worry about it ever getting clogged. 
Pros:
Lightweight single-stage snow blower
Low maintenance
Max. throw distance of 25 feet
Halogen light for clearing in the dark
Instant start button
Powerful motor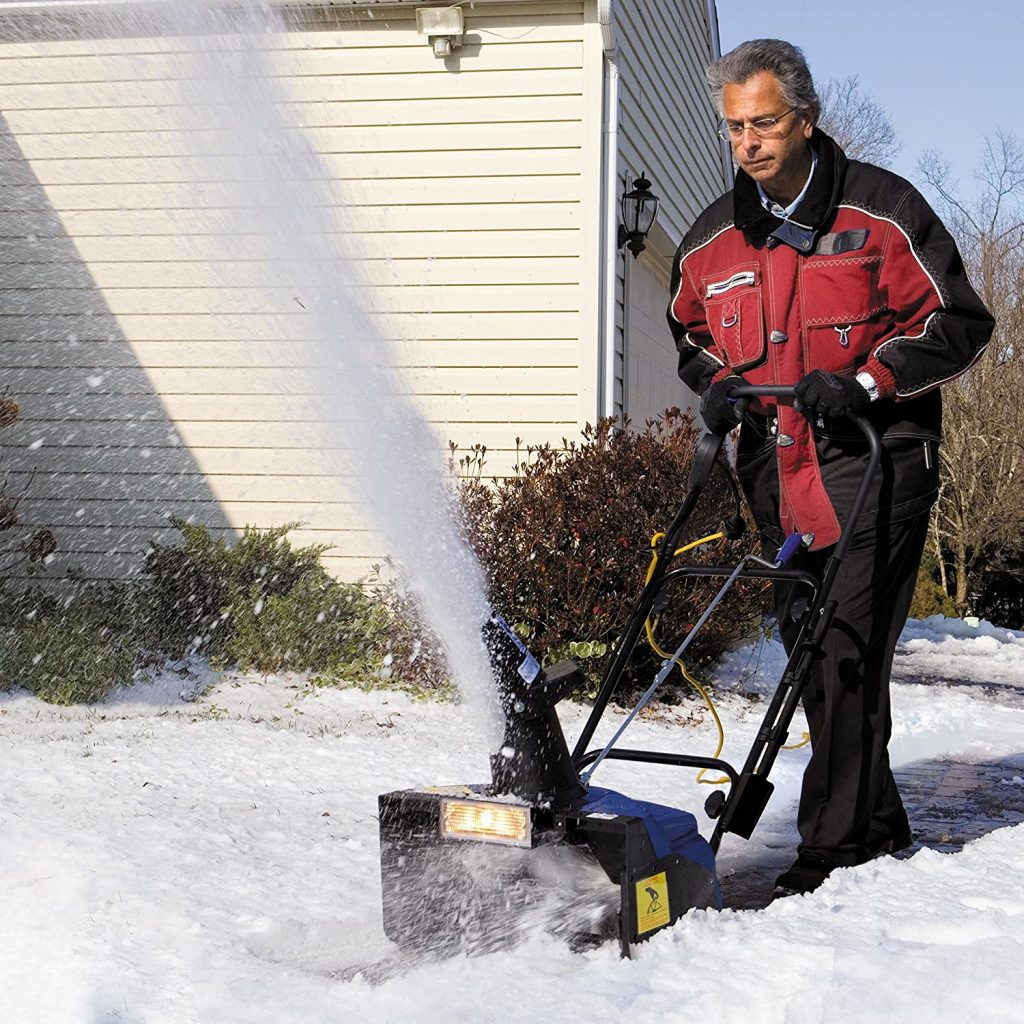 Cons:
Corded
Have to push with force to get snow to blow far if wet
Wheels are small and get stuck on concrete joints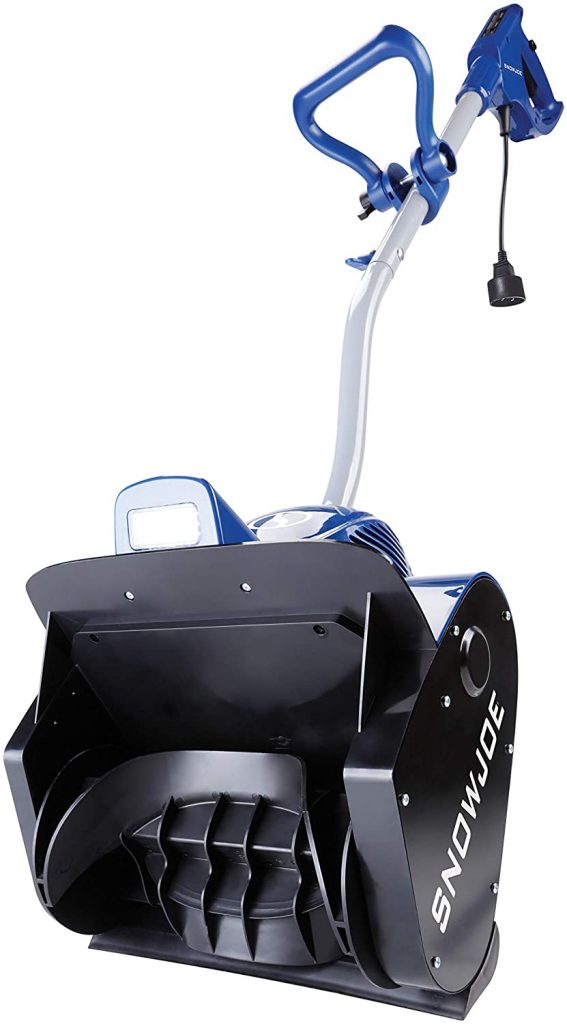 This isn't a traditional snow blower. This is a good companion to whatever snow blower you end up choosing. The Snow Joe Electric Snow Shovel can be used for everything beyond your driveway that you wouldn't typically use your snow blower for. You can use this shovel to clear your steps, patios, decks, and some sidewalks. It has a paddle auger with two blades. They're 11 inches wide and 6 inches deep. You can adjust the handle to whatever is best for the user. You can also use this in the dark because it has an LED headlight integrated into the design.
Pros:
Ideal for the lightweight jobs
Still blows snow 
Powerful 10 amp motor
LED headlights for better viewing
Instant start push button
Adjustable ergonomic handle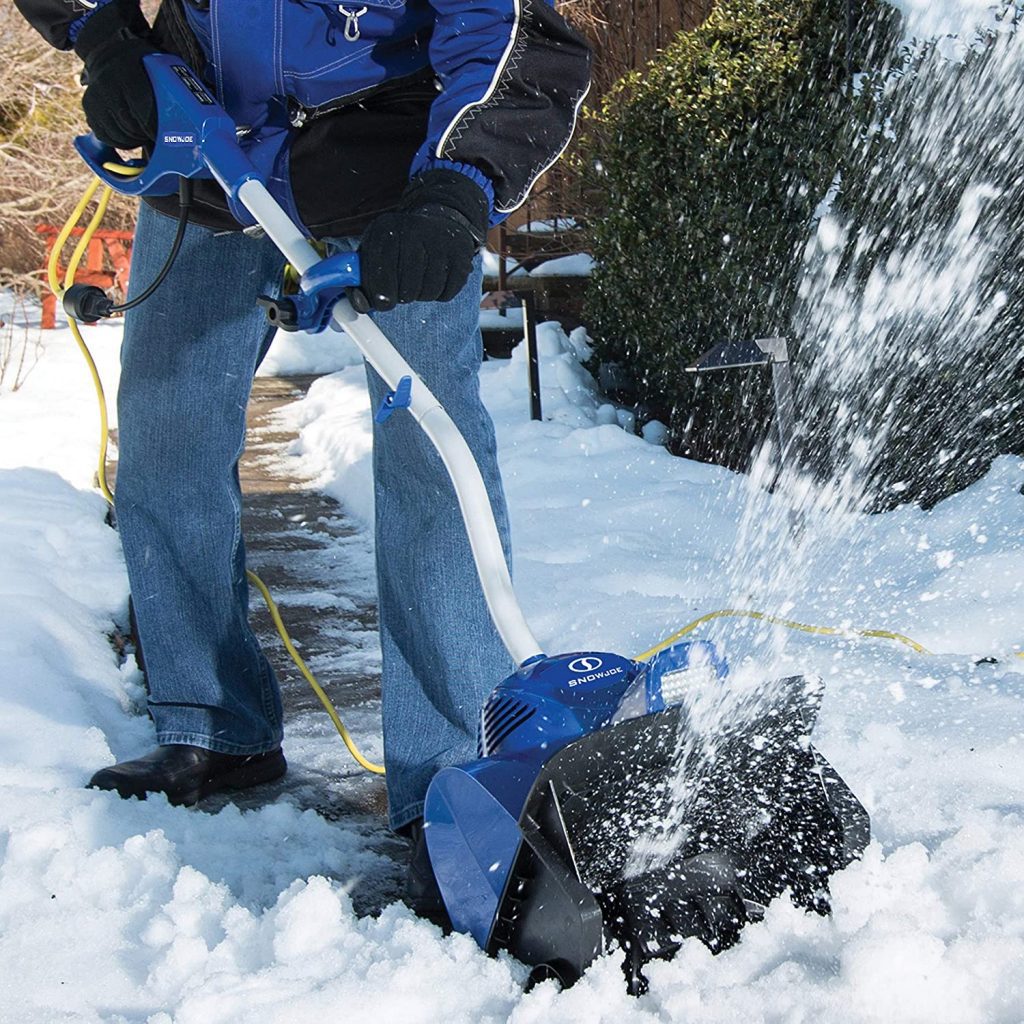 Cons:
Still requires some grunt work
Snow only shoots forward
Blades are not metal
This is great for anyone who is on a tight budget and who doesn't need something to take care of heavy snow. You can use this on a small driveway, sidewalks, and your porches and decks. It's 12 inches wide, only weighs 13 lbs., and comes in at less than $200. It's pretty small, but it can move your snow up to 15 feet off the area you're trying to clear. It's a cordless snow shovel that works off a battery. This particular snow shovel option doesn't come with the battery, so make sure you purchase that, as well.
Pros:
Lightweight and easy to carry
Very affordable
Cordless operation
Easy to store
Can move up to about a foot deep of snow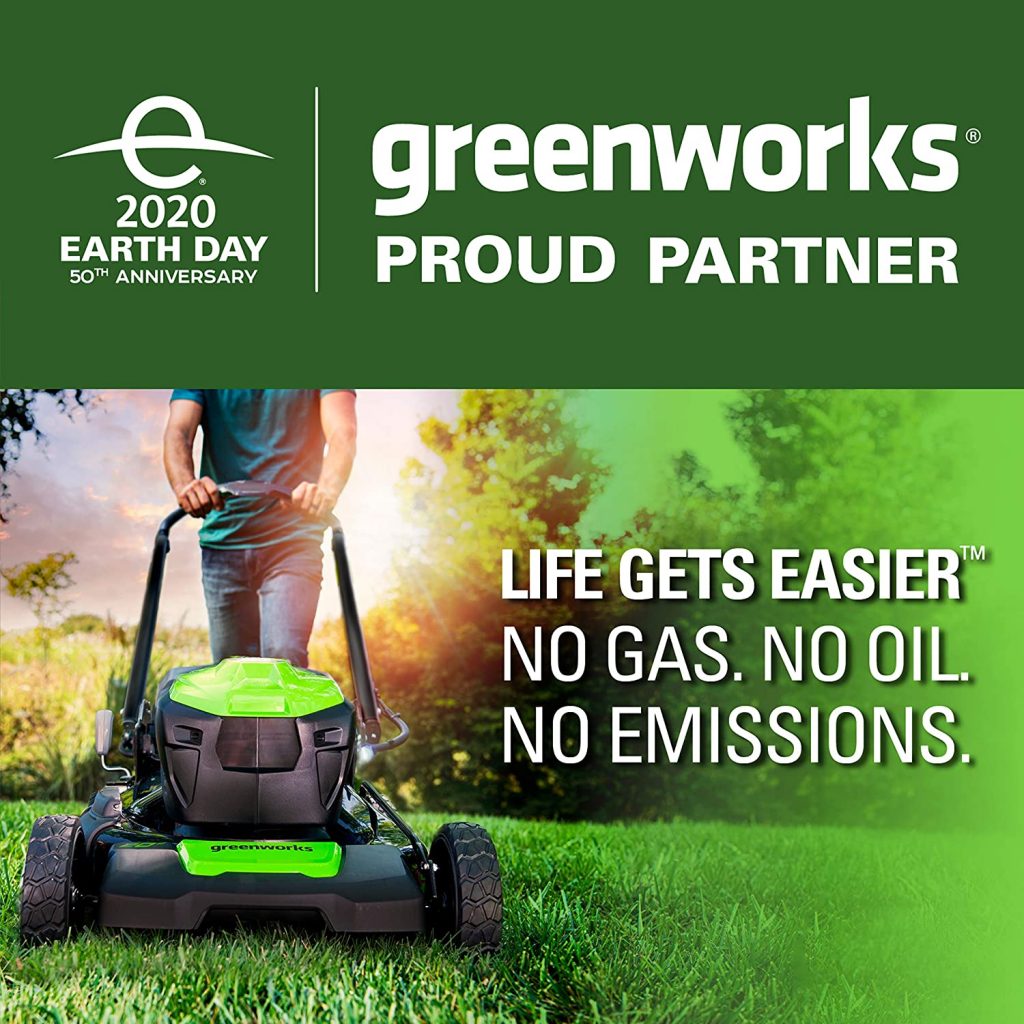 Cons:
Can't direct snow
Not for dense or icy snow
No battery included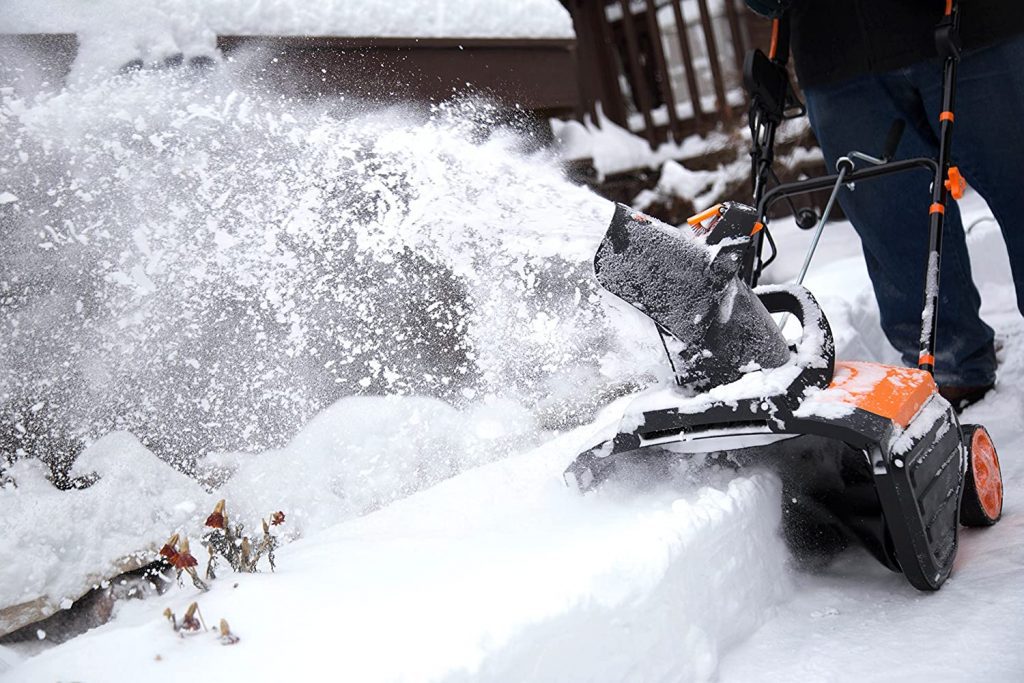 This WEN Blaster has a powerful motor that can move up to 490 lbs. of snow in a minute. The machine only weighs 32 lbs. and has 6 inch airless wheels that make it easy to maneuver. The chute can be adjusted around 180° so you can blow the snow in the direction you need to. The snow blower is 18 inches wide and can remove snow that's around 8 inches deep. Startup is easy with the power bar much like what you'll find on a lawn mower. There's even a carrying handle on the body of the blower to help you move it for storage with ease.
Pros:
Very affordable
Long throwing distance
Easy to store
Doesn't overheat, even with long usage
Fairly quiet operation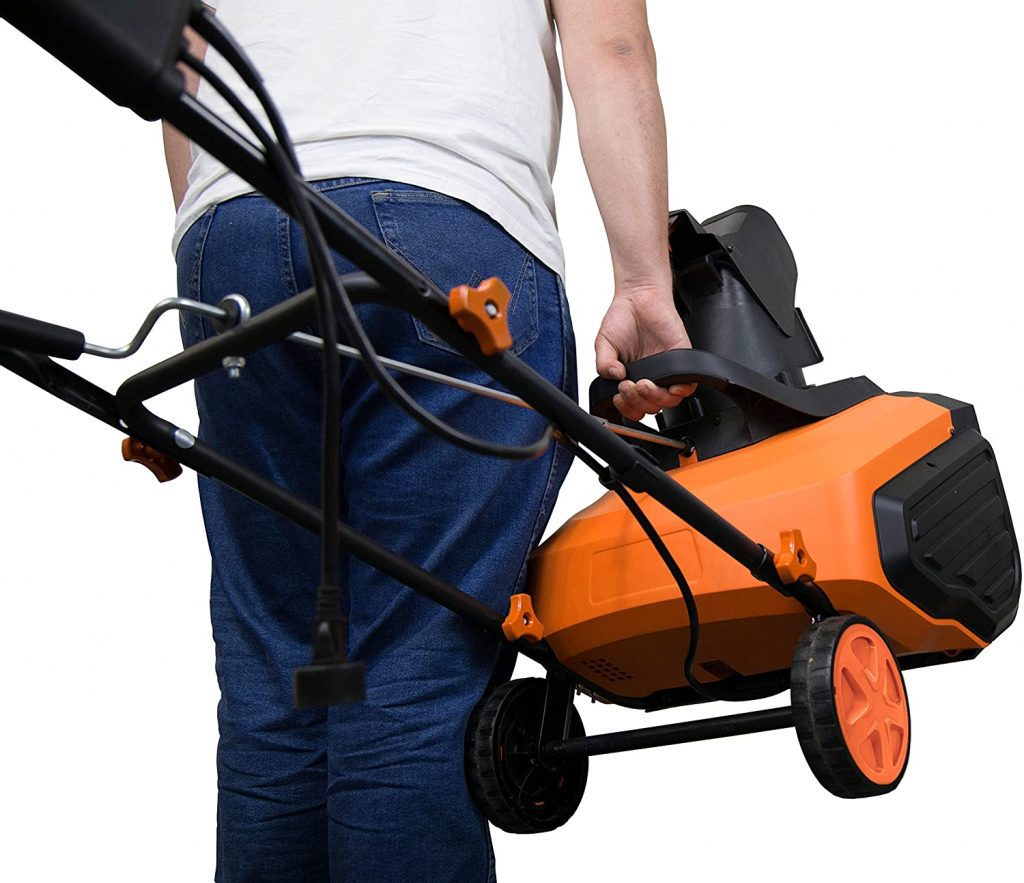 Cons:
Mostly plastic build
Not good with wet snow
Not self propelled
Conclusion—What's the Best Snow Blower on the Market?
Snow removal is a lot of work. You can get the best snow blower out there to help take some of the work off of you and your back. The best snow blower doesn't have to be the most expensive. It also doesn't have to be the biggest gas snow blower you can find. You can find a perfectly good electric snow blower at a bargain price that will work just great for you if you live in a place where most of your snows are a foot or less. Decide what type you'll need, whether you want an electric or gas snow blower, if you want some of the extras that make things even easier, and how much money you want to spend. Your back, neck, arms, and shoulders will all thank you for making that choice.
FAQs:
What is the best 2-stage snow blower?
The Aries Deluxe 28 SHO (28") 306cc Two-Stage Snow Blower is the best on the market, but will cost you more than $1,000.
Which snow blower throws snow the farthest?
The Ariens ST28DLE Deluxe SHO28 In. 2-Stage Gas Snow Blower with Electric Start can shoot snow the farthest at up to 55+ feet even when it's wet and heavy.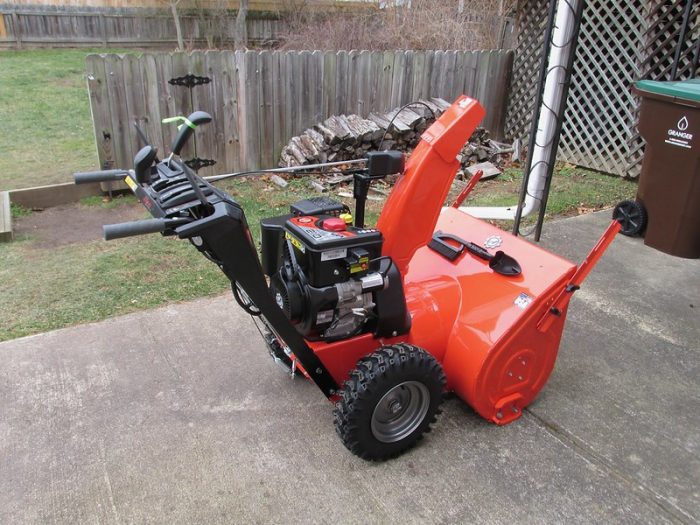 What is the difference between 1 stage and 2 stage snow blower?
You can get a 1 stage blower in electric or as a gas snow blower. 2 stage models come in gas snow blower options. The 2 stage models can handle more snow than the 1 stage. This is because a 1 stage blower has an auger that both sucks up the snow and blows it out. The 2 stage models have an auger than only sucks up the snow. Then, the impeller sprays it out.
What is the best month to buy a snowblower?
You want to buy yours early. If you wait too long, they'll all be gone. It's best to buy in August or September.
What is a snowblower sexually?
This has to do with a psychoactive drug with a stimulant in it that is in a powder form. The powder form is put on the body somewhere for someone to inhale off.
Are 3 stage snow blowers worth it?
They aren't worth it for everyone. They're able to clear larger areas more quickly. They can handle thicker, wetter, deeper snow, too. If you live where you have a lot of heavy, wet snow frequently, then yes 3 stage snow blowers are worth it.
Are Honda snow blowers the best?
Honda is certainly one of the best, along with Ariens and Cub Cadet.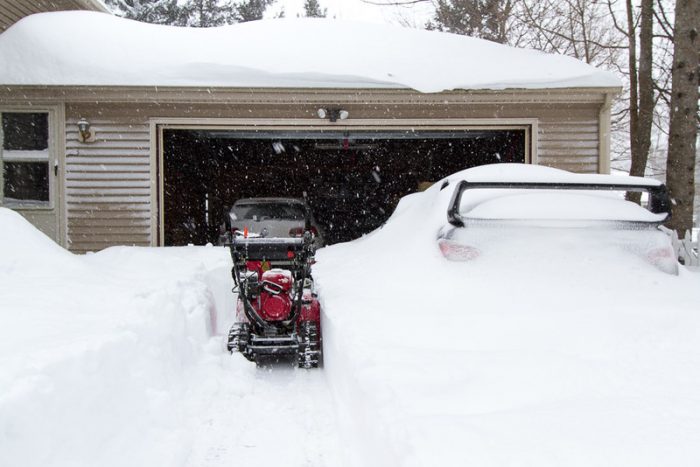 Which snowblower is better, Ariens or Cub Cadet?
Generally, consumers tend to lean toward Ariens for the build quality, the customer service, and the reliability of their machines.
Who makes snow blowers for John Deere?
Briggs & Stratton makes the snow blowers sold by John Deere.
Disclaimer: FamilyHype.com (Family Hype & FamilyHype) is a participant in the Amazon Services LLC Associates Program, an affiliate advertising program designed to provide a means for sites to earn advertising fees by advertising and linking to Amazon.com.
Last Updated on May 28, 2021 by Marie Miguel
DISCLAIMER
(IMPORTANT)
: This information (including all text, images, audio, or other formats on FamilyHype.com) is not intended to be a substitute for informed professional advice, diagnosis, endorsement or treatment. You should not take any action or avoid taking action without consulting a qualified professional. Always seek the advice of your physician or other qualified health provider with any questions about medical conditions. Do not disregard professional medical advice or delay seeking advice or treatment because of something you have read here a FamilyHype.com.