More and more people are installing dash cams in their vehicles now. There are so many vehicles on the road now so accidents happen all the time. Not only that, but with so much social unrest in the world, you just never know when a dash cam could help with accountability at some point in your life. You don't want to be blamed for something you didn't cause. Dash cams can provide proof of what really happened so the right person is held responsible.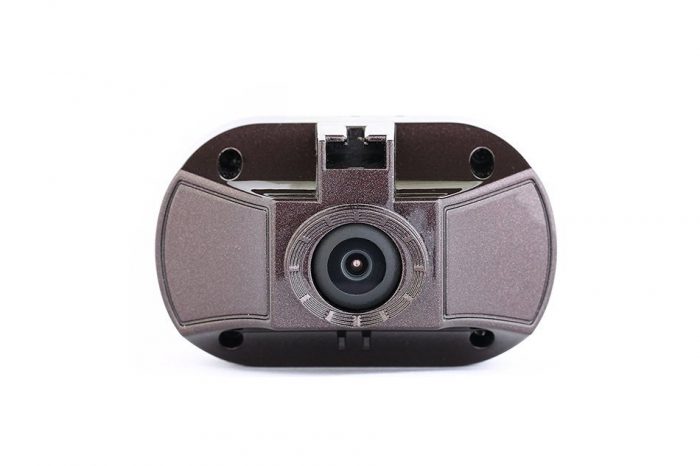 How do you choose the best dash cam, though? Start with your budget so you know how much you can spend. Then, decide whether you want a dash cam that includes a screen right on the device or one that pairs with your phone for video playback. Look for dash cams with GPS navigation functionality if you want it to pull double duty. Finally, decide on all the features, such as the field of view, driver assist notifications, WiFi connectivity, and apps. You can even get a rear facing camera, as well.
It's best if we look at some of the details of dash cams before we see what's available. That way, you'll be able to better understand the important features of each dash cam we look at.
How Much Should I Spend On A Dash Cam?
You don't have to spend a lot of money to get a decent dash cam. Much like other consumer products, the more functionality and features it has, the more you're going to pay, generally. 
Most dash cams are less than $100. If you want one that doubles as a GPS, like a Garmin Dash Cam, you'll pay for that. If you get one that has unique features, such as recording inside the vehicle, as well as outside, you'll pay more for that, too. 
For the most part, you'll get higher video quality from a pricier dash cam and have more options for settings or functions. At the high end of things, though, you shouldn't pay more than a few hundred bucks.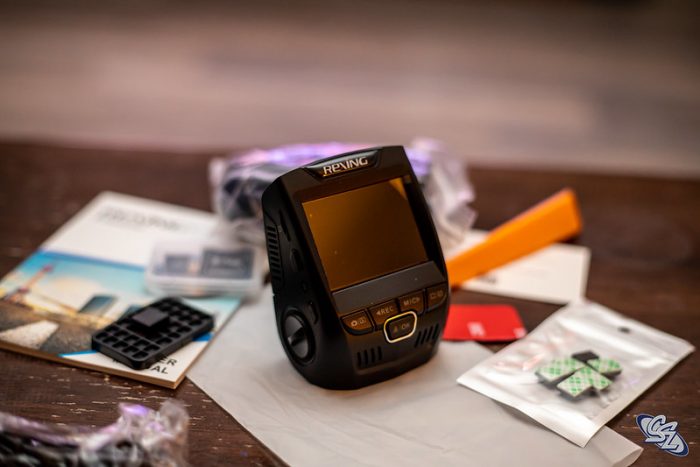 What Should I Look for When Buying A Dash Cam?
One thing to look for is the resolution of the video. You probably don't want to get anything less than 1080p. If your video isn't clear enough to see what's happening, then there isn't really any point in having a dash cam. 
That being said, the amount of storage you have for your videos will be affected by the resolution level. The higher the resolution is, the more storage space it will take up. You should get a large memory card to use with your dash cam and move videos to a computer regularly.
There are settings on most dash cams for triggering the record function any time you start the car. If there's no room to store a new recording, dash cams will simply overwrite what's already on there. This is why it's important for you to be moving videos over to your computer regularly.
Some dash cams have a snapshot camera built-in, too. If you see something you want to take an image of, you can do that. Typically, these aren't high quality images, but it's still a good option to have.
You can get dash cams that double as GPS navigation systems. These are most certainly going to cost you more than just a camera. For instance, the Garmin dash cam—Garmin DriveAssist™ 51 LMT-S—is a few hundred dollars. You get two systems in one, though, so a lot of value for your money. Note that not every Garmin dash cam includes a GPS navigation system.
You'll have the option of getting a dash cam with a screen of its own or just viewing videos on your phone. If you're going to be using your phone, you'll have a companion app to download where you'll be able to see the recordings. Many people prefer the dash cams without screens because they're not as big and distracting. However, others like the deterrent effect a large dash cam with a screen can have.
Driver Assists are those things like impact potential alerts and lane departure alarms. You can get those as part of your dash cam system. You'll have an app to set everything up through. These dash cams will also come with WiFi connectivity. When there's WiFi connectivity and Bluetooth, you can sometimes take and make calls through your dash cam.
So, now let's look at some good dash cams that are on the market right now. You know what to look for, so it should help you make a choice on one of these or decide to shop for another option.
Best Dash Cam Options
APEMAN Dash Cam 1080p FHD DVR Car Driving Recorder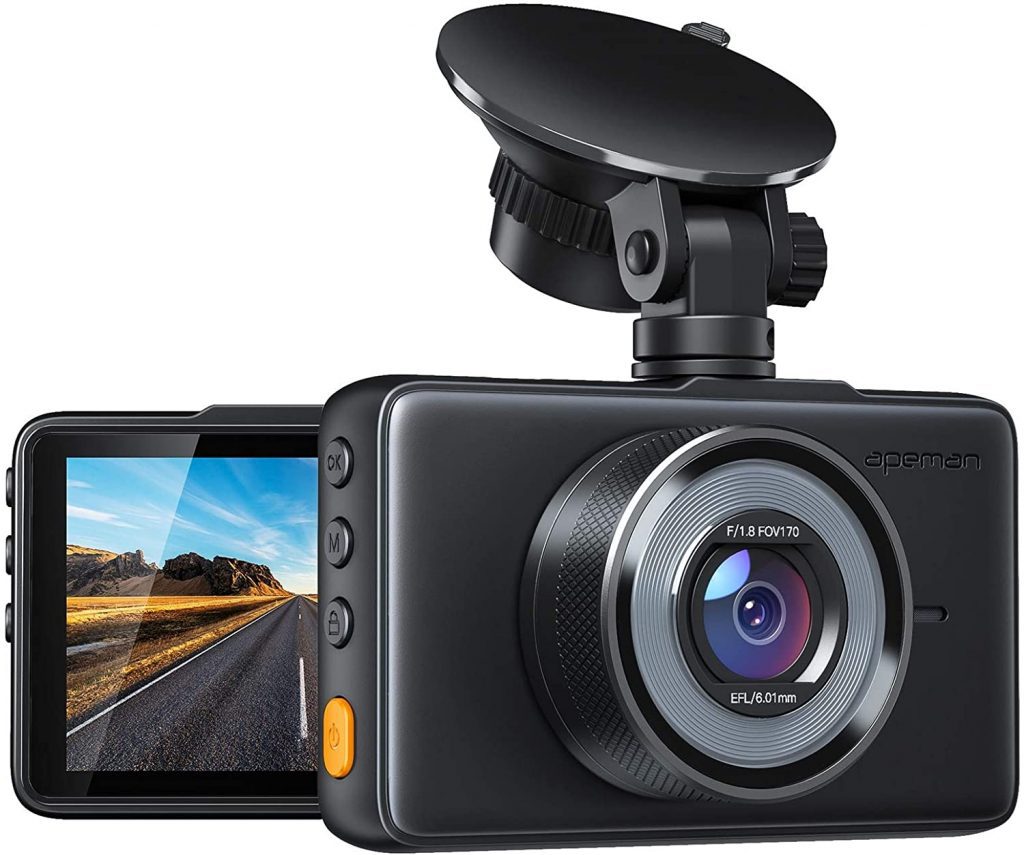 APEMAN is one of the big names in the industry. This dash cam has a 3" LCD screen integrated into it. You get a field of view that's 170° wide angle. There's a G-Sensor that triggers recording whenever the car turns on. You also get a parking monitor that works along with a motion detection sensor. The camera has a large aperture so it's good for use at night, too. One really awesome feature of this that makes it a best dash cam option is it is equipped with Emergency Accident Lock. That is a feature that prevents the camera from overwriting your most important video clips.
Pros:
Sells for less than $50 on Amazon
Has WDR, wide dynamic range, so you can see the whole scene
Excellent night vision
24 hour parking monitor
Easy to install
High quality video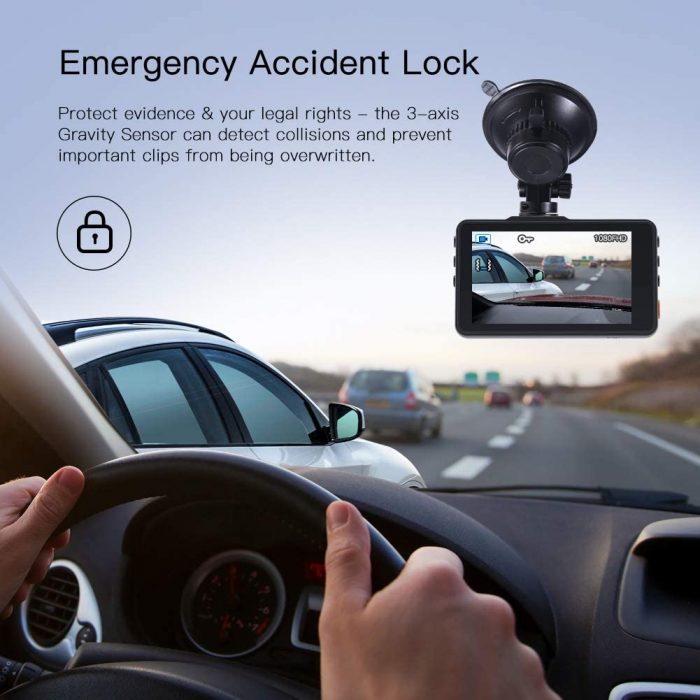 Cons:
Confusing to navigate menus
Intermittent beeping at night
Burns through storage space quickly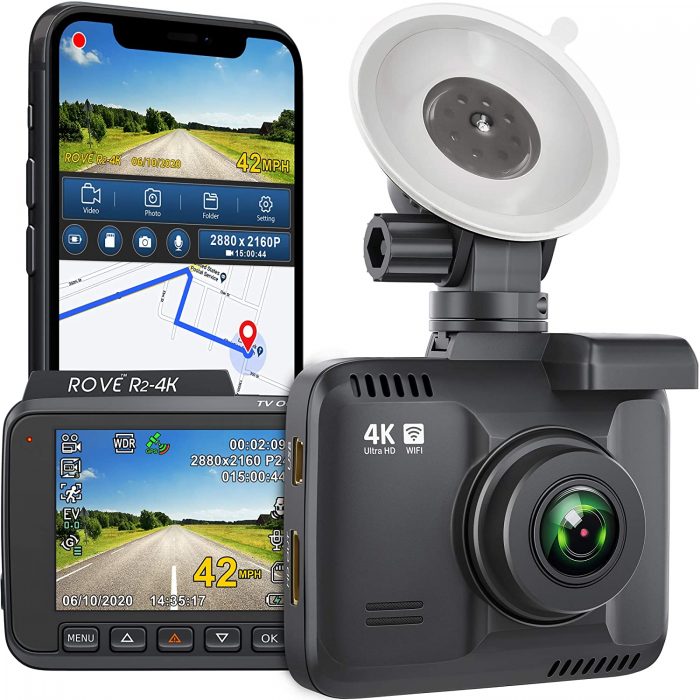 The Rove R2 gives you incredible video quality in 4K. It's WiFi enabled and includes GPS. It has a 2.4" integrated screen for you to view your recordings right on the device. The FOV is 150° and it has WDR so you can view the entire scene. It works at night, too, because of a wide aperture. The software was designed with the everyday user in mind, so it's easy to navigate menus and choose settings. You can get this for both GPS and dash cam functionality.
Pros:
4K dash cam has very clear video quality
User friendly operation
Dual functionality
Good night vision
Parking mode monitoring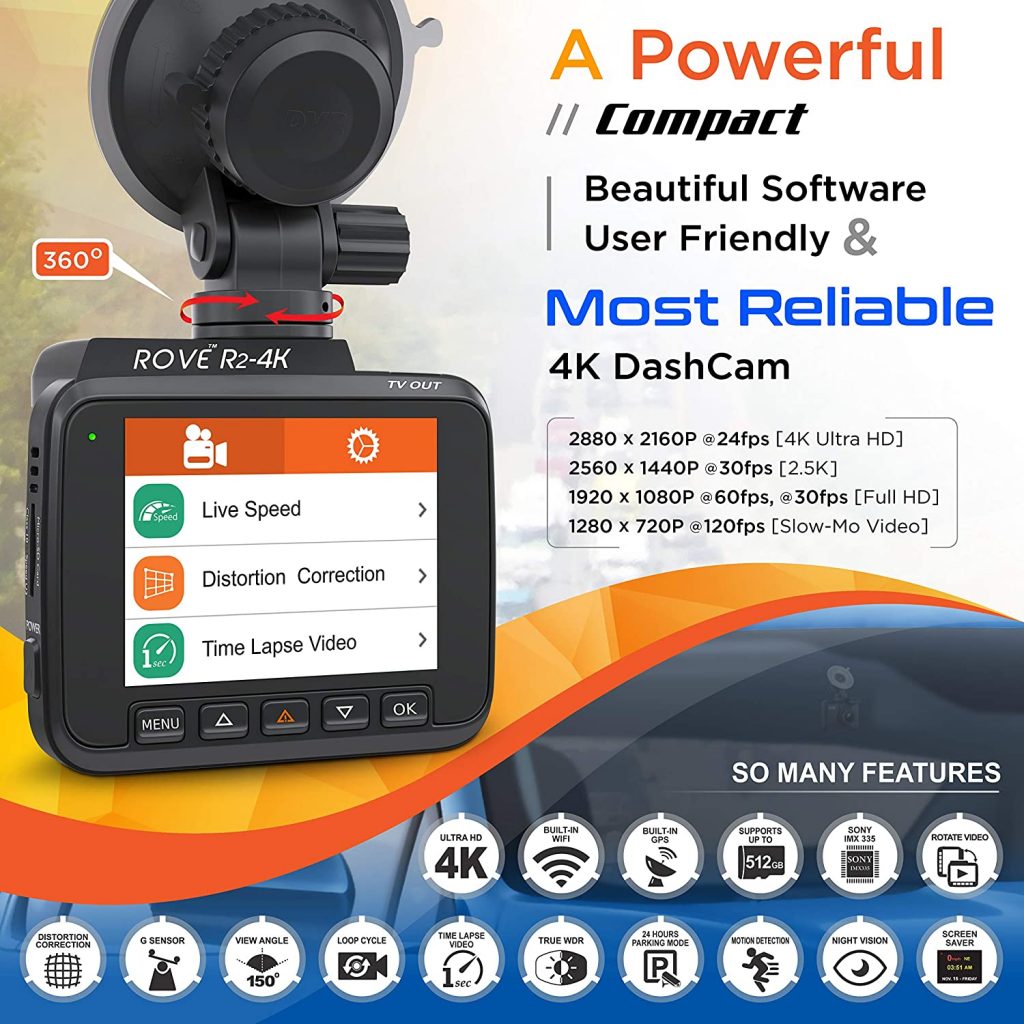 Cons:
Needs a lot of storage space for 4K video
No SD card included, but is a requirement
Motion detection only works with hardwire kit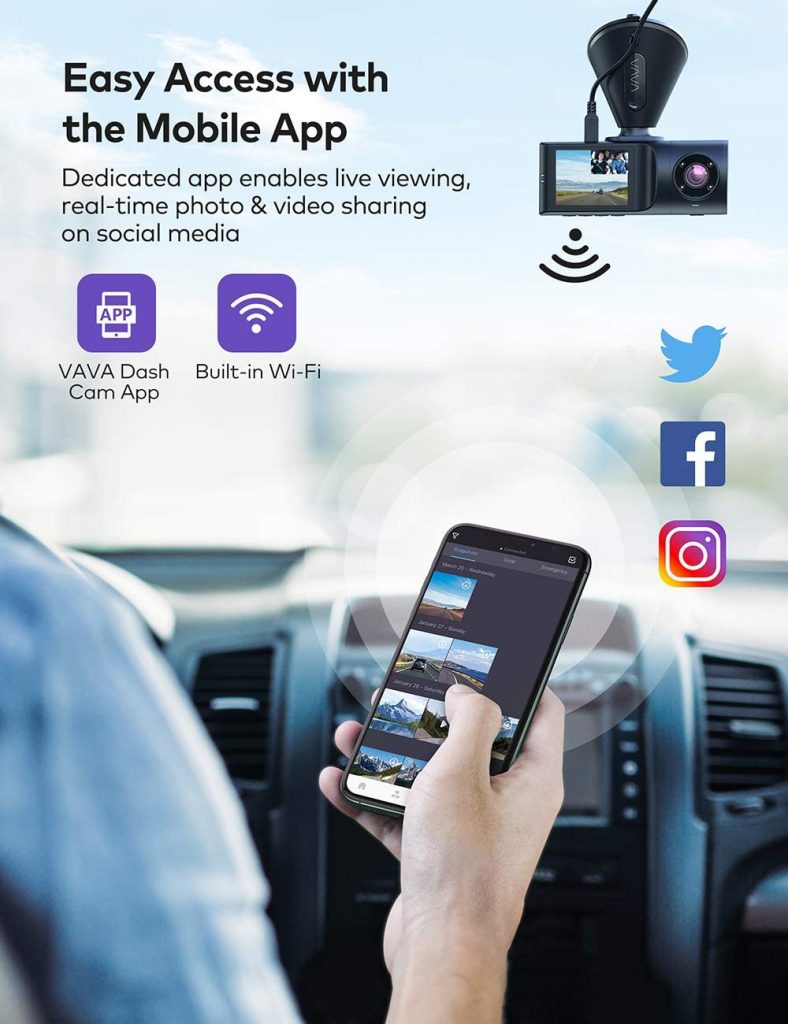 This is an ideal camera set for ride share drivers. You get the dash cam and a cabin camera. That means you can record what's happening outside and inside your car. They both include a Sony Sensor for triggering to record. You'll have infrared night vision and be able to control and view everything from an app. You'll have parking protection with motion detection sensors and there is GPS functioning built in. If there is an incident with your car, the camera will automatically record and lock the video so it doesn't get overwritten.
Pros:
Gives all over protection
2" LCD screen on dash cam for viewing
High quality video
Excellent night vision
Triple functionality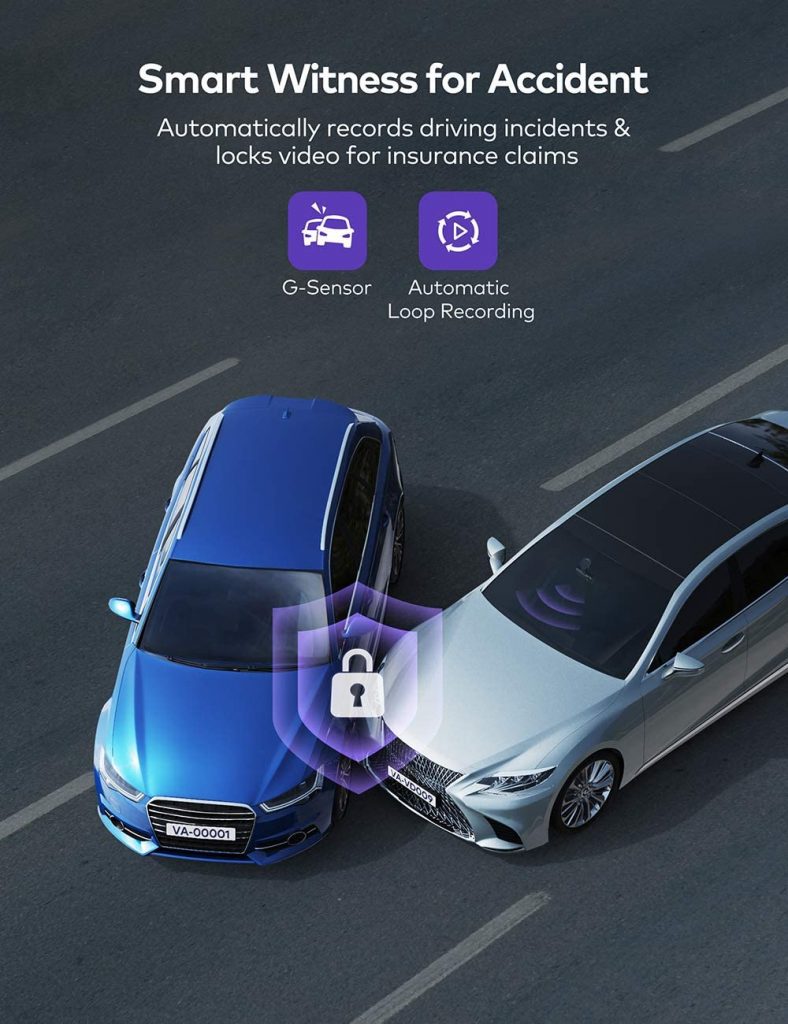 Cons:
Not enough instructions for use
Lag time on motion detection of park mode
Storage fills up fast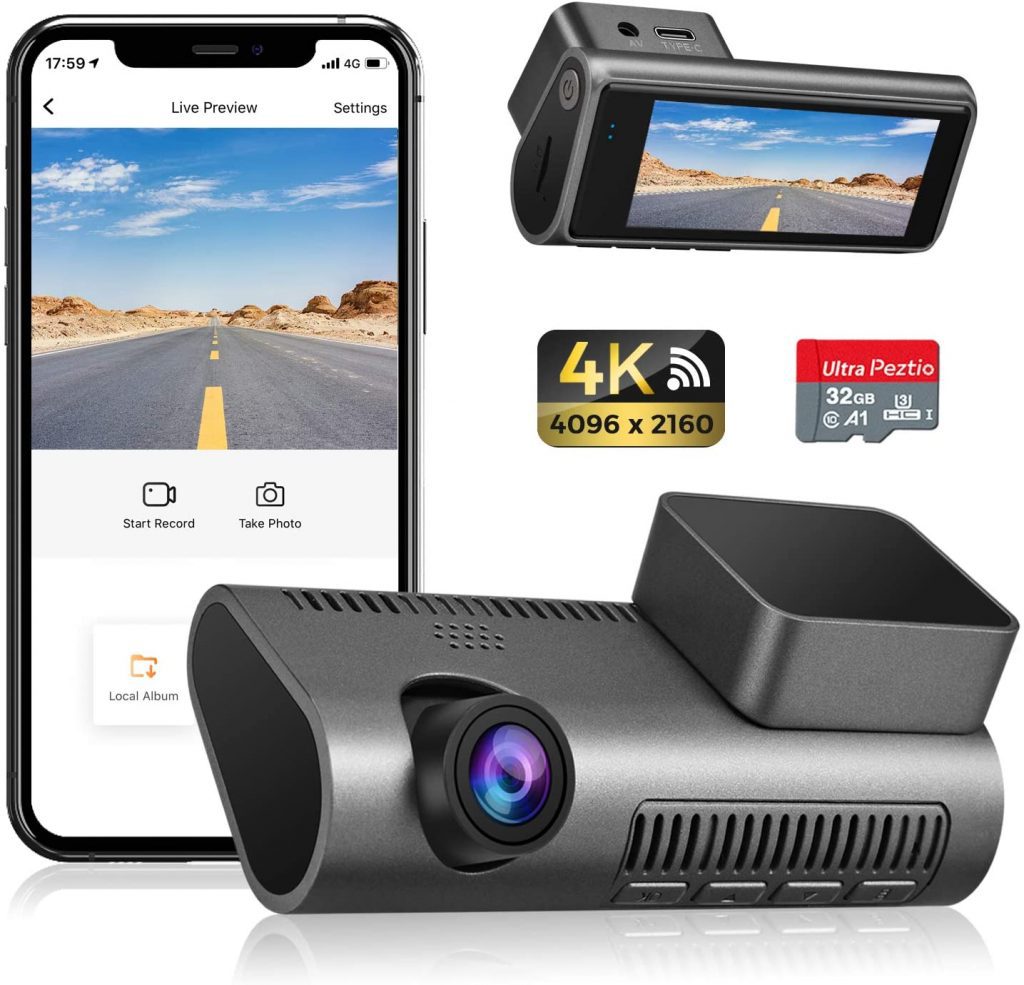 This one has a super wide angle at 170° FOV. It records very clear video so you can see the events as they were. Your SD card is included, which with many of these, it isn't. You'll have 24 hour parking monitor with motion detection. And the night vision gives you clear video, as well. There is a companion app where you can view all of your recordings, but the dash cam also has a screen. This is one of the best dash cam options for staying discreet. It mounts to your dashboard and will blend in with many dash colors.
Pros:
Auto-lock on important recordings of collisions
Inexpensive
High quality 4K video
Included SD card
Large field of view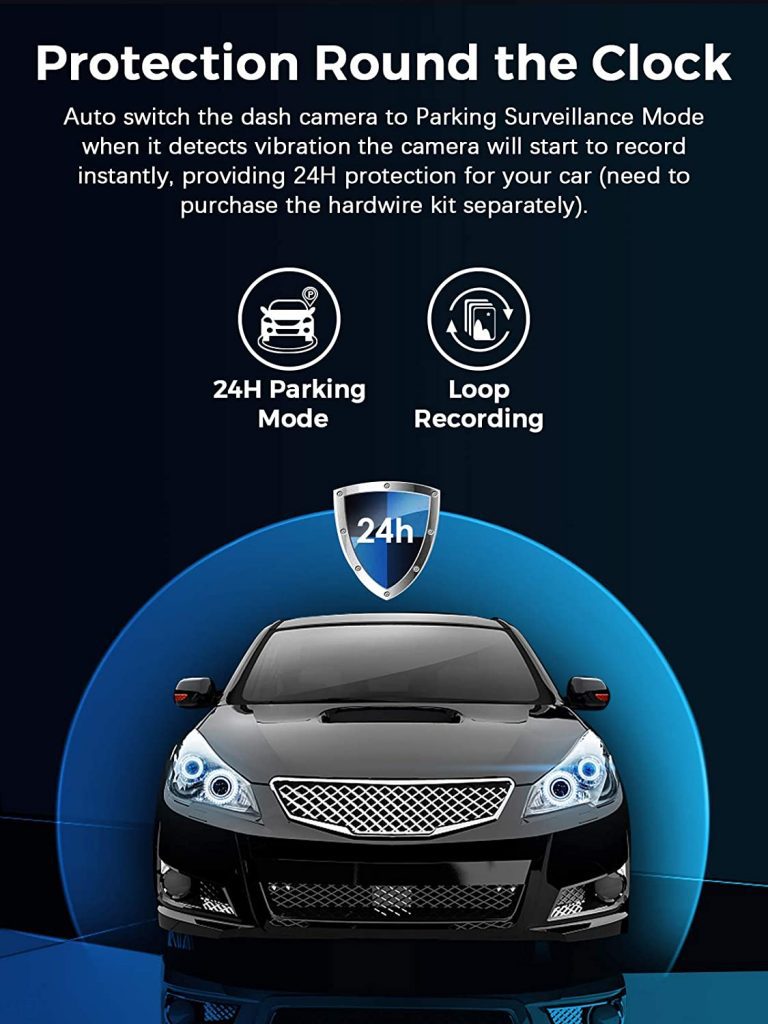 Cons:
Installation is a little difficult
Button operations are confusing
May be glitchy with iOS users
Final Thoughts
Dash cams can save you a lot of frustration in some instances. Sometimes, it comes down to your word against someone else's. A dash cam can help by backing up your word and showing proof of what actually happened. What's more is, you can protect yourself all the way around with a dash cam, a cabin camera, and a rear camera. Choose a dash cam that has good resolution, is easy to install, has any other functions you want, such as GPS and WiFi, and make sure that the price falls within your budget. 
FAQs:
Which dash cam is the best?
No surprise that it's the Garmin Dash Cam 66W. It has one of the widest view angles of any camera on the market.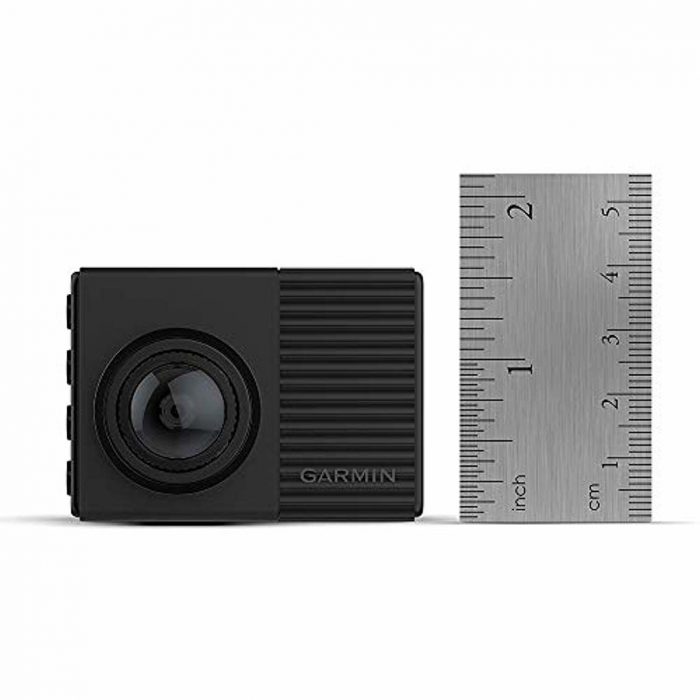 What is the best affordable dash cam?
The best affordable one goes to APEMAN Dash Cam. You can this for under $40!
Are dash cams worth it?
Dash cams can be very worth it. You can capture video of incidents and accidents that you may be blamed for when you weren't the party that caused them. Dash cams can save you money and headaches.
Are cheap dash cameras any good?
Yes. There are some very good cheap dash cameras. Just make sure you don't get one with less than 1080p resolution video.
What is the easiest dash cam to use?
It's been found based on reviews that the easiest to use is the Nextbase 522GW. 
Will dash cam kill battery?
The dash cam will only use a small amount of power to run the parking mode, so no it will not kill your battery.
Should I get front and rear dash cam?
It's not a bad idea to get both if you can. There are some affordable dual camera packages that give you that all around protection.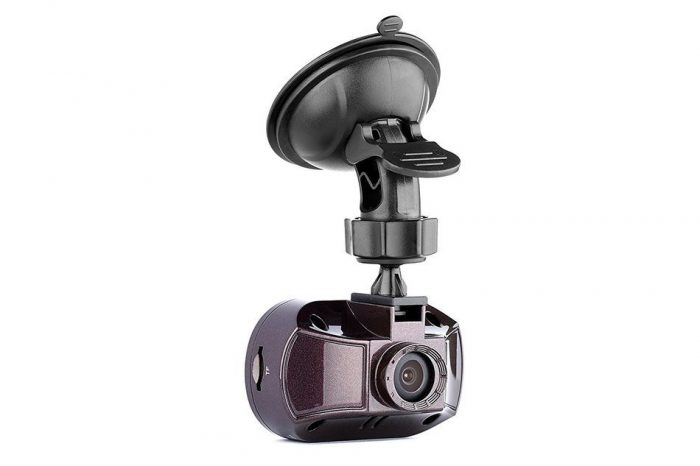 Do people steal dash cams?
People steal everything. A dash cam usually has a parking mode, though, that is backed up to a device or the internet so many would-be thieves will just move on.
Disclaimer: FamilyHype.com (Family Hype & FamilyHype) is a participant in the Amazon Services LLC Associates Program, an affiliate advertising program designed to provide a means for sites to earn advertising fees by advertising and linking to Amazon.com.
DISCLAIMER
(IMPORTANT)
: This information (including all text, images, audio, or other formats on FamilyHype.com) is not intended to be a substitute for informed professional advice, diagnosis, endorsement or treatment. You should not take any action or avoid taking action without consulting a qualified professional. Always seek the advice of your physician or other qualified health provider with any questions about medical conditions. Do not disregard professional medical advice or delay seeking advice or treatment because of something you have read here a FamilyHype.com.