GPS watches are devices for many types of people. It's ideal for exercising, monitoring health, sleep tracking, staying connected, and so much more. There are several choices available in the market, so knowing which collection is entirely essential.
But before choosing the best GPS watches, take into account the user's preference and needs. What are you going to use it for? You also have to set a budget for your purchase. Prepare a checklist of the specifications and features that you are looking for. Check out how easy it is to use, how it fits you, and the activity you want to do. And of course, don't forget about the key feature: the best GPS watch modes. Read on reviews and research about its accuracy and latency, if there's any, so you can maximize your experience.
Let's start by looking at some of the options of the GPS watches on Amazon. Think about what features are important for your needs while you read through them. Then, we'll pick up with a closer look at what these items have to offer. Read on for all you need to know about how to choose the most suitable one.
Best GPS Watch Options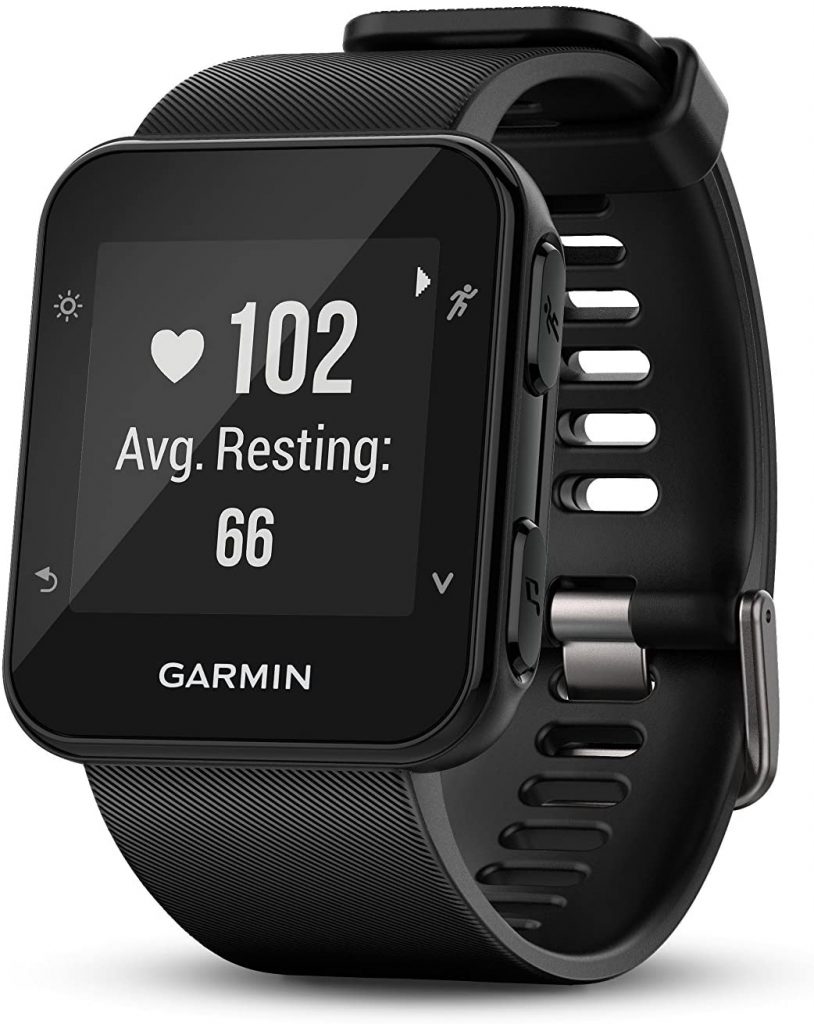 The Garmin Forerunner 35 is one of the reliable ones so far for several reasons. It's affordably priced. It's easy to use. It has a feature that allows for estimating your heart rate through your wrist. You get live tracking for your runs and walks. You can also control your music as well. Garmin has an online fitness community called Garmin Connect where your info collects. You can view your stats, share your progress, and get tips for a healthy lifestyle.
Pros:
Budget-friendly
Movement reminders
Keep tabs on your heart rate
Automatic uploading of info to Garmin Connect
Only needs charging about once a week
Cons:
No color display
Cannot download any custom workouts to the watch
No Wi-Fi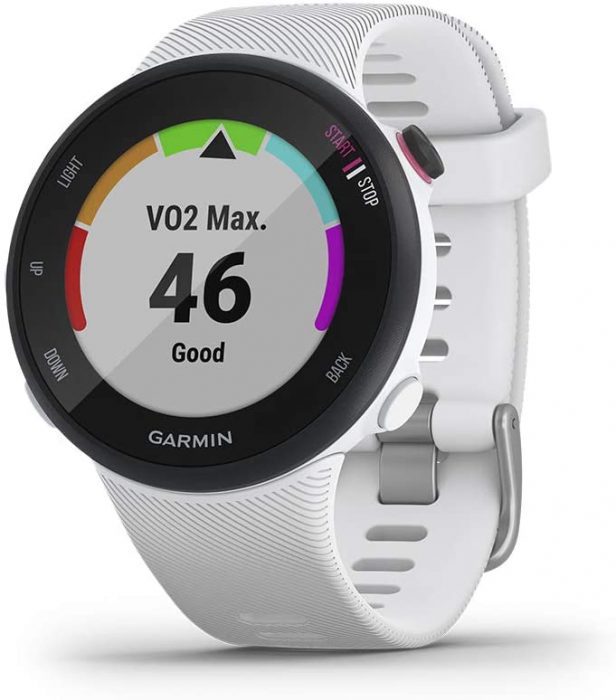 This watch gives you free coaching for your workouts. It also has an incident detection feature that alerts your emergency contacts and gives them your location so you can get help. This product has a battery that gives you about a week of use in smartwatch mode and 14 hours of GPS mode time. It's a smaller-sized one that's most suitable for running, cycling, yoga, and other types of cardio exercise tracking. 
Pros:
Safety features
4 color choices
Personalized coaching on your wrist
Heart rate tracking
Color display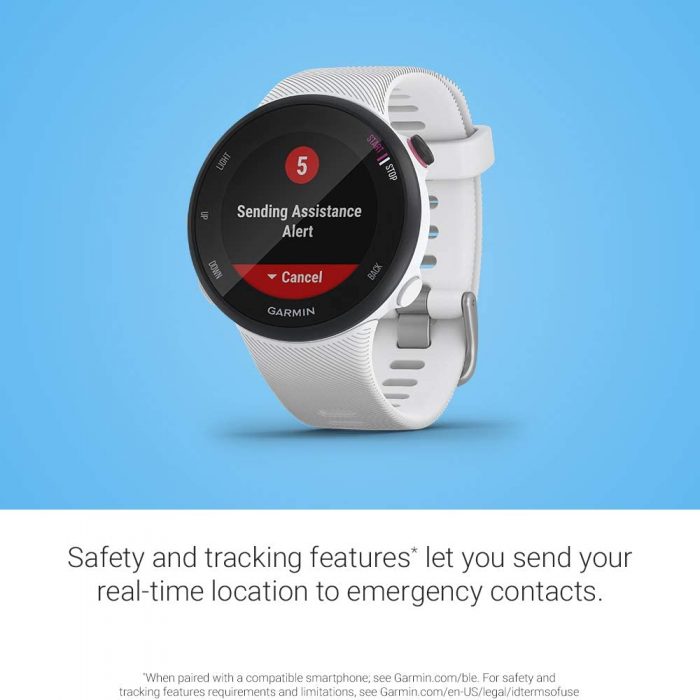 Cons:
No touchscreen
Difficulty calibrating for treadmill running
Limited smart notifications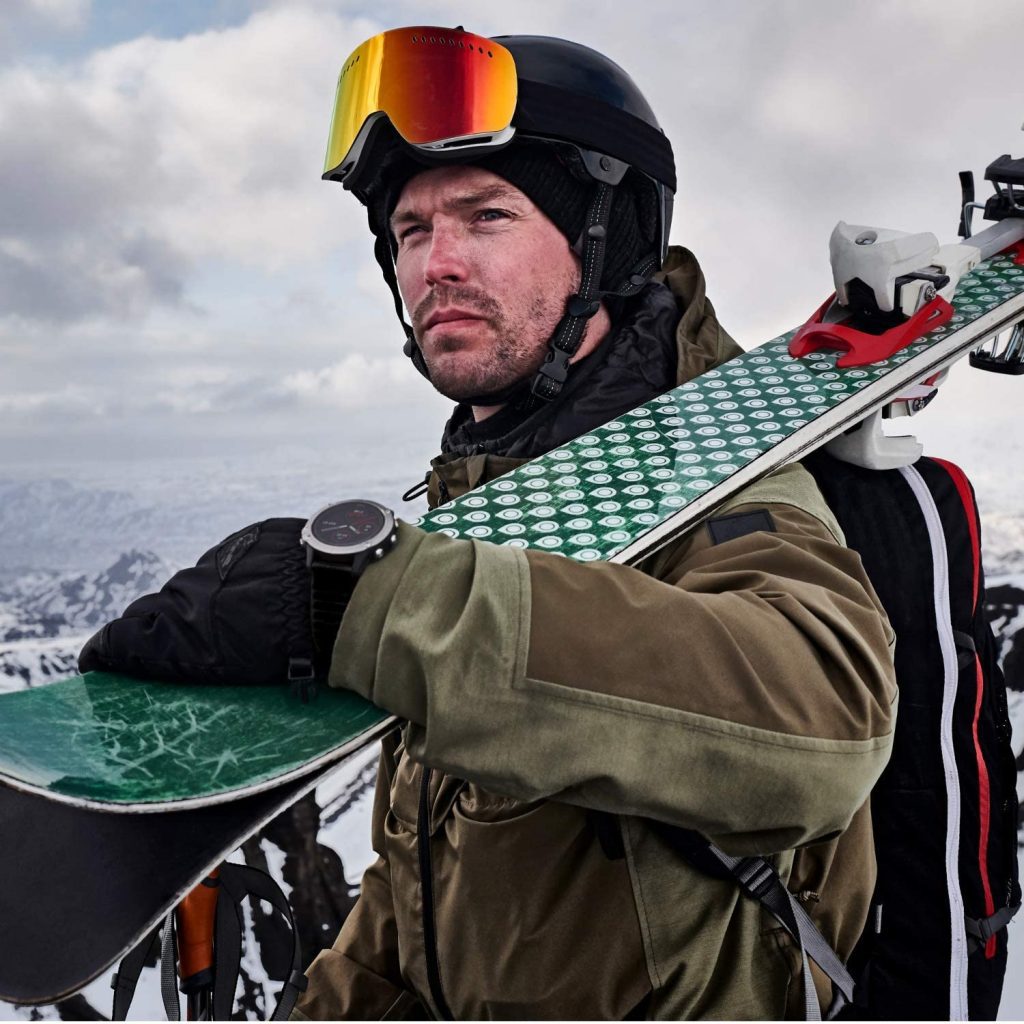 The Garmin Fenix is more than just the best. It's on par with the functionality of the Apple Watch. It tracks all sorts of fitness activities. It has features built in that read pulse and heart rate. It also measures these with consideration for the altitude you're at. You'll have a compass, gyroscope, and barometric altimeter right at your wrist. You can pair it with any compatible smartphone and get all of your notifications, use it for contactless payments, and so much more.
Pros:
Rugged design with many color options
Long battery life; 14 days smartwatch mode, 36 hours GPS mode
Color display
Includes incident detection
Waterproof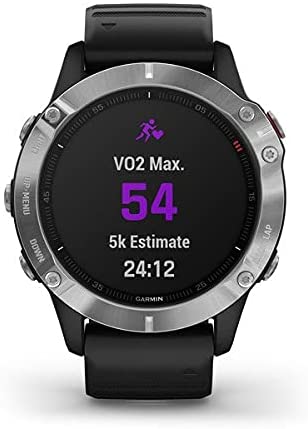 Cons:
Pricey
Weak instructions
No touchscreen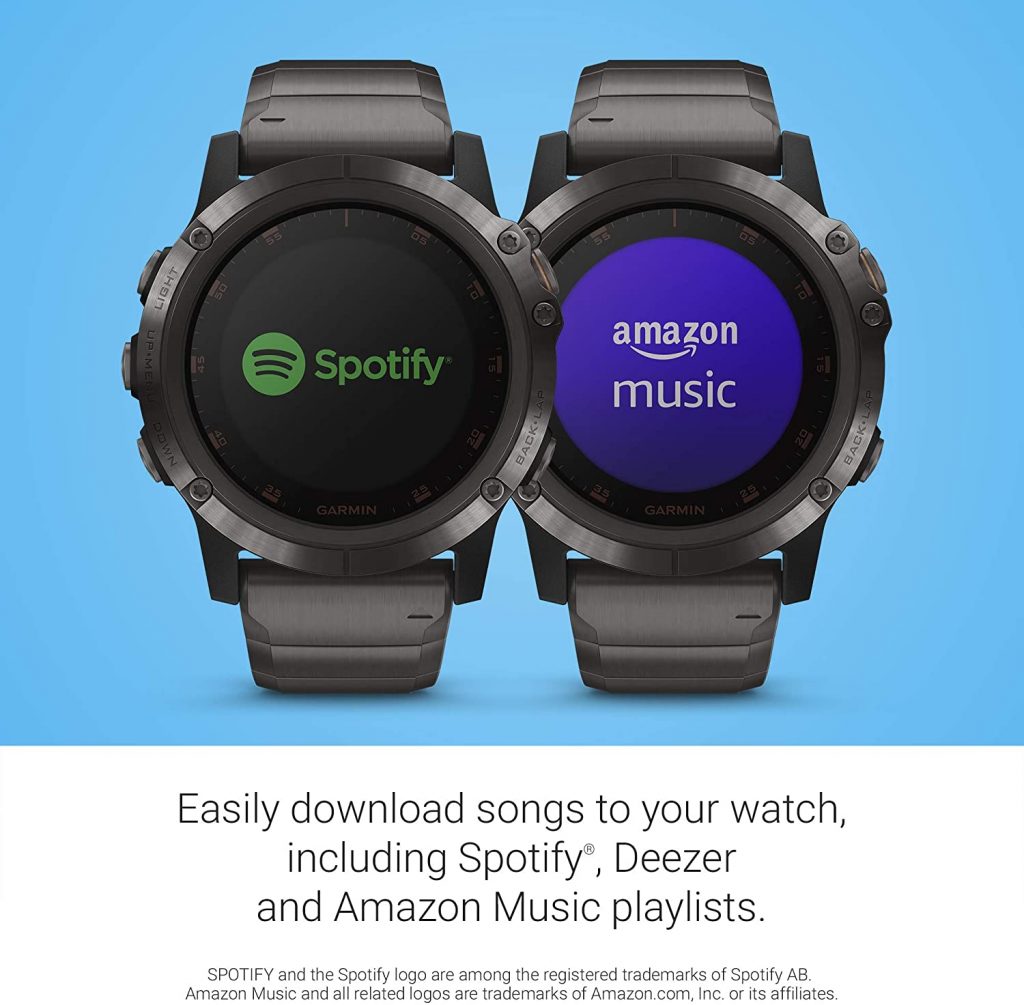 The Fenix 5X Plus is rugged and includes a scratch-resistant lens. This product is meant to be worn during intense activity. It gives you up to 18 days of battery life in smartwatch mode, along with up to 30 hours of GPS mode time. It has an acclimation sensor that estimates your blood oxygen saturation levels, which is great for climbers and hikers. You'll have options for contactless payments, all sorts of activities, and playing all your favorite songs.
Pros:
Long battery life
Multiple sensors for different kinds of uses
Most conventional running-watch with options for all other types of activity
On par with Apple Watch but with a more rugged design
Includes color TOPO maps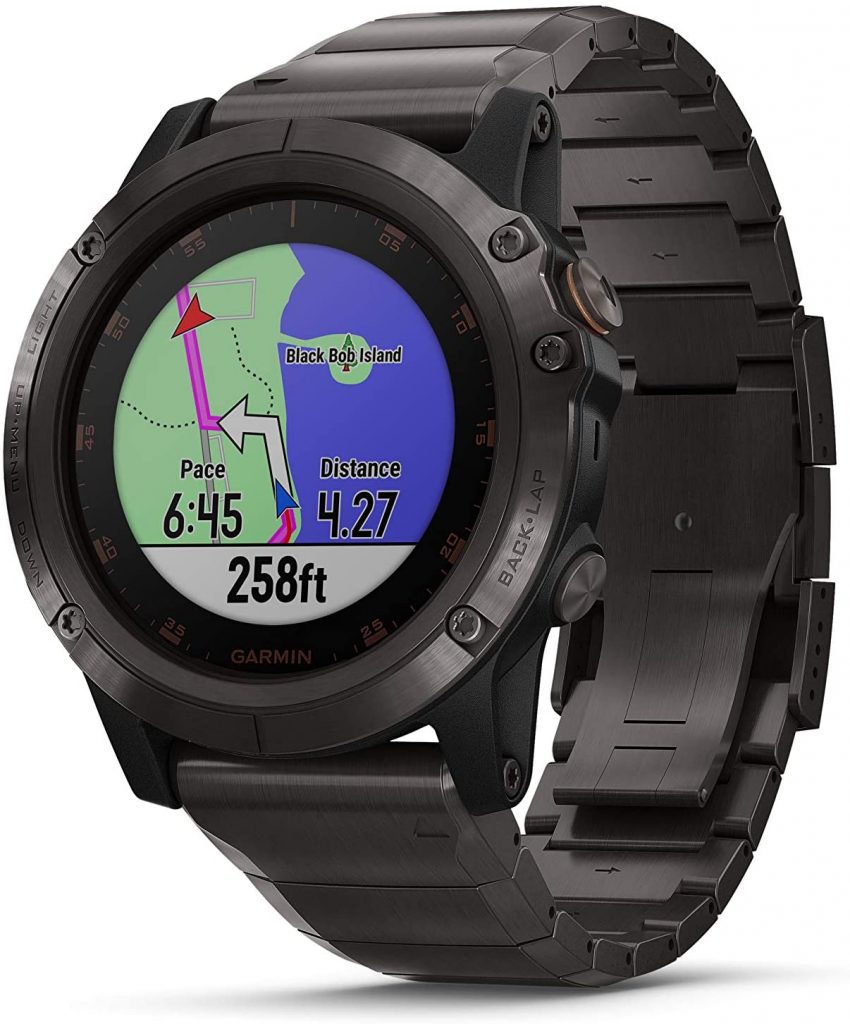 Cons:
Pricey
Large
Swim tracking lacks accuracy
Are GPS Watches Worth It?
GPS watches are worth it for many people. They're also good for tracking multiple other activities if you get the right one. 
When you're shopping for the right one, you must start by looking for one meant for the activities you'll be using it for. Consider how you'll be using it. Some may not be suitable for climbing, diving, or golfing. Choose a product based on the activities you want it to track.
How Much Does A GPS Watch Cost?
There is a broad range of prices for GPS timer. It's mostly based on functionality. However, other factors, such as durability, brand, special features, and accuracy also affect the price.
The more features, the higher the price is. The more rugged the materials are, the higher the price is. Smartwatch functionality increases the price. You will spend more for popular brand names, too. Generally, the higher the price is, the more accurate the tracking is, as well. 
Budget-friendly models are priced as low as less than $100, sometimes. The average ones run around $250-$300. Premium level on the other hand cost upwards of $400.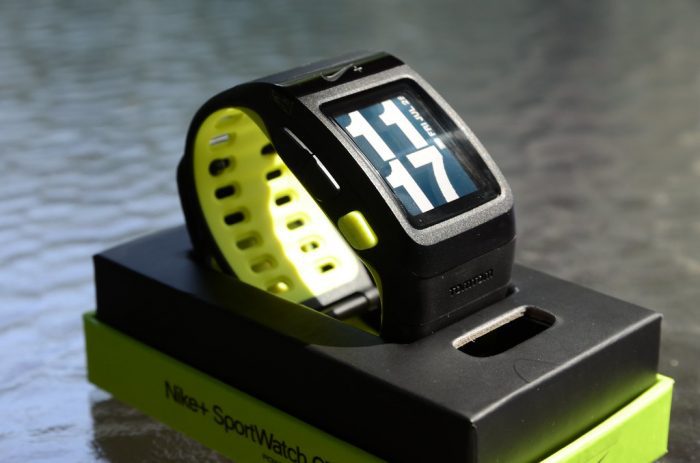 Features Of A GPS Watch
In this section, we're looking at a quick breakdown of included different features.
Standard features – Tracking for speed and distance; clock; workout history; rechargeable battery, automated laps
Common features – Data upload to online platform; customizable screens; heart rate monitor; auto pause for running; activity tracking; customizable time intervals; accelerometer
Advanced features – Tracking for different types of workouts; training programs; navigational tools; barometric altimeter; extended battery life
Note that there are ones that have features from all these categories and that they also carry the highest price tags.
All About GPS Watch
Ease-of-Use Is Important
Some of these are so complicated to use it might seem like you need an engineering degree to figure them out. In those cases, it's unlikely you'll even use it.
Look for the one that isn't going to frustrate you when you want to use it. Some are easier to use than others. The highly popular Apple Watch is touted to be user-friendly. You don't have to be tech savvy to use all of its features. 
Some of the items can get ruined by designs that are too complex for the average user. Make sure you're choosing an item that's not over-complicated.
How Accurate Is A GPS Watch?
You want a GPS timer that's accurate. The truth is, there isn't an item in the world that's 100% accurate 100% of the time.
You can count on your smartwatch being within 1 to 3% of the actual distance. The higher quality you choose, the more accurate it should be. This is because higher quality equipment includes more advanced technology in its design. 
Check into the accuracy of different models you're considering. Go with the one that fits in your budget and has the highest level of accuracy.
Is GPS Watch Safe?
A Global Positioning System device is safe if you use it properly. For instance, don't use the medical stat tracking in place of a doctor. Monitors for heart rate, pulse, blood oxygen levels, and others are not intended for use in lieu of a medical professional's guidance. They're for tracking purposes only.
These items also have safety features built-in sometimes. Incident detection is a feature that alerts people to your location in the event you are in distress. If you fall and break an ankle, have a heart attack, or something else, your item will call for help.
Final Thoughts
You should get the most reliable GPS watch for your needs. The Apple Watch has all the smart features you could want as it includes all the health monitoring you could want. But if all you want is something to keep track of your steps, calories, and distance, then an Apple Watch would be overkill. Think about how you're going to use it, how much you want to spend, and look for all the features that will benefit you the most. 
FAQs:
Which smartwatch has the best GPS?
Garmin has several models with high accuracy levels.
Which Global Positioning System watch should I buy?
Buy one that fits your needs. If you want one that does everything, go with a premium model. If all you want is something to measure steps and distance, go with a basic model like the Garmin Forerunner 45.
What watches have a built-in Global Positioning System?
Many watches have a Global Positioning System built in. Examples include the Samsung Galaxy Watch Active 2, the Garmin Forerunner, and the Apple Watch.
Which smartwatch should I buy 2020?
The Apple Watch and Fitbit were popular for 2020.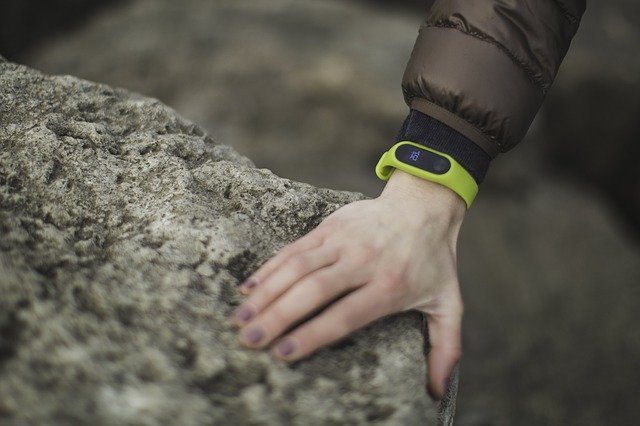 What is the best value Garmin watch?
The one with a great value is the Garmin Vivoactive 3. You get the most for your money.
Is a Garmin better than a Fitbit?
Garmin is more rugged and durable, while Fitbit has a better app selection. Garmin has more models, though. Both are good brands with pros and cons like any other consumer product.
Is Garmin or Apple Watch more accurate?
The Apple Watch is better for its smart capabilities. The Garmin models have more accurate Global Positioning System and metrics measuring, though.
Do I really need a Garmin watch?
Though they are useful tools, you do not entirely need themit. It gives you data that helps you monitor your progress and plan your next steps.
Do Global Positioning System watches need internet?
They do not need the internet. This GPS device uses satellite networks to figure your location.
Does Garmin Global Positioning System Watch Lose Accuracy?
Garmin GPS watches can lose accuracy. There are two common issues that cause Garmin GPS watches to lose its accuracy: GPS drift and environmental factors. Garmin GPS watches can also lose their accuracy over time. You can maximize its accuracy with a few things, however, there is no guarantee to maintain its accuracy perfectly.
How long does a GPS watch last?
GPS watches' battery life is different from almost each brand due to several factors. Depending on the manufacturing, price, quality, and other factors, it can last between 5-35. There are also expensive ones that can last for more than 2 hours. In general, the higher the price of the smart timer, the longer it can last or the longer its battery life is.
Do GPS Watches Have Maps?
Navigation is a great tool to have and there are advanced products that do have maps to help you on your journey. These devices have several features inside them that make this possible. They transfer signals and find out your location by tracking satellites. They calculate your location and display it through your screen map via the satellites using its receivers.
How Reliable Are GPS Watches in Tracking Your Pace?
There is a study published by Jonathan Rawstorn and other researchers in April 2014. These researchers produced results at the University of Aukland. They studied the possible flaws, defects, and shortcomings of the current Global Positioning System technology. They demonstrated their findings by using short intervals.
By using these short intervals on soccer players over running back-and-forth and in loops, they found out that these devices overestimate the distance you cover if you would be running a loop. This overestimation is just minimal since it's only a 3% error and would not matter if you would just be going for a run. However, when doing workouts, races, or winding trails, you should take note of this.
Disclaimer: FamilyHype.com (Family Hype & FamilyHype) is a participant in the Amazon Services LLC Associates Program, an affiliate advertising program designed to provide a means for sites to earn advertising fees by advertising and linking to Amazon.com.
Last Updated on October 11, 2021 by Anna Amad
DISCLAIMER
(IMPORTANT)
: This information (including all text, images, audio, or other formats on FamilyHype.com) is not intended to be a substitute for informed professional advice, diagnosis, endorsement or treatment. You should not take any action or avoid taking action without consulting a qualified professional. Always seek the advice of your physician or other qualified health provider with any questions about medical conditions. Do not disregard professional medical advice or delay seeking advice or treatment because of something you have read here a FamilyHype.com.