You may or may not have heard of wireless HDMI. This technology has been around for a while but hasn't made it to mainstream popularity status. Some say it never will. Regardless, wireless HDMI can serve a useful purpose in your home if you want it to. It'll help you clean up the mess of wires around your entertainment setup and give you access to HDMI content on multiple devices from one source.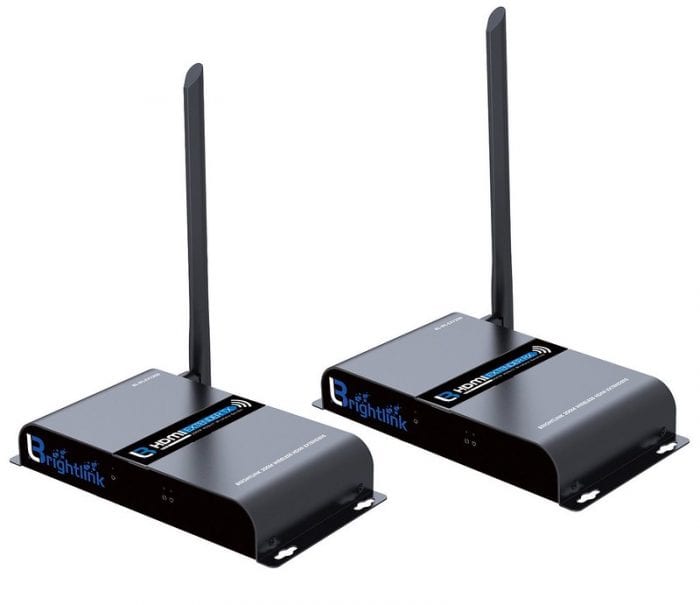 So, what is the best wireless HDMI? The best wireless HDMI transmitters have the right range for your home. The signal must be capable of reaching the distance you need it to. Also, check into the heat production and how it's dissipated. Make sure the wireless HDMI transmitter isn't hard to install. You may want to look for kits that come with extra cabling for optimum setup, as well.
In this article, we'll talk about what a wireless HDMI transmitter can do for you and what its shortcomings are. Then, we'll look further into the features you'll want. We'll wrap things up with a look at some of the wireless HDMI transmitters available for purchase. Read on for all you need to know to choose the best wireless HDMI transmitter for your home.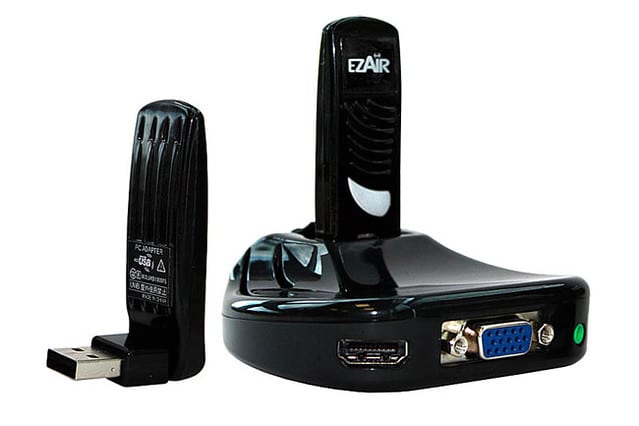 Are The Best Wireless HDMI Any Good?
The best wireless HDMI transmitter is a good option for people who want to send content to different TVs without running HDMI cables to everything. It makes everything look tidier. There's one source for HD video content that sends signals to various receivers, depending on the range of the transmitter.
There are varying levels of quality. Some wireless HDMI transmitters aren't worth it because they don't transmit far enough. Some have problems with latency, too. It's up to you to decide what the right quality level is for your needs.
Wireless HDMI Shortcomings
Wireless HDMI has yet to become the norm in most households. There aren't any overall standards for these. That means no guidelines exist requiring manufacturers to make products that are compatible with other manufacturers' products.
Latency is an issue with wireless HDMI, also. Delays between the source of the content and where it's being displayed are sometimes long. For those watching video, it's not a huge problem. But it won't work for anyone playing video games.
The other big issue with these is they can't transmit 4K video. That's a turnoff to many consumers.
As long as wireless HDMI has these shortcomings, it's likely it'll be nothing more than a niche product. It won't become mainstream unless there are changes within the industry that standardize the devices.
What Range Should I Look For In A Wireless HDMI?
The signal range is the most important factor to consider. A wireless HDMI transmitter that can't send a signal far enough isn't much use. If you get a transmitter that only pushes the signal about 30 feet, it'll only be good for cleaning up the wires around your entertainment center.
A top-of-the-line wireless HDMI transmitter can send signals 500 feet or more. They'll also push signals through walls, floors, and furniture, so you can transmit HDMI video to several different rooms.
Typically, the more range your wireless HDMI transmitter has, the more you'll have to pay for it. The power it has drives the cost up more than anything else.
The Materials Of HDMI Matter
Like many technological devices, wireless HDMI transmitters run hot. Some get extremely hot and have no way to let the heat dissipate.
Some materials are better at allowing heat out than others. Specifically, aluminum and ABS plastic are good choices. Those living in hot environments need to choose a wireless HDMI transmitter made of these kinds of materials. Overheating will cause interruptions to the functionality.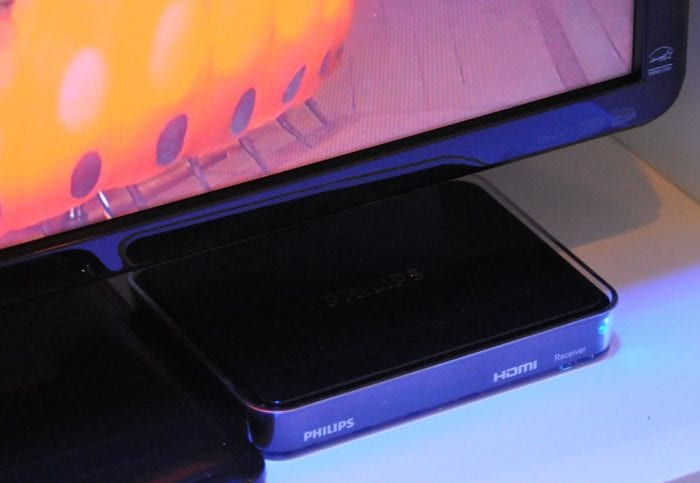 HDMI Should Be Easy to Install
The easier it is to install your device, the better off you'll be. You shouldn't have to do much more than plugging in and positioning. In fact, the positioning of the transmitter should be the most difficult part.
If a wireless HDMI transmitter requires you to perform any type of software install or something similar, you probably don't want to mess with that. It shouldn't be that complicated.
Go With A Kit For Optimum Setup For  Wireless HDMI
While you can find expansion cabling sold separately, the easiest thing to do is buy a wireless HDMI transmitter kit that comes with the extra cabling you'll need for multiple setup options.
The transmitter and receiver may work best when they're within line of sight from one another. You might need to play with the placement. They each need their power source within reach, too. Extension cables and cable ties give you more configuration possibilities to try.
Best Wireless HDMI Options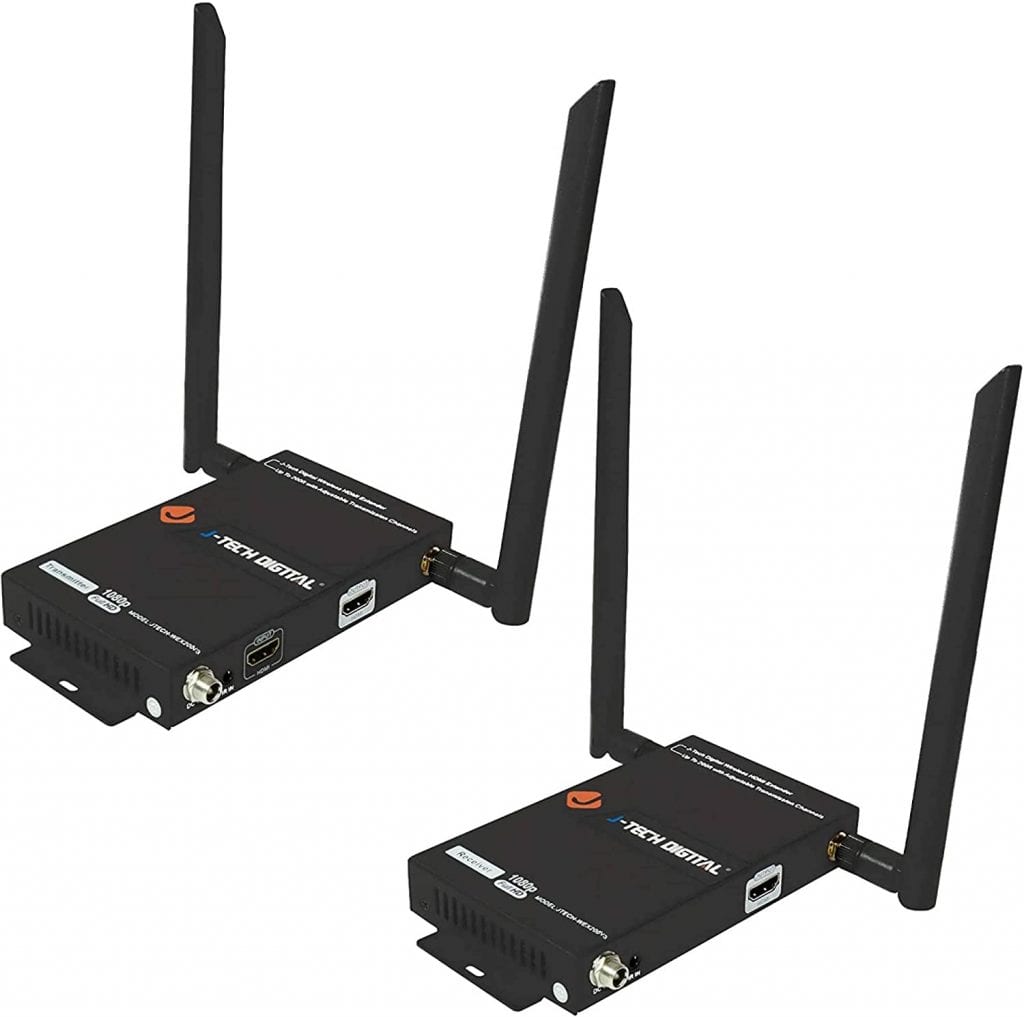 You get a receiver and transmitter in this package. They have excellent range of 200 feet. One transmitter sends content to the receiver's two antennae simultaneously. You can choose the channel you want to operate on, so you don't have to deal with Wi-Fi or other signal interference. It has low latency rates from 0.1 to 0.3 seconds. Installation is easy and the setup is nice and clean.
Pros:
Package includes a transmitter, receiver, and all cables needed
Can connect up to 4 of same receivers
200 feet of signal range
Can customize the channel choices
Affordable choice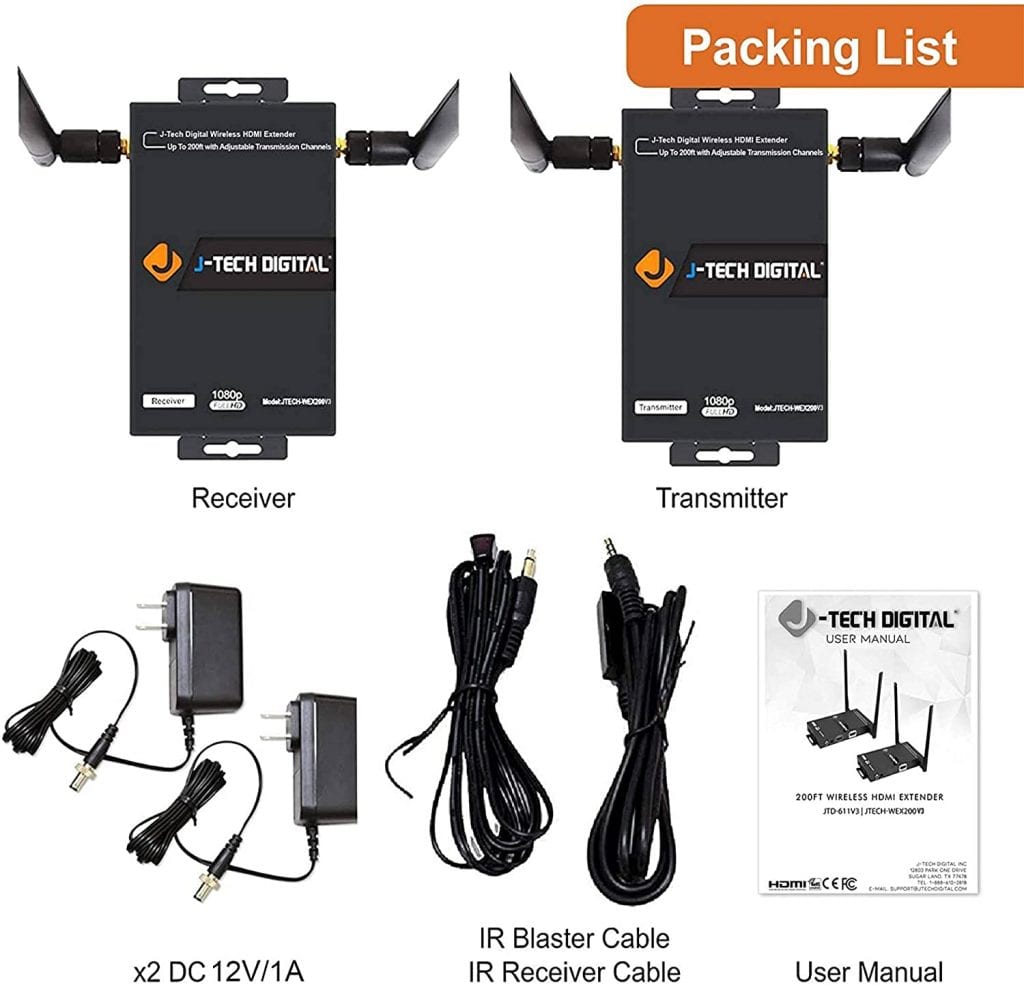 Cons:
Signal isn't strong enough to go through walls
Setup for IR confusing
Audio gets glitchy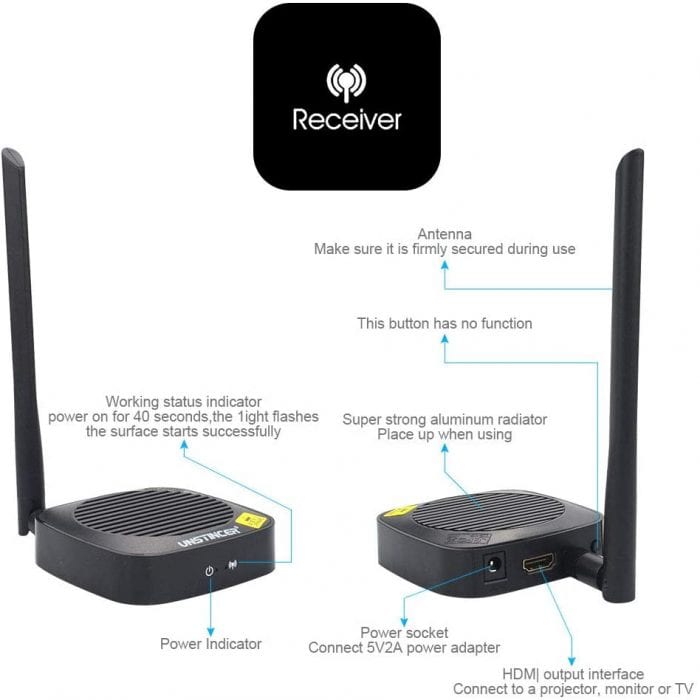 This one has a lower price than the one above. Its range is up to 130 ft. when unobstructed. If the signal is going through walls, the range is significantly less. Installation is easy. It's essentially just plug it in and play. This transmitter kit is compatible with a wide variety of devices. It's good for office settings, schools, churches, businesses, and homes.
Pros:
Versatile kit
Aluminum radiator dissipates heat
Easy setup in no time
High speed
Range is good for large rooms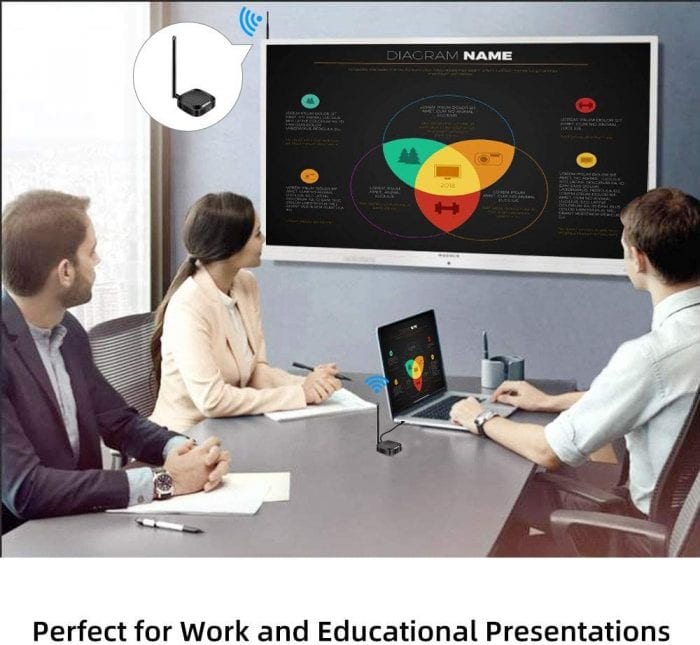 Cons:
Short range through walls
Isn't compatible for use with other kits
No dedicated audio interface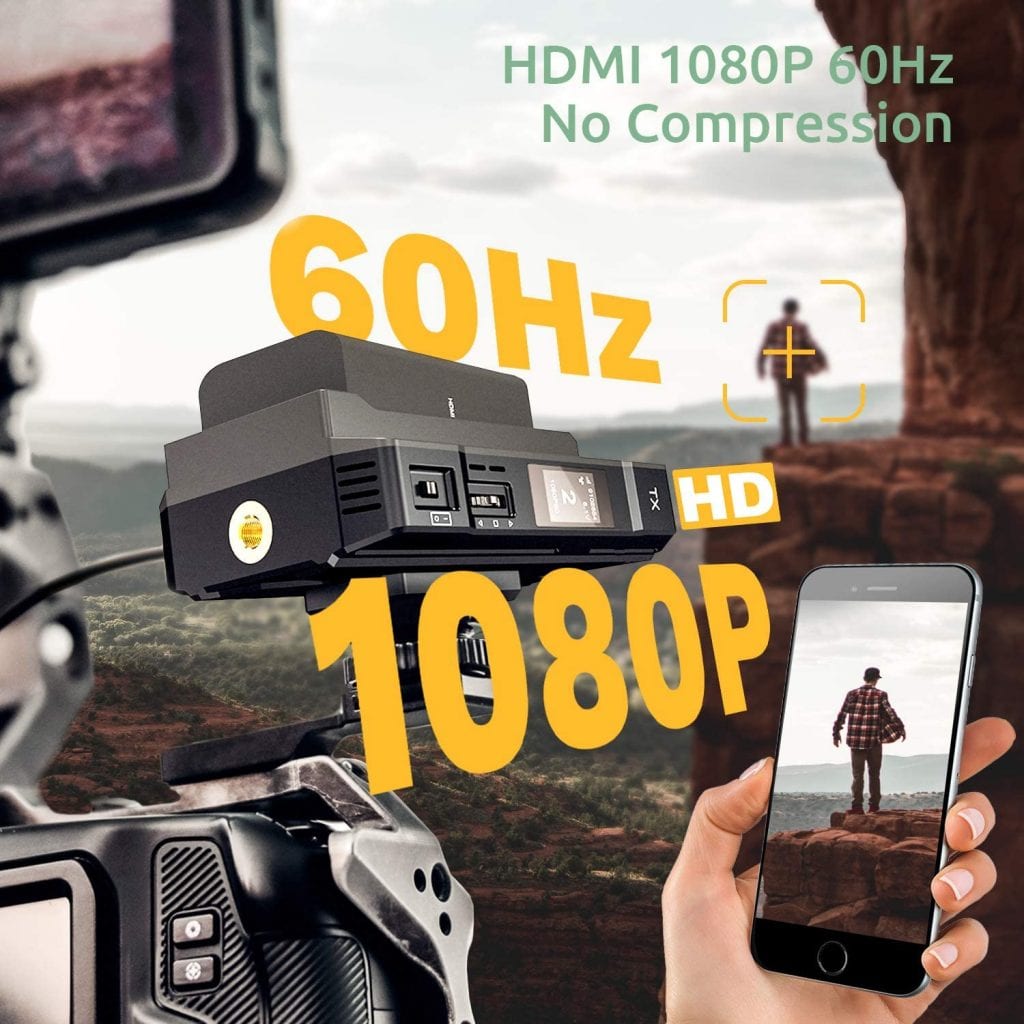 This option from Hollyland touts zero delay during transmission. It has 300 feet of receiving range. It's capable of connecting with up to three devices at a time. The antennas are built-in for a cleaner look. It's easy to set up and easy to use. You can choose from 13 different channels to avoid any interference. There's even an OLED display where you can see the status of your unit.
Pros:
Provides strong signal
Made well with durable materials
Has good battery life
Great range
Little to no latency problems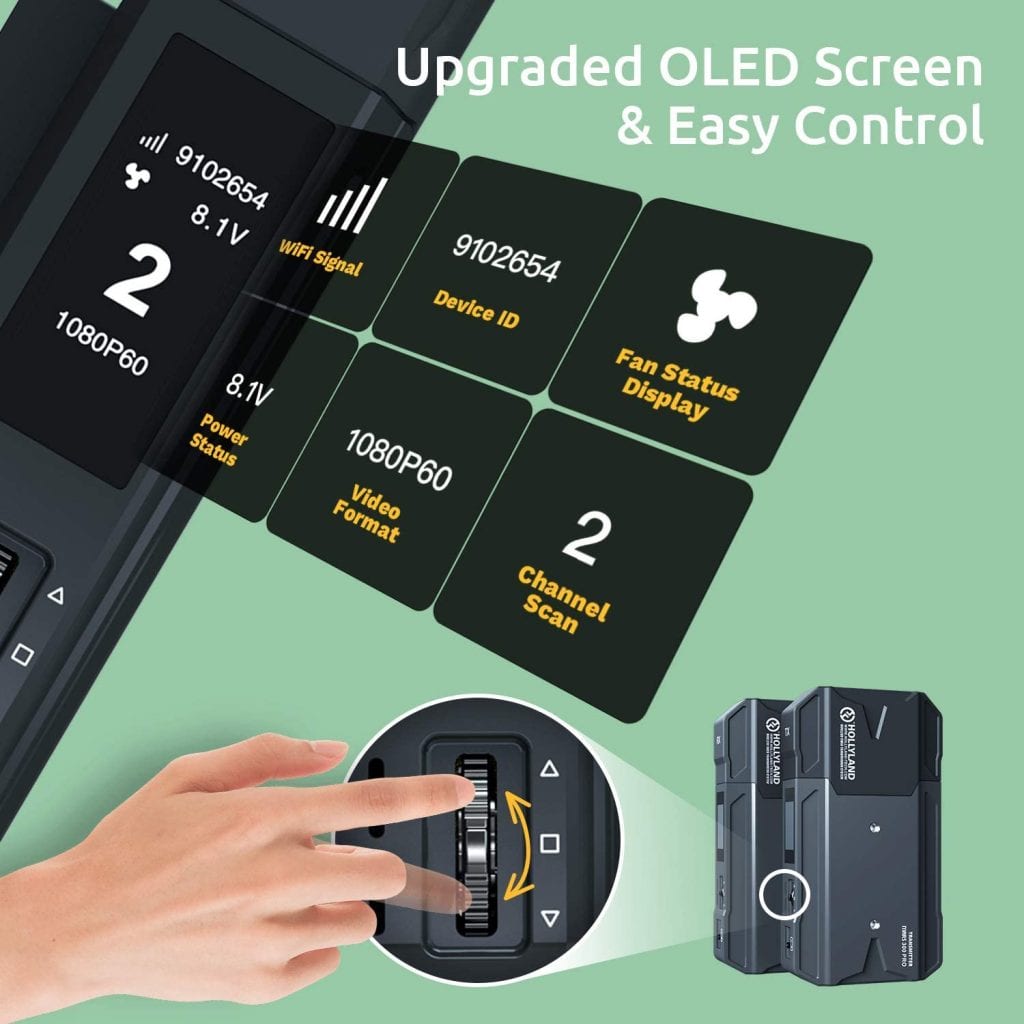 Cons:
Pricey
Signal freezes sometimes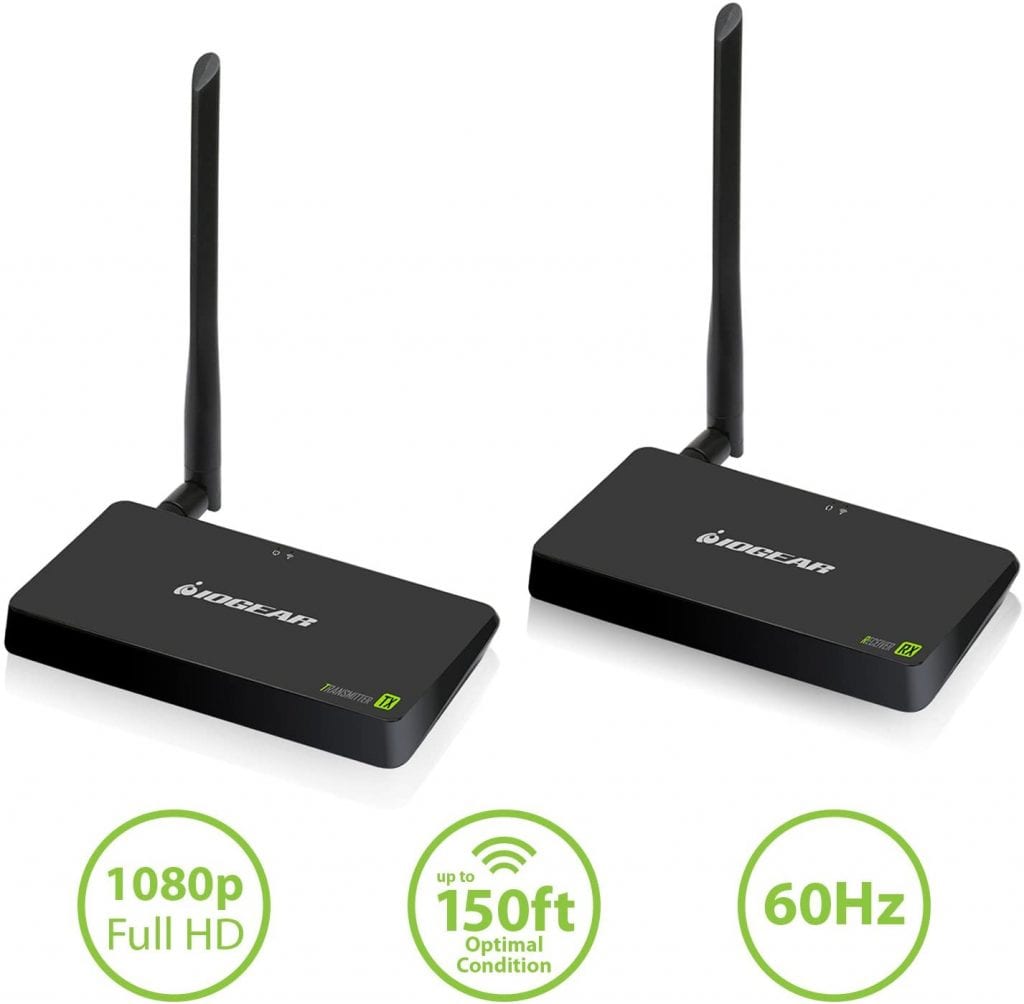 This IOGEAR Wireless HDMI kit has a range of up to 150 feet. You can use this with an IR remote for easy control. It's equipped with security protection. IOGEAR provides 1 year of warranty coverage. The setup is easy and quick. Your purchase comes with the transmitter and receiver, as well as 2 HDMI cables, an IR extension cable, an IR receiver extension cable, a power supply, and a quick start guide.
Pros:
Plug and play
All cables included
Little delay
Excellent picture quality
Not settings to deal with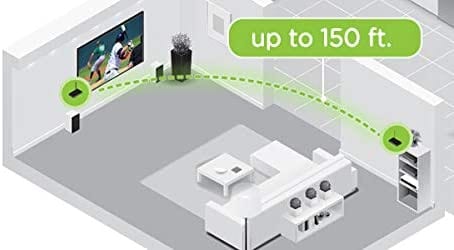 Cons:
Signal not strong enough to go through some walls
Some issues with freezing
Run very hot
Final Thoughts
A wireless HDMI transmitter kit helps to clean up the wires in your home and allows you to send video signals to multiple devices without having to pay for more boxes from the cable company. It works much like Bluetooth, but for video. Consider the space you'll have it in. What range do you need? Also, look at possible configuration options. Find a kit that comes with any extension cables you'll want. Make sure it's easy to install and it fits with your budget. The right wireless HDMI helps bring video to more places in your home without bringing more wiring.
FAQs:
Can you connect the HDMI wirelessly?
Yes, you can. This is the purpose of a wireless HDMI transmitter and receiver kit.
How do I stream HDMI over Wi-Fi?
You can stream HDMI over Wi-Fi by using a wireless HDMI transmitter and receiver, or with a streaming stick, such as Amazon Firestick.
How do I transmit Wi-Fi signal to my TV?
You can place an HDMI transmitter near the Blu-ray player. Use an HDMI cable to connect the Blu-ray player and the HDMI transmitter. Place a receiver near the TV. Plug in the power cord. Connect the receiver to the TV with an HDMI cable. Go into the settings on both the TV and Blu-ray player. Select the appropriate inputs and outputs so they are recognized. You should be all set after that.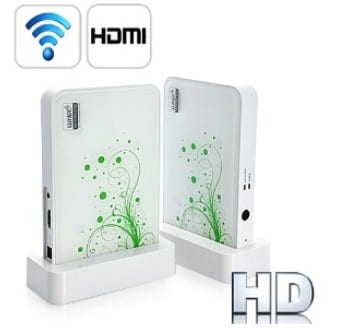 How can I watch TV in another room without a cable box?
You can do this with a wireless HDMI setup. You'll have to get one with the appropriate range and the signal strength to make it through walls.
How do I display HDMI on my laptop?
You can use a wireless HDMI signal kit to transmit HDMI to laptops. Not all kits or laptops are compatible for this, though.
Do wireless monitors exist?
Technically, there aren't any wireless monitors. They must have a power cable. However, with wireless HDMI, that may be the only wire.
What is a dongle for the best wireless HDMI?
It's a small modem that looks like a USB drive. You connect it to your laptop or other computer so it can access the internet just like your phone does.
How do I wirelessly connect my computer to my TV?
You can do this through screen mirroring applications. You can also use a wireless HDMI setup.
Disclaimer: FamilyHype.com (Family Hype & FamilyHype) is a participant in the Amazon Services LLC Associates Program, an affiliate advertising program designed to provide a means for sites to earn advertising fees by advertising and linking to Amazon.com.
Last Updated on September 16, 2021 by Jeremy Romero
DISCLAIMER
(IMPORTANT)
: This information (including all text, images, audio, or other formats on FamilyHype.com) is not intended to be a substitute for informed professional advice, diagnosis, endorsement or treatment. You should not take any action or avoid taking action without consulting a qualified professional. Always seek the advice of your physician or other qualified health provider with any questions about medical conditions. Do not disregard professional medical advice or delay seeking advice or treatment because of something you have read here a FamilyHype.com.