The last year has made it more important for us to have ample space for storing food in our homes. We weren't able to go out to eat anywhere for quite some time, and are even now still limited in some areas. One of the ways you can expand your food storage space is by getting a chest freezer where you can store plenty of meat and prepared meals.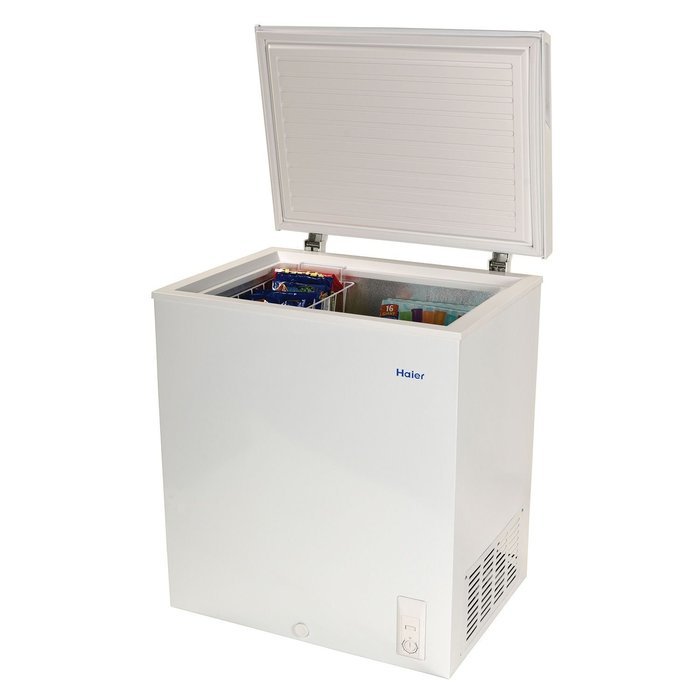 Finding the best chest freezer starts by looking at how many cubic feet you'd like it to be. From there you can see what the physical footprint will have to be so you can determine if you have a good space to put it in. You'll want to look at their energy efficiency compared to other models. Also, check into the noise level of the chest freezers you're considering. Other considerations could include the temperature range, baskets and dividers that they come with, and warranty coverage.
Chest freezers are good at keeping the temperature consistent and low enough so that foods don't get freezer burned. If you live in an area that is prone to power outages or brownouts, chest freezers are really good options because they will continue to keep your food cold better than other types of freezers. Now, let's get into it so you know how to find the best chest freezer for your home.
How Much Freezer Space Is Enough?
In most homes, there is a refrigerator-freezer combination that is located in the kitchen. When we purchase a chest freezer, it's usually because we want extra freezer space so we can store more food. But, how much extra space do we need?
There are some factors that will help you in determining how much more freezer space you should look for. One is the size of your family. If you're trying to feed more people, then you would benefit from being able to keep more food at your home. A larger family probably won't want to go any smaller than a 7 cubic foot chest freezer. 
The food items you intend to store in your chest freezer will help to determine the size you should get, too. For instance, if your family needs somewhere to store several frozen pizza boxes and bulk frozen foods, you'll want more freezer space that's laid out in a broad enough design that you can fit several large boxes in it and still have room for other items.
If you like to make meals ahead for the week and then freeze them, that's another factor that will help you choose the size of chest freezers you should be looking at. Many people like to freeze meals in the dishes they're going to be heated in and those dishes are often quite large. If you are one of these people, then choose your chest freezer with this in mind.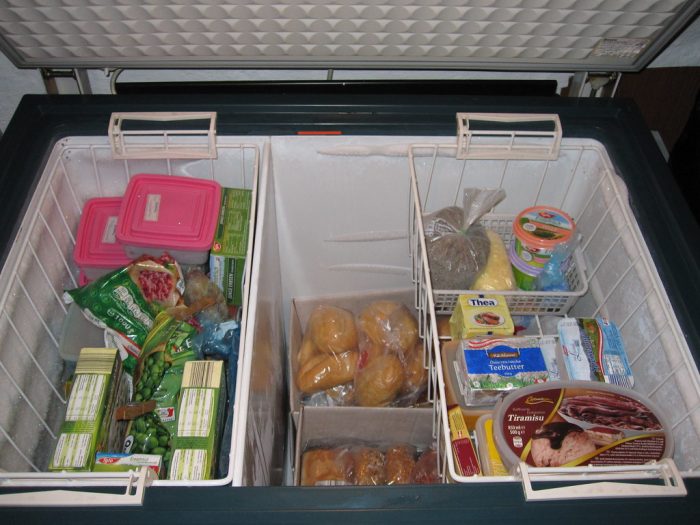 Here's just a general rule to follow when it comes to freezer size. You'll typically need 1.5 cubic feet of freezer space per member of your household. Thus, for a family of five you should look for at least 7.5 cubic feet. That being said, the energy efficiency can be affected by how much food is stored in the freezer. You don't want to let it get below 2/3 full because you'll be wasting money on the energy it takes to run it. 
How Much Space Will I Need For A Chest Freezer?
The amount of floor space you'll need for a chest freezer, as you can imagine, is directly tied to the amount of freezer space you've decided on. Generally, the more space you opt for, the larger the physical footprint will be. 
You need to make sure you measure the space you have available for putting a freezer in. Chest freezers take up more floor space than other types of freezers, such as upright versions. Chest freezers do come with different dimensions, though. You will find that some are deeper than others so they don't have to have as much floor space. Others will be wider but narrower from front to back so they don't stick out as much from the wall. 
One measurement some consumers may forget to look into is the height of a chest freezer. Some people will be positioning their chest freezers under cabinets or shelves. That's ok, but don't forget you'll need enough clearance to open the lid to the freezer's chest.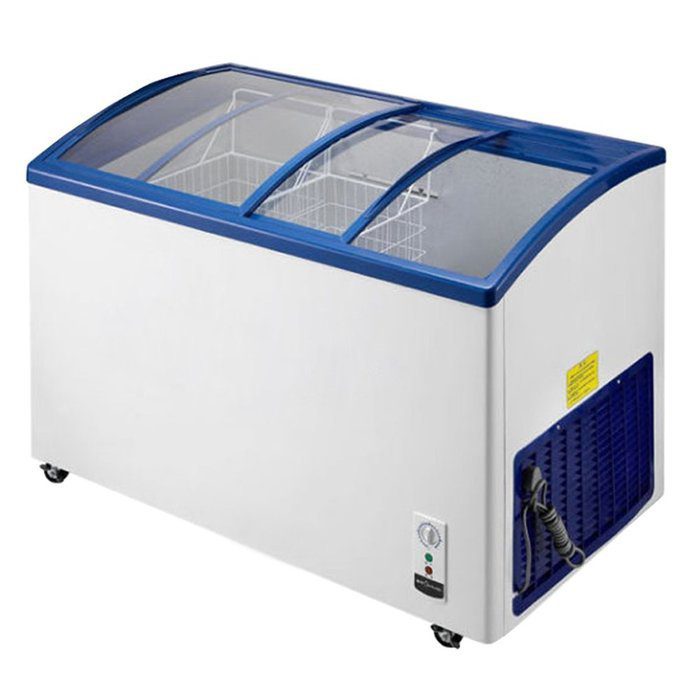 What Should I Look For When Buying A Chest Freezer?
Some of the other features you should look into are things like the energy efficiency of the chest freezers you're considering. You should compare them against each other. Your freezer of choice should come with a yellow label on it that indicates its energy use. We recommend that you compare those labels, but don't expect the chest freezers to operate at that exact level of energy use. There are factors in your home that can cause that number to be different. 
If it's at all possible, try to get into a retail store where you can experience what the noise level will be. Some chest freezers can have a pretty loud electrical humming noise. If you can't experience it for yourself, then look at reviews of the chest freezers you're considering to see if anything is being said about noise levels. 
One thing that is tough with a chest freezer is keeping it organized. The freezer's chest is just a big open cube. However, there are plenty that come with hanging baskets and dividers. You'll want to check out what each comes with so you can get one with the most possibility for organization.
Temperature ranges can differ across various chest freezers, too. If you're wanting a freezer that will deep freeze items, you need to make sure you get the chest freezer that gives you the ability to do that. 
Hopefully, the appliance you choose won't have any malfunctions or issues. But, as is the case with many of the electrical pieces in our homes, problems do arise. Many manufacturers will include warranties along with their appliances. You should look into what they are and how far the coverage extends.
What Brand Of Chest Freezer Is Best?
The answer to this question may be different depending on what kind of rating is being done for the chest freezers. The brand of chest freezer rated the highest overall on Amazon is Midea. Let's take a look at a couple of them.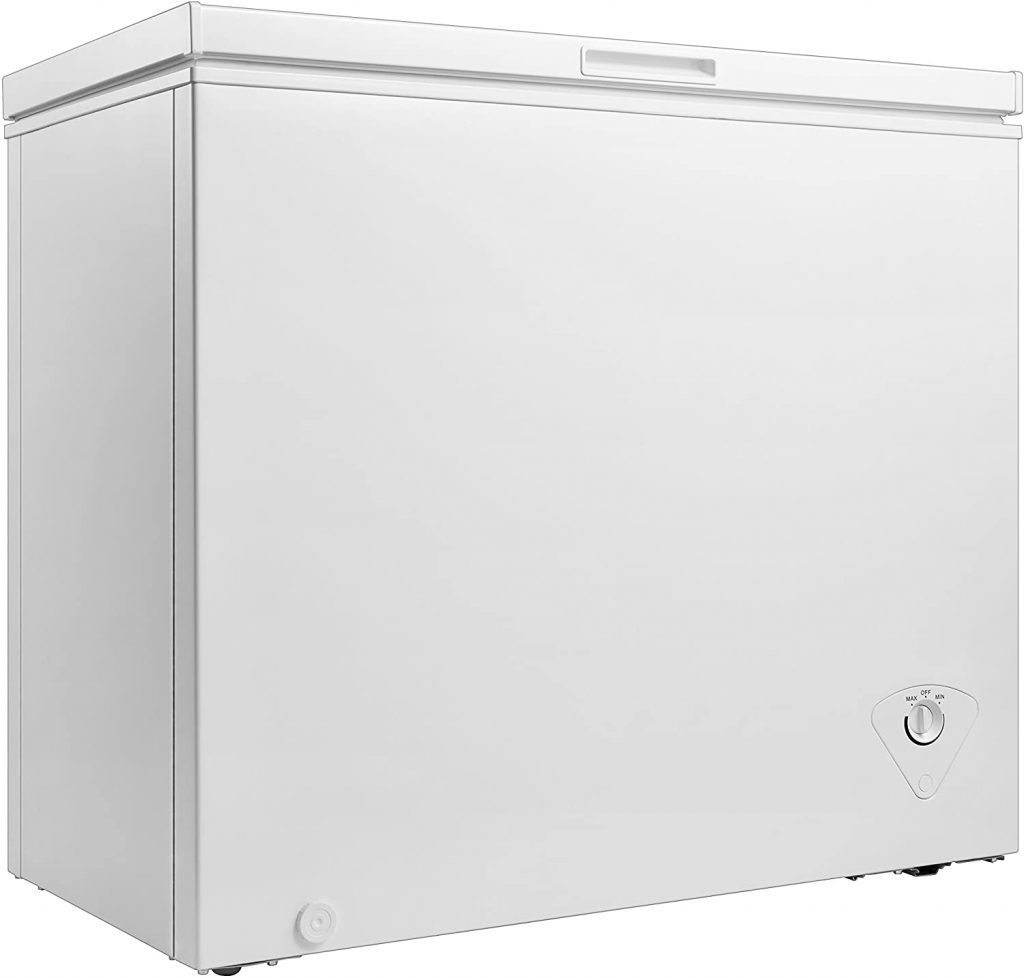 This one is very affordable with a price that's closer to the lower end of the range. The adjustable thermostat can be set from -18.4 to 10.4 degrees F. There is a hinge-style door on top that will stay open without having to be held. The freezer comes with one hanging basket for inside that can be placed in any position across the top. The temperature can be easily changed with a dial located right on the front of the chest. The defrost drain is easily accessed when needed and the inside of the freezer is easy to clean.
Pros:
Very affordable
Low energy consumption
Adjustable legs for easy leveling
Warranty coverage for 1 year; compressor is covered for 2 years
Great for long-term storage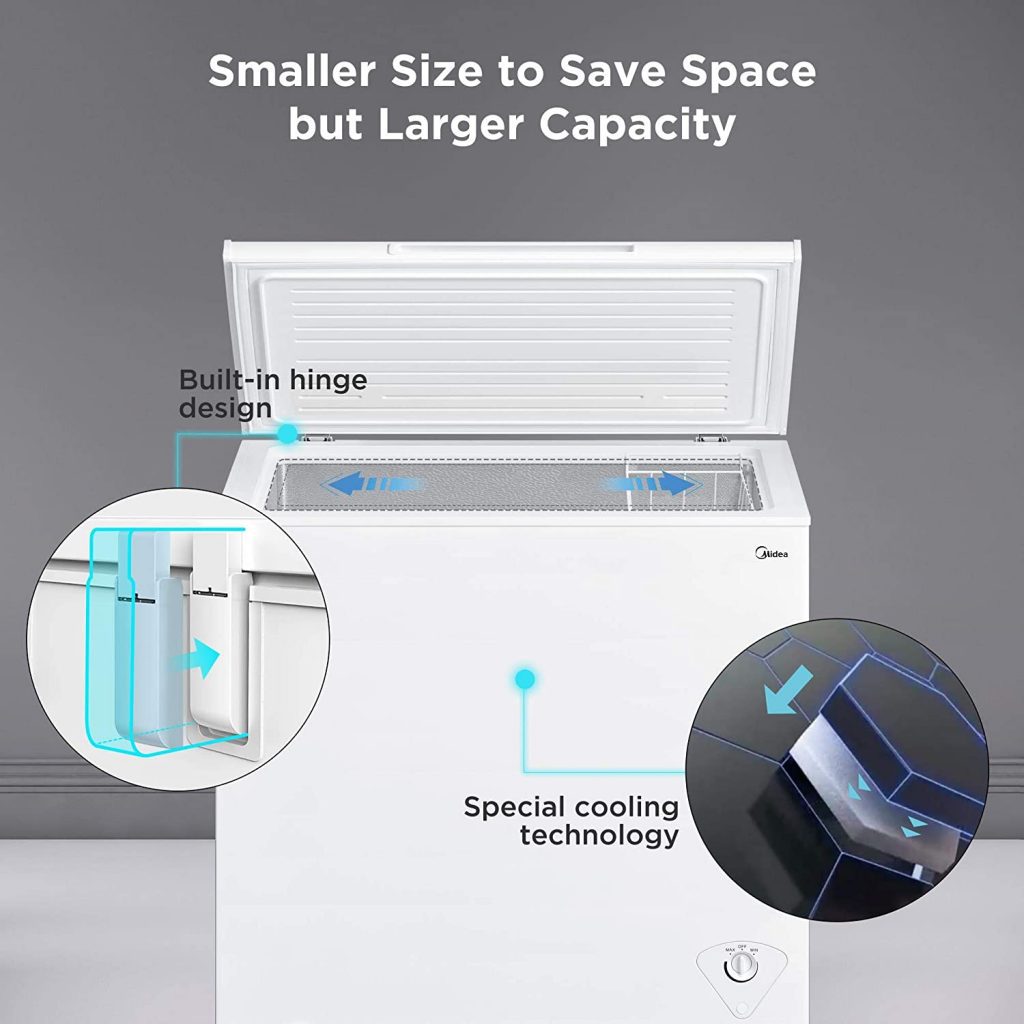 Cons:
Not good for garage placement
No precise temperature indicator built-in
No internal light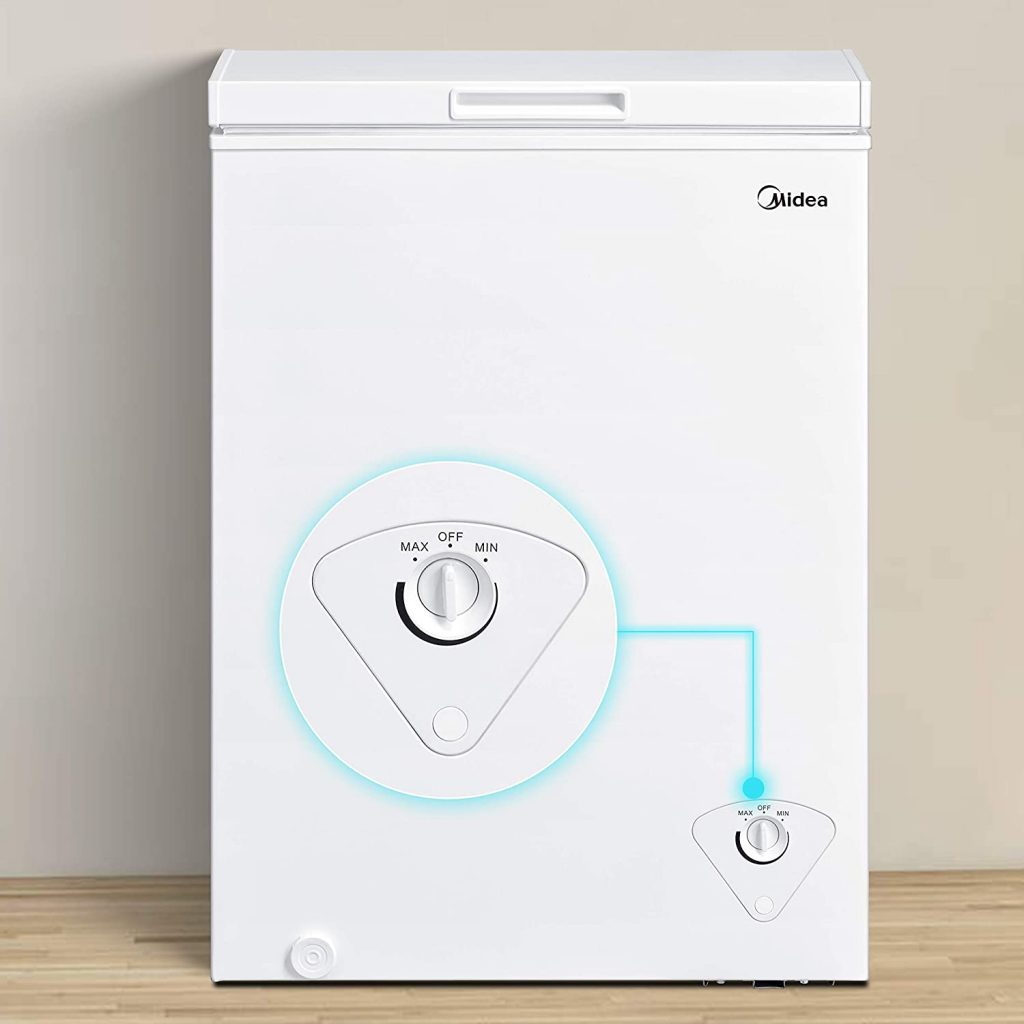 This one from Midea is ideal for a couple living alone or for extra storage in a small apartment. It doesn't need much floor space so you can place it almost anywhere. It still has an easily accessible drain for defrosting. You still get the 1-year warranty and the 2-year compressor warranty. You also still get a hanging basket for using inside the chest. It has the same temperature range as the larger Midea above, too. This one can be purchased on Amazon for less than $200. You can adjust the temperature from minimum to maximum with the dial that is located on the front of the freezer. 
Pros:
Super affordable
Very lightweight
Small physical footprint
Easy to install
Simple to defrost and drain
Easy to clean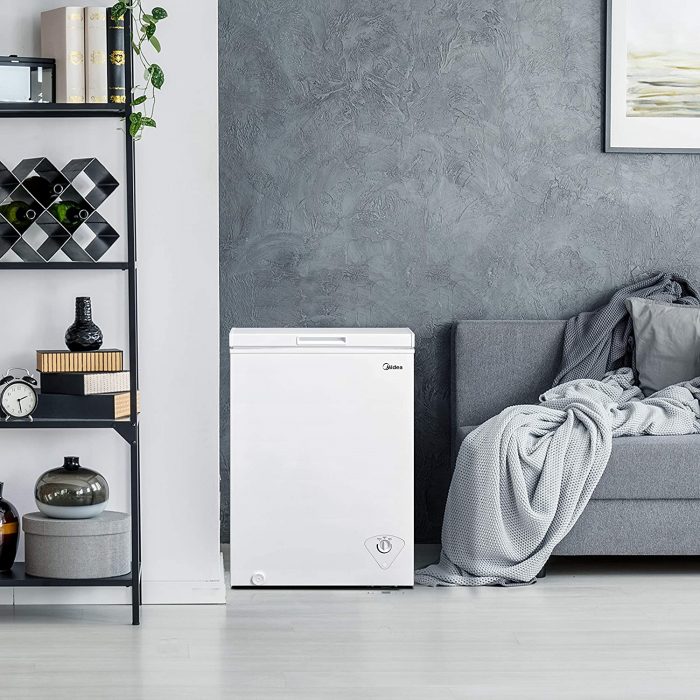 Cons:
No precise temperature indicator
Not good with combatting ambient temperature like in a garage
No indicator light to let you know it's on
Is It OK To Put A Chest Freezer In The Garage?
Let's talk about chest freezer placement for just a minute. There is a common question about whether you can put a chest freezer in the garage. The answer comes down to the freezer itself and the details of your garage.
If a garage is insulated, there isn't any problem with putting a chest freezer in it. The problem comes when the garage isn't temperature controlled at all. If you live in a climate that gets very hot for part of the year, your chest freezer will have a hard time keeping the stored foods at the desired temperature. 
The ideal setting for a chest freezer is one that stays fairly cool and doesn't get beaten with sunlight at certain points in the day. It's usually good to keep it in a room that has some sort of temperature control, such as the kitchen of your home or even a basement, finished or not. It's best if wherever you place it has insulation so the freezer doesn't have to overwork itself trying to keep the desired temperature. 
Who Makes The Best Small Chest Freezer?
A manufacturer you can check out for good small chest freezers is MOOSOO. You can find their products for sale on Amazon. They're known for designing quiet and energy efficient chest freezers that will work for most consumers' needs. Here are a couple of their products.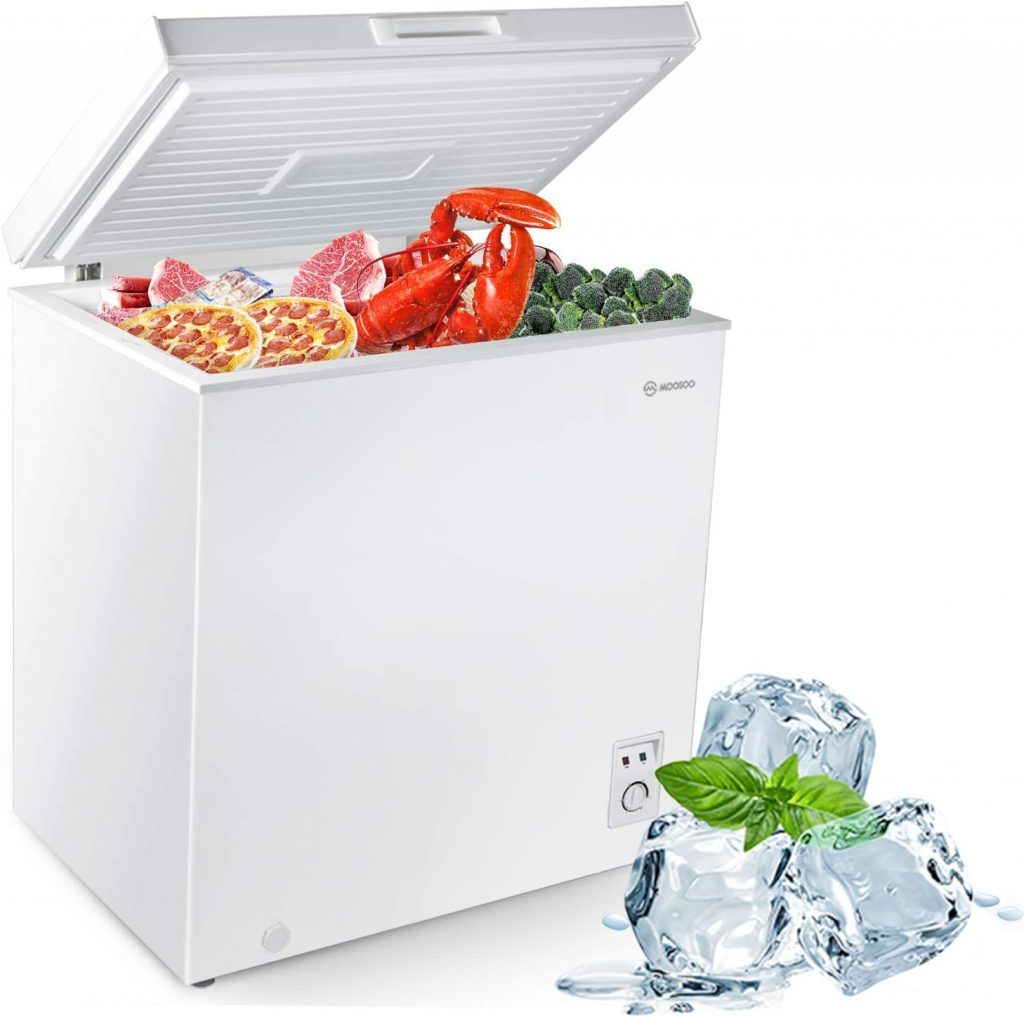 This freezer can be placed in a kitchen, a garage, or a basement. It's great for apartments. The freezer runs quietly and has an adjustable temperature control that can be changed to five different levels. The build of the freezer is meant to be compact on the outside but give you plenty of room on the inside. It has a wide range of temperature from -22 to 10.4 degrees F. You can lift the freezer lid and it will stay open for you without having to be held. It's also fairly lightweight so easy to move into position.
Pros:
Very good energy efficiency
Can be placed virtually anywhere
Whisper quiet operation
Compact design
Adjustable feet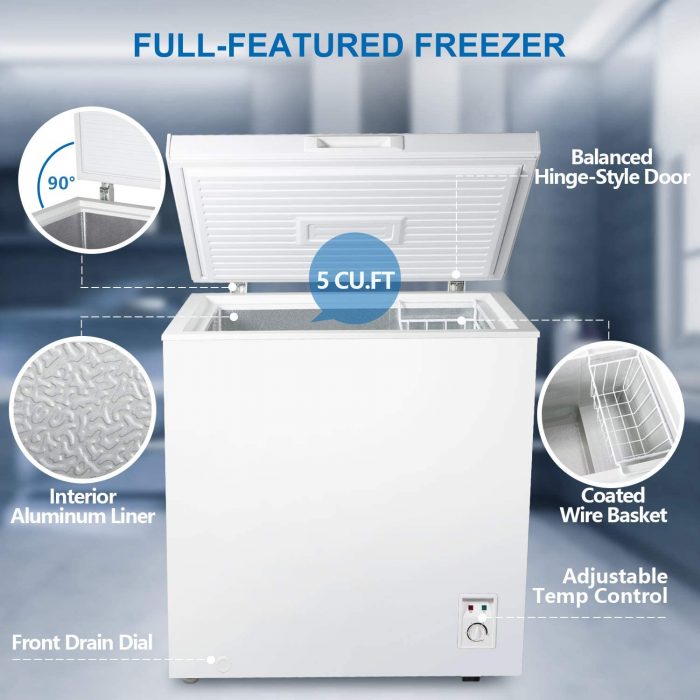 Cons:
Not the best packaging
Inadequate literature provided in box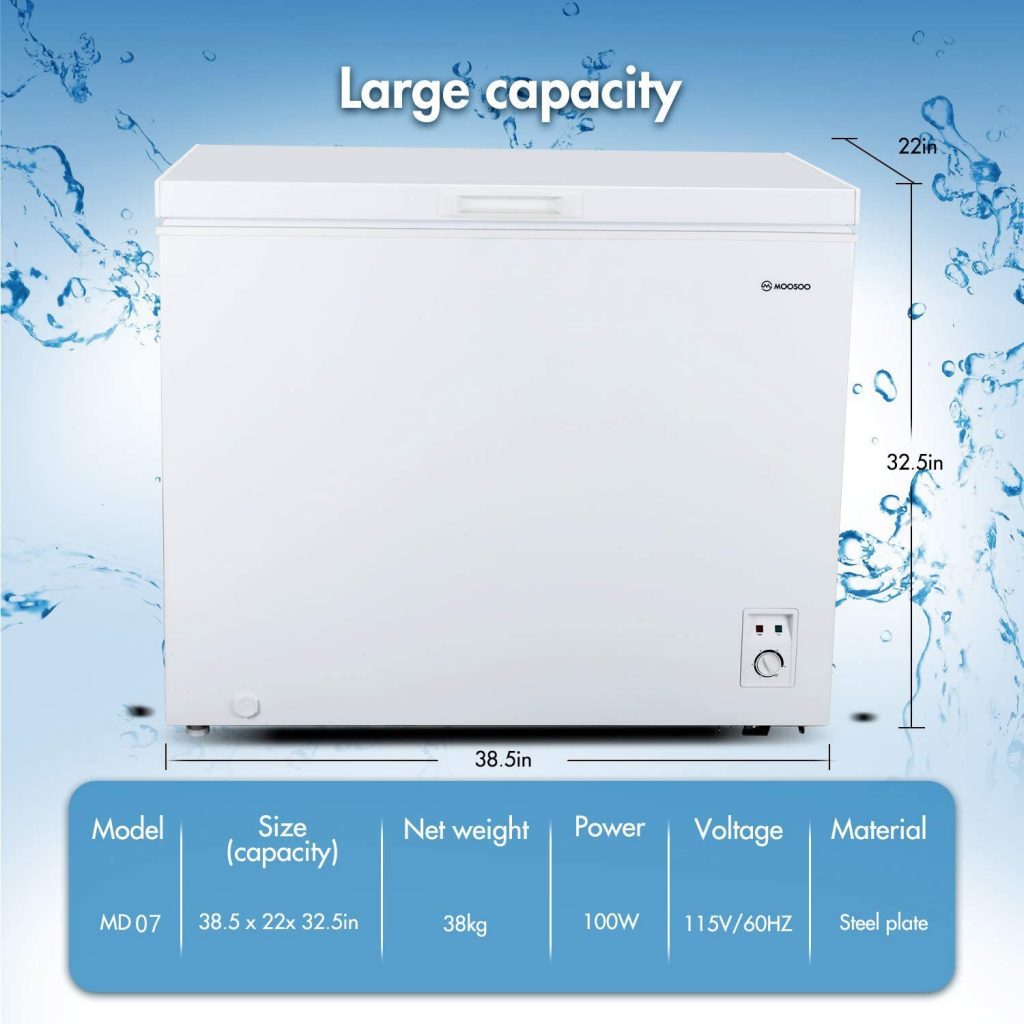 This one is the larger version of the one mentioned above. You'll find the temperature adjustment dial in the same place on the front of the chest. There are also indicator lights there to let you know the freezer is on and cooling. This one has the balanced hinges, as well, so you can open the freezer door and it will stay up for you while you search for what you're after. This larger freezer is on rollers so it's easy for you to move into place. Even with its larger size, it will only average an energy use of less than 1 kWh a night. 
Pros:
Large capacity to suit families
Super quiet operation
Adjustable feet for leveling
Rollers for easy placement
Easy installation
Quick cooling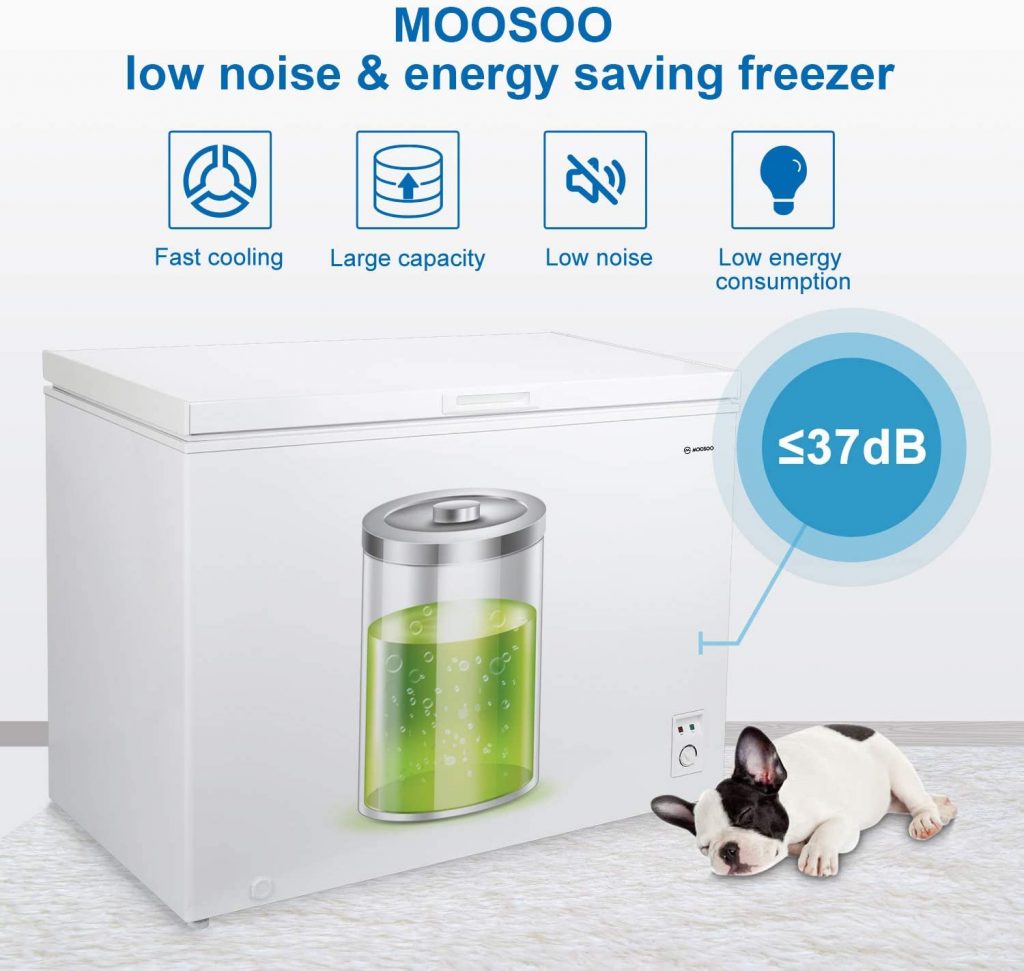 Cons:
Quite heavy
No specific temperature indicator
Packaging could be better for transport
Conclusion
There are plenty of reasons why you might want a chest freezer for your home. Looking for the best one comes down to your specific needs. You have to figure out how many cubic feet you need, how much space you have available, what kinds of things you expect to store in it, and what noise level you'll be able to handle. You should certainly look into the warranty it has, if any, and try to find all of what you're looking for at the right price point.
FAQs:
Who makes the most reliable chest freezers?
The most reliable chest freezers are made by GE and Frigidaire.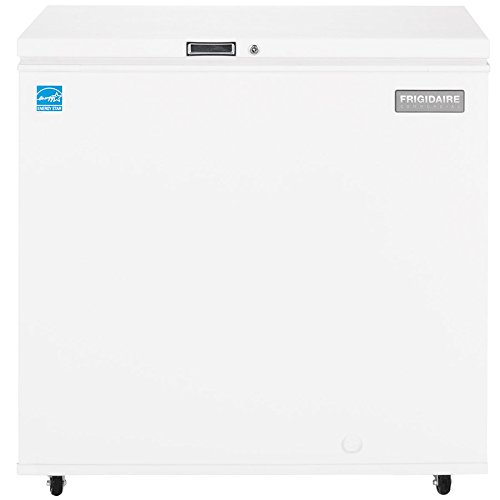 What is the most efficient chest freezer?
You'll want to go with the GE Chest Freezer for the most energy efficient.
Is upright or chest freezer better?
Chest freezers are more energy efficient, however, upright freezers allow you to organize items better and have extra features like automatic defrost.
Are chest freezers worth it?
These freezers can definitely be worth it because they allow you to store more foods at home. They make it where you don't have to make as many trips to the grocery store.
What is the best stand up freezer to buy?
The best stand up freezer overall is the Frigidaire Frost Free Upright Freezer.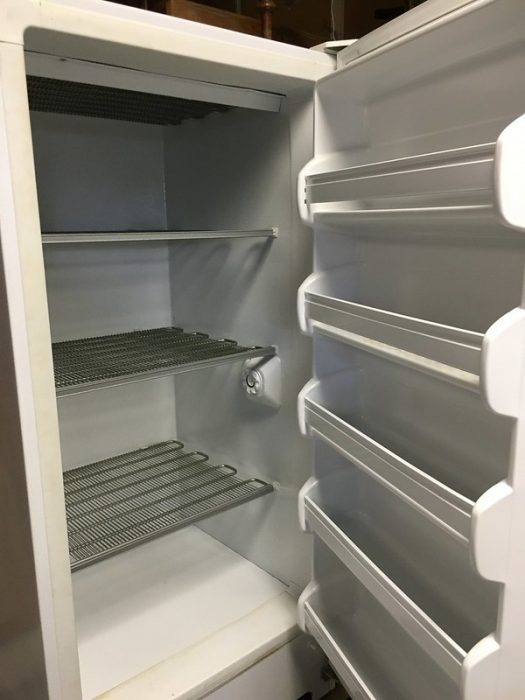 Do old chest freezers use a lot of electricity?
Yes, they do. They use more than twice the amount of electricity as the new chest freezers do. It will save you money to upgrade yours.
Disclaimer: FamilyHype.com (Family Hype & FamilyHype) is a participant in the Amazon Services LLC Associates Program, an affiliate advertising program designed to provide a means for sites to earn advertising fees by advertising and linking to Amazon.com.
Last Updated on May 28, 2021 by Marie Miguel
DISCLAIMER
(IMPORTANT)
: This information (including all text, images, audio, or other formats on FamilyHype.com) is not intended to be a substitute for informed professional advice, diagnosis, endorsement or treatment. You should not take any action or avoid taking action without consulting a qualified professional. Always seek the advice of your physician or other qualified health provider with any questions about medical conditions. Do not disregard professional medical advice or delay seeking advice or treatment because of something you have read here a FamilyHype.com.