Did you know that around 1.4 billion cups of coffee are poured every day around the world? Pretty incredible, huh? That also means many, many households have some type of coffee maker in their kitchens. One kind that is becoming more popular to have in homes is the espresso machine, also known as the latte or cappuccino machine. So, if you're looking for the best latte machines, it's safe to say you're likely in good company.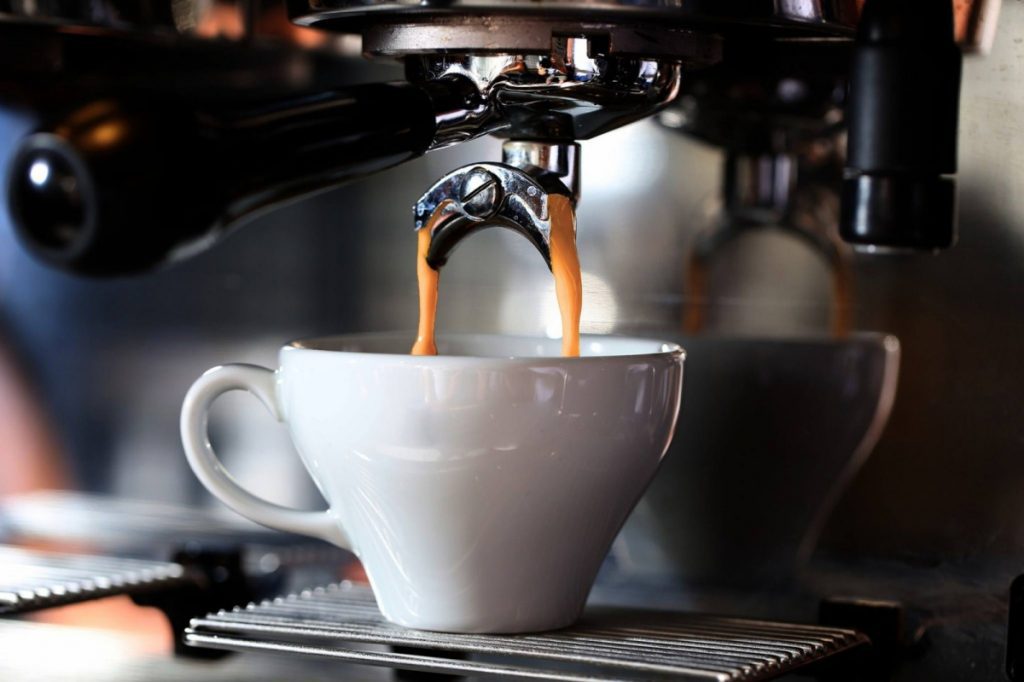 To choose the best latte machine, you actually need to look for the best home espresso machine with a really good milk frother. You'll have to decide between a manual, semi automatic espresso machine, or super automatic espresso machine. This means you'll also look for either an automatic milk frother or a steam wand with digital temperature control. You'll also want to check if there's a built-in coffee grinder, what accessories come with the machine, and how easy it is to clean. Be mindful of the price, as well.
For this article, let's take a look at some of the best latte espresso machines first, then get into what details and features are important. We want to make it easy for you to choose the best latte maker for the top of your kitchen counter.
Best Latte Machine
Breville BES870XL Barista Express Espresso Machine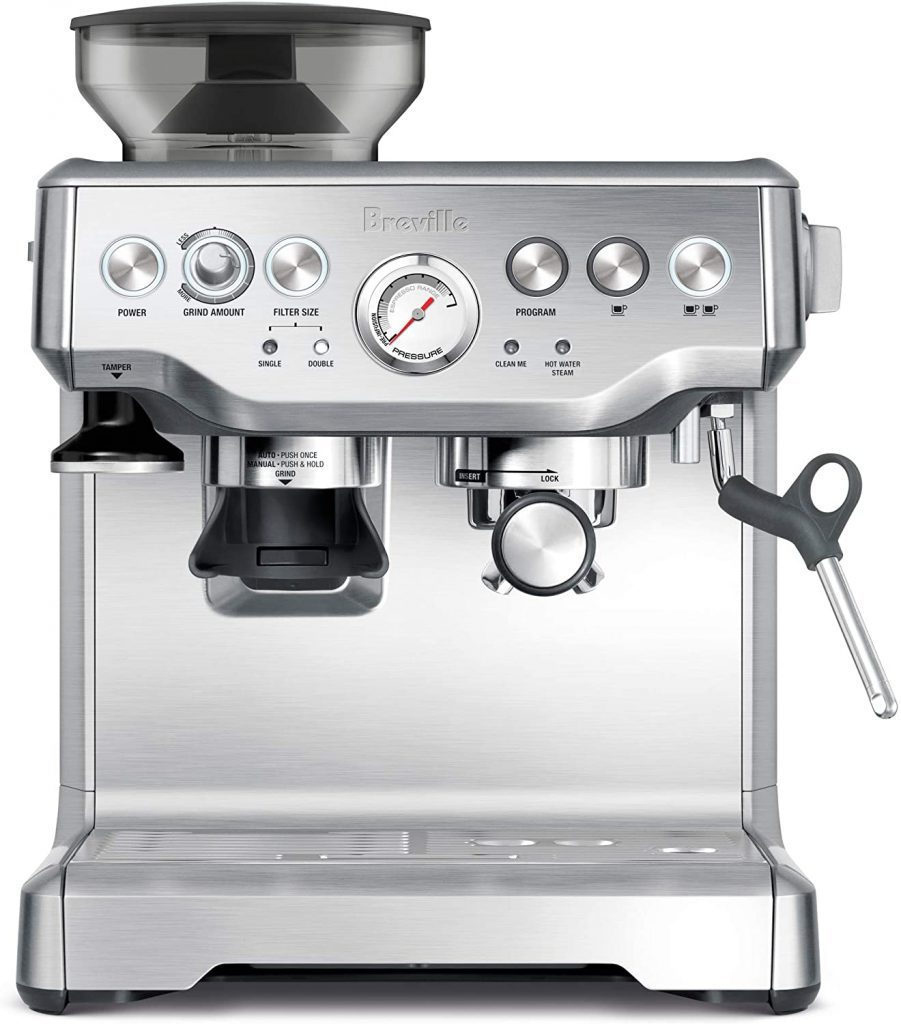 The Barista Express comes in two colors. It's an all-in-one espresso machine that allows you to make all of your favorite espresso-based beverages in the comfort of your own home for a fraction of the cost of what you'll spend at some of the most popular coffee shops. There is a grinder on top that controls the dose for each espresso shot. This machine makes your coffee by first pre-infusing the grounds so you get all of the flavors you can. There is a built-in steam wand so you can have perfectly steamed milk and even create fun latte art.
Pros:
An All-in-one machine allows you to make all sorts of drinks

A built-in grinder gives you fresh grounds for each shot

Small physical footprint

Semi automatic machine

Professional-grade quality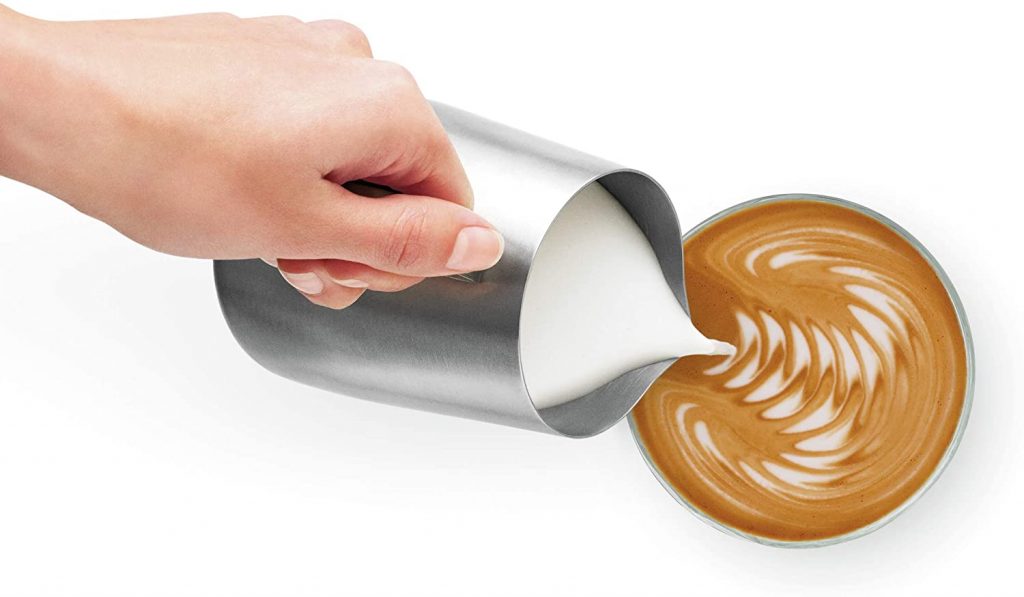 Cons:
Pricey

Water tank is small

Plastic components 
Keurig K-Cafe Single-Serve K-Cup Coffee Maker, Latte Maker and Cappuccino Maker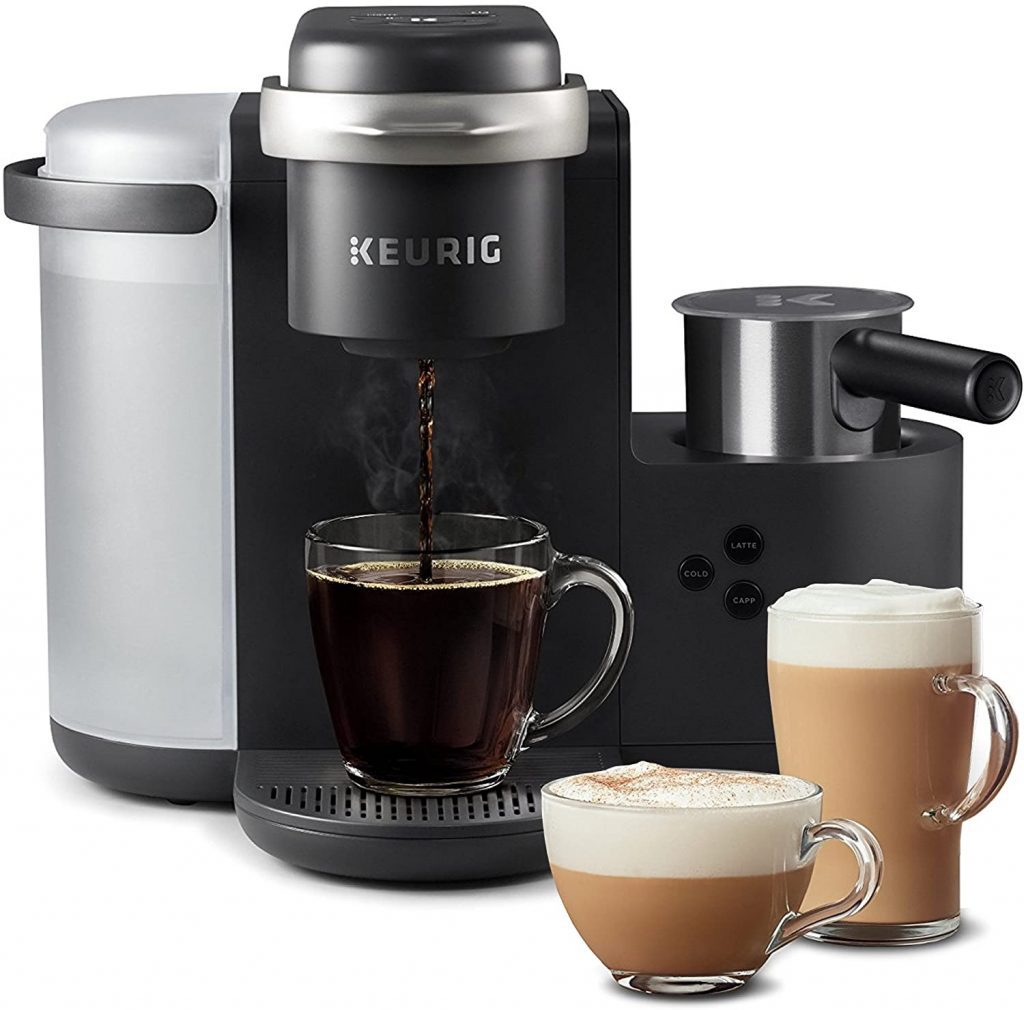 This little coffee maker is ideal for someone who doesn't want to be involved in the latte making process. It requires minimal effort on the part of the person. It is compatible with all different brands of K-cups. You can make both hot and iced coffee drinks. It's designed with an auto-off feature to save energy. There is enough room to brew your coffee straight into a travel mug if you'd like. You can also froth milk with just the touch of a button and then put it in the dishwasher for cleaning.
Pros:
Easy to use

Easy to clean

Inexpensive option

Small footprint

Choose from strength settings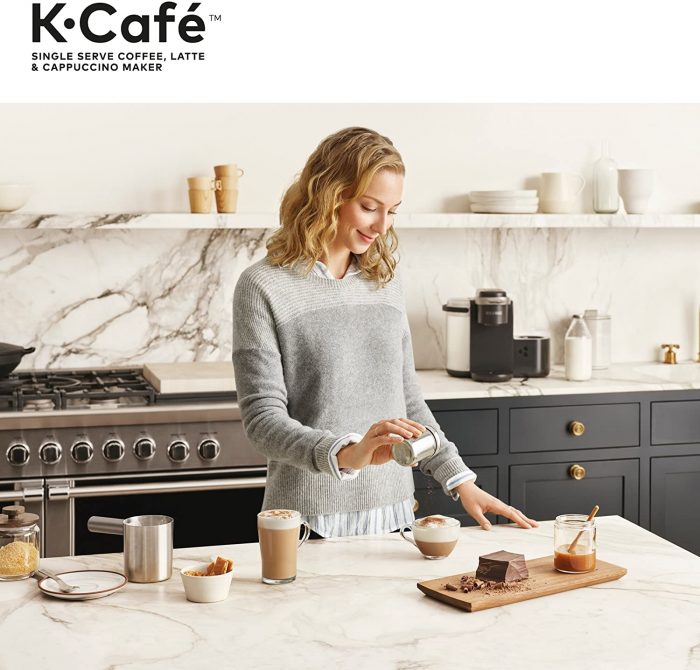 Cons:
Trips electrical circuits

No crema on espresso

Small reservoir
The Chefman 6-in-1 Espresso Machine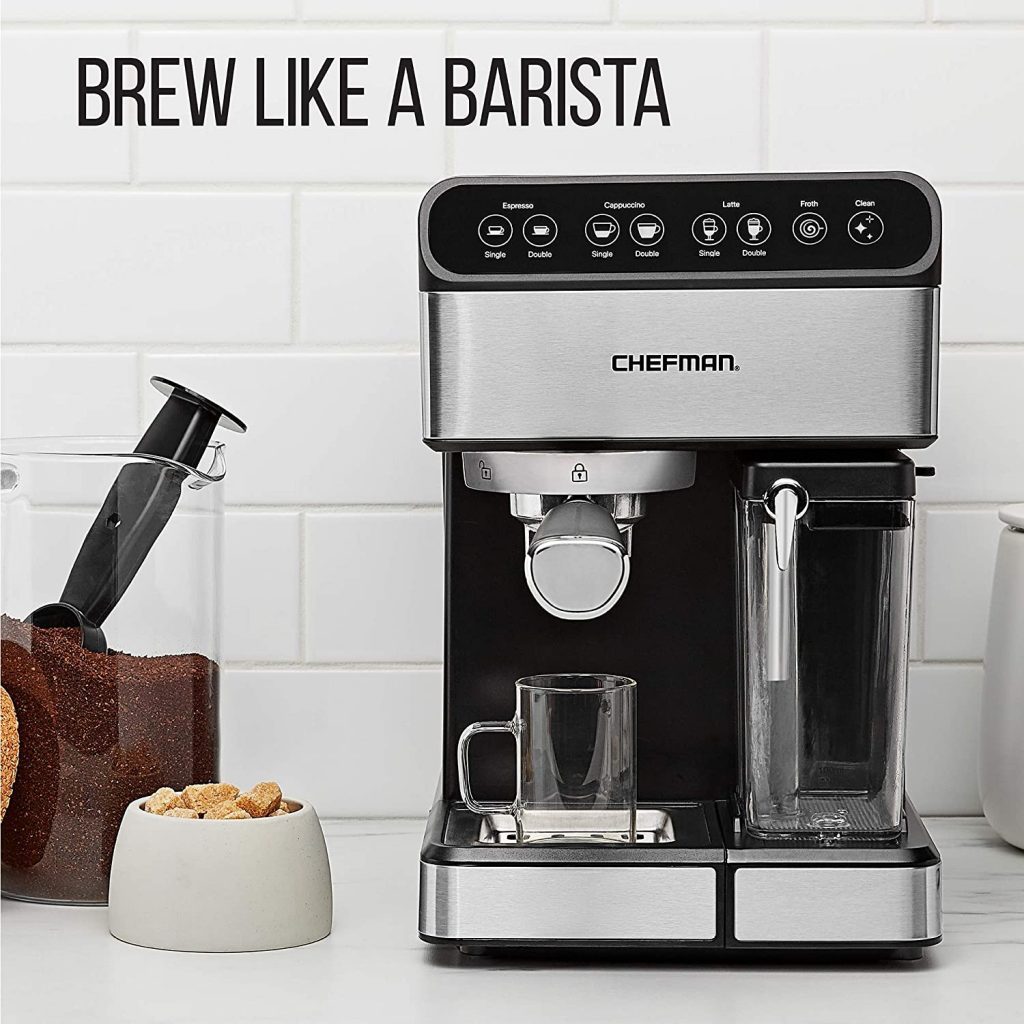 This espresso machine has a very small physical footprint. It has an extra-large 1.8-liter water reservoir and a built-in milk frother. All of the parts are dishwasher safe. This is an automatic latte machine that can have your cup of goodness ready for you with just one touch of a button. You can brew single or double shot espresso drinks without the fuss and mess of a manual espresso machine. It also comes with all of the accessories you'll need to make all of your favorite coffee beverages. 
Pros:
Inexpensive

Very easy to use

All components are dishwasher safe

Large water reservoir

Fully automatic espresso machines make your drinks with one button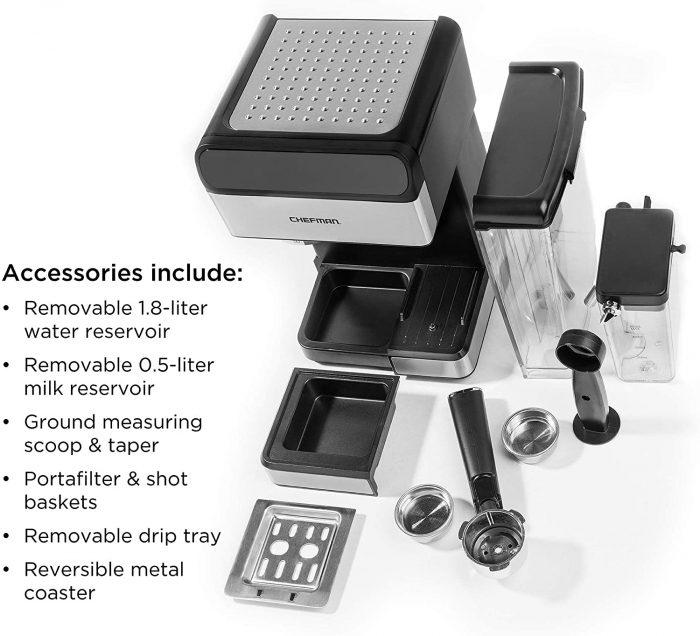 Cons:
Very loud operation

Frother is inconsistent

The drip tray isn't flat
The Espresso Machine, Latte & Cappuccino Maker-19 Bar Pump, 10 pc All-in-One Espresso Maker with Milk Steamer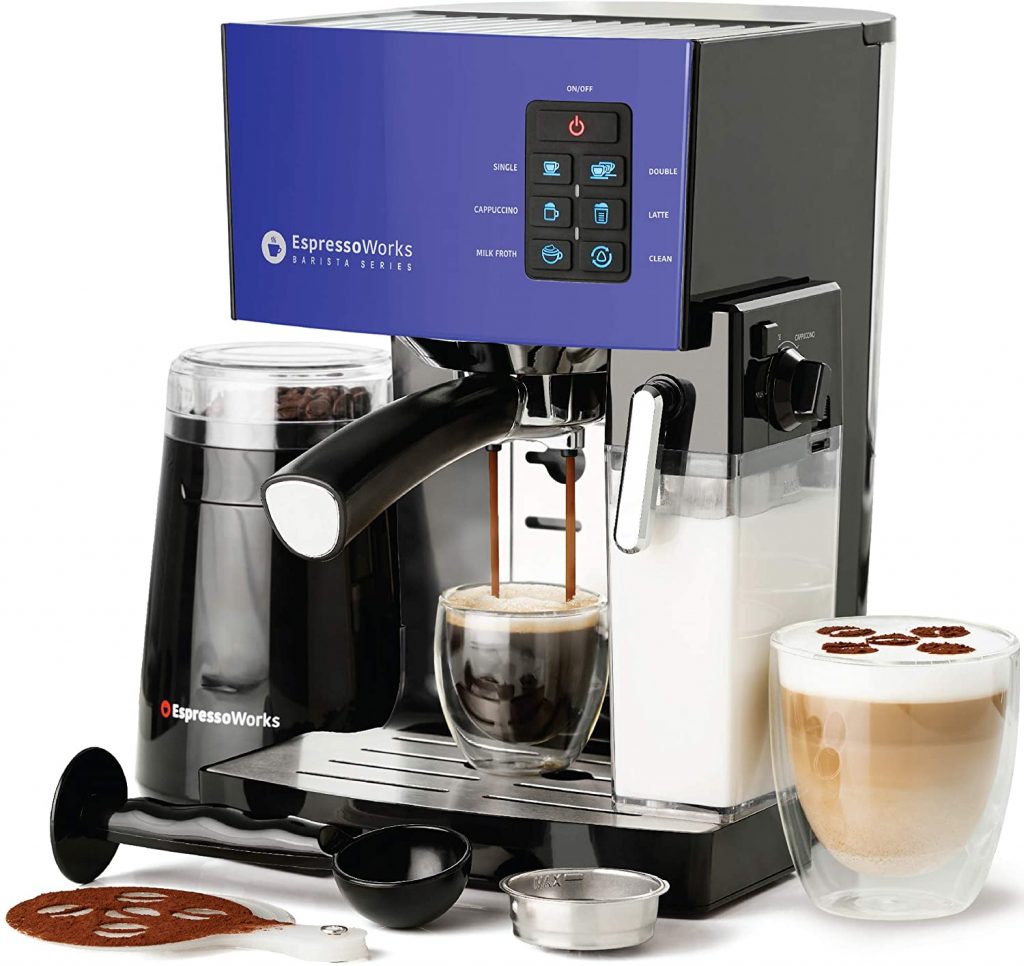 This fully automatic machine by EspressoWorks makes making espresso-based drinks super easy. First off, it comes with all the accessories you'll need to be your own expert barista. There is a coffee grinder included with your purchase so you can have freshly ground beans every time you make your espresso. You'll also get a tamper, two espresso cups, and a portafilter. You can make single or double espresso shots. It comes in seven different color choices. There is a 1.4-liter water reservoir, as well as a milk reservoir for when you want a latte or cappuccino. You'll even have art stencil templates for making foam art on top of your drinks. 
Pros:
Choose the color that matches your kitchen best

All accessories you'll need included

Coffee bean grinder gives you fresh grounds for each shot

Easy to use

Heating tray keeps your drink warm

Makes great tasting coffee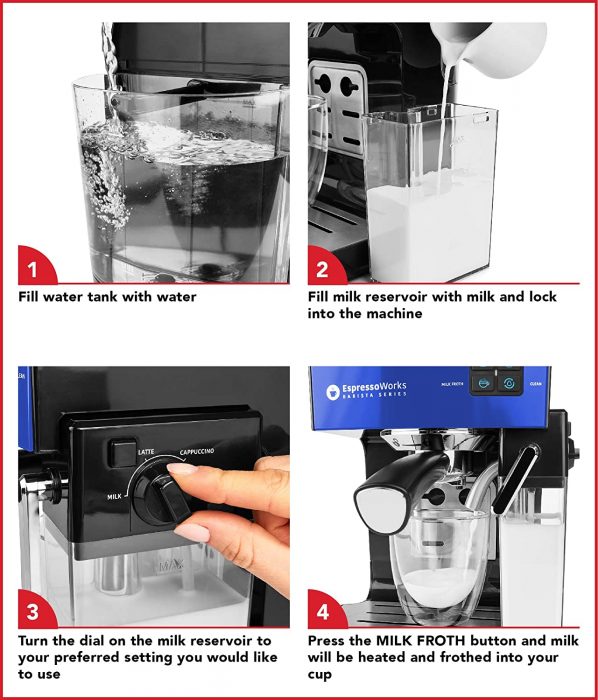 Cons:
Clean mode is very loud

Milk frother spout drips sometimes

Some water leakage
What Best Equipment Do I Need To Make A Latte?
This article is about latte makers, which are espresso machines with milk frothers built into them. But you may wonder if there are other pieces of equipment needed to make a latte.
You don't actually need any fancy equipment in making lattes at home. However, it's easiest if you have an espresso machine, a steam wand or automatic milk frother, a tamper, and a cup. 
Beyond the equipment, you'll need some type of dairy milk, coffee beans or pre ground coffee, flavored syrups, and any other toppings you may want to add. If you're doing an iced latte, you'll need ice, as well. 
In Choosing Your Latte Machine Type
You can choose the type of espresso machine you want to have in your home. There are manual, semi-automatic, and fully automatic espresso machines. The amount of time you have and how much control you want to have over your espresso result will help you make a decision as to what type is best for your needs. 
Here's a little breakdown of each type of machine: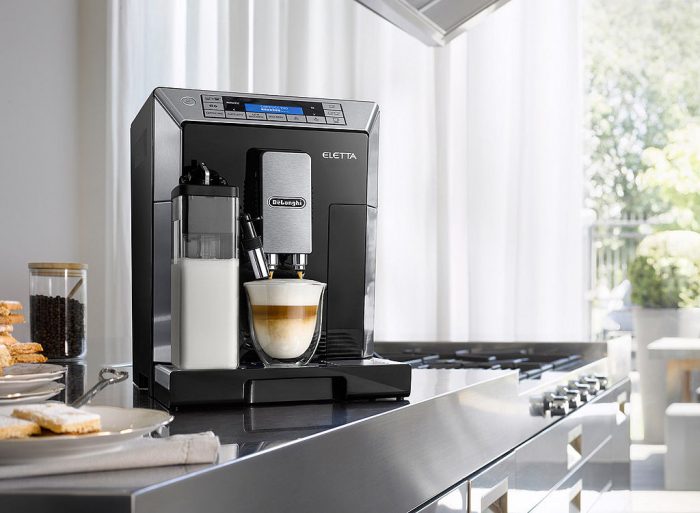 Manual – The manual machine will require the most effort on your part. You also get the most control over the result. These espresso machines don't need a lot of room on your counter and are easily recognized by their large levers. Most of these are pretty expensive, last a very long time, and make some of the best tasting espresso you can get. These aren't the best for beginners or for people who don't have much time to make their coffee.

Semi-automatic – These espresso machines are easier to use than manual ones because they have electric pumps that take some of the work out of it for you. You will still have some control over the customization of your drinks. You can find some of these for more affordable prices, but many of them also go up into the thousands of dollars. 

Fully automatic – These espresso machines can really do pretty much the whole process for you with just one button push. They will even have automatic milk frothers with a reservoir to pull from. You don't have to know much about the latte making process to make great-tasting drinks with this machine straight out of the box. Many of these are very expensive.
Choose the type of machine that makes the most sense for your needs. If you never have any extra time in the morning and you need a machine that can just make your morning latte with one button, then go with fully automatic. If you like to have total control over the coffee-making process, go with manual. The best type is going to have to fit your lifestyle.
The Features Of A Milk Frother
Lattes are made with espresso and milk. You need your machine to have a milk frother included. That can come in the form of a steam wand for steaming milk or an automatic milk frother. 
A steam wand gives you more control over the foaming process. It uses heat to give the milk a heavier texture. Many people like this because it's smoother and creamier.
The milk frother uses more air in its process. It infuses the milk with air while heating it, in some cases, or without heat for cold drinks. The foam is lighter and less dense than what you'll get with a steam wand. 
Some of the automatic espresso machines have built-in milk frothers that have a reservoir to pull the milk from and put it straight into the cup itself. Others will have a separate frother that is still attached, but that you have to pick up and physically pour into the cup yourself.
Again, it's up to you to decide what makes the most sense for your situation.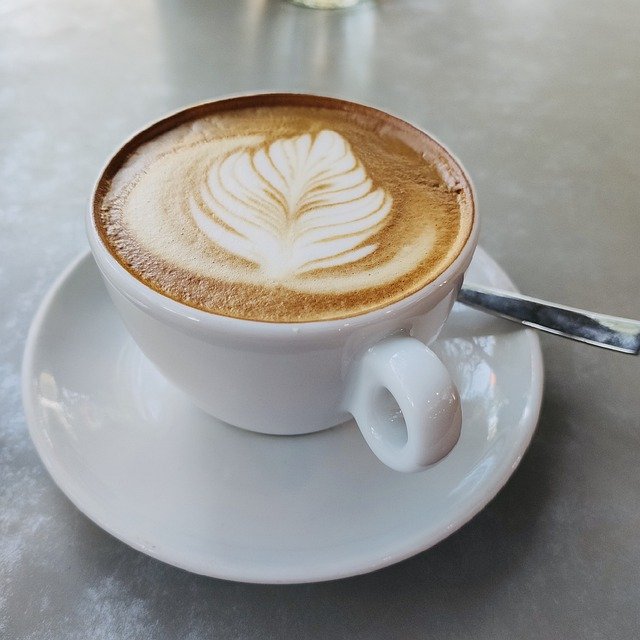 What Else Should I Look For In A Latte Machine?
There are some other things to look for in these machines that can make your coffee-making process easier and more convenient. One is a coffee grinder. This makes it easier for you to make the freshest, best-tasting coffee possible. Some of the grinders even control the dose for each shot of espresso you're making.
You can also check out what accessories are included with the machines you're considering. Some of them will come with everything you'll need to make any type of espresso-based drink you can think of. You'll get measuring spoons, espresso cups, a tamper, filters, stencils, and more.
You definitely want to look into the cleaning process for each machine you consider. There are some machines that include components that are not dishwasher safe and can be very difficult to clean. If convenience is important to you, review the cleaning instructions before making your choice. 
Finally, the price is extremely important to consider. You need to look at different machines and compare their features and prices. Don't get caught up thinking you need to spend hundreds of dollars that you may not have available to get an espresso machine that will make great-tasting coffee drinks. There are some very affordable options that make delicious espresso-based beverages that won't break the bank.
Some Final Thoughts
Latte makers can be great additions to your kitchen. You can get one that will do all the work for you or one that allows you total control over your cup of coffee. Make sure you're choosing one that fits your budget and allows you to make the lattes you want with as much or as little effort as you desire. Check out the accessories that come with these machines. And look at how easy they are to use and clean. The best latte machines can give you the ability to be your own barista each and every day.
Best Latte Machines FAQs:
What is the best coffee machine for lattes?
The best overall is the Breville Bambino Plus Espresso Maker.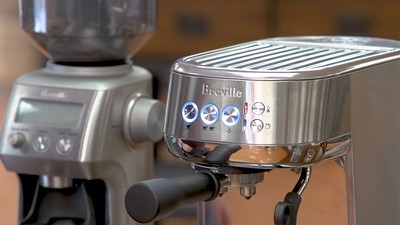 Which Nespresso machine makes the best latte?

The Nespresso Essenza Mini Espresso Machine is the best choice.
What milk makes the best latte?
Whole milk makes the best latte if you can have dairy. You can substitute Oat milk or Almond milk for dairy-free options.
Can you buy a latte machine?
You can buy an espresso machine that includes a milk frother or steam wand.
What is the best coffee machine brand?
There are many, Breville, Keurig, and De'Longhi are all at the top of the list.
What is the best coffee machine to buy for home use?
The best, most versatile coffee machine at home is the Jura E6 Espresso Machine.
Which is better, Breville or De'Longhi?
These are both industry leaders in this category. If you are already experienced at making espresso drinks and you have the extra cash to spend, choose Breville. If you want high-quality coffee drinks that are easy to make and from a machine that doesn't cost quite as much, choose De'Longhi.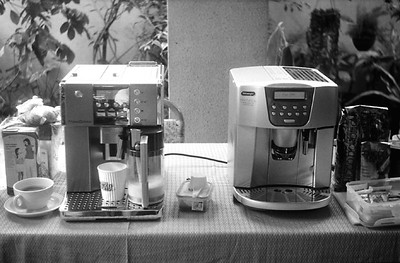 Is Nespresso VertuoLine discontinued?
There is a model that has been discontinued.
Which is better, Nespresso original or Vertuo?
The Vertuo is better for coffee lovers who like to drink espresso and regular coffee. The original is better for a coffee drinker who drinks only espresso and espresso-based coffee drinks.
Do most latte machines use a lot of power?

About 90 to 95 percent of power is intended mainly for powering up the machine. It consumes about 800 watts on a per-hour basis.
What latte machines does Starbucks use?
Which cup is best for latte?
Why are La Marzocco so expensive?
Can you make a latte with a regular coffee machine?
How long to steam milk for latte?
Last Updated on April 14, 2023 by Jeanne Meets
DISCLAIMER
(IMPORTANT)
: This information (including all text, images, audio, or other formats on FamilyHype.com) is not intended to be a substitute for informed professional advice, diagnosis, endorsement or treatment. You should not take any action or avoid taking action without consulting a qualified professional. Always seek the advice of your physician or other qualified health provider with any questions about medical conditions. Do not disregard professional medical advice or delay seeking advice or treatment because of something you have read here a FamilyHype.com.