The best chef knife isn't the same for all cooks. Why? Because all cooks are different. The best knife feels comfortable in your hand. It should feel like it was made for you.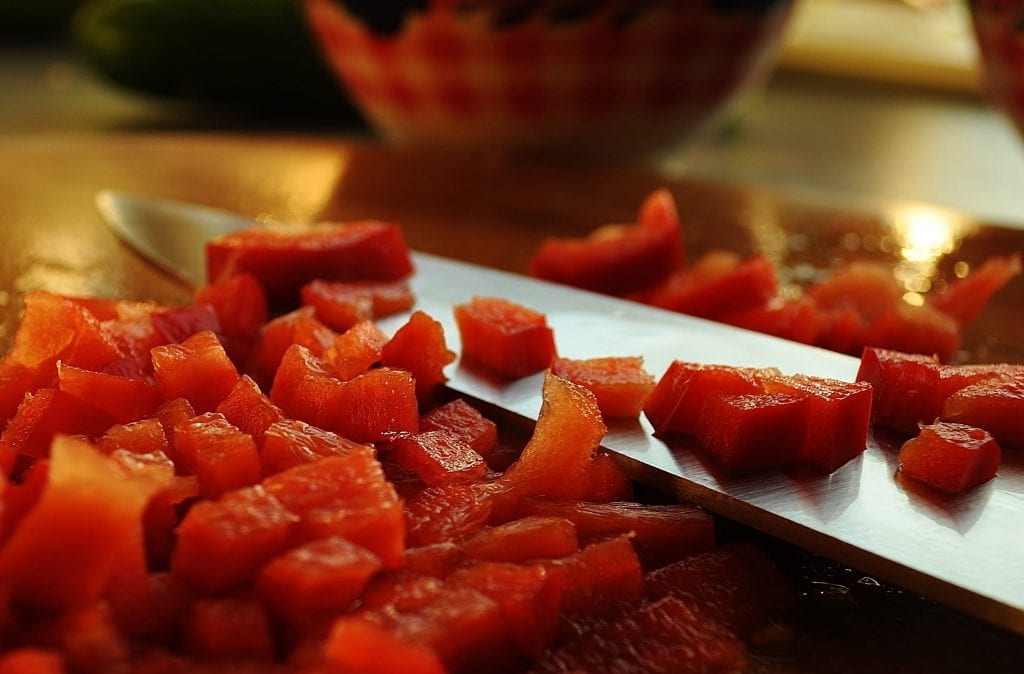 Finding the most reliable chef knife means it feels like an extension of you. Choose the weight that makes chopping, dicing, and mincing easiest for you. A kitchen blade needs to have good balance from front to back and side to side. Chef's knives also come in different sizes. Pick the size that works well with your cutting style. Finally, the style makes a difference, too. Choose a thicker German-style blade or a thinner Japanese blade.
Before we get further into the details of finding a chef blade, let's look at a few examples of chef's knives currently on the market. From there, we'll talk about the important features to look for before wrapping up with some frequently asked questions.
Best Chef's Knife Options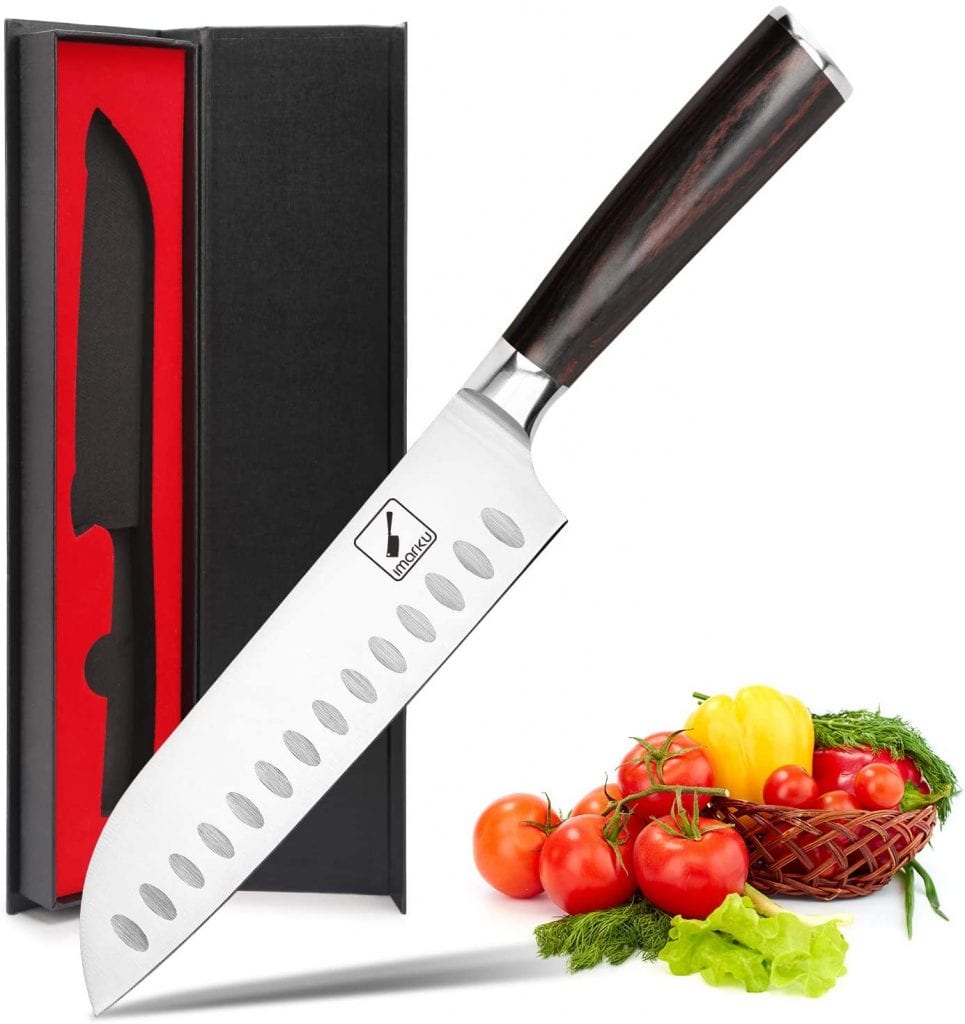 This is a Japanese blade with a stainless-steel blade and pakkawood handle. The blade is 7 inches long while the handle is 5 inches. The blade is only 2.5mm thick. It's ideal for slicing through meats, vegetables, fruits, and bread. The blade design is such that prolonged use won't cause any aching or wrist fatigue. This blade is well-suited for home or restaurant use. 
Pros:
Ergonomic design
Well packaged for gifting
Thin, razor-sharp blade
Versatile
Rust resistant
Affordably priced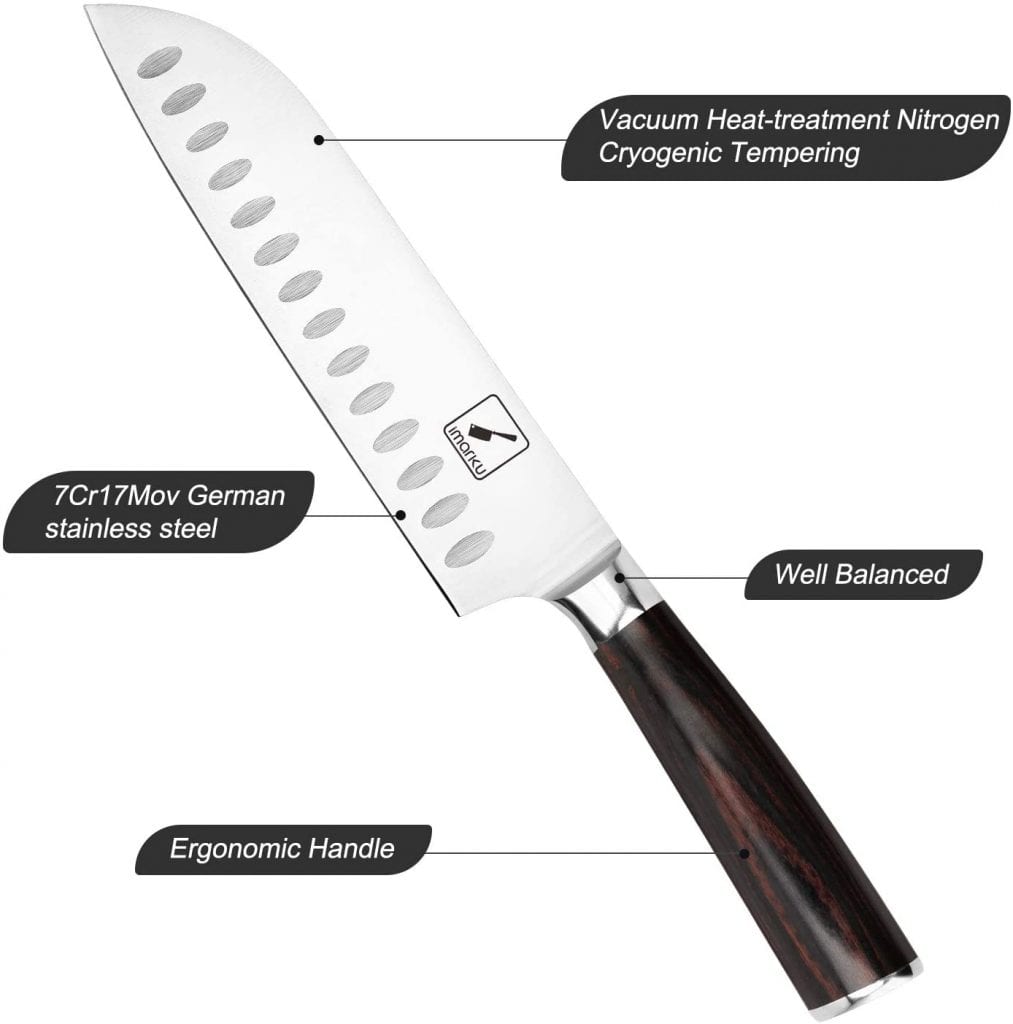 Cons:
Doesn't come with a sheath
Food sticks to sides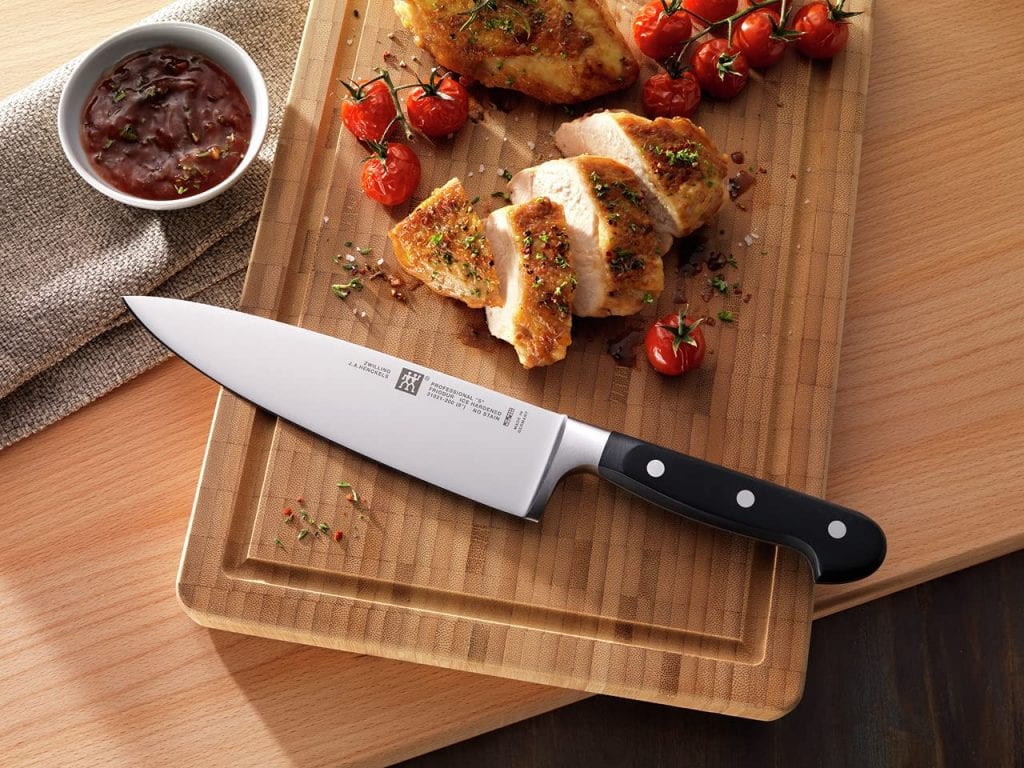 The Zwilling is an inch longer than the previous blade. It has an 8-inch blade. It's a German-style blade with a carbon stainless-steel blade. This is a forged blade. The handle is made of polymer with three rivets and is attached to the entire base of the blade. The Zwilling is dishwasher-safe, so it's easy to clean. The blade is ice-hardened which makes it sharper and stay sharper through many uses.
Pros:
Performs well
High-quality craftsmanship
Sharp blade
Easy to clean
Professional grade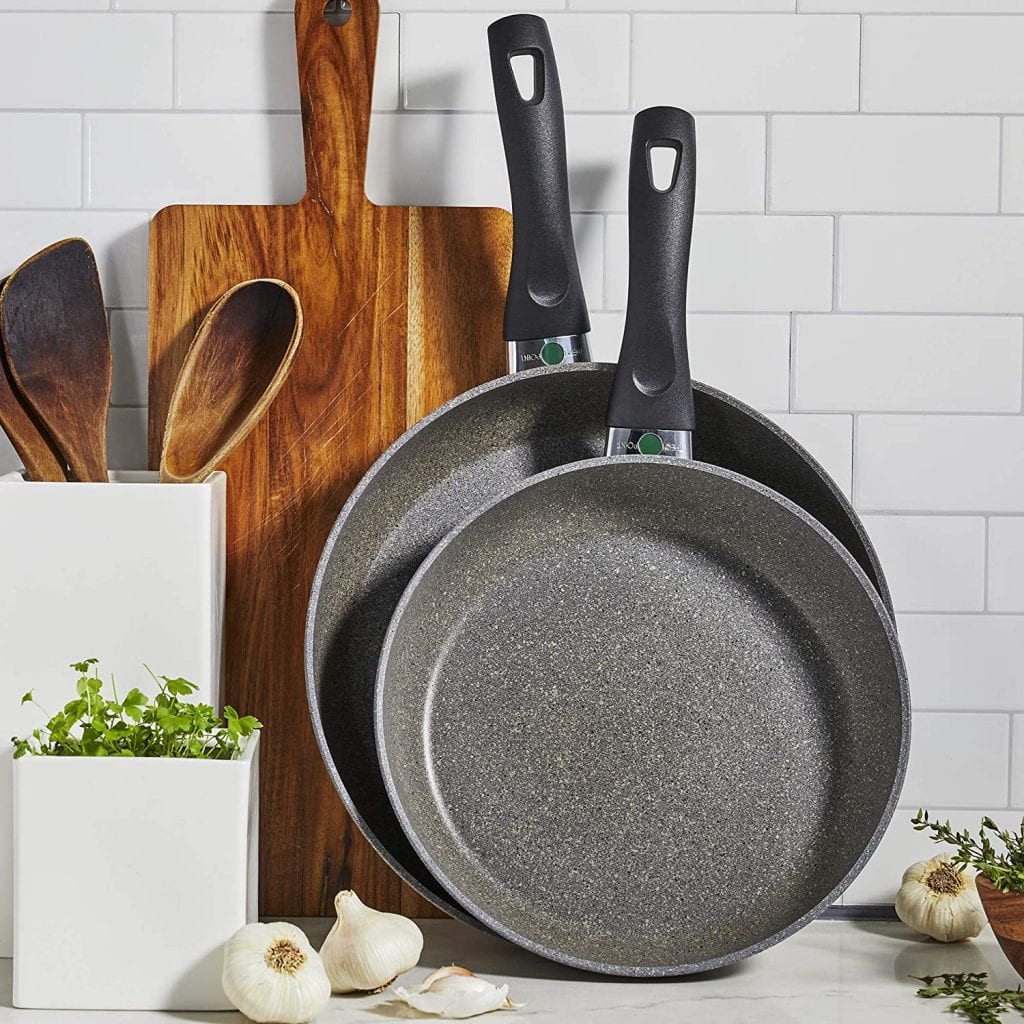 Cons:
Pricey
Edge is rough
Heavy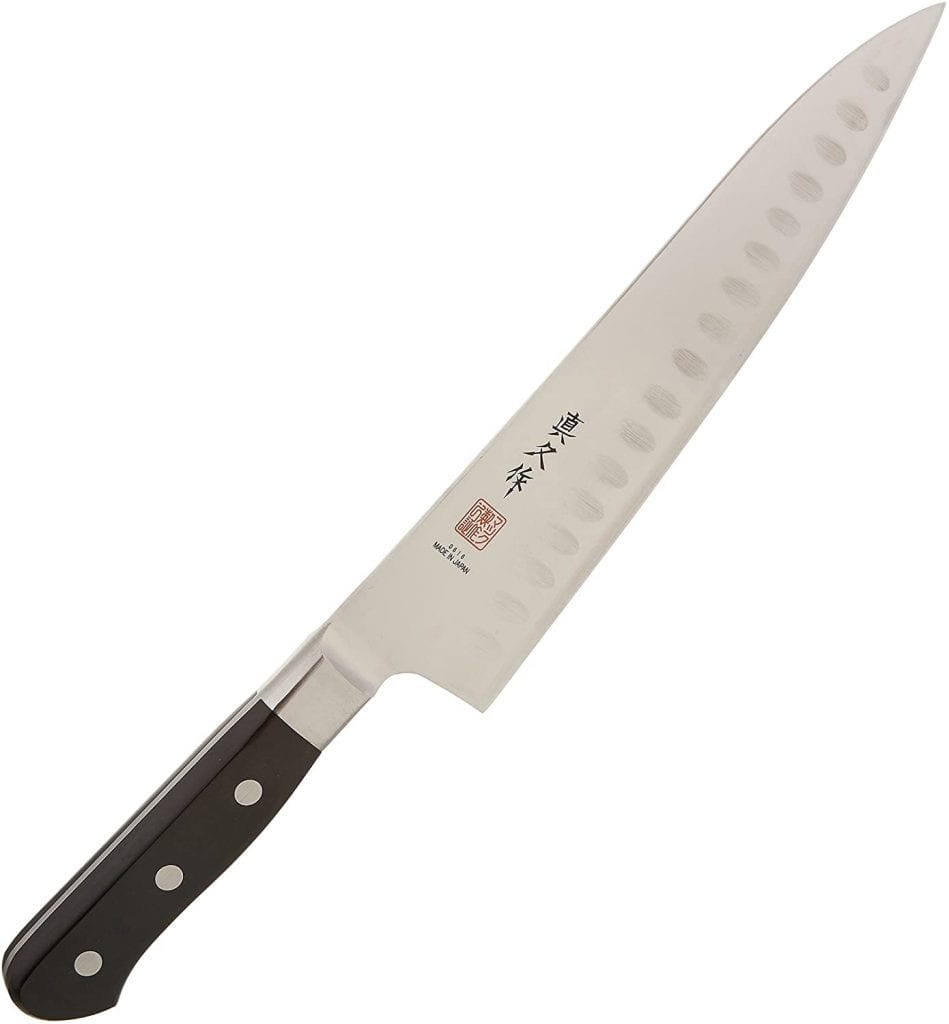 This hollow-edge chef's blade by Mac Knife has a blade made of alloy steel. The handle is pakkawood with three metal rivets. This is a Japanese blade with a 2.5mm blade thickness. It has dimples down the sides of the blade to keep food from sticking. It's lightweight and slices easily through a variety of foods. This chef knife is ideal for both home and in a professional kitchen.
Pros:
High-quality materials
Versatile multi-purpose blade
Slices very thin
Ultra-sharp
Well-balanced
Cons:
High price tag
Can rust
Not dishwasher-safe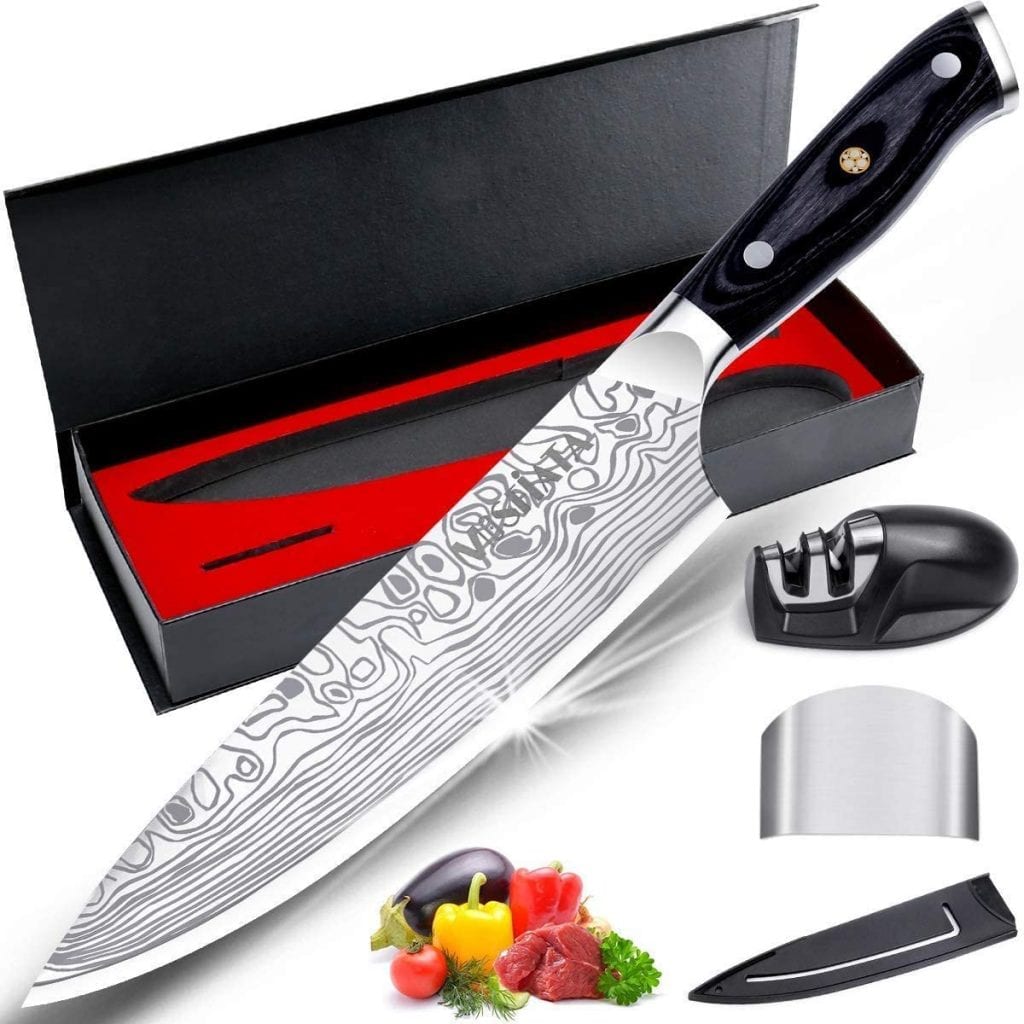 This German-style blade gives you a lot of bang for your buck. It has an 8-inch blade made of high carbon stainless-steel. The handle is Micata with an ergonomic design that's comfortable for long chopping sessions. The blade comes in a nice-looking box packaged with a finger guard, knife sheath, and a sharpener. It's dishwasher-safe and rust-resistant.
Pros:
Highly affordable
Comes with sharpener and sheath
Sharp with curved edge for rocking
Dishwasher-safe
Nonstick blade coating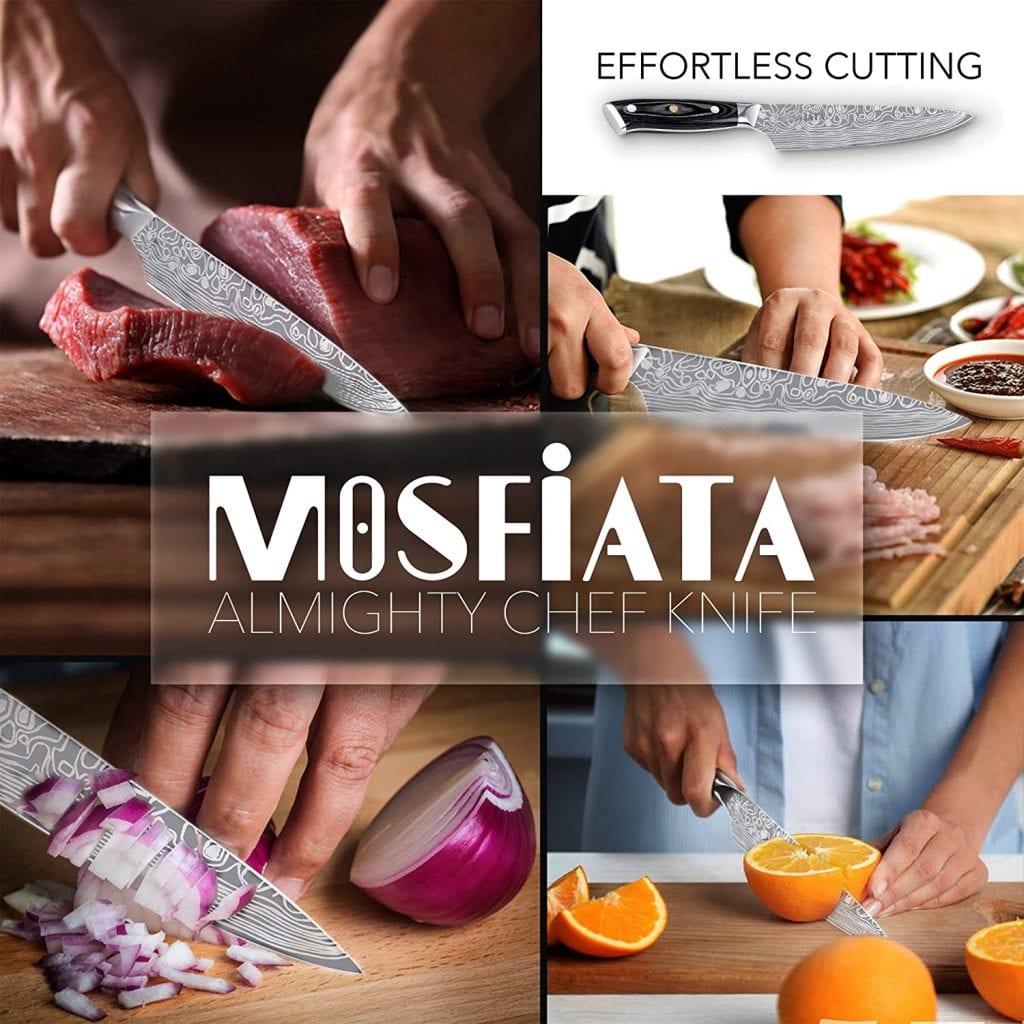 Cons:
Foods stick to blade
Dulls quickly
Now, let's talk about what you should be looking for in a chef's knife.
The Weight Is Important
Two schools of thought exist regarding how much a chef blade should weigh. Some chefs feel heavier knives get the job done better. The heft of the blade pulls it downward through the food with less effort from you. 
Other cooks believe a lighter chef's blade gives them better control over the blade. They can maneuver it more easily to perform different types of prep tasks. 
Choose the weight that feels better to you. You'll likely find a better deal for your chef knife online. But it is worth it to go in-store somewhere to hold different knives for comparison. A blade shouldn't be so heavy it's hard to maneuver. It also shouldn't be so light it doesn't do any of the work.
Look For Balance
A good chef's blade is well balanced. It should be balanced from front to back, as well as side to side. So, what does that mean? And how can you tell?
When a blade is balanced from front to back, it doesn't feel heavier toward the blade or the handle. It's balanced. Knives that aren't balanced make more work for you. 
Knives should also be balanced from side to side. If they're not, they come down with a lean to one side making them feel unstable while you chop. 
You can tell if a blade is balanced by picking it up. If you're unsure, try making a chopping or dicing motion with it. That will let you see how balanced, or not, a knife is.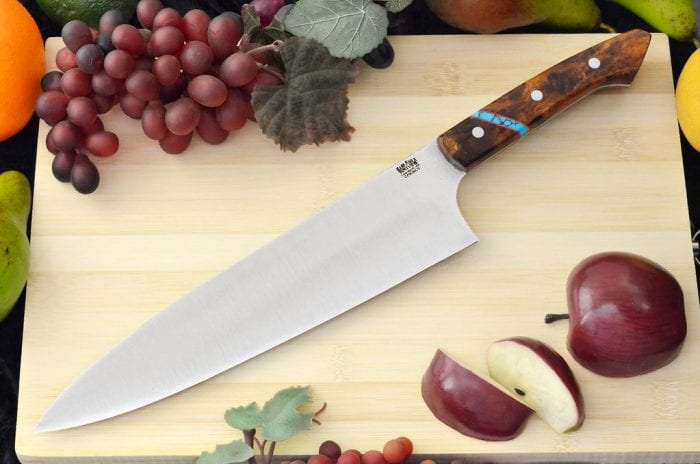 What Size Should I Get?
Knife size mostly comes down to preference. Small knives offer more maneuverability. Large knives can slice through larger food. Generally, 10-inch knives are considered large, 6-inch knives are considered small, and 8-inch knives are the most versatile in the middle.
What Style Should I Choose?
Two common knife styles exist—German and Japanese. German-style knives have a thicker heel. The heel is the part of the blade nearest to the handle. German knives have a thick heel that's meant for cutting through tougher foods. They take some of the work off you.
Japanese-style knives don't have the thick heel. They have a thin blade that's meant for continuous flow when chopping foods. Many Japanese knives are known for being sharper so they can slice smoothly through all types of food. 
How Much Should I Spend On A Chef's Blade?
Prices for chef knives range widely. You can find one for $10 or you can buy one for upwards of $1,000. The choice is yours. We recommend setting a budget you're comfortable with and staying within it for your chef's knife.
There are some good quality knives for under $100. However, if you can afford more, there's a reason the expensive knives cost what they do. Any serious chef knows that a top-of-the-line chef blade is worth its weight in gold.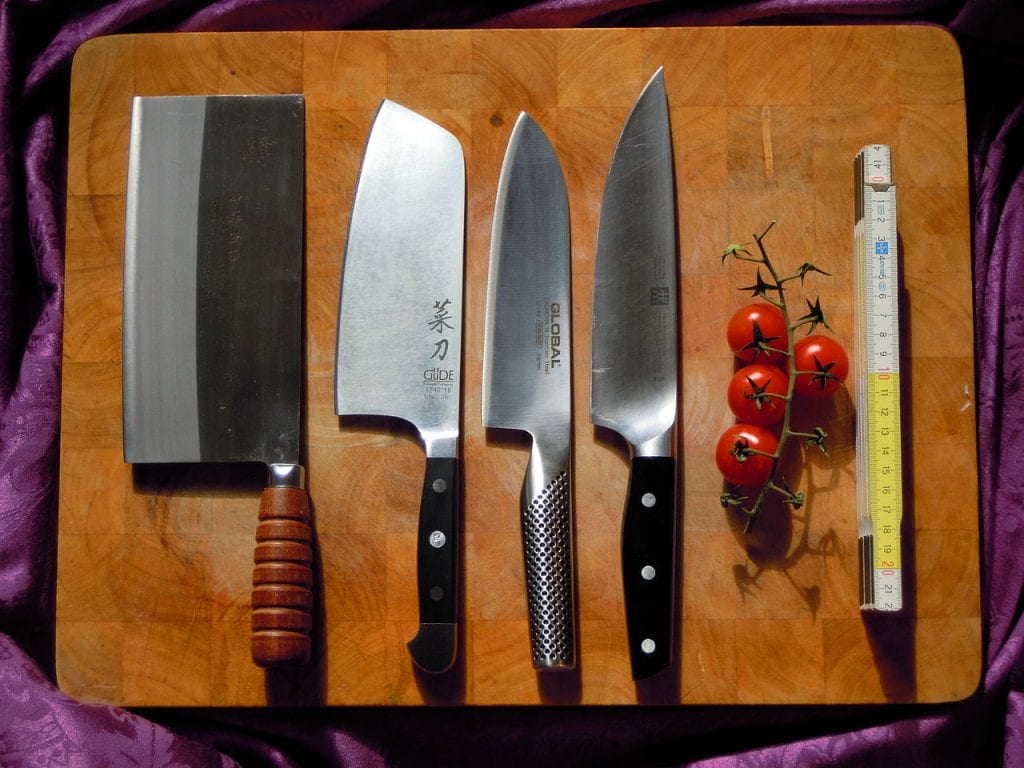 What Is The Best Chef's Knife In The World?
If you asked this question to several different chefs, you'd likely get several different answers. Personal preference has a lot to do with what the most reliablechef's knife is.
Some of the answers you would hear include knives from J.A. Henckels, Wusthof, and Miyabi.
Final Thoughts
A high-quality chef's knife is a good addition to any kitchen where someone likes to cook. It's a tool that gets a lot of use and makes food prep easier and more convenient. You must choose yours to fit your needs. Look for a good weight and a blade that's well-balanced. Choose a good size for how you'll use it. And get the style that works best for you. A kitchen is more complete with a good chef knife.
FAQs:
What brand do professional chefs prefer?
Professional chefs recommend MAC, Michael Bras, Kramer, Masamoto, and Wusthof.
What chef knife does Gordon Ramsay use?
He uses Wusthof and Henckels.
What chef knife does Jamie Oliver use?
Jamie Oliver uses I.O. Shen knives.
What knives should I own?
You should own knives that fit in your budget and feel comfortable in your hand. The knife you use the most should feel like it's an extension of your hand. It makes chopping, dicing, mincing, and cutting easier when the knife fits well in your hand.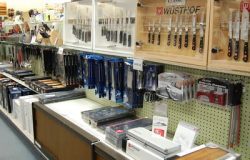 What dulls a knife the fastest?
Sharpening the blade the wrong way dulls a knife the fastest. You will also dull knives faster by using them to cut materials they're not meant for. For instance, cutting cardboard with a kitchen blade dulls the blade quickly.
What knives do chefs actually use?
Professional chefs use MAC, Henckels, Wusthof, Shun, and more.
Which is good, Henckels or Wusthof?
Both brands produce high-quality, professional grade knives. You can't go wrong with either.
What is the sharpest blade in the world?
The sharpest knives in the world have obsidian blades.
Which is better, Santoku or chef knife?
Santoku knives are meant more for chopping or slicing. A chef's knife is more versatile. It can chop, slice, dice, mince, and more.
Disclaimer: FamilyHype.com (Family Hype & FamilyHype) is a participant in the Amazon Services LLC Associates Program, an affiliate advertising program designed to provide a means for sites to earn advertising fees by advertising and linking to Amazon.com.
Last Updated on October 4, 2021 by Anna Amad
DISCLAIMER
(IMPORTANT)
: This information (including all text, images, audio, or other formats on FamilyHype.com) is not intended to be a substitute for informed professional advice, diagnosis, endorsement or treatment. You should not take any action or avoid taking action without consulting a qualified professional. Always seek the advice of your physician or other qualified health provider with any questions about medical conditions. Do not disregard professional medical advice or delay seeking advice or treatment because of something you have read here a FamilyHype.com.